Sun Dried Tomato Pesto Pasta
Sun dried tomato pesto pasta is a creamy vegan pesto sun-dried tomato sauce over whole grain pasta with artichokes, pine nuts, and fresh herbs. This easy vegan dinner or side dish is ready in 20 minutes and can be changed up any way you like.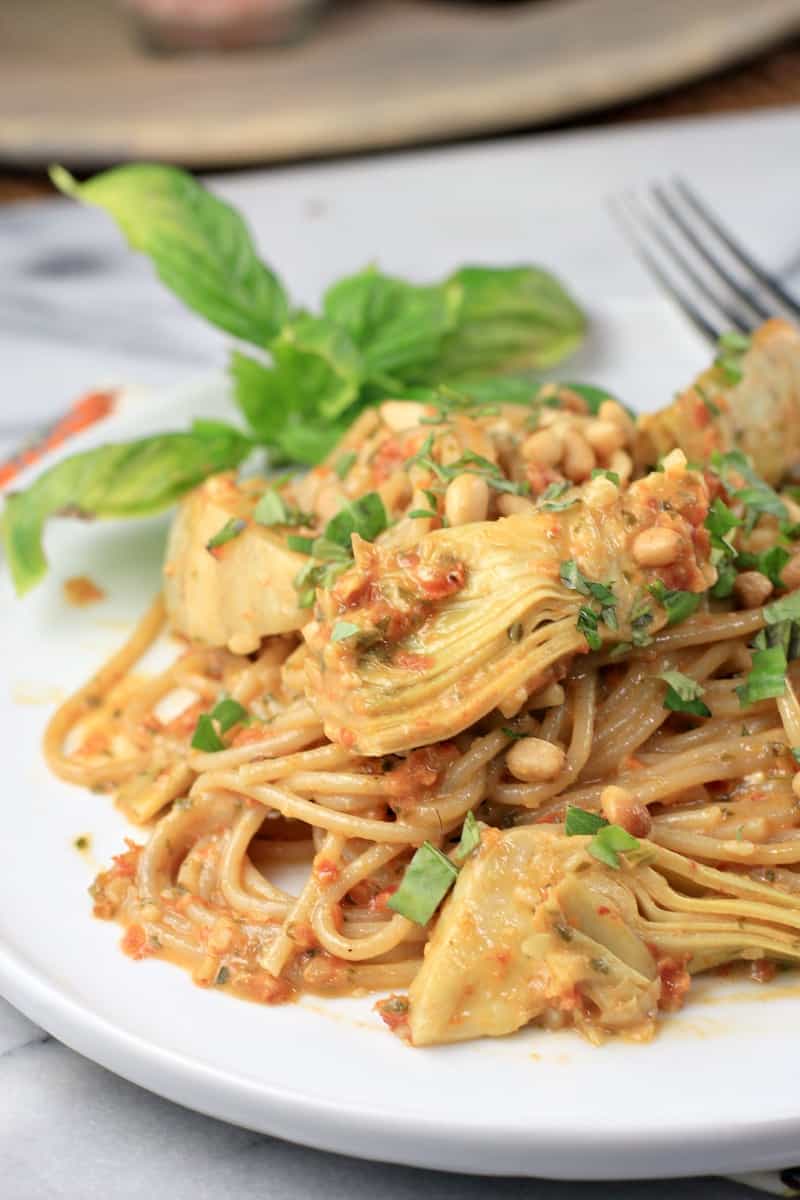 What is sun-dried tomato pesto?
Generally, any pesto is a bunch of herbs, usually basil, blended with garlic, pine nuts, parmesan and/or pecorino cheese, and olive oil. It is freaking tasty, and I love using it in sauces and on pizzas and such.
Sun dried tomato pesto is all of the above, but we add sun-dried tomatoes too. And for vegan sun-dried tomato pesto, we just omit the cheese. Meaty, delicious sun-dried tomatoes have a wonderfully rich flavor, and so making pesto with them is spectacular and makes it so we do not even miss the cheese.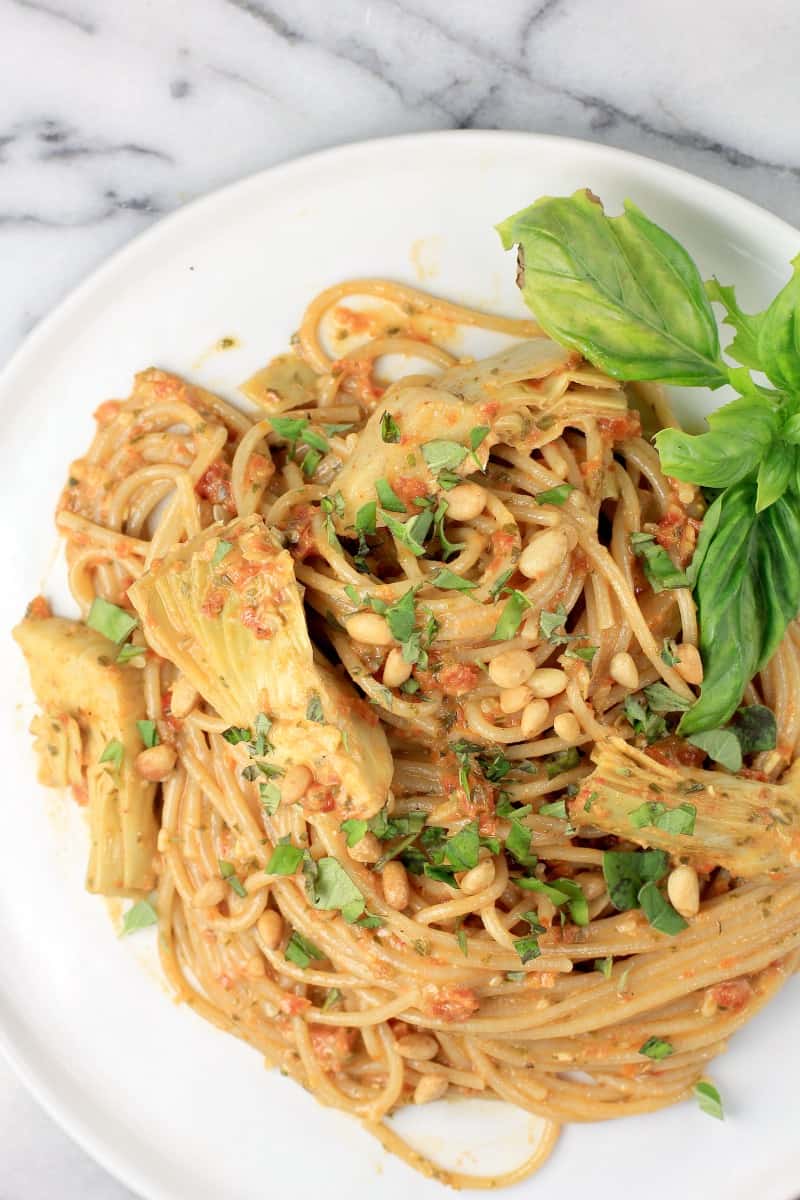 Why make a vegan pesto?
Many people cannot have physically consume dairy, and many people choose a vegan lifestyle. Also, many people want to eat plant-based and fewer animal products either out of health (such as reducing cholesterol) or out of concerns for animal welfare and the environment.
These are all good reasons to want to eat vegetarian and even vegan meals. This vegan sun dried tomato pesto pasta plays right into this so well too because the gorgeous rich flavor of un-dried tomatoes means we do not even miss the cheese.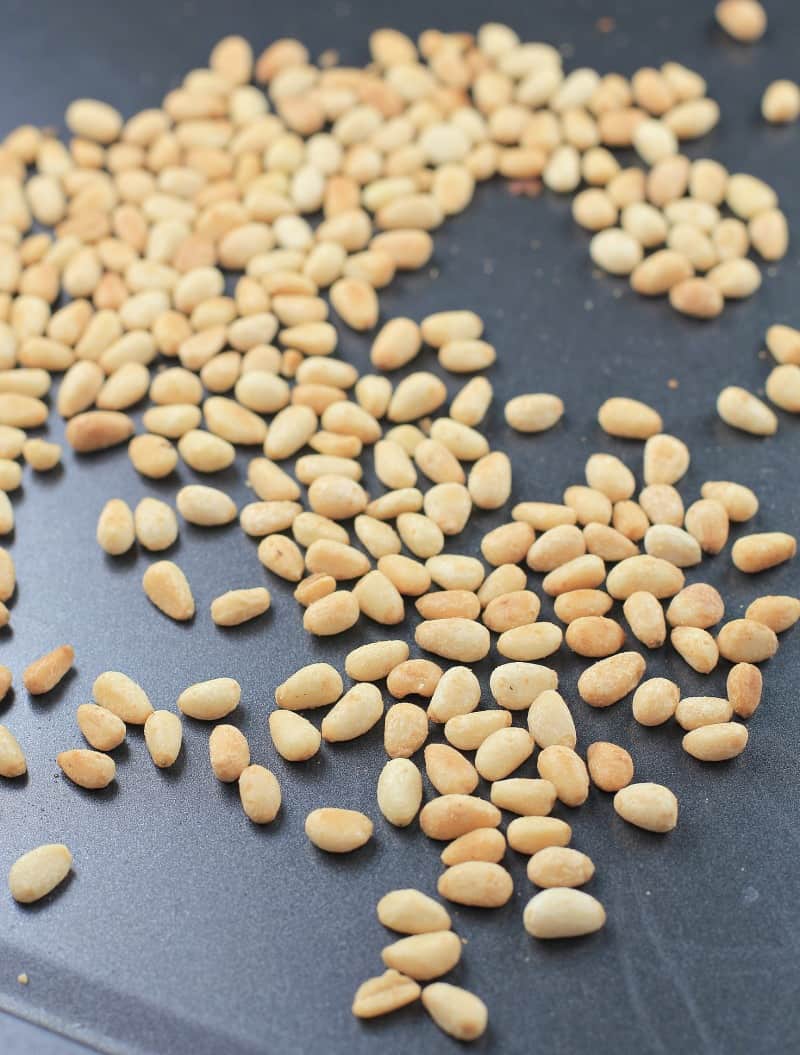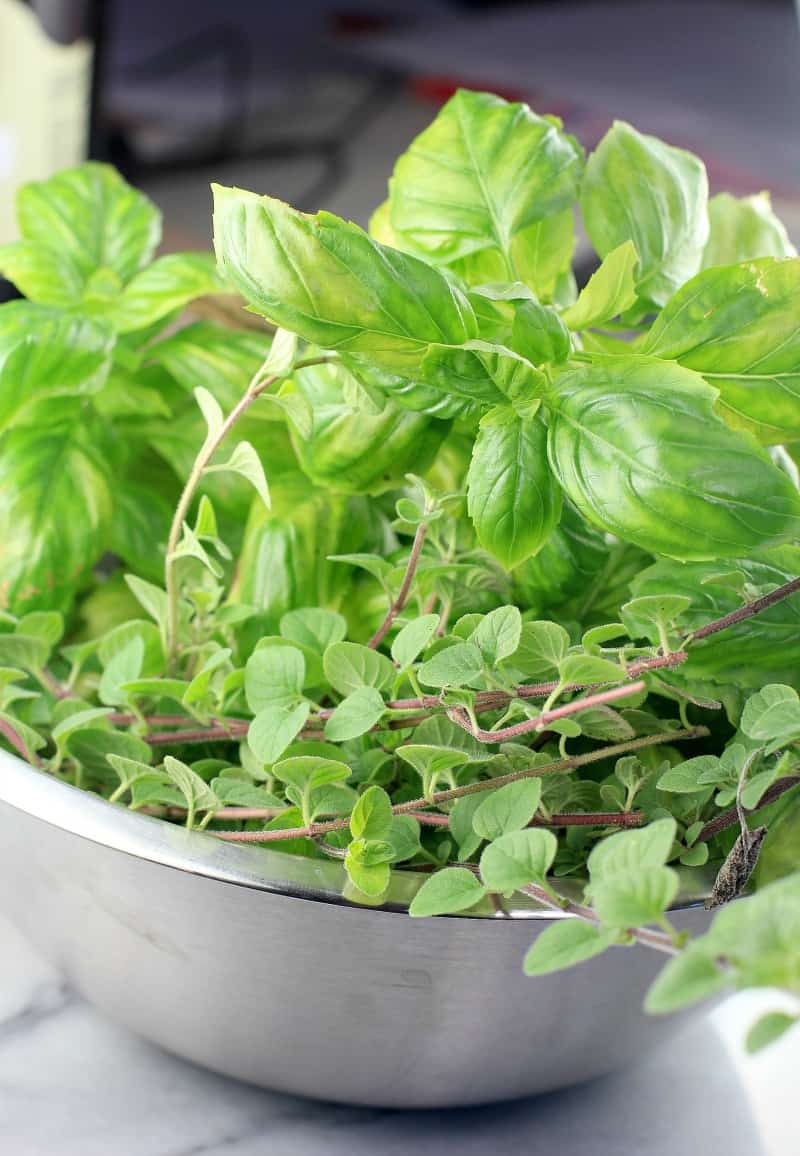 Vegan pesto pasta ingredients
Ingredients for the vegan sun-dried tomato pesto
Sun-dried tomatoes. We use the tender kind that come in a jar marinated in olive oil.
Pine nuts. Pine nuts are not actually nuts at all, but are pine seeds.
Fresh herbs: basil and oregano. Fresh oregano is my favorite herb and it marries with basil like Heaven.
Garlic. Two big cloves of it.
Seasonings: kosher salt, pinch red pepper flakes (completely optional), and fresh cracked pepper.
Extra virgin olive oil. Quality of olive oil means more in some recipes than others, and this is one of those where you want to break out your best olive oil since it will provide so much flavor for this vegan pesto.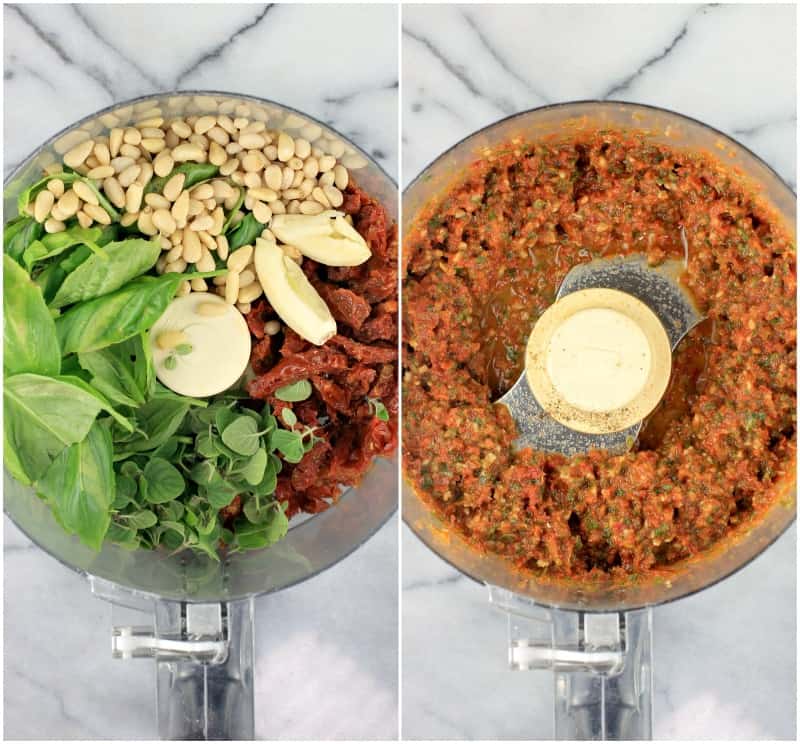 Ingredients for the pasta and everything else
Whole grain pasta. I used thin spaghetti, but any pasta shape of choice will work since this sauce has good coating power. Rotini or fusilli – spirally pastas – would be fantastic I think. In addition to the flavor (which is why I chose whole grain pasta to begin with), an added bonus of using whole grain pasta is that each serving has 10 grams fiber and 18 grams protein making this vegan recipe protein rich and filling.
Pine nuts. Pine nuts are blended into the pesto (above), but we also lightly toast some to enhance their flavor and add whole to our pasta.
Coconut milk. We want full fat coconut milk, the kind that comes in a can. Usually, I find it in the Asian section of the grocery store.
Marinated quartered artichokes. Tender, flavorful marinated artichokes are much better tasting than those canned in just water.
Note that this creamy vegan pesto sauce does NOT taste like coconut. The flavor of the coconut milk is completely masked by the assertive flavors of garlic, pine nuts, herbs, and sun-dried tomatoes, and we just have a yummy creamy delicious pasta.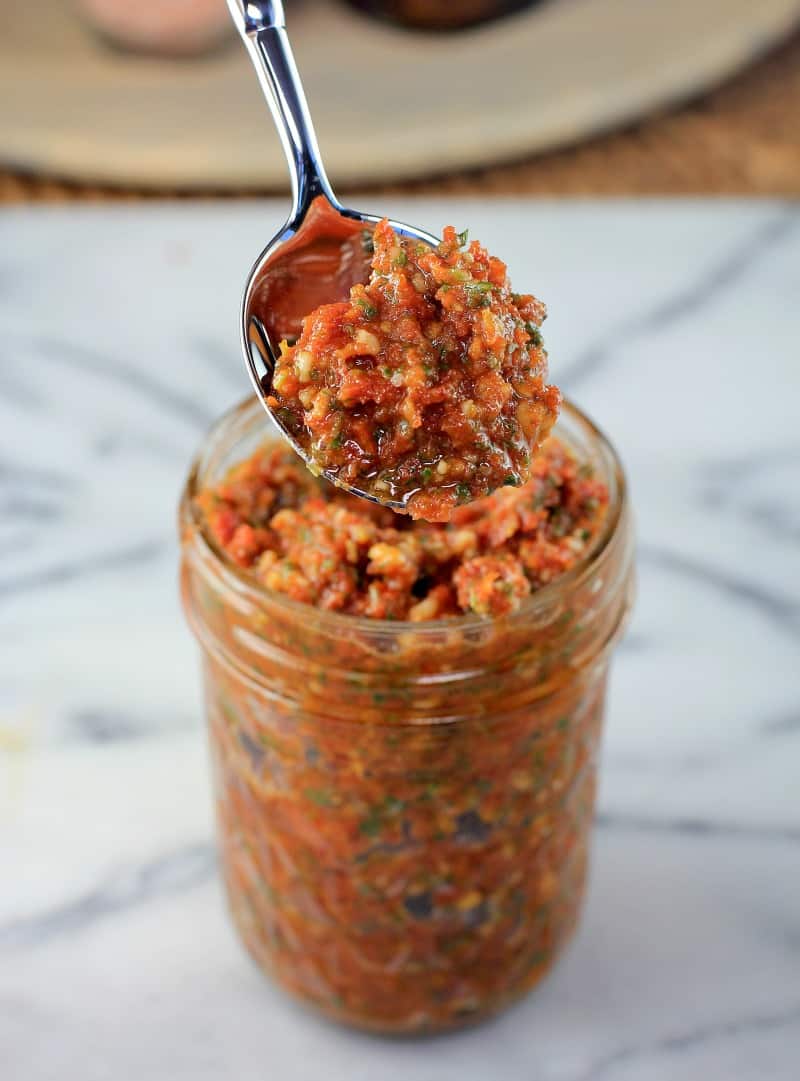 Easy steps to prepare sun-dried tomato pesto pasta
This dinner dish (or side dish, because this recipe can go both ways), is one of my easiest ever.
Make the pesto. We just add the ingredients to a food processor… and process. Done.
Make the pasta. In the time it takes to cook the pasta, we toast our pine nuts, heat the pesto and coconut milk to make the sauce, then throw it all together.
This prep is so completely easy, and the pesto can be made in advance if desired.
Here is a recipe for vegan parmesan from Minimalist Baker if you would like to top your yummy creamy pasta with "parmesan".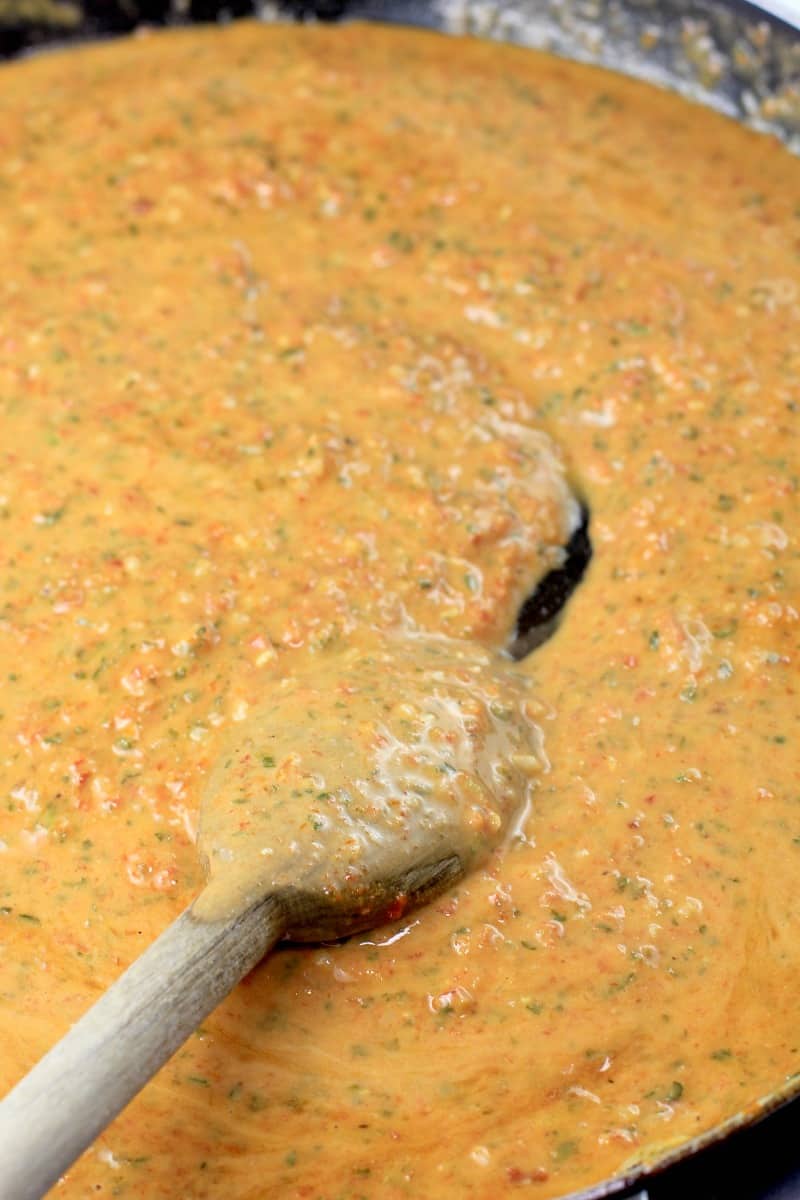 Possible additions and substitutions
If fresh oregano is not available, you may increase the amount of basil or substitute another herb like Italian flat-leaf parsley.
Walnuts are an appropriate substitute if pine nuts are not available, and if using walnuts, coarsely grind (same as one would when making cookies) before adding to the pasta.
Canned artichokes in water can be used in place of marinated, but they will not be as tender and flavorful.
Heavy dairy cream may be substituted for the coconut milk. In this case, the sauce may need to be gently simmered a bit to thicken.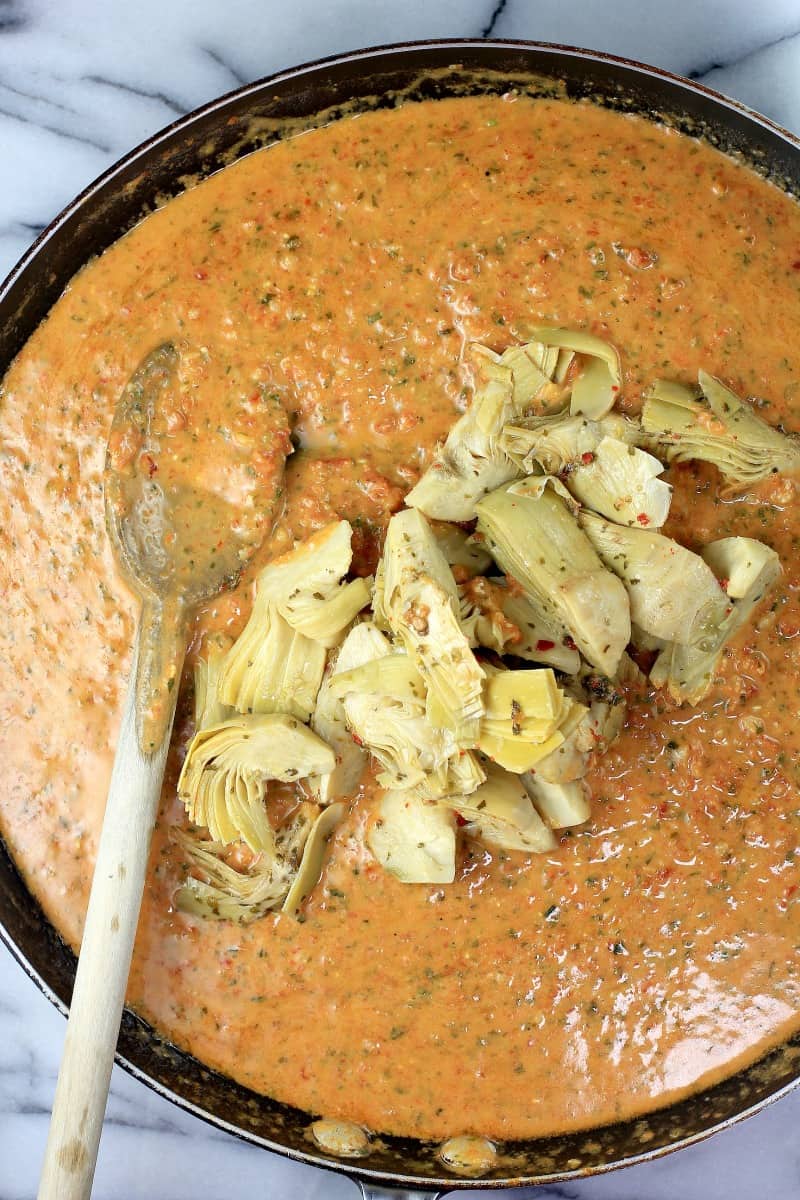 This recipe was intended as a side dish originally, but once I made it I now see it as a lovely dinner (especially with all the protein and fiber). So, to make it even more substantial, possible additions could be:
Mushrooms. Brown in olive oil prior to adding to the pasta.
White beans. Cannelini beans, white beans, navy beans could all work and would add even more nutrition.
Broccoli or asparagus. Roasted or steamed broccoli or asparagus would work beautifully either in this dish or as a side dish.
Sautéed spinach can be added for a Florentine vibe.
Shaved Brussels sprouts.
Peas would be awesome in sun-dried tomato pesto pasta.
And of course, if you would like to add meat like chicken, sausage, or shrimp, any would work well. And you can substitute heavy cream for the coconut milk, you just need to simmer the sauce a couple minutes to thicken.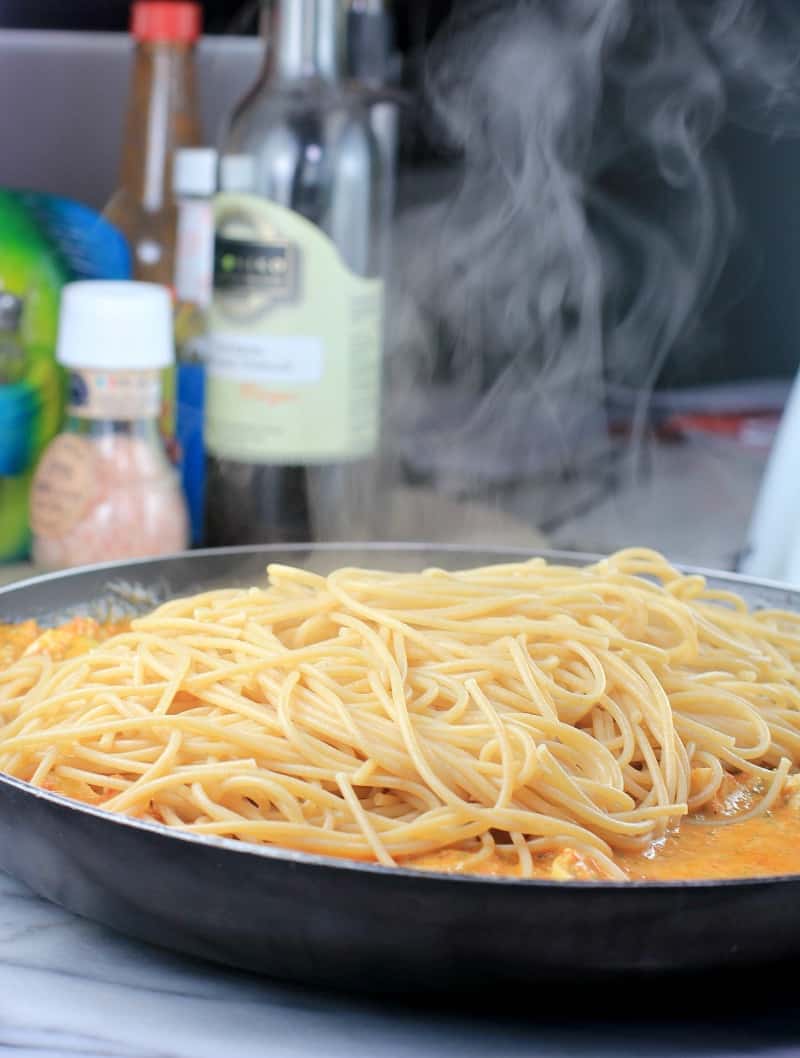 Last tips
While making the pesto in the food processor, it helps to use a rubber spatula to scrape down the sides a couple times.
I like to use a large, nonstick skillet to make the pesto sauce.
Be sure to shake the can of coconut milk well and mix for a while because it has a tendency to separate while sitting on the shelf.
Watch those nuts! Pine nuts will toast quickly in the oven, so do not do what I usually do and forget about them and end up with burned nuts.
Getting the oregano leaves off the stems is super easy. Simply grab one end, grip it, and pull it through your hand pulling off all the leaves in the process.
Once the pasta is cooked and drained, do not rinse with water. We cook the pasta to al dente meaning that it will still cook a bit once added to the sauce. This is how we get the pasta to get coated in the sauce and absorb all that flavor.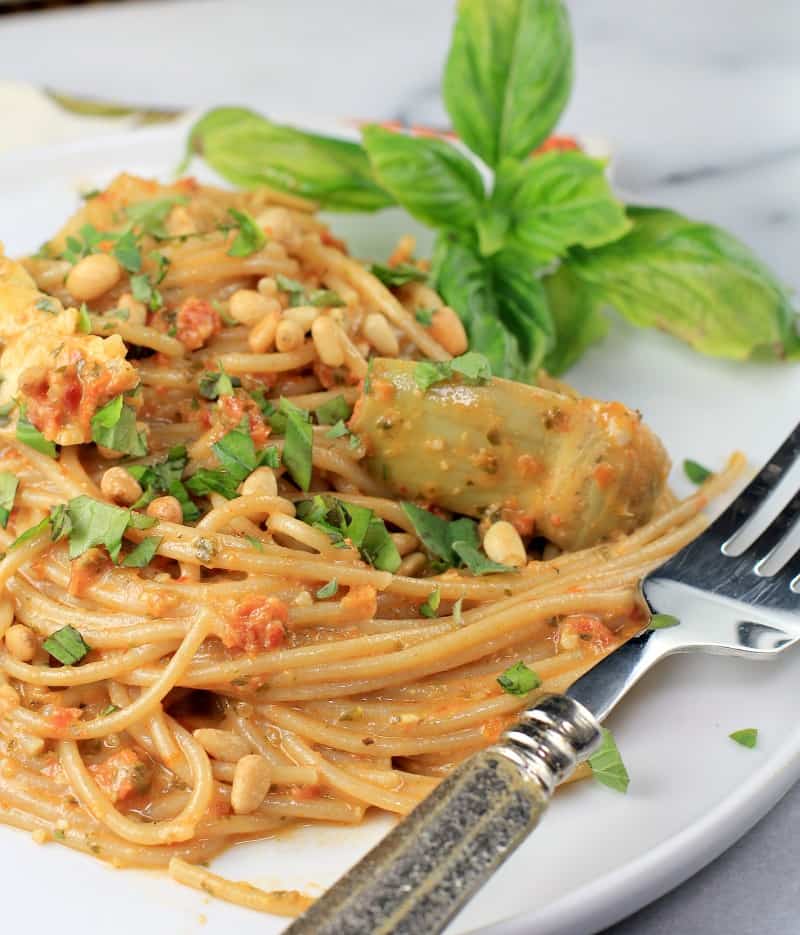 More Italian-inspired recipes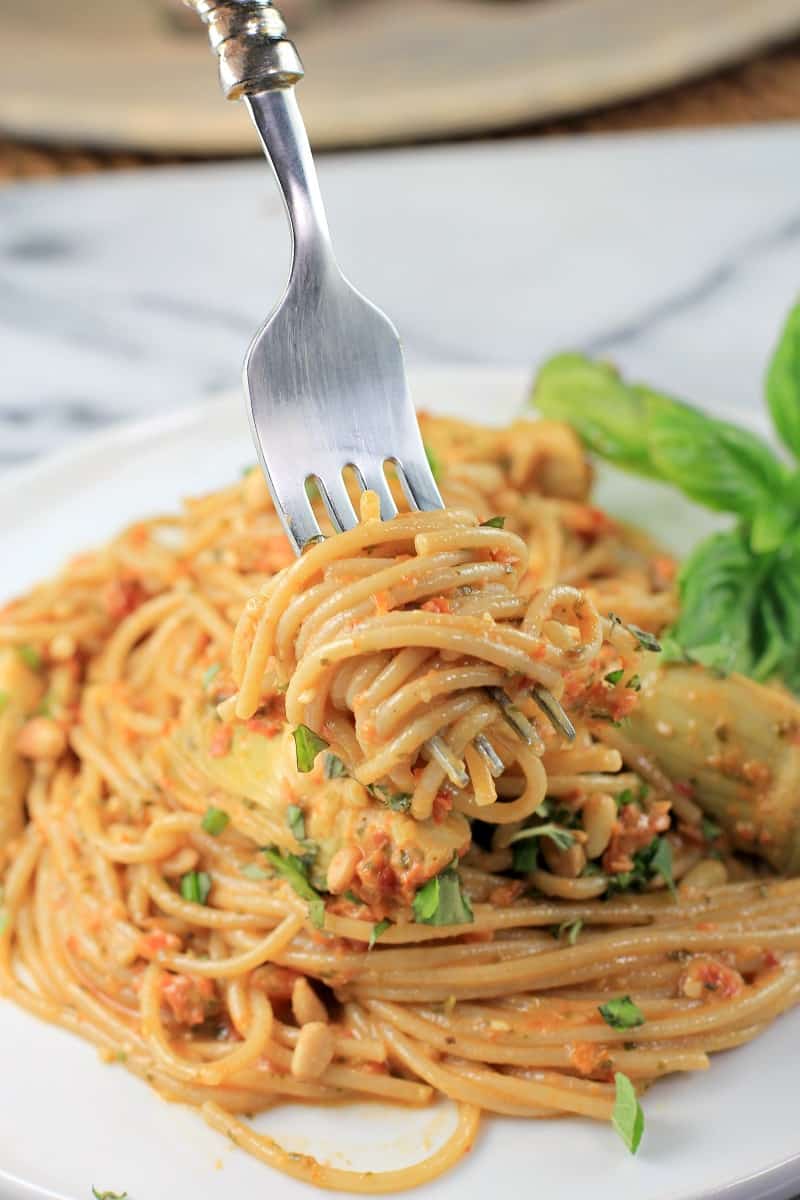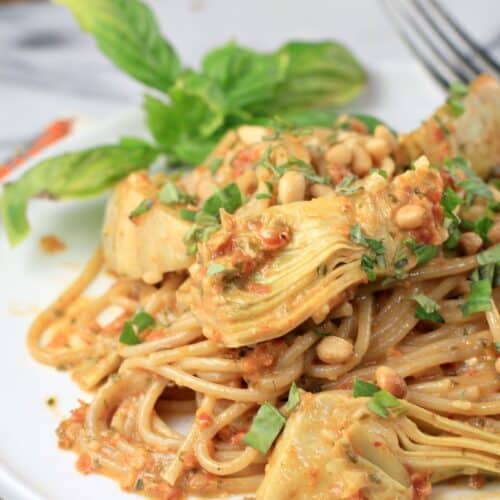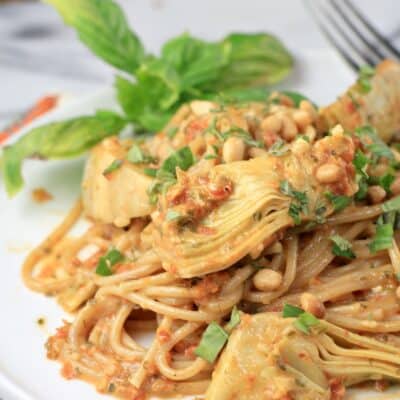 Sun-Dried Tomato Pesto Pasta
Sun dried tomato pesto pasta is a creamy vegan pesto sun-dried tomato sauce over whole grain pasta with artichokes, pine nuts, and fresh herbs.
Ingredients
For the Sun-Dried Tomato Pesto
1

cup

sun-dried tomatoes in oil

drained

¼

cup

pine nuts

½

cup

fresh basil leaves

¼

cup

fresh oregano leaves

2

large cloves garlic

½

tsp

kosher salt

pinch

red pepper flakes

optional

couple pinches fresh cracked pepper

¾

cup

extra virgin olive oil
For the pasta
8

oz

whole grain pasta of choice

¼

cup

pine nuts

1 ½

cup

full fat coconut milk

from a can

1

(12 oz)

jar marinated quartered artichokes

drained

garnish: red pepper flakes, fresh chopped basil and oregano
Instructions
Make the Sun Dried Tomato Pesto
In a food processor, add the ingredients for the pesto. Pulse until combined and the tomatoes are broken down but not blended. Set aside. Yields ~1-½ cup pesto.
Make the pasta
Bring a pot of water to a boil. Add the pasta and cook, according to package directions, to al dente. Drain.

While the pasta is cooking, layer the pine nuts on a rimmed bake sheet and toast in the oven 3-4 minutes until lightly golden. Watch carefully or they will burn. Remove from the oven and set aside.

While the pasta is cooking and nuts are toasting, add the pesto and coconut milk to a large skillet. Heat, stirring regularly, until warmed. Add the artichokes and pine nuts.

Toss the pasta into the pesto sauce. Serve topped with fresh herbs and a pinch of red pepper flakes.
Nutrition
Calories:
1016
kcal
(51%)
|
Carbohydrates:
69
g
(23%)
|
Protein:
18
g
(36%)
|
Fat:
78
g
(120%)
|
Saturated Fat:
20
g
(125%)
|
Polyunsaturated Fat:
7
g
|
Sodium:
845
mg
(37%)
|
Potassium:
278
mg
(8%)
|
Fiber:
10
g
(42%)
|
Sugar:
14
g
(16%)
|
Vitamin C:
70
mg
(85%)
|
Calcium:
30
mg
(3%)
|
Iron:
2
mg
(11%)
Calorie count is purely an estimate calculated using an online application to serve as a guide and not to be taken as accurate nutritional information. Percent Daily Values are based on a 2,000 calorie diet.
Tried this recipe?
Leave a comment below and let me know!