Dainty, pretty little party bites, so perfect in every way. Flaky fillo cups filled with a luscious Dijon Cashew Cream and topped with fresh, herbed bruschetta. This easy Mini Bruschetta Tarts recipe for entertaining is dairy-free, guilt-free, stress-free, and cruelty-free. But full of love and all the good things.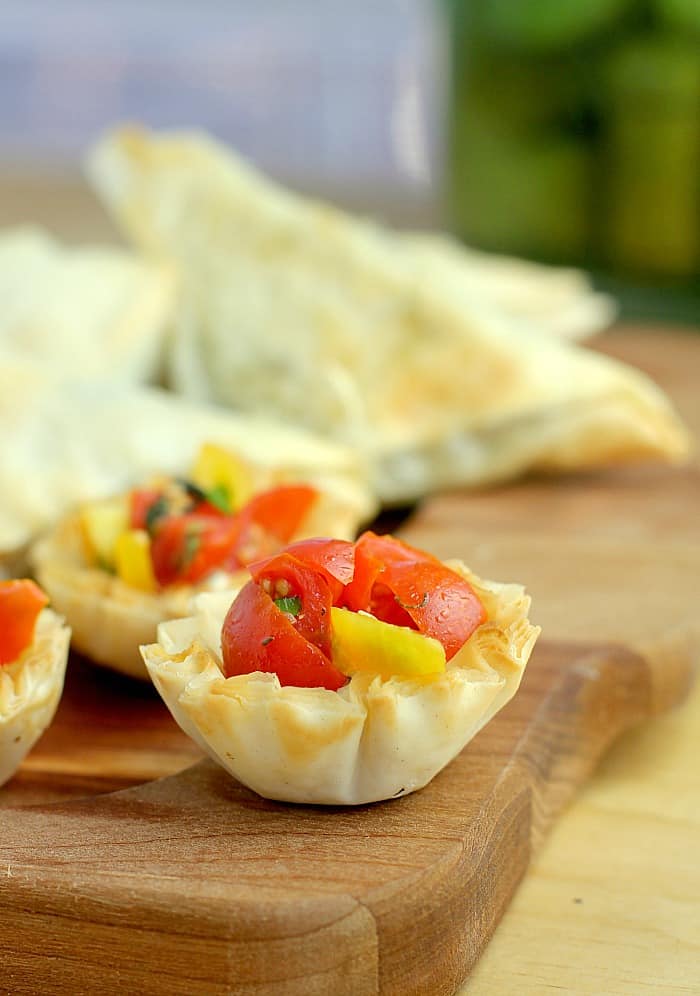 So this here recipe is one I am quite proud of. I have made it twice now …First time was New Year's Eve, and I took it to the neighbors. We munched and laughed and blushed (at least I did) while playing Cards Against Humanity till midnight. Second time was for a thing at work. We have a lovely lady retiring after many years, and she asked to have a high tea to celebrate. So we donned our hats, stuck out our pinkies as we sipped our tea …and put together a long table of beautifully elegant food. And these Mini Bruschetta Tarts fit right in perfectly.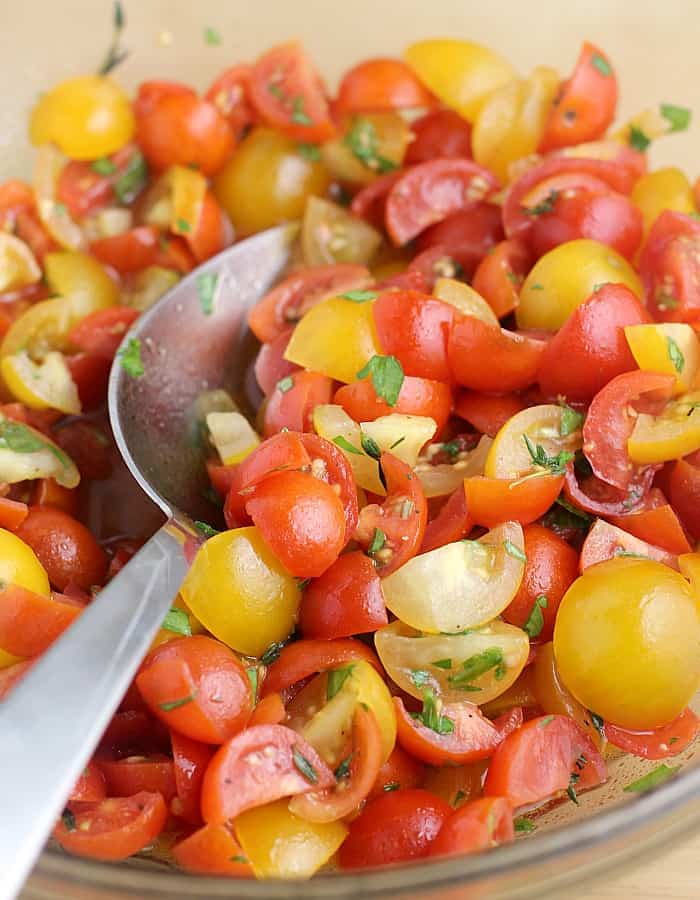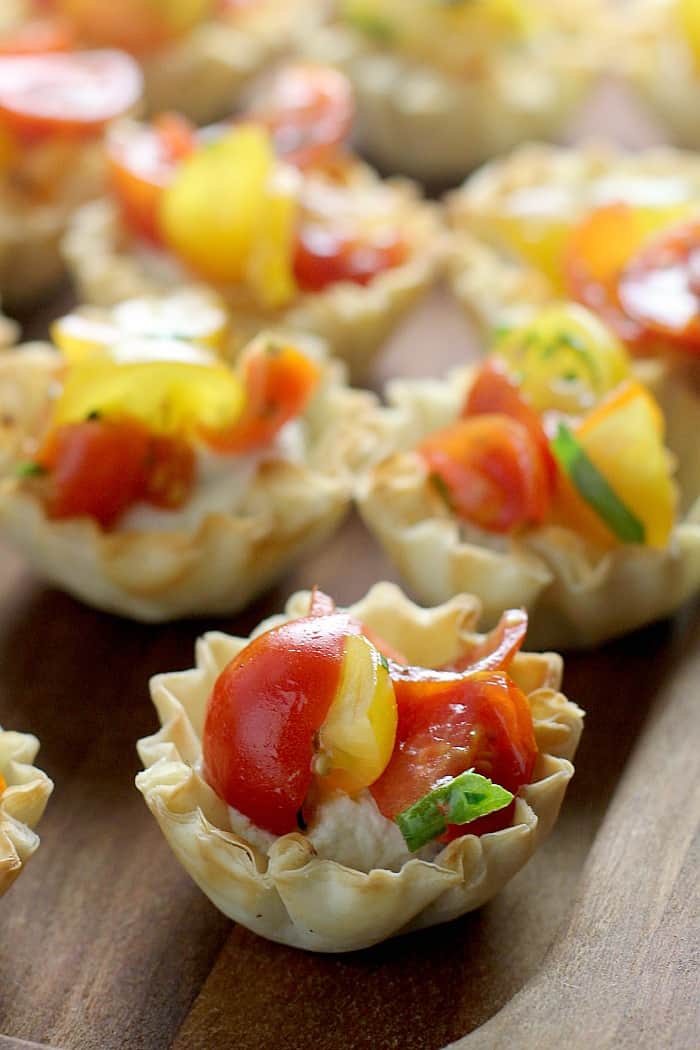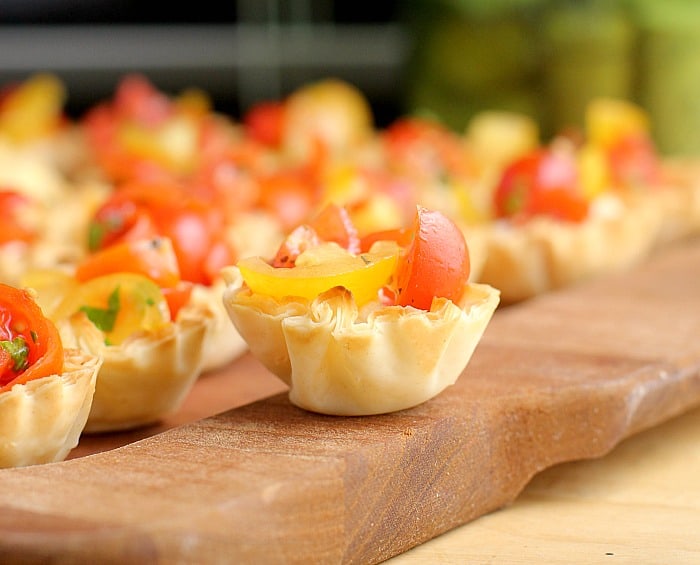 There are two key things to this recipe. First is that the Dijon Cashew Cream tastes sooooo gooood. Divine. Like a ricotta, but no dairy and you don't even know. Salty, lemony, herby, Dijon-y …fantastically good. Second, is the bruschetta. Tomatoes and olive oil, herbs – these ingredients were made for each other, weren't they? Put them all together in adorably little, flaky fillo shells, and it is literally magic the way the flavors combine. Each bite tastes totally decadent, but really it's all just healthy and good.
So that's it folks! Simple to make, beautiful to look at. And of course, delicious to eat. If you are putting out a party spread or just looking for a new appetizer, definitely try these tarts! Then go posting all your greatness on Instagram or something and let me know about it – it'll make my year. ❤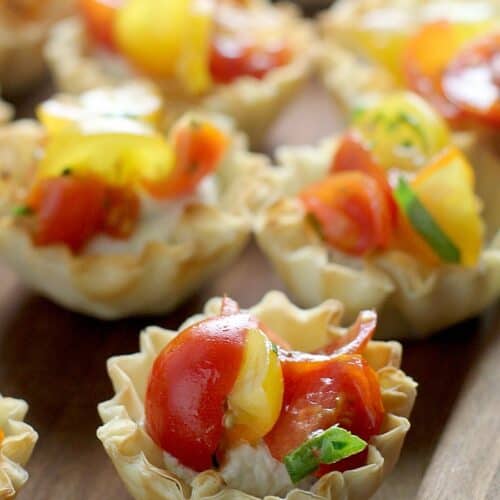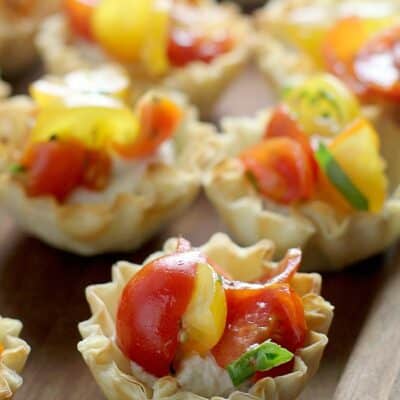 Mini Bruschetta Tarts with Dijon Cashew Cream
Flaky fillo cups filled with a luscious Dijon Cashew Cream and topped with fresh, herbed bruschetta
Ingredients
For the Dijon Cashew Cream
7

oz

raw cashews

soaked in water overnight, drained

juice of half a lemon

1/4

cup

water

1/2

tsp

kosher salt

3

tsp

Dijon mustard

1

Tbs

fresh thyme leaves

1

Tbs

Italian flat-leaf parsley

chopped

1

tsp

dried Herbs de Provence

kosher salt
For the Tartlets
4

1.9 oz boxes frozen mini fillo shells, 15 shells per box

1-1/2

cup

red grape or small cherry tomatoes

quartered

1-1/2

cup

yellow grape or small cherry tomatoes

quartered (if not available, just use all red tomatoes)

2

tsp

red wine vinegar

1

Tbs

extra virgin olive oil

1

Tbs

fresh thyme leaves

1

Tbs

Italian flat-leaf parsley

chopped

couple pinches Herbs de Provence
Instructions
Put the fillo shells on a bake sheet and toast them in the oven according to package directions.

Add the cashews, lemon juice, water, salt, and Dijon to a food processor and process until smooth. Taste for seasoning and acidity - if the cashew cream tastes bland, add more salt and lemon juice. Also, taste to be sure the Dijon flavor is distinct; if not, add a little more.

Once satisfied with the cashew cream, add the thyme and Herbs de Provence, and pulse the processor gently to combine. Transfer the Dijon Cashew Cream to a large ziploc bag, and set aside in the fridge until ready to proceed.

In a bowl, add the tomatoes, red wine vinegar, olive oil, and herbs. Add a good pinch kosher salt as well. Toss.

To assemble: snip a corner of the bag with the Dijon Cashew Cream, and pipe the cream into each fillo shell (you won't use all of it; reserve leftover for another use). Top with the bruschetta (I found using my fingers to do this to be the easiest). Serve at room temperature. Yields: 60 bites.
Notes
The Dijon Cashew Cream can be made a day in advance.
Calorie count is purely an estimate calculated using an online application to serve as a guide and not to be taken as accurate nutritional information. Percent Daily Values are based on a 2,000 calorie diet.
Tried this recipe?
Leave a comment below and let me know!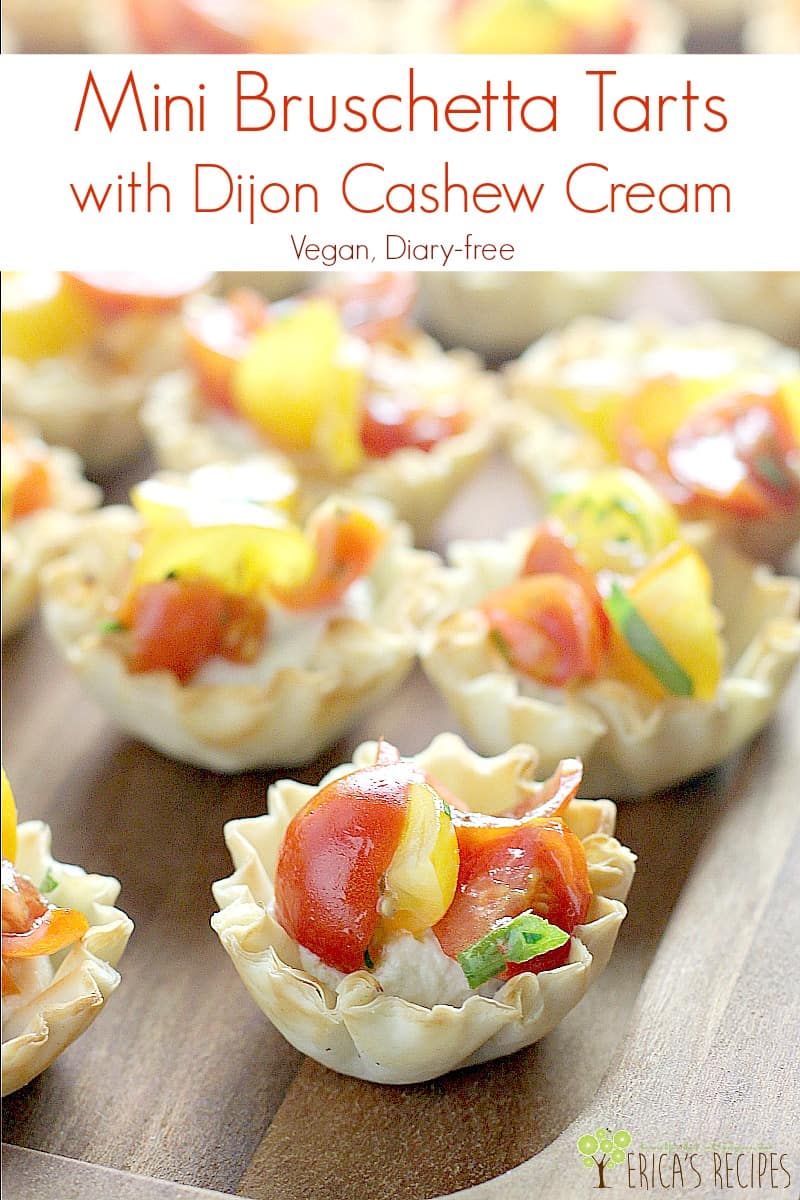 ~✿♥✿~
Leave me a comment and let me know what you think! Otherwise, I'm just talking to myself here.