Swiss Chard and Quinoa Breakfast Bowl
Swiss Chard and Quinoa Breakfast Bowl. Thank you October for the Swiss chard you bring. My all-time favorite leafy green is the star of this uber healthy, kinda-sorta breakfast salad served with a sexy silky egg on top.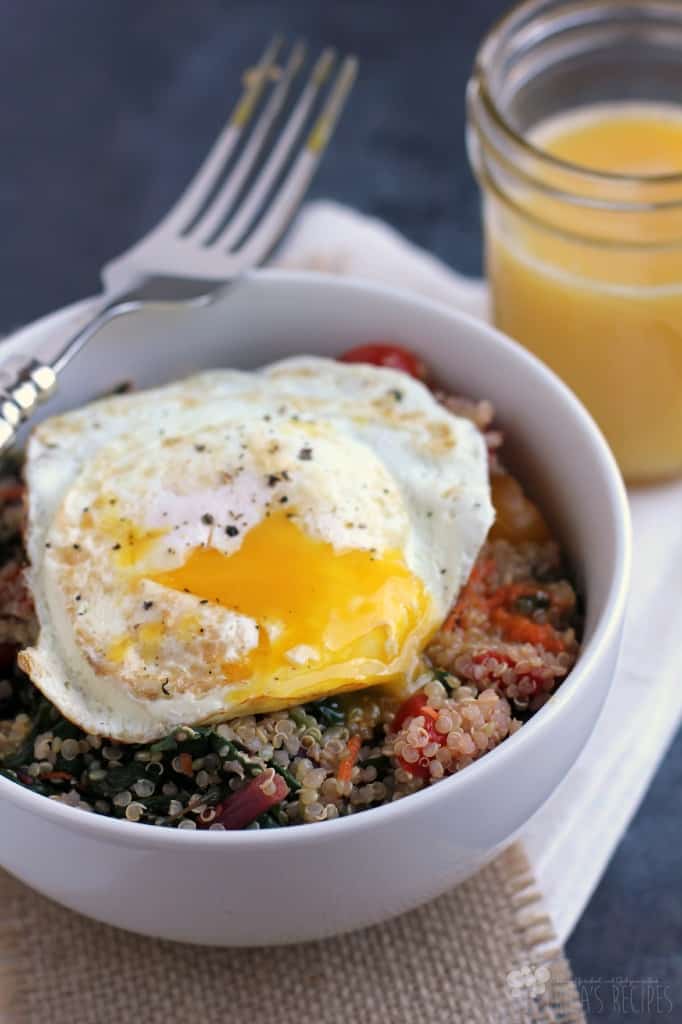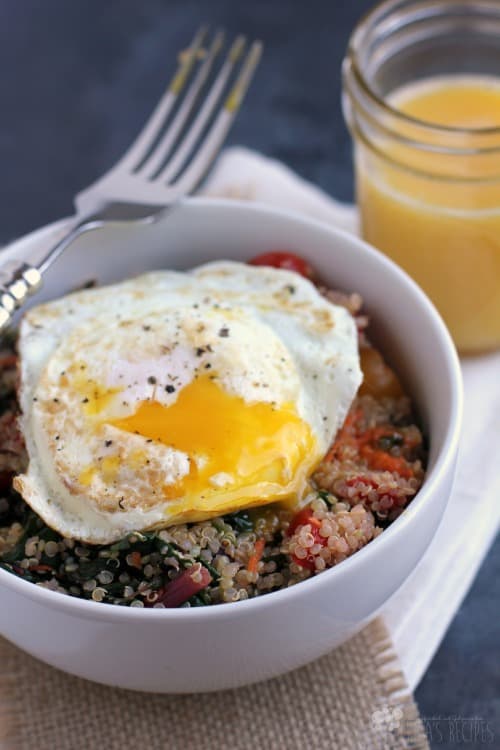 So, it is another triathlon week for me! Yes, really. Yeah, I don't know what I was thinking either …Well, yesss, I want the blinggg. There is that. The tri this Sunday will be longer than the one a week ago by 10 miles (in total, a 1.5K swim, 35 mile bike, and 6.2 mile run), but the cool thing is that the bike leg is across Kennedy Space Center. I will be cycling past launch pads and NASA stuff and such ….on crappy old government roads. So it's gonna hurt, but it will be totally cool at the same time. And that's alright.
Any-hoots, I am trying something new this week. Where I'm usually all about brown rice or pasta to fuel up, this week I'm going to see how it goes using veggies as my predominant carb (yes mom, I'm feeling alright). And quinoa too because I have come to be fully in love with this little superfood – it's a fast-cooking, healthy carb with protein as a bonus. I am smitten. …and I am generally not good about eating my veggies, so this week I am pledging to myself to do better.
It is now a Sunday afternoon as I am typing. Today, oddly enough, is a cool day (cool meaning under 80F) – our first here in Florida since like, oh, February. So I went for a bike ride, now I have all the windows open, and it is totally beautiful out. …And I just got done making this beeee-yoo-tee-ful new dish. Life is so good.
..Here are my cutesy mixed tomatoes from the farmer's market. …major score…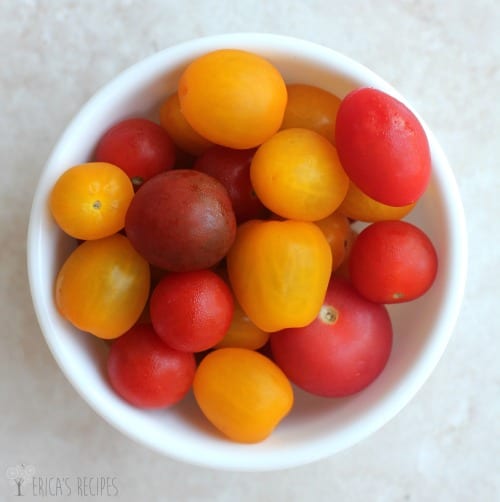 I followed that age-old adage "eat a rainbow" with this recipe. Except blue and purple. Those are tough. But there is every other color here – red bell pepper, carrot, tomatoes, Swiss chard. There's healthy fat with the olive oil, and alkalizing greens and lemon. And the egg. I eat an egg every single morning and my cholesterol is perfecto – including a recent measurement of HDL – the good cholesterol – at 81mg/dL thank you very much. In my 20s, my cholesterol was high and unhealthy. Now it is not. The difference is less stress, eating less crap, and a buttload of exercise. So don't hate on eggs – eggs are perfectly fine …at one-a-day.
So, the quinoa – if you have never tried quinoa, this is a great recipe to give 'er a go. Because with the fresh yummy veggies, light and lemony vinaigrette, and rich egg yolk, the quinoa will be an after thought. And if you've already gotten intimate with quinoa, then clearly you need to make this dish correct? Because if something is good and healthy, why not start your day with it.
See, I'm all about the splurges and indulgences because we only live once, but recipes like this mean life and health and are completely necessary. …and they need to happen the majority of the time.
…but of course having said that, I'll have an awesome post-tri splurge for you next week. Something creamy cheesy 😉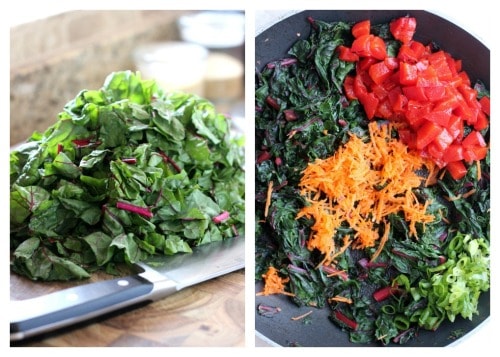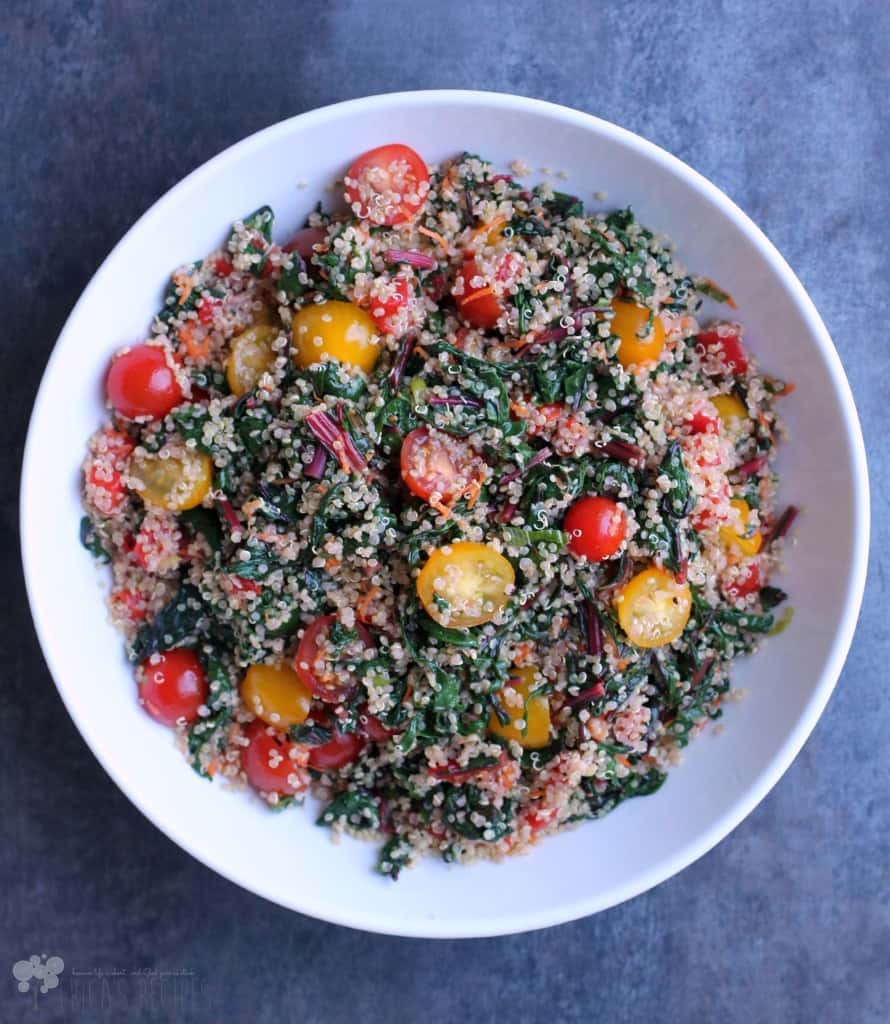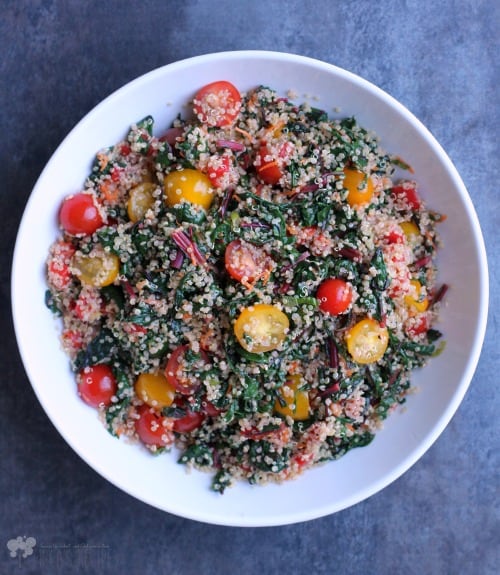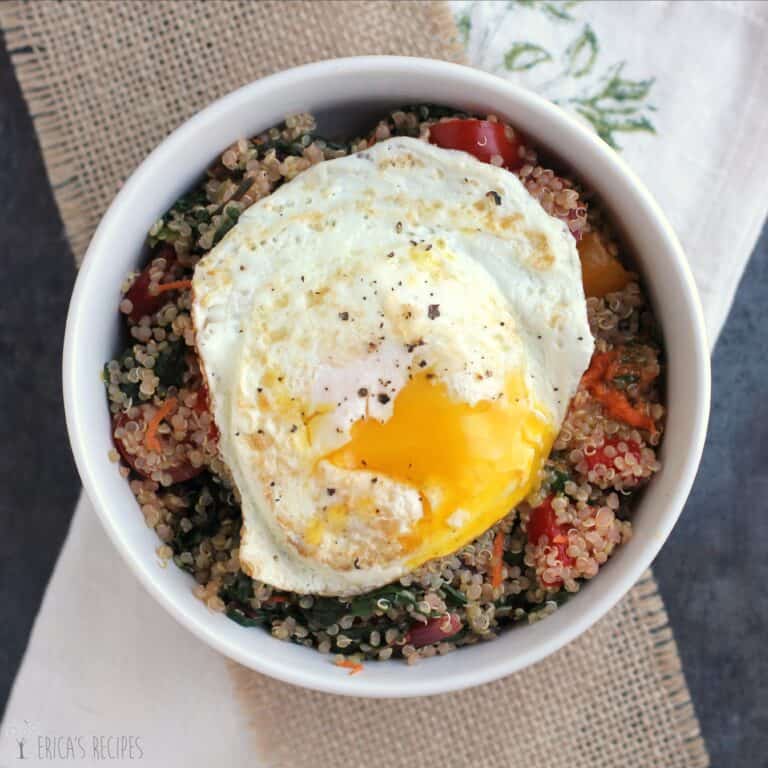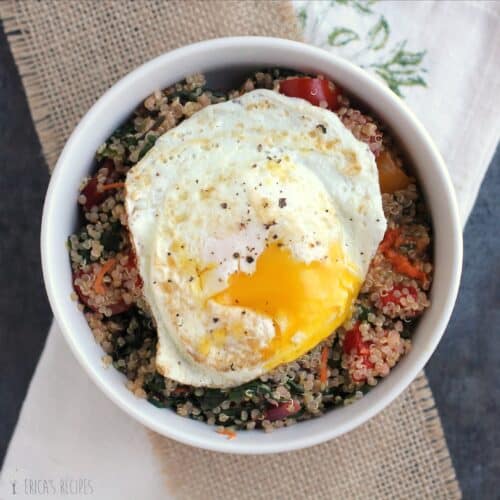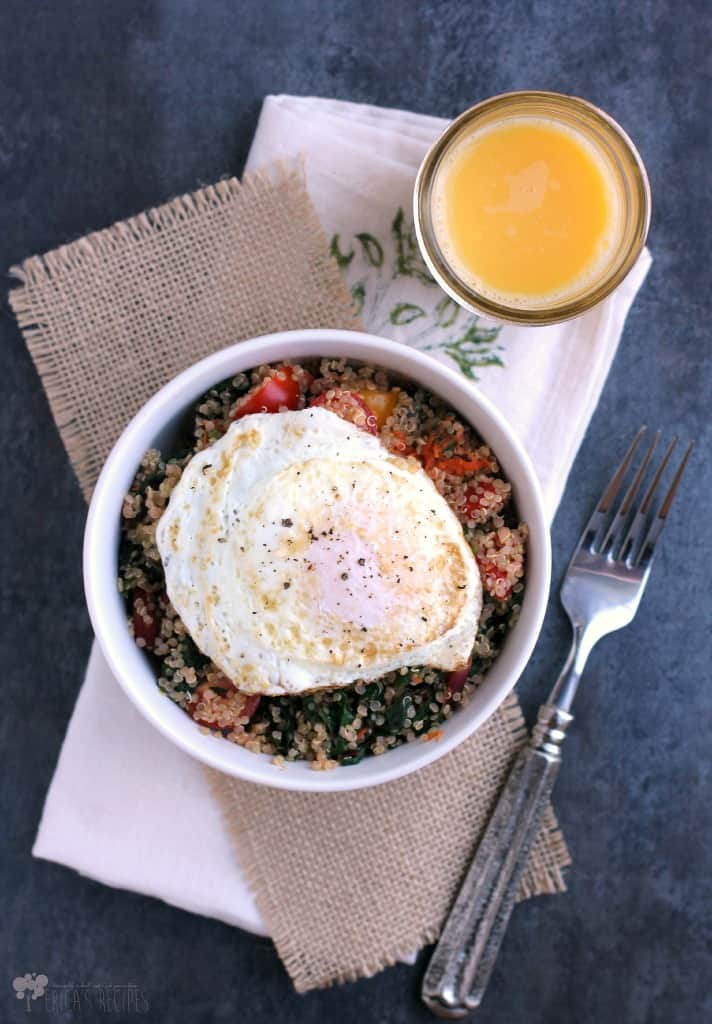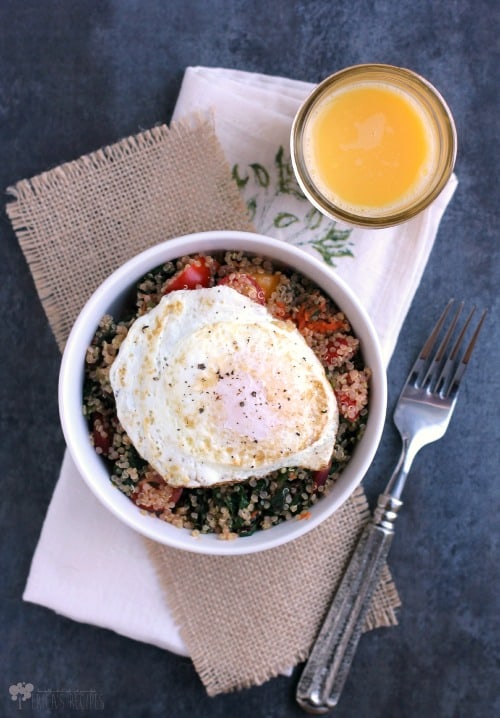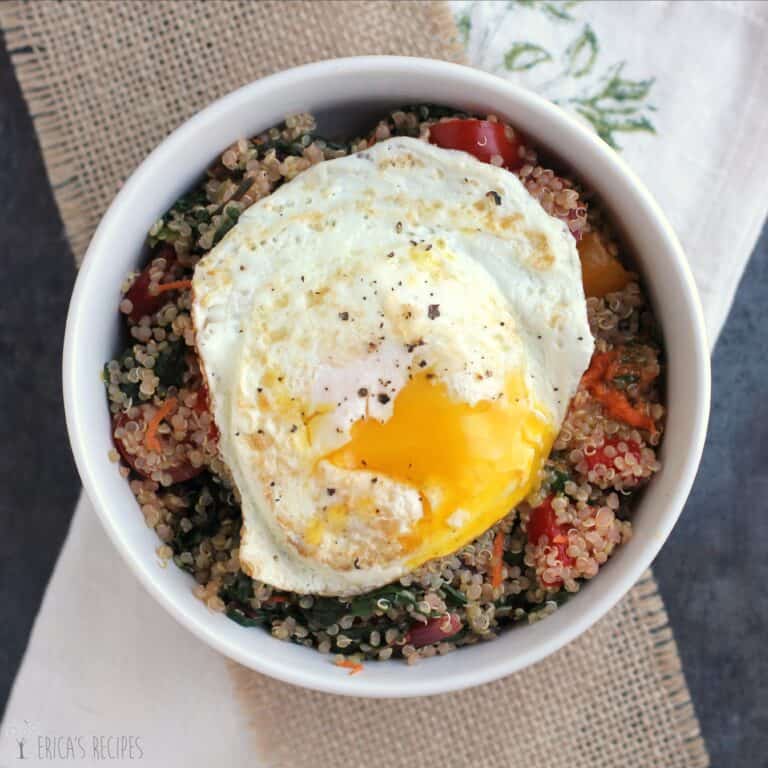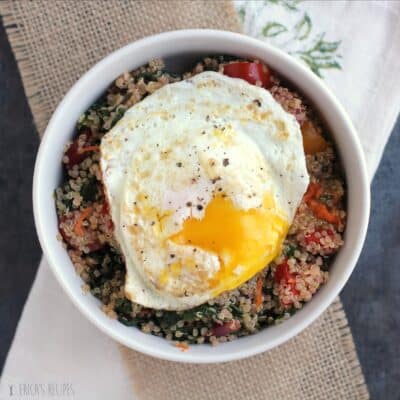 Swiss Chard and Quinoa Breakfast Bowl
My all-time favorite leafy green is the star of this uber healthy, kinda-sorta breakfast salad served with a sexy silky egg on top
Ingredients
1

bunch Swiss chard

diced (thick ribs discarded)

2

tsp

extra virgin olive oil

1

clove

garlic

minced

1

cup

quinoa

uncooked

1-1/2

cup

grape tomatoes

halved (preferably a mix of red and yellow, if available)

1

roasted red pepper

 small dice

1

small carrot

finely shredded

1

green onion

thinly sliced

4

large eggs

2

tsp

fresh lemon juice

1

Tbs

extra virgin olive oil
Instructions
Cook the quinoa according to package directions (I just boil it for 15 minutes in an excess amount of water, drain well, cover to let steam 5 minutes,  season with salt, then fluff with fork).

In a large, nonstick saute pan, heat the olive oil. Add the garlic and brown very lightly. Add the Swiss chard, a pinch salt, and 2 tablespoons water. Cook, turning occasionally with thongs, until Swiss chard is all awesome wilty and liquid is evaporated (this gets some of the bitterness out of this bitter green and softens the ribs). Set aside.

In a large bowl, add the ingredients for the vinaigrette (the lemon juice, 1 T olive oil, pinch each salt and pepper) and whisk together. Add the Swiss chard, cooked quinoa, roasted pepper, carrot, and green onion. Toss. Add the tomatoes, a good pinch salt and pepper, and toss again, gently.

Heat a large, nonstick saute pan. Spray with cooking spray and cook the eggs over easy so the yolk is still runny. While the eggs are cooking, season them with a little pinch salt and pepper.

To serve, portion the Swiss chard and quinoa mixture to 4 bowls. Top each with an egg.
Calorie count is purely an estimate calculated using an online application to serve as a guide and not to be taken as accurate nutritional information. Percent Daily Values are based on a 2,000 calorie diet.
Tried this recipe?
Leave a comment below and let me know!