Caramelized Onion and Sausage Quiche
This sausage quiche recipe with sweet caramelized onions and herbs is the quiche of our dreams. Make this sausage and onion quiche for your next special occasion to impress everyone with a delicious experience that will make any breakfast or brunch your best.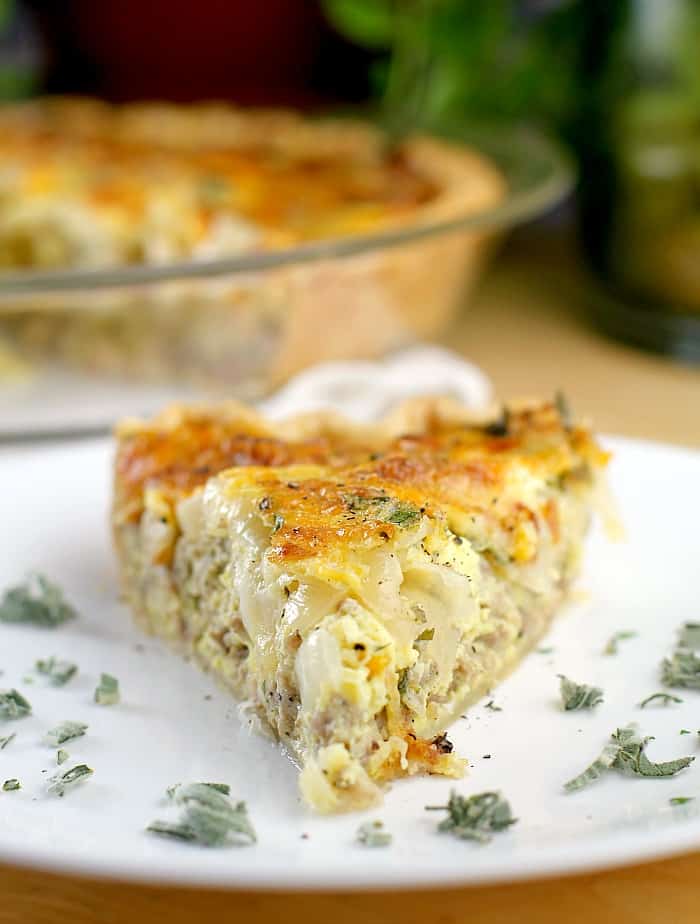 Why this sausage quiche recipe works
Holy moly am I proud of this recipe. Guys, this may be… dare I say …perfect? It is that good. SO good. So insanely good. The flavors with the cheese and herbs, savory sausage, and divinely sweet caramelized onions, combine to be amazing. My bestest best so far. By far.
Caramelized onions are, by themselves, special. Naturally sweet with incredible depth of flavor – YUM. Pain that with fresh herbs and juicy sausage, and the flavor combination is spectacular. THAT is why this sausage quiche recipe works.
I originally made this for Easter breakfast a couple years ago, and a part of me will likely always think of it as Easter quiche.
But guys, this is the best quiche I have ever made. No exaggeration, this is a savory breakfast dish that is just so fantastic. I wasn't surprised my husband liked it. It has sausage and cheese. He's easy that way.
What surprised me is my teenage daughter. She is picky, and rarely likes meat. She is also critical of everything, convinced I am an idiot, and there must be a portal to Narnia in her bedroom because she only comes out to eat.
My point is that the person I least expected to love this sausage quiche recipe LOVED it AND even said so!! GASP! She ate it for days. Happily. Amen.
If you can't feel my love for this recipe by now, you haven't been listening. And the bonus is that this is really easy to make.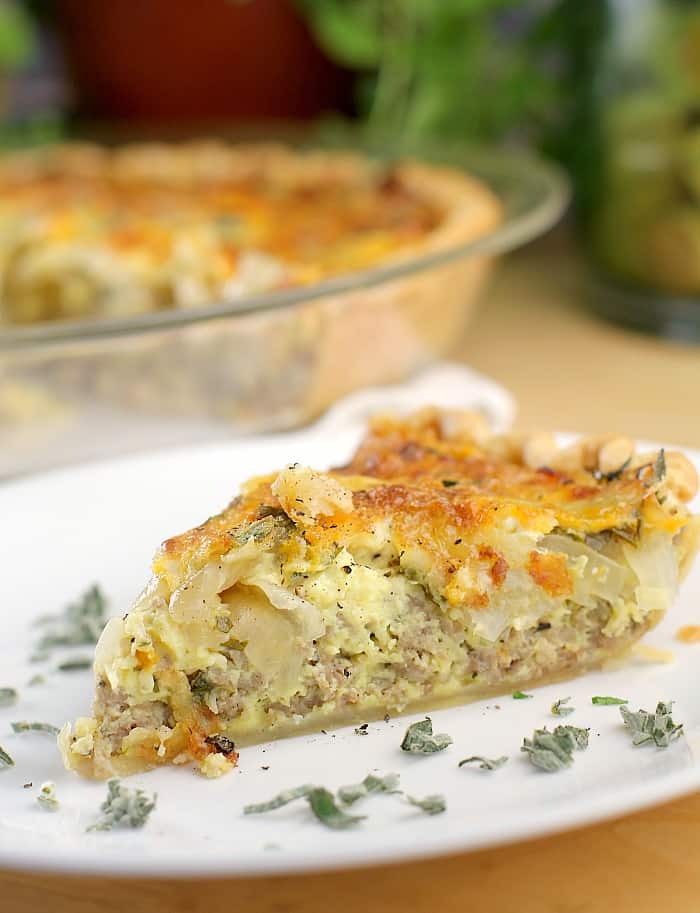 The ingredients
All the ingredients are easy to get at Walmart or the grocery store. Nothing exotic here.
Pie dough. You can purchase or make Perfect Pie Crust.
Onions. Two big ones, which sounds like a lot but really isn't once they cook down.
Extra virgin olive oil, granulated sugar, and vegetable stock. Used to cook the onions.
Bulk breakfast sausage. The kind in a tube.
Cheeses: Swiss and sharp cheddar.
Fresh herbs: sage and flat-leaf parsley.
Eggs, cream and Dijon mustard. To form the custard.
Seasonings: kosher salt and fresh cracked pepper.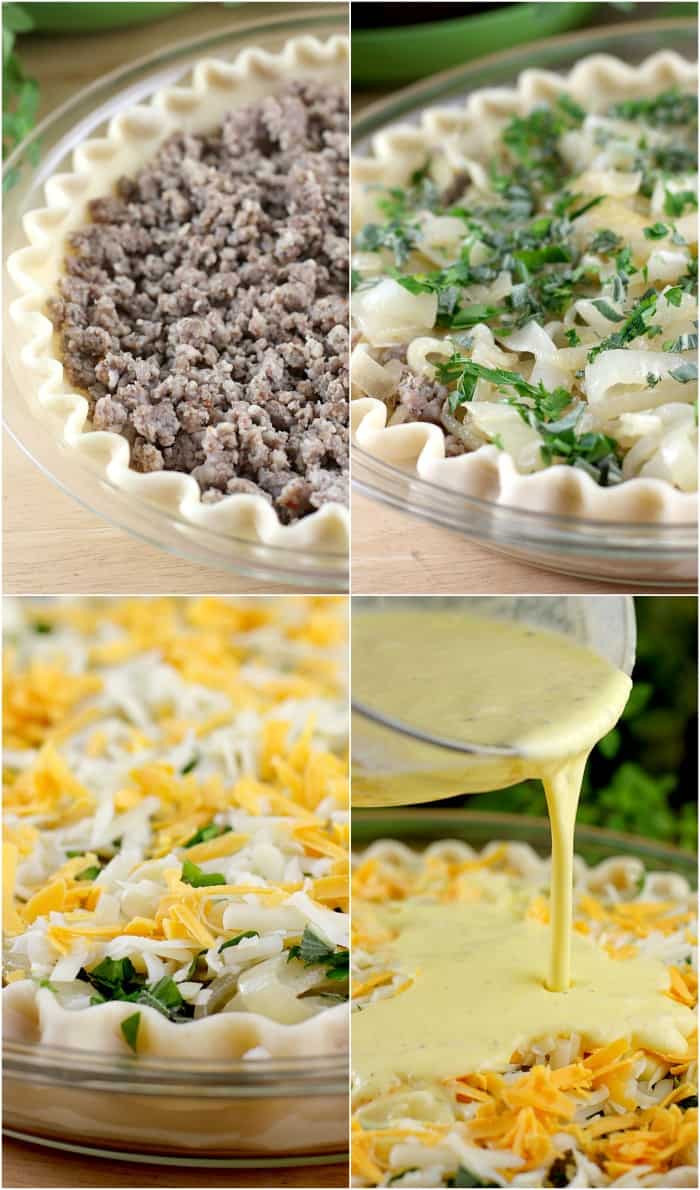 How to make this sausage quiche recipe
Everything here is really very easy. First, caramelizing the onions takes a bit of time, but IT IS WORTH that bit of time. Besides, there's little effort – you don't have to babysit them. Just check on them and give them a stir once in a while. The payoff is worth it. Seriously.
Then other than making the onions happen, we brown up the sausage and just layer all in a pie crust and bake.
Then we have a freaking fantastic quiche for any spring buffet, Christmas breakfast, Easter brunch, baby shower, WHATEVER. So so so good.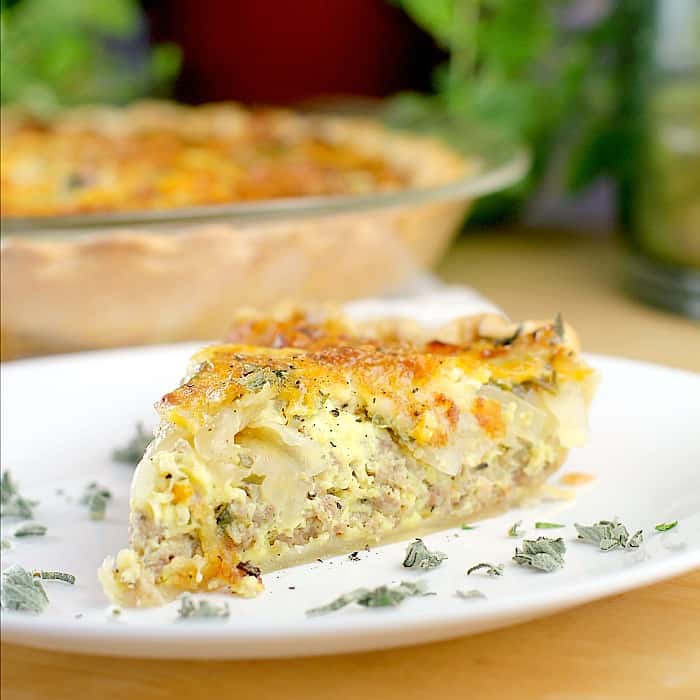 Tips
As with any quiche, the trick is to get the bottom crust to cook through because raw pie dough is not tasty. If the top starts to brown too much before the cook time has elapsed, cover loosely with foil to prevent burning.
This sausage quiche can be cooked a day in advance and reheated. It can also be frozen.
If white onions are not available, yellow onions may be substituted.
I used mild bulk sausage, but you may use sage or hot to suit your taste.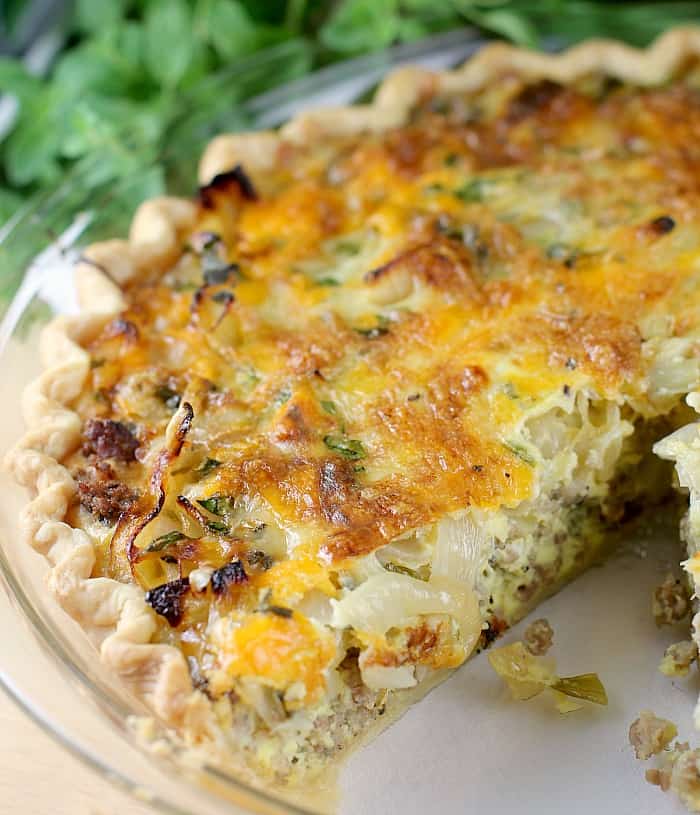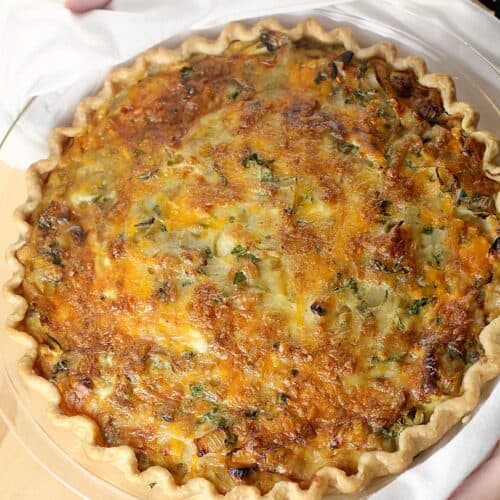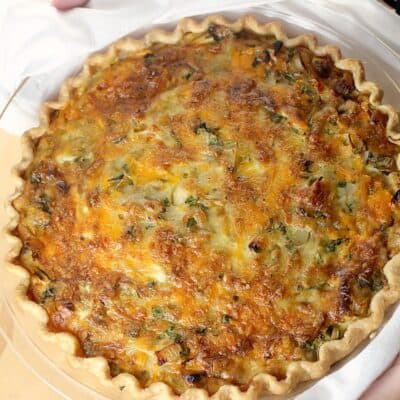 Caramelized Onion and Sausage Quiche
This sausage quiche recipe with sweet caramelized onions and herbs is the quiche of our dreams. Make this sausage and onion quiche for your next special occasion brunch and impress everyone.
Ingredients
1

prepared dough for 1 pie crust

2

large white onions

sliced in ½-inch slices

1

Tbsp

extra virgin olive oil

1

tsp

granulated sugar

¼

cup

vegetable stock or apple juice

1

bulk breakfast sausage

cooked and fat drained

¾

cup

shredded Swiss cheese

¼

cup

shredded sharp cheddar cheese

1

Tbsp

fresh chopped sage leaves

1

Tbsp

fresh chopped Italian flat-leaf parsley

4

large eggs

½

cup

heavy cream

2

tsp

Dijon mustard

1

tsp

kosher salt

⅛

tsp

fresh cracked pepper
Instructions
Heat the olive oil in a saute pan over medium heat. Add the onions and sugar, and cook on medium until they start to talk to you. Lower the heat to low and cook slowly, stirring occasionally, for about 45 minutes or until the onions are very soft and caramelized.

Turn up the heat on the onions to medium-high. When they start to sizzle a bit, add the stock or juice (whichever you are using), and cook ~3 minutes, stirring, to deglaze the pan and boil off most of the liquid. Remove from the heat and set aside. Season with a pinch of kosher salt.

Line the pie dough in a 9-inch pie plate and flute the edge. In the prepared pie crust, layer the sausage, onions, herbs, and cheese.

Whisk together the eggs, cream, Dijon, salt, and pepper. Slowly pour over the quiche. Bake at 400°F for 45 minutes or until the top is puffed and very golden (lightly cover quiche with foil mid-way through cooking if the top starts to get too brown, but full cook-time is important to ensure the crust cooks completely).

Let the quiche sit for 5-10 minutes before cutting.
Nutrition
Calorie count is purely an estimate calculated using an online application to serve as a guide and not to be taken as accurate nutritional information. Percent Daily Values are based on a 2,000 calorie diet.
Tried this recipe?
Leave a comment below and let me know!