Sour Cream Pasta with Chives has a creamy sour cream pasta sauce and angel hair pasta completely reminiscent of boxed Pasta Roni, but with real ingredients and ready just as quickly. This pasta roni recipe is kid-friendly and family-approved for easy weeknight cooking.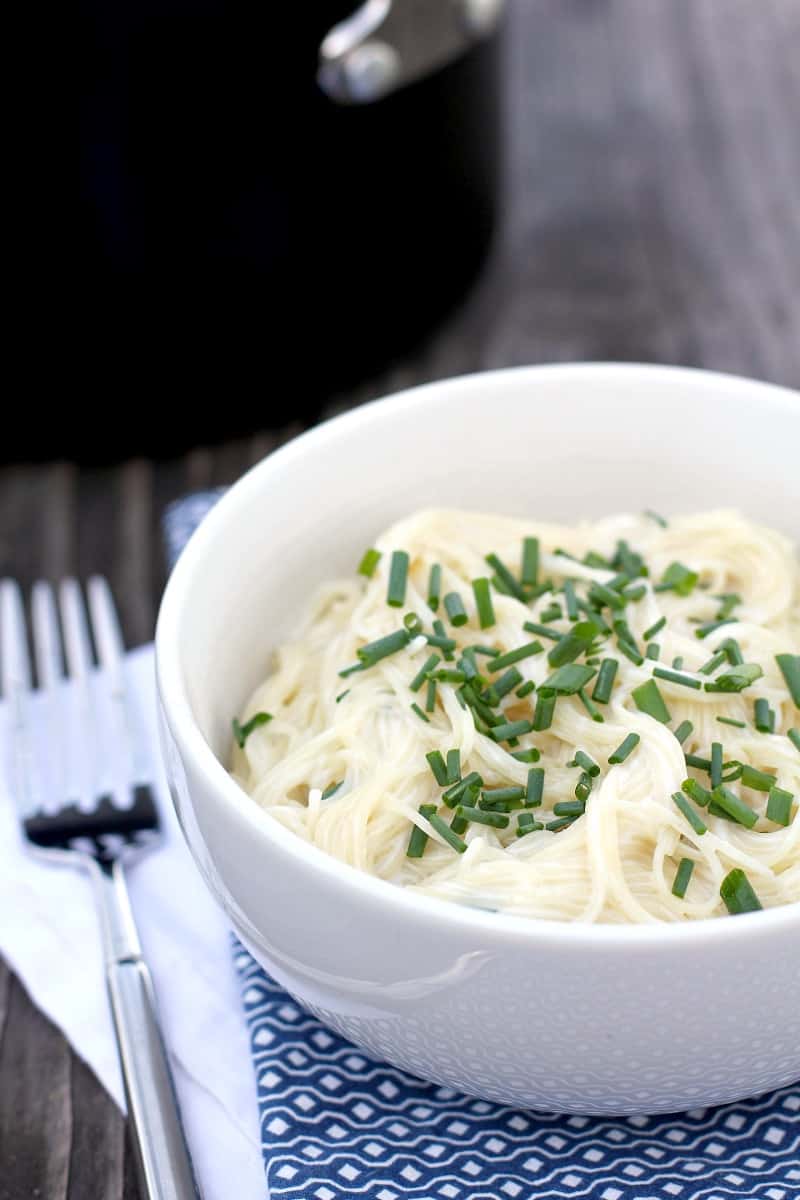 In college, I lived in an apartment and had to actually feed myself for the first time in my life. My go-to dinner was battered fish filets and sour cream and chive Pasta Roni. Frozen fish and pasta from a box, seriously.
To this day, every once in a while, I'll still get a little craving for this totally unhealthy but, at least to me, kind of weirdly yummy food.
At the store, I'll grab a box of pasta roni. Then, as I am walking through the store getting the other stuff I need, I'll keep looking at the box.
"What am I doing?" I'll say to myself. "What if someone sees me buy this crap?" "I am SO much better than this now." And with that, I will put the box back, pick up some light sour cream, and make this sour cream pasta myself.
See my insanely easy Parmesan Crusted Haddock recipe for an easy fish dinner to go with your pasta.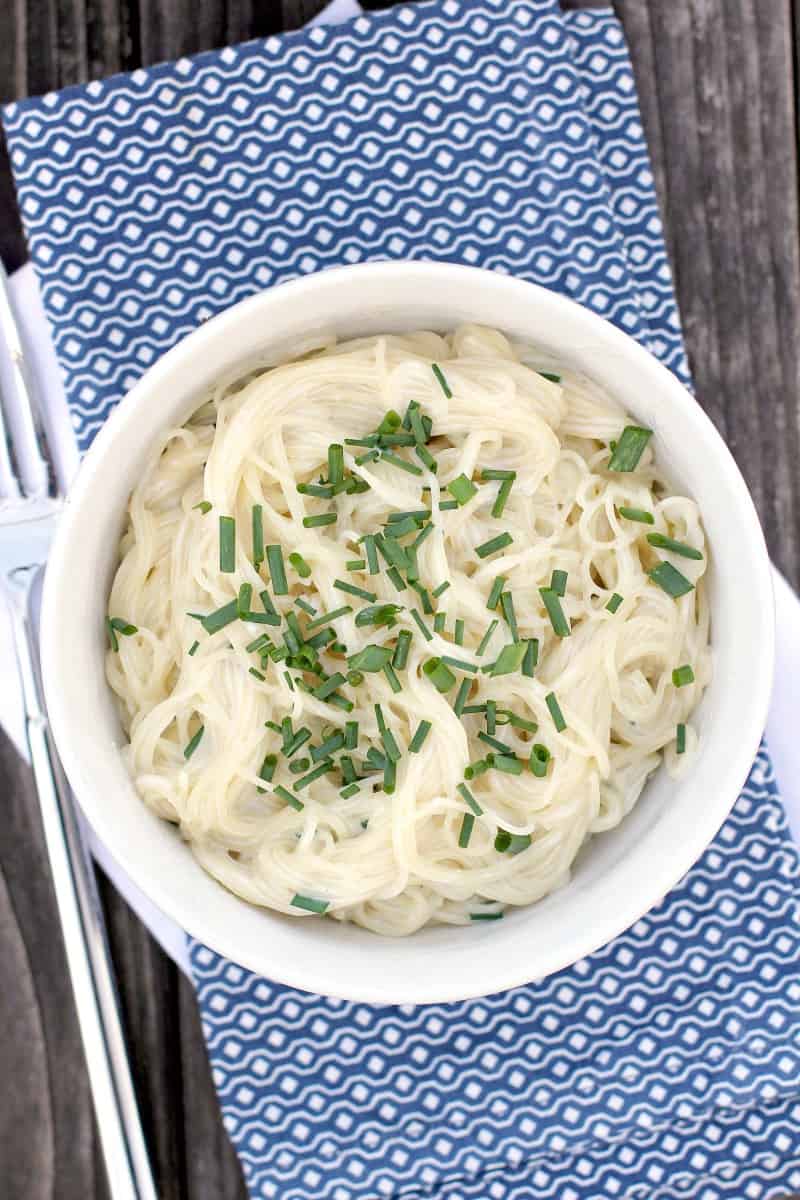 Why this Pasta Roni recipe works
There are three reasons why this delicious recipe for sour cream pasta works: the taste, how quick it cooks, and it uses better ingredients than the boxed stuff.
First, of course, is the flavor. This sour cream pasta sauce is mild and yummy creamy – a really nice complement to SO many basic dinners like chicken, pork chops, etc. It goes really well with veggies too like roast broccoli especially I feel.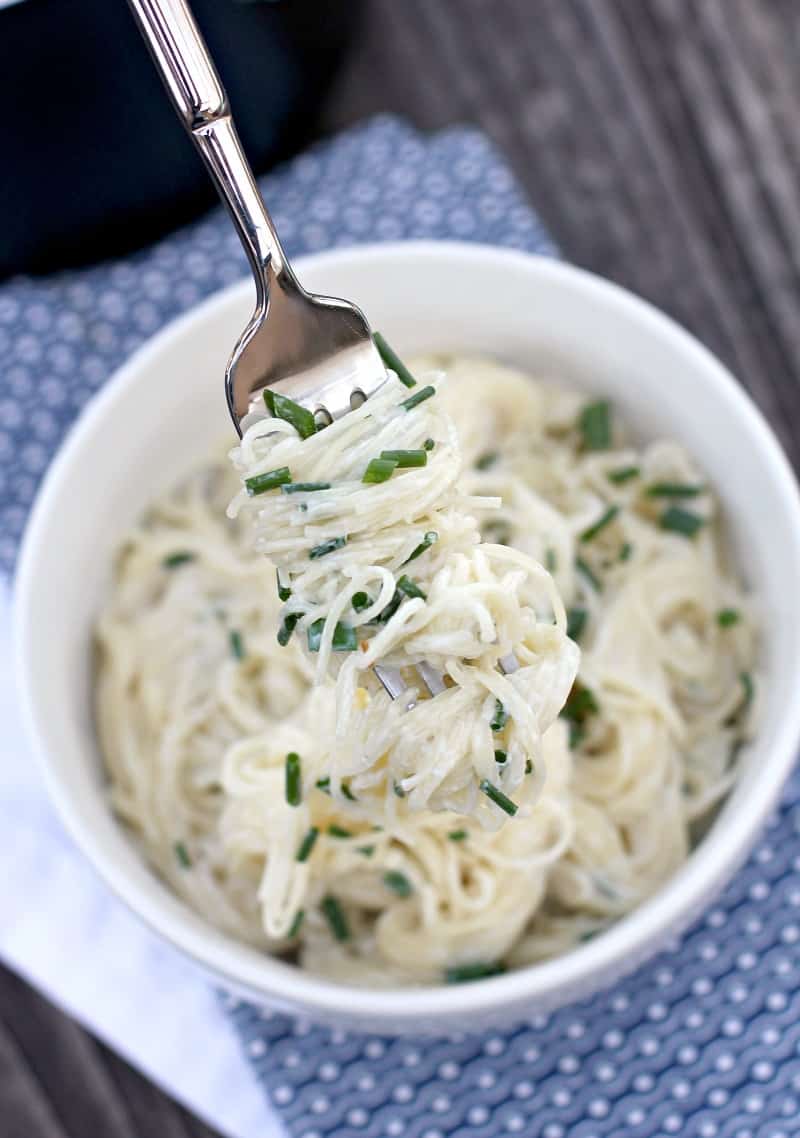 Second is how quickly this pasta with sour cream cooks. I put 15 minutes in the recipe card (5 minutes to prep and 10 minutes to cook), but honestly I don't think it's even that long.
Angel hair cooks al dente in 2 minutes, and the sauce comes together in a little over 5 minutes. That's the clincher.
And of course there are the better ingredients. Pasta is pasta, can't change that though you can substitute whole wheat or whole grain pasta if you wanted. But other than that there's a little milk, butter, flour, herb and seasonings, and light sour cream. That's it.
What this recipe does NOT have is as follows: partially hydrogenated palm oil, corn syrup, "natural" flavor, modified corn starch, MSG, or food coloring.
This CopyCat Sour Cream and Chive Pasta Roni recipe is fast, easy, and so much better than anything in a box. It makes me happy.
Looking for more easy pasta recipes?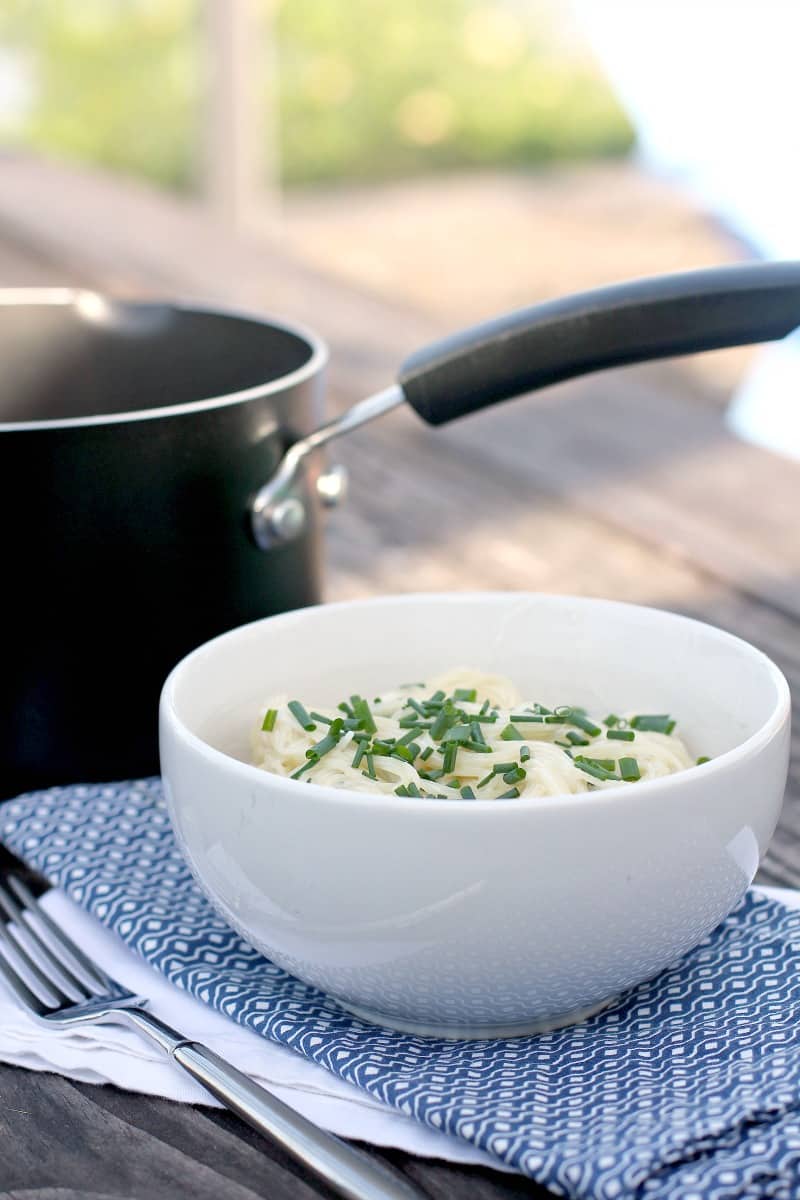 The ingredients you need
Unsalted butter, flour, and milk. These ingredients make our bechamel sauce, the base for the sour cream sauce.
Reduced fat sour cream. I specify reduced fat because it has a looser consistency than full fat sour cream You may substitute full fat, though you may have to add a little more milk if the sauce gets too thick.
Seasonings: onion powder, garlic powder, and kosher salt. I call for 1/4 teaspoon in the recipe card, but I end up adding a couple pinches more for my taste.
Chives.
Angel hair pasta.
Reserved pasta water.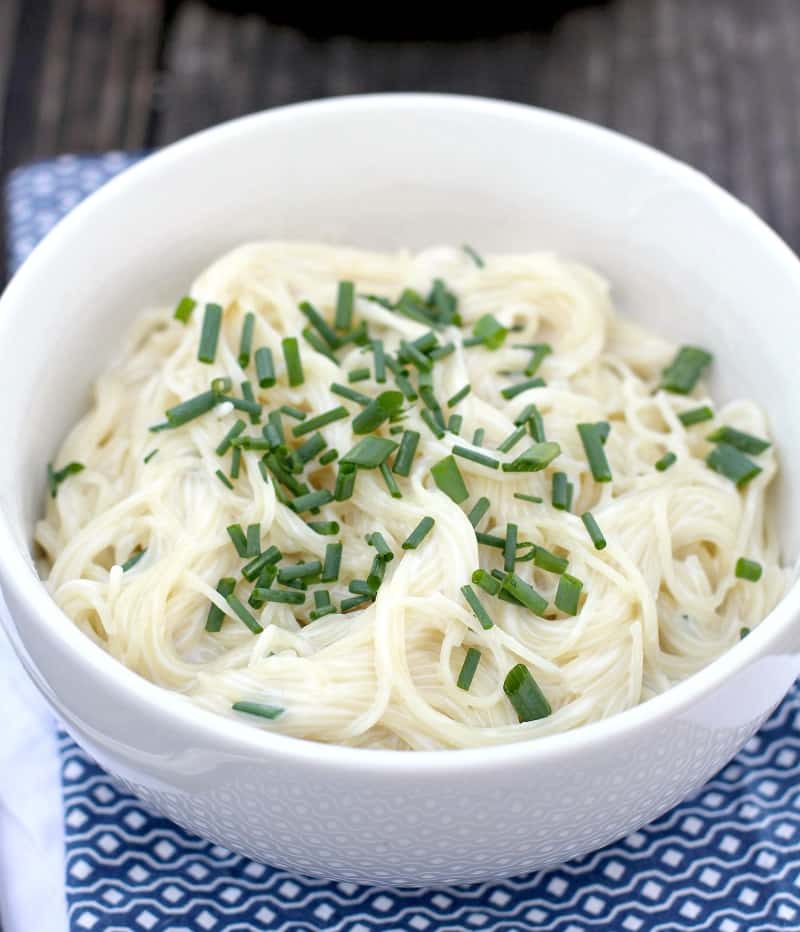 How to make pasta with sour cream
How to make sour cream pasta sauce
While we are bringing our pot of water to a boil, we make the sauce. First, we make a roux with the butter and flour, then add milk to make a bechamel. Once that thickens a bit, we simply add the remaining ingredients.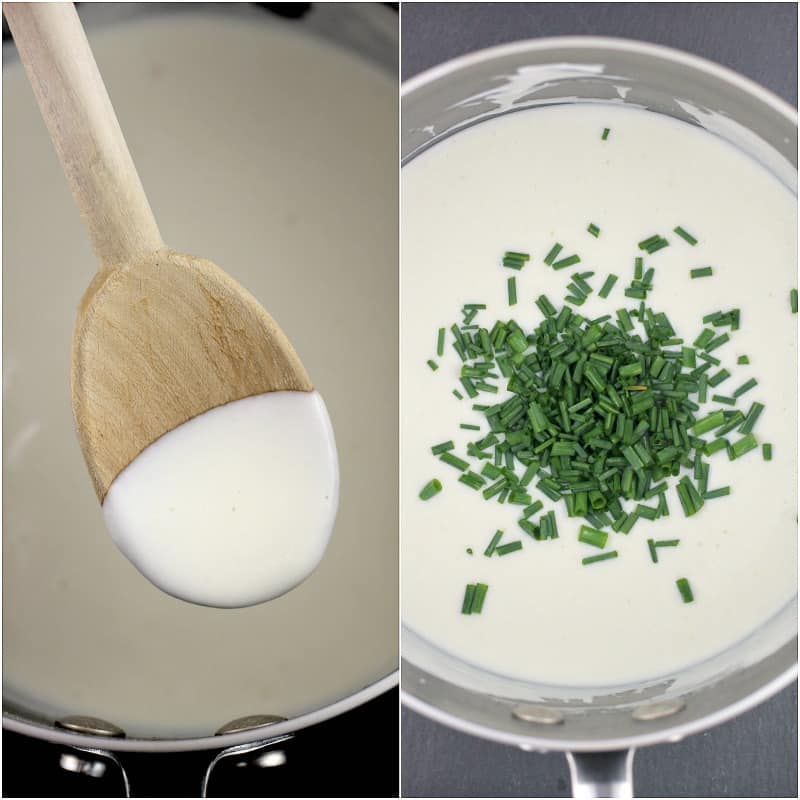 Putting it together
The beauty of angel hair pasta is how quickly it cooks. Angel hair pasta cooks to al dente in literally 2 minutes flat. So, we just cook that, drain, and add to the sour cream sauce.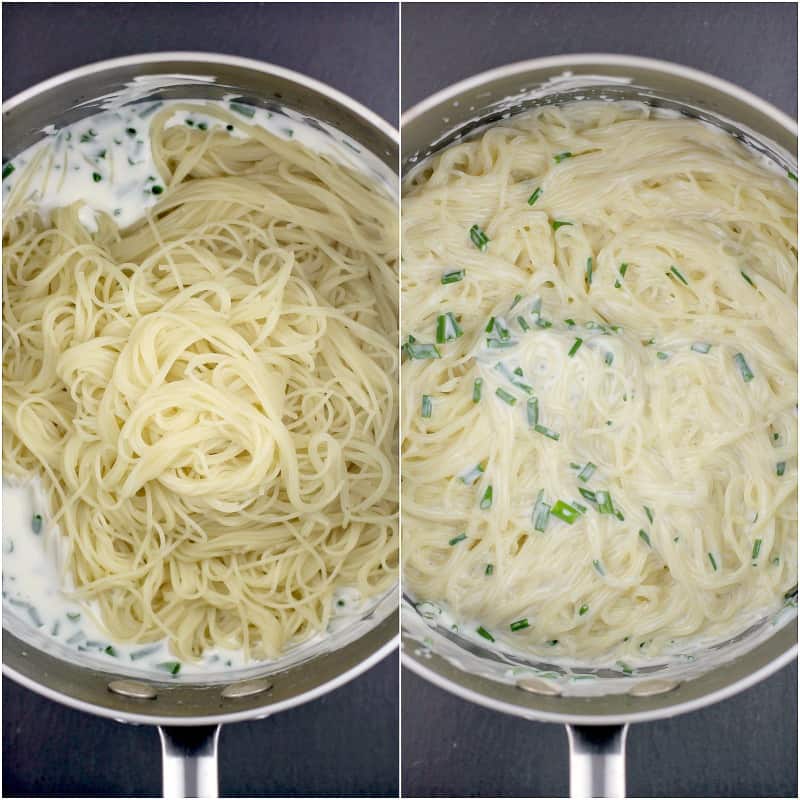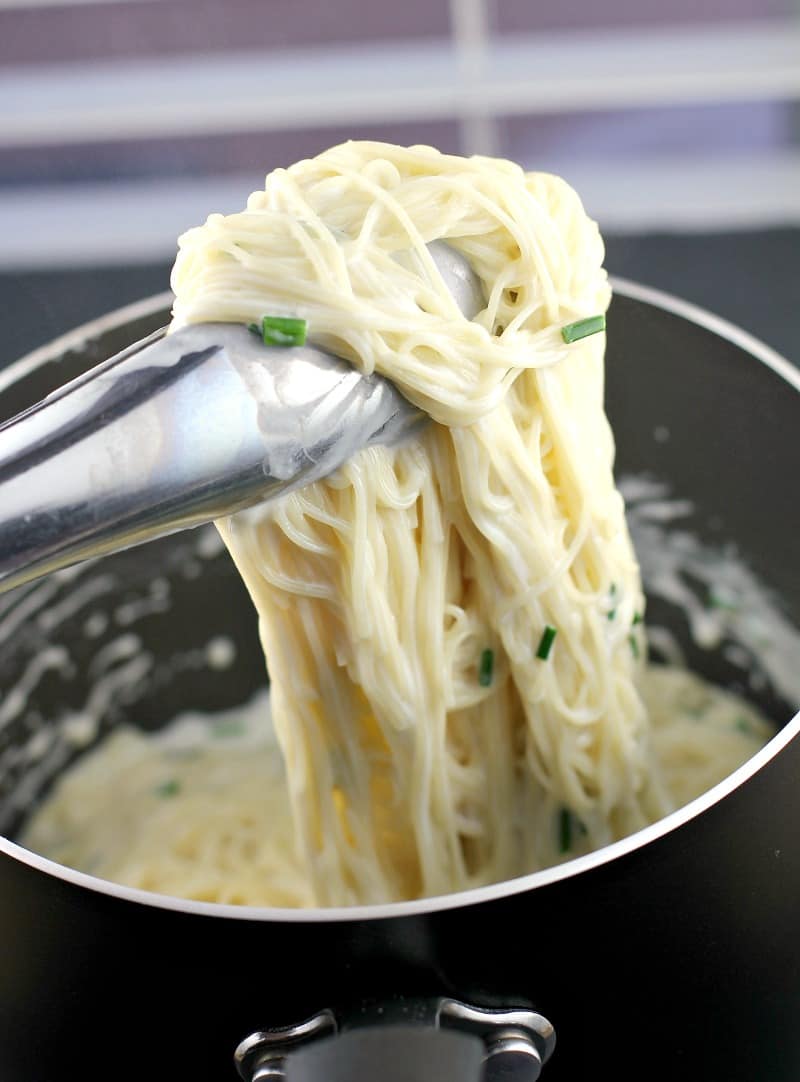 Tips
This recipe is so easy, it really is hard to screw it up. That said, the one area to mind is thickening the sauce. We thicken a couple minutes on the stove, add the pasta, then (just like actual pasta roni) this will thicken quite a bit as it cools. This is why we reserve a bit of the starchy pasta cooking water – we can use that to loosen this back up if needed.
If you forget and drain off all the water, then just use some milk if needed.
I feel this recipe needs more than the 1/4 teaspoon I specify in the recipe card, but not so much to call for 1/2 teaspoon. So, be sure to taste for seasoning and know that you may want to add another pinch or two of salt.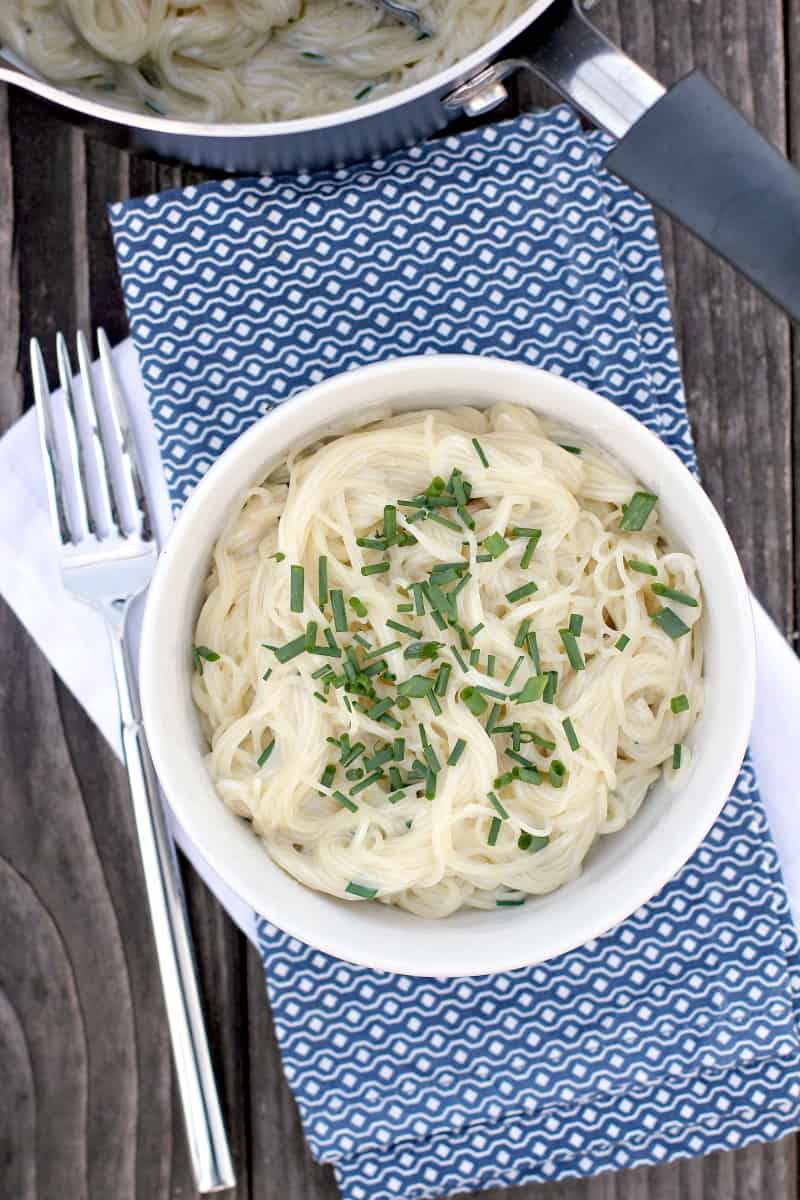 Click the P for Pinterest button to save this recipe. If you make it, come back and tell me! Use the star rating or leave a comment to let me know how it worked for you.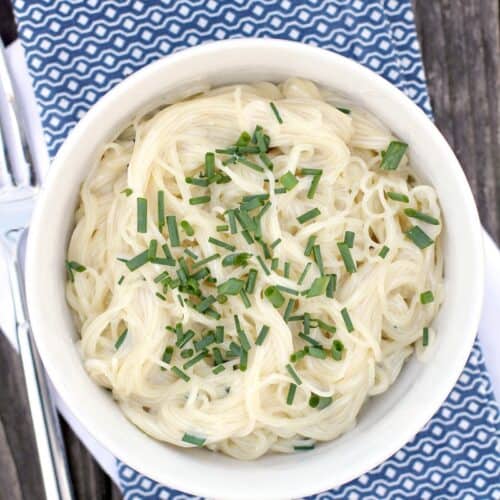 Sour Cream Pasta with Chives (Copycat Pasta Roni Recipe)
Sour Cream Pasta with Chives has a creamy sour cream pasta sauce and angel hair pasta completely reminiscent of boxed Pasta Roni, but with real ingredients and ready just as quickly. This pasta roni recipe is kid-friendly and family-approved for easy weeknight cooking.
Ingredients
½

Tbsp

unsalted butter

2

tsp

all-purpose flour

1

cup

milk

½

cup

reduced fat sour cream

⅛

tsp

onion powder

⅛

tsp

garlic powder

¼

tsp

kosher salt

2

Tbsp

fresh chopped chives

½

lb

angel hair pasta

½

cup

reserved pasta water
Instructions
Bring a pot of water to a boil.

In a medium saucepan, melt the butter over medium heat. Add the flour and whisk until smooth. Cook 1 minute. Whisk in the milk and cook, stirring constantly, 3 minutes. Remove from the heat and whisk in the sour cream, onion powder, garlic powder, salt, and chives.

Add the angel hair pasta to the pot of boiling water and cook, according to package directions, only to al dente (this will only be 2 minutes – don't go further or the pasta will come out gummy). Drain quickly, reserving ½ cup pasta water, and add the pasta to the sour cream and chive sauce. Taste for seasoning.

Serve immediately because this will thicken quite a bit when it cools. If pasta thickens too much, add some of the reserved pasta water to loosen it back up.
Notes
I find that once cooked, this recipe needs another pinch of salt, but not enough for me to up the amount from

¼

to

½

tsp in the instruction. Simply taste for seasoning and adjust for your palate.
Nutrition
Calorie count is purely an estimate calculated using an online application to serve as a guide and not to be taken as accurate nutritional information. Percent Daily Values are based on a 2,000 calorie diet.
Tried this recipe?
Leave a comment below and let me know!