Smoked Orange Basil Salmon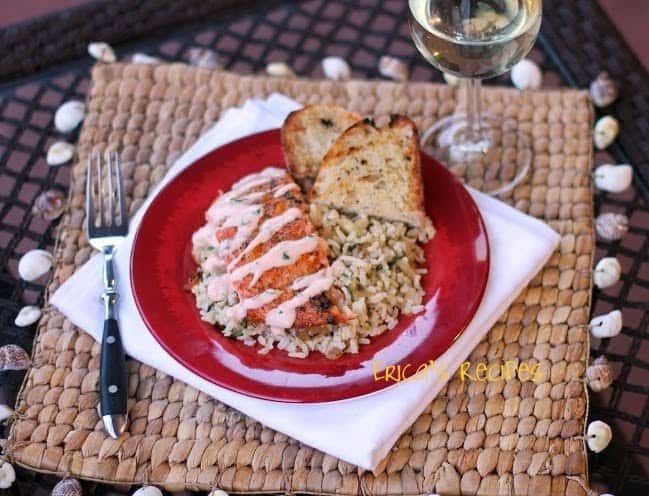 Healthy, versatile, affordable – salmon is awesome and we eat lots of it! It is so funny to me that growing up in Massachusetts, we never had salmon. Or mussels or shrimp. We didn't have to I guess – we had lobster.  ….Anyway, I wanted to do something different with salmon, so I decided to smoke it. I've done the cedar plank thing, and I thought it did nothing for the fish. So instead, I went full-out with my little smoker. Then, in addition to my traditional salt, pepper, and Old Bay, I added orange and basil both with the fish and in a cream sauce with a kick from Sriracha. Also pictured on the plate is Orange Basil Brown Rice Pilaf. This will definitely go into regular rotation – I absolutely loved it!
Smoked Orange Basil Salmon
1 1/2 lb salmon
2 t extra virgin olive oil
1 t kosher salt
1/2 t fresh cracked pepper
1/2 t Old Bay seasoning
1 t orange zest
1 t fresh basil, minced
wood chips for smoking (I used mesquite)
Orange Basil Sriracha Cream (recipe follows)
Soak the wood chips in water for a couple hours to saturate.
Drain the wood chips and put in a grill smoker. Alternatively, use a double layer of foil to make a pouch, put the chips in that, and punch holes in it with a knife to allow smoke to escape. Place the smoker directly on the grill tamers under the grill grate. Heat the grill to medium-high heat (to ~400F).
While grill is heating, prepare the fish. Place the salmon on a double layer of foil. Rub with olive oil. Season with salt, pepper, Old Bay, zest, and basil.
Once grill is heated, place the foil with the fish on the grill grate. With the grill closed, cook 13-15 minutes just until fish flakes easily with a fork. Serve with the Orange Basil Sriracha Cream sauce drizzled over. Serves 4.
Orange Basil Sriracha Cream
1 c reduced fat sour cream
juice from 1 orange
zest from half an orange
2 t Sriracha hot sauce
pinch kosher salt
1 T (heaping) fresh basil, minced
Simply mix in a small bowl.
~✿♥✿~
Soaking my chips. I usually do this in a bowl, but for some reason I wasn't thinking and put them in the sink. I don't recommend that. For the sake of your garbage disposal.
Putting the chips in the smoker…
The smoker goes under the grill grate directly on the tamers…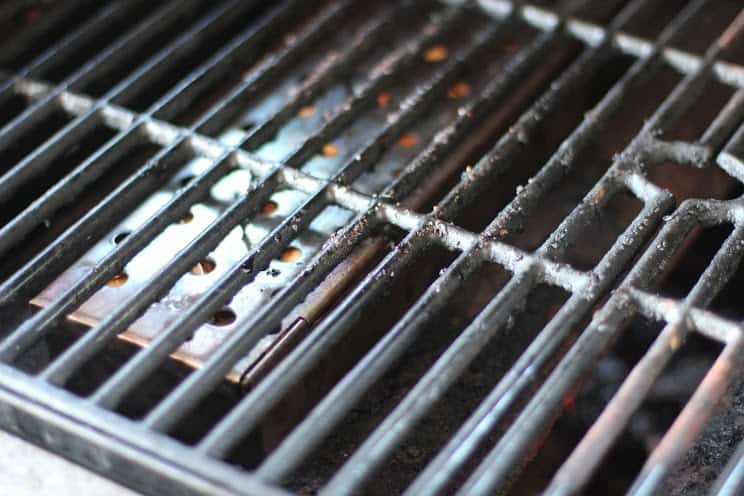 Tonight, we changed things up and made 2 varieties of salmon to compare – farm-raised vs Alaska wild. Farm-raised won for texture and juiciness. Alaska won for flavor.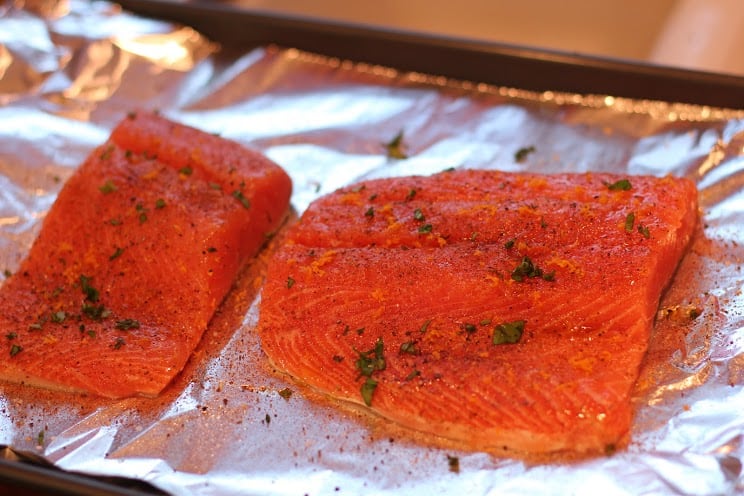 Awesome!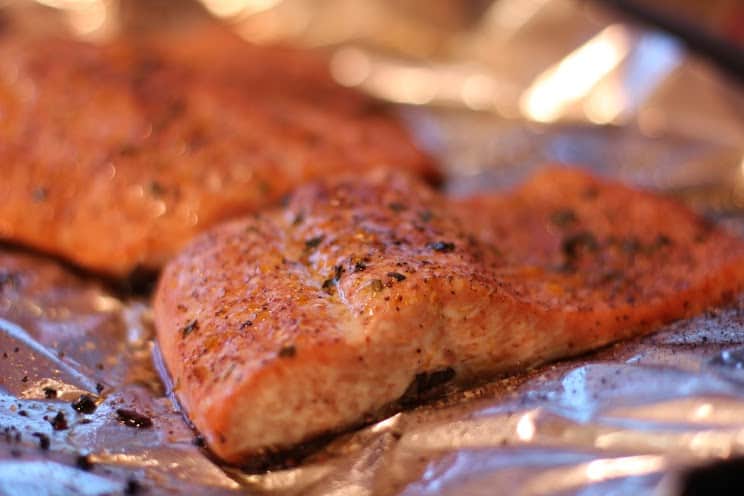 The Orange Basil Sriracha Cream…