Air Fryer Hot Dogs with Sweet Pepper Relish
Juicy air fryer hot dogs with Jamaican sweet pepper relish, tomato, and avocado. Sweet and savory, this recipe is a perfect hot dog bar idea. Get your weekend, game-day, summertime fun time happening with an easy air fryer hot dog. More hot dog bar ideas included!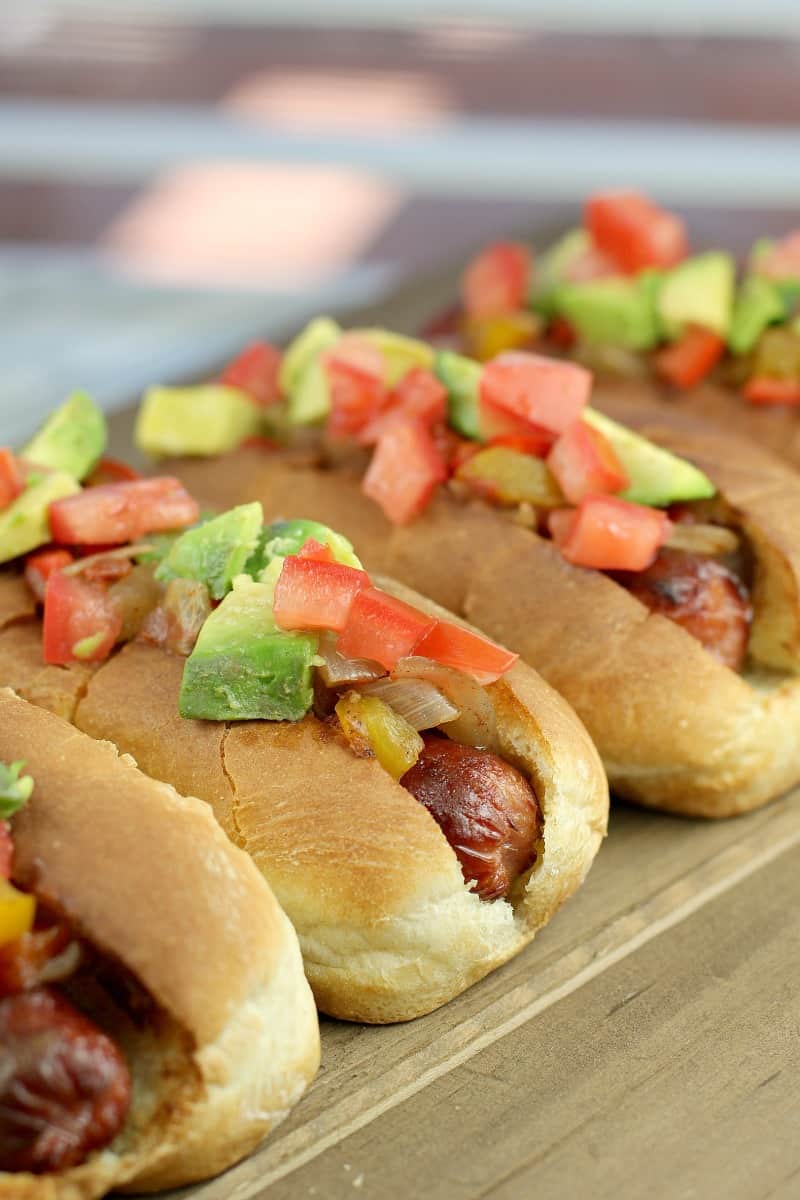 What is this hot dog recipe even about
There is a lot going on here so let's break it down.
First, there is this Jamaican-inspired sweet pepper relish that is To Die For. So flavorful and savory, with cinnamon, clove, and Jamaican allspice. But also sweet with peppers and Vidalia onion.
The relish is a perfect topper for these hot dogs, but also a bunch of other things I discuss below.
The second thing going on is the air fryer hot dogs which are AWESOME. Why the air fryer? Because I live in Florida and it is a thousand degrees outside right now. Using my air fryer in air conditioning seemed like a great idea to me.
I got the idea for this recipe from a very similar dog being served as a special this month at our favorite local restaurant. And I have to say, it was fun to recreate this one at home too.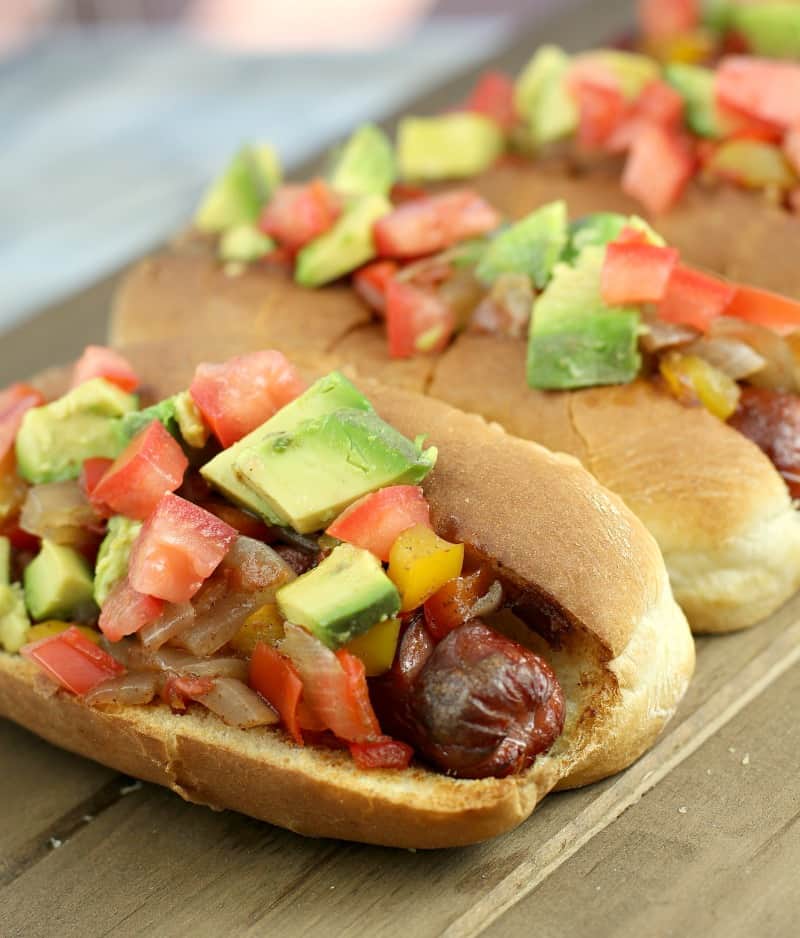 What ingredients do you need
Peppers. I chose a sweet red bell pepper and milder yellow pepper, but you can use whatever peppers you prefer.
Onion. Vidalia onion is naturally sweet, but if not available you may substitute a yellow onion.
Tomato. In the relish, tomato adds juice and flavor. As a topping, it adds a cool freshness.
Sugar and vinegar. These are basic relish ingredients, though I used cider vinegar specifically for more flavor.
Seasonings. Salt, clove, cinnamon, the all important Jamaican allspice, and cayenne pepper.
Buns. I wanted to keep the sweet going, so I got hot dog buns make with Hawaiian sweet bread. They were easy to find at Walmart.
Hot dogs. For this recipe, we want the longer bun-length hot dogs.
Avocado. Doesn't diced avocado make everything so pretty? Even hot dogs.
Note on the allspice: all good allspice brands in the grocery spice section are Jamaican. Allspice comes from central America and is a cornerstone flavor for jerk seasoning and all things Caribbean.
On the cayenne pepper, this sweet pepper relish is NOT SPICY. I repeat, this recipe is SAFE. It has a subtle kick, so you definitely know the cayenne is there. But it is not spicy and the bit of heat does not build as you eat.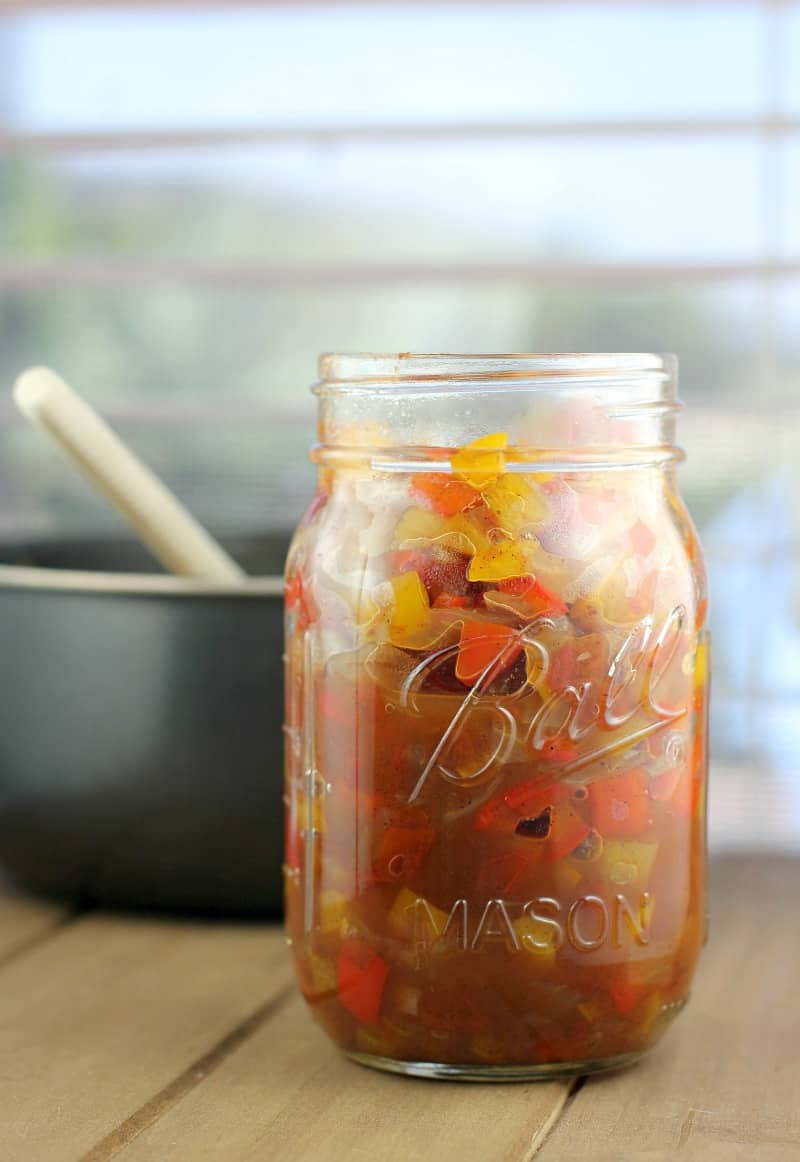 How to make Jamaican relish
Literally, we put the ingredients in a little pot and simmer for a while. That's it. This is ridiculously easy and can be made in advance.
Can the relish be canned? Sure! I have not done so myself, but we have all the elements here to preserve so after the recipe is made, feel free to can away.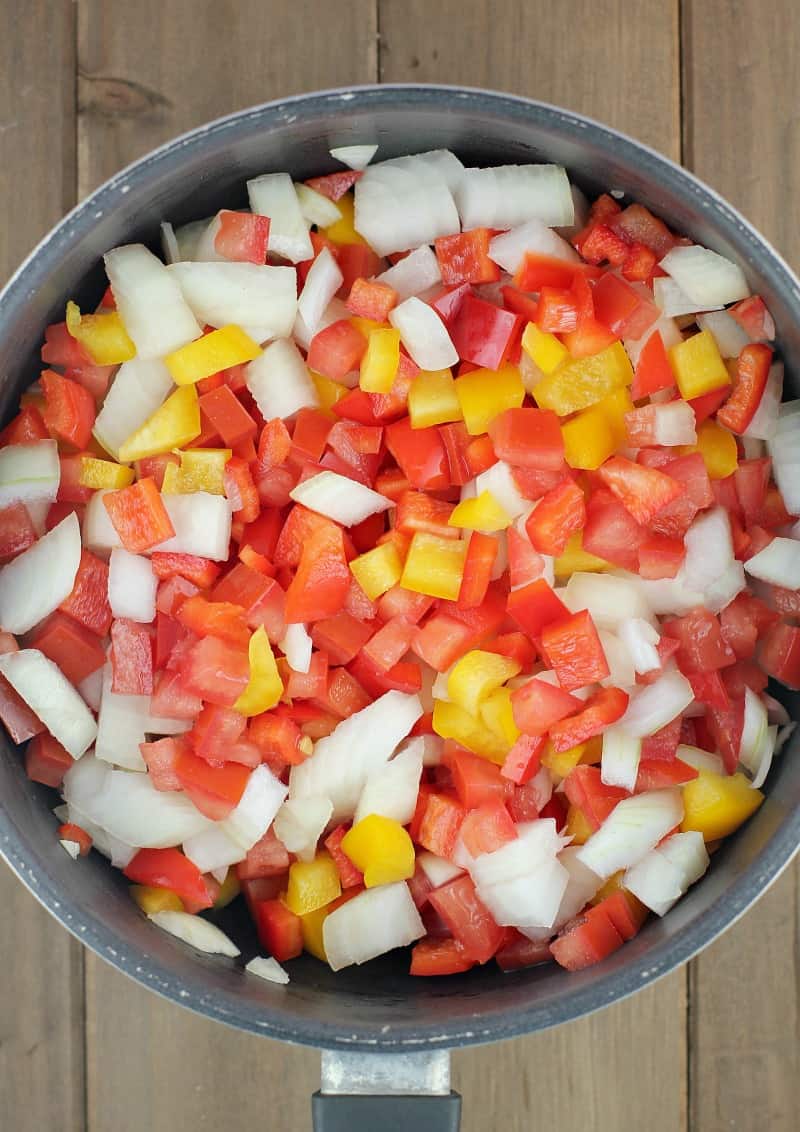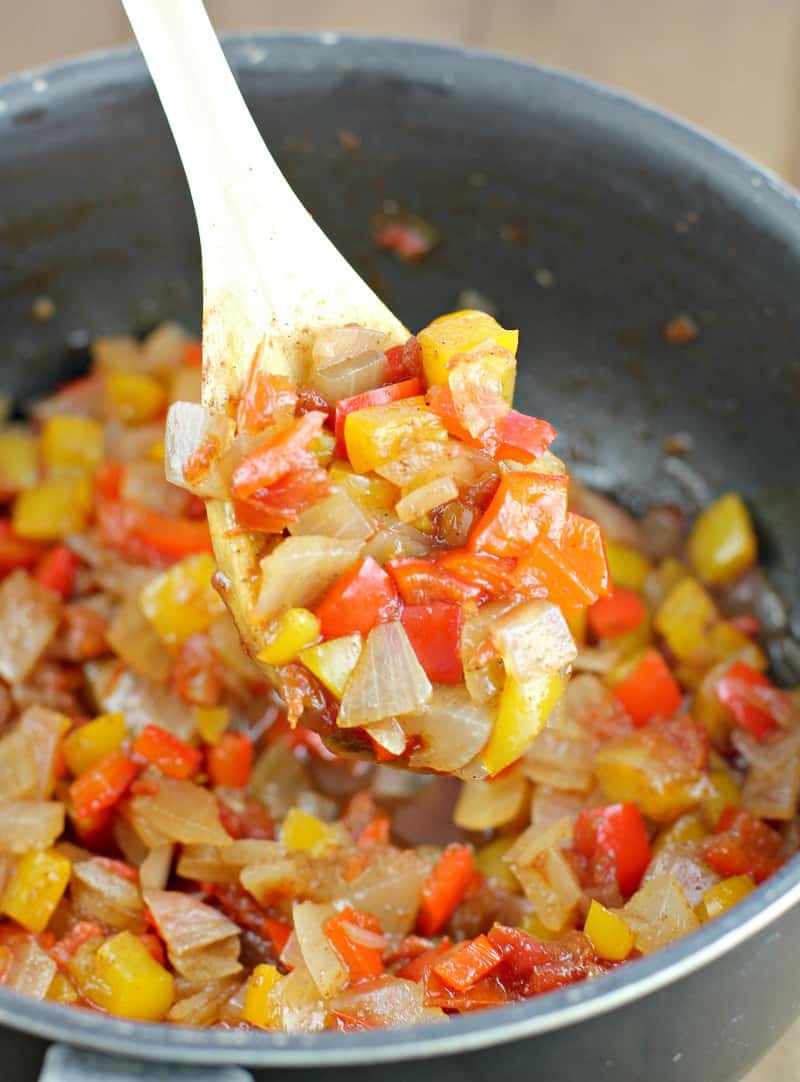 How to cook hot dogs in the air fryer
Now this is the fun part, because cooking hot dogs in the air fryer is so stinking easy that we all need this in our lives.
First we heat up the air fryer and get it good and hot inside.
Add the hot dogs (be sure to slice them with those notches first to help them crisp up as they cook), and they cook in 4 MINUTES. All 8 can be done at once (which may take up to 5 minutes), or this can be done in 2 batches of four hot dogs each to allow for more air circulation around the meat if you want crispy edges. I love crispy edges.
Then we put the hot dogs in buns, and put back in the air fryer to get the buns awesome toasty. This part we do in a couple batches, because we're limited by the size of the air fryer basket and we want air to circulate around the bread. But each batch of 2-3 cooks in 2 MINUTES.
Then we top our perfect toasty crispy hot dogs and buns with our delicious relish, fresh tomato, and avocado. YUMM.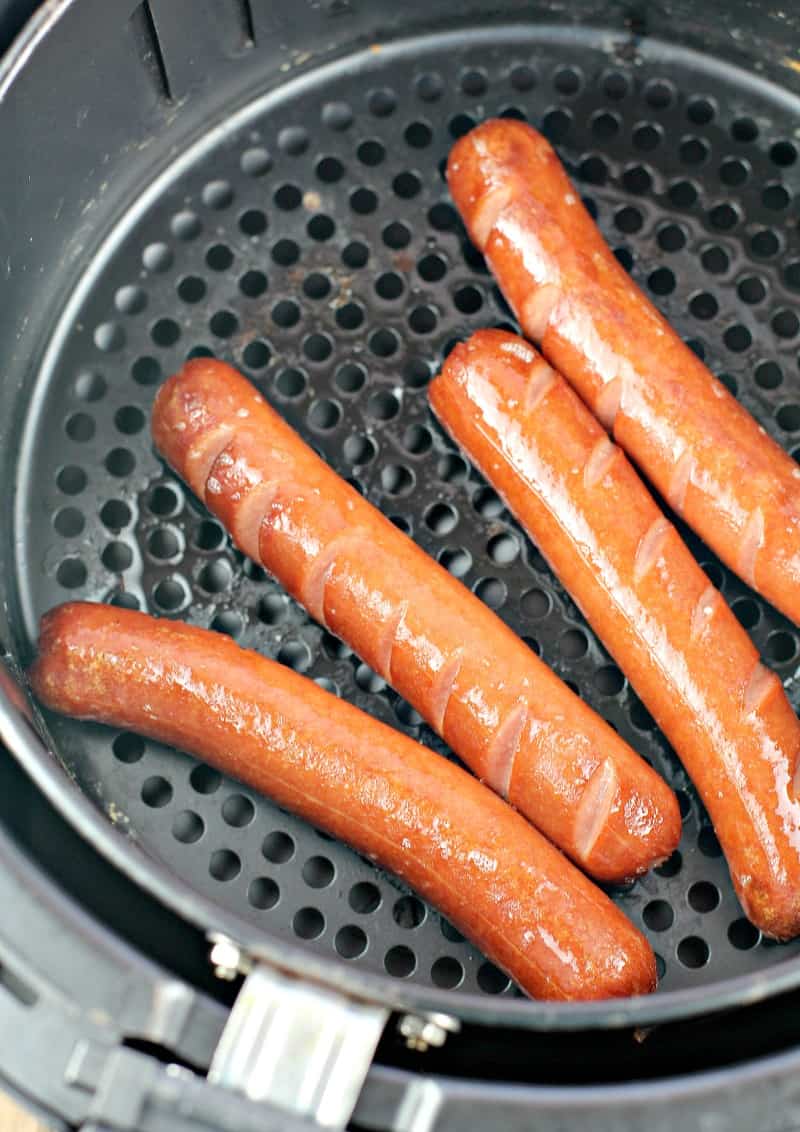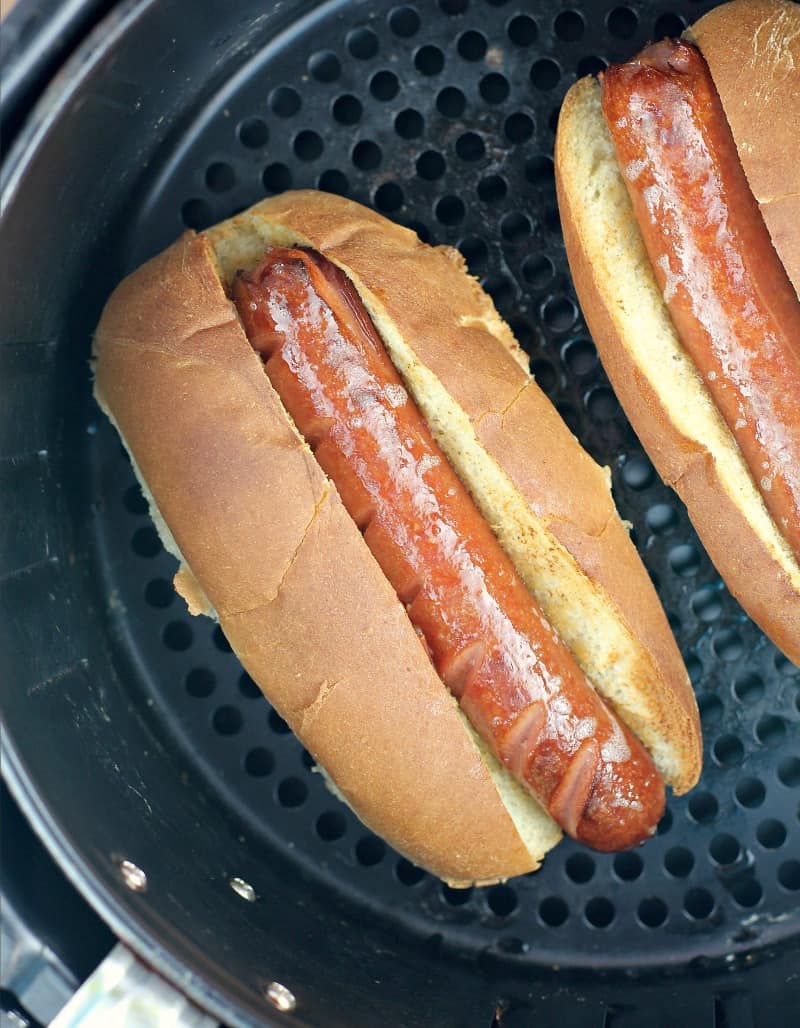 More hot dog bar ideas
I just love the idea of grown-up, spruced-up, more sophisticated "bars". Nacho bar, taco bar, hot dog bar, but all with much better, more creative selections than just the normal stuff.
This is why I love this recipe as a hot dog bar idea, because the relish can be made in advance and it is so freaking tasty! Here are more ideas for an awesome bar:
Chili dogs but make it a black bean chili with fresh cilantro, diced onion, tomato, and shredded cheese.
Caribbean dogs with Carnitas pulled pork, pineapple salsa, and lime wedges.
Banh mi dogs topped with Chinese BBQ pulled chicken, Asian slaw, and fresh sliced jalapeno.
Mac and Cheese dogs using a REALLY good recipe like my Garlic, Bacon, and Beer Macaroni and Cheese. Include more bacon on the side for sprinkling over top.
BBQ dogs topped with pulled pork, Cherry Chipotle Barbecue Sauce, and crispy fried onions.
Florida dogs topped with popcorn shrimp, mango salsa, and a drizzle of Sriracha lime aioli (just add a bit of lime and Sriracha to mayonnaise – easy peasy).
Or even better yet, Po' Boy hot dogs topped with popcorn shrimp, shredded lettuce, and Remoulade.
These are all off-the-cuff brainstorms from me as I type, but my biggest point is unless you are cooking for a bunch of children, do not limit yourself to just ketchup, mustard, and relish. Right? Right.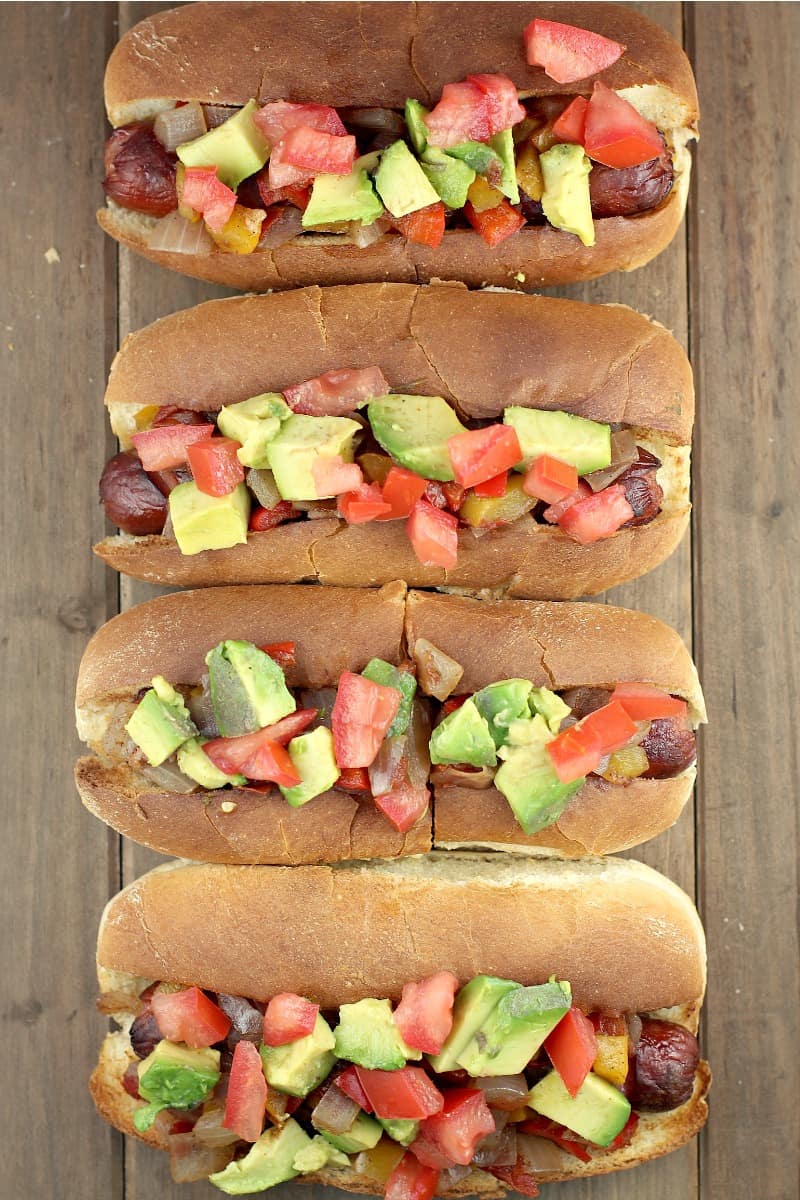 More serving ideas for the Jamaican sweet pepper relish
After heavily spooning our luscious sweet pepper relish over our crispy air fryer hot dogs, you will not have much leftover.
But that said, this relish recipe is so good, you may want to do more with it. I do! So I wanted to come up with more ideas where it would be a fantastic comdiment.
Burger topping. This is obvious, but it still needs to be said.
Mix with cooked shrimp and serve over grits for a Caribbean take on shrimp and grits.
Use in fish tacos with Jamaican jerk-rubbed mahi mahi.
Add to leftover pulled pork with cheese and make quesadillas.
Mix with black beans and serve over sweet potato for a tasty vegetarian option.
Pretty much anywhere you would use salsa, you could use this relish.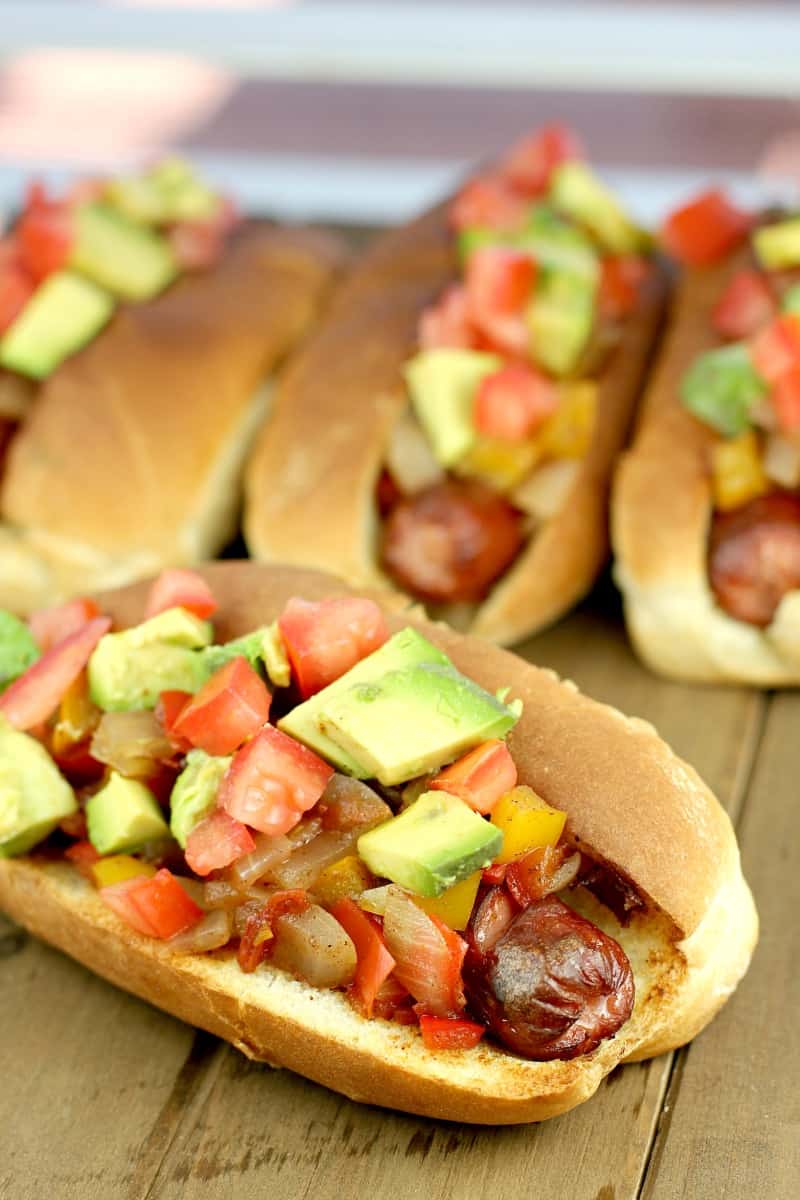 Last Tips
Use bun-length hot dogs. I don't even know why they make non-bun-length hot dogs jeez.
Be sure to add horizontal slices to your hot dogs with a knife prior to cooking. This creates more edges that can get awesome crispy as they cook.
Keep an eye on the relish and stir regularly as it cooks. We want the peppers and onion to soften and give up their juices, then we want most (~75%) of that juice to cook off. We do not want it dry, but we don't want it soupy either.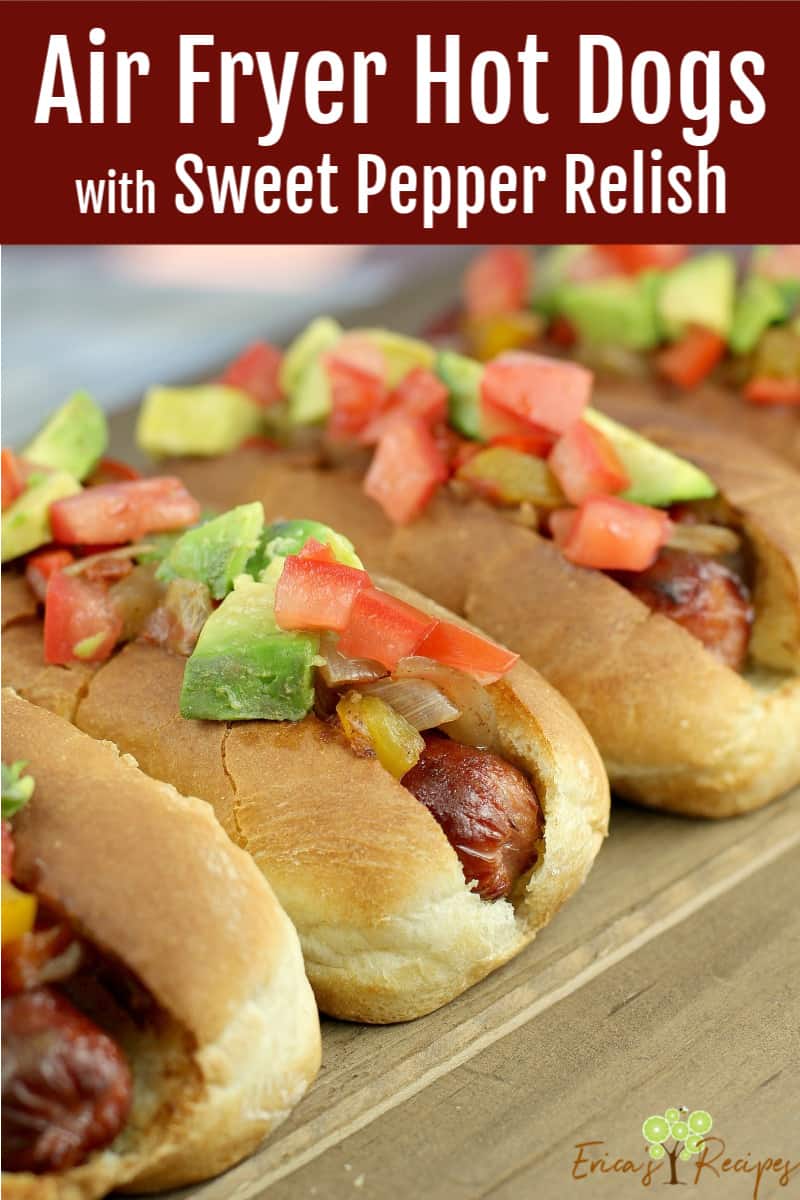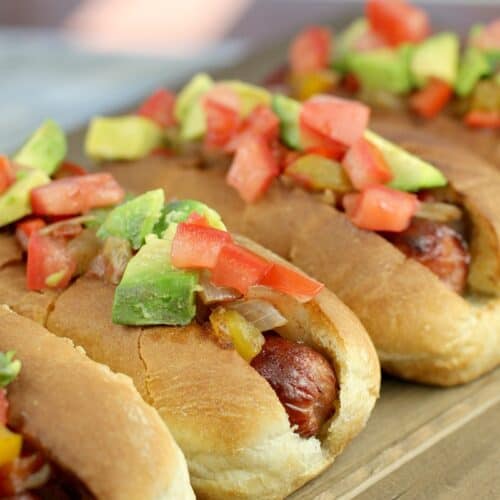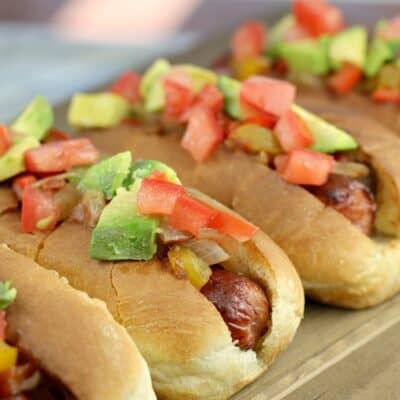 Air Fryer Hot Dogs with Sweet Pepper Relish
Juicy air fryer hot dogs with Jamaican sweet pepper relish, tomato, and avocado. Sweet and savory, this recipe is a perfect hot dog bar idea.
Ingredients
For the Jamaican sweet pepper relish
1

yellow bell pepper

seeded, ribs removed, diced

1

red bell pepper

seeded, ribs removed, diced

1

medium Vidalia onion

diced

1

large tomato

seeded and diced

2

Tbsp

granulated sugar

¼

cup

cider vinegar

½

tsp

kosher salt

⅛

tsp

ground clove

⅛

tsp

ground cinnamon

½

tsp

ground Jamaican allspice

¼

tsp

cayenne pepper
For the hot dogs
8

bun-length hot dogs

8

hot dog buns

preferably Hawaiian sweet bread

2

avocados

peeled, seeded, and diced

1

large tomato

seeded and diced
Instructions
For the relish
Place the ingredients for the relish in a medium saucepan. Bring to a boil, reduce heat to low, and simmer 40 minutes. Refrigerate until use.
For the hot dogs
Heat the air fryer to 400°F.

Place 4 hot dogs in the basket of the air fryer and cook 4 minutes until heated through and toasty. Repeat with the remaining 4 hot dogs.

Transfer the hot dogs into the buns. Place 2-3 in the basket of the air fryer (allowing for air to circulate around the bread) and cook 2 minutes until the buns are warmed and lightly toasted. Repeat with the remaining dogs and buns.

Serve immediately topped with relish, diced tomato, and avocado.
Notes
The majority of the cook time is for the relish, which can be done in advance. Cooking the hot dogs is 12 minutes.
More hot dogs can be added to the air fryer basket to cook depending on the size of your unit, just be sure to allow air to circulate around them.
Cooking all 8 hot dogs at once may take another minute, and in this case I would also give the basket a shake mid-way.
Nutrition
Calorie count is purely an estimate calculated using an online application to serve as a guide and not to be taken as accurate nutritional information. Percent Daily Values are based on a 2,000 calorie diet.
Tried this recipe?
Leave a comment below and let me know!