Rotini Pasta Salad with Spinach
Colorful rotini pasta salad with spinach is so flavorful and delicious you will want to bring it to all the parties. It is the fresh spinach that truly sets this recipe apart and you will be amazed how people will gravitate to it. Briny olives and sun-dried tomato, bright cucumber and basil, this salad is insanely good and an ultimate crowd-pleaser.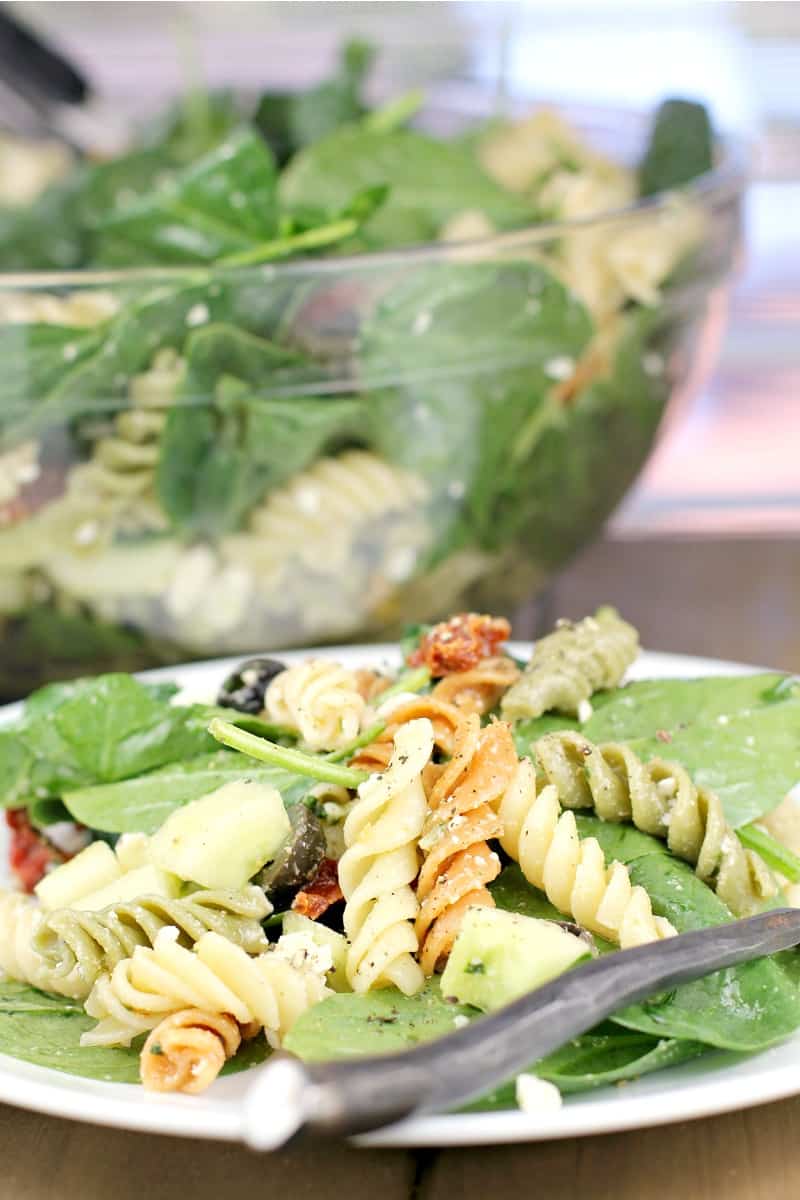 Inspiration for this pasta salad with rotini
Ahhhh 2020, you sure do suck. That said, we did attend one gathering Memorial Day after months of not seeing anyone for one nice afternoon (with no negative outcomes after-the-fact, just to be clear).
Anyhoots, a lovely lady brought a salad that completely inspired my recipe. She said she threw it together, and described to me basically what she did. And everyone was crazy for this salad.
When I go to a party or barbecue or such, my go-to is usually Crack Dip or Queso, not gonna lie. The thought that a salad with fresh greens could be such a hit literally never occurred to me.
So, here it is, a lovely, fresh, and damned good crowd-pleasing pasta salad WITH SPINACH to all to love.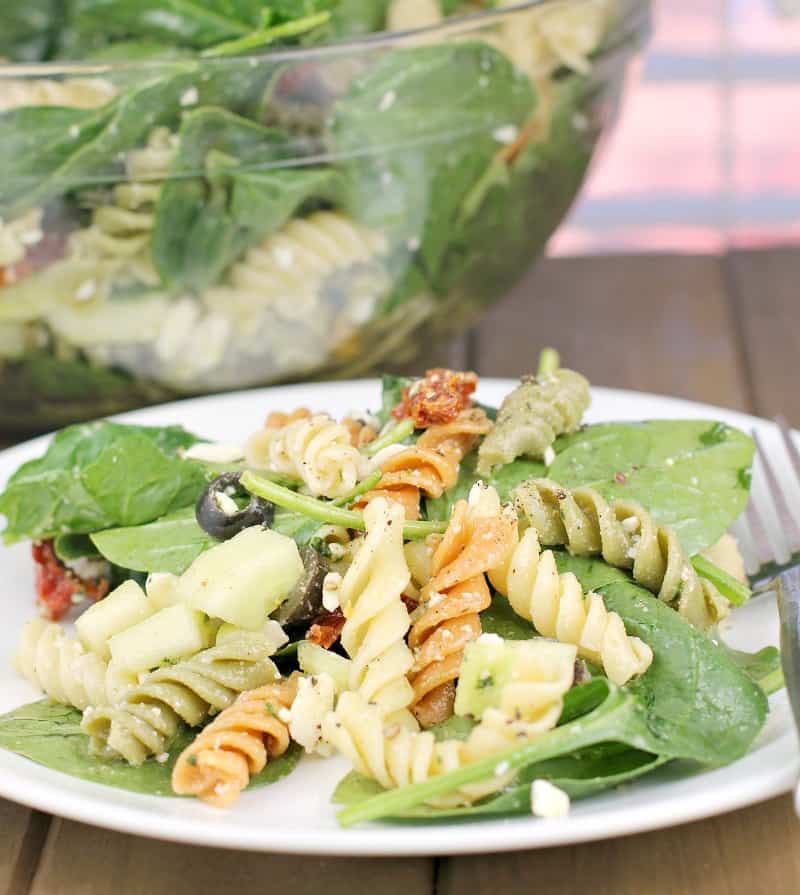 The ingredients you need
Tri-color rotini pasta. Because plain, orange, and green pasta is interesting, but you can use whatever pasta you fancy.
Feta cheese. I have a love-hate relationship with feta – I don't always love it. But in this recipe, I do LOVE it.
Cucumber. For freshness and subtle crunch.
Black olives and sun-dried tomatoes. For their briny, umami, delicious deep flavors.
Fresh basil. For a lovely bit of herby awesome.
Sweet vidalia onion. For a bright bite of onion as a foil for the olive and sun-dried tomato.
Vinaigrette. Red wine vinegar, Dijon mustard, salt, pepper, and olive oil. Use the best olive oil you can manage.
Fresh baby spinach.
Without the spinach, this is a very very delicious pasta salad. But with the spinach, it is just better. I was amazed at how people gravitated to this salad amongst a literal sea of other enticing foods (quesos, chips, guacs, and such).
So, lesson learned for me is that bringing a salad, with fresh spinach no less, can be a crowd-pleaser. [mind blown]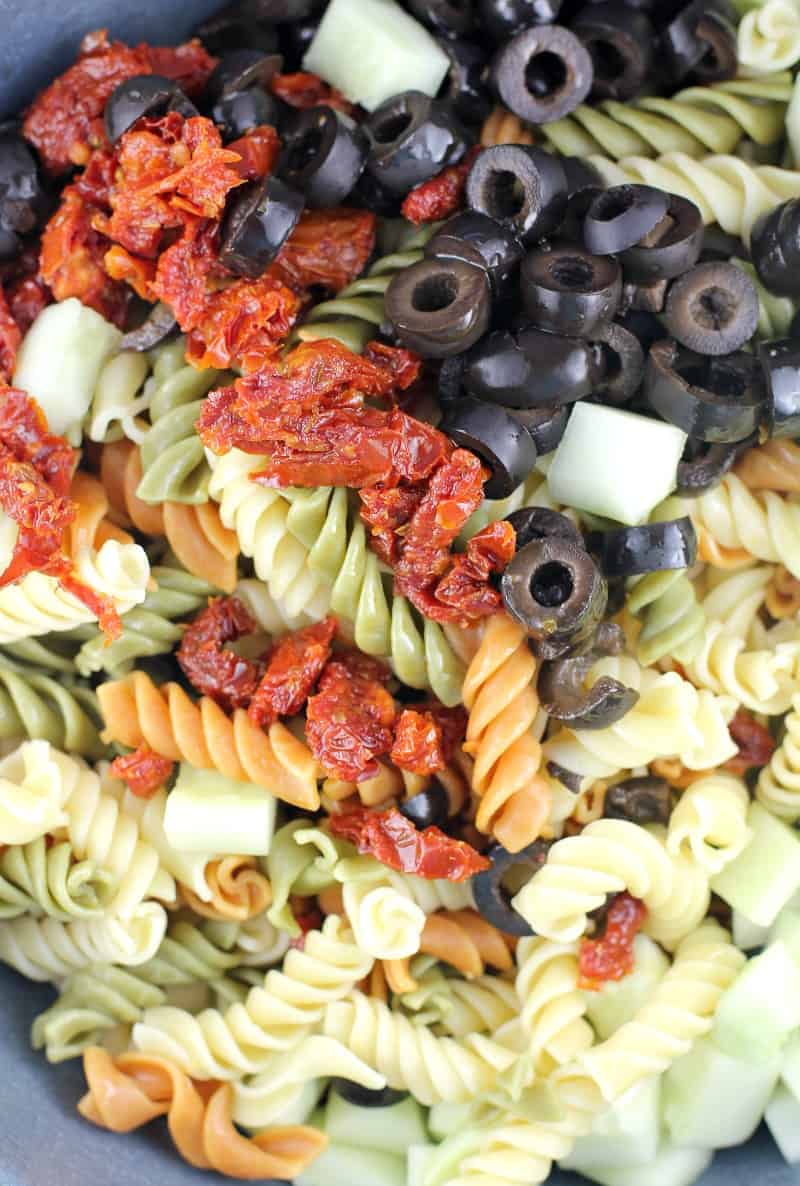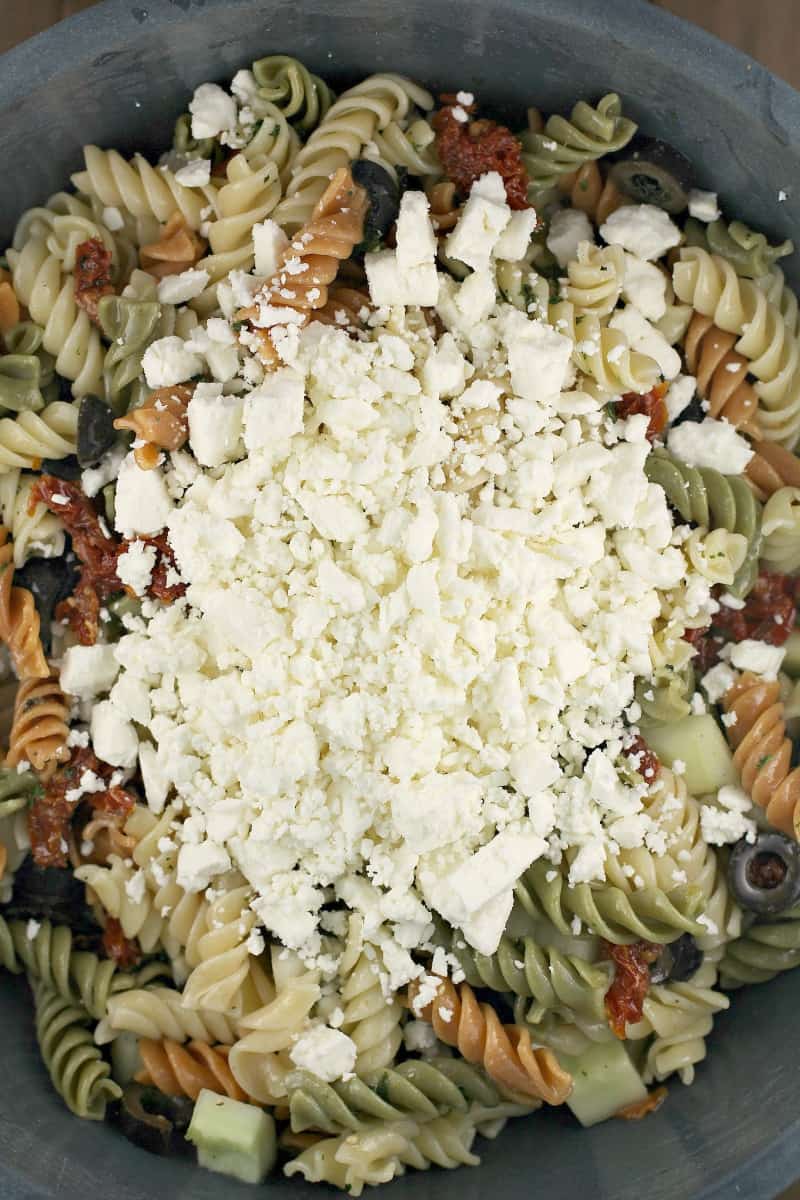 Steps for easy pasta salad rotini preparation
Don't you love easy salads? Because this is also a Very easy salad.
All we have to do is cook the pasta, then drain and rinse straight away with cold water to stop the cooking and make the pasta salad perfect.
Then we throw everything together to make our salad. Mix the vinaigrette separately to get it a bit emulsified and frothy, then add.
Also, add the spinach last because the acidity of the vinegar will wilt the spinach with time.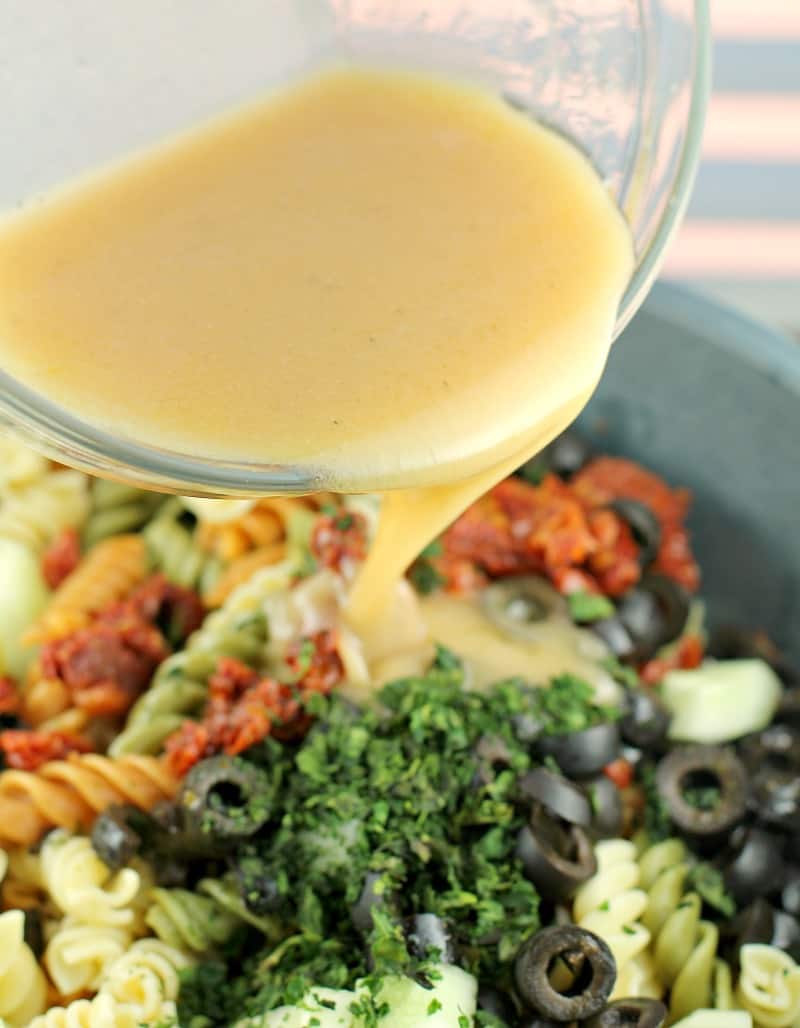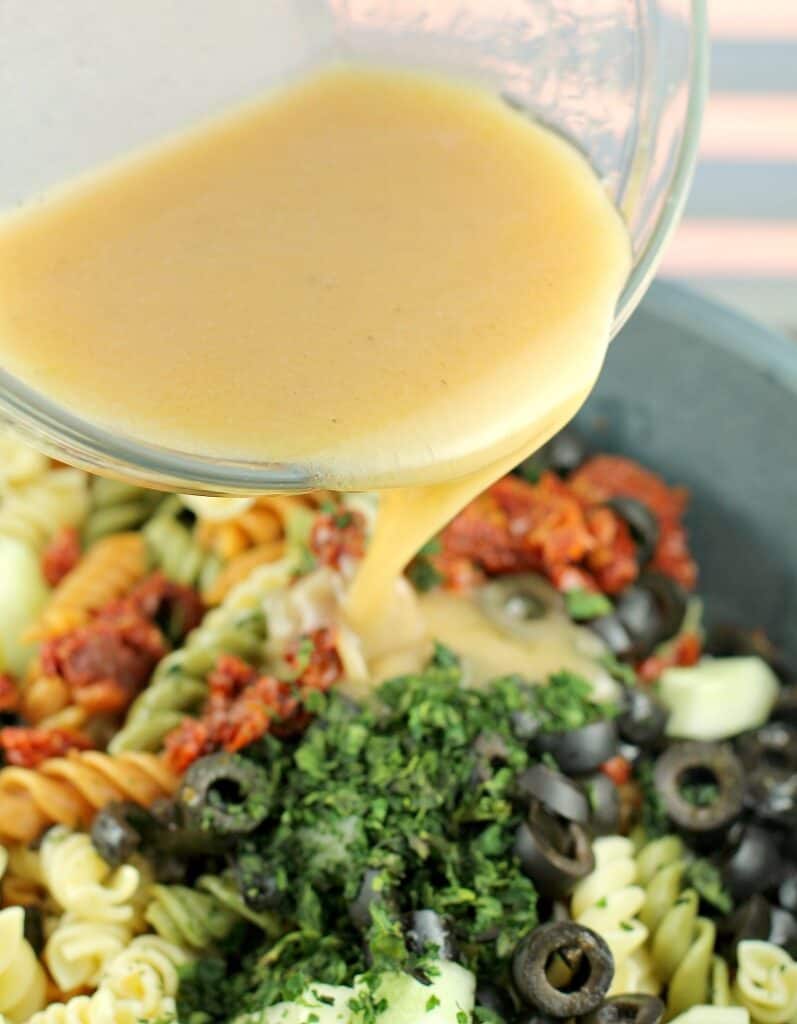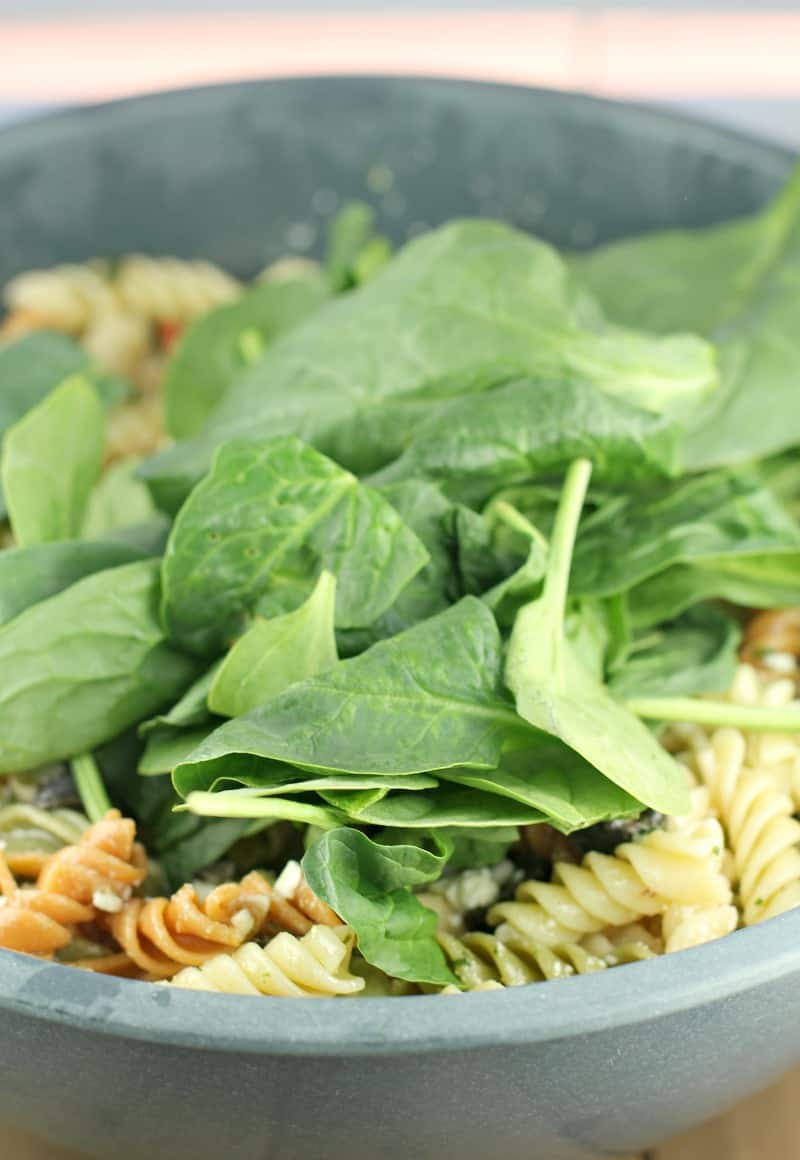 Last tips
Keeping in mind that feta is a foot cheese, I like to take a sharp knife and break up larger bits into smaller bits to make sure I never get too much in one bite. I feel balance is needed with feta.
This salad can be prepared up to a day prior to serving, but hold off adding the spinach until ready to serve. Like all vinaigrettes, the acidity of the dressing will affect the spinach over time.
Use your biggest bowl to make this rotini pasta salad, especially at the end with tossing in the spinach. This is a nice big salad.
In the recipe instructions, I mention to tear larger pieces of spinach into smaller. Basically, we want everything bite sized. When I make this salad again, I may just go ahead and chop the spinach up.
I was surprised the spinach held up as it did since we ate this for a couple days. The spinach wilted just a bit, but did hold up remarkably well. On the third day, I just picked out the remaining spinach, and we had a lovely pasta salad with our dinner sans spinach.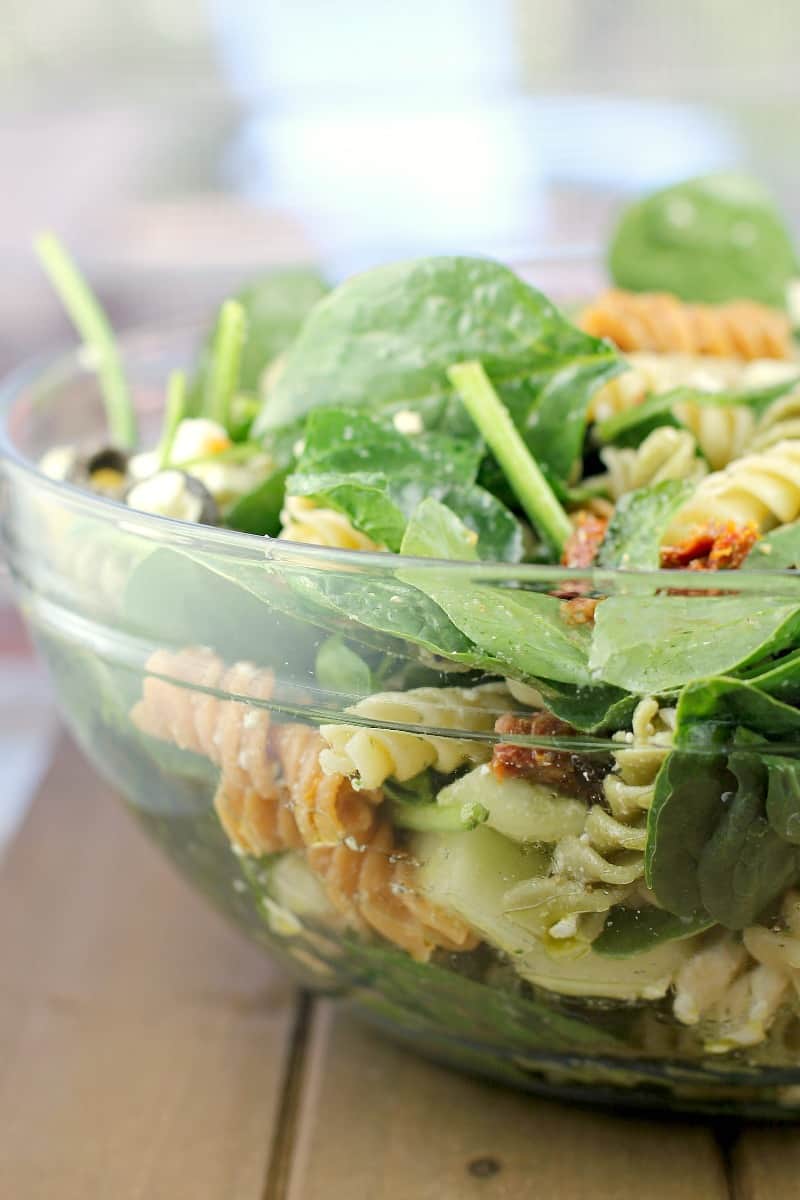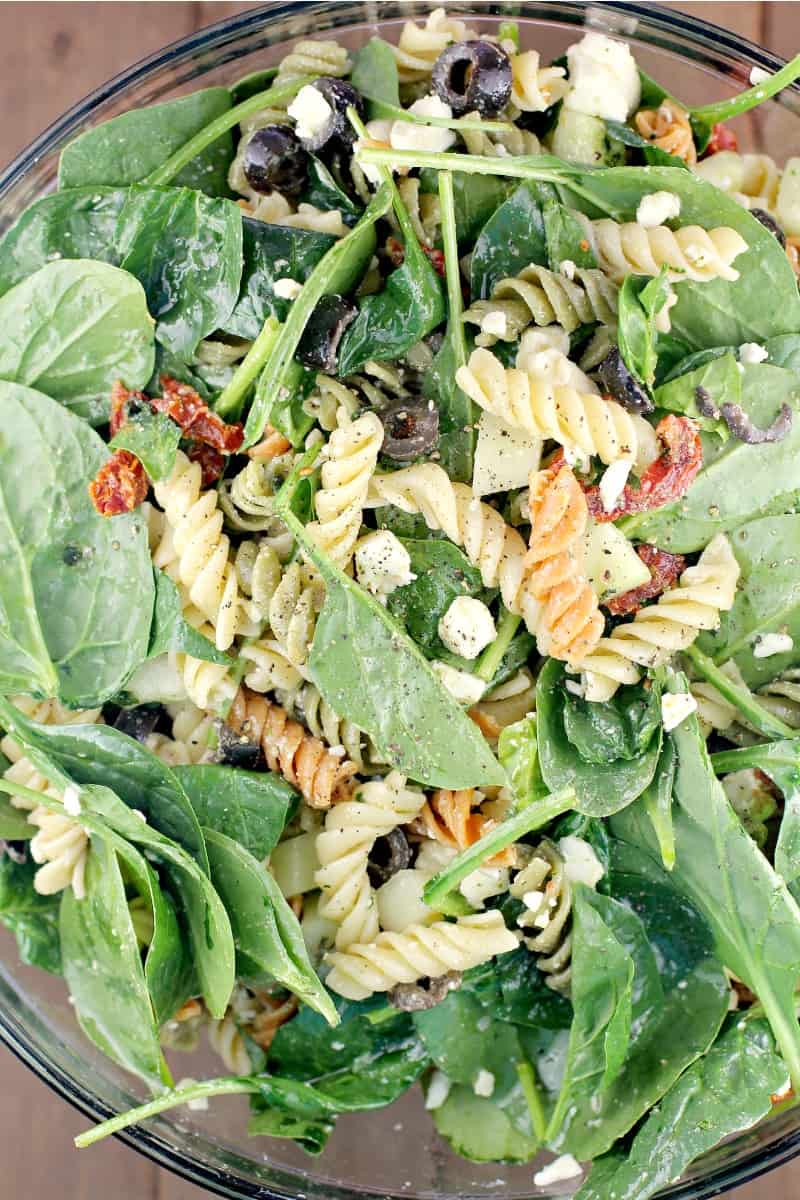 More party salad ideas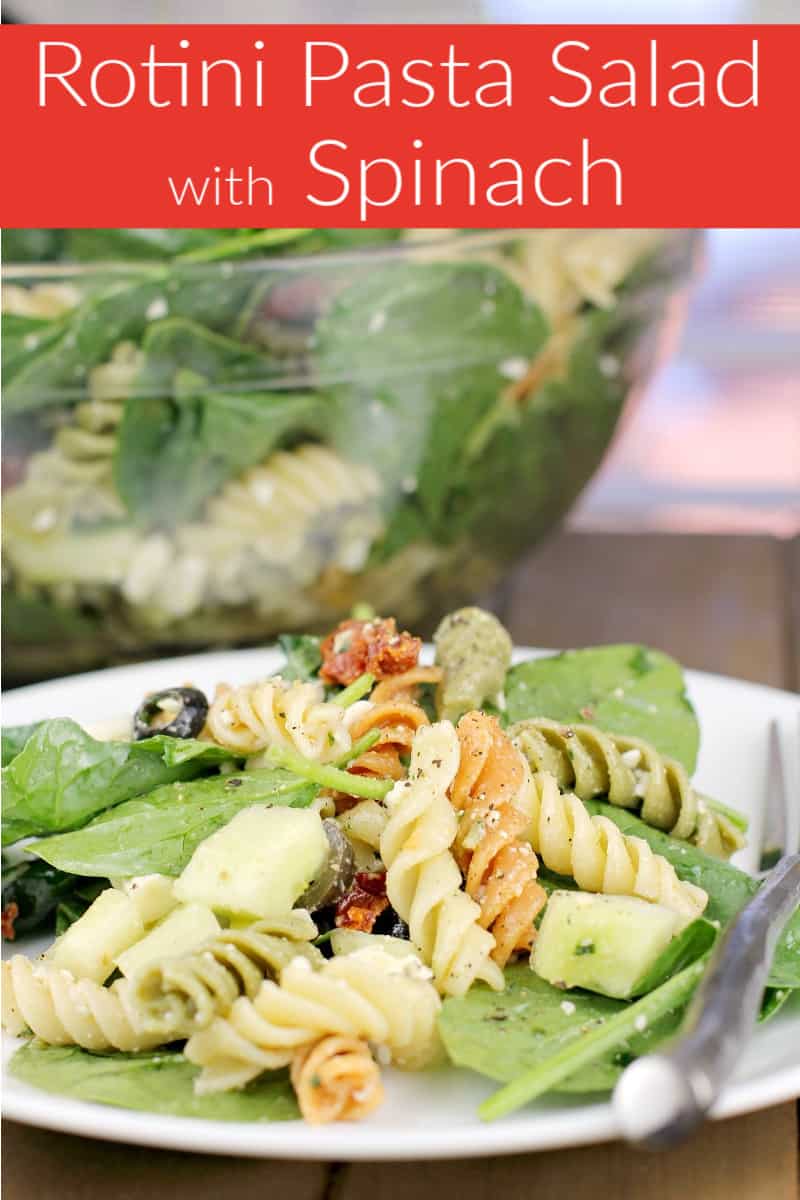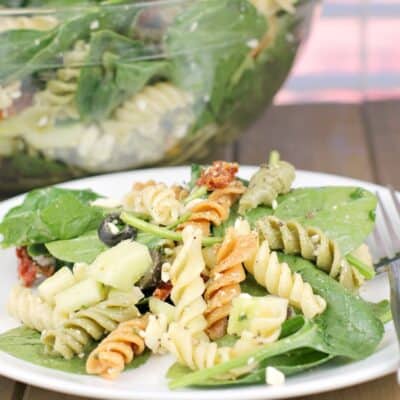 Rotini Pasta Salad with Spinach
Colorful rotini pasta salad with spinach is so flavorful and delicious you will want to bring it to all the parties. It's the fresh spinach that truly sets this recipe apart.
Ingredients
12

oz

tri-color rotini pasta

cooked according to package directions, drained, and rinsed with cold water

4

oz

crumbled feta cheese

1

large cucumber

peeled, seeded, and diced

3.8

oz

can sliced black olives

drained

½

cup

julienne cut sun-dried tomatoes in oil

drained

1

Tbsp

fresh chopped basil leaves

½

Vidalia onion

sliced thin

3

Tbsp

red wine vinegar

2

tsp

Dijon mustard

½

tsp

kosher salt

pinch

fresh cracked pepper

½

cup

olive oil

3

oz

fresh baby spinach leaves

larger leaves torn into pieces
Instructions
In a large bowl, add the pasta, feta, cucumber, olives, sun-dried tomato, and basil.

In a small bowl, add the vinegar, Dijon, salt and pepper. Slowly stream in the olive oil, whisking constantly to make the dressing.

Add the dressing to the salad. Gently toss in the spinach last. Serve immediately.
Notes
If preparing the salad in advance, add the spinach when ready to serve to prevent wilting.
Nutrition
Calorie count is purely an estimate calculated using an online application to serve as a guide and not to be taken as accurate nutritional information. Percent Daily Values are based on a 2,000 calorie diet.
Tried this recipe?
Leave a comment below and let me know!