Smoked Jalapeno Cheese-Stuffed Pork Balls
Smoked Jalapeno Cheese-Stuffed Pork Balls are cheesy, gooey, smoky, pork meatballs. With just a little kick and insane flavor, add these Smoked Jalapeno Cheese-Stuffed Pork Balls to your holiday weekend fare.
With the long warm days of summer around the corner, with beach and sun and pool and grilling, here is a ridiculously good recipe that seals the deal.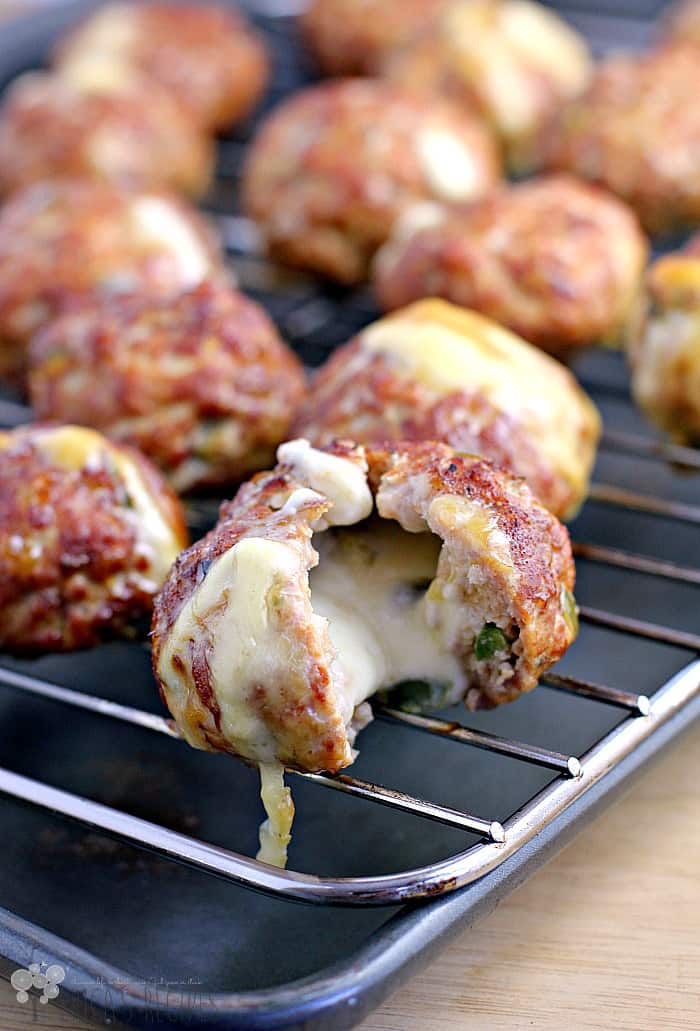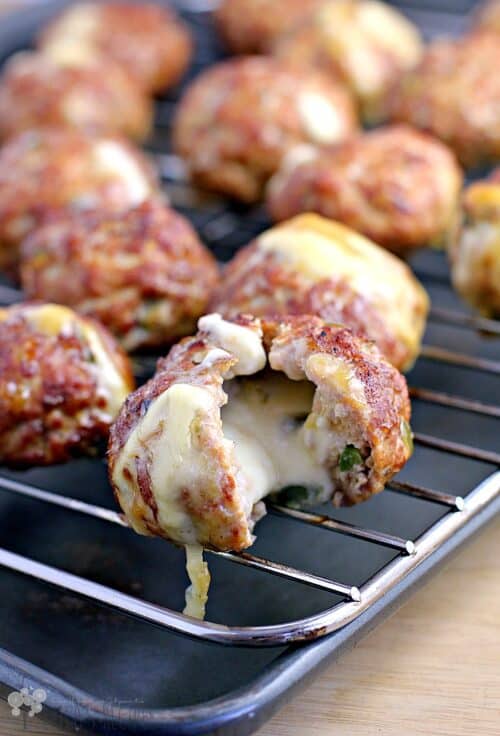 Oh heeyyyy! Lookie here! Because I rocked on this one. …actually, in full disclosure, I made these over a year ago and have not gotten around to publishing them until now.
I know. I suck. I'm sorry.
But LOOK what I DID, so we're good right?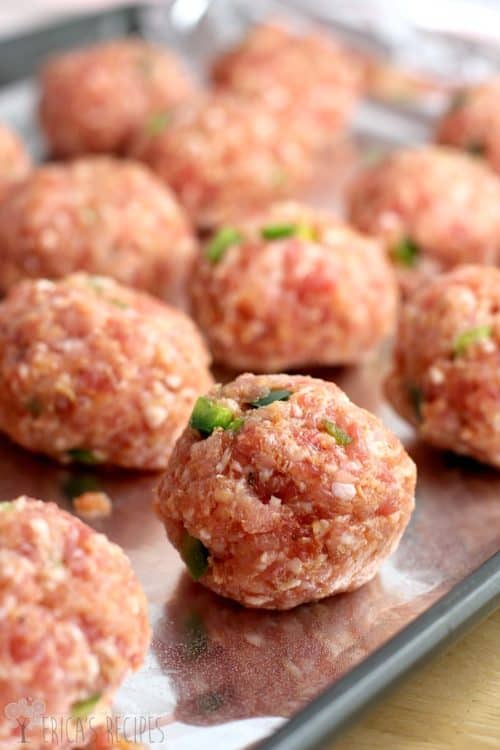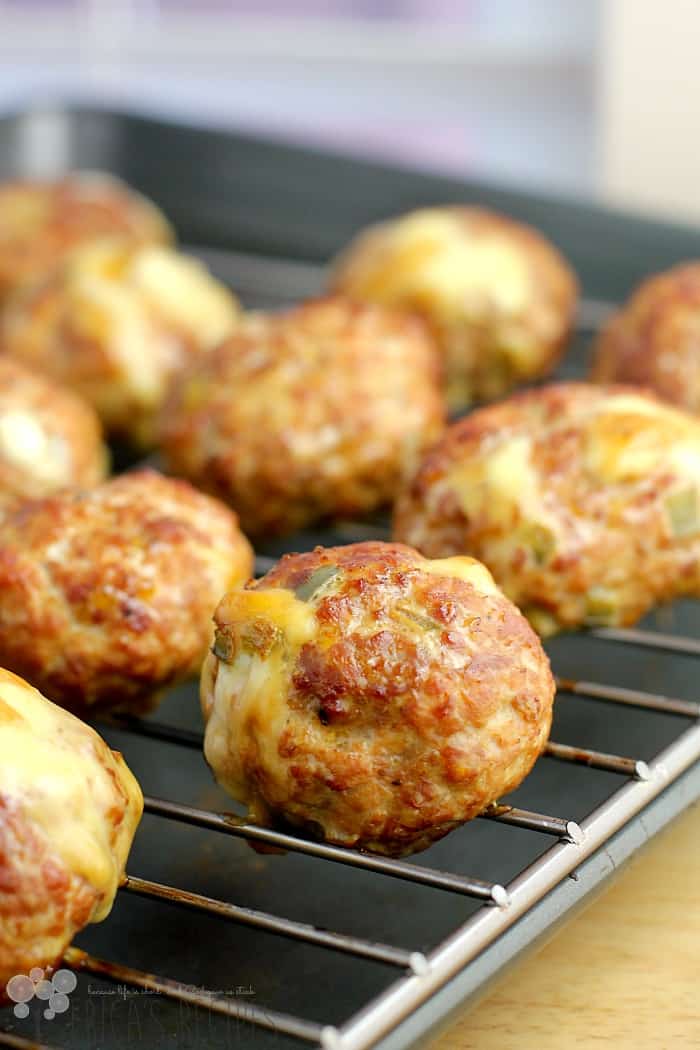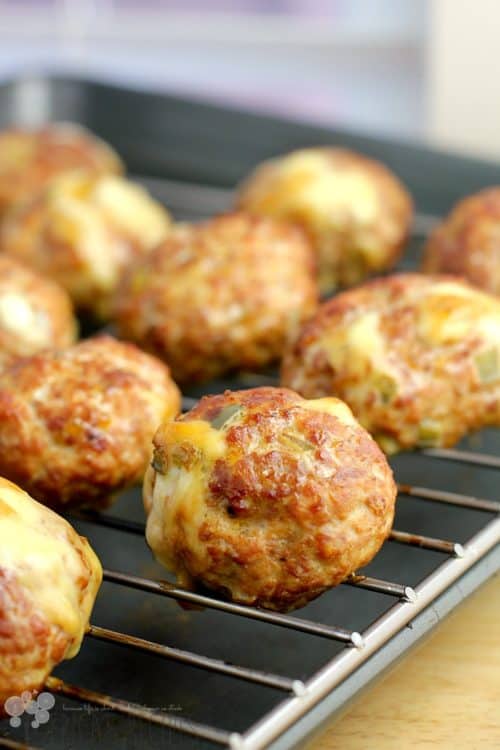 One thing I love love love in life is summer grilling and relaxed family time (as opposed to the busy busy of spring, winter, and fall). When school is out, Little League is over, the karate tournaments are done, my volunteer groups take a break …I cannot wait until life slows down, even if just for a couple weeks. …When we have time to make recipes that take just a little extra love …like smoking up some pork balls.
I made these back when we first got our smoker last year, then we proceeded to inhale them all. They were glorious. The smoked flavor combined with the creamy spicy cheese was a perfect match. This recipe is easy, as I always say ?. We mix up out pork, sausage, some jalapeno, and some seasoning. Then we roll 'em into balls, then stuff a nice cube of cheese in the center. Finally, we smoke them a bit until done and just about one of the most addictive things ever. If you don't have a smoker, you can easily make one using foil to fabricate a pouch for the chips and cook on your grill. Or alternatively, add a teensy touch of liquid smoke to the meat mixture, then just bake.
Because let's be honest, it is all about the cheesy center, right?
So that's it folks. I am throwing you this one for Memorial Day. And all the other occasions. Because sometimes food like this is totally called for, so we can come out the rockstar. ?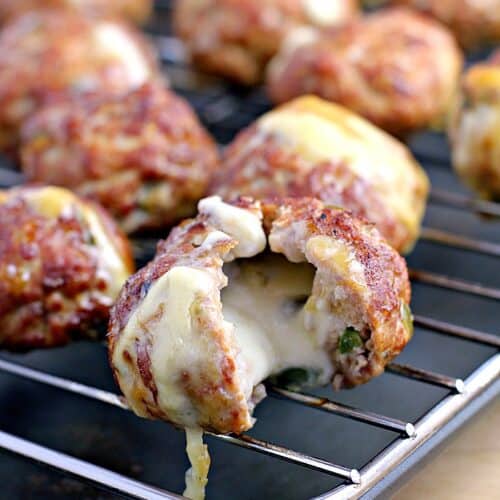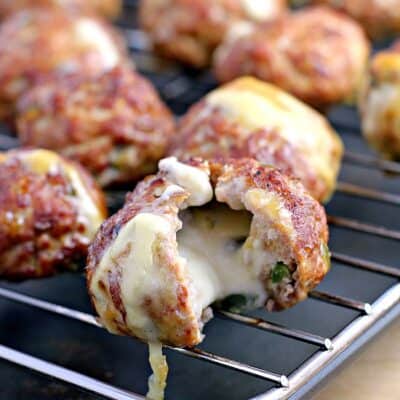 Smoked Jalapeno Cheese-Stuffed Pork Balls
Cheesy, gooey, smokey, pork meatballs.
Ingredients
1

lb

bulk pork sausage

1

lb

ground pork

½

cup

finely diced jalapeno peppers

½

tsp

kosher salt

2

tsp

Grilling Rub for Pork

¼

cup

plain breadcrumbs

1

egg

¼

cup

milk

1

8 oz pkg jalapeno pepperjack cheese or Monterey Jack cheese with jalapenos, cut into 18 cubes
Instructions
Prepare the smoker according to manufacturer's instructions. Heat to ~235F. I used mesquite chips when I made this.

In a bowl, combine all the ingredients except the cheese. Shape into 18 balls. Press a cube of cheese into each, forming the meat around the cheese completely and sealing well. Dust with more pork rub.

Cook balls in the smoker for ~1 hr. Check that the internal temperature reaches 160F. Remove from the smoker and serve.
Calorie count is purely an estimate calculated using an online application to serve as a guide and not to be taken as accurate nutritional information. Percent Daily Values are based on a 2,000 calorie diet.
Tried this recipe?
Leave a comment below and let me know!
~✿♥✿~