Chicken Gyro Pizza is Mediterranean-inspired with all the flavors and trimmings of your favorite gyro, is a perfect add to your gourmet pizza repertoire.
Kick up your pizza night at home with this Greek-inspired, cheesy creative, pizza pie.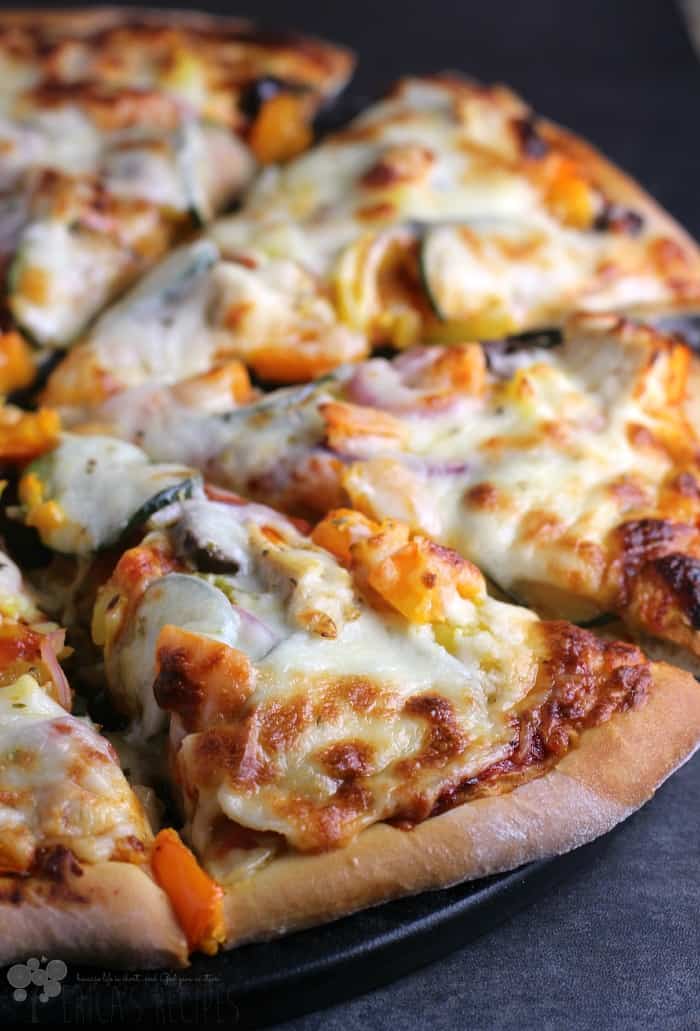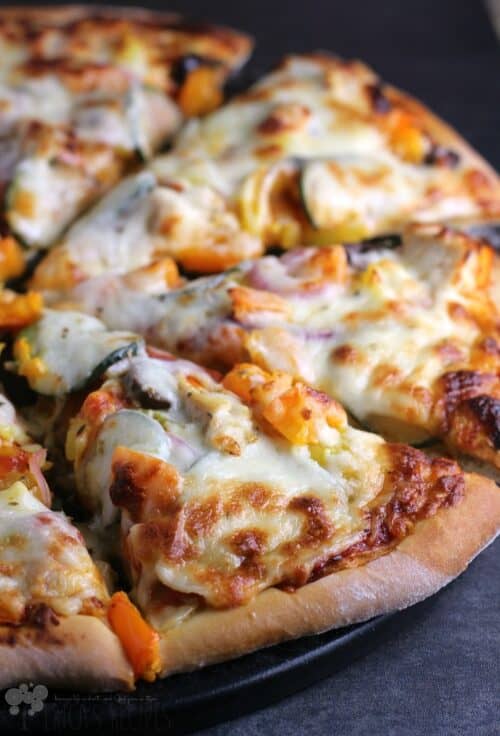 Whoahh did I go off the reservation with this one or what. Cucumber on pizza? …I love gyros. You love gyros. Everyone loves gyros. So there.
…Aright, maybe this isn't completely gyro-ish – I didn't use lamb even – but I was doing the Mediterranean thing. You can see it, right? You feel it.
But cucumber Erica?
Yup. Cukes can do pizza too.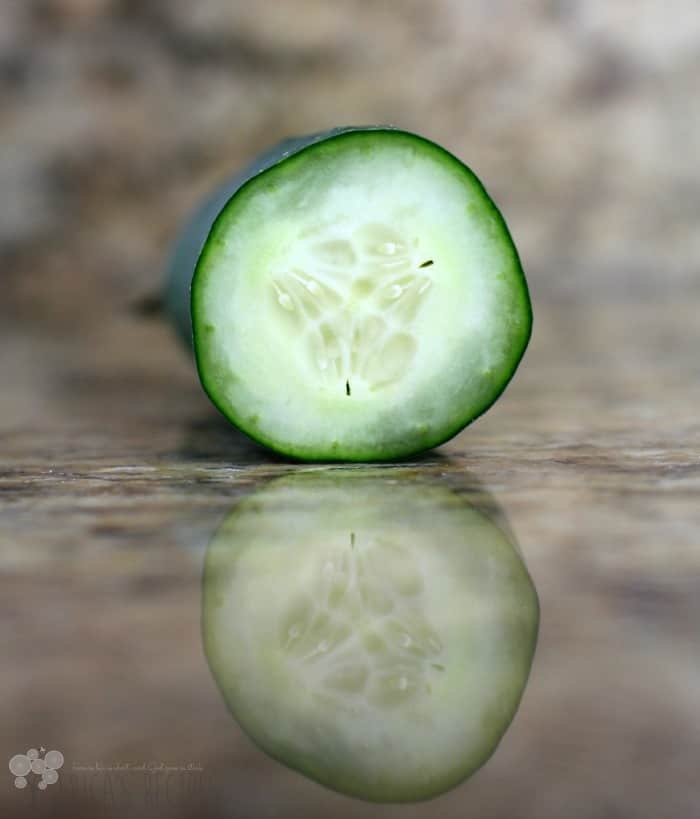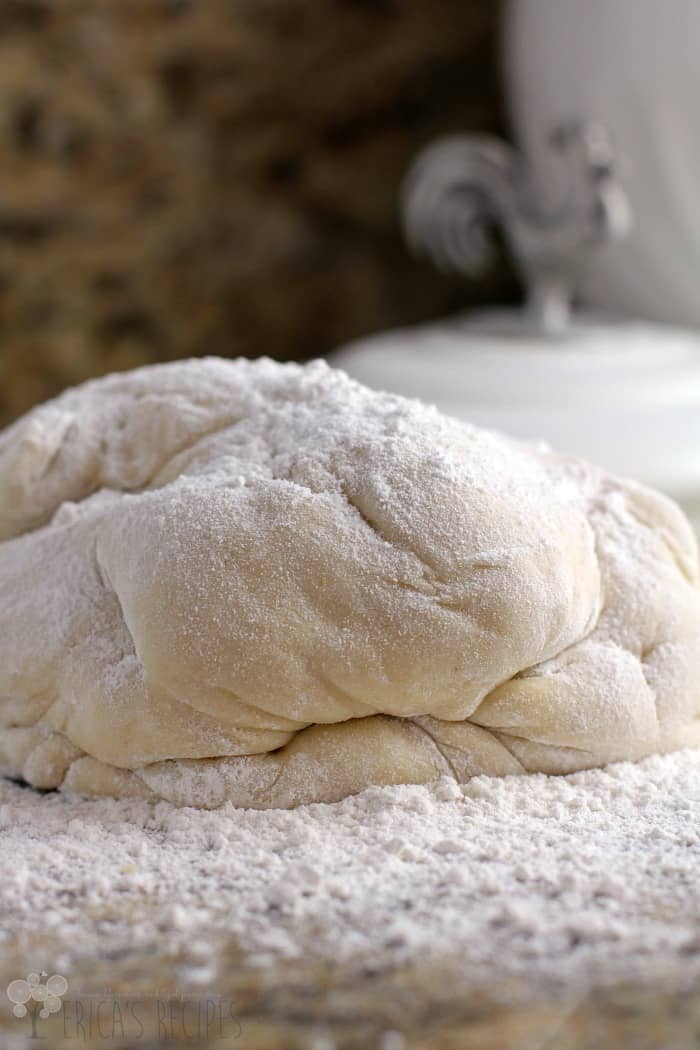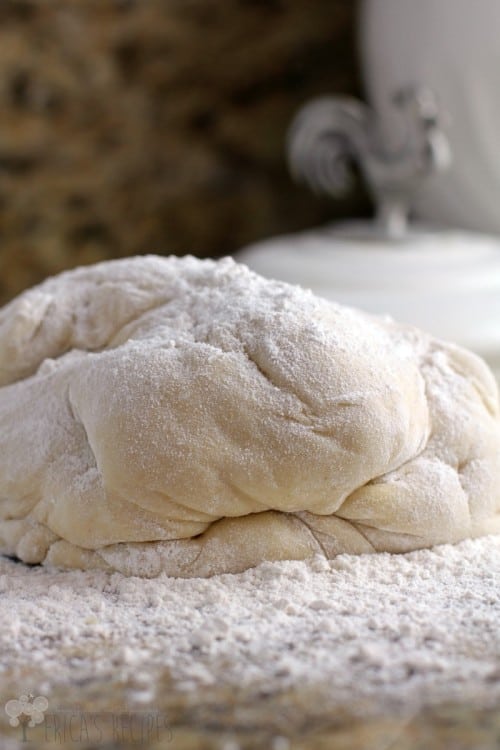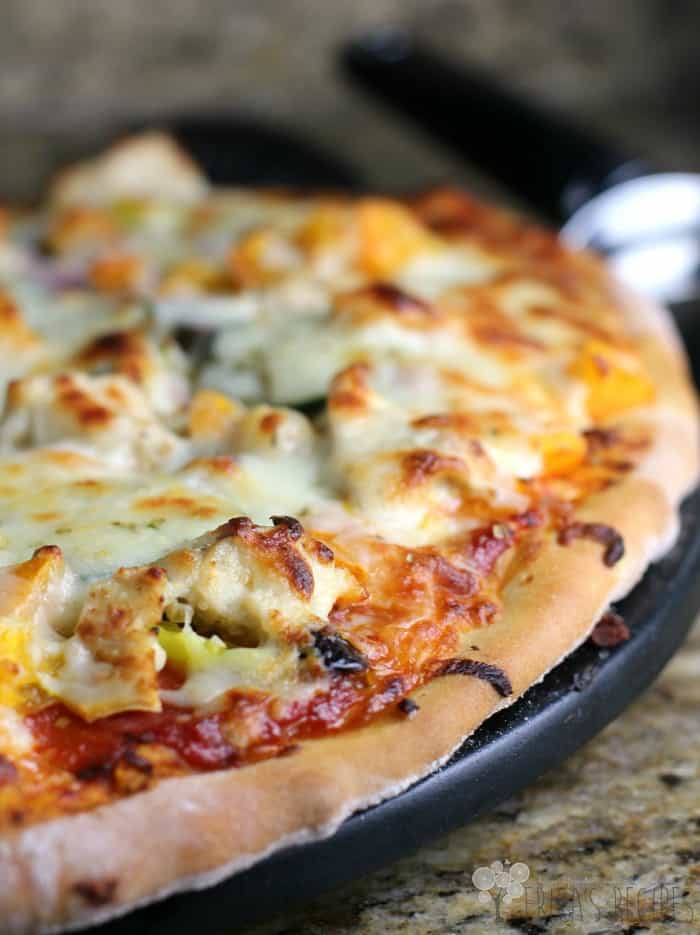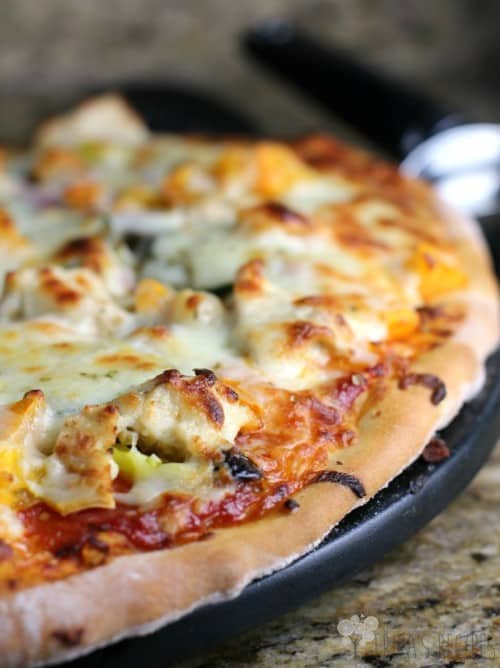 So I have not posted a new recipe in a couple weeks because I am now past the 24 week mark from Ironman Louisville, and the training has taken over my life. During the week, I am now averaging 2 hours a day. Emphasis on 'averaging'. Then, the weekends …that's when the long workouts happen. And they are getting longer. They aren't particularly hard actually, truly not hard. It is just a duration/consistency/I'm-getting-much-more-intimate-with-my-foam-roller thing. ? Getting the workouts in – THAT is the hugely challenging part. Other than that, it's just a little sweat and sparkle.
See, anyone can do this. Triathlon – an Ironman even. The whole key is finding the time to do the training.
And so, for now, other things have to give. And it can't be my family, so less frequent food shtuff for a couple months it has to be. But it's all good, I will just make extra sure what I do post is extra great then. Deal? ?
This recipe is really easy because there is really no prep needed other than making (or buying) some dough, making (or buying) sauce, and assembling the other ingredients (see? I'm hinting you shortcuts!). I make my own pizza dough using beer …cuz, Beer. …And I make my own pizza sauce, because that is better too if I do say so myself ?. But other than that, these are all basic ingredients. They are just different to be put on a pizza. But pizza is versatile like that. One of the many reasons why pizza is so awesome.
And this pizza is delicious! A whole lot of tangy going on with the pickled-ness of it all too. Olives, pepperoncini, sauce. This is why I chose yellow tomato – a kinder, gentler, less-acidic (and my personal favorite) tomato. And if you are leery of warm cukes on a pizza, then just dice and sprinkle them cold overtop the pizza when ready to serve. That would be outstanding too, and super snazzy.
So here it is kids, another kinda-out-there pizza recipe for the books. Mediterranean-inspired, full of flavor. And deliciously different. Remember, pizza always rocks regardless, so why not get super creative and see where pizza can take you. ❤
This recipe uses my Sam Adams Pizza Dough made with beer and my Homemade Pizza Sauce with wine and garlic.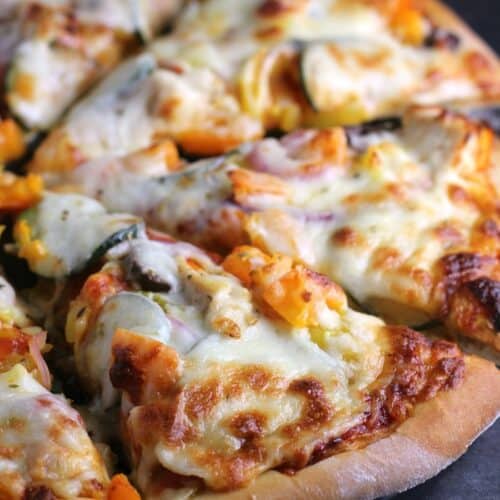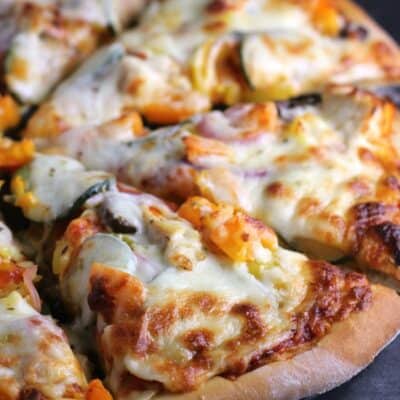 Chicken Gyro Pizza
Mediterranean-inspired Chicken Gyro Pizza, with all the flavors and trimmings of your favorite gyro, is a perfect add to your gourmet pizza repertoire.
Ingredients
½

batch of prepared Sam Adams Beer Pizza Dough or purchased prepared dough

½

c

Homemade Pizza Sauce

1

c

cooked chicken meat

chopped

1

yellow tomato

seeded and chopped

¼

of a red onion

thinly sliced

¼

c

sliced kalamata olives

¼

c

sliced pepperoncini peppers

can substitute banana peppers

¼

c

thinly sliced cucumber

2

c

shredded mozzarella cheese

dried oregano

for sprinkling
Instructions
Heat oven to 425F with the pizza stone in there. Once heated, heat an addition 10-15 minutes to make sure the stone is thoroughly heated.

Roll out the pizza dough. Transfer to the preheated pizza stone. Layer the toppings: sauce, chicken, tomato, onion, olives, banana peppers, cucumber, and cheese. Dust with oregano. Cook at 425F for ~15 minutes until crust is golden and toppings are sizzling. Yields 1 large pizza.
Calorie count is purely an estimate calculated using an online application to serve as a guide and not to be taken as accurate nutritional information. Percent Daily Values are based on a 2,000 calorie diet.
Tried this recipe?
Leave a comment below and let me know!