Tzatziki sauce with sour cream and Greek yogurt is full of flavor with a kick from garlic and onion. This Greek yogurt dip makes a healthy veggie dip or delicious sauce for meat and fish.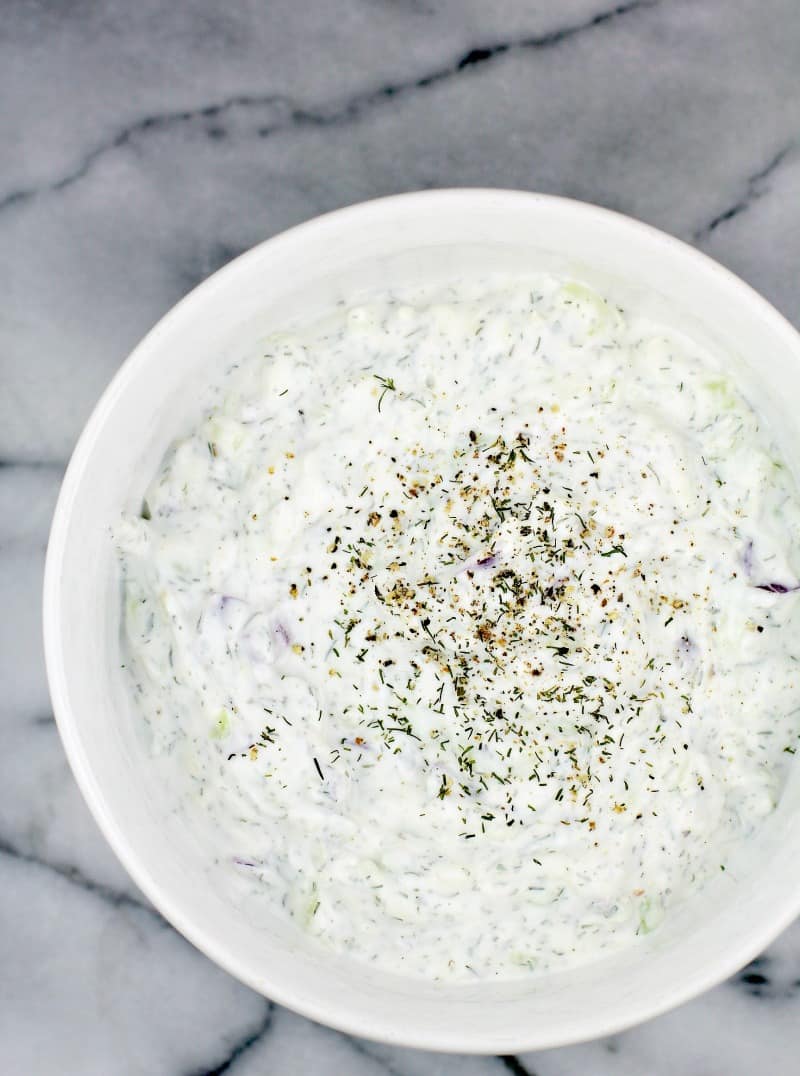 This recipe was originally posted April 2013 and updated January 2020.
Confession: I am not much of a fan of Greek yogurt. I have tried and tried, but I am just not a big fan. Be it fruity or one of the new super thick plain yogurts, there is just something in the background of Greek yogurt and I am just ehh.
So why am I here sharing a yogurt sauce? Because I do LOVE tzatziki sauce! If you go to a Persian restaurant, get yourself some tzatziki with fresh, warm pita bread. Or layer it in your gyro, or as a healthy veggie dip, or on salmon or with kabobs. Yummmm.
With fresh lemon juice, some garlic, herb, and cucumber (or even without the cucumber), Greek yogurt is transformed.
Why is this Greek yogurt dip special?
This recipe is different for 2 reasons:
First, my recipes is for tzatziki with sour cream… which is completely blasphemous of course, but I'm American and this is how we screw with other culture's foods.
Sour Cream.
Why? Because the sour cream tames the yogurt-i-ness of the yogurt. Tames the tang. Makes it more dippy and less saucy too. And I think, sour cream and yogurt together are DELICIOUS.
The other reason I love this recipe is because of all the other ingredients: dill, garlic, lemon, cucumber, and onion. Once together and after the flavors meld, the result is just a perfect delicious, creamy cool combination.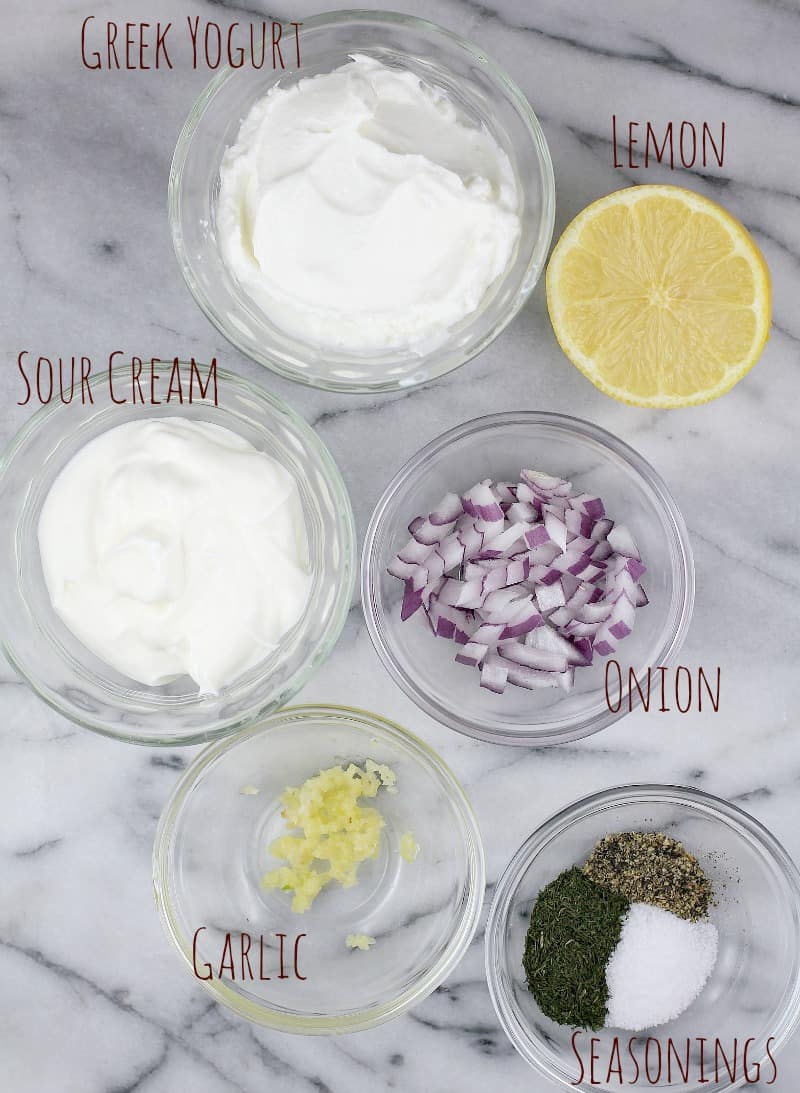 Is tzatziki with sour cream healthy?
YES. This recipe is very healthy. The ingredients are simple, and I even use reduced fat sour cream.
Is tzatziki sauce low in carbs?
YES. If you do the dietary low carb or keto thing, this recipe is perfect for you. As written, this sauce serves 6 with 4 grams carbs per serving (2 grams sugar) per serving.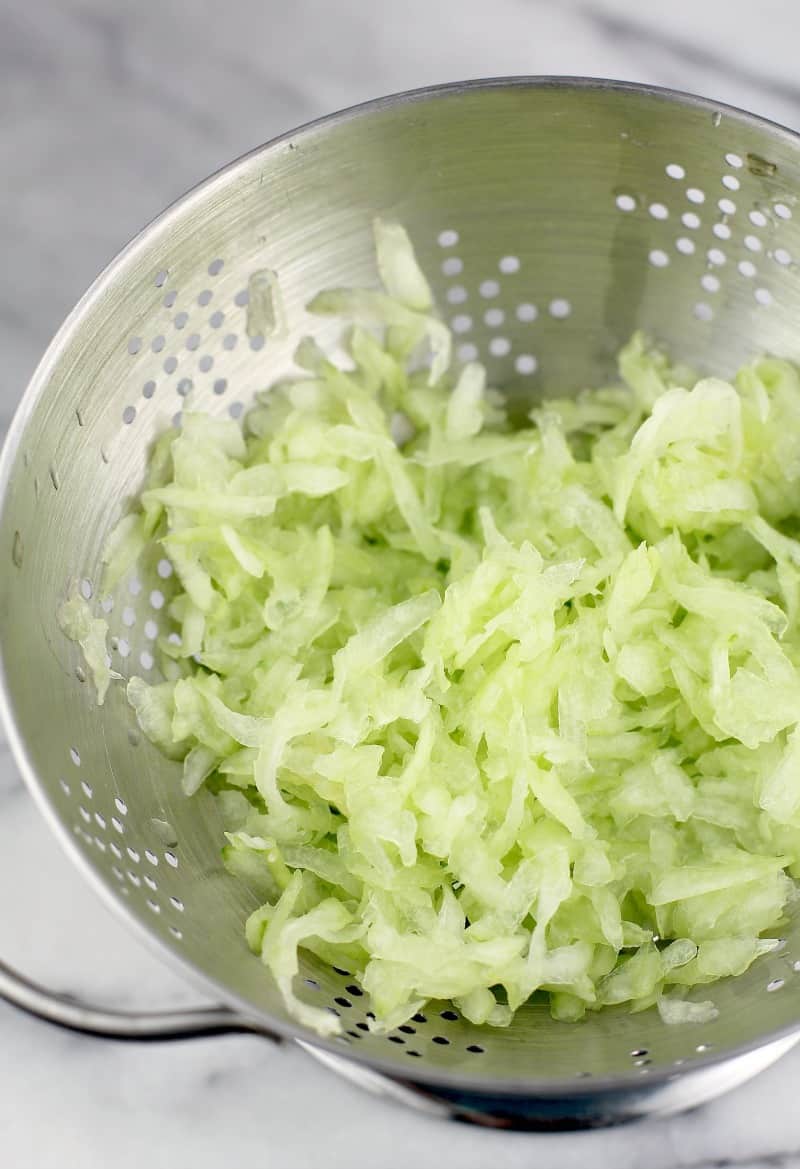 Does tzatziki make a healthy veggie dip?
Yes, yes, and YES. Tzatziki sauce with sour cream is DELICIOUS with veggies because the flavors complement veggie dippers so well. Garlic, lemon, dill yummm.
Also, because of the sour cream, this tzatziki sauce is more substantial in texture. It's thicker. You can scoop it with a baby carrot.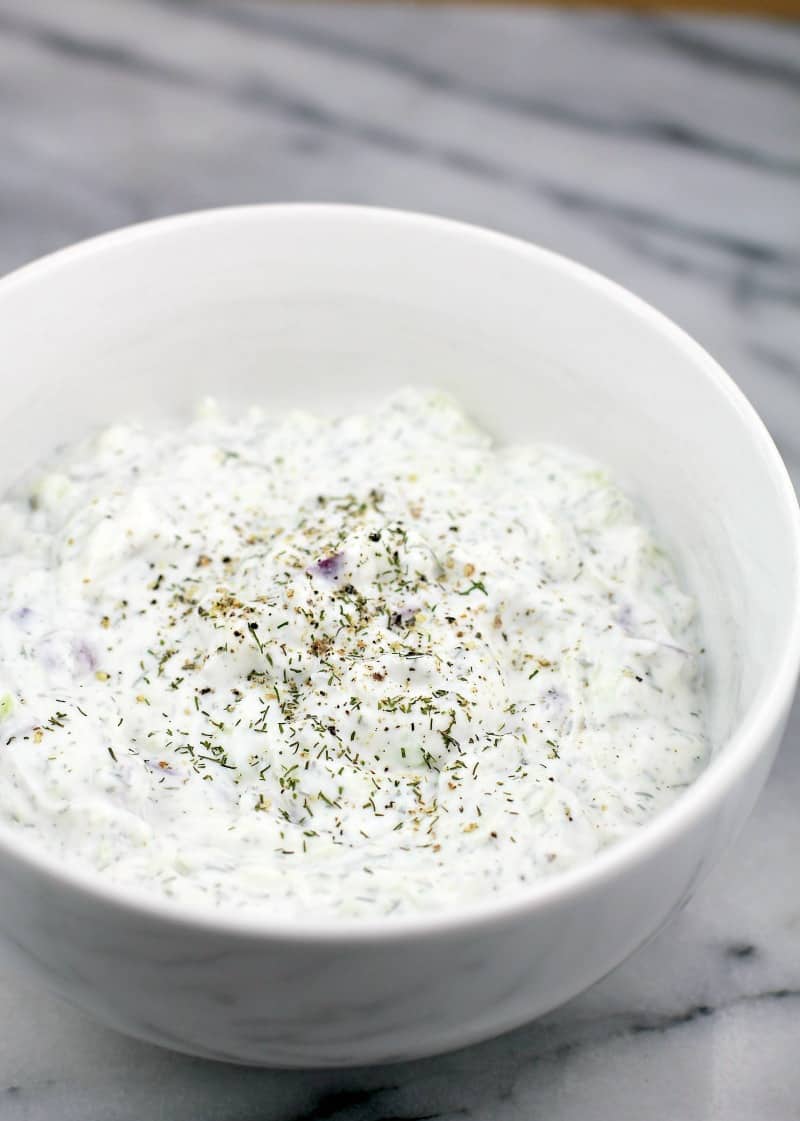 How long with this Greek yogurt dip keep?
You can keep this recipe in the refrigerator, covered in plastic wrap, for up to 3 days.
Recipe suggestions to go with tzatziki?
Simple baked salmon. Season and bake at 400F until fish flakes with fork (15-20 minutes for 1-1/2 lb, depending on thickness).
Easy Fish Gyros. With crunchy fish and creamy tzatziki, this is a perfect solution for a busy weeknight meal.
Zucchini and Potato Latkes. Latkes are even better with added zucchini.
Greek-Style Chicken Drummies. Use the air fryer to make perfect crispy juicy chicken drummettes.
Also, check out my 10 Healthy Snack Ideas for the Workweek. Easy prep for while you are at the office.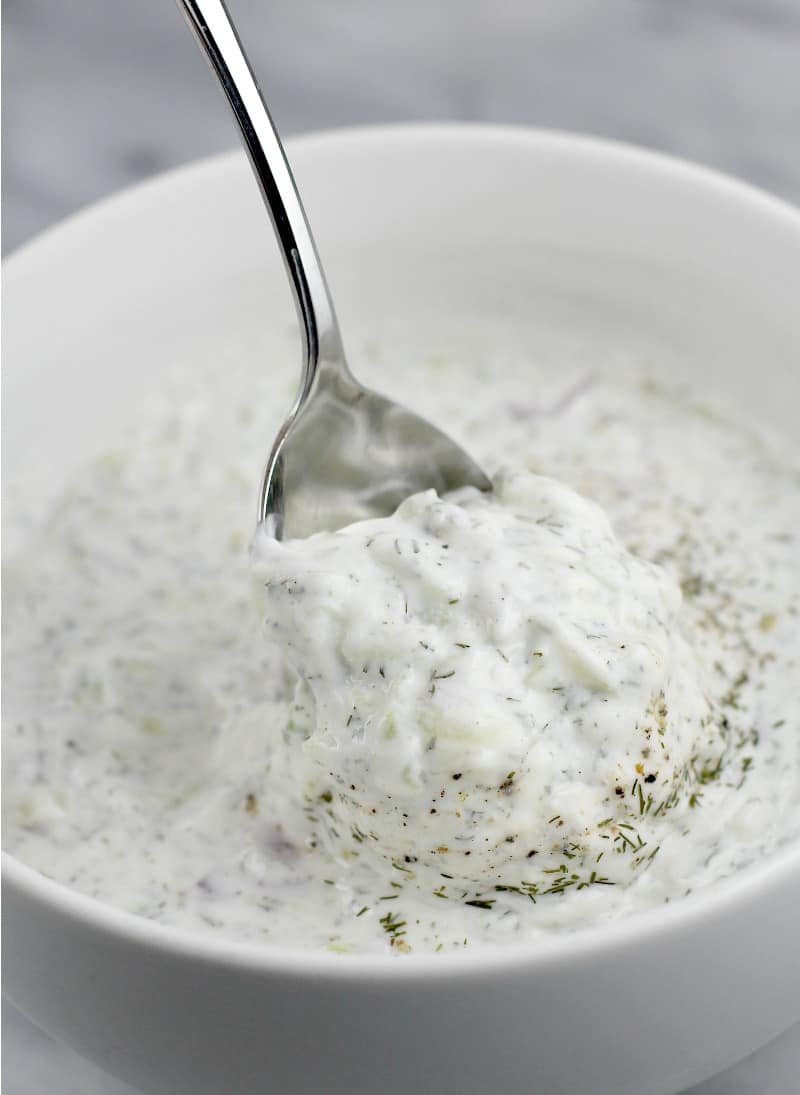 Last Tips!
Use the large holes of a cheese grater to shred the cucumber.
Be sure to squeeze out as much water as you can from the cucumber. You can do this in a clean towel. I just use my hands over the sink.
Opt for thicker Greek yogurts. The new super thick Icelandic yogurts work really well too.
Do not be tempted to add more than just a small clove of garlic. Trust me!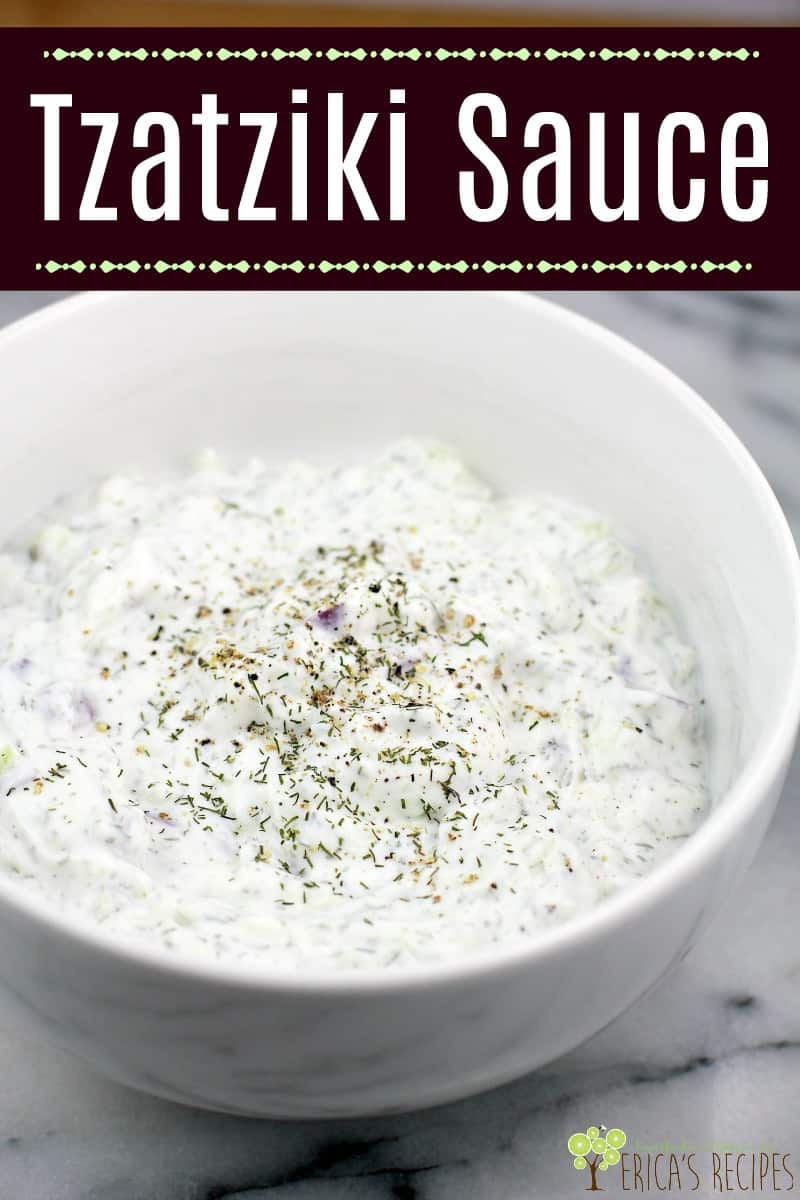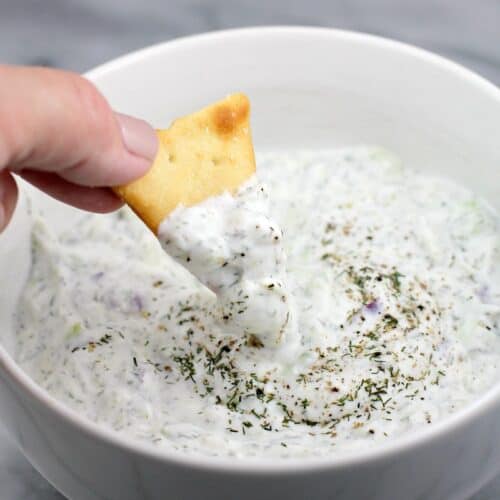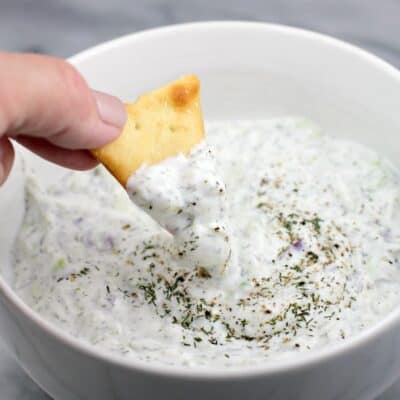 Tzatziki Sauce
Tzatziki sauce with sour cream and Greek yogurt has a kick from garlic and onion. This Greek yogurt dip is a healthy veggie dip or sauce for meat and fish.
Ingredients
1

cup

plain Greek yogurt

½

cup

reduced fat sour cream

1

small (½ cup) cucumber

peeled, seeded, shredded (see Notes), and water squeezed out

1

Tbsp

fresh lemon juice

½

Tbsp

dried dill

½

tsp

kosher salt

¼

tsp

coarsely ground pepper

1

small clove garlic

minced

2

Tbsp

red onion

very finely diced
Instructions
Combine all ingredients in a bowl.

Refrigerate 2 hours before serving to combine flavors.
Notes
If your onion is very fresh or particularly pungent, put the chopped onion in a strainer and run under water for 30 seconds to take the edge off before adding to the rest of the ingredients. We want the kick, but we don't want it crazy overpowering.
Use the large holes of a cheese grater to shred the cucumber.
Calorie estimation is approximate. Per serving, there are 4g carbs (2g sugar).
Nutrition
Calorie count is purely an estimate calculated using an online application to serve as a guide and not to be taken as accurate nutritional information. Percent Daily Values are based on a 2,000 calorie diet.
Tried this recipe?
Leave a comment below and let me know!
~✿♥✿~