Simple, delicious. This recipe for Easy Fish Gyros, with crunchy fish and creamy Tzatziki sauce, is a perfect solution for a busy weeknight meal. And as a humble seafood dinner, this quick recipe is especially intended for Lent so you get your Friday-fish-fry on, but have it done in 25 minutes to move right on for the more important things in life.
This post was sponsored.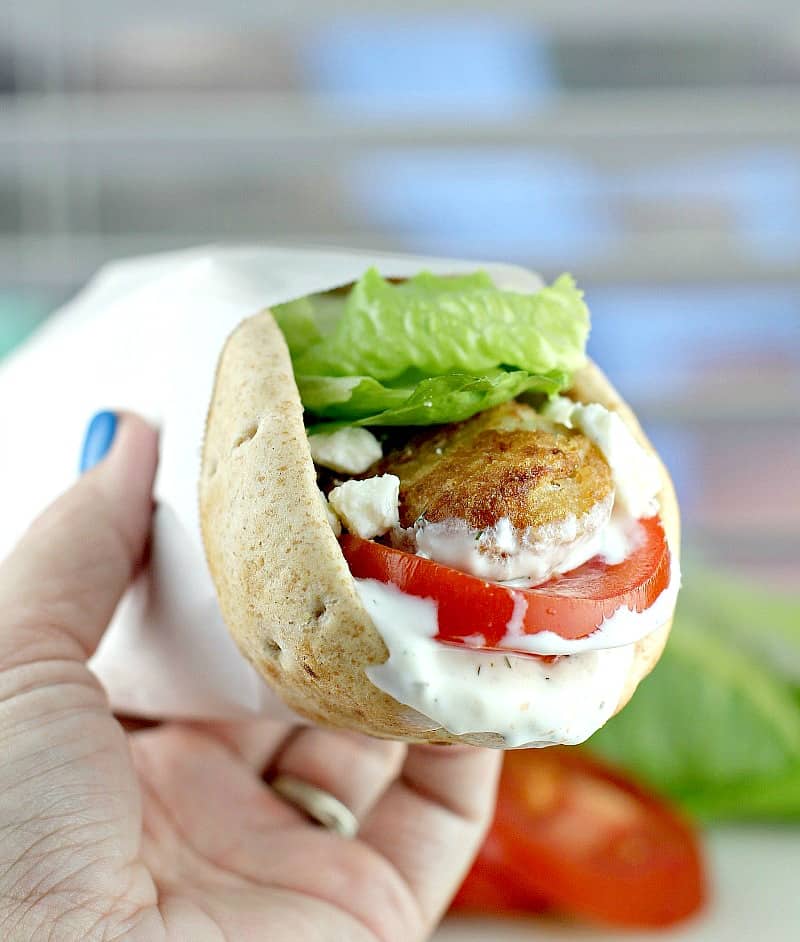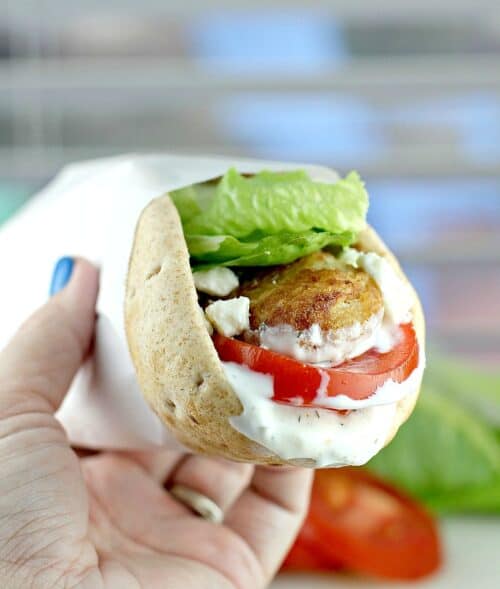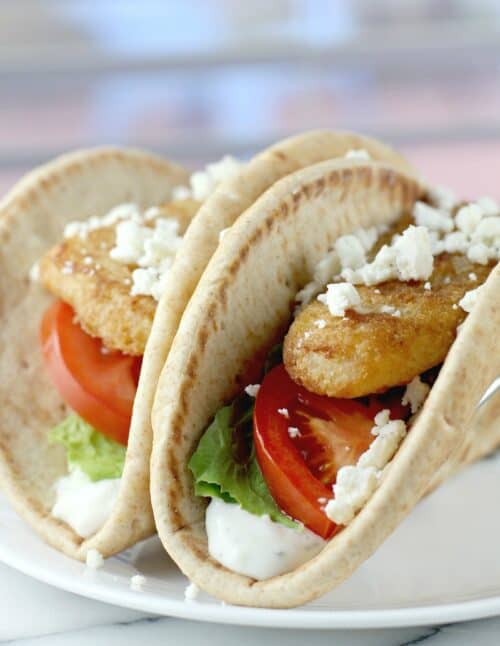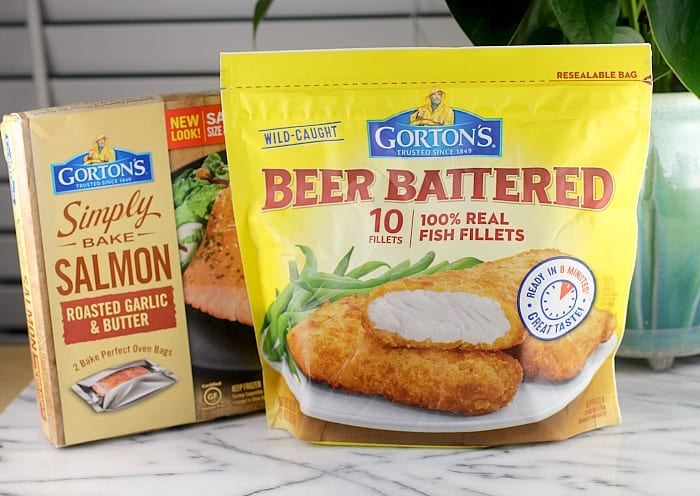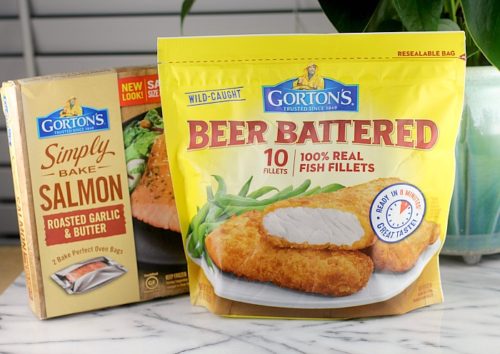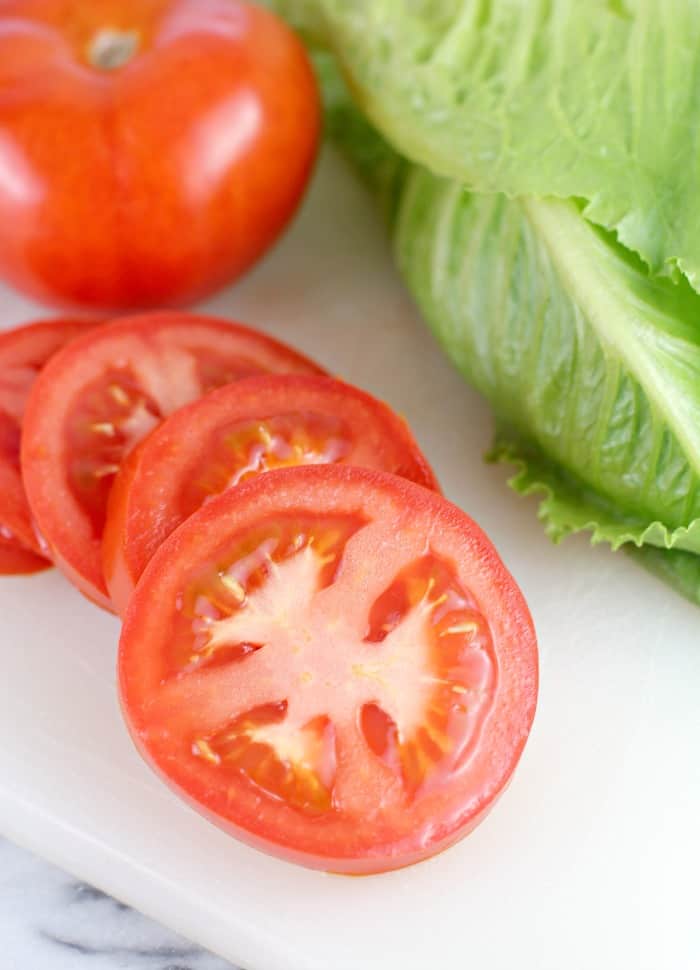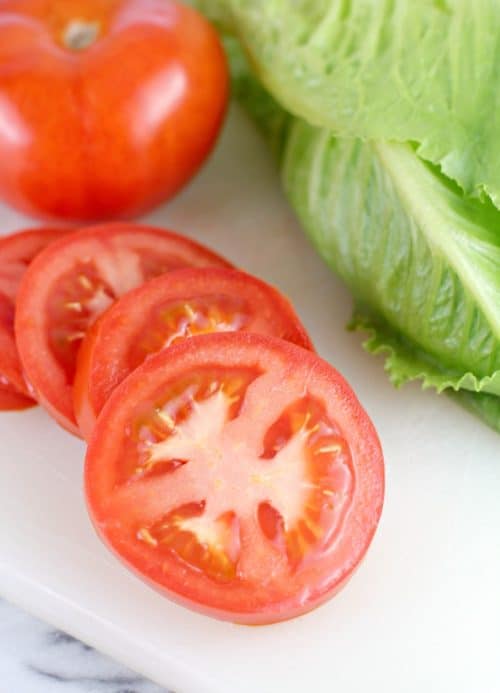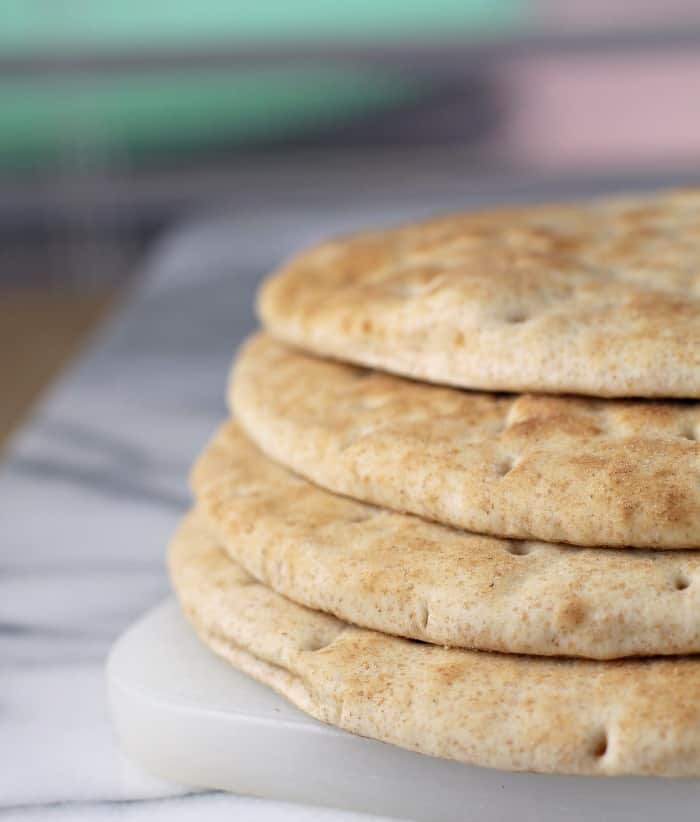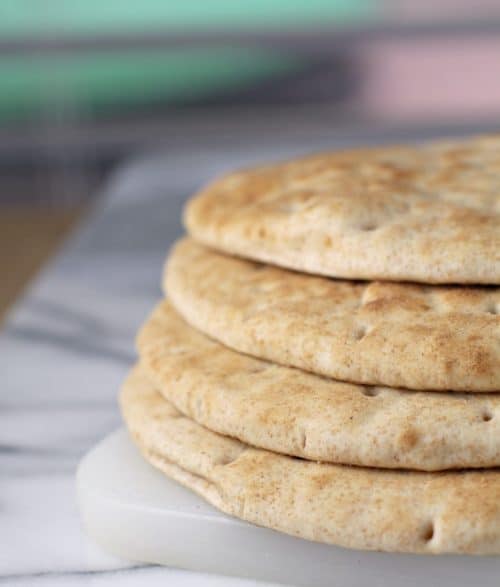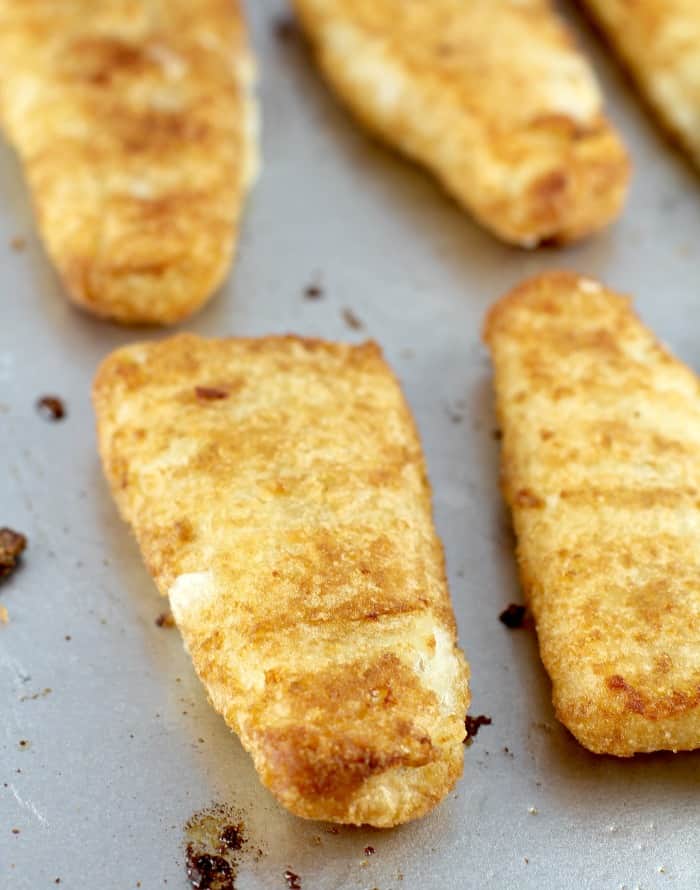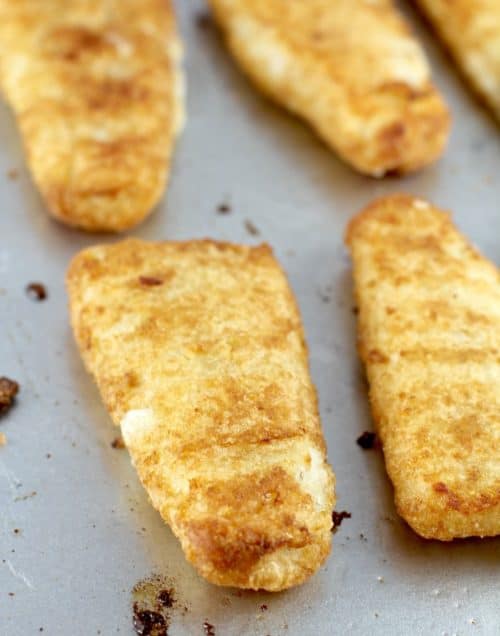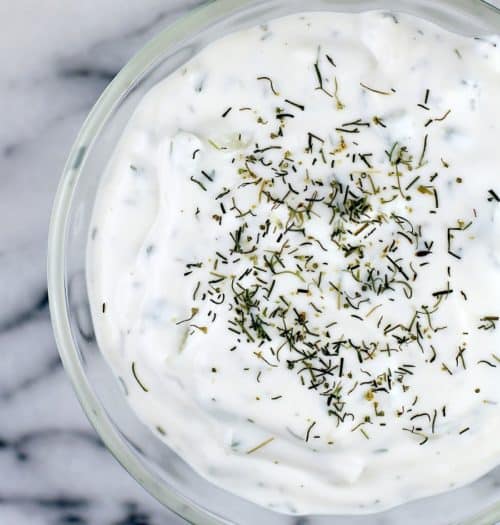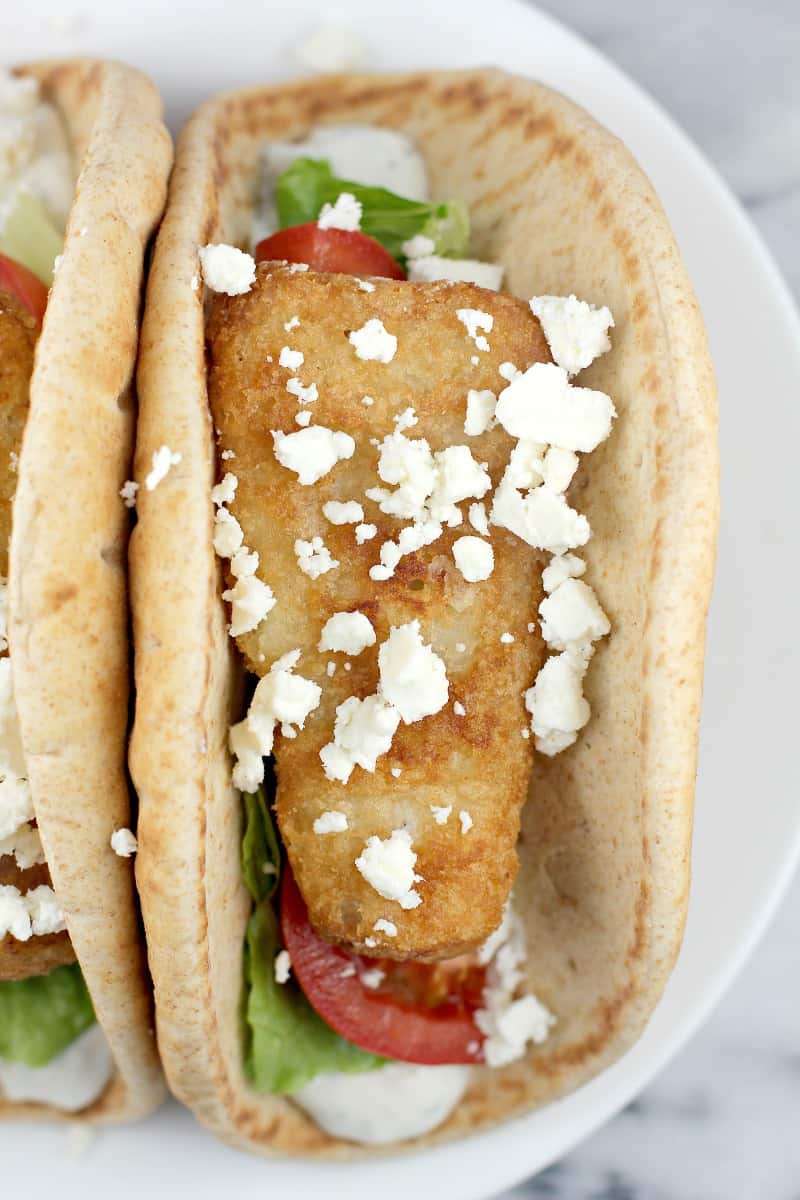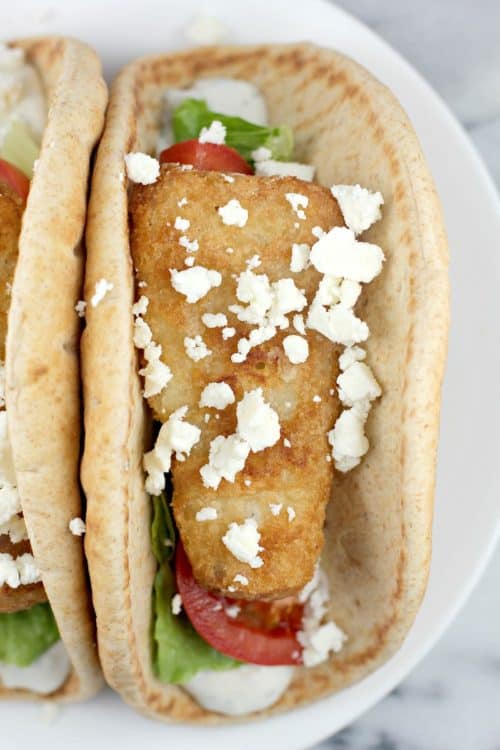 Sometimes we need to go simple with dinner. Really simple. Like, so easy that we are amazed how much time we have leftover to help our kids with homework, maybe put a load of laundry away, walk the dog, AND EVEN make sure our kids – BOTH OF THEM – get a bath. Not that I'm ever THAT good on a weeknight, and I don't aspire to. But I do DO what matters – laundry can wait, sometimes baths too …but at least some family time needs to happen each evening.
This is kindof the point with Lent, right? To give something up, with gratitude. This is why I feel like this really easy recipe is really OKAY for me to give you because while it is easy (did I mention it is easy?), it is TASTY and being THAT tasty, we can just make it and move on to focus on more pressing issues.
The first trick to these Easy Fish Gyros is the Gorton's Beer Battered Crispy Fillets. I have such affection for this fish. Quick and easy to prepare, and so tasty – these crispy fillets were my go-to food (along with sour cream and chive noodles from a box WOO!) when I was in college and still at that time pretty incapable of doing anything much more complicated. See, Gorton's range of products can handle any need in the reality of daily life, from comfort food for a college student 20 years ago to an easy Lent-friendly, kid-friendly, busy family-friendly, ME-friendly, dinner. And not just Lent, but Gorton's can help you easily get seafood into your family's diet on a regular basis. That's why I also picked up Gorton's Simply Bake Roasted Garlic & Butter Salmon for another convenient dinner with high-quality ingredients, ready inside of 30 minutes. Boom.
So, after the Gorton's Beer Battered Crispy Fillets, the remaining ingredients are pretty basic too. We use some fluffy pita flatbread, sliced tomato and lettuce, feta cheese, and creamy Tzatziki sauce. You can make your own tzatziki sauce, and I have a recipe HERE (also linked in the recipe card below), or you can buy it already made at the grocery store. Regardless, simply assemble the remaining ingredients while the fish cooks, throw together your gyro, and ENJOY this combination of flavors that is SO GOOD.
So that's it folks! An unassuming but delicious dinner, humble yet so satisfying. For Fridays during Lent if you observe it, or simply those nights when you need to knock out dinner in a snap, Easy Fish Gyros.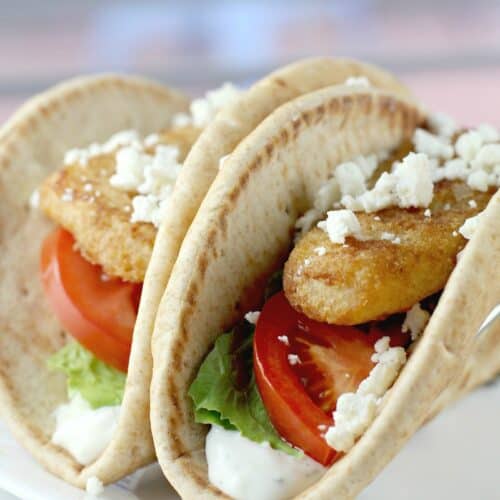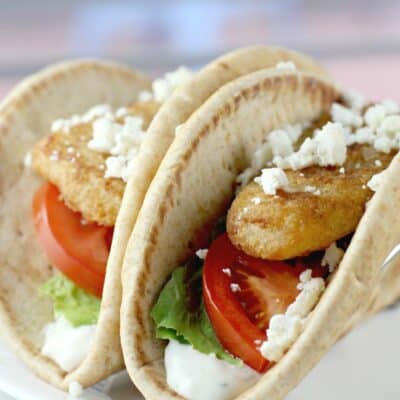 Easy Fish Gyros
This simple recipe, with crunchy fish and creamy Tzatziki sauce, is a perfect solution for a busy weeknight dinner.
Ingredients
18.2

oz

pkg Gorton's Beer Battered Crispy Fillets

pita flatbread

2

tomatoes, sliced

torn lettuce leaves

1 cup Tzatziki Sauce (or purchased)

4

oz

crumbled feta cheese
Instructions
Heat the oven and cook the fish according to package directions.

While fish is in the oven, prepare the remaining ingredients.

To assemble the gyro, layer tzatziki sauce, tomato, lettuce, fish, and feta in a pita. Wrap up and enjoy immediately.
Calorie count is purely an estimate calculated using an online application to serve as a guide and not to be taken as accurate nutritional information. Percent Daily Values are based on a 2,000 calorie diet.
Tried this recipe?
Leave a comment below and let me know!
~✿♥✿~
Leave me a comment! What are your Friday dinner solutions during Lent?