Beer Barbecue Baby Back Ribs
My Beer Barbecue Baby Back Ribs, perfect for any tailgate, game-day, camp-out, or just general summer fun-fun, is the EASIEST grilled rib recipe you will ever find. Juicy, ridiculously tender ribs, with few ingredients and minimal effort for the win.
This post is sponsored.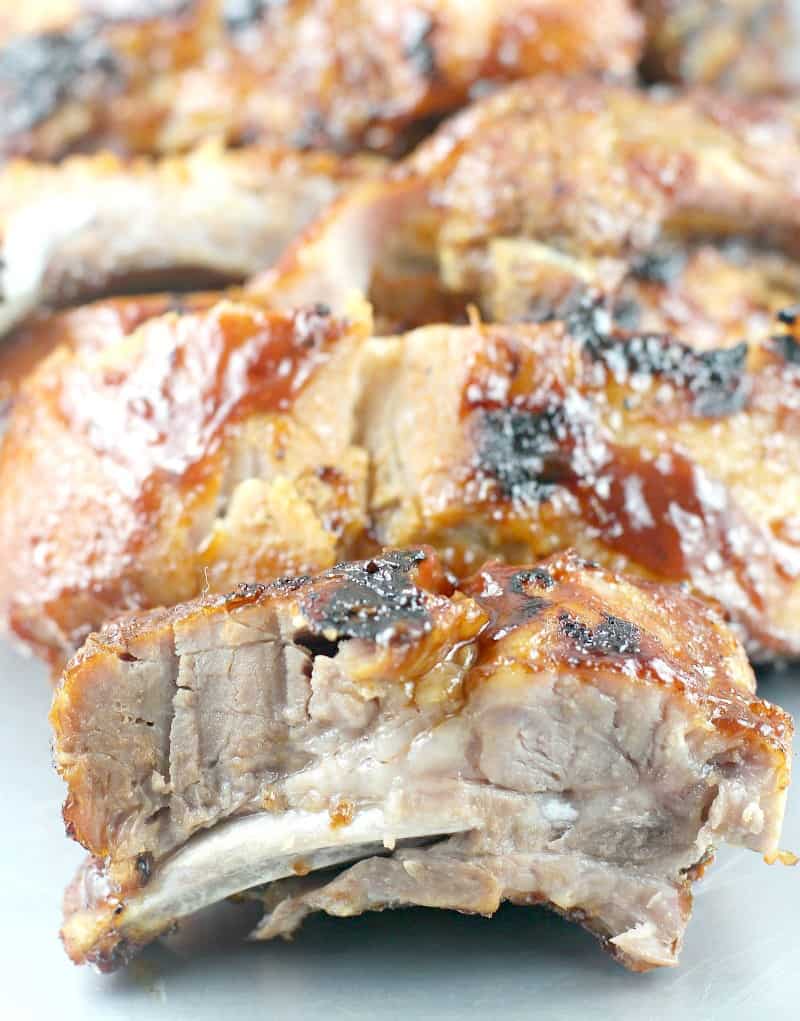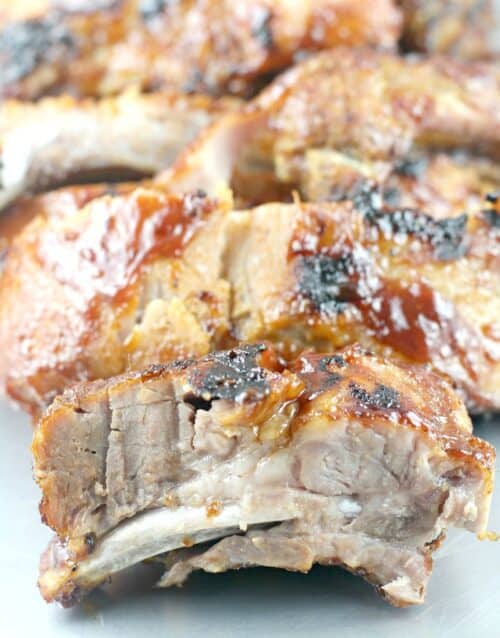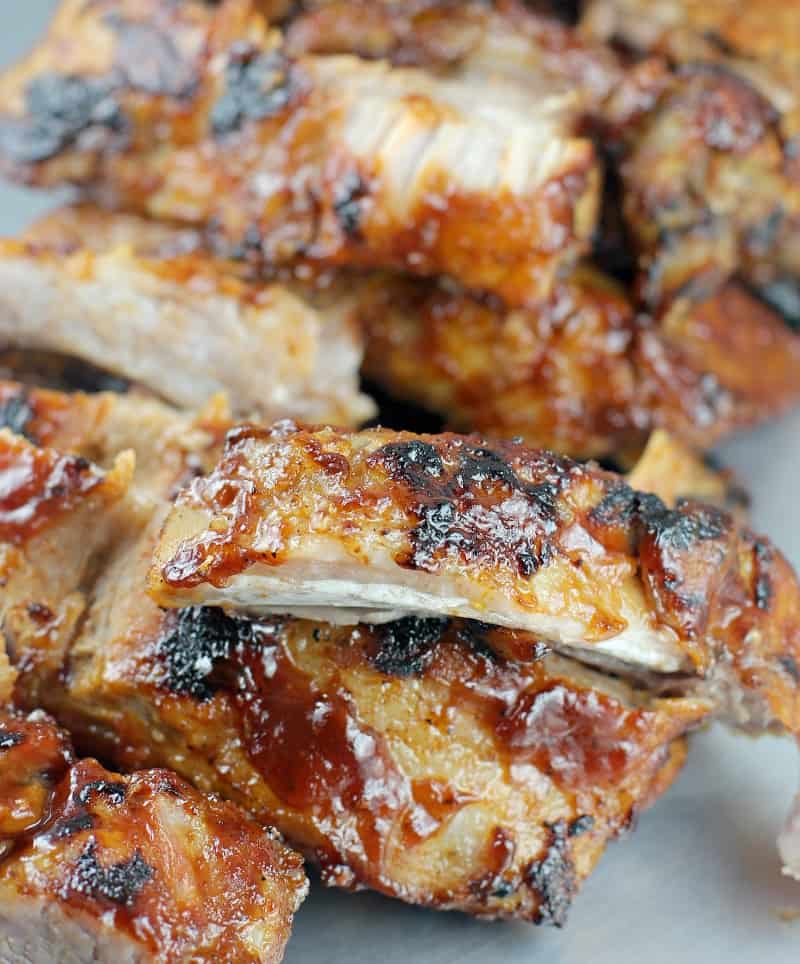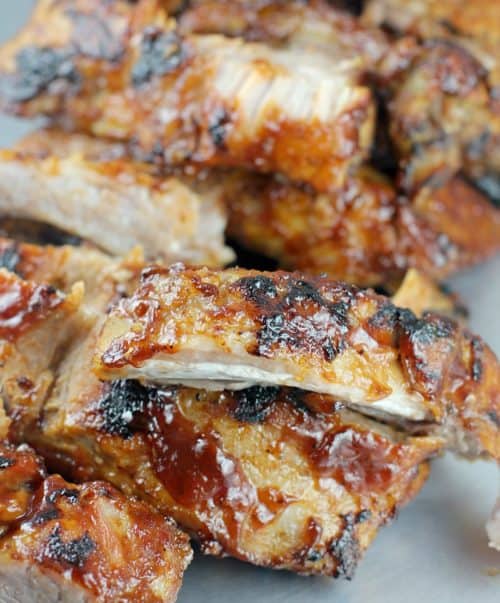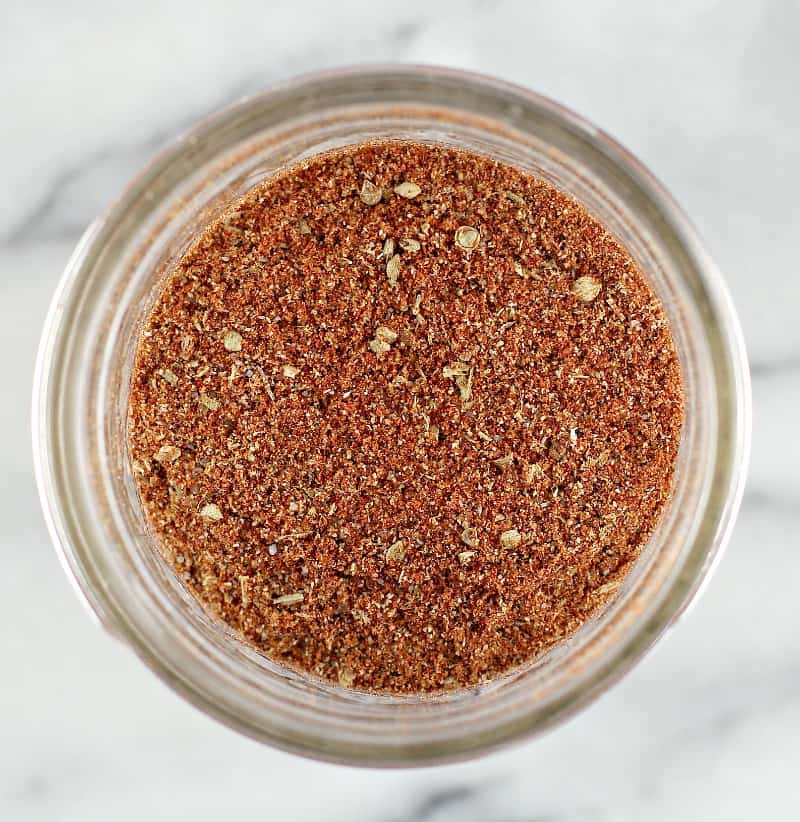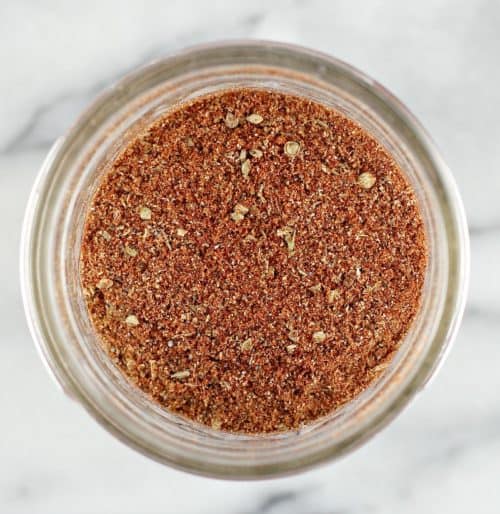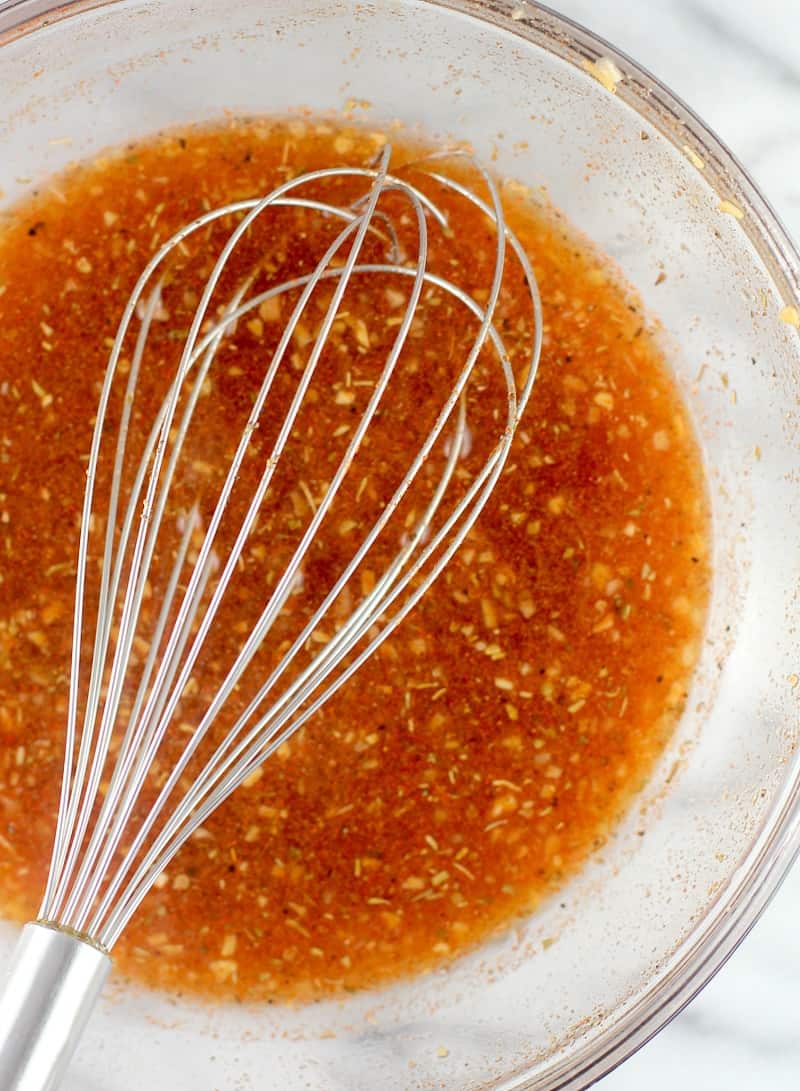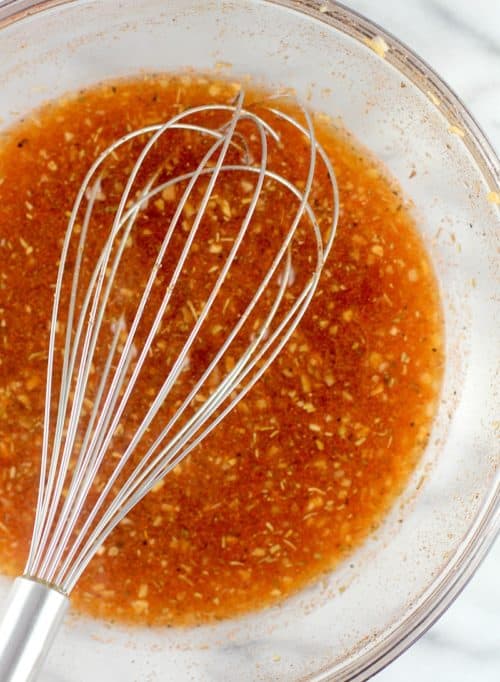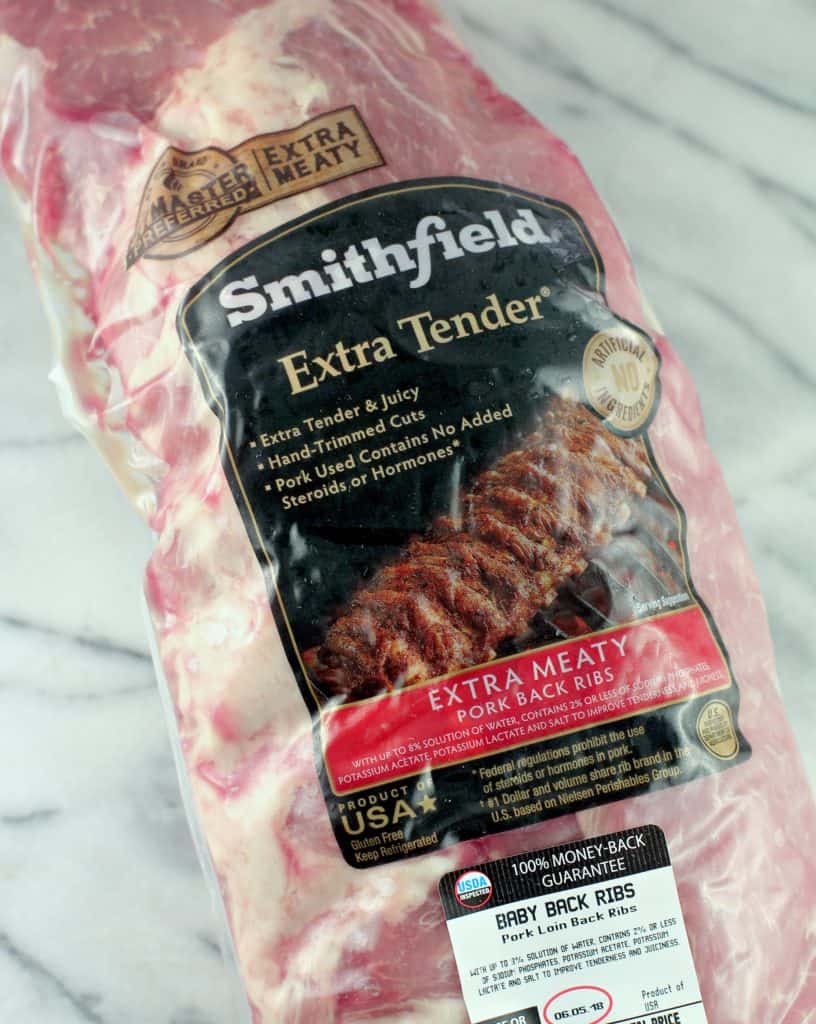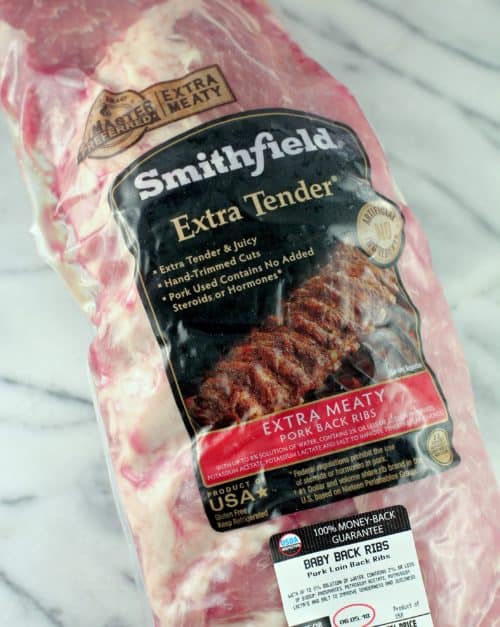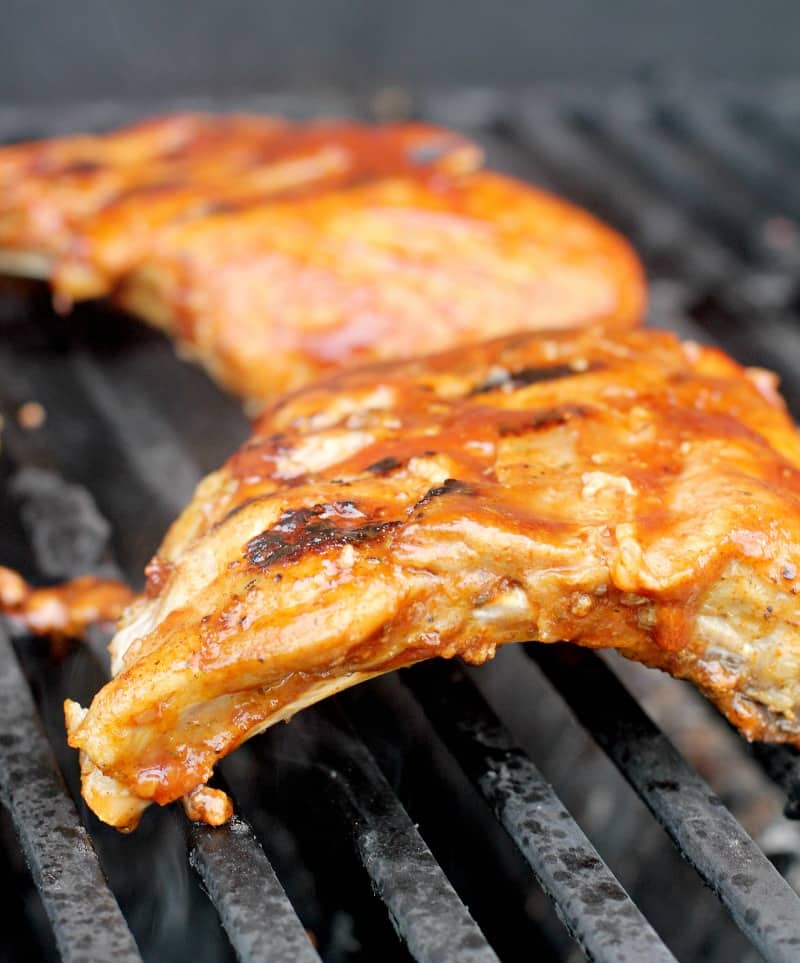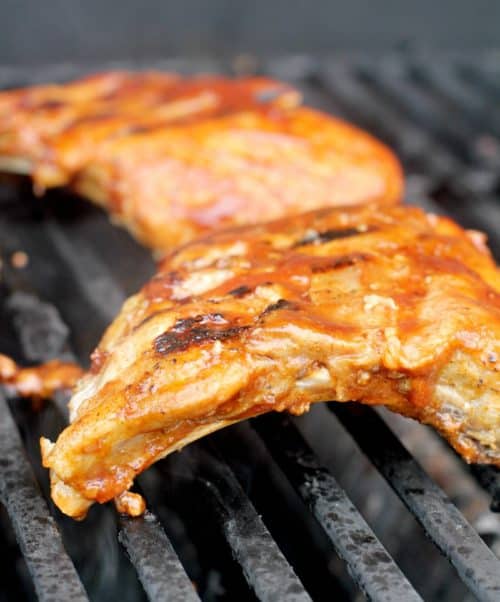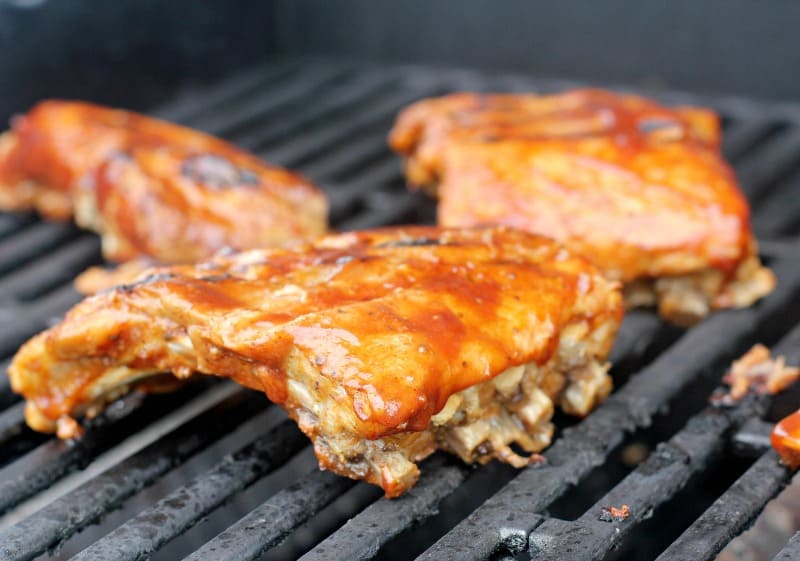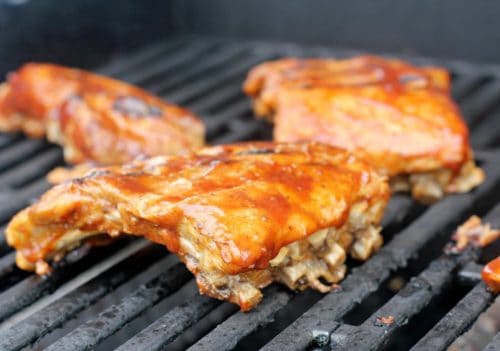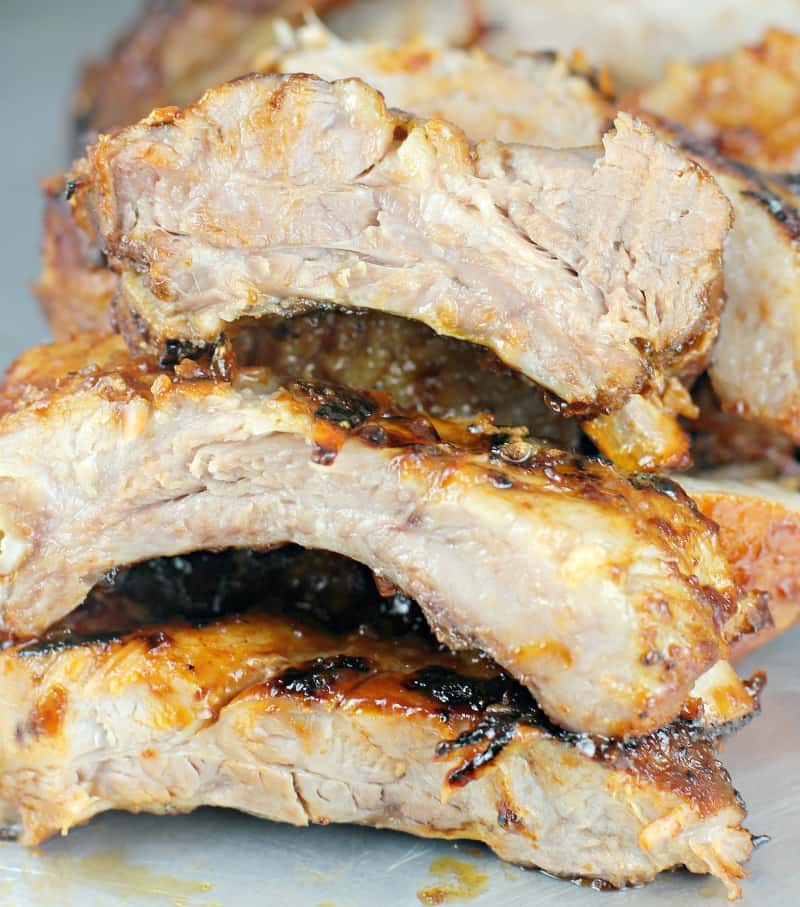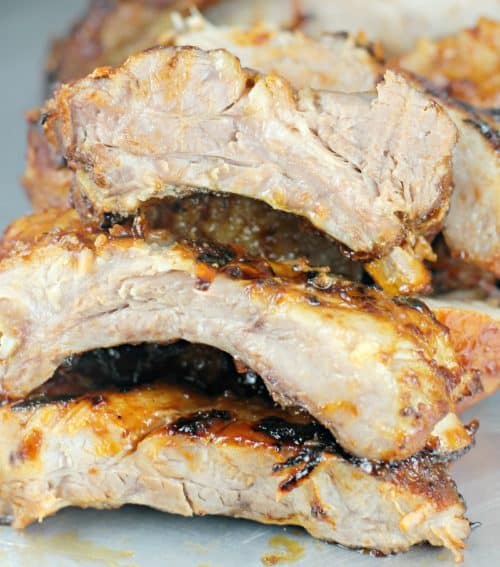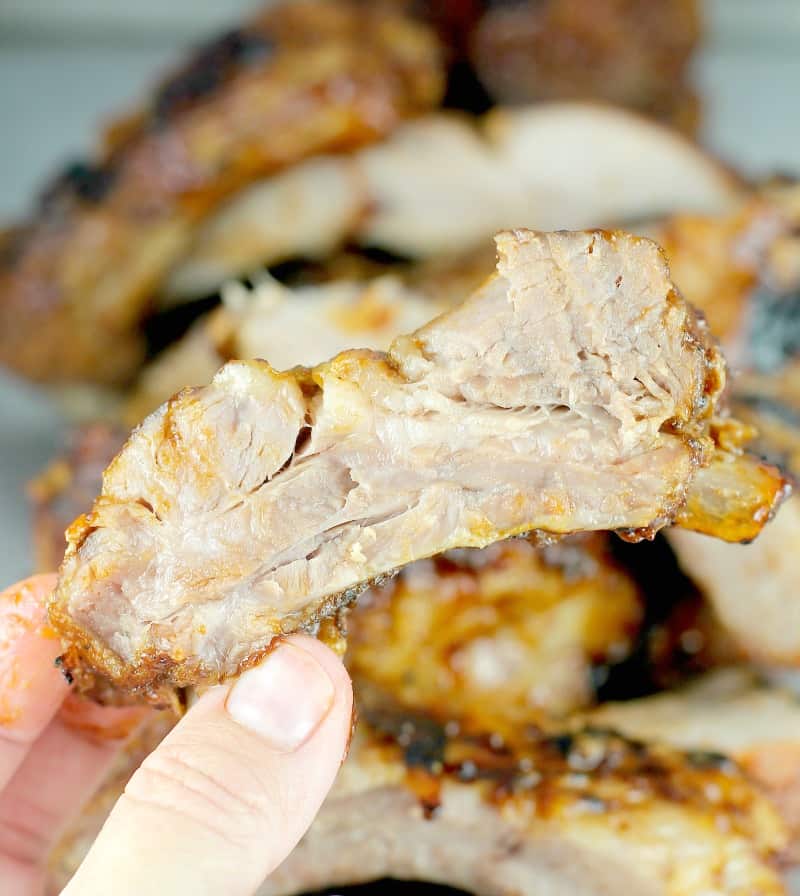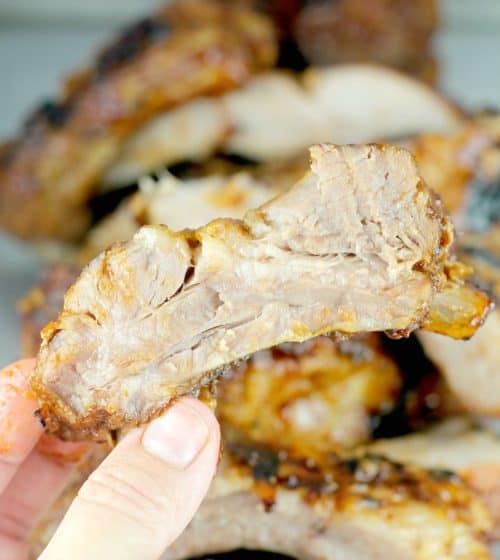 You into car racing? I never was, until I moved an hour and a half south of Daytona. With men in my family and living so close to one of the venues, do that math. But funny thing, I NEVERRR would have thought I would give a hoot about car racing, until I went to a race. And, WOW when those cars come around the track for your first time, and you feel all the engine vibration in your chest (just like a rocket launch, because where I live we have those too. You can be jealous) and you can't help but say DANG. So, yeah, we're kinda one of those families.
Anyhoots, it is a coincidence to me that when Smithfield® (happy with my Better-Than-Takeout Chinese Spareribs) offered me another chance to work with them, I found out they are currently sponsoring Car #10, driven by Aric Almirola. OK, I have to explain a second …Almirola is driving for Tony Stewart. …Stewart, before he retired, drove for the team owned by a legendary pro football coach …my husband is from Maryland (wink, wink) …and APPARENTLY this association means something. So #10 will be on the list of cars we don't want to wreck. [double thumbs up]
…gotta love sports logic, right?
This is my second time working with Smithfield ribs, and I cook them entirely on the grill so you can take this recipe anywhere with you …like the camp-out area for a car race. Last time, I used Smithfield Extra Tender Pork Spareribs; this time I went with the baby backs (and don't forget my Roasted Tenderloin with Cherry-Leek Dressing with Smithfield® for a weeknight!). These products, available at Walmart, are SO juicy and tender and I am just loving these recipes. Don't know how the magic is worked in, but championship pitmasters even use Smithfield® in competitions and I think the ribs are just the meatiest. And with them being so inherently juicy, this helps us totally up our rib game making them more forgiving so we are less likely to mess them up. Score.
Beer Barbecue Baby Back Ribs
These Beer Barbecue Baby Back Ribs were just perfect. Just like for ANY rib recipe we don't want to take more than just a couple hours, as far as I am concerned, we steam them first to get them tender (my method can be done on the grill, preferably, or in the oven), then finish directly on the grill to glaze with sauce and char. Ribs are EASY! You have no excuse, no matter your cooking level, just make them and make everyone in your world happy. This is precisely what this recipe is for.
Steps to Making these EASY Ribs:
Marinate baby back ribs overnight.
Grill the ribs with our simple Beer BBQ Sauce.
ENJOY!
Details. We mix literally FOUR ingredients for a marinade – beer, rub seasoning, hot sauce, vinegar. Let the ribs get happy in that overnight, then we finish on the grill with our Beer BBQ Sauce with TWO ingredients – beer and BBQ sauce you buy. YES, bottled sauce. Sure, you can make your own sauce. I have again and again with my Cherry Chipotle Barbecue Sauce and Honey, Bourbon, and Root Beer Glazed Baby Back Ribs. But you know what? This recipe isn't about that. This is about simplicity and just knocking out an approachable recipe for REALLY yummy food that will be inhaled by your family and friends.
So, that's it folks. A super simple, no-fail, rockstar, DELICIOUS go-to recipe for foodie success on those days when you want time to focus more on the fun, but still have winning food to shell out to the fans.
Want a delicious, fun casserole to go with your ribs? Check out my Cheesy Beer and Sausage Pierogi Bake. And for my best steak recipe, check out Grilled Steak with Horseradish Dijon Sauce with all the tips for a perfect grilled steak.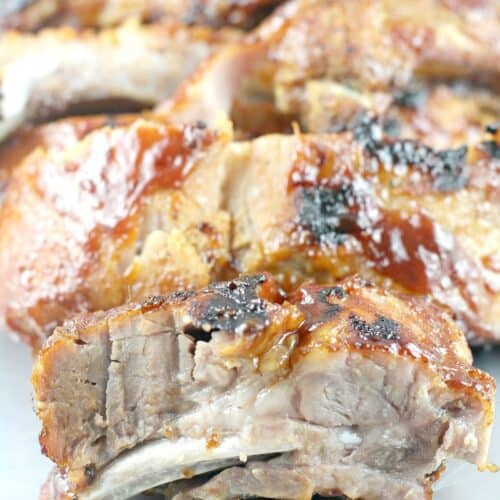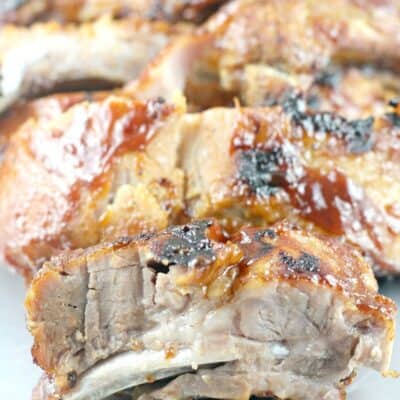 Beer Barbecue Baby Back Ribs
Juicy, ridiculously tender ribs, with few ingredients and minimal effort for the win.
Ingredients
1

rack Smithfield Extra Tender Pork Back Ribs, silverskin on the underside removed if desired

1

cup

+ 1/4 cup Bud Light beer

divided

1

Tbs

cider vinegar

2

tsp

hot sauce

such as Tabasco

3

Tbs

Grill Pork Rub or purchased barbecue rub seasoning of choice

1

cup

barbecue sauce of choice
Instructions
To make the marinade, combine 1 cup beer with the cider vinegar, hot sauce, and grill rub seasoning. Transfer to a 1-gallon resealable bag. Add the ribs (cut rib rack into 3-4 rib-each portions to fit). Marinate overnight in the refrigerator.

Heat grill to 250-300°F. Line a rimmed baking sheet with foil, and set a wire rack in it. Transfer the ribs from the bag onto the rack, pouring all the marinade over the ribs onto the bake sheet. Cover with aluminum foil and roast on the grill by indirect heat for 2 hours (see Note).

While ribs are cooking, combine the remaining 1/4 cup beer with the barbecue sauce. Set aside.

Remove the foil from the ribs and brush on the beer barbecue sauce. Increase heat to med-high (400-450°F), transfer the ribs to the grill directly. Turn and brush with more sauce often, ~every minute or so, until ribs are charred, glazed, sticky awesome. Remove from the heat and let rest 5 minutes. Cut into individual ribs and serve. Yields: 4 servings.
Notes
On my Weber grill, ~250F was maintained with one burner on low and the other two off. Then I kept the ribs over the off burner.
Calorie count is purely an estimate calculated using an online application to serve as a guide and not to be taken as accurate nutritional information. Percent Daily Values are based on a 2,000 calorie diet.
Tried this recipe?
Leave a comment below and let me know!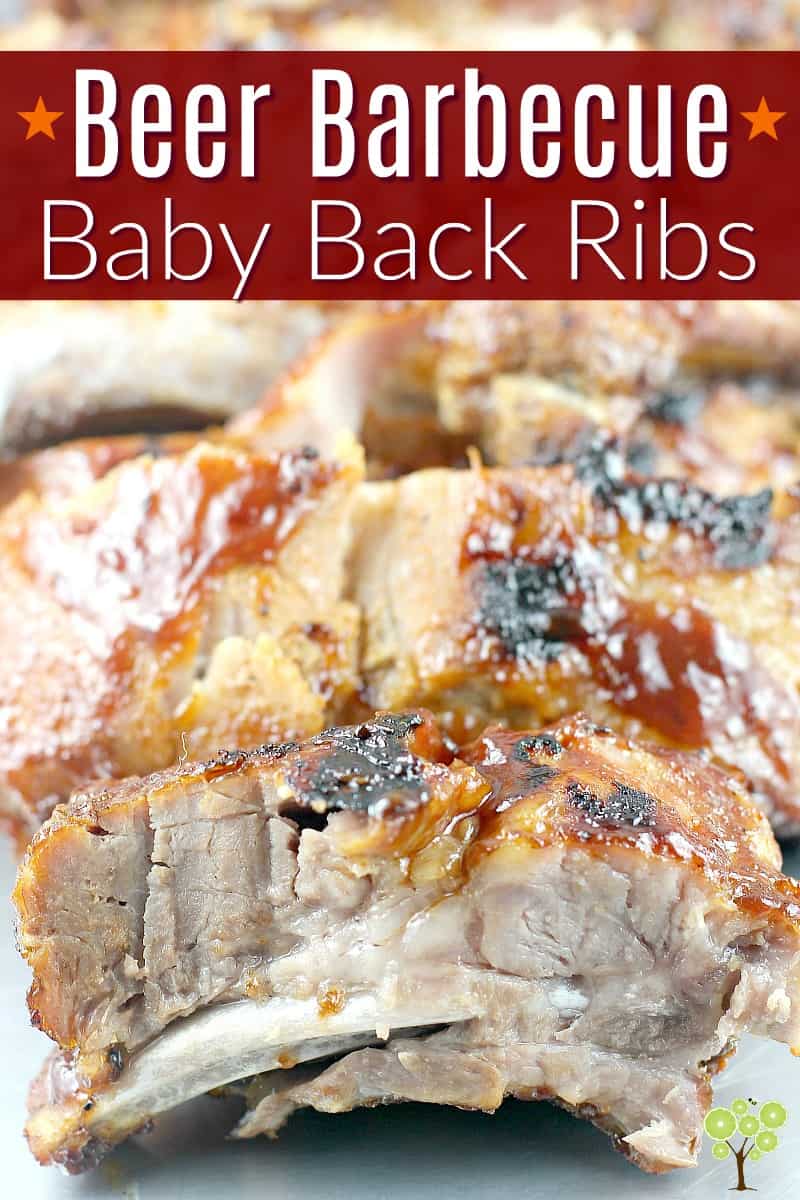 If these Beer Barbecue Baby Back Ribs look good, check out these other grill recipes