Honey, Bourbon, and Root Beer Glazed Baby Back Ribs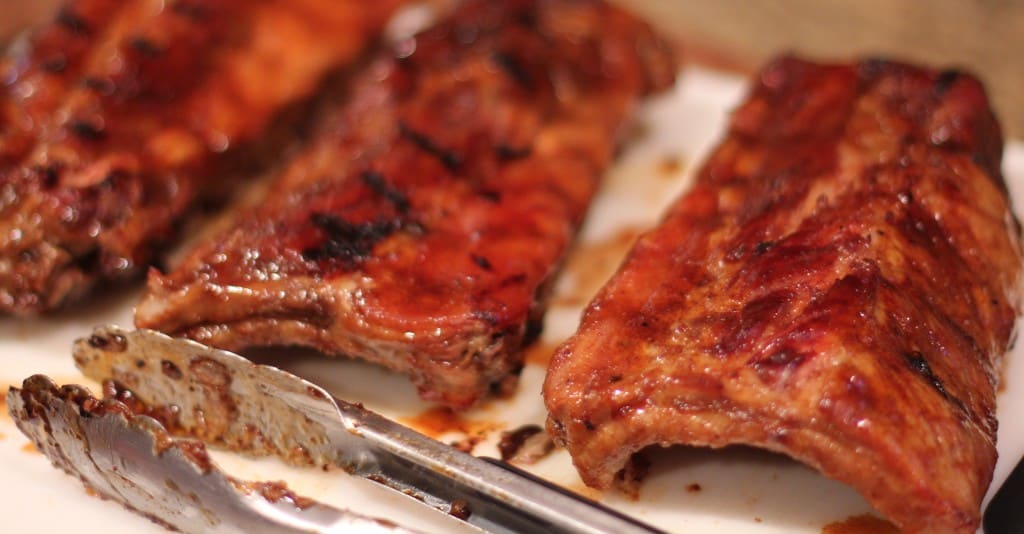 Break out the Jim Bean, these ribs are awesome! Don't be put off by the number of ingredients in this glaze or in my rub — this recipe is not difficult and so worth it! I adapted this from a recipe by Emeril Lagasse, but I've made so many changes I don't even know if I have to say that anymore. Also, the ribs can be finished off using the oven broiler if a grill is not available.
 Honey, Bourbon, and Root Beer Glazed Baby Back Ribs
Ribs: 4 to 5 pounds baby back ribs, silver skin removed (see pic below, or have the butcher do it)
½ c Chicken Stock
Glaze:
2 (12oz) cans root beer
2 T jalapeno pepper jelly
1 bay leaf
2 T steak sauce
1 t Tabasco
6 whole cloves
1 cinnamon stick
1 orange, zested and juiced
1 lemon, zested and juiced
1/2 t vanilla extract
2 t bitters
1 c bourbon
1/2 c sugar
1/4 c honey
Put all the glaze ingredients in a pot and simmer while the ribs are cooking or until thickened. Pass though a strainer and set aside.
Rub the grilling rub all over the ribs (on a rimmed bake sheet) and let sit for at least 20 min. Meanwhile, preheat oven to 275F.
Pour the stock into pan; cover tightly with foil. Bake ribs 1-1/2 to 2 hrs until they very tender.
Remove from the oven, and cool 20-30 min. Meanwhile, preheat the grill to med-high.
Brush ribs generously with the glaze. Turn grill heat to med-low. Grill ribs ~1-2 min each side brushing with more glaze and flipping 4 times to get the glaze to caramelize over the ribs. Serve em up!
~✿♥✿~