Cinnamon Roll Pigs in a Blanket
Cinnamon Roll Pigs in a Blanket have juicy breakfast sausage wrapped in easy cinnamon roll dough and finished with a sweet drizzle of maple icing. Just three ingredients are all you need for fun and tasty breakfast pigs in a blanket.
For brunch, breakfast, as a sweet snack, or for breakfast-for-dinner, these tender Cinnamon Roll Pigs in a Blanket are SO good.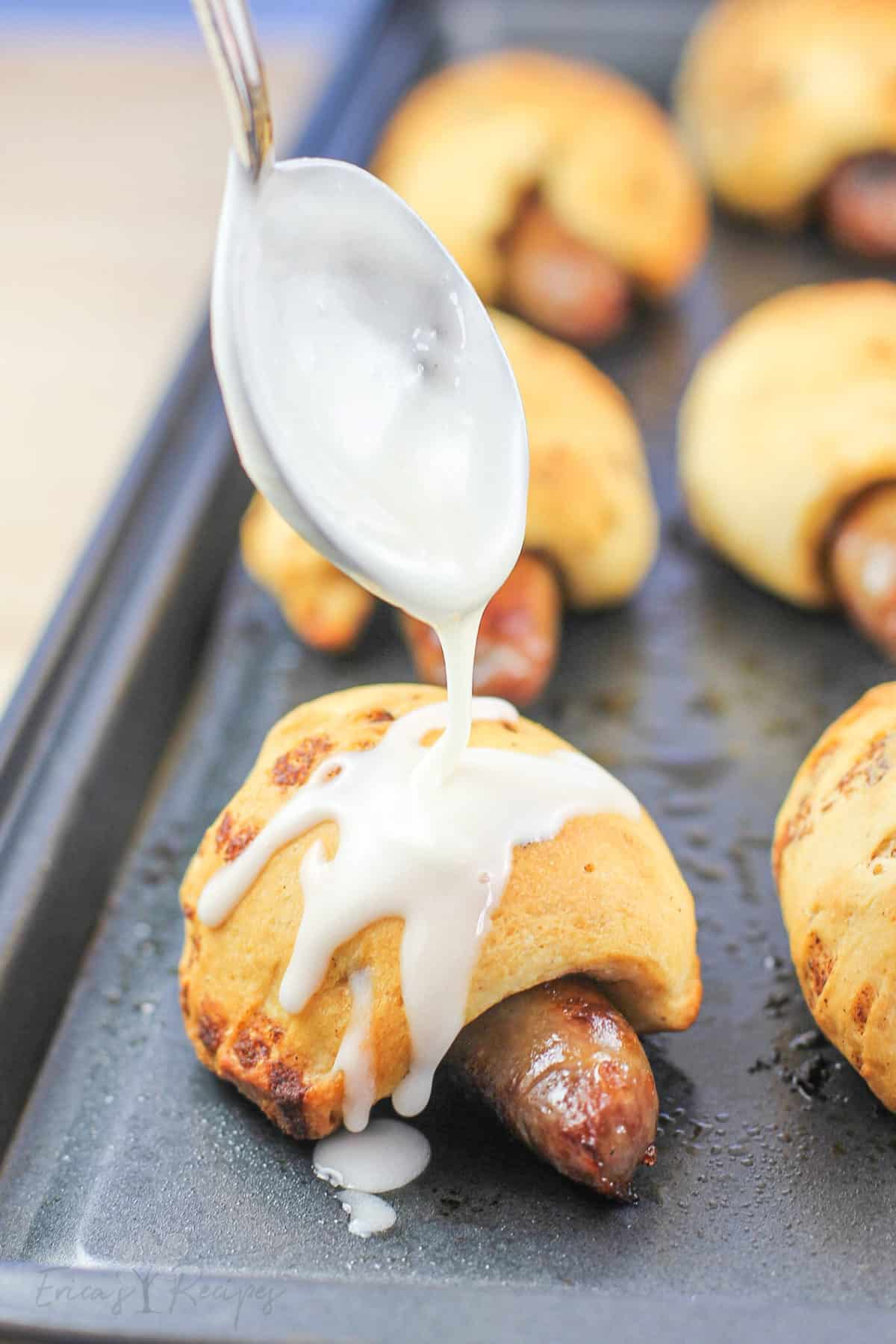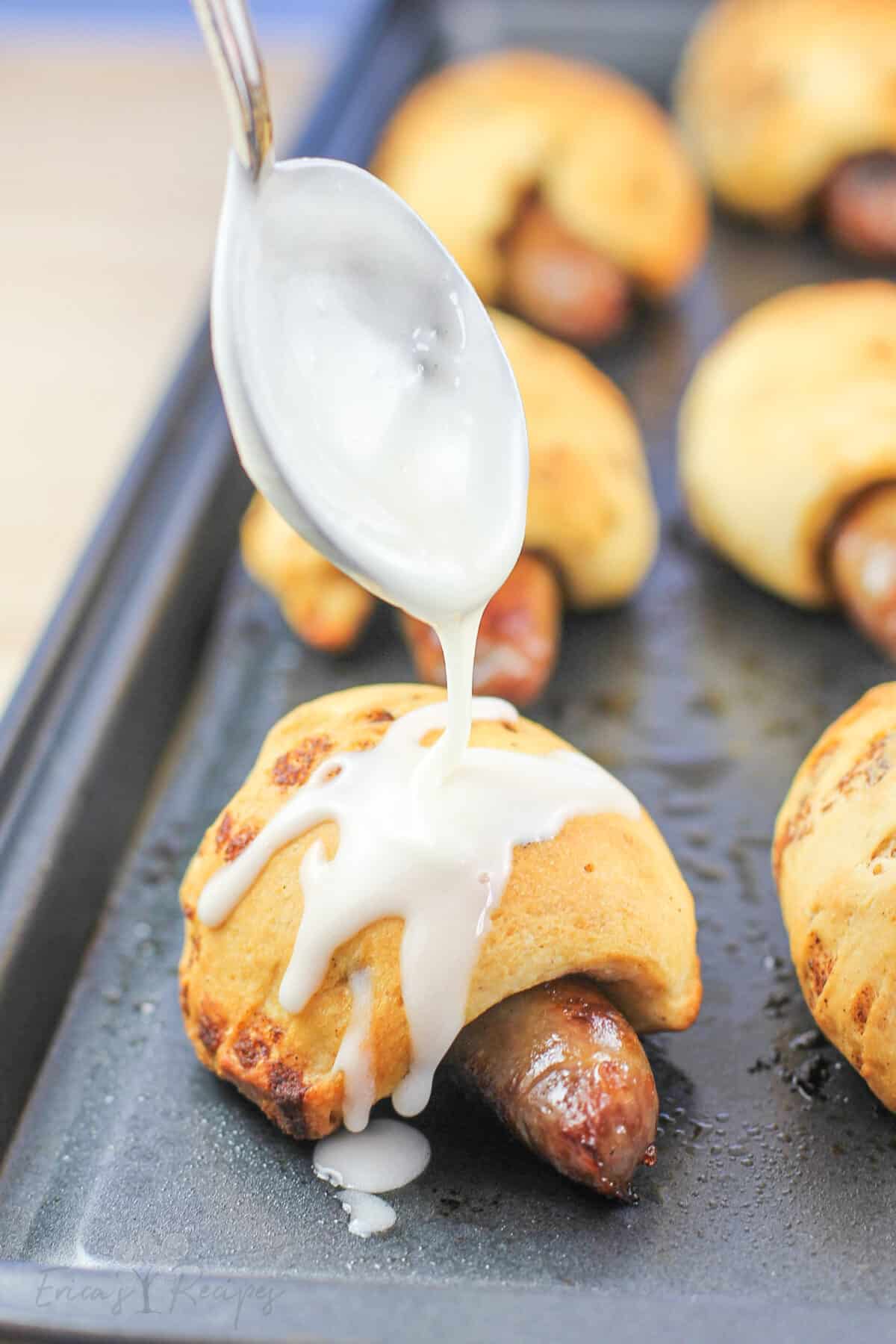 Why you will love this recipe
Pigs in a blanket are one of those foods that take a little love to make, but are so worth that effort and always a huge hit. Traditional pigs in a blanket use little smokies and crescent rolls dough, my Pretzel Pigs in a Blanket use pretzel dough (made using pizza dough!), and my Beer Brats in Blankets use phyllo (or fillo) dough. All are fun and tasty in their own way.
My breakfast sausage in a blanket use easy peasy store-bought Pillsbury cinnamon roll dough and juicy breakfast sausage. I really wanted a breakfast pig in a blanket, but I wanted them to be sweet and special. Cinnamon roll dough and maple icing was the answer.
Cinnamon rolls pigs in a blanket are straightforward to make and were literally inhaled by my family. They were the talk of the day thereafter and without a doubt they will now make regular appearances in my kitchen.
Just three simple ingredients are all you need, and all can be kept on hand to whip a batch of these sweet beauties whenever you are feeling it.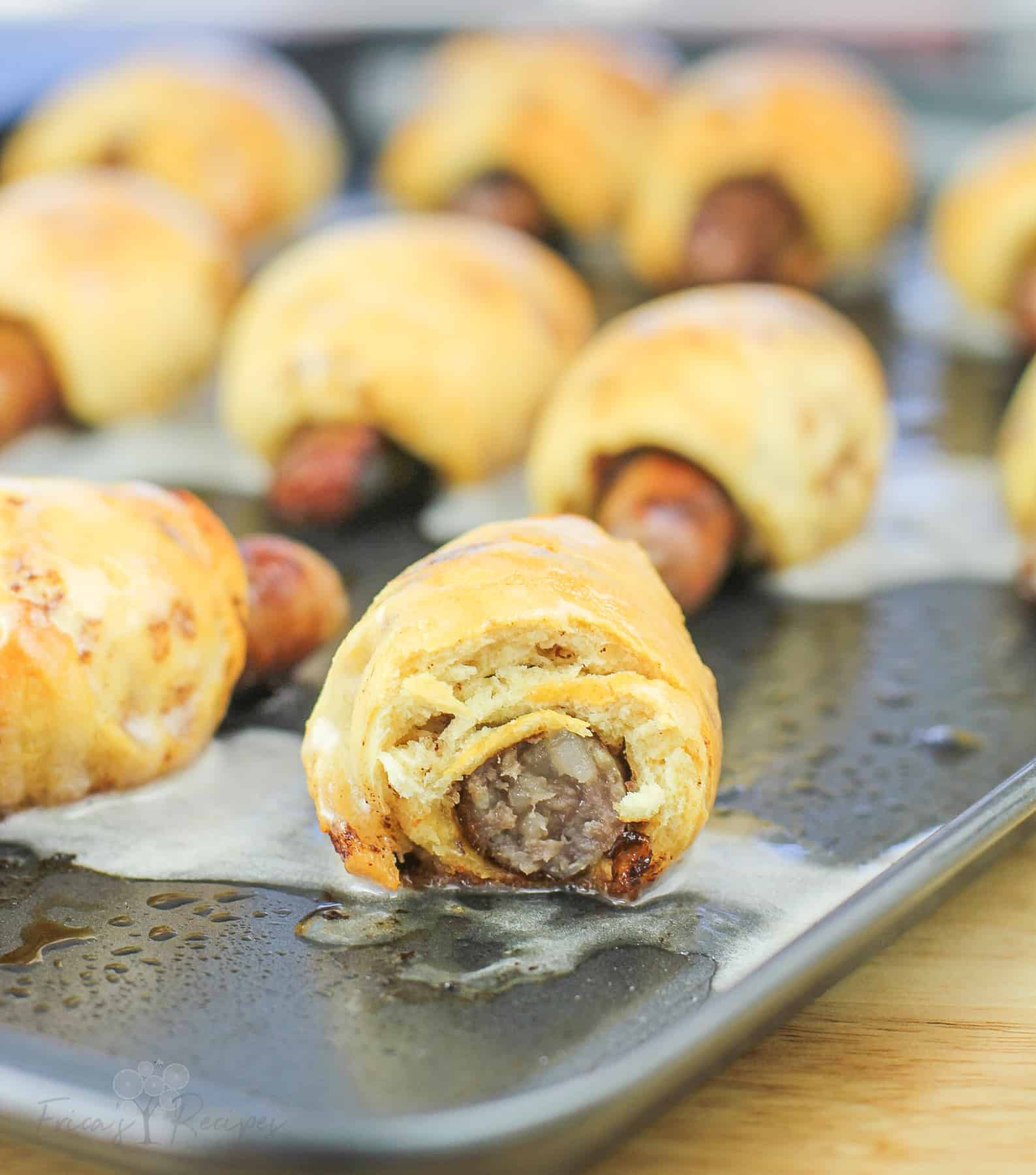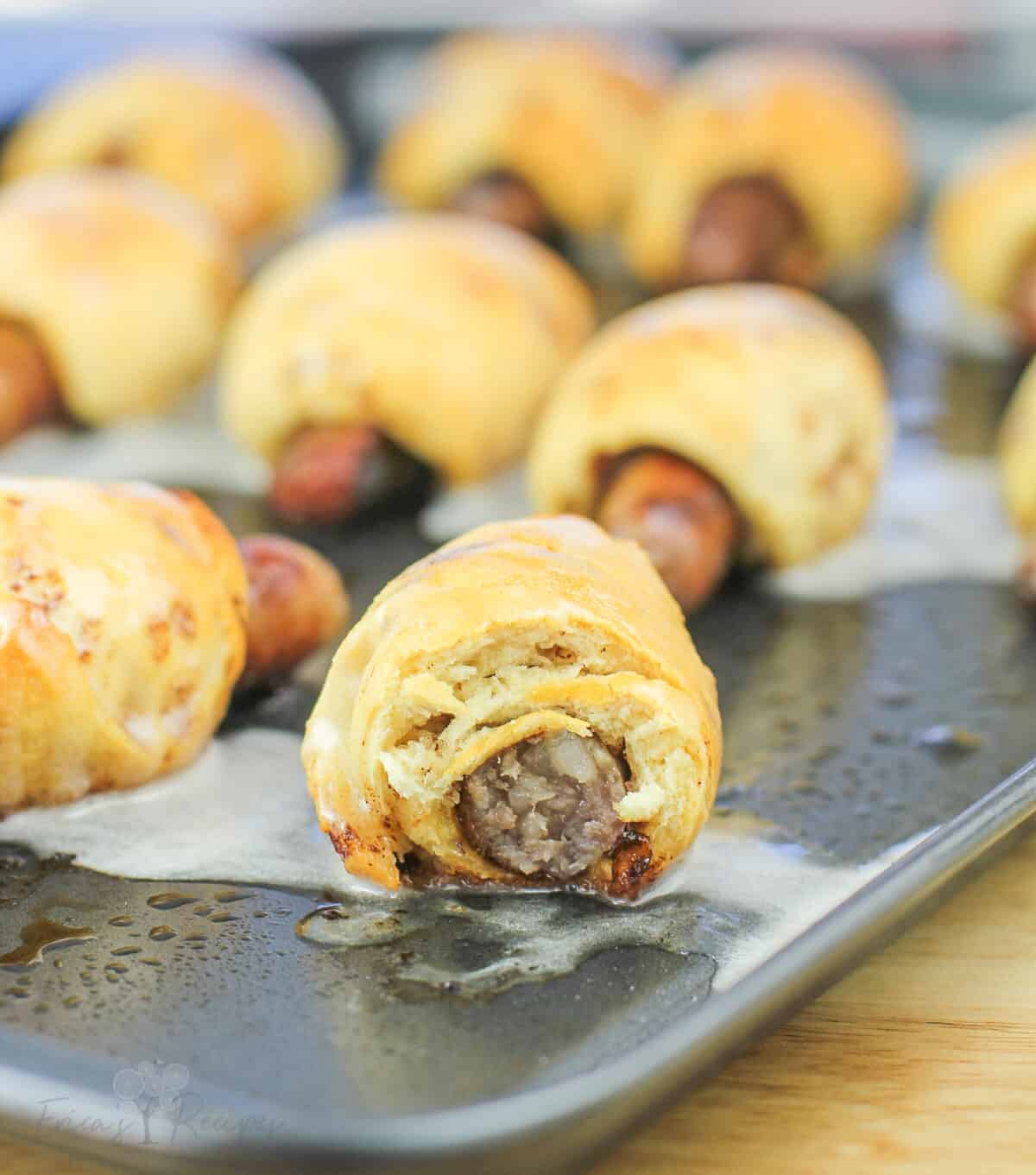 Ingredients
Okay, get this. Just THREE ingredients. That is all we need here:
Pillsbury Cinnamon Rolls with Original Icing. I find these in the dairy aisle with the other biscuit doughs and such. We just want a package of regular cinnamon roll dough, not Grands.
Breakfast sausage links. We want fresh/uncooked sausage links and not "lil smokes" or precooked freezer section links which are smaller. I used a brand with brown sugar and honey flavor added, but this is not required. Maple flavored links will also work, or even plain if that is what is available. A package of fresh links will freeze well to keep on hand longer.
Maple syrup. Normally I would sing the merits of using pure maple syrup, but this is one recipe that it does not matter. Grab the Aunt Jemima or Butterworth's or whatever you have in the pantry.
I made these to use up sausage I had on hand, but I was in the mood for something more interesting than plain sausage. Also, I had the can of dough to use up and always keep syrup on hand anyway. I always love surprisingly good, blog-worthy recipes made up on the fly when I'm just trying to use stuff up!
TIP: watch the expiration date on the Pillsbury dough. While generous, there is such a date and eventually the dough does expire.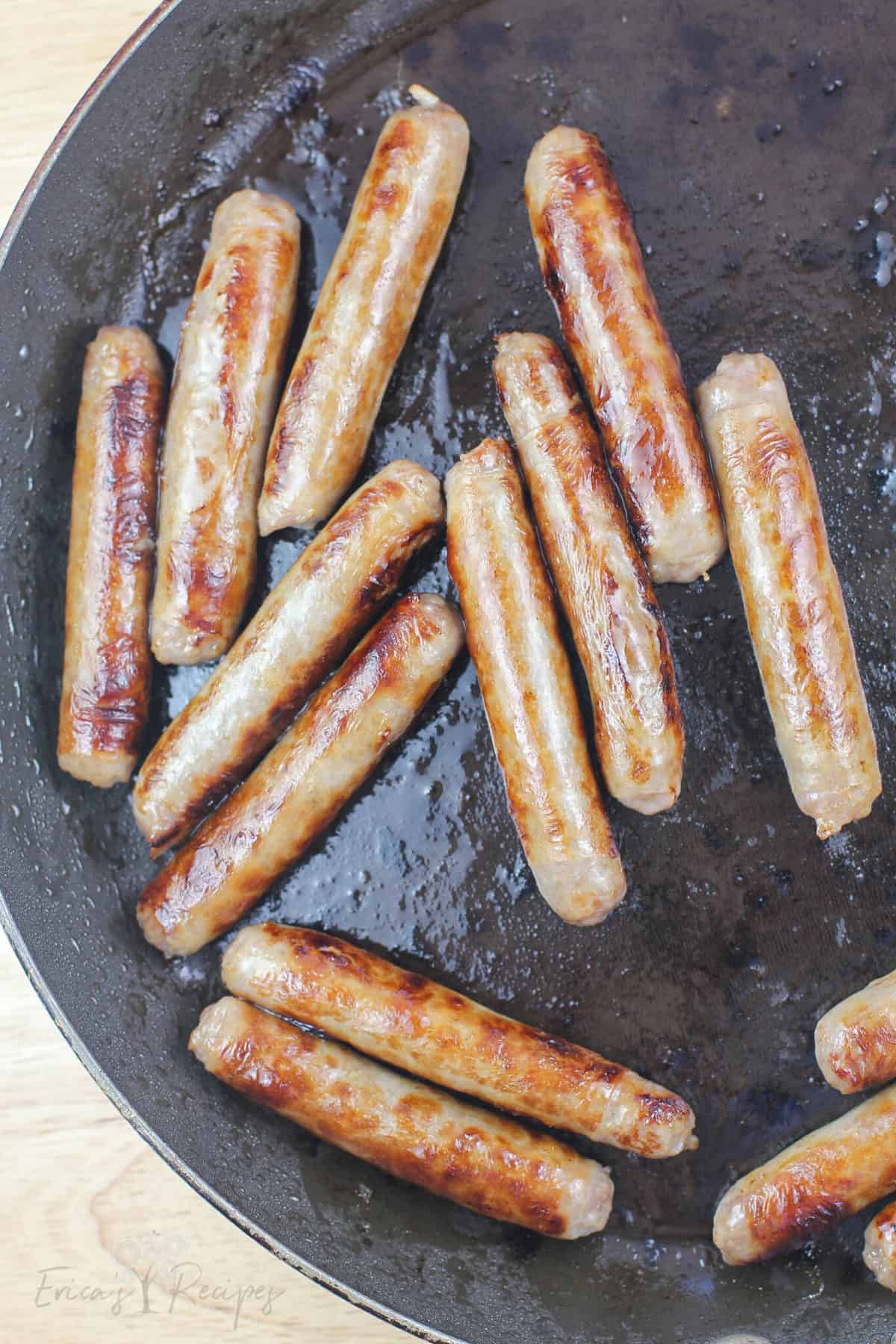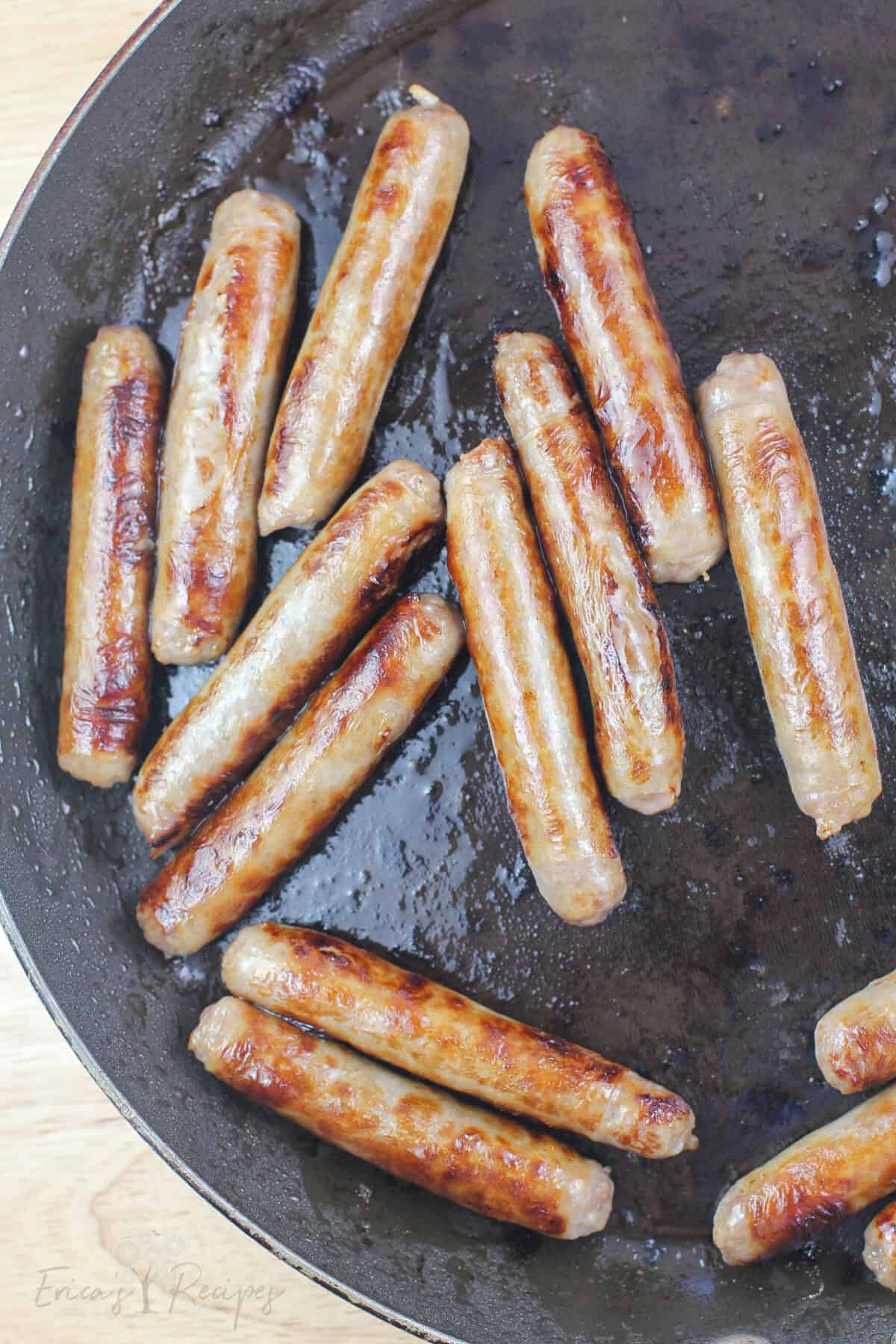 How to make breakfast pigs in a blanket
Making pigs in a blanket sounds straightforward enough. We are just wrapping sausage in dough, but I included extra photos because these tips can make it even easier.
First, brown the sausage on the stovetop. If not completely cooked though (i.e. still a touch pink in the center), this is fine since they will finish in the oven.
Transfer the cooked links to paper towels to cool faster so you can handle them. This also gets off grease which can interfere with getting the dough to wrap and seal around the link.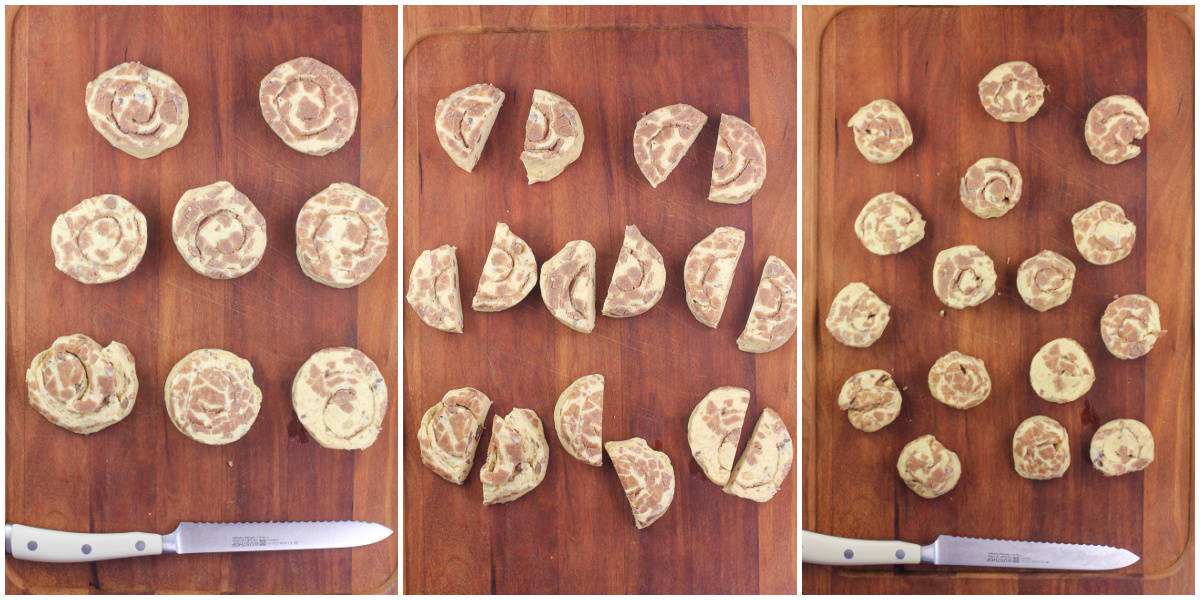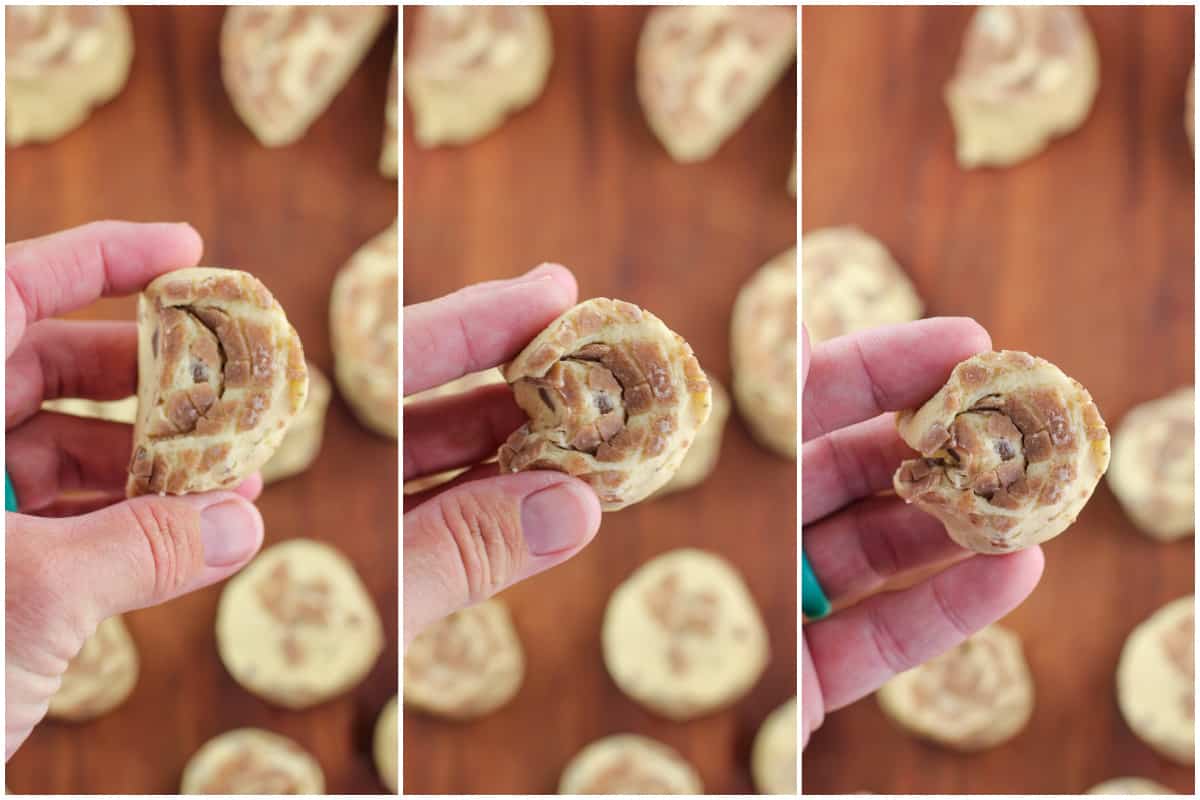 Get out the dough and separate the rolls. Cut each in half, then pinch the cut side to itself to form a new mini roll. Take one of these mini rolls and squash it into a disk, then wrap that around a link and seal. Place with the seam side down on a bake sheet (spray the sheet with cooking spray first).
We repeat this process with the rest of the dough and links and bake.
While the pigs are in the oven, we combine the maple syrup and icing from the dough package. This is easy in a little bowl with no need to warm the icing.
Drizzle your cinnamon roll pigs in a blanket with the maple icing and enjoy.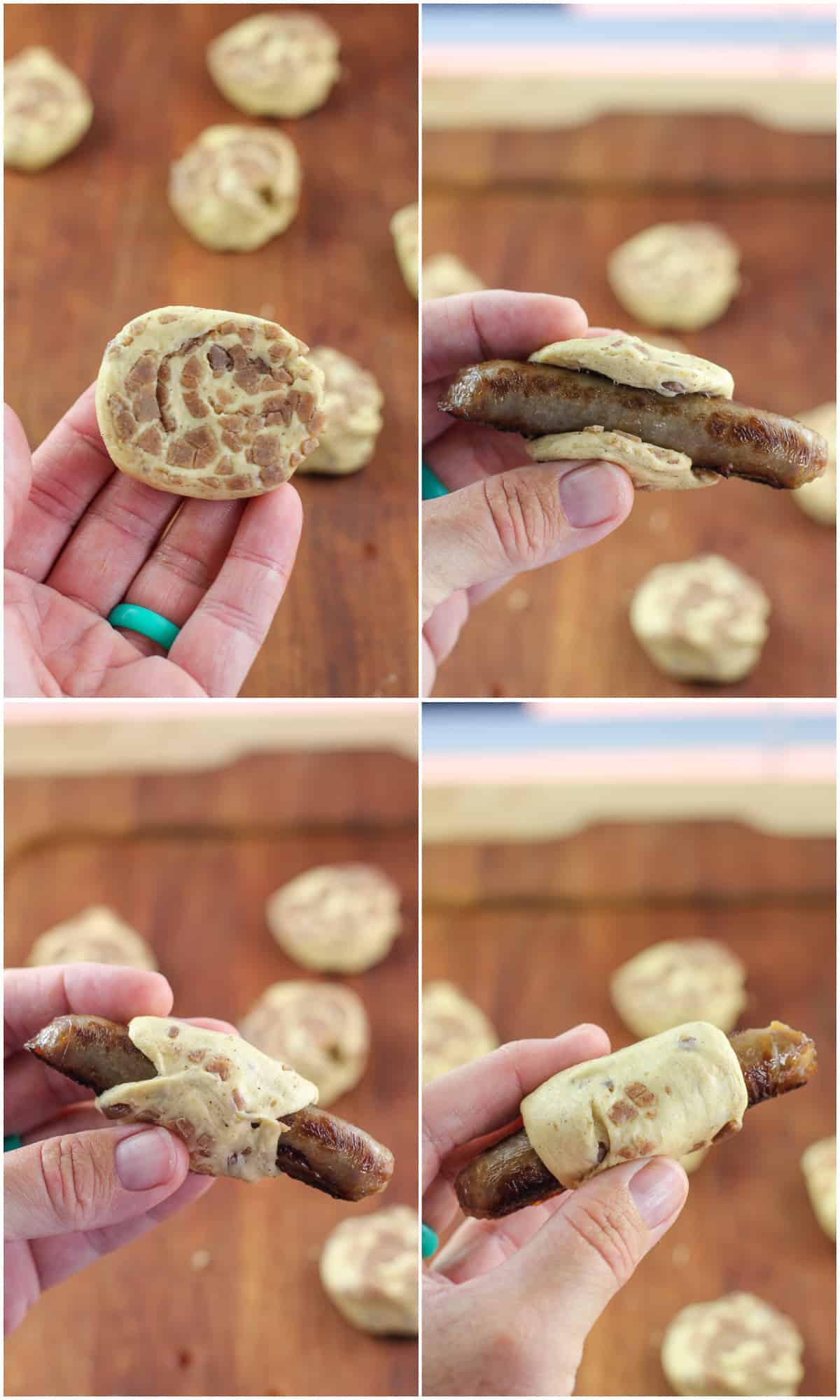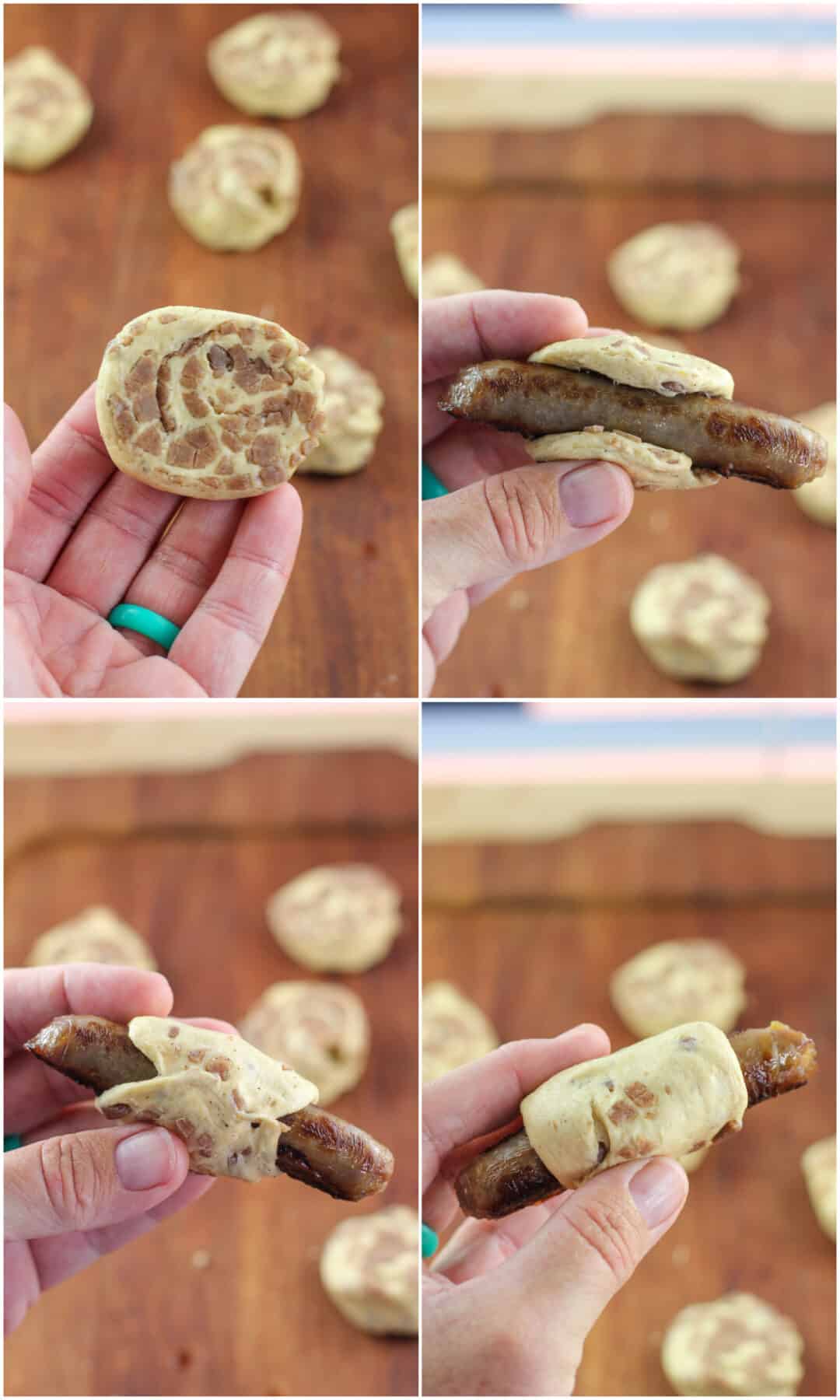 FAQs
How can you tell when the sausage links are cooked through?
What we don't want is to overly cook the links on the stovetop, because they will cook more in the oven with the dough. The good thing is that if the links aren't completely done, they will finish in the oven. So err on the side of slightly undercooked (and hence, juicy) rather than overcooked. Once they are nice and browned on the outside, you are good to go.
Why did my dough burn?
In the recipe card I call for 9-11 minutes cook time. The package of Pillsbury dough says 13-17 minutes, but that is for whole rolls. Since we have cut the rolls smaller and made them thin, they will cook much faster. Mine were done just before 11 minutes, but ovens vary so keep an eye on them is all.
Can't I just unwrap the dough into strips and wrap around the sausage?
If that works for you, sure go ahead. I tried to unravel the dough into strips, and the dough absolutely did not cooperate. So, my little technique of making a mini roll, squash it flat, and wrap around the link worked much better, was faster, and didn't piss me off in the process.
Can cinnamon roll pigs in a blanket be made in advance and reheated?
The thing about any Pillsbury dough is that once cooled, it doesn't have much staying power. Like with my Mediterranean Crescent Ring, I would love to claim these recipes can be made in advance but that just isn't the case.
At most, I would say these pigs can be assembled in advance, refrigerated until cooking (like, for up to an hour), then baked, but I have not done this myself.
Do these freeze well?
Same answer as above that the trade-off with using easy Pillsbury dough is that it needs to be used and served right away.
Can other flavors of dough be used?
Pillsbury also makes orange cinnamon rolls and I can only imagine they would be just as tasty for breakfast sausage in a blanket.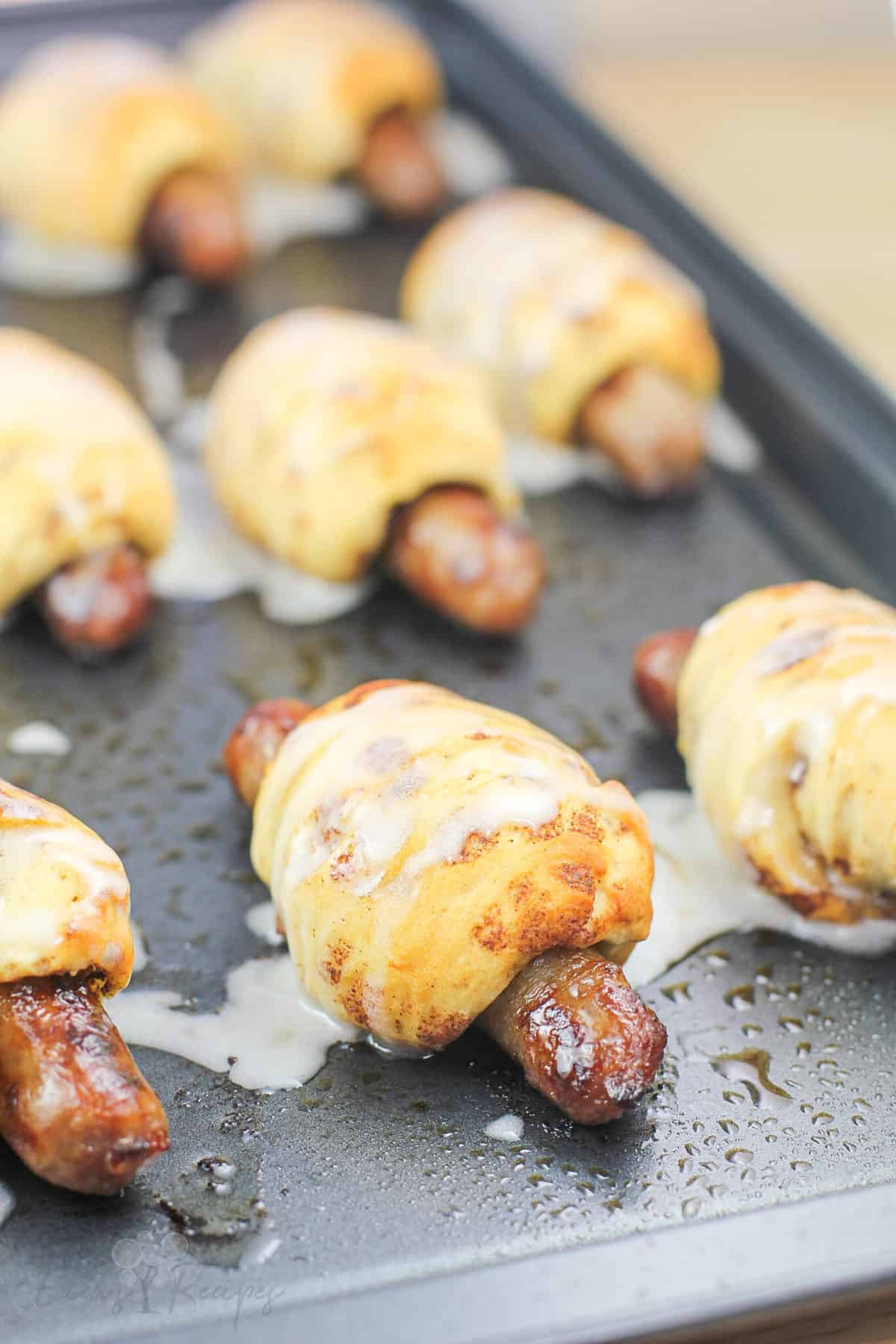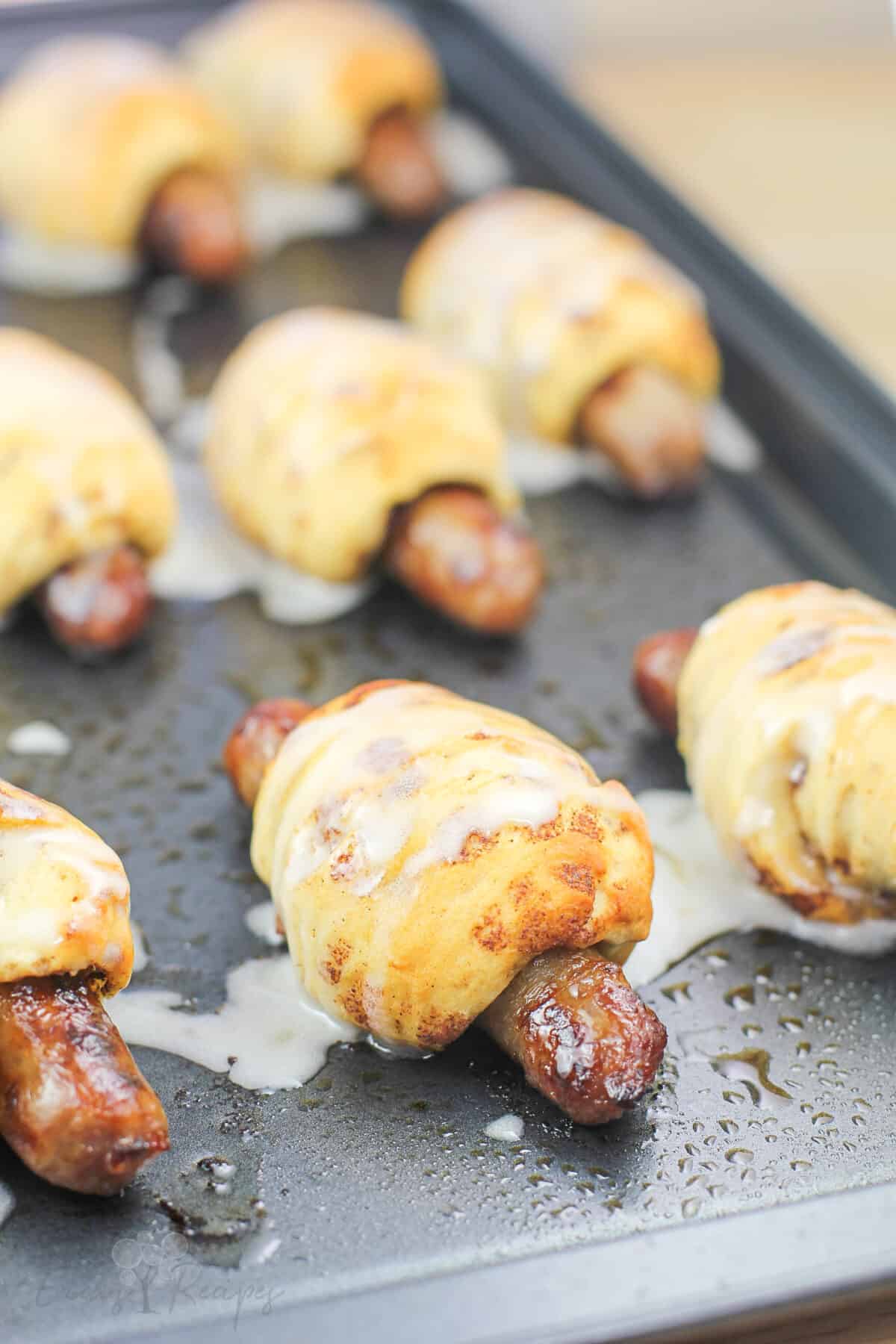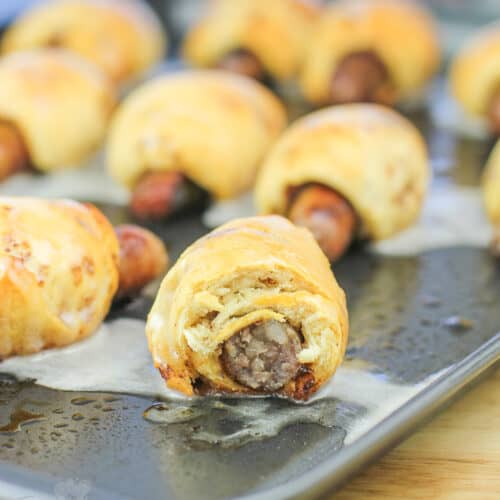 Cinnamon Roll Pigs in a Blanket
Cinnamon Roll Pigs in a Blanket have juicy breakfast sausage wrapped in easy cinnamon roll dough and finished with a sweet drizzle of maple icing. Just three ingredients are all you need for fun and tasty breakfast pigs in a blanket.
Ingredients
1

(20 oz)

package breakfast sausage links

1

(12.4 oz)

container Pillsbury Cinnamon Rolls with Original Icing

8 rolls per package

1

Tbsp

maple syrup
Instructions
In a large skillet over medium-low heat, brown the sausage until just cooked through. Transfer links to a plate lined with paper towels to drain fat.

Open the tube of cinnamon roll dough. Set the container of icing aside. Separate the rolls, then cut each roll in half.

Take a half roll and pinch the cut ends together to form a "mini roll" resembling the original whole roll. In your palms, flatten to an oblong disk. Lay a sausage on the disk. Wrap dough around the link; pinch dough closed to hold. Place seam side down on bake sheet sprayed with cooking spray. Repeat with remaining dough and links.

Bake at 400°F for 9-11 minutes until dough is puffed, golden, and cooked through.

While pigs are cooking, stir the maple syrup and package icing in a small bowl until smooth. Drizzle over cooked pigs in a blanket and serve immediately.
Notes
I used Johnsonville brand Brown Sugar and Honey flavor breakfast sausage. Maple flavor is another option commonly available.
Note that the halved pieces of dough will cook faster (9-11 minutes) than the 13-17 minutes called for in the Pillsbury package directions. Keep an eye on them to ensure they don't burn.
Nutrition
Calories:
433
kcal
(22%)
|
Carbohydrates:
34
g
(11%)
|
Protein:
16
g
(32%)
|
Fat:
26
g
(40%)
|
Saturated Fat:
9
g
(56%)
|
Trans Fat:
2
g
|
Cholesterol:
52
mg
(17%)
|
Sodium:
1037
mg
(45%)
|
Potassium:
6
mg
|
Fiber:
1
g
(4%)
|
Sugar:
18
g
(20%)
Calorie count is purely an estimate calculated using an online application to serve as a guide and not to be taken as accurate nutritional information. Percent Daily Values are based on a 2,000 calorie diet.
Tried this recipe?
Leave a comment below and let me know!