Better-Than-Takeout Chinese Spareribs
Chinese-style spareribs that are succulent, flavorful, and over-the-moon delicious. Better than takeout by far, and cooked to fall-off-the-bone tender all on the grill. This Chinese spareribs recipe is absolutely the best.
This Better-Than-Takeout Chinese Spareribs post was sponsored.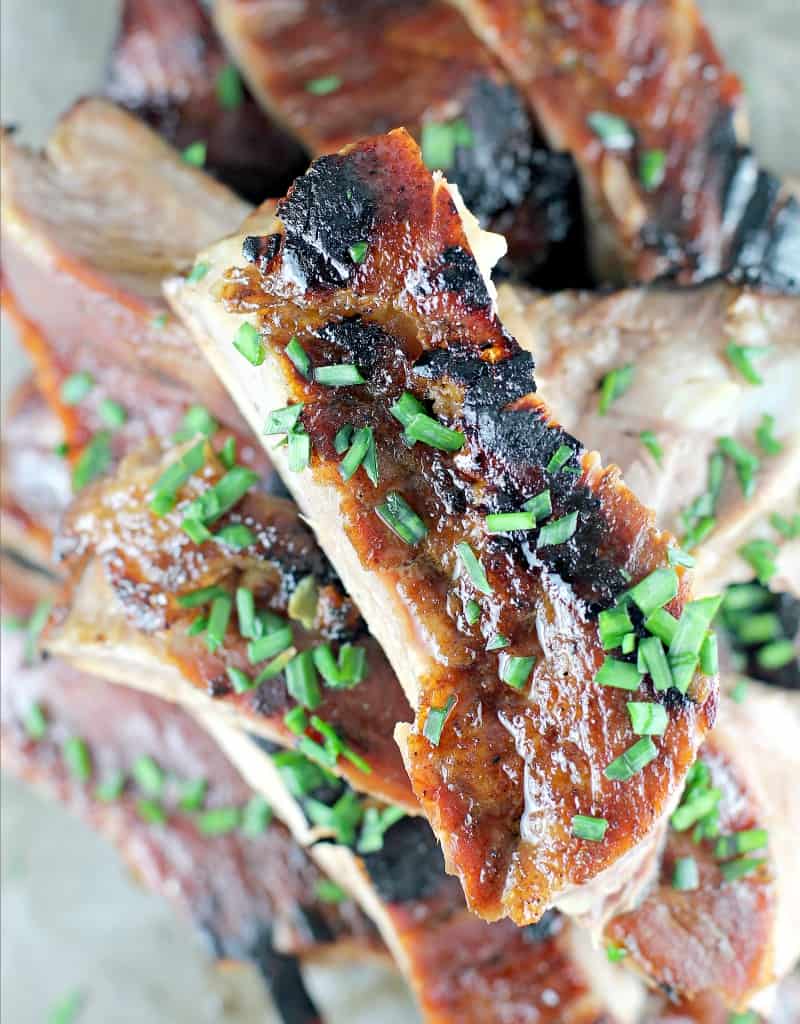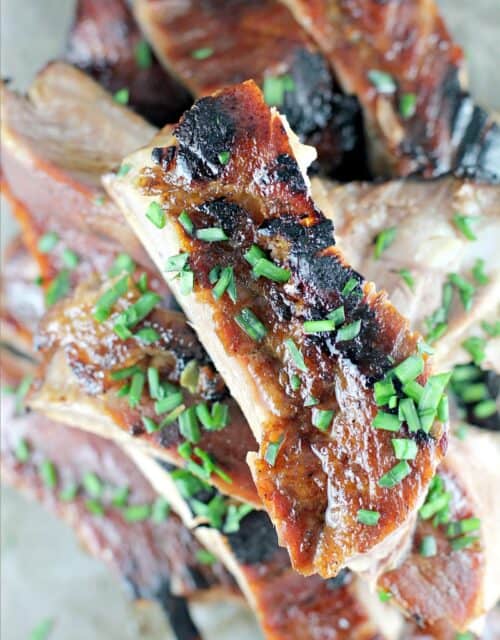 Better-Than-Takeout Chinese Spareribs
This recipe is inspired by those ruby red spareribs from long ago, high school prom nights, when we ate pu-pu platters prior at the one restaurant we would all agree upon. And I think maybe every Americanized Chinese spareribs I have ever had has been more bone than meat.
But THIS recipe is so not that. ALL flavor, with a marinade so tasty it is INSANE, and succulent, MEATY ribs for the win.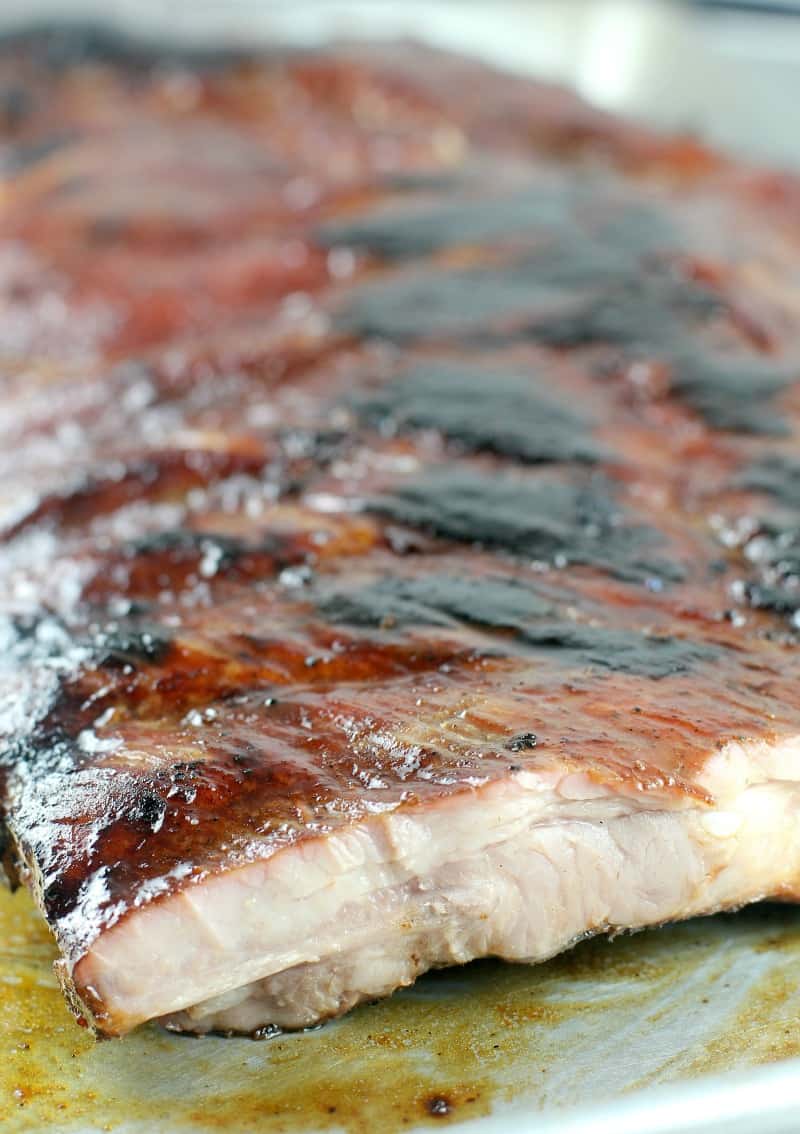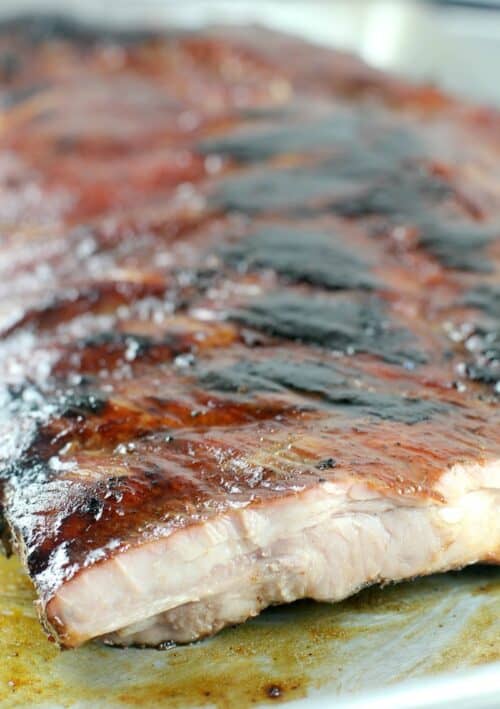 The Pork
For this Chinese spareribs recipe, I used Smithfield Extra Tender Pork Spareribs. Used by championship pitmasters for their quality, these hand-trimmed spareribs have no added hormones or steroids, and they are just ridiculously meaty for spareribs.
They are perfect for anyone to cook, regardless of skill, because this meat is forgiving too. Mine were literally inhaled, so I am a witness to how tender and juicy perfect these are.
I have worked with Smithfield® before with my Roasted Tenderloin with Cherry-Leek Dressing, so I know how Smithfield® is great for weeknights or any night too. Be sure to check that recipe out, and you can get it all at Walmart of course.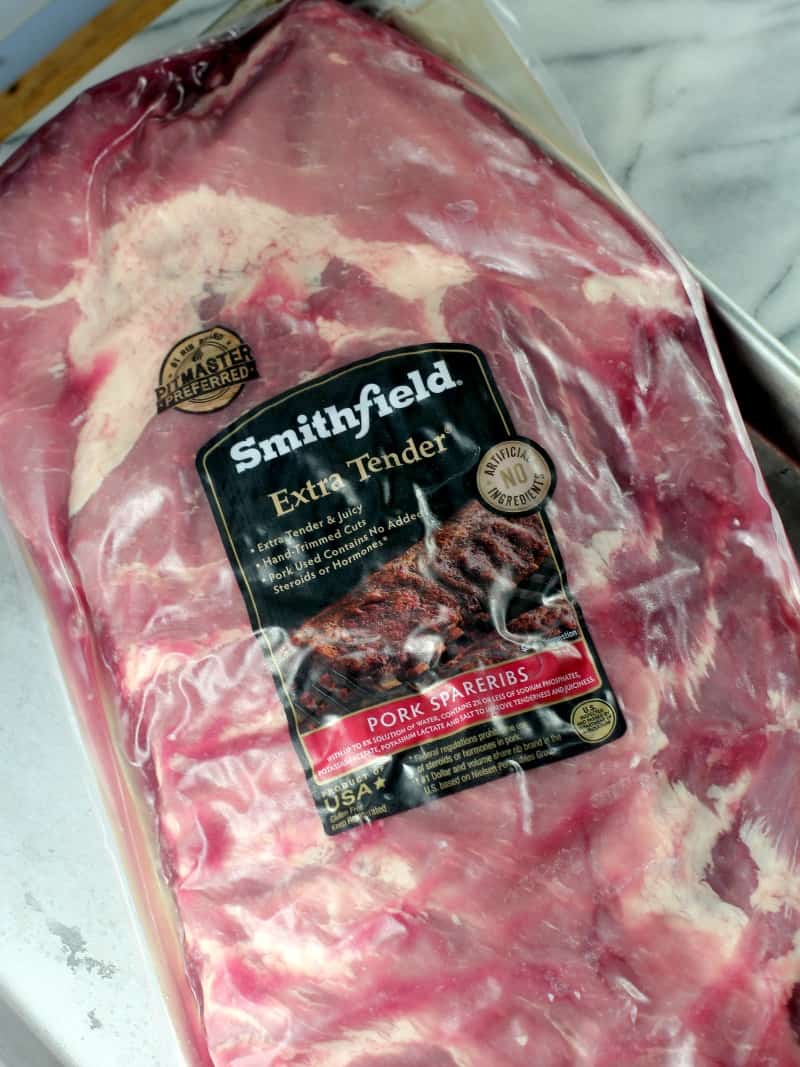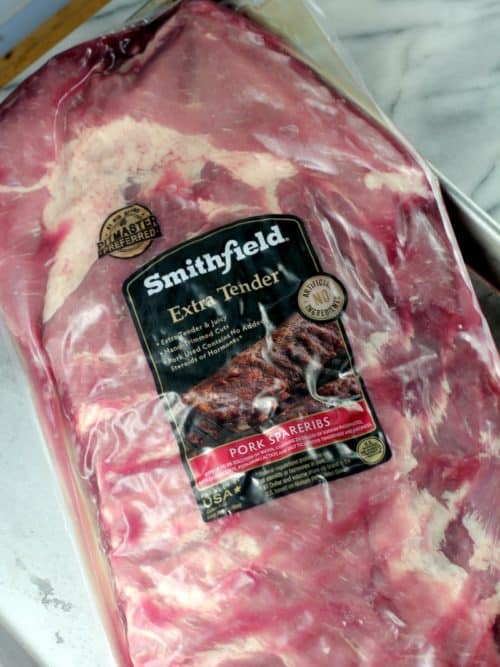 The Cooking Method
Ribs. Intimidating? They shouldn't be. They are on the Easy list, believe me.
The simple KEY to ribs, just like pulled pork or anything with a lot of connective tissue, is that we have to do the slow part. Ribs have to be cooked slow to break down that connective tissue and bring the tender, and if anyone tells you otherwise, ignore them.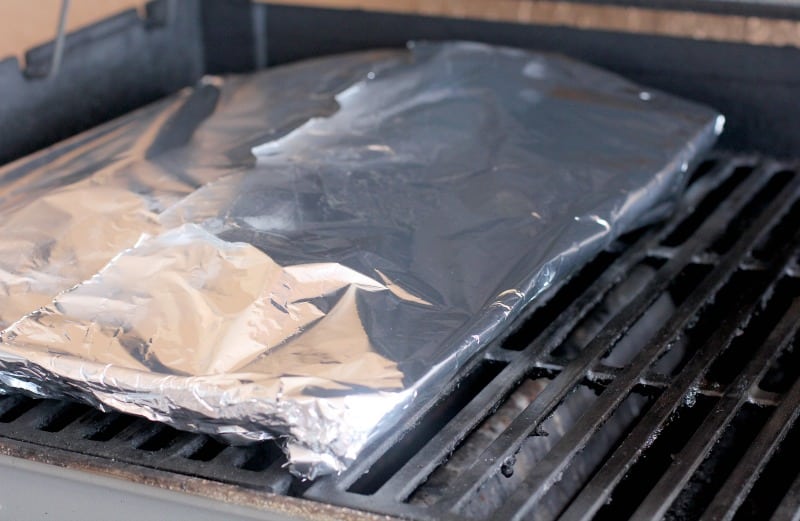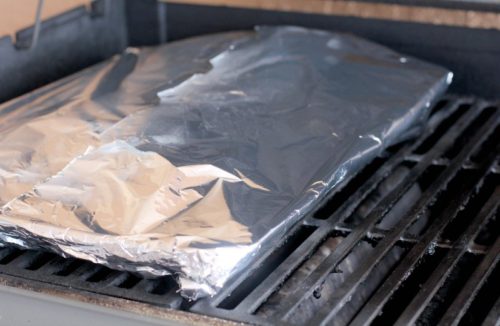 SO, for ribs, I firmly believe this is best done by steaming. We seal up our beautifully marinated ribs in foil to contain the steam from broth added to the pan, and let them cook slow on low on the grill (or in the oven), then grill/glaze them to perfection at the end.
This is the tried and true method for me, and SO easy honestly. Don't bat an eye, just make yourself some ribs.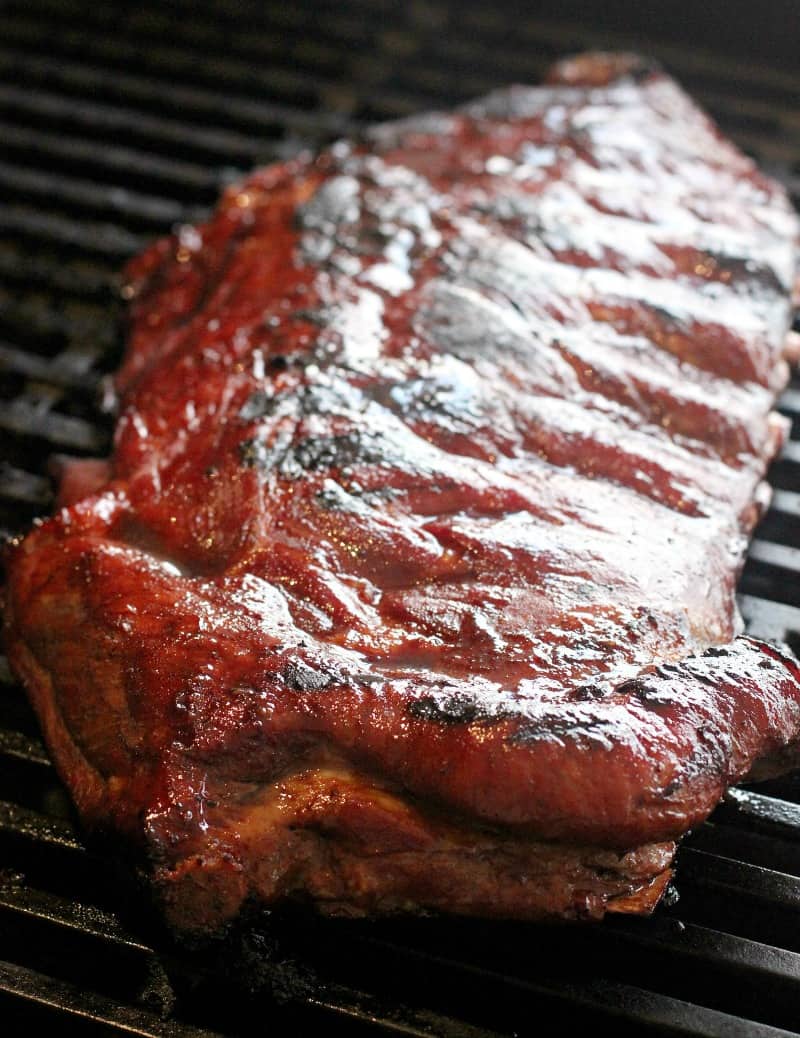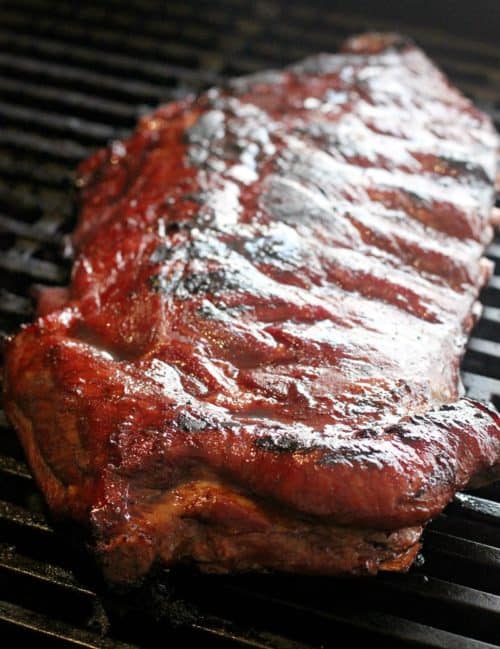 The Marinade
Other than the cooking method, the other key here is the marinade. Oh good LORD this marinade is fantastic. It is not complicated whatsoever – it is easy, and SO good. I wanted pu-pu platter ribs, but better [obviously].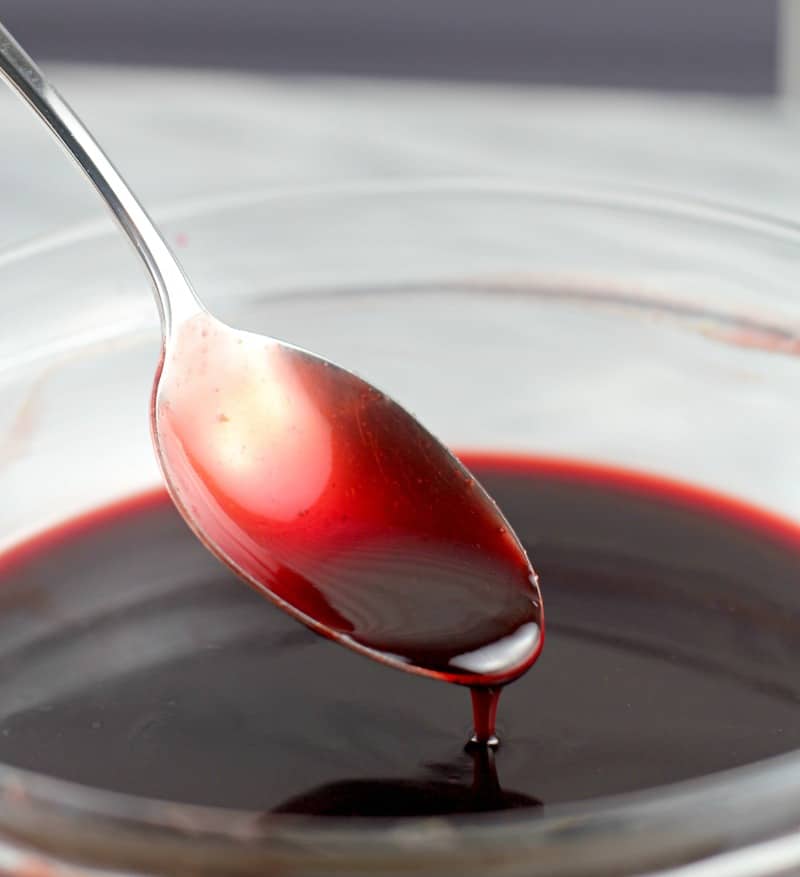 So first, the Smithfield Extra Tender Pork Spareribs because, again, they are MEATYYY. And second, I used beet juice (whaaaaht?).
Yes, beet juice. One, it is a natural red food coloring, and Two, its flavor combines with the rest to make this marinade so special.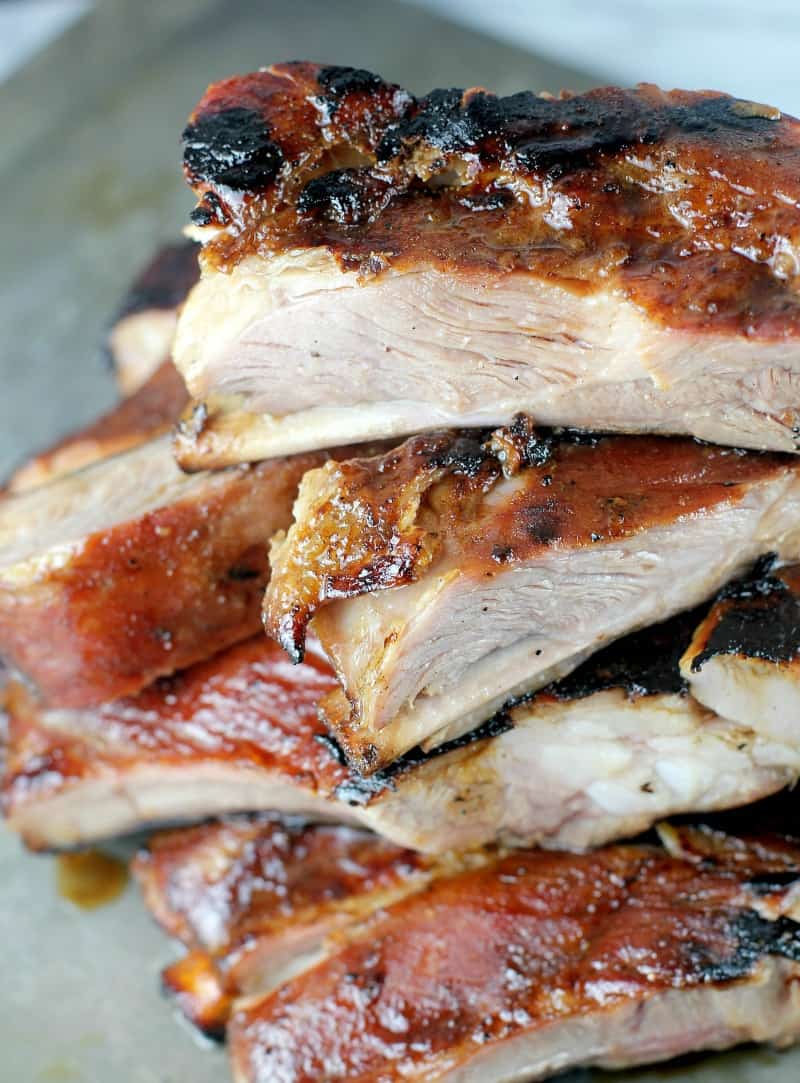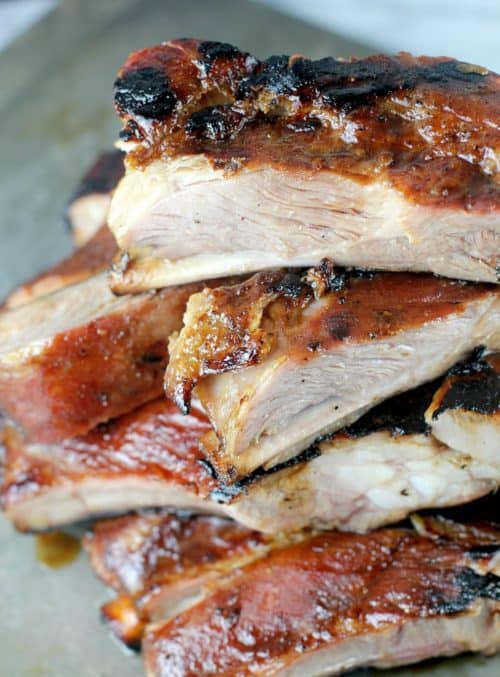 My Honey, Bourbon, and Root Beer Glazed Baby Back Ribs were my previous achievement years ago, but these may just be (gasp, dare I say) ….better!
So that's it folks! Literally, one of the best – if not the best – ribs recipes I have ever made. And it can be for you!
Check these recipes out for more grilling ideas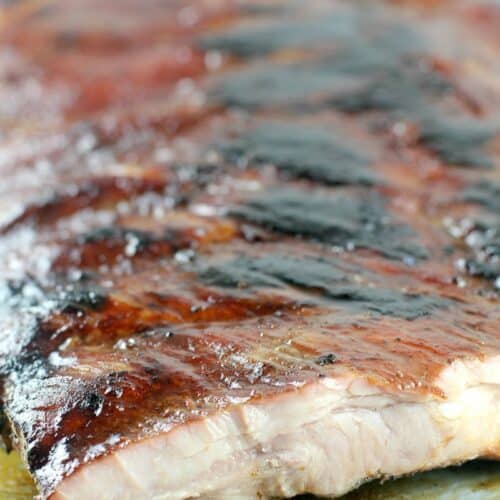 Better-Than-Takeout Chinese Spareribs
Chinese-style spareribs that are succulent, flavorful, and over-the-moon delicious. Better than takeout by far, and cooked to fall-off-the-bone tender all on the grill.
Ingredients
1

Tbs

Chinese five-spice powder

2

good pinches fresh cracked pepper

1

full rack Smithfield Extra Tender Pork Spareribs

½

cup

hoisin sauce

¼

cup

pure beet juice

2

Tbs

lite soy sauce

2

tsp

rice vinegar

¼

cup

honey

½

cup

beef broth
Instructions
Rub the five-spice powder and pepper evenly over ribs. Transfer to an extra large resealable bag (alternatively, the rib rack can be cut to fit in a gallon-sized bag).

Combine the remaining ingredients in a bowl. Add to the pork in the bag. Seal and transfer to the refrigerator. Marinate overnight.

Heat grill to 250-300°F. Line a rimmed baking sheet with foil, and set a wire rack in it. Remove the ribs from the bag, draining excess marinade off into the bag (reserve the marinade), and lay the ribs on the rack. Cover with aluminum foil and roast on the grill by indirect heat for 2 hours.

Meanwhile, simmer the reserved marinade in a small saucepan on med-low heat for 20 minutes, whisking regularly. Stain through a fine-holed strainer, pressing the congealed bits to squeeze out the juice (this sounds terrible, sorry).

Remove the foil from the ribs and brush on the marinade. Increase heat to med-high (400-450°F), place ribs back on the grill and continue to roast until charred and glazed, ~20 minutes longer, uncovered to prevent scorching (see Notes), turning and brushing with marinade every 5 minutes. Remove from the heat and let rest 5 minutes. Cut into individual ribs and serve. Yields: 4-6 servings.
Notes
On my Weber grill, ~250F was maintained with one burner on low and the other three off.
When it comes to the last step of grilling to glaze the ribs with the marinade, you have to watch the ribs so they don't become black. With honey in the marinade, the ribs will become black if they left to cook on to much flame. So I had my Weber with all three burners on medium-high with the lid up, and they came out just right.
If a grill is not available, this recipe can be modified for the oven. Follow the directions as written for cooking temperatures and cook times, just use the oven and broiler.
Calorie count is purely an estimate calculated using an online application to serve as a guide and not to be taken as accurate nutritional information. Percent Daily Values are based on a 2,000 calorie diet.
Tried this recipe?
Leave a comment below and let me know!