Port Cheddar Stuffed BBQ Sliders
Barbecue sauced sliders, stuffed with aromatic Port Wine cheddar cheese and sun-dried tomato, served on fluffy buns. Making this Port Cheddar Stuffed BBQ Sliders recipe is easier than you may think! And you do not even have to fire up a grill. This post was sponsored.
For this new slider recipe, I have partnered with Kaukauna® Cheese Spread, which makes entertaining so easy. Kaukauna® is a long-time favorite of mine because of it is 100% real cheddar, I LOVE the flavor, and it melds so well into recipes. Literally, at the grocery store when I picked some up, my daughter said "Oh! You love that stuff." Um-hmm, yes I do. So let's stick it in the middle of tasty little burgers, shall we?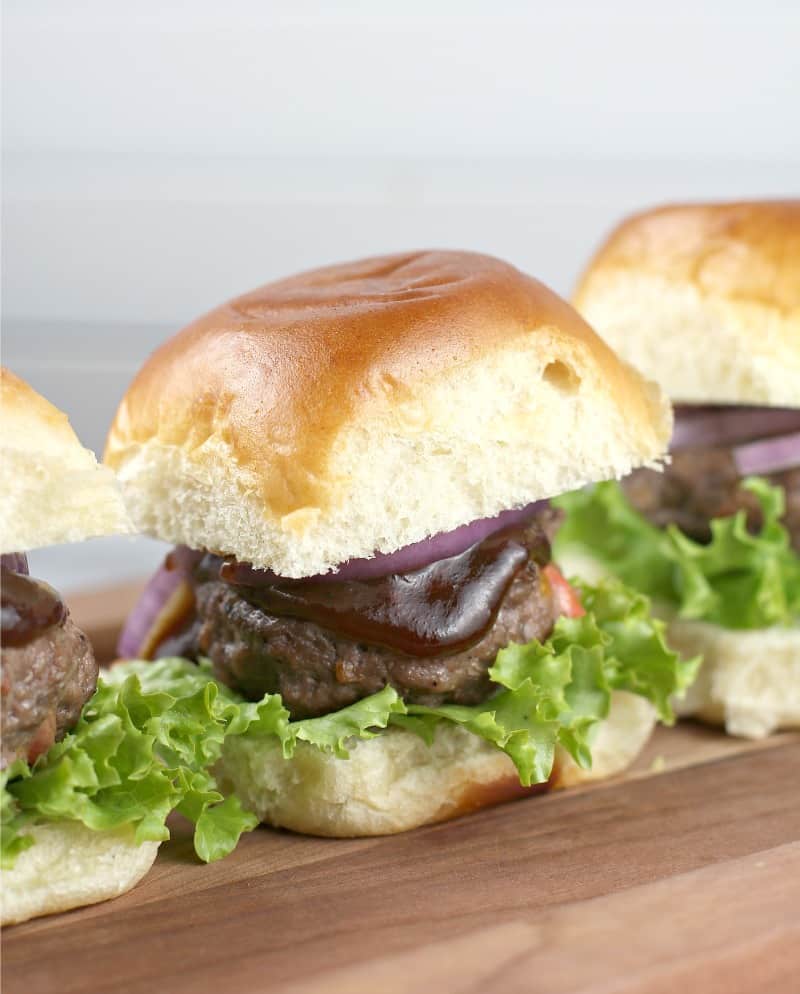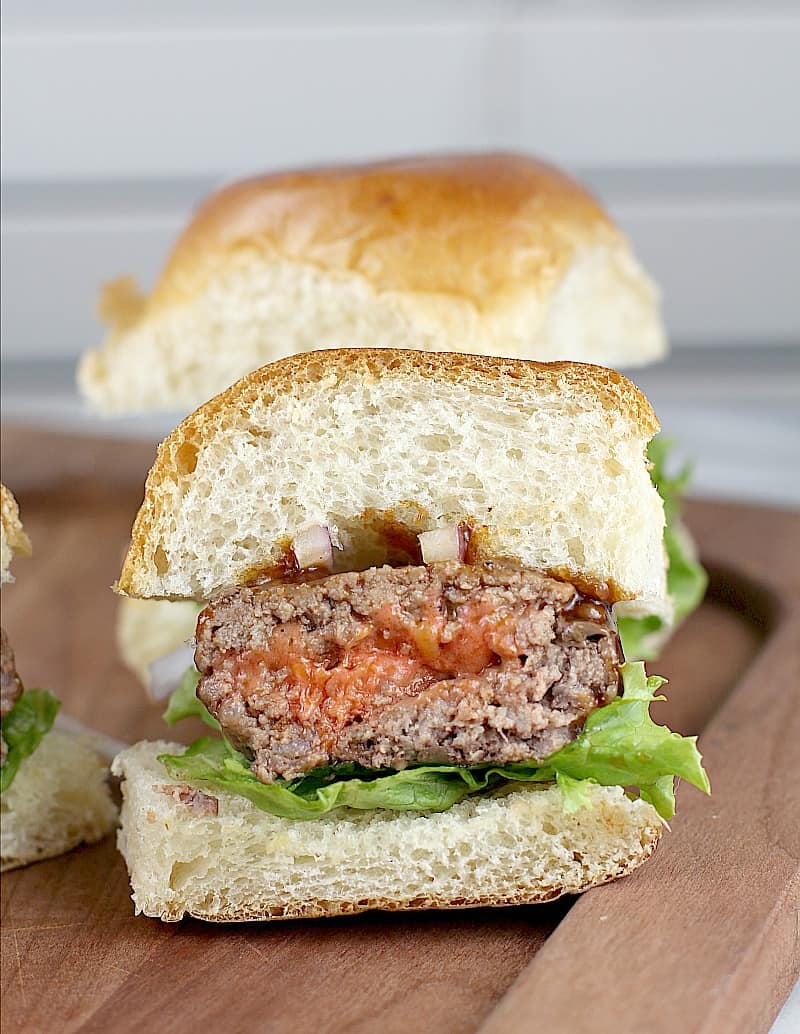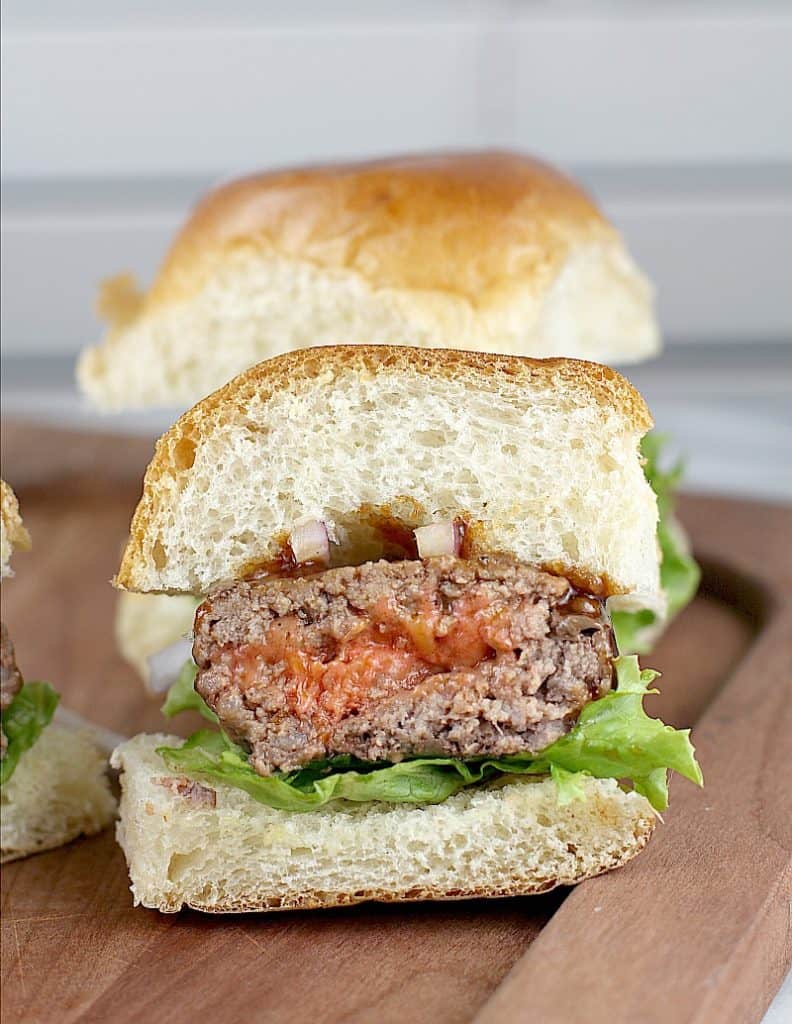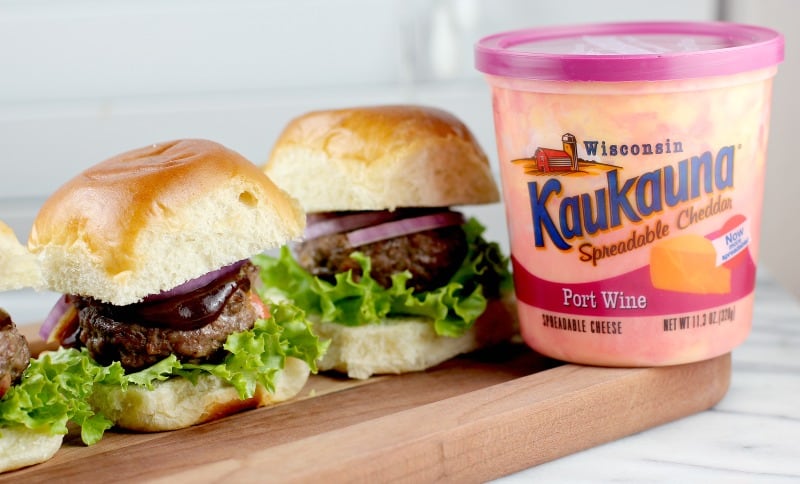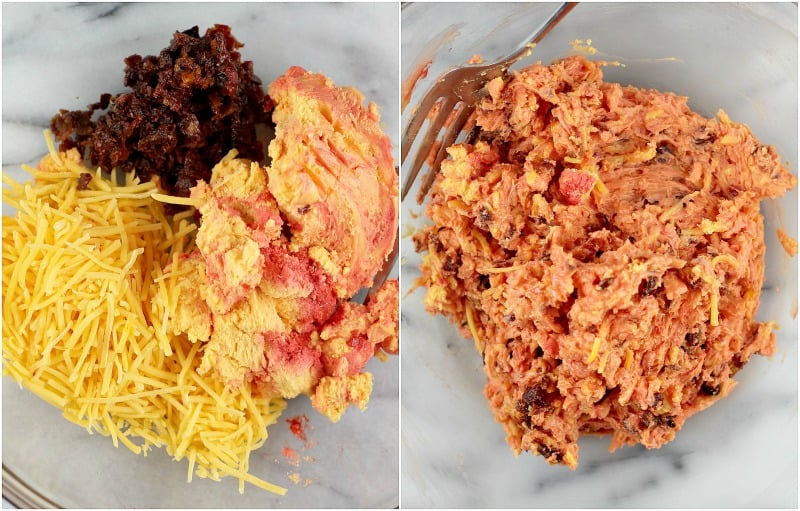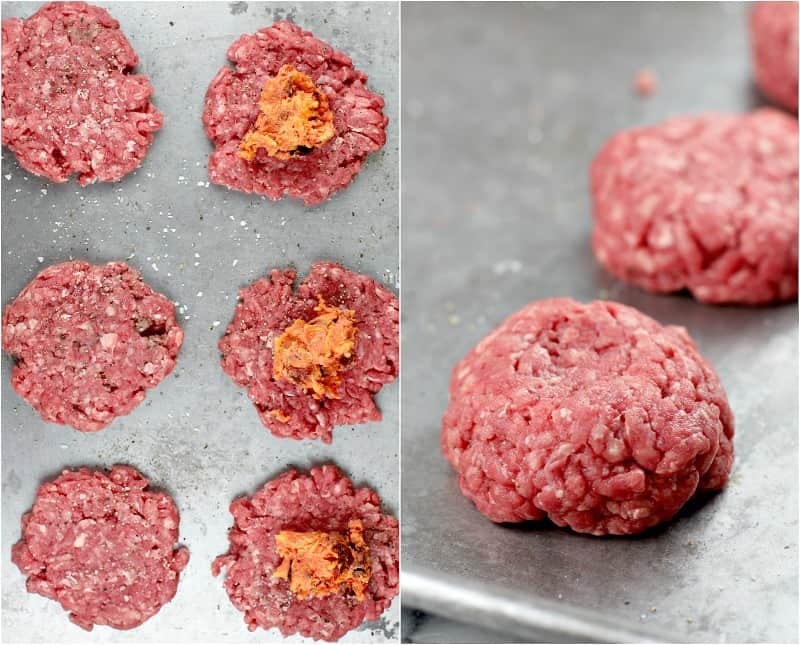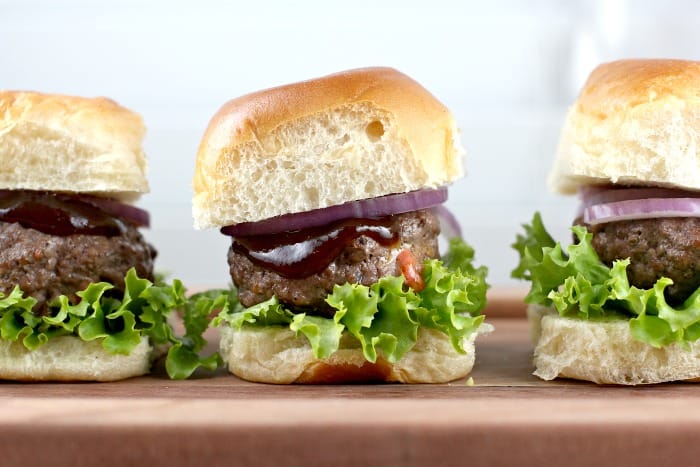 Port Cheddar Stuffed BBQ Sliders
So, this little recipe …is just that. A little recipe for a tasty nibble. Spring has sprung here in Florida, and grilling tooootally goes with that. And so of course with spring and in making up a fun new recipe, I fully anticipated getting out the grill for a new burger. That says spring, right? Besides, this is happening in my backyard, as of now, hello spring!
Until… A cold-snap. Yes, I'm talking about our version of the "Bomb Cyclone", the surprise cold and snow the north just lived through. …Which for us was a dip in temperatures to the low 50s, which is COLD for here. Seriously. It is.
So, yeah. No grill. …I was sick as a dog too, so it was just not happening.
What-to-do. What-to-do. Then it hit me to make sliders. And to use my OVEN. I changed my plan from grilling stuffed burgers to making BROILED, cheesy little sliders and Call. It. Good. And they were.
Kaukauna® makes several varieties of cheeses, and they come in cups, logs, and balls, and that's the best part because you can serve them straight up pretty and simply with crackers or veggies, OR use them in recipes and THAT is MY thing. Last time, I used the Kaukauna® Bacon Jalapeno Cheese Ball to make stuffed jalapenos and we can all remember, I'm sure, how so good THEY were.
This time, I chose the Kaukauna® Port Wine spread specifically because the assertive flavor in this cheese is a PERFECT pair for the bold flavor of a beef burger. Then we up the ante by adding sun-dried tomato to this cheesy filling (BTW, the shredded cheese is kinda just a binder here to help hold the cheese in the burger). With just these three ingredients, we have all the flavor we need to pack into these mini burgers.
OK, so the stage was set to make these sliders. I had my filling – three ingredients, done. Next was assembly – this was so simple, I just used a spatula to rough out 8 portions from one pound of ground beef. Then I made mini patties – two from each "portion", and therefore, a top and bottom pattie to go around the cheese filling. We want to do it this way because the filling is not solid, it is awesome creamy. Which is the point. So by making two THIN patties, adding a dollop of filling, and putting the patties together, our filling stays perfect, and we are ready to cook them up.
OK, now cook: broil one side. Flip. Broil the other. Done. "Too easy" (sorry, my Army vet is showing through).
Once the sliders are done, we can serve them up! Split your buns, tear your lettuce, and slice up your onion all in a snap while the burgers book, then assemble the sliders once the burgers are cooked and don't forget the little bit of barbecue sauce to tie it all together.
These little burgers were juicy and FLAVORFUL. The easy Port Wine cheese filling shone through like a STAR, and so did the sun-dried tomato. They went together SO WELL, especially in a cute little burger on a fluffy bun with all the rest.
So that's it folks. This is FUN FOOD to eat, and approachable to make, so that part is fun too. Let's all be that put-together hostess for our spring flings, right? Making it look easy …and actually HAVE it be easy with Kaukauna® Cheese and recipes like my Port Cheddar Stuffed BBQ Sliders.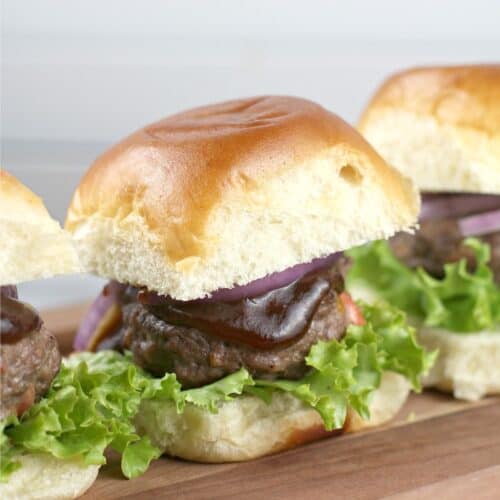 Port Cheddar Stuffed BBQ Sliders
Barbecue sauced sliders, stuffed with aromatic Port Wine cheddar cheese and sun-dried tomato, served on fluffy buns.
Ingredients
½

cup

Kaukauna® Cheese Spread

Port Wine flavor

½

cup

shredded sharp cheddar cheese

2

Tbs

sun-dried tomato in olive oil

finely chopped

1

lb

ground beef

kosher salt

fresh cracked pepper

green leaf lettuce

torn into slider-sized pieces

red onion

thinly sliced

barbecue sauce of choice

8

slider buns
Instructions
Heat the oven broiler to high heat.

In a bowl, combine the Kaukauna® Cheese, shredded cheddar cheese, and sun-dried tomato. Set aside in the refrigerator.

Divide the meat into 8 portions. Take a portion, divide, and press onto a rimmed bake sheet to form 2 very thin patties (~3-inches wide; using the bake sheet makes this easy). Repeat with the rest of the meat. Season with salt and pepper.

Scoop ~1/2 Tbs of cheese filling onto a meat pattie. Take another pattie and lay on top. Press around the edges to seal. Gently pick up the stuffed burger and shape into a proper slider. Repeat to end up with 8 stuffed burgers.

Broil the burgers on the rimmed bake sheet 2-1/2 to 3-inches below the broiler, 4 minutes. Flip, and broil another 4 minutes. Remove from the oven.

Serve the Port Cheese Stuffed Sliders in little buns with lettuce, red onion, and BBQ sauce. Yields: 8 sliders.
Calorie count is purely an estimate calculated using an online application to serve as a guide and not to be taken as accurate nutritional information. Percent Daily Values are based on a 2,000 calorie diet.
Tried this recipe?
Leave a comment below and let me know!