Looking for how to make your own beef jerky? This post has everything you need to make tender, flavorful beef jerky with recipes for Beer BBQ Beef Jerky and Teriyaki Beef Jerky marinades. Instructions for making beef jerky using a dehydrator or a convection oven are included so you can easily make this protein-rich snack at home.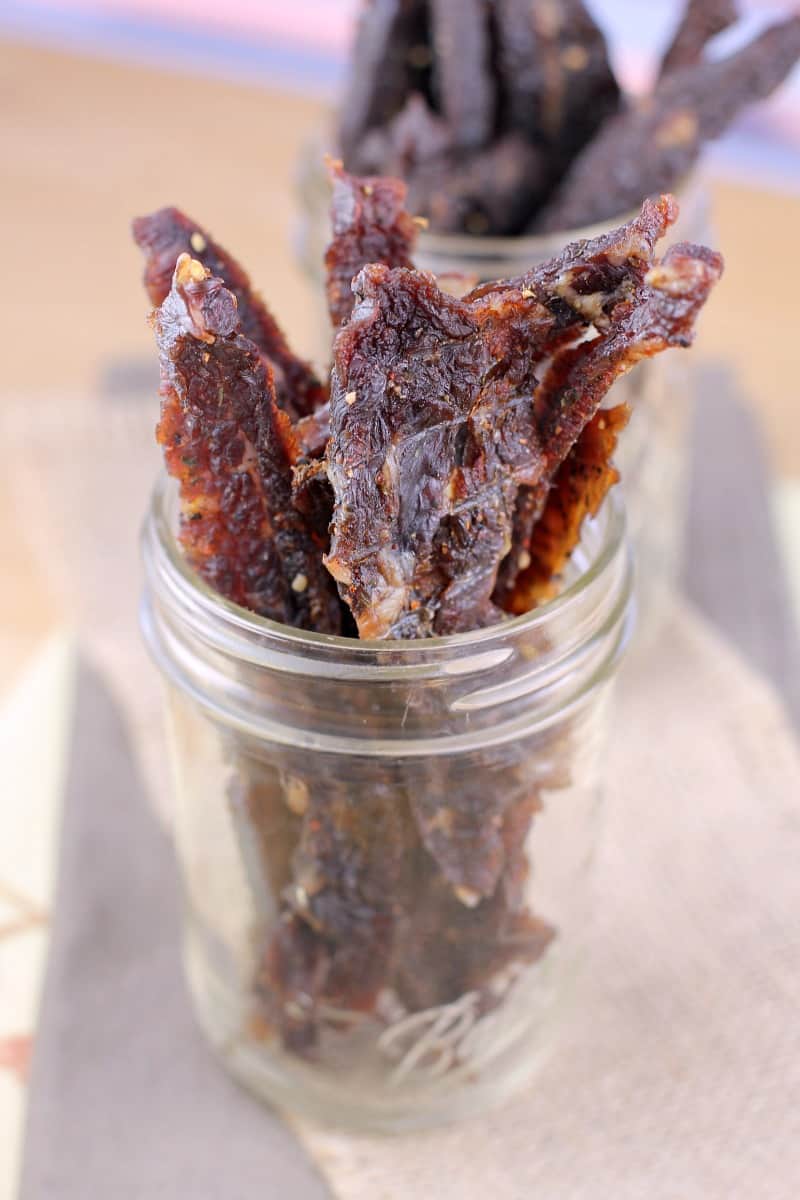 Making beef jerky is super easy as long as you know a couple tricks. This took me a while to figure out, because at first I was getting leathery, tough jerky. Also, at first, the jerky flavors were good, but still needed more umph.
So, point is… making jerky took some work for me to figure out. From the cut of beef to the cook time to the marinades. But I feel so good about it now, that I am bringing my beef jerky to you.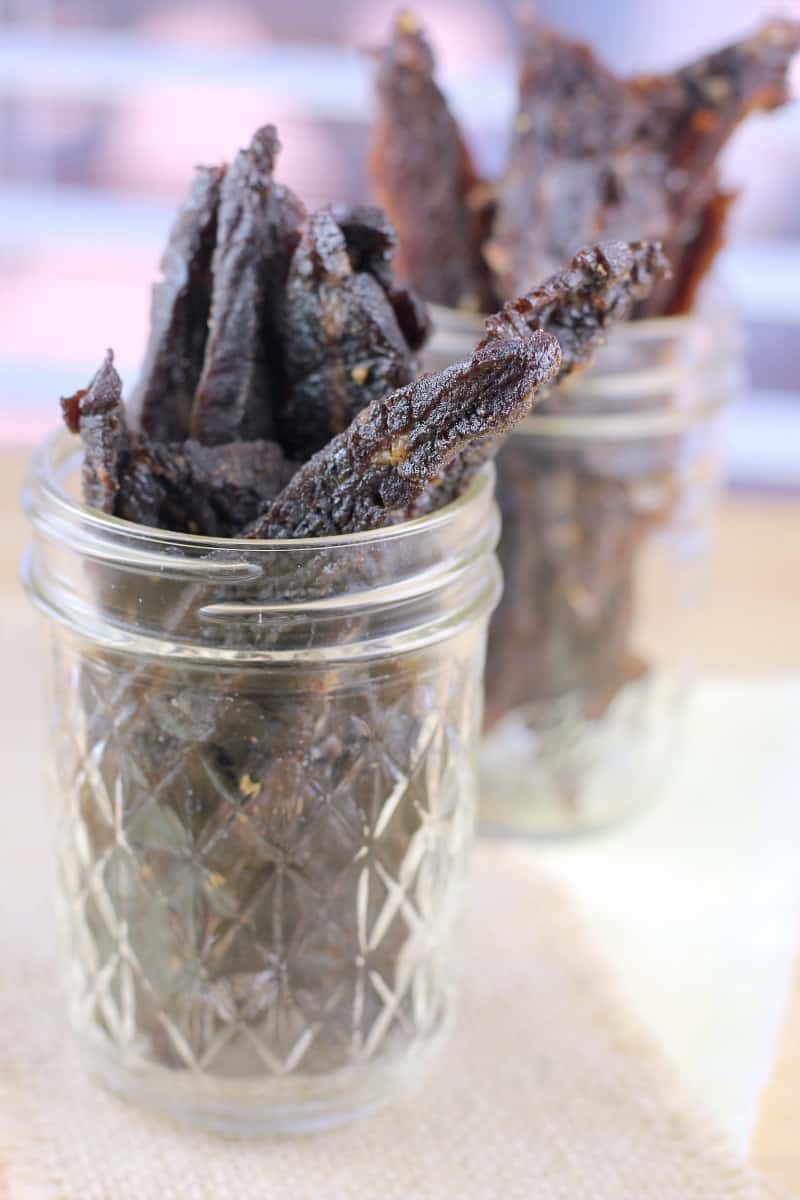 Why you should make your own jerky
You should make beef jerky at home for so many reasons! But here is a short list:
Beef jerky at the store is expensive. Like, $25 to $35 per pound. Which is why when we spend $8 on a bag of it, we get enough for like 2 snacks jeesh.
We would expect jerky to cost more in the first place since it is dried meat and you have to start with more initially. But I still find the cost to be prohibitive and I rarely buy it.
Store-bought beef jerky is highly processed. Like bologna and hot dogs, most purchased jerky (a la gas station) is chopped and formed which is gross to me when I think about it.
There are also lots of additives to increase shelf-life in beef jerky too and most are high in sugar. By making your own, you can add as much or as little sugar as you like. Same goes for salt if you are wanting to watch your salt intake.
Homemade beef jerky, done right, has a different texture than purchased. I find it easier to chew and more satisfying. It tastes more "beefy", if that makes sense" and less candy-like.
By making your own jerky, you can flavor it as you like to your hearts desire. Dry rub, marinade, whatever you fancy to make yourself this lean, protein-rich snack.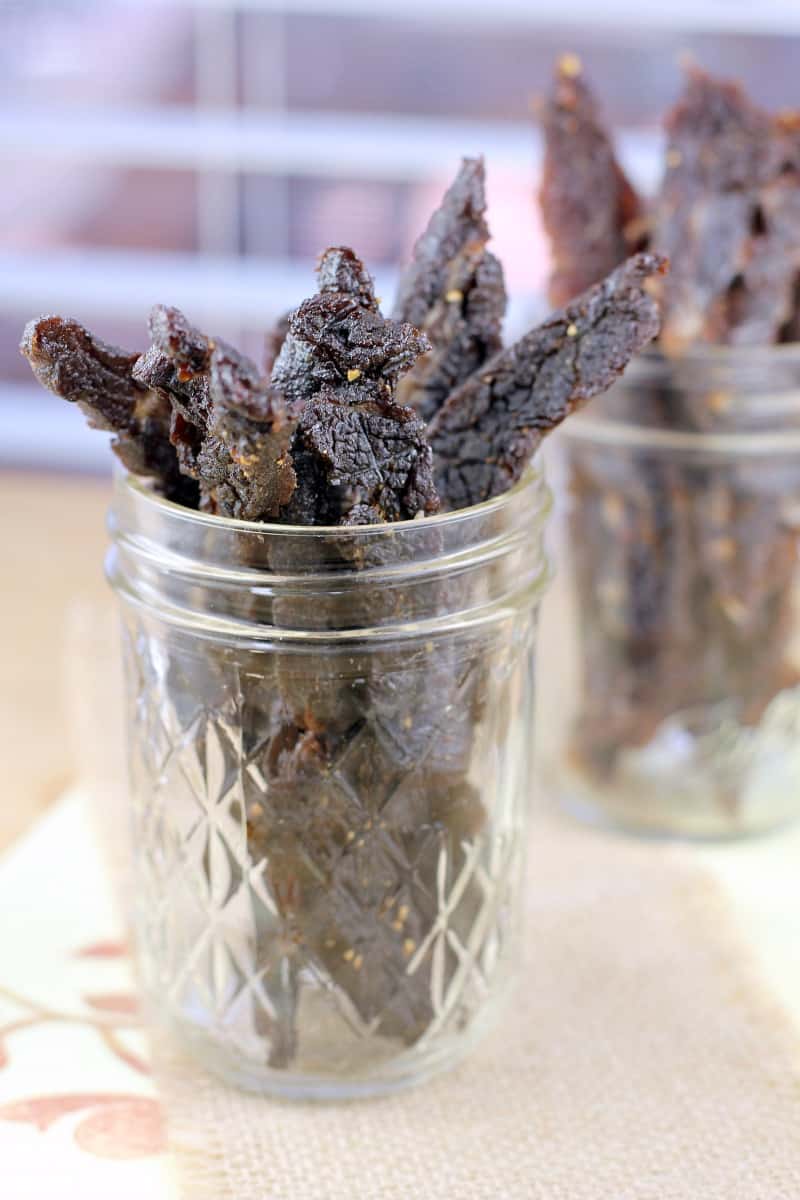 Ingredients to make beef jerky
This recipe/post breaks down into 3 parts: the beef, the Beer BBQ Beef Jerky marinade, and the Teriyaki Beef Jerky marinade.
The beef
Your choice of cut of beef is crucial for good jerky. Regardless of the cut, you must choose a LEAN cut of meat because fat does not dehydrate.
Second, you want some connective tissue so that it can break down and give you tender jerky.
I have tried several cuts of beef and by far and away the winner every time is flank steak. Flank steak is relatively lean, has connective tissue, and is easy to slice into just the right pieces.
The key with flank steak is that the muscle fibers run long and straight. So when we slice against the grain, we get pieces of meat with very short fibers. Add the marinade to tenderize and the connective to break down while cooking, and you will get TENDER beef jerky.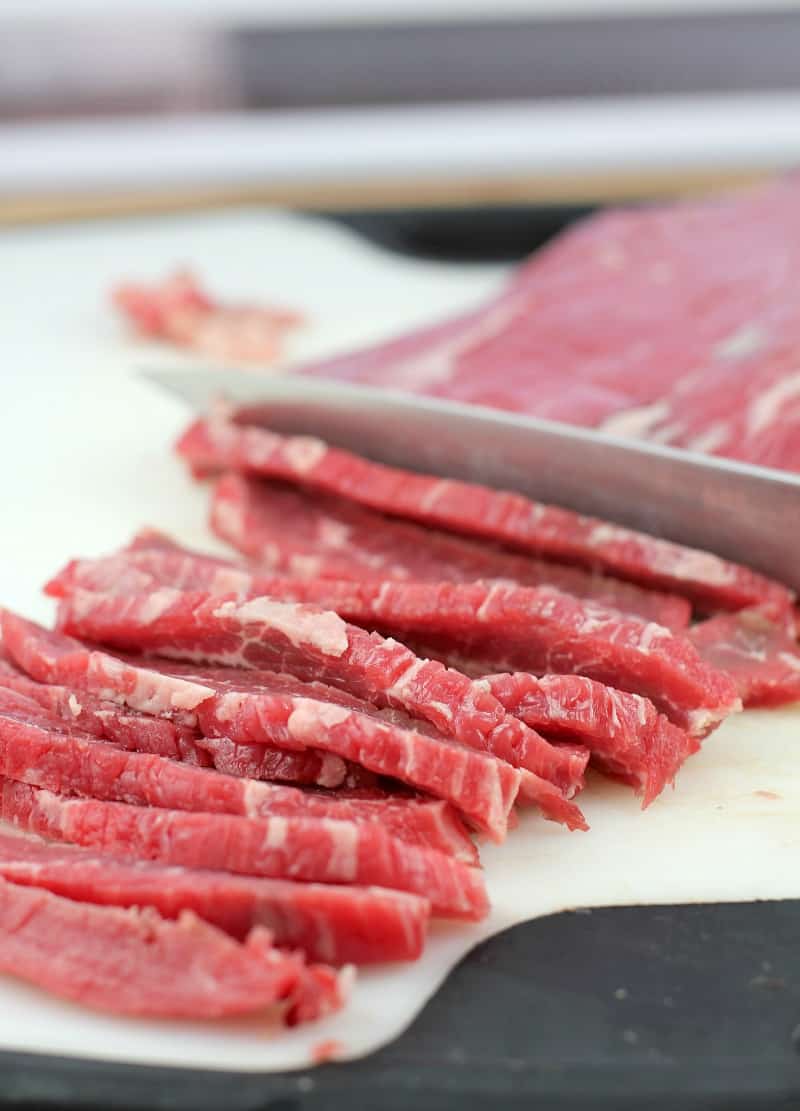 The marinades
We are huge fans of teriyaki beef jerky. Also, my love for cooking with beer is well established. So it seemed only right to me to provide both marinades as an option in this tutorial.
Marinade for teriyaki beef jerky
Soy sauce provides flavor and tenderizes. Soy sauce also provides enough salt (even reduced sodium soy sauce which I use) that we do not need to add more.
Brown sugar. With only 2 tablespoons, my recipe uses less sugar than others you will find.
Mirin. You will find mirin (a cooking rice wine) in the Asian section of the grocery store. If not available, white wine may be used as a substitute. I like to include the mirin because it brings acidity to help flavor and tenderize the meat.
Chinese 5-Spice seasoning. Just a bit of Chinese 5-spice brings SO much flavor I love it. Look for it either in the spice section at the grocery store.
Additional seasonings. I use easy pantry seasonings garlic powder, dried ginger, and black pepper to keep preparation easy and accessible.
Meat tenderizer. Adding 1 teaspoon (just a bit!) of tenderizer makes a definite difference, but this is optional. I use tenderizer with no MSG. Look for it in the spice section at the grocery store.
Hickory liquid smoke. Our jerky needs a little smoky smoke! I am specifying hickory liquid smoke, because I am not a fan of mesquite which tastes rancid in my opinion. Take care when you measure liquid smoke – a little goes a long way.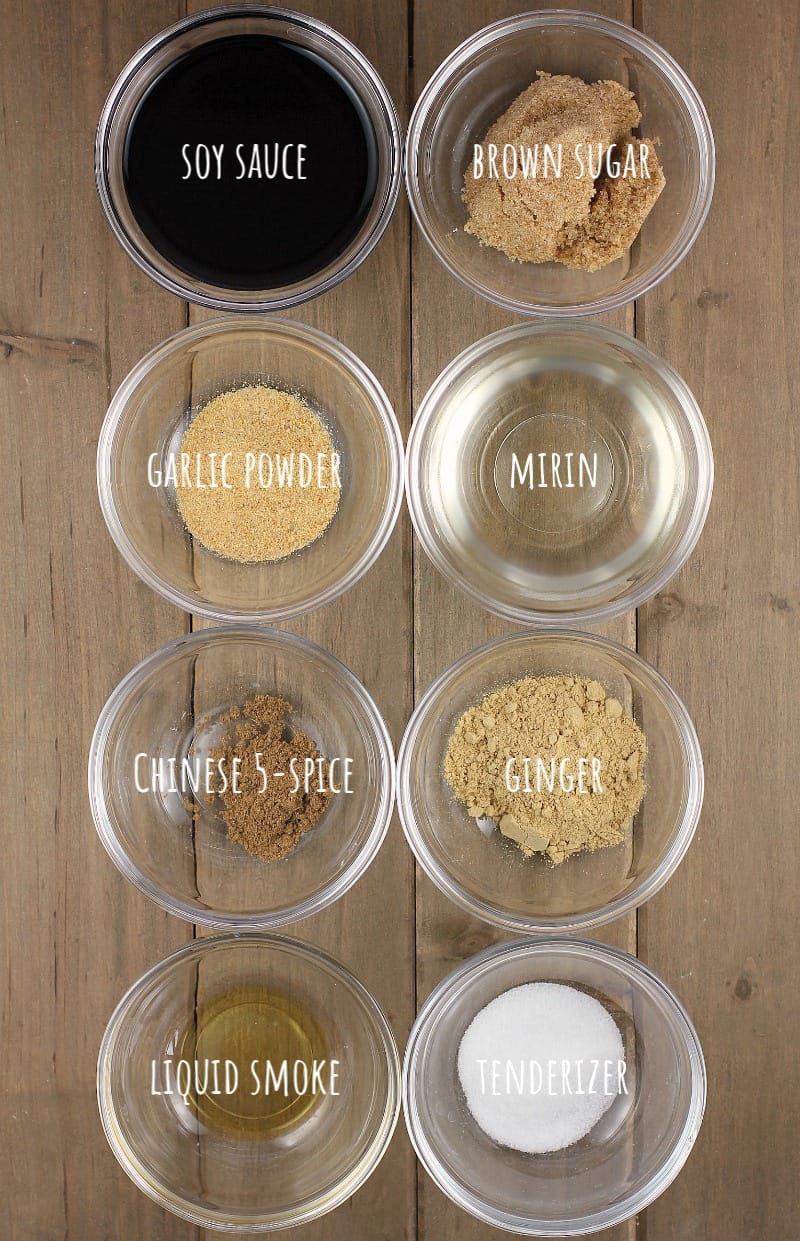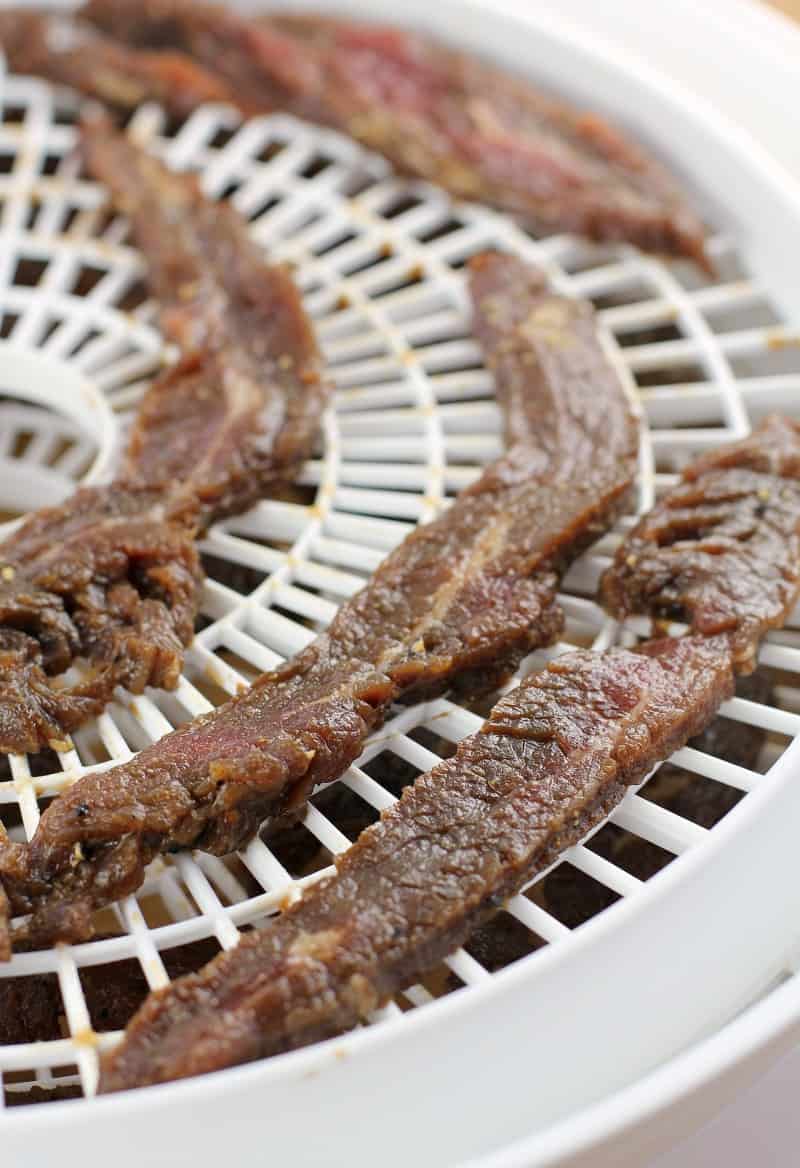 Marinade for beer bbq beef jerky
Several elements of this marinade share commonality with the above because they serve the same general purpose for making beef jerky.
Beer. I prefer a lager, but you can play with different varieties. Beer ranges in acidity which helps tenderize the meat.
BBQ seasoning. Any bbq seasoning blend of choice will suffice to your taste. You can find them in the spice section of the grocery store.
Raw sugar. I prefer to use raw sugar, such as turbinado sugar or sugar in the raw, because I want the additional molasses depth of flavor they bring. If not available, light brown sugar may be used as a substitute.
Seasonings: garlic powder, kosher salt, fresh cracked black pepper. Unlike the teriyaki marinade with soy sauce, this marinade needs a little salt added.
Meat tenderizer. As above, I use a little tenderizer with no MSG added.
Hickory liquid smoke. Also as above, liquid smoke brings depth of flavor and the smoky smoke for our jerky to be complete since we aren't actually smoking anything.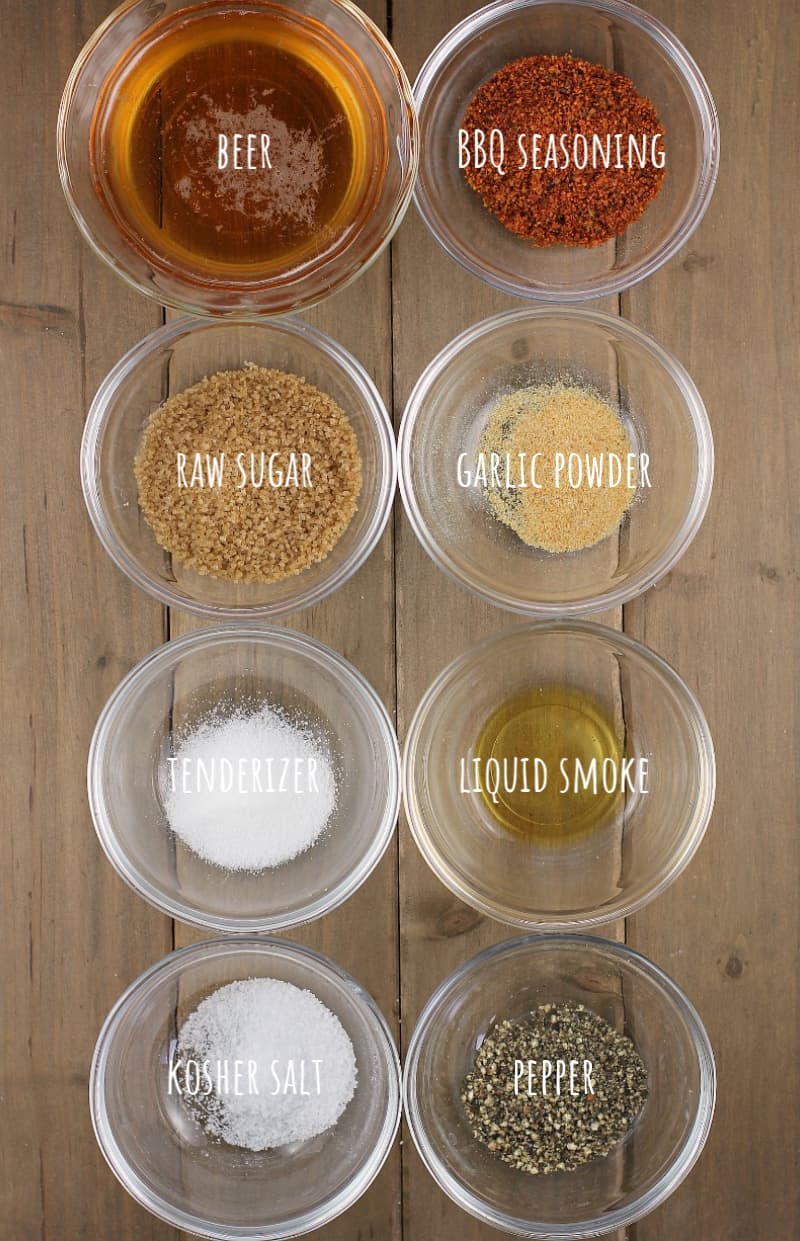 When I make jerky, I tend to make both marinades (each directly in a resealable bag) and divide the steak between them. Since we are using all pantry ingredients and many are in common between the two, this is easy to do.
Steps for preparation
I have already said "easy" a bunch of times, but making jerky really is.
First, we slice our flank steak. You can do this yourself with a SUPER sharp STRAIGHT edge knife. Or, you can do what I do and have the butcher do it for you. Ask for 1/4-inch thickness, no less.
Next we make the marinade. Since these are pantry ingredients, half of which are in common, I make both marinades. Just add the ingredients each to a resealable bag.
Add the steak to the marinade, and refrigerate overnight. This provides enough time for the marinade to both flavor and tenderize the meat. If using both marinades, simple divide the meat between the two.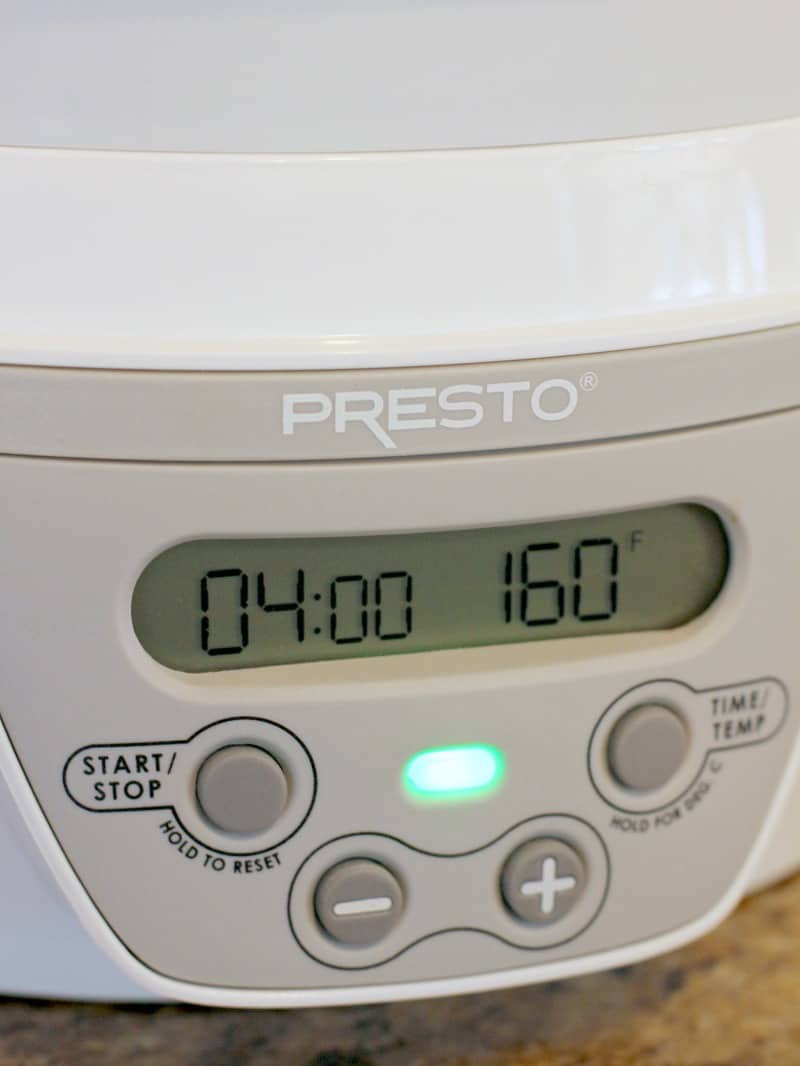 Dehydrate the meat. This is most easily accomplished in a food dehydrator. I use my dehydrator quite a bit for jerky, fruit leather, and to make my own dehydrated meals for backpacking, so it was a worthwhile purchase for me. Otherwise, you can use the convection oven.
To check for doneness, take a piece of jerky, allow it to cool a bit, then gently bend it to 90 degrees. If you see any moisture squeeze out, then put i back and let it cook longer. You want to see the dehydrated meat crack a little but still bend and not break completely. Then it is done.
Once cool, store your jerky in an airtight container. I use a resealable bag. I also recommend storing in the refrigerator until ready to take this snack and go with it.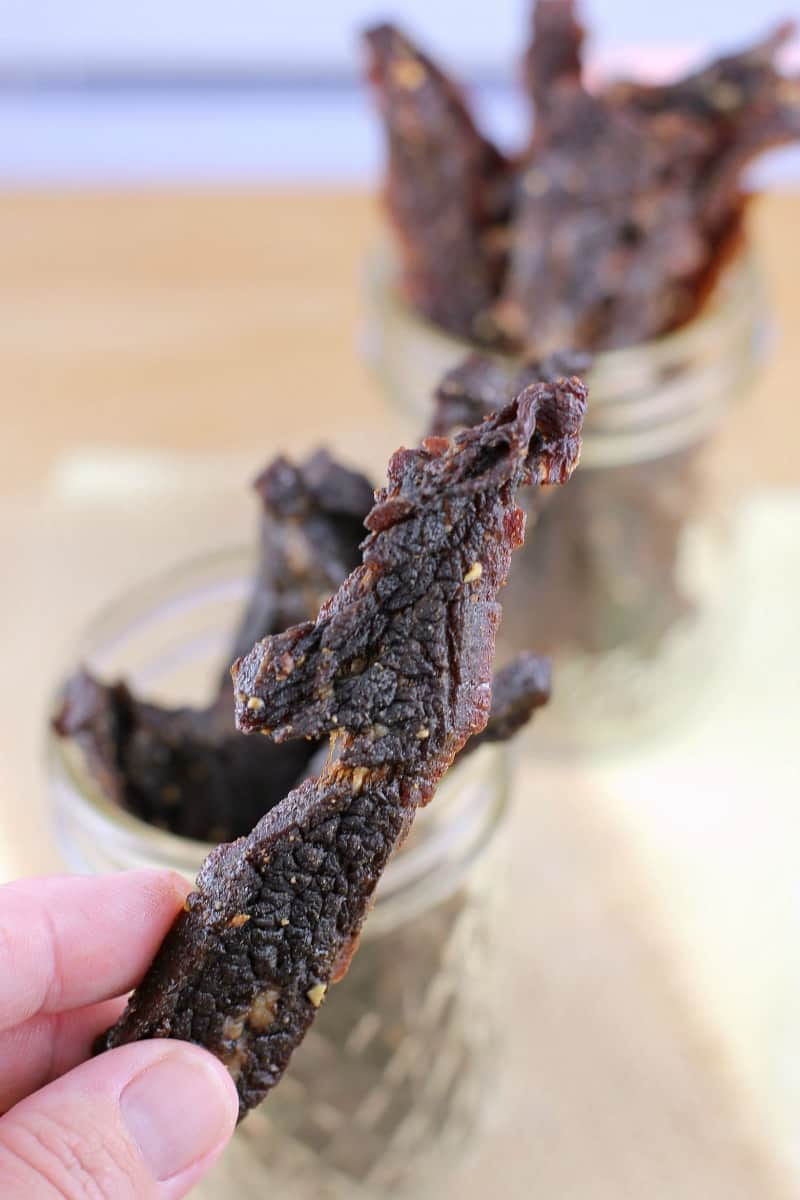 Last tips
Trim as much fat as you can from the meat, because fat will not dehydrate since fat and oils do not contain water.
Once sliced, handle the pieces of flank steak with some care, including adding to the marinade. Because the fibers are so short at that point, if roughly man-handled, our once-nice sliced meat will come out looking mangled.
Unlike dehydrating pasta, vegetables, and such, you can over-dehydrate jerky. Once that happens, you will have leather. So, set the timer on the dehydrator for 4 hours (3 hours for an oven), then check and take the smaller pieces out as they finish and let the thicker pieces go further until they are ready.
Though jerky makes a great take-and-go snack (I use it when hiking), I do store in a resealable bag in the refrigerator in the meantime just to be on the safe side.
If preparing in a convection oven, we want the meat on a rack and not laying directly on a bake sheet so that the air can circulate all around. Since the numbers of racks is likely limited, you can make the jerky in batches, simply leave the rest in the marinade in the refrigerator until ready to cook.
Because ovens are generally limited to a low temperature of 175°F, note that the cook time in an oven will be less than in a 160°F dehydrator.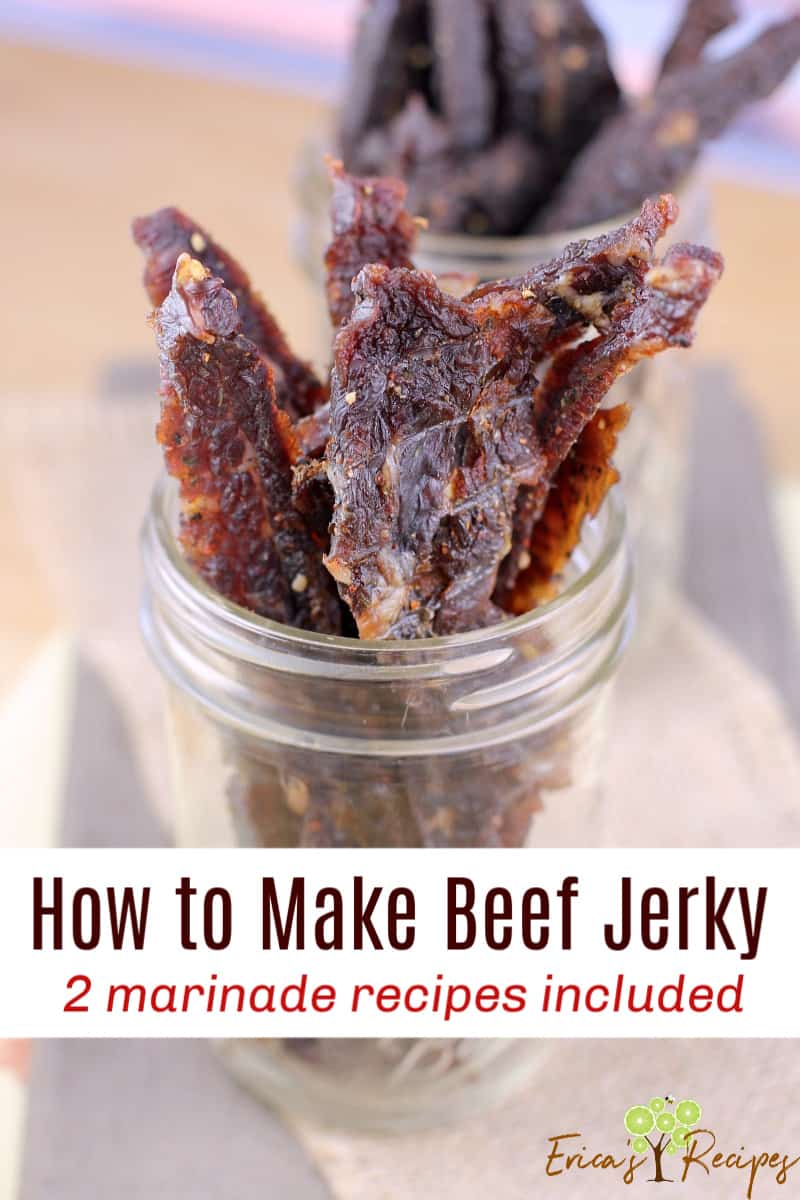 Looking for more marinade recipes?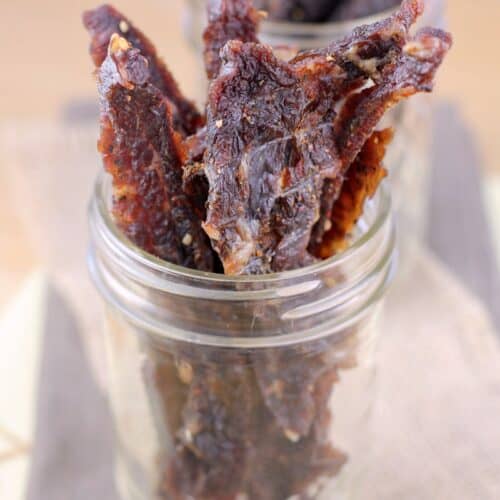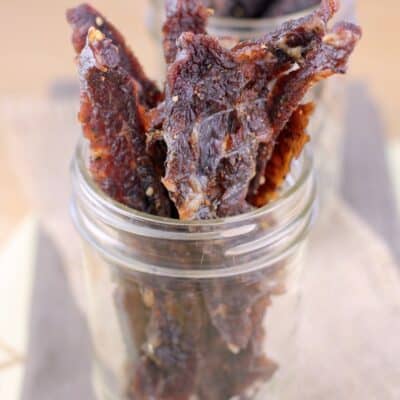 How to Make Beef Jerky
This post shows you how to make beef jerky including two marinade recipes: Beer BBQ Beef Jerky Marinade and Teriyaki Beef Jerky Marinade.
Ingredients
For the teriyaki marinade
For the beer barbecue marinade
Instructions
Remove as much fat as possible from the steak. Slice the meat into thin 1/4-inch slices using a sharp straight-edge knife. Alternatively, have the butcher do this for you.

For either marinade, add the ingredients to a large, resealable bag. Close the bag, and shake to combine.

Add the sliced steak to the bag and gently ensure all the meat is coated with marinade. Refrigerate overnight.
Food dehydrator instruction
Transfer the marinated pieces of steak to a single layer on the grates of a dehydrator.

Dehydrate for 4 hours at 160°F.

Check for doneness (see below).
Convection oven instruction
Place a bake rack onto a large bake sheet and layer the steak on that.

Place in the convection oven set to 175°F for 3 hours.

Check for doneness (see below).
To check for doneness
Take a piece of jerky, cool a bit, and bend to a 90° angle. If moisture squeezes out, it needs to cook longer. If the meat bends and snaps, it is overdone. If the meat slightly cracks but still bends, it is just right.
Notes
See the body of this post for details and tips not included in the recipe card.
Nutrition
Calorie count is purely an estimate calculated using an online application to serve as a guide and not to be taken as accurate nutritional information. Percent Daily Values are based on a 2,000 calorie diet.
Tried this recipe?
Leave a comment below and let me know!