Sausage, creamy ricotta and herb sauce, homemade marinara sauce, perfectly cooked noodles, and cheesy goodness make this classic lasagna recipe perfect. Plenty of tips included to help you make the best traditional lasagna recipe of your life.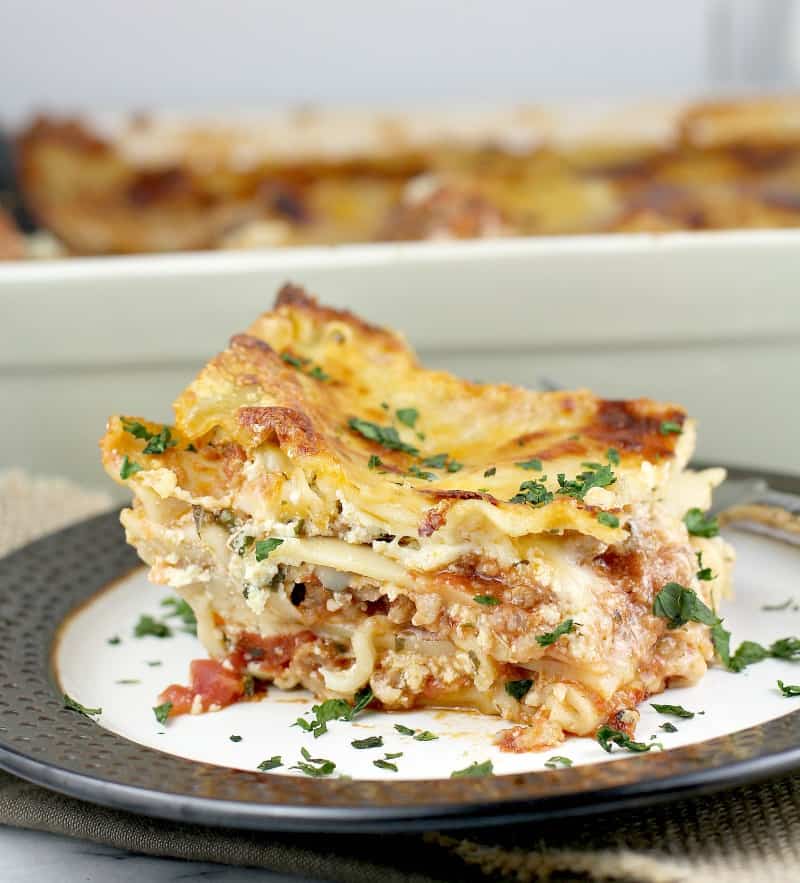 This post was first published April 2013 then updated January 2020 for photos and content.
What is Classic Lasagna?
At its most basic, lasagna ingredients (or lasagne, if there are more than one) are layered sheets of pasta with meat sauce, cheese, and ricotta or béchamel (basic white sauce) or some combination thereof.
Adding ricotta is really an American thing. In Italy, "lasagna" is actually referring to a particular cookware, and it is layered sheets of pasta, but they are fresh pasta (not our ruffly noodles) and usually they just use béchamel.
So by classic lasagna, I mean that I am not changing anything, not adding anything. If I were pretending this to be something you could get in downtown Rome, I would have called it classic Italian lasagna or some such thing.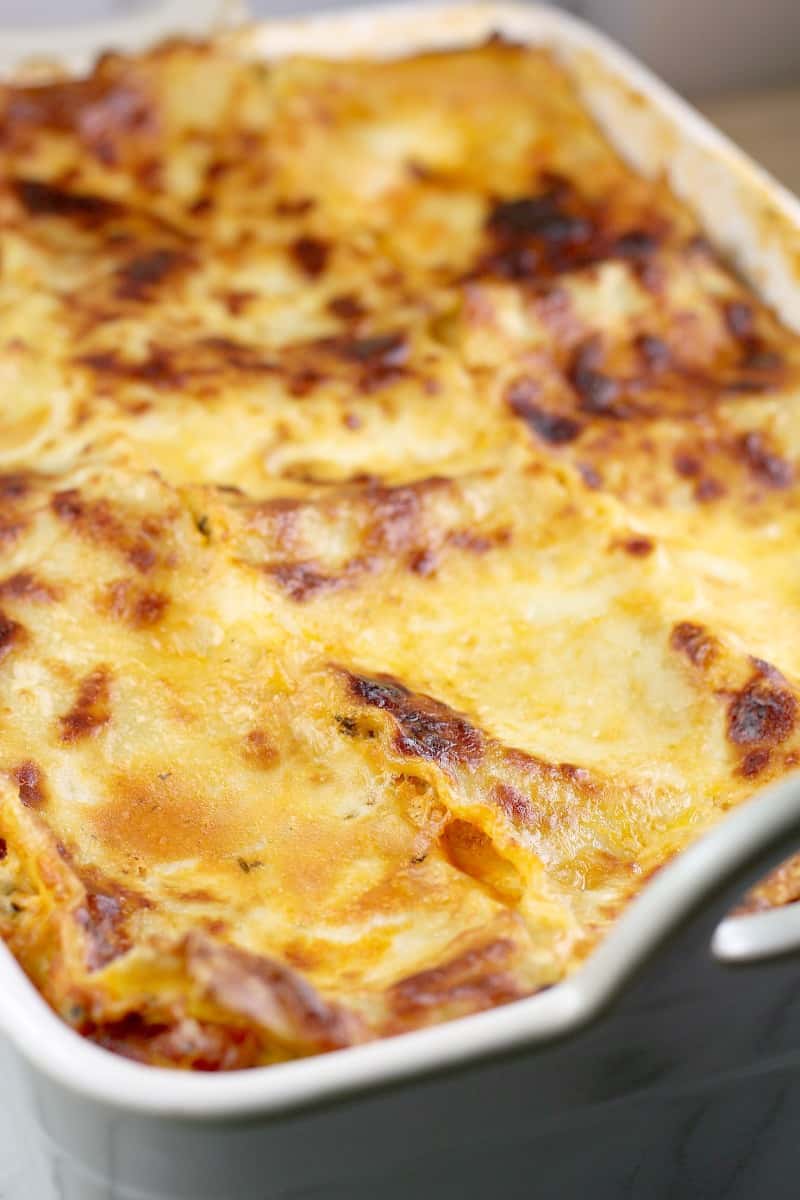 That's not what this is. This is a classic Americanized lasagna, and the best one you will ever have.
I am not making this vegetarian or vegan. I'm not adding chicken or spinach. I am not replacing the pasta with eggplant or zucchini. I am not adding shrimp instead of sausage. Not adding ground turkey instead of sausage. Not doing anything instead of sausage.
I am not making any fancy foodies changes, just giving out my tried and true recipe for a delicious homemade lasagna. Because there are few things more comforting, more endearing than a good old fashioned classic lasagna.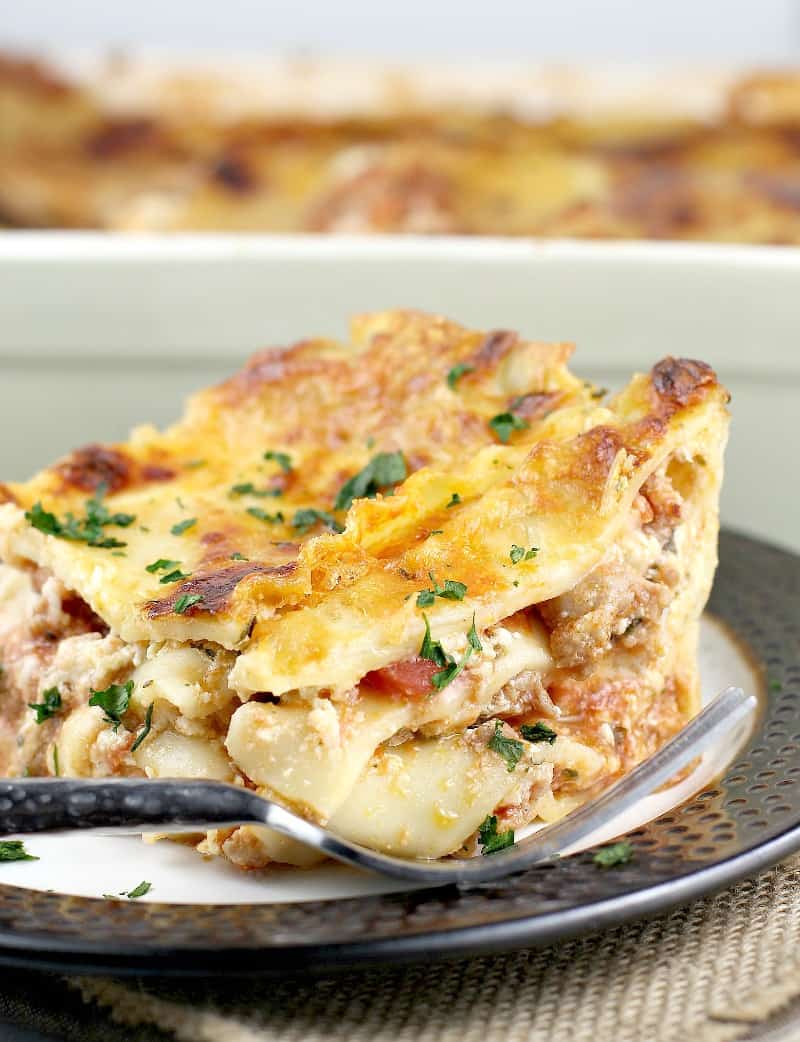 But, that said and oddly enough, it is actually pretty easy to mess up lasagna, and when we make a dish like lasagna, which admittedly takes some effort, the last thing we want to do is screw it up.
Ways to Screw Up Lasagna
In other words, don't make these mistakes…
Using too much marinara sauce giving you soupy lasagna.
Using straight up ricotta, which becomes cakey and dry while baking, without adding egg or béchamel.
Overcooking the noodles.
Using no-bake noodles, but then not adding more sauce and ending up with chewy, partially cooked noodles.
Using jarred spaghetti sauce.
Not putting sauce in the pan before the first layer of noodles.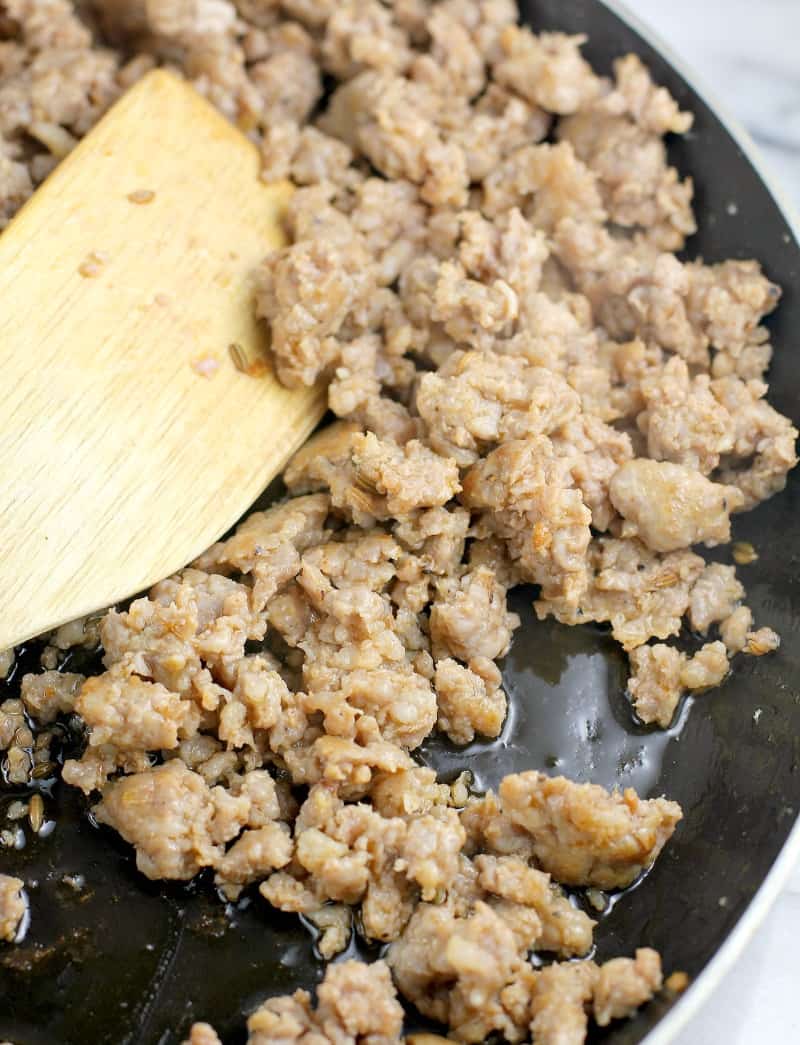 Tips for a Perfect Lasagna
These are the tricks I have tinkered with over the years that REALLY make all the difference to give you a scrumptious, luxurious, and amazingly good classic lasagna.
Use regular lasagna noodles and cook to just al dente. ensuring that our noodles are the perfect texture once the lasagna is fully cooked. They won't be mushy, and they will provide structure as intended.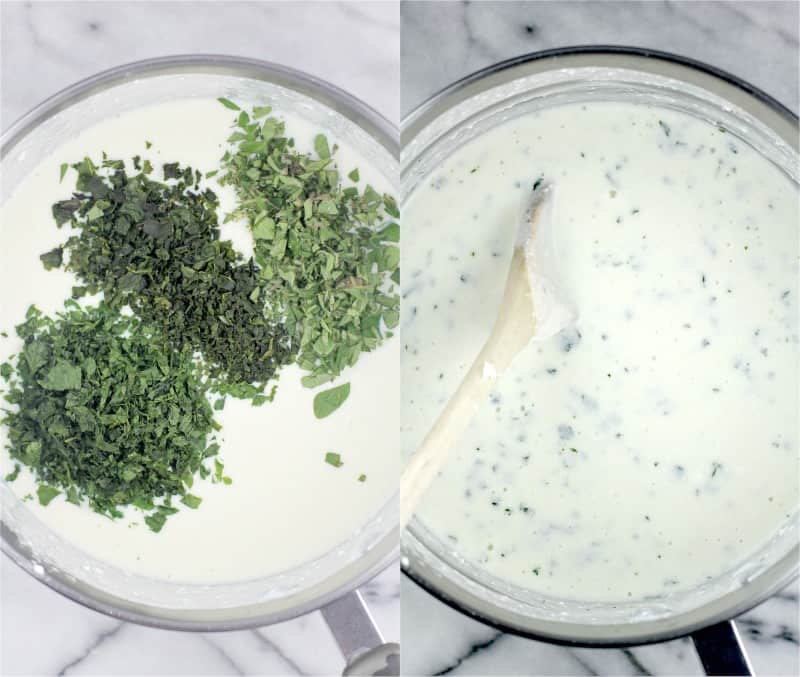 Add béchamel and egg to the ricotta making a white sauce. This sauce then melds with the meat and marinara for perfect flavor and consistency. No mouthfuls of dry ricotta.
Making the ricotta sauce is SO key, I really do want to stress this. I tinkered and tinkered with this for a really good classic lasagna recipe for years before I figured out that this sauce was the answer to give a glorious consistency in this, the best lasagna of my life.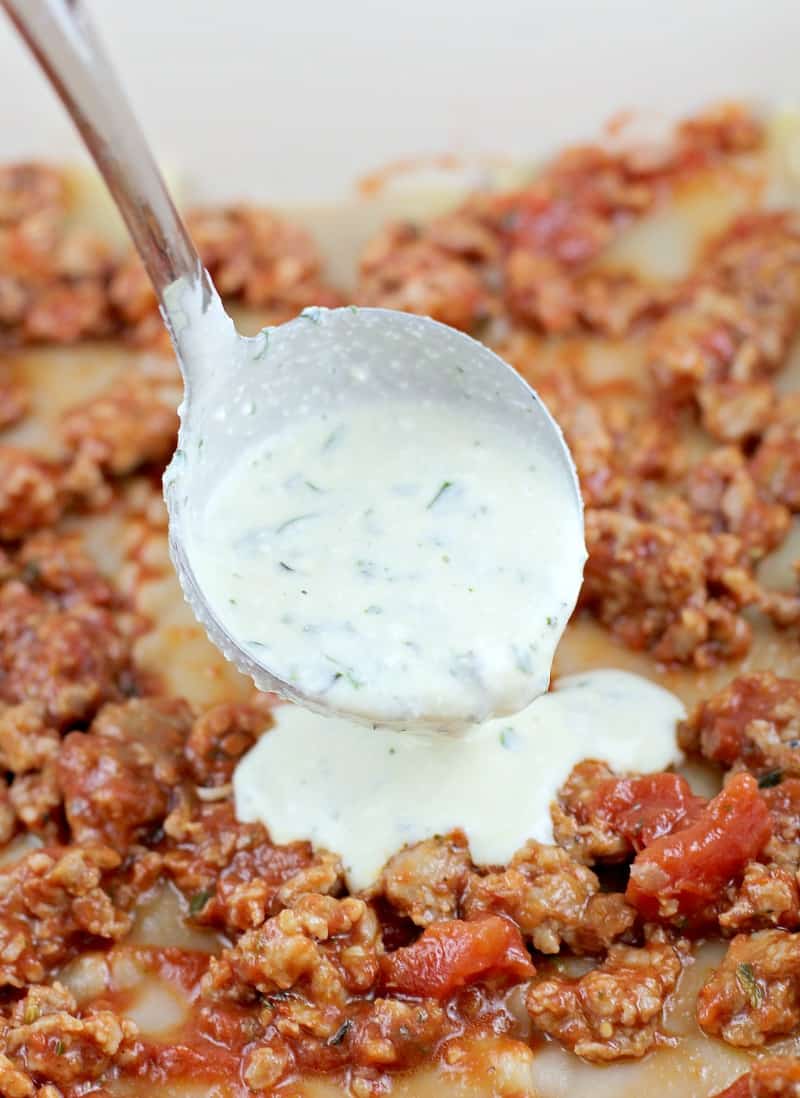 Fresh herbs! Loads of them. The brightness of flavor and lovely color from fresh herbs makes all the difference in this traditional lasagna recipe.
Making our own marinara. Making marinara is EASY, my recipe is especially good, and the depth of flavor is so much better than store-bought. This flavor, with the ricotta-herb sauce, makes all the difference.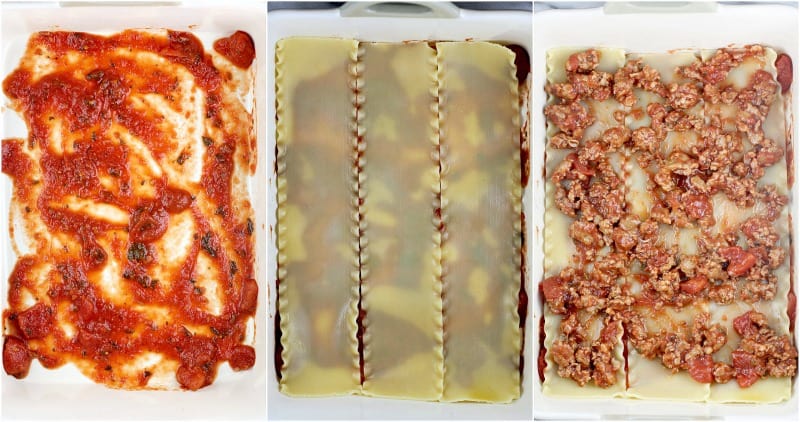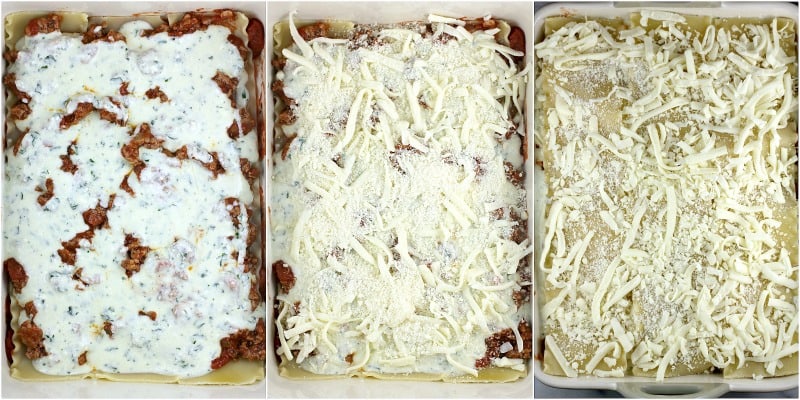 Bake uncovered, then tent with foil if the top starts to get dark. We want those bits of crunch and texture around the edges of our classic lasagna.
Get yourself a proper lasagna pan. While not required and you can use a 13×9 baking dish, I feel using a lasagna pan gives you the right lasagna and even less mess. This way all the lasagna ingredients and deliciousness are kept in the pan and do not simmer over while baking in the oven.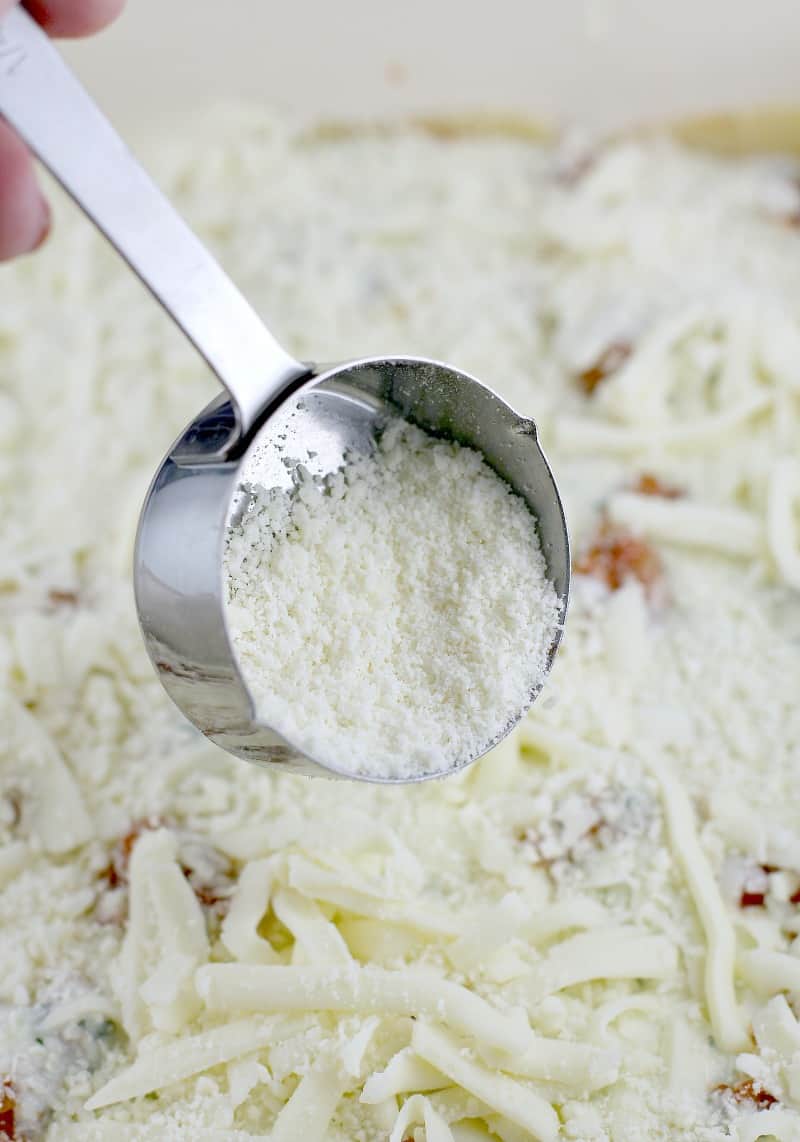 Be sure to use freshly grated parmesan. You can buy fresh parm already grated nowadays in the dairy or deli section at the grocery store, and that is what I did when I made this one in the photos.
What you do not what to do is use the stuff you find in the pasta aisle. the stuff with cellulose powder and anti-caking ingredients and such. That stuff is great for topping pizzas (that's what I do with it anyway), but it is really not what you want to put in your perfectly perfect lasagna because it will not melt. It will stay grainy. Nope nope.
So, use real fresh Parmigiano-Reggiano cheese.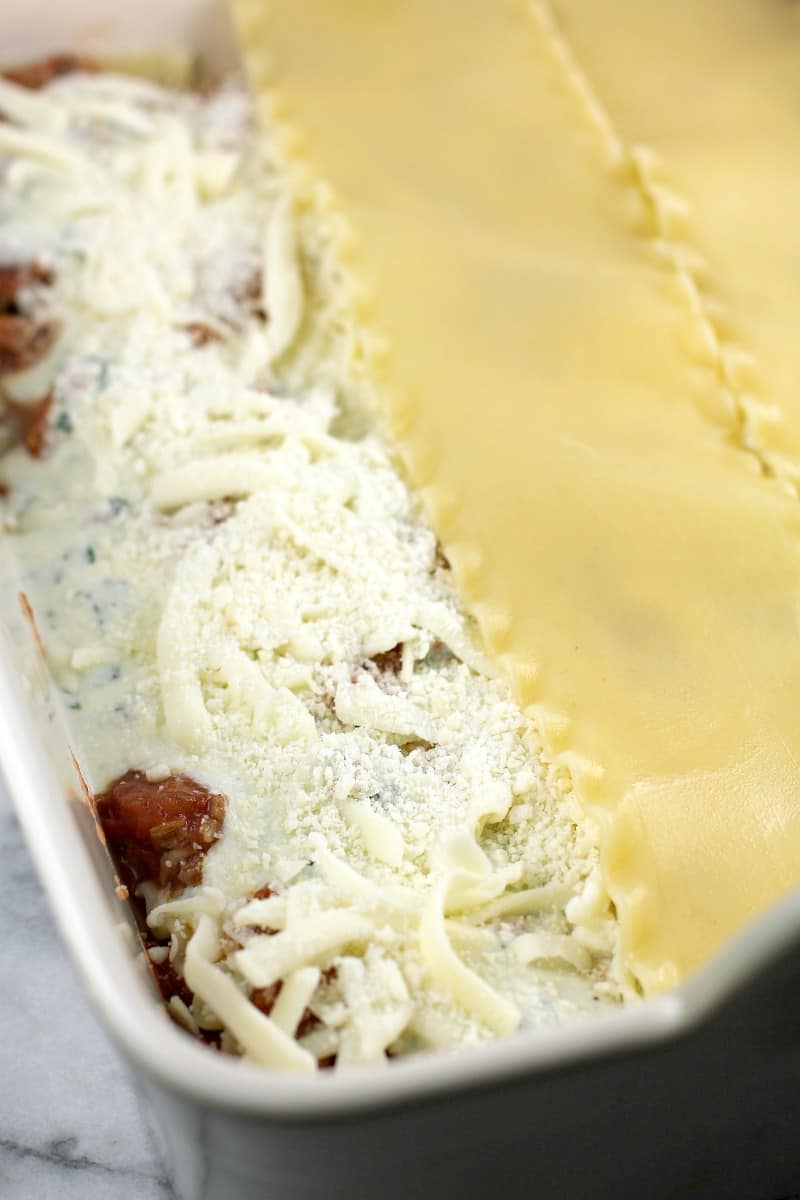 How to Make Classic Lasagna
How do we make these lasagna ingredients come together and become the amazing thing this dish is…
Make the meat sauce by browning sausage and adding marinara.
Make the ricotta-herb sauce by making a basic béchamel sauce, then adding fresh herbs and ricotta cheese.
Cook the noodles, drain, and flush with cold water so you can handle them.
Assemble our classic lasagna with 3 layers: sauce (a wee bit on the bottom of the pan) >> noodles >> meat sauce >> ricotta sauce >> cheeses >> Repeat.
Bake.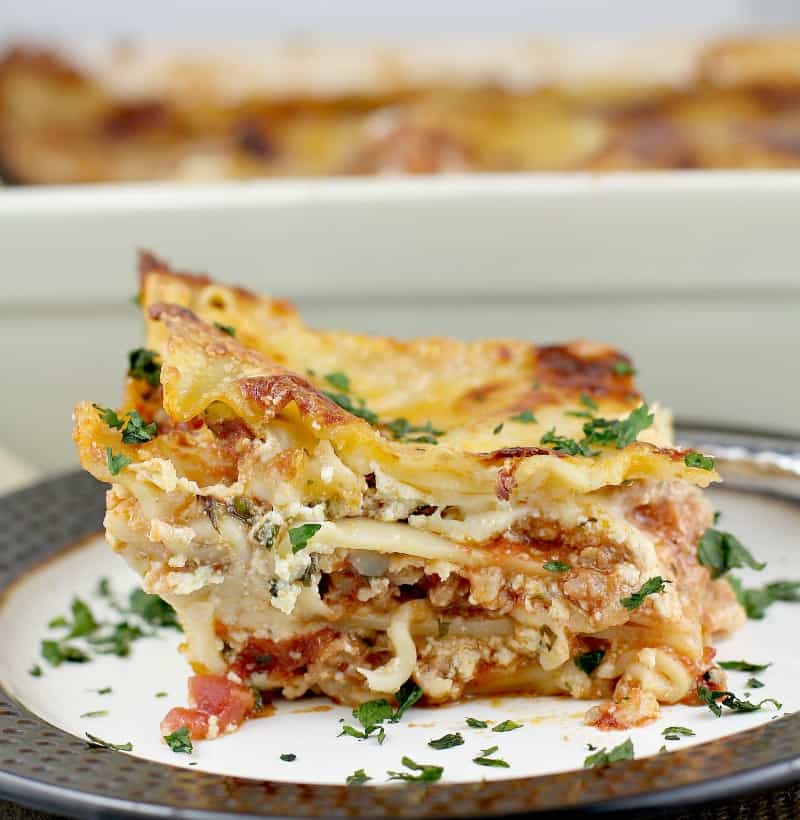 And just like all traditional lasagna recipes, and as we expect classic lasagna to be…. these married lasagna ingredients taste even better reheated the next day.
So enjoy this, one of my proudest favoritest most delicious of recipes. So much love and time has gone into this, and I love that part of the process. Some recipes come easier than others, and some not so much, but it is all worth it.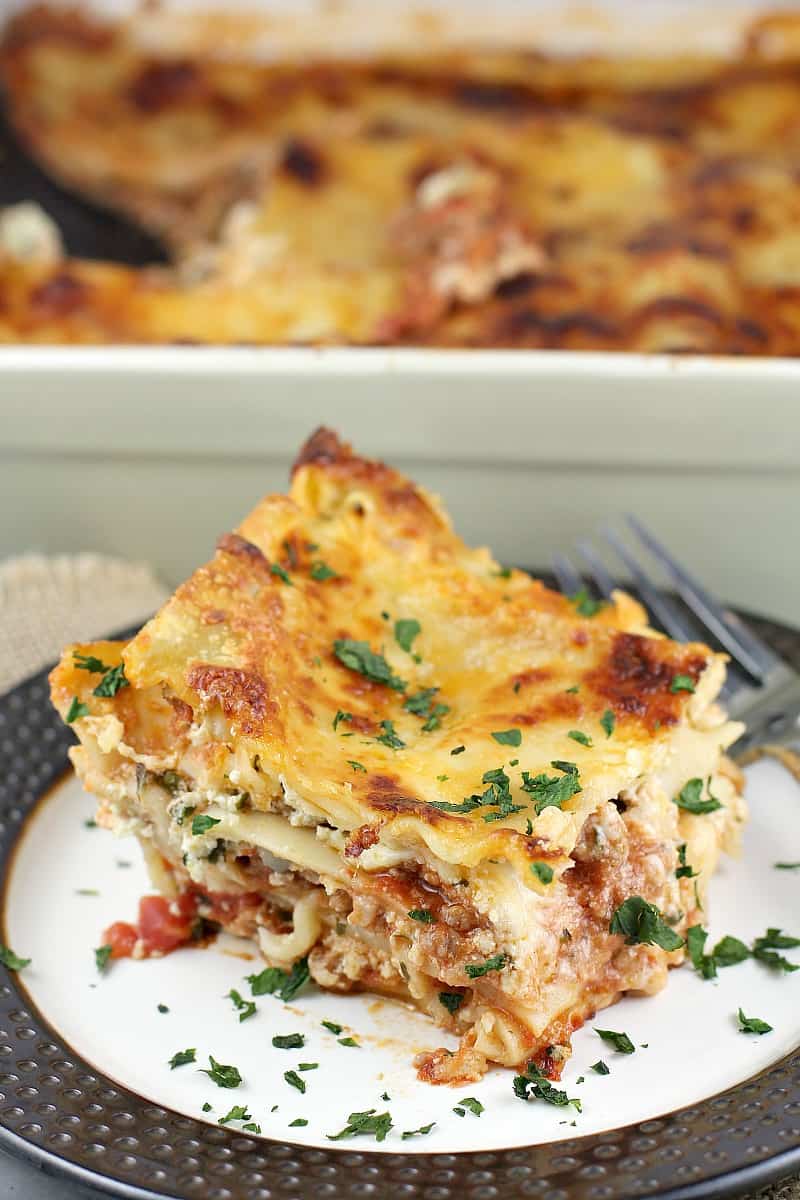 Here are more super comforting casseroles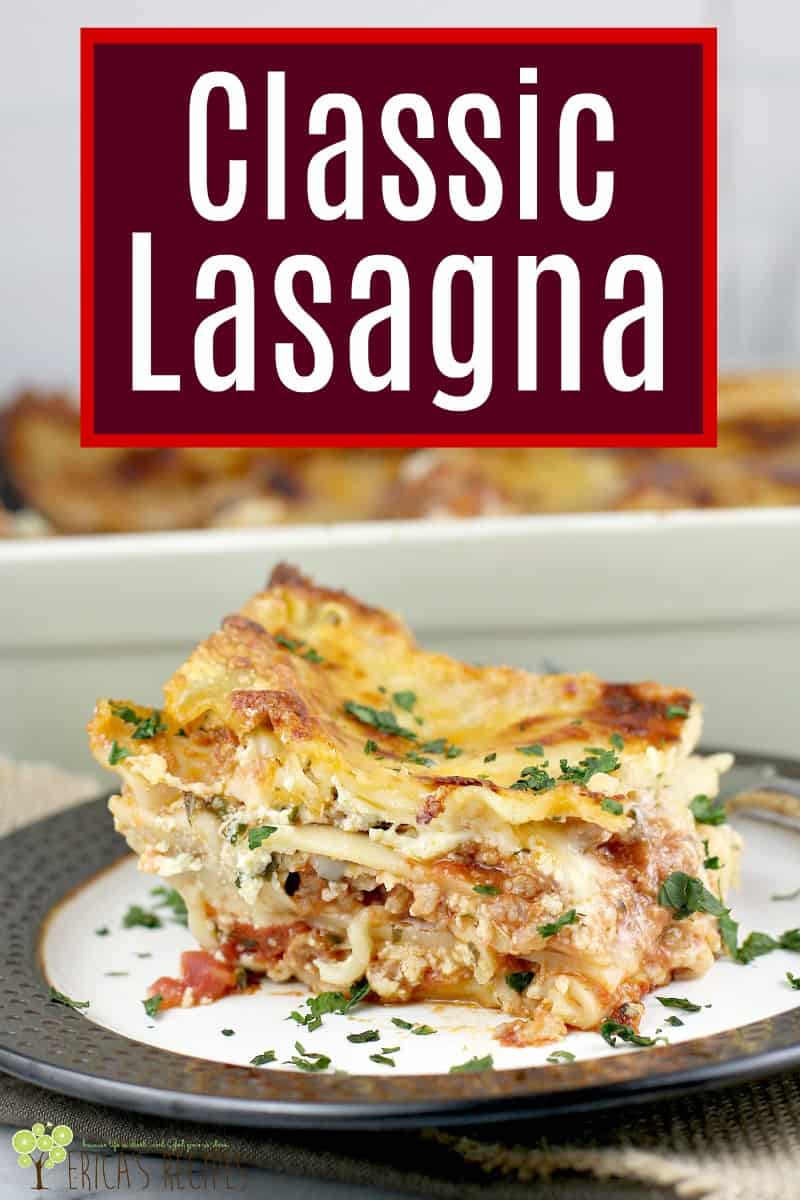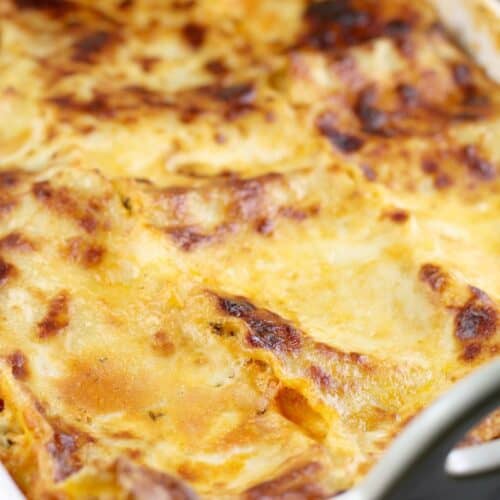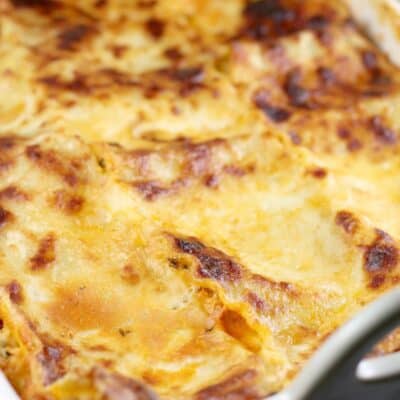 Classic Lasagna
Sausage, creamy ricotta and herb sauce, homemade marinara sauce, perfectly cooked noodles, and cheesy goodness make this classic lasagna recipe perfect.
Ingredients
For the Béchamel-Ricotta Sauce
2

Tbsp

unsalted butter

2

Tbsp

all-purpose flour

2

cups

milk

1

(15 oz)

container ricotta cheese

2

tsp

kosher salt

1

Tbsp

fresh oregano leaves

chopped

2

Tbsp

fresh Italian flat-leaf parsley

chopped

1

Tbsp

fresh basil leaves

chopped

1

large egg

lightly beaten
For the Lasagna
12

lasagna noodles

2 ½

cups

Homemade Marinara Sauce

divided

1 ½

lb

mild Italian sausage

casings removed, cooked, crumbled, and drained of fat

1

cup

freshly grated Parmigiano-Reggiano cheese

4

cups

shredded mozzarella cheese
Instructions
For the Béchamel-Ricotta Sauce
In a medium saucepan, heat the butter until melted. Add the flour and whisk until smooth. Over medium heat, cook the roux 2-3 minutes. Slowly add the milk, whisking constantly.

Cook ~5 minutes, stirring constantly, until thickened enough to coat the back of a spoon. Remove from the heat and set aside to cool a bit while you cook the pasta.

Once ready to assemble the lasagna, whisk in ricotta, salt, egg, and herbs into the béchamel.
For the Lasagna
Add 2 cups marinara sauce to the cooked sausage make a meat sauce. Set aside.

Bring a large pot of water to a boil.

Cook the noodles to al dente according to package directions. Drain and rinse briefly with cold water.

Spread the remaining 1/2 cup marinara sauce in a lasagna dish. Layer 3 noodles, 1/3 of the meat sauce, 1/3 of the béchamel-ricotta sauce, and 1/4 of each cheese. Repeat twice. Finish with a final layer of pasta and the last 1/4 of each cheese.

Bake uncovered at 350F until bubbly, about an hour. Tent with foil over top if the top starts to get too brown. Let stand 10 min before cutting.
Notes
Note, take care to watch this cook and when the top starts to darken, get some foil tented over to prevent burning.
Nutrition
Calorie count is purely an estimate calculated using an online application to serve as a guide and not to be taken as accurate nutritional information. Percent Daily Values are based on a 2,000 calorie diet.
Tried this recipe?
Leave a comment below and let me know!
~✿♥✿~