Sweet Winter Salad with Butternut Squash and Raspberries
Serve up the lettuces of the season, like chard, kale, and spinach, fresh sweetened with butternut squash and berries for a Sweet Winter Salad loaded with the vitamin goods.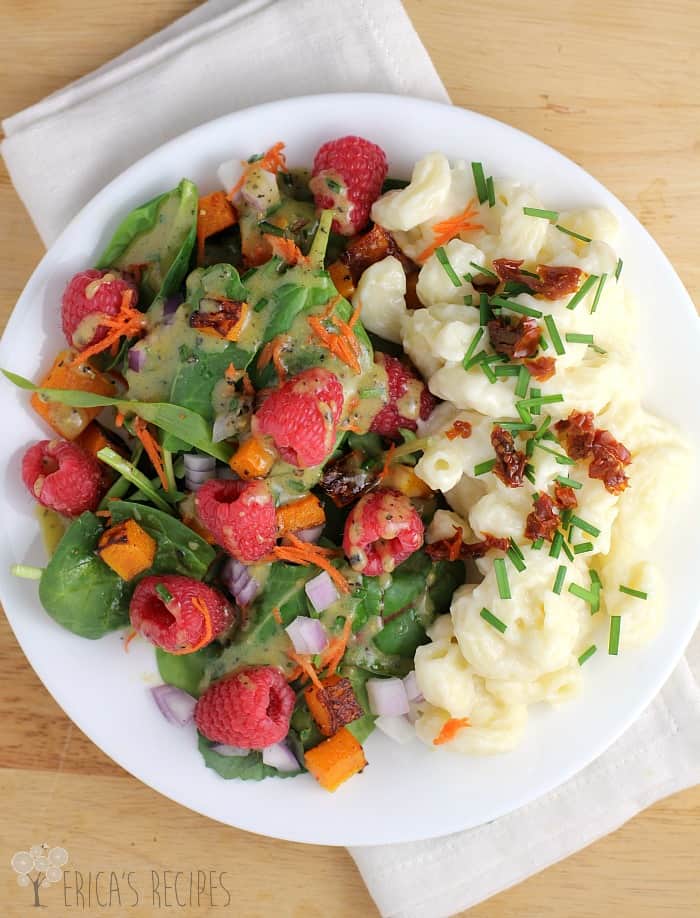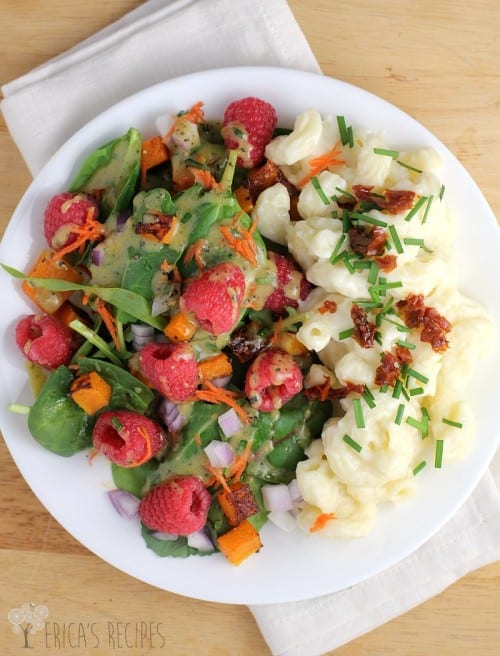 So as I am writing this post …as I am sitting comfy and happy from the holidays …I am dreading tomorrow. Because tomorrow, we return to school-sports-sleep-repeat. Ugg. The holiday break was nice (so. so. nice.), but tomorrow… Uggg.
Not to be a Debbie-downer, but I don't think I'm alone here. And it is time for me to start really thinking about the terrifying fact that I am registered for Ironman Louisville in October. Holy crap. My first full distance Ironman triathlon. Holy crap. And I admit to total slackage over the holidays too (and loved every minute of it ?) as I mentioned in my post a couple days ago, and I have not worked out in weeks. Which is fine – healthy even, to take the break. But I need to knock it off.
Clearly, this calls for a salad.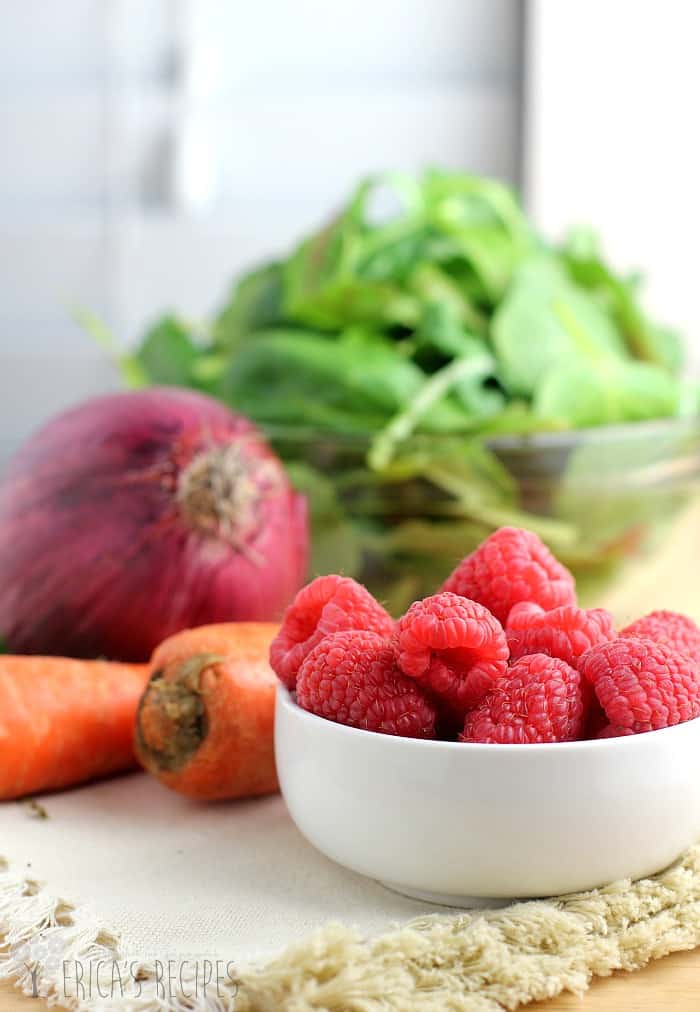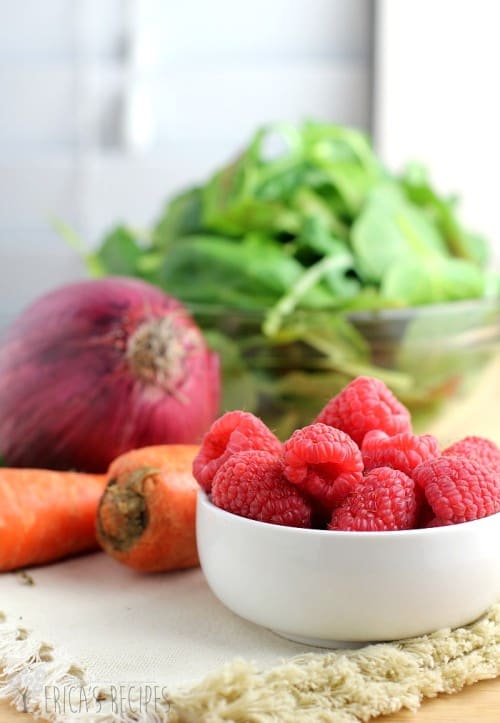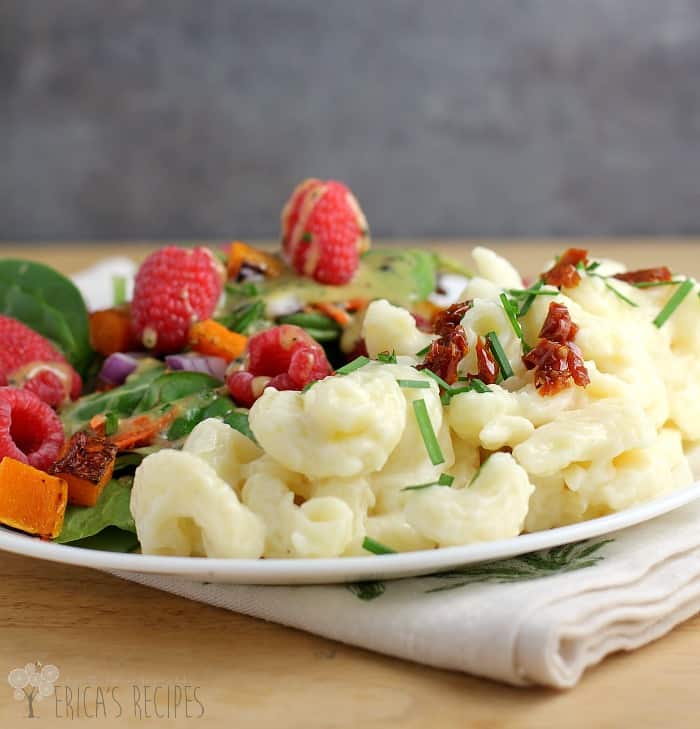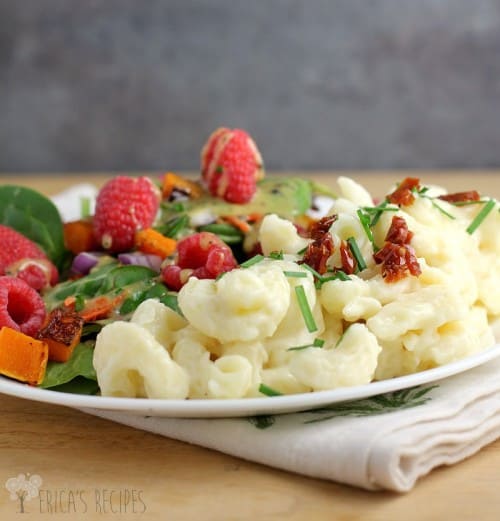 So if you look in this photo ↑, because mac and cheese ✋. Vermont White Cheddar specifically. C'mon guys I make all my meals and snacks usually but that isn't always possible or feasible or approachable, so I need hacks and shortcuts from time-to-time too. And the ingredient profiles in Lean Cuisine's new line (the Marketplace ones) are actually respectable. A big brand like Lean Cuisine coming out with options that are protein-packed and have organic ingredient options are you kidding me? I am stoked. I have the Sweet Sriracha Braised Beef (15g protein, 18g carbs) stashed in my freezer at work in case of emergency.
All the public clamoring for better food is working folks. You can see the progress in the grocery store. They aren't perfect, but they sure are a better alternative in a pinch than a fast food run.
Eating real food is finally in. And we all deserve that.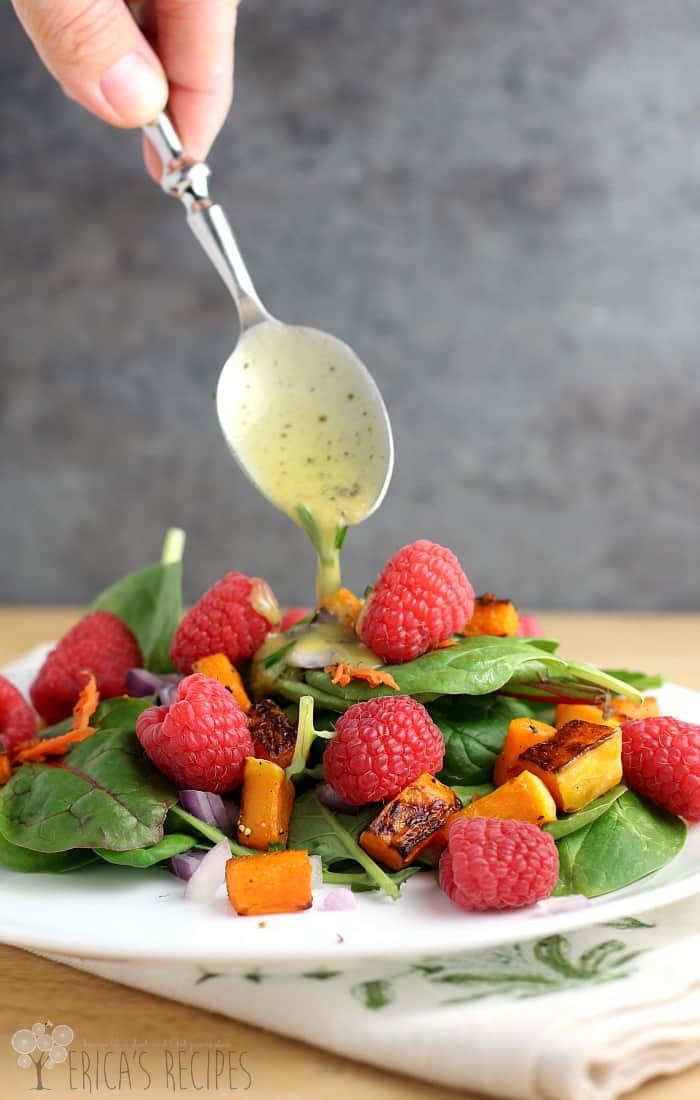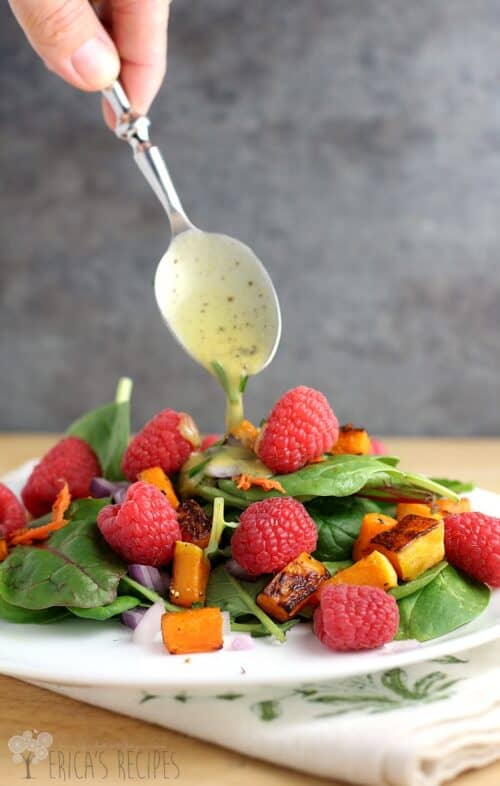 And then the salad. First off, a Dijon vinaigrette is just a perfect dressing to make because while light and healthy, it is also so creamy and satisfying because the mustard helps create the emulsion, upping the comfort level. Then we have baby winter greens, sweet raspberries and tender-sweet butternut squash. The tang from the dressing with the sweet squash and berries is fantastic.
Note on the raspberries – I live in Florida, and my store had raspberries on sale this week. If you cannot get raspberries …because it is January (I get it guys. I really do), then just substitute dried cranberries.
And hey, if you browse on down to the recipe …notice I also add carrot and red onion (which, let's be real, is actually purple.) So we are totally eating a rainbow here.✊
So that is it kids. Get in those greens, eat a rainbow. And have some yummy cheesy pasta on the side. The world is spinning fast and we need to keep up (not really, but I thought that sounded good) …or, better, quick recipes like this Sweet Winter Salad allow us more time to enjoy life. And be healthy doing it too.​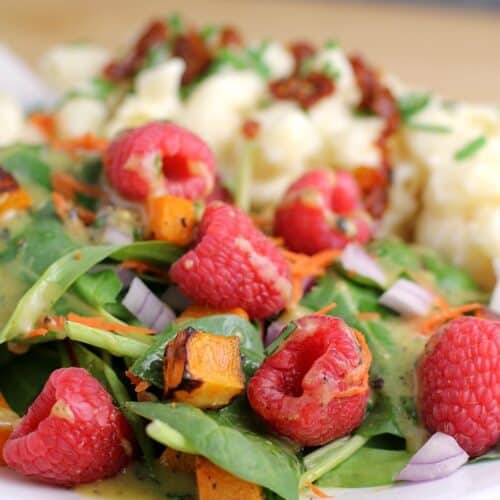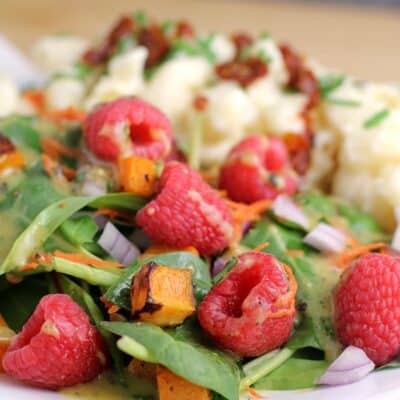 Sweet Winter Salad with Butternut Squash and Raspberries
Serve up the lettuces of the season, like chard, kale, and spinach, fresh sweetened with butternut squash and berries for a salad loaded with the vitamin goods.
Ingredients
For the salad
1

5 oz container mixed winter super greens, including Swiss chard, spinach, and kale

1

red onion

finely diced

4

large carrots

finely shredded

1

butternut squash

peeled, seeded, and diced (1/2-inch dice)

1

6 oz container raspberries
Instructions
Heat oven to 450F.

Toss the diced butternut squash in a light drizzle of olive oil and a pinch each of salt and pepper. Spread in a single layer on a baking sheet and roast at 450F for 8-10 minutes or until fork tender and lightly browned. Set aside and cool completely.

In a small bowl, whisk together the ingredients for the Vinaigrette.

To assemble the salad, on each of 4 plates layer in the following order: salad greens, carrot, onion, roasted butternut squash, and raspberries. Drizzle vinaigrette over top and serve. Yields 4 servings.
Notes
If good, fresh raspberries are not available, substitute with 1/4 cup dried cranberries.
Calorie count is purely an estimate calculated using an online application to serve as a guide and not to be taken as accurate nutritional information. Percent Daily Values are based on a 2,000 calorie diet.
Tried this recipe?
Leave a comment below and let me know!
~✿♥✿~​