Spinach, Feta, and Herb Egg White Omelet
This Spinach, Feta, and Herb Egg White Omelet is so light, healthy, and delicious, it will make you GLOW! Meals like this are key to my life, so in this post I am also going to share a real day of food for me. So, the zillion of you that have asked me, "but Erica what to you really eat", this is for you…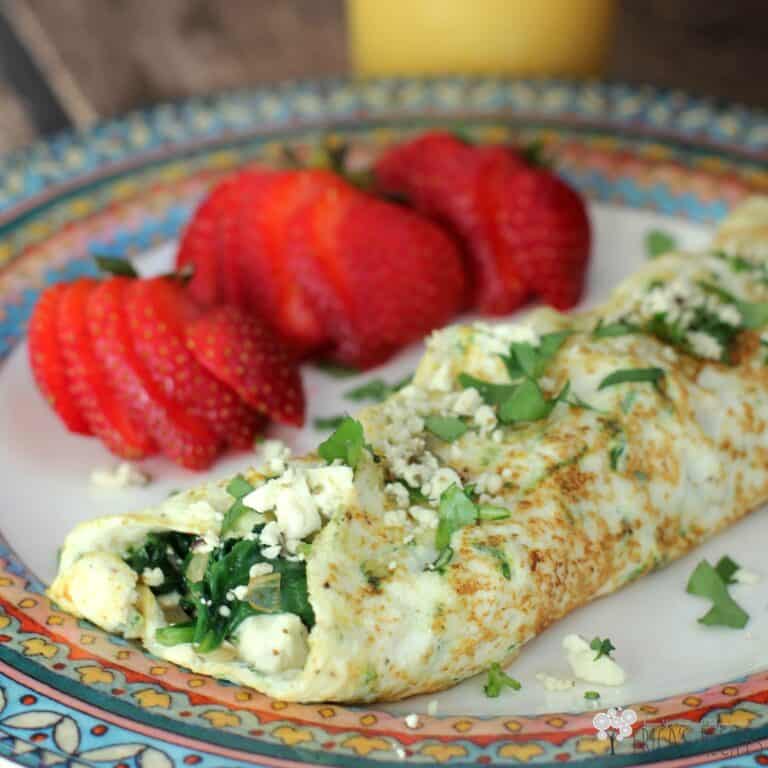 OK. …no, I don't eat all the rich foods I post (GASP!) …but I do taste them. I literally just taste. Now, there are times – like with my Poblano and Pepperjack Popovers and Garlic, Bacon, and Beer Mac 'n Cheese, where I really do just totally lose it. I ate 5 of those popovers …right then. And while I may literally feel the food going directly to my ass, I try to not feel guilty because I eat so healthy the rest of the time.
See, I used to have a mantra – "be good during the week, then go nuts on the weekend". In my 20s, that worked great. In my 30s, it worked alright. My 40s – BAM! Badonkadonk. So I have had to change my habits …Now, instead of going hog wild on the weekend, I still splurge but I have changed my definition of what a splurge is. Translation: portion control. Nothing is forgidden, I just watch how much.
The rest of the time, my diet is calculated to help me reach my goals. I have posted many recipes focused on 'carb-loading' before a triathlon like my Orzo Power Salad or Zucchini Spaghetti with Kale Pesto. But that is only the week or so leading up to the event. Today, I am 6 weeks out from my next tri, so I am trying to build muscle. My diet is very protein focused because muscle = power. I am eating lots of cottage cheese, nuts, fish, and egg whites …lots of egg whites especially because they are the leanest and most bioavailable source for protein. I have them hardboiled in the morning and in an omelet at night with lots of veggies.
Here's an example day, breakfast, lunch, and 2 snacks, packed the night before to bring to work the next day…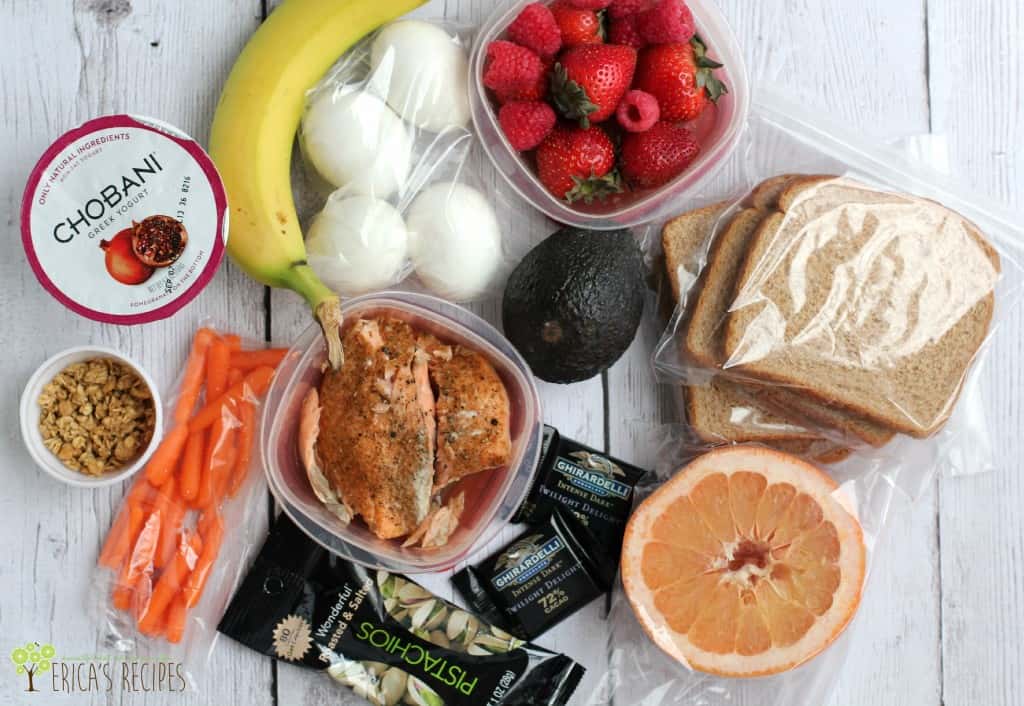 I have an early morning banana and coffee before my first workout. Then breakfast #2 is 3 whites and 1 whole egg, 1 c berries, and 2 slices whole wheat toast with 1 T almond butter. …and more coffee. Greek yogurt and 2 T granola are snack #1. Lunch is a fresh salmon and avocado sandwich, grapefruit, and carrots. Snack before my second workout is nuts and 2 dark chocolate squares. Then this Spinach, Feta, and Herb Egg White Omelet and veggies is a typical dinner. Along with a skinny cocktail Ruby Refresher …cuz, you know.
All together, this comes to over 100g protein (Woop!) and a little over 1600 calories total for the day which may be a bit of a deficit depending on my workout schedule. Here's this week's plan:

Today, I biked 21 miles and as I'm typing, I'm munching on spinach and kale corn chips with hummus. Other days, I may add something like some brown rice or a sweet potato with black beans with dinner and Gatorade after workouts. But I really want to stress the point that it's super super important not to eat too little or the body will burn muscle for energy and metabolism will go down – not attractive.
So that is a typical day of food for me …And now dinner! Totally random, but I have been craving spanikopita lately so I went there with this omelet. The flavor punch comes from the garlic and herb feta – just a little sprinkled in, around, over, and above 🙂 makes this omelet sooo satisfying! Easy to make and ready in just a couple minutes, perfect any time of day. It makes me happy happy inside and out because with meals like this, it isn't dieting – this is living.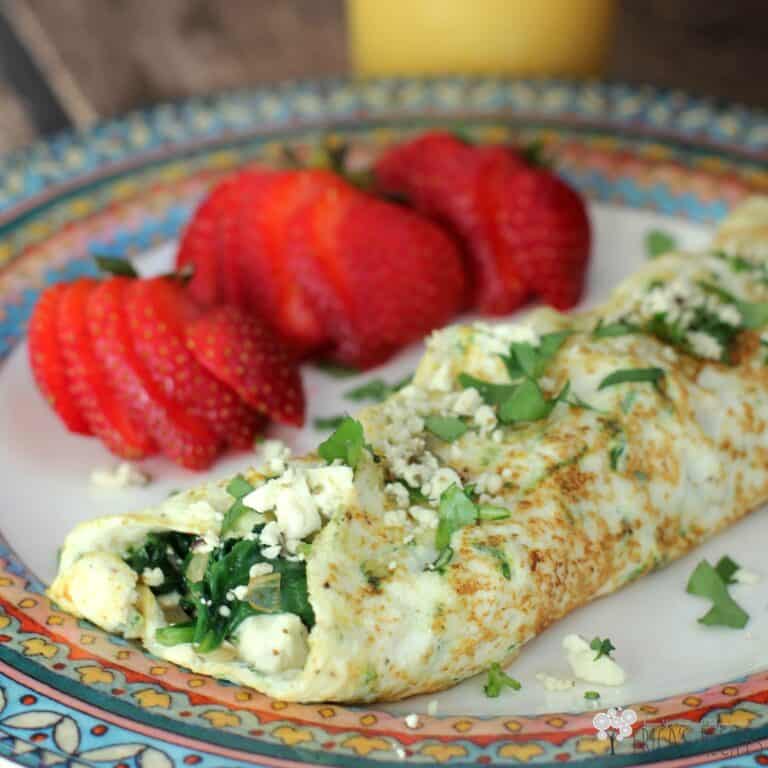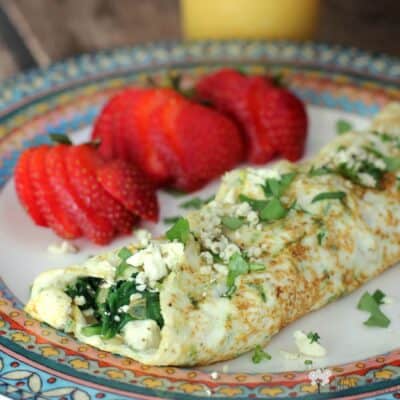 Spinach, Feta, and Herb Egg White Omelet
Ingredients
1

tsp

extra virgin olive oil

¼

cup

onion

¼-inch dice

1

small clove garlic

minced

2

cup

packed

fresh baby spinach leaves

3

Tbsp

fresh chopped parsley

divided

cooking spray

preferably olive oil

3

egg whites

lightly beaten

1

pinch

kosher salt

1

pinch

fresh cracked pepper

1

pinch

Old Bay seasoning

optional

2

Tbsp

garlic and herb feta cheese

divided
Instructions
Heat the olive oil in a medium-sized, nonstick skillet. Add the onion and saute until lightly browned. Add the garlic, spinach leaves, and 1 tablespoon parsley. Cook, tossing, until the spinach is nice and wilty. Remove the spinach-onion mixture to a plate and set aside.

With a paper towel, wipe out the nonstick pan. Spray the pan well with olive oil and heat over medium heat. Lightly mix in the salt, pepper, Old Bay, and 1 tablespoon parsley into the egg whites. Add the egg whites to the pan. Let cook until just about cooked through (don't touch it!). Add the spinach-onion mixture down the middle of the pan over the egg whites. Sprinkle 1 tablespoon feta cheese.

Using a spatula (or two - I use a spatula and rubber spatula together), gently fold one side of the egg whites over top the spinach. Repeat with the other side to form the omelet (it will probably tear a little since the egg whites are delicate - this is ok! mine did).

Transfer omelet to serving plate. Sprinkle the remaining feta and parsley over top and serve. Yield: 1 omelet.
Nutrition
Calories:
150
kcal
(8%)
|
Carbohydrates:
6
g
(2%)
|
Protein:
16
g
(32%)
|
Fat:
8
g
(12%)
|
Saturated Fat:
1
g
(6%)
|
Monounsaturated Fat:
3
g
|
Sodium:
217
mg
(9%)
|
Potassium:
440
mg
(13%)
|
Fiber:
1
g
(4%)
|
Sugar:
1
g
(1%)
Calorie count is purely an estimate calculated using an online application to serve as a guide and not to be taken as accurate nutritional information. Percent Daily Values are based on a 2,000 calorie diet.
Tried this recipe?
Leave a comment below and let me know!
~✿♥✿~