Garlic, Bacon, and Beer Macaroni and Cheese. This ridiculously good macaroni and cheese recipe, with cheddar cheese spread, bacon and cheese, and roasted garlic, has become a cult classic in our home, and it is my most requested recipe and just might be the best mac and cheese recipe ever. Try it once, and you will be hooked.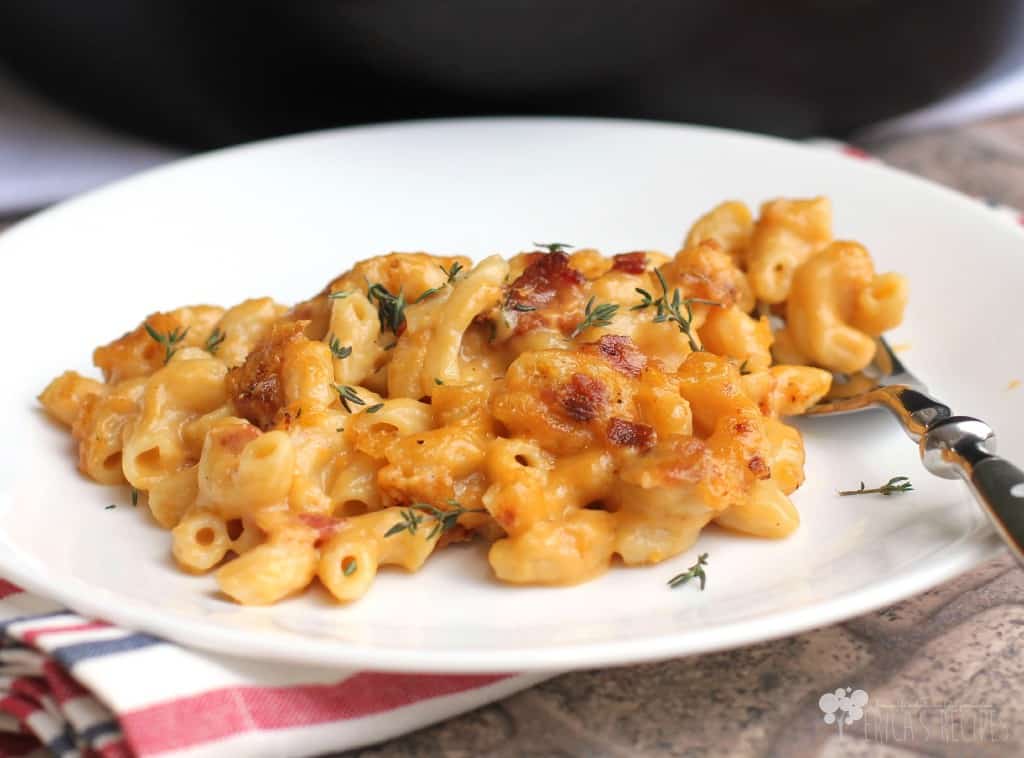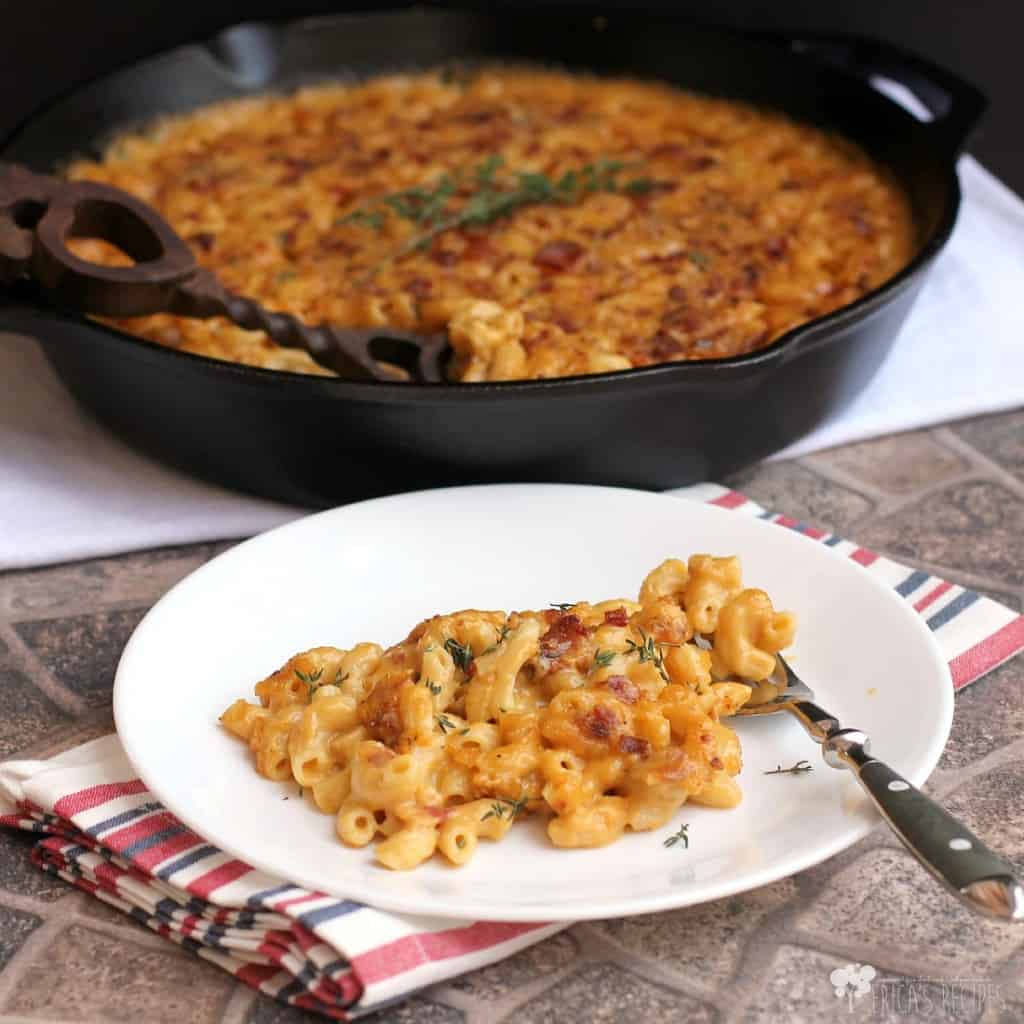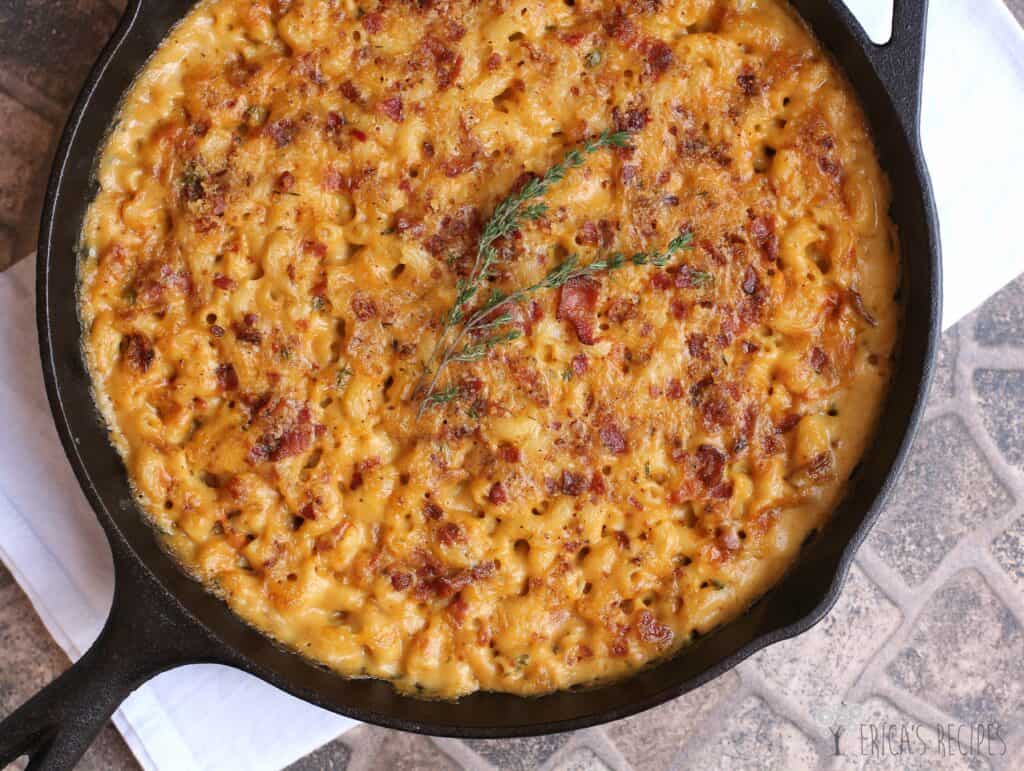 FIST BUMP!! This is just about one of the most mind-blowing things I have ever made, so I'd get out the fat-pants if I were you. Because you are going to love this. The best mac and cheese recipe ever. Why? Because:
Garlic
Bacon
Beer
Macaroni and Cheese.
Just let that sink in for a minute. Am I right? ..YES.
It is so obvious – why didn't I think of this macaroni and cheese ages ago! I made this to go with our fourth of July dinner, along with Whole Grilled Snapper and Grown-up Berry Shortcake, and this creamy mac 'n cheese just made the whole day …of course, in addition to time with my family, Florida sunshine, fireworks, celebrating the birth of our nation, yada-yada-yada.
Now I have to warn you, this is crazy garlicky and hoppy in an awesome, cheesy, crazy garlicky, cooked-in-beer-sort-of-way. Holy depth of flavor! So you have to commit. You have to go for it and just make this. Just do it. Because it is awesome …Then write me and tell me about it 😬.
This recipe is a modification, adaptation, conglomeration of a couple of my favorite recipes and ingredients. What we do is take my traditional Macaroni and Cheese and add elements from my Cheddar Beer Pumpernickel Bread Dip – namely, beer and pub cheese. Then also garlic and bacon and WHOOOP. We are happy happy. Other than those additions, plus a little fresh thyme, this is a standard macaroni and cheese recipe: make roux, add milk, add cheese. All of my macaroni and cheese recipes are around that foundation, I just mess with the ingredients ratios and add fun flavors like here.
So that's it folks! Garlic, Bacon, and Beer Macaroni and Cheese, the best mac and cheese recipe ever. Like I said, try it once and you will be hooked.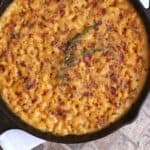 Garlic, Bacon, and Beer Macaroni and Cheese
Garlic, Bacon, and Beer Macaroni and Cheese. Try it once, and you will be hooked.
Ingredients
6

strips bacon

cooked and crumbled, divided

4

T

unsalted butter

divided

3

T

all-purpose flour

2

large cloves garlic

minced

1-1/2

t

fresh thyme leaves

divided

2

c

milk

3/4

c

stout beer

such as Guinness

1

t

kosher salt

pinch

fresh cracked pepper

2

c

shredded sharp cheddar cheese

1/2

c

sharp cheddar cheese spread

See Notes

8

oz

elbow macaroni

1/2

c

panko breadcrumbs

garnish: fresh thyme leaves and couple pinches barbecue seasoning such as Chef Prudhomme's or my Grilling Rub for Chicken
Instructions
Heat oven to 350F. Bring a large pot of water to a boil.

In a medium saucepan, heat 3 T butter with the flour over medium heat, whisking until bubbly. Cook 2 minutes. Add the garlic and 1 t thyme, and cook an additional minute. Slowly whisk in the the milk and beer. Heat, stirring constantly, a couple minutes until quite warm but not boiling. Reduce heat to medium-low, add both cheeses, salt, and pepper, and cook, whisking, until smooth. Remove from the heat. Stir in half the bacon.

Cook the macaroni to al dente according to package directions in salted water. Drain and add to the cheese sauce. Transfer to a 2-qt baking dish.

In a small saucepan, melt the remaining 1 tablespoon butter. Add the panko, remaining 1/2 t thyme, and remaining bacon. sprinkle over the macaroni. Bake at 350F for 20-25 minutes until bubbly. Serve garnished with fresh thyme leaves and a pinch of barbecue seasoning. Yield: 6-8 servings.
Recipe Notes
By sharp cheddar cheese spread, I'm talking about the pub-type spreadable cheese, found in the dairy aisle, that comes in a tub. I have tried Wispride, Merkts, and Kaukauna brands, and they all work for this recipe.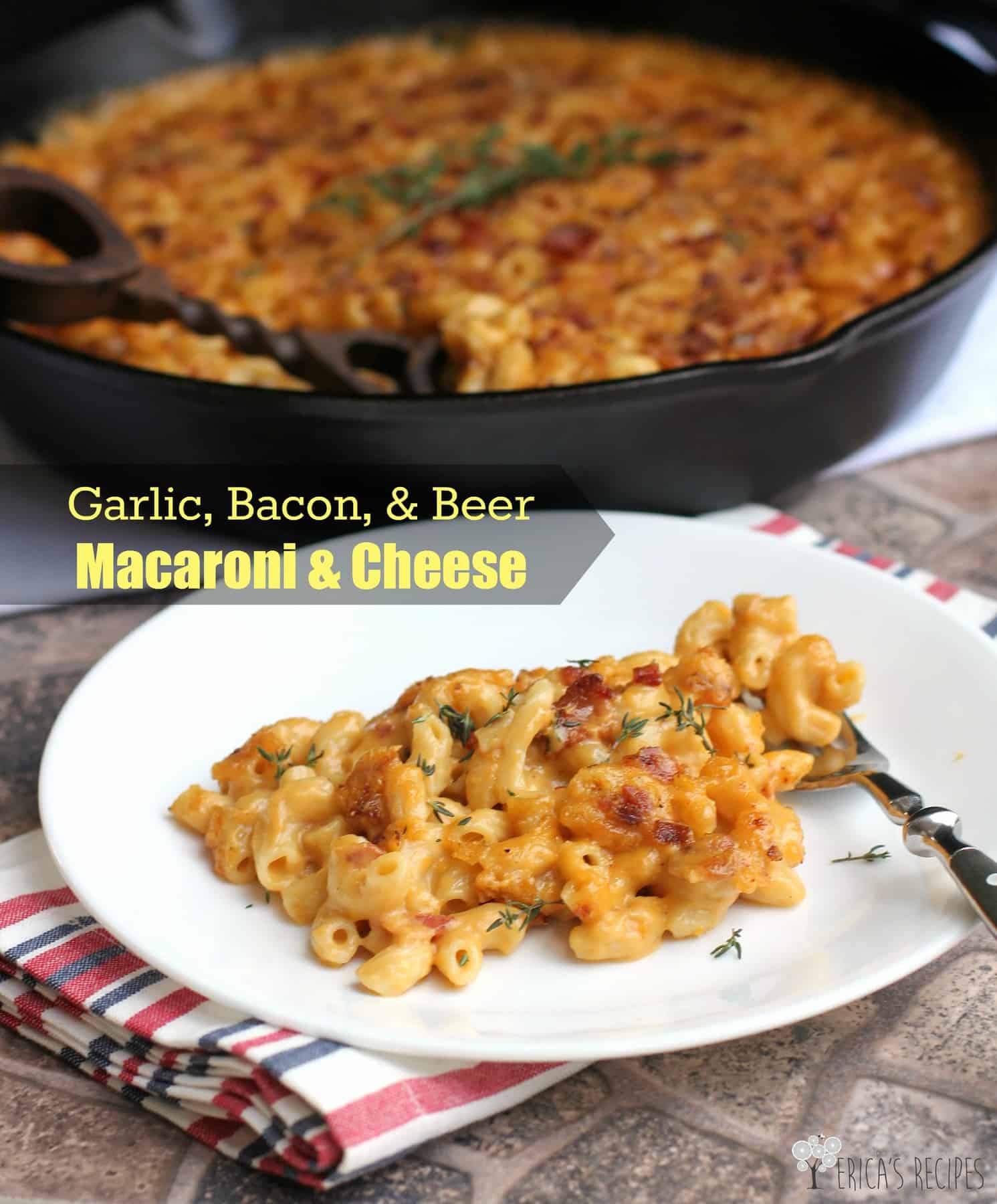 ~✿♥✿~
If you love this recipe, check out some of my other Macaroni and Cheese recipes