Cheddar & Beer, Pumpernickel Bread Dip is a recipe from my childhood and lifelong favorite bread dip of all time. Of course you can use other bread, but the match this hoppy cheesy dip makes with pumpernickel bread is magical.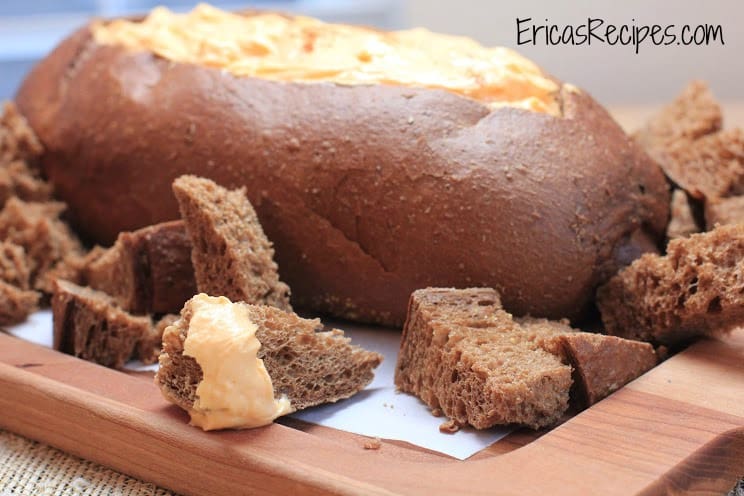 This recipe is another that conjures up memories of childhood. Every evening, whether we had just commuted home from Boston or, on weekends, on our sailboat, my grandfather would have a mini happy hour – an Old Fashioned to drink and a little basket of cheese and crackers that my grandmother would set up for him. Cheese and crackers are a constant in my home still. Or, in this case, cheese and bread. My mom often made a bread dip recipe similar to this one.
Cheddar & Beer, Pumpernickel Bread Dip
2015-01-29 12:35:05
Ingredients
8oz Wispride or Kaukauna cheddar cheese spread
8oz cream cheese
¼ c pumpkin beer or any stout beer (such as Shock-Top Pumpkin Wheat Ale)
dash garlic powder
sprinkle Worcestershire
loaf of pumpernickel bread
Instructions
Combine and serve in a carved out loaf of pumpernickel bread. Reserve the bread cubes for dipping.
Erica's Recipes https://ericasrecipes.com/
~✿♥✿~