Maple Pumpkin Crisp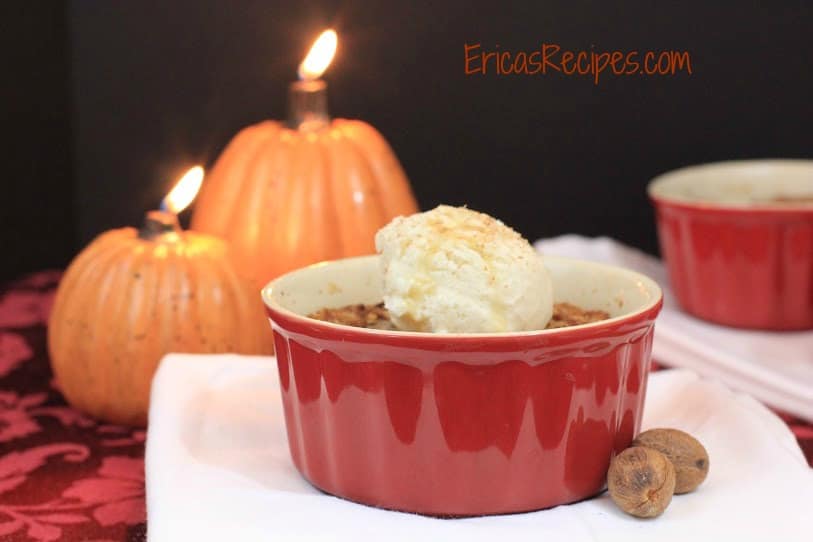 This dessert has it all – it's seasonal, it's easy to make, leftovers reheat well, it's got pumpkin, and it just tastes amazing! This recipe was inspired by one published in the 2005 issue of Southern Living.
Maple Pumpkin Crisp
1 (15oz) can pumpkin
1 c 2% or nonfat evaporated milk
1 c sugar
1 t pure vanilla extract
2 T pure maple syrup, plus additional for drizzling
1/2 t cinnamon
1 (18.25-ounce) package butter flavor cake mix
3/4 c finely chopped pecans
3/4 c unsalted butter, melted
vanilla ice cream
ground nutmeg (for sprinkling)
Stir together first 5 ingredients. Pour into a 13×9 baking dish or into 4 (7oz) ramekins (see Note*). Sprinkle the cake mix evenly over pumpkin mixture, then sprinkle with pecans. Drizzle the butter evenly over the top.
Bake at 350 for 1 hour (if using a 13×9 dish) or 45-50 minutes (if using 4 ramekins) until golden brown and a little puffed in the middle. Remove from oven, and let stand 10 minutes before serving. Serve warm or at room temperature with vanilla ice cream on top. Sprinkle with nutmeg and drizzle more syrup. Serves 8.
*Note: I've made this in a 13×9 dish and in the larger ramekins as pictured, and I really prefer the presentation in the ramekins. However, my larger ramekins are 2 servings each (I just ate half of one as I type, and I'm quite full). I think the best presentation would be in 8 (3 or 4 oz) ramekins (which I do not own) so each one would be a single serving. Cooking time on those would probably be ~30-40 minutes.
~✿♥✿~