Mexican Poutine with Smoked Cheddar Chile Queso
Mexican Poutine has it all! Crispy French fries, juicy chorizo sausage in ranchero sauce, jalapeno, green onion, queso fresco cheese, and a smoked cheddar cheese and green chile queso to die for. This amazing spin on poutine is an insanely delicious recipe and new personal favorite for me!
You guys! Just freaking LOOK at what I made. I make up new recipes all the time, and ones I love I publish. But THIS is different. This recipe for a Mexican-inspired poutine is special. This one has my heart. The ingredients layer together and flavors combine for such a yummy experience I just cannot even.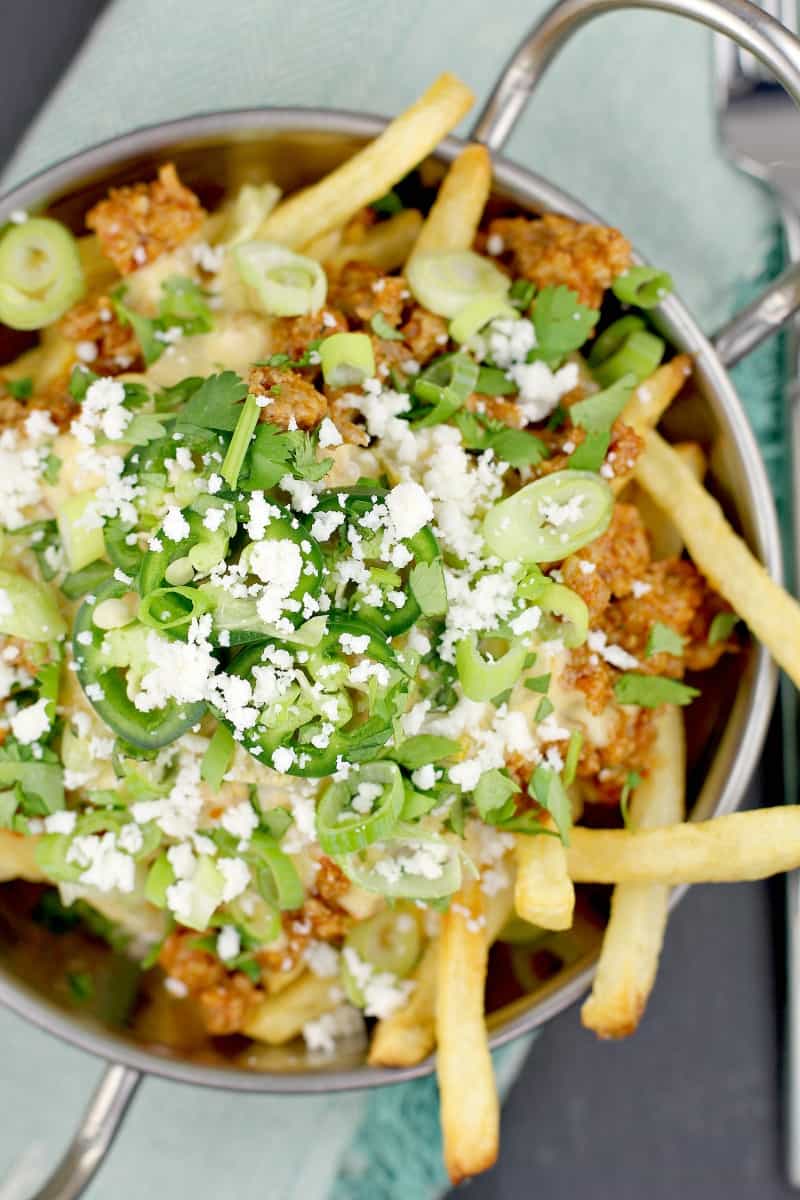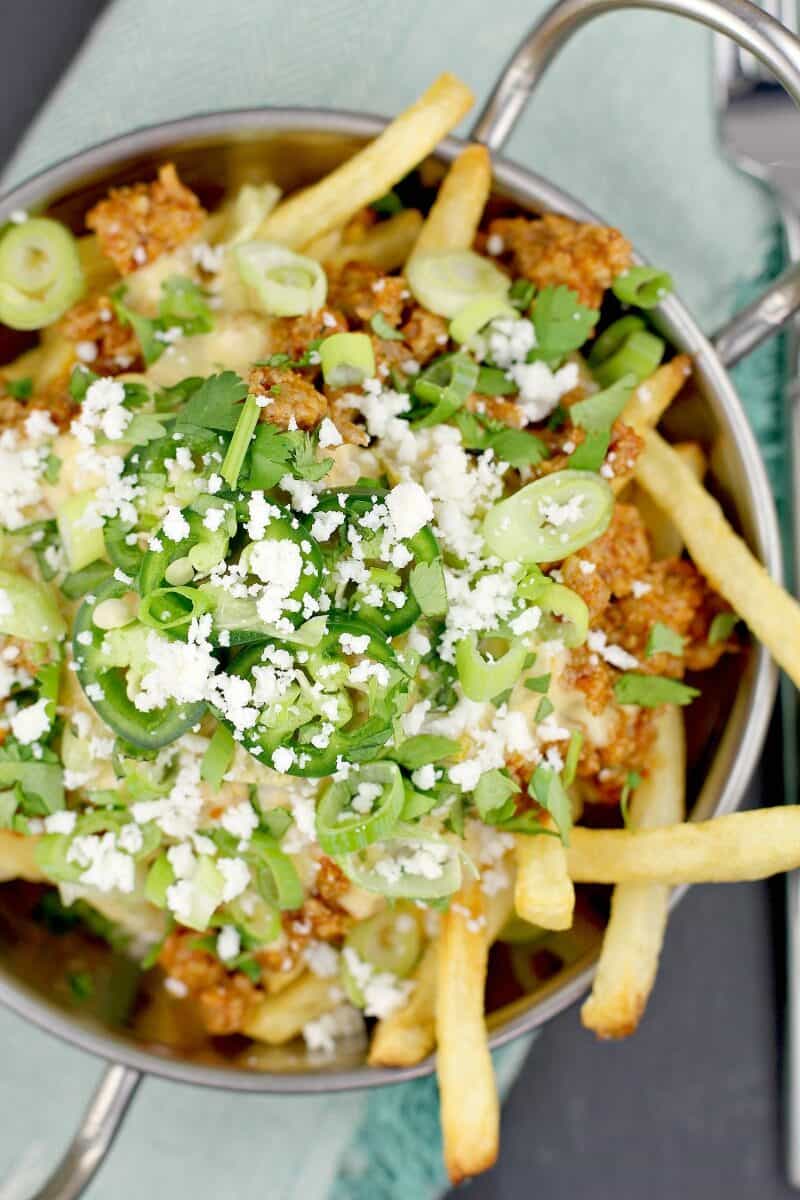 What even is poutine
Poutine is the national dish of Canada, and it is pretty random to be honest. Invented sometime in the 1950s, poutine is French fries topped with cheese curds and gravy. Yep, that's it. The internet is not quite sure where exactly poutine originated in Canada, but it did and grew into the tradition it is today.
Sounds basic enough, and it is actually delicious. More and more, I see it on menus especially at local pub-type eateries, so I feel like it is growing in popularity in the U.S.
There is even a food stop called The Daily Poutine at Disney Springs in Orlando, Florida, where you can grab yourself some. So, poutine is even on Disney's radar which says a lot.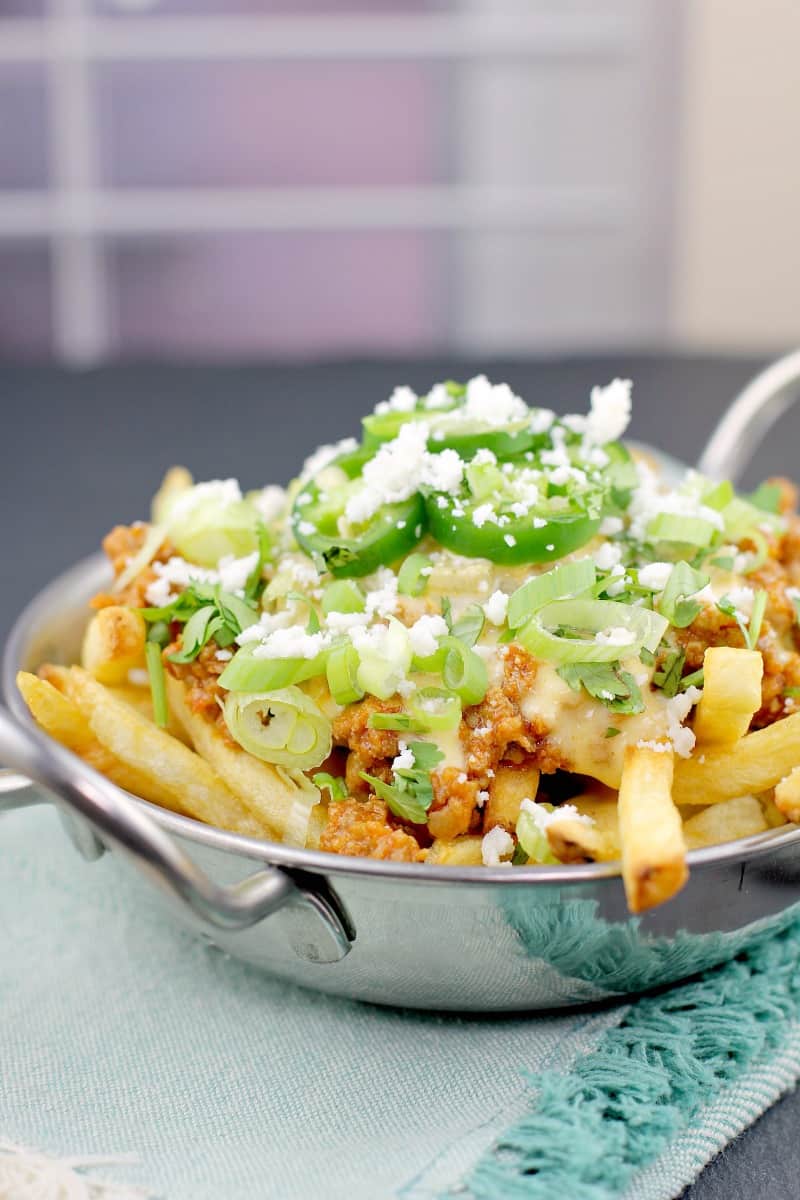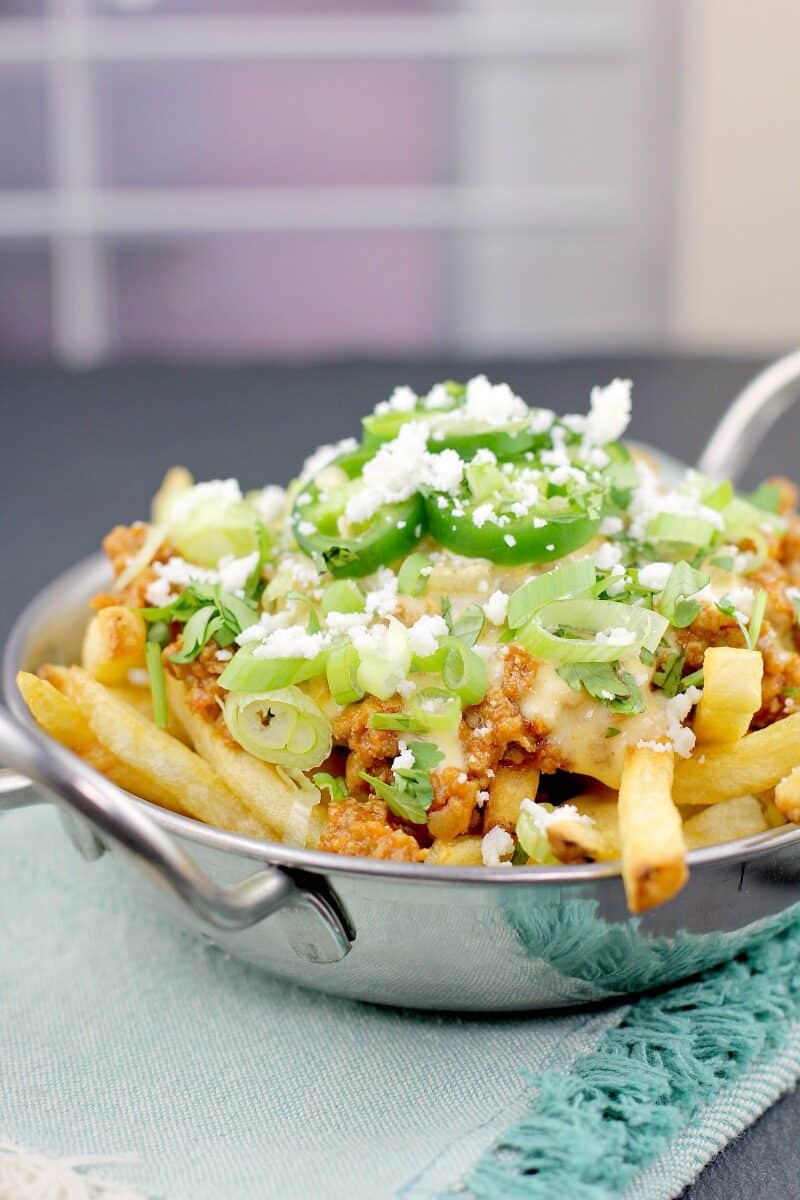 What makes this recipe so great
First and foremost, is the queso with smoked cheddar cheese and green chiles. It took a couple tries for me to work this recipe out (first, I tried cheddar, beer, and Rotel – ended up throwing that out…), and I am blown away with the ultimate flavor combination of smoked cheddar cheese and green chiles.
Mexican chorizo is a heavily seasoned sausage with chili powder and paprika. The marriage of that rich chorizo flavor and my Huevos Ranchero Sauce, which has fire-roasted tomatoes, green chiles, roasted red pepper, and cream, is amazing to start with.
Now, match that deliciousness with the smoked cheddar cheese queso, and now we are on a whole new level. It is hard for me to put into words, other than to say please feel the love! I was happy dancing all over my kitchen, and I hope you will too.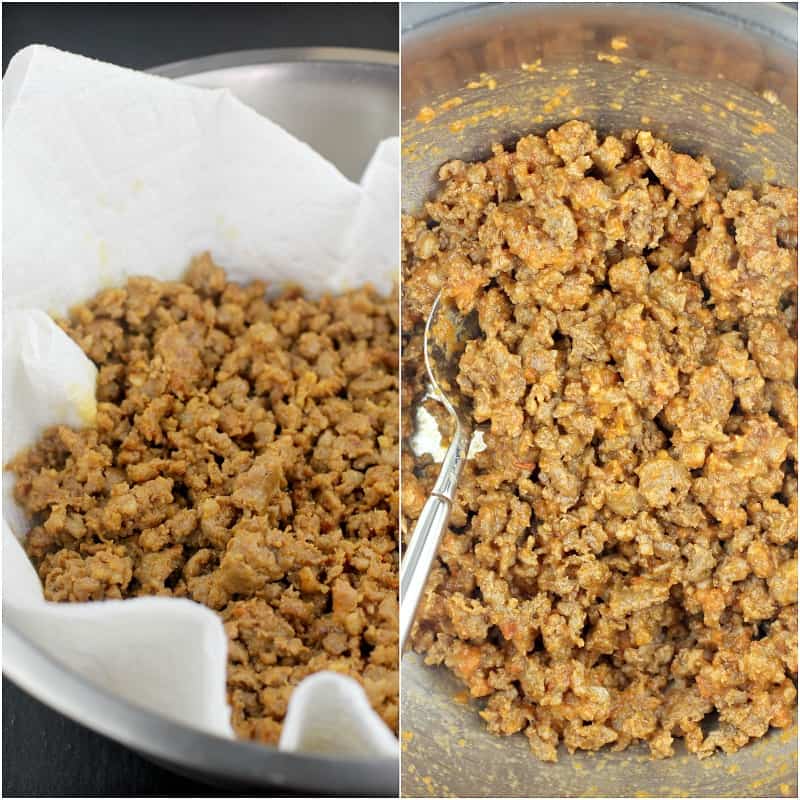 Mexican Poutine ingredients
Ingredients for the Smoked Cheddar Chile Queso
Half and half.
Smoked cheddar cheese. You can find smoked cheddar in the specialty cheese section of the grocery store. Use the large holes of the cheese grater to shred.
American cheese. Just one slice, and this serves as kind of a binder to keep out queso lusciously melty.
Dijon mustard. This teensy bit of acidity and bite of Dijon cuts the fat of the cheese and half and half. Translation: it makes the sauce yummier.
Fire-roasted green chiles. Just one little can, and if fire-roasted is not available, use regular diced green chiles. I find it in the International Foods aisle of the grocery store.
Seasoning: kosher salt and fresh cracked pepper.
All the rest of the ingredients
French fries. Use whatever you like: steak fries, string fries, even sweet potato fries. I had intended to use conventional fries, but when I sent my kid to the store, they got string fries. I was so happy with the result, that I would definitely recommend string fries but you do you.
Mexican chorizo sausage. Mexican chorizo, unlike Spanish chorizo, is a raw pork sausage and may be a little more difficult to find. I got mine at my grocery store, and doing a quick online search, my Walmart carries it as well. In fact, Morningstar Farms also makes a vegetarian "chorizo" available at Walmart, so that would be a way to make a vegetarian version of Mexican Poutine.

Huevos Ranchero Sauce

. My Huevos Ranchero Sauce is very easy to make, can be prepared in advance, and is incredibly good.
Green onion. Doesn't a bit of green onion make every bite better?
Queso fresco. This is a semisoft Mexican cheese that you scrape with a fork to crumble. It is mild, complements everything else going on here, and just makes the dish look finished. Find it in the dairy aisle.
Cilantro. I love cilantro, but not everyone does. If that is you, then substitute flat-leaf parsley.
Fresh jalapeno. This sounds super spicy, but I found the heat from the jalapeno to be immediately tamed by the queso.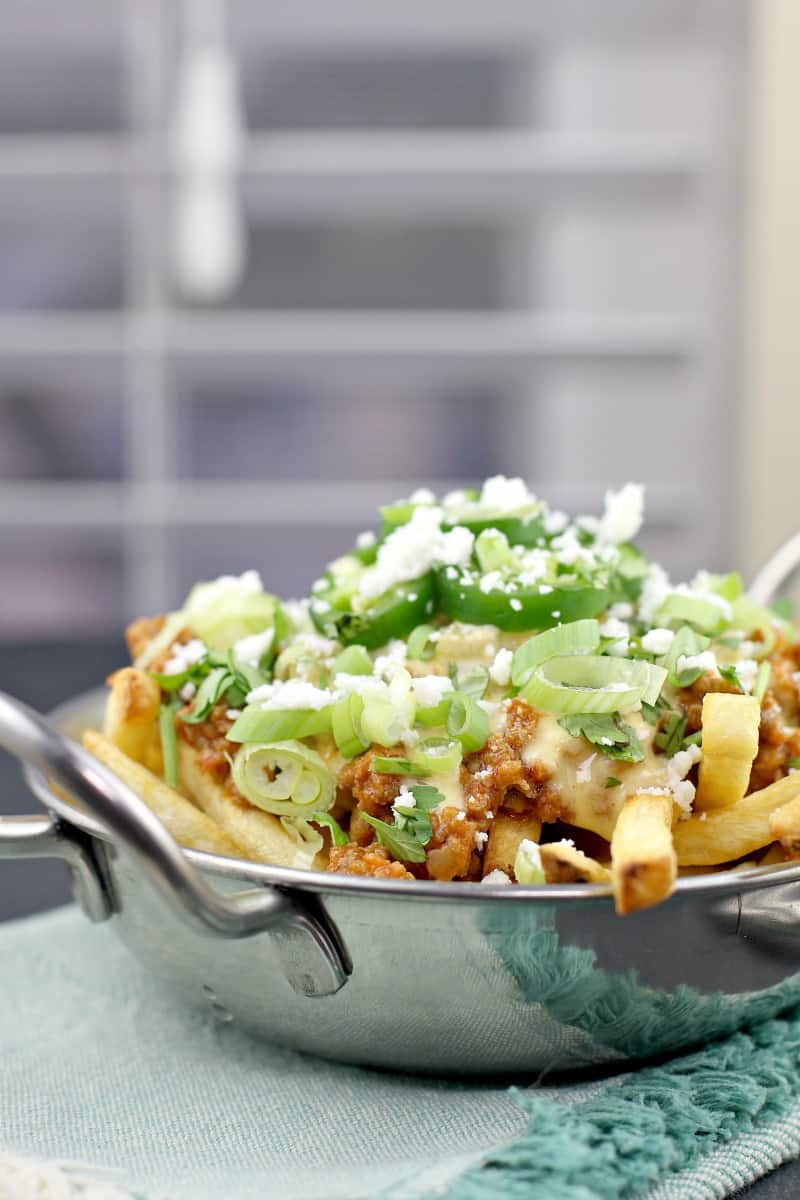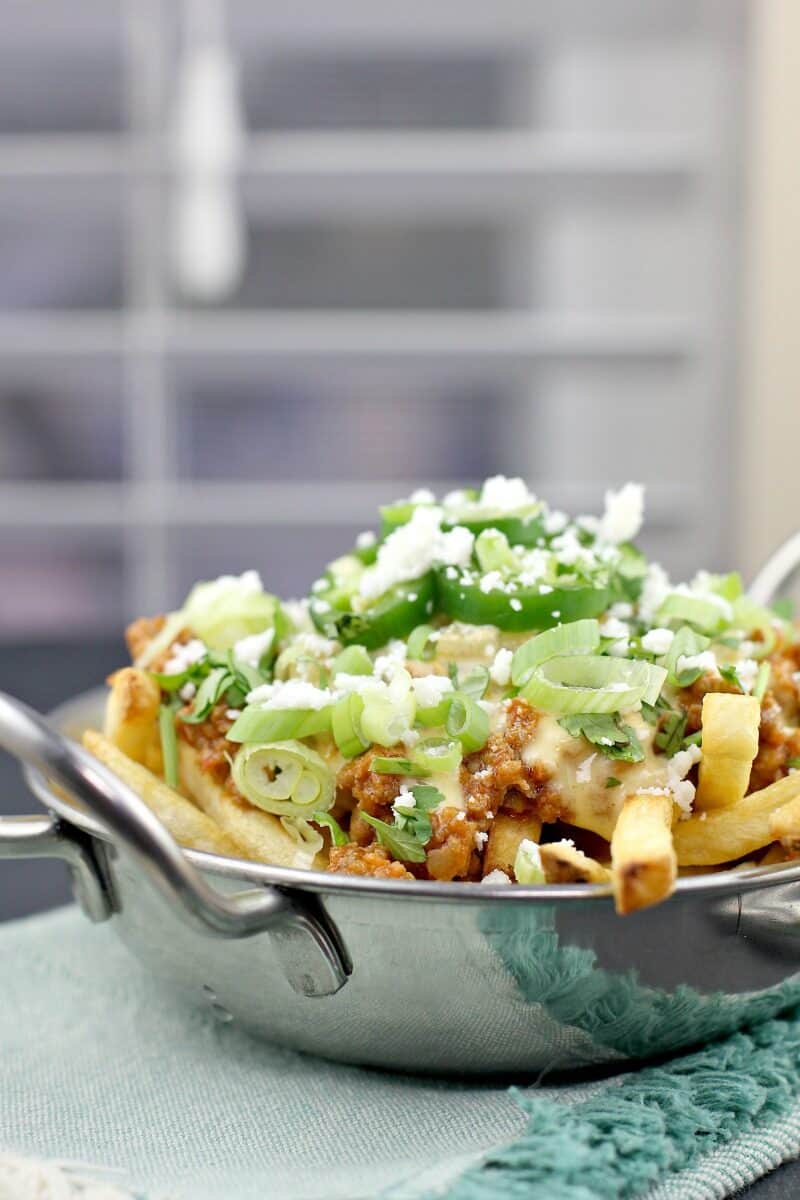 How to make Mexican Poutine
Easiness! That is this recipe. Make the Huevos Ranchero Sauce in advance, even up to a couple days. This sauce is SO good and you can use it in so many ways.
While the oven is preheating, make the queso and cook the chorizo. For the queso, we just throw all those ingredients in a saucepan and heat – but we have to stir very often to make sure it does not burn on the bottom – just until warmed and the cheese is melted.
For the chorizo, simply cook as you would ground beef. Now, chorizo has a lot of seasoning (paprika and chili powder specifically), so it is hard to tell when the meat is no longer "pink" (i.e. cooked through). So, I just cook and cook until all the juices are pretty much evaporated and the meat just starts to adhere to the skillet when I stir every so often.
Once the sausage is done and drained, we mix with some of my Huevos Ranchero Sauce.
Then we just cook our French fries. Do this however you like, according to your package directions. For the time I cooked this poutine for photos, I cooked string fries in the oven and in my air fryer – both with great results.
Assemble your Mexican Poutine and enjoy!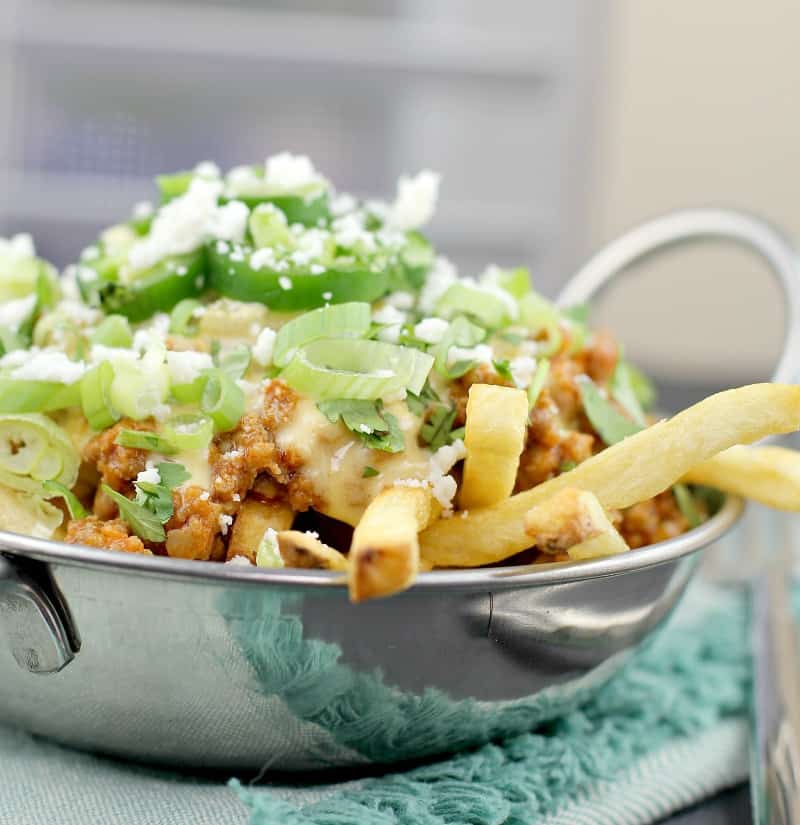 Tips
To drain the chorizo, I like to transfer it to a mixing bowl lined with a double layer of paper towels.
If your queso ends up a bit thin and you want to thicken it, simply take 1 Tablespoon cornstarch, dissolve in a bit of cold water (or beer, stock, or more half and half), and add to the queso.
The chorizo can be cooked in advance, the queso can be prepared in advance, and the ranchero sauce can be prepared in advance.
For variation ideas: you may substitute French fries with roasted cauliflower, tater tots, polenta, or broccoli. Or tortilla chips and make nachos!
Related recipes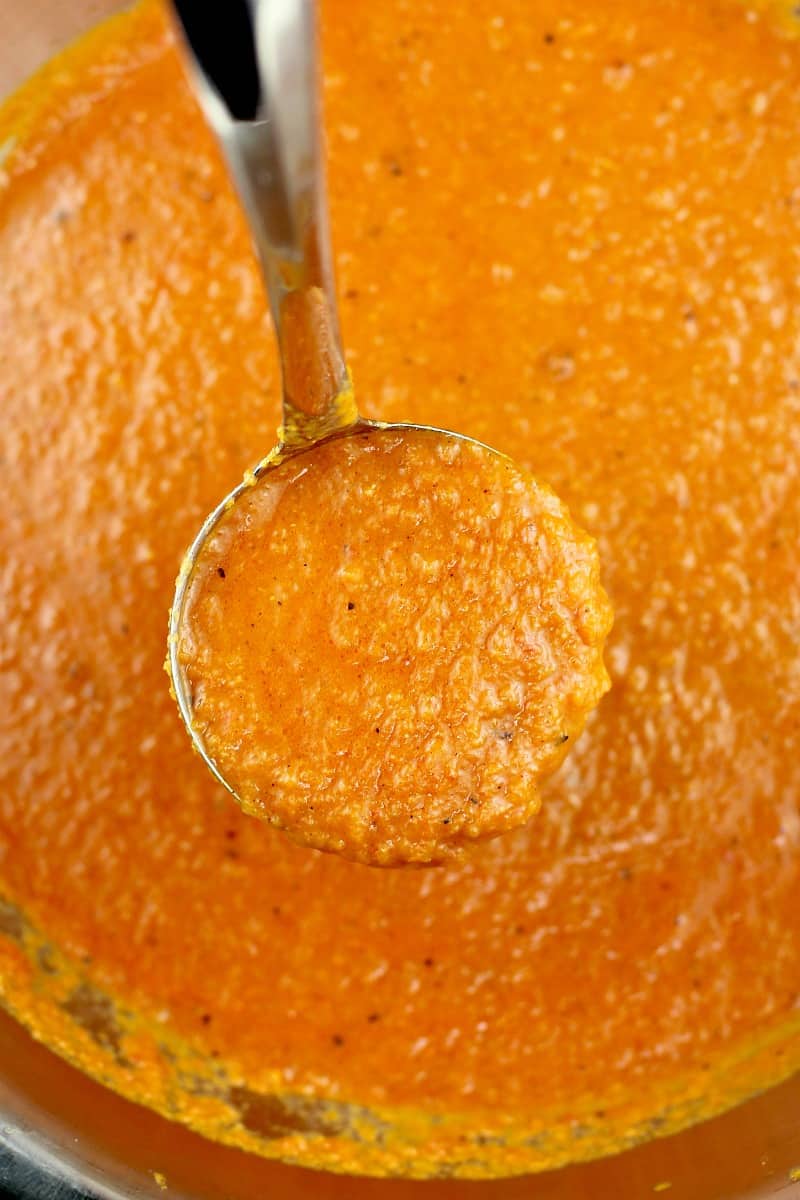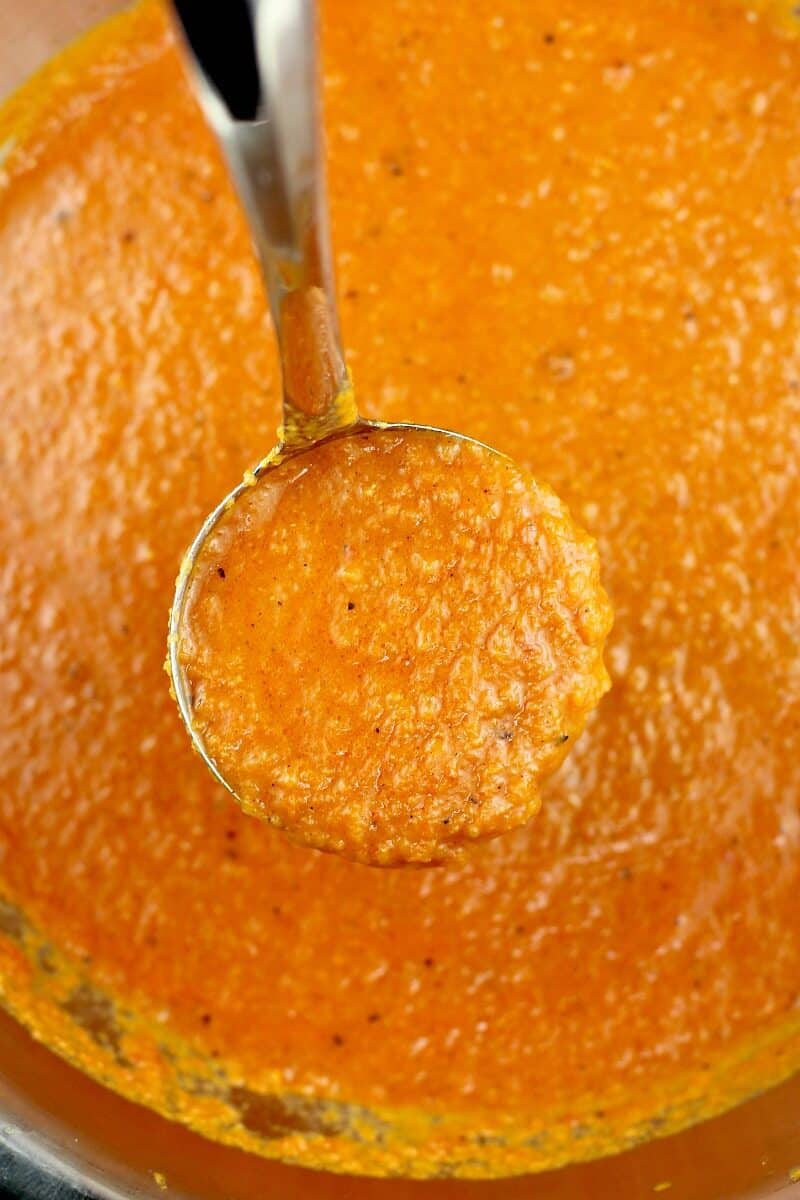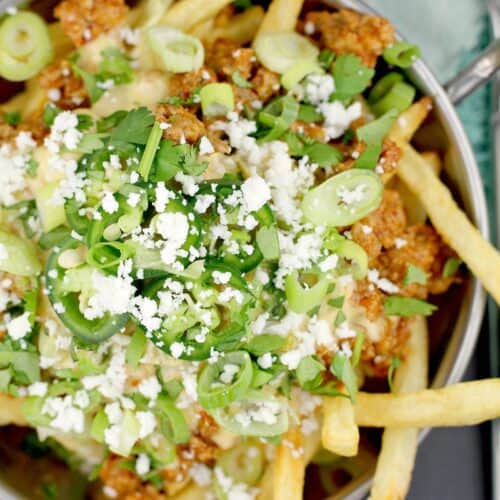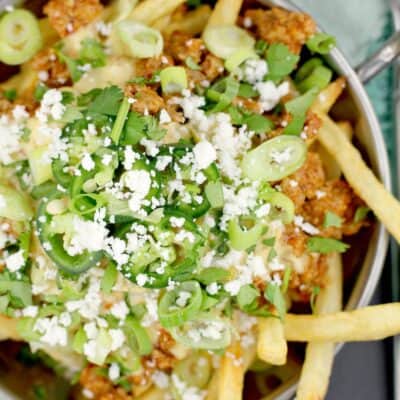 Mexican Poutine with Smoked Cheddar Chile Queso
Mexican Poutine has it all! Crispy French fries, juicy chorizo in ranchero sauce, jalapeno, green onion, queso fresco cheese, and a smoked cheddar cheese and green chile queso to die for. This fun spin on poutine is an insanely delicious recipe.
Ingredients
For the Smoked Cheddar Chile Queso:
For the Poutine:
1

(28 oz)

bag frozen French fries

1

lb

Mexican chorizo sausage

casings removed

½

cup

Huevos Ranchero Sauce

¼

cup

chopped green onion

2

Tbsp

fresh chopped cilantro

1

fresh jalapeno

thinly sliced

¼

cup

crumbled queso fresco cheese
Instructions
Preheat oven to the temperature dictated by the package direction for the French fries.

While oven is heating: in a medium saucepan, add all the ingredients for the queso and heat, stirring very often so as not to scorch on the bottom, over medium heat until cheese is melted. Set aside.

At the same time, cook the chorizo in a large skillet breaking up into small pieces as it cooks. Drain fat.

Cook French fries according to package directions.

In a bowl, combine the chorizo and Huevos Ranchero Sauce.

To assemble: layer French fries, chorizo-sauce mixture, queso, jalapeno, cilantro, queso fresco, and green onion.
Notes
See the body of this post for details and tips not included in the recipe card.
Vegetarian "chorizo" crumbles are available in the freezer section of the grocery store or Walmart for a vegetarian option.
If you want to thicken the queso more, dissolve 1 tablespoon cornstarch in a bit of cold half and half and add to the queso. Continue to heat (stirring) until desired consistency.
Nutrition
Calories:
937
kcal
(47%)
|
Carbohydrates:
58
g
(19%)
|
Protein:
43
g
(86%)
|
Fat:
60
g
(92%)
|
Saturated Fat:
28
g
(175%)
|
Polyunsaturated Fat:
1
g
|
Monounsaturated Fat:
3
g
|
Cholesterol:
157
mg
(52%)
|
Sodium:
1465
mg
(64%)
|
Potassium:
187
mg
(5%)
|
Fiber:
7
g
(29%)
|
Sugar:
5
g
(6%)
|
Vitamin C:
5
mg
(6%)
|
Calcium:
1966
mg
(197%)
|
Iron:
1
mg
(6%)
Calorie count is purely an estimate calculated using an online application to serve as a guide and not to be taken as accurate nutritional information. Percent Daily Values are based on a 2,000 calorie diet.
Tried this recipe?
Leave a comment below and let me know!
More inspiration