Fettuccine Alfredo is tender pasta in a luscious cream sauce with garlic and fresh parmesan cheese. A classic Italian-American favorite, alfredo pasta is easy to make at home with simple ingredients. This post is the essential guide with full instructions, photos, and ingredient descriptions so you can make the best fettuccine alfredo of your life.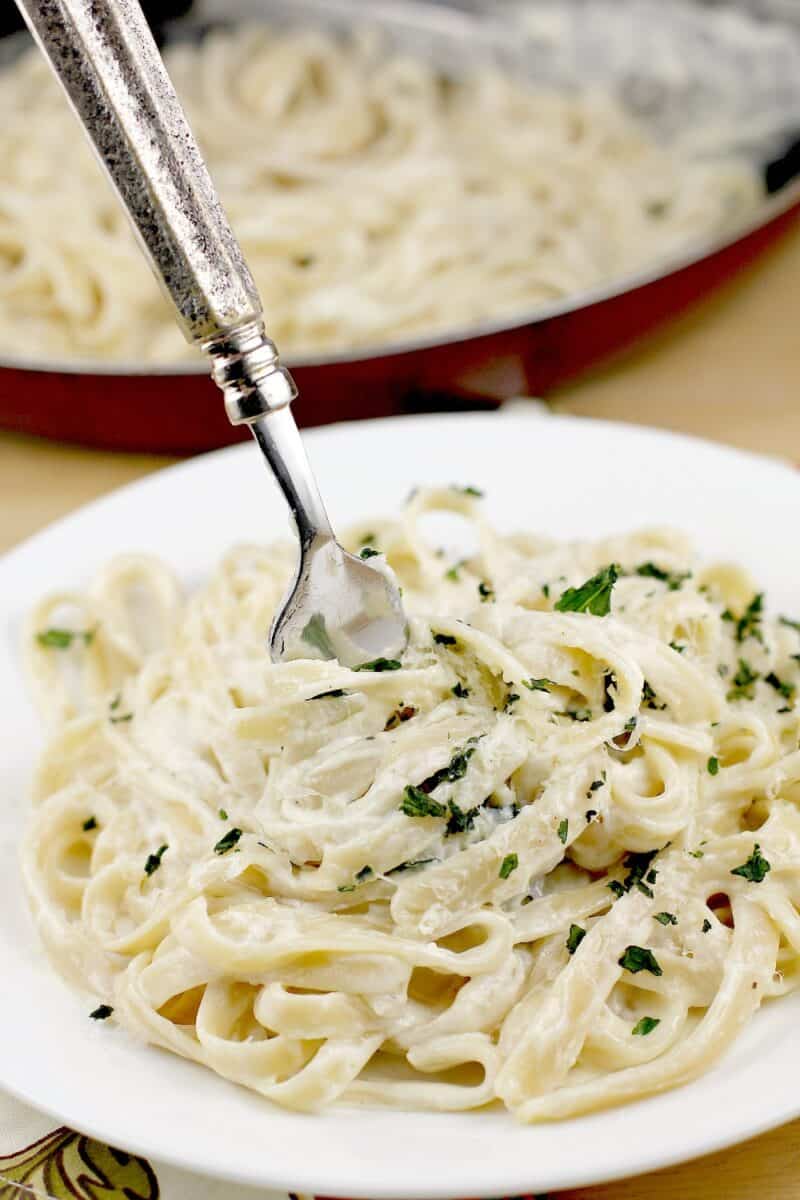 What is fettuccine alfredo?
Simply put, homemade fettuccine alfredo is one of the easiest, simplest, and most delicious pasta recipes ever. Forever and ever.
The classic dish hails from Alfredo di Lelio, who featured it in his restaurant in Rome in the early- to mid-20th century. It was brought to the US from Italy in the early 1900s by American travelers.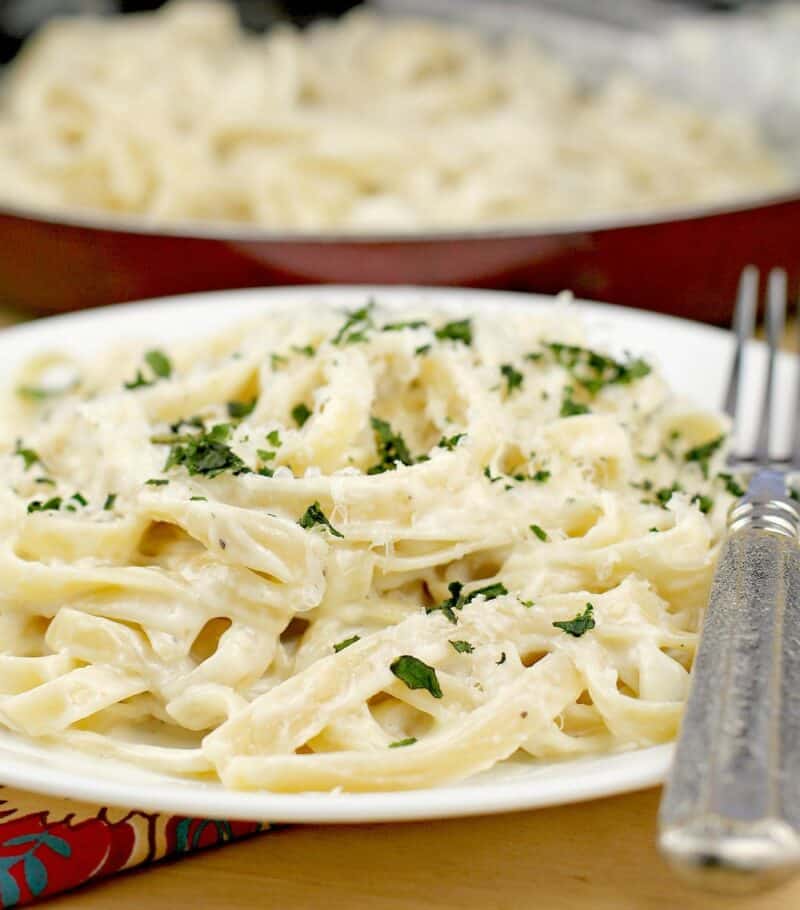 In 1966, the Pennsylvania Dutch Noodle Company sold dried fettuccine noodles and included an alfredo sauce recipe on the box. This recipe included cream, and, thus, the Americanized pasta alfredo was born.
The Olive Garden restaurant chain then picked up on the creamy alfredo idea, added garlic and either chicken or shrimp. The addition of meat to pasta and serving as a main course was decidedly un-Italian, but so very American, and the rest is history.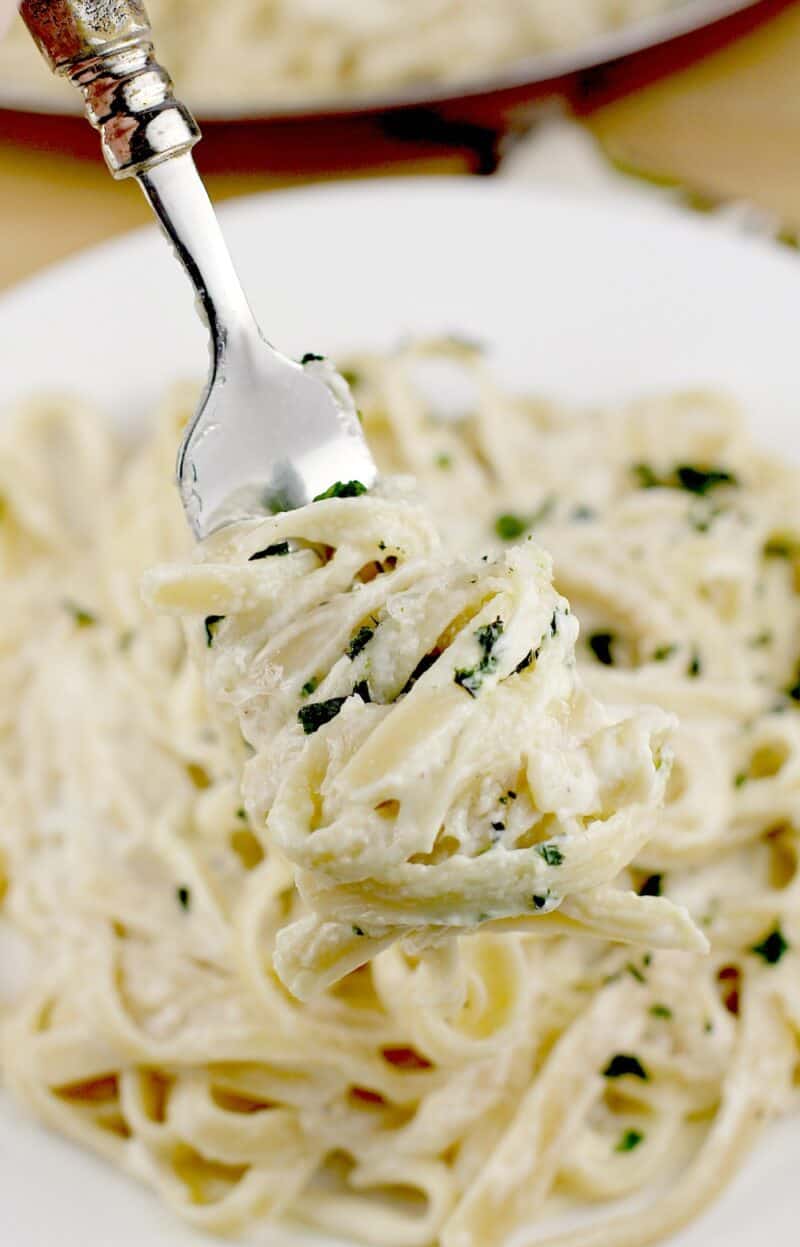 Cream or no cream: schools of alfredo thought
Traditionally in Italy, pasta al burro e parmigiano is made with young parmiggiano-regianno cheese, butter, and fresh pasta. In the preparation, the cheese emulsifies with the fat from the butter and becomes other worldly good.
In America, a la Olive Garden and such, we tend to add cream. And garlic. It is wrong? Nope, it is just our tradition. Besides, if this dish is wrong, I don't want to be right anyway.
Just like pizza, lasagna, and all kinds of other dishes that become popularized in the US, we Americans do our thing and that is just how it is.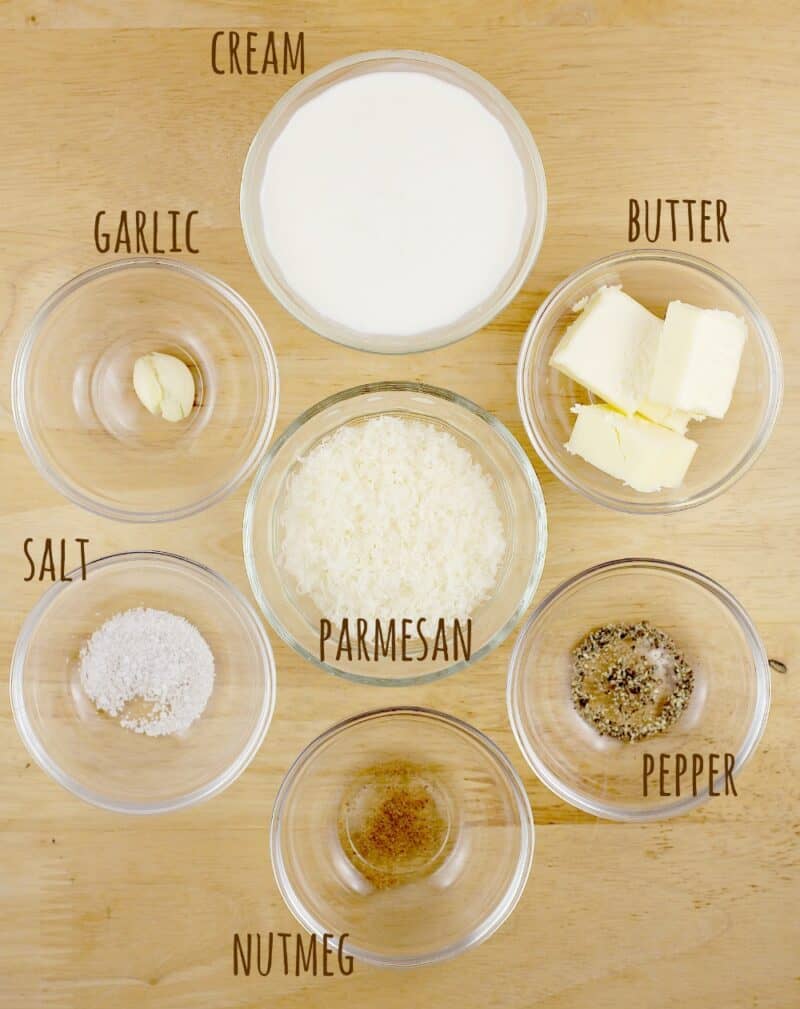 What are the ingredients?
Heavy cream. This is the American version of fettuccine alfredo, so we use heavy cream. Milk and half and half will not thicken the way cream will, so they should not be substituted.
Unsalted butter. Using sweet cream butter is essential for the flavor, rather than salted butter. I know a lot of people buy salted butter, and I get that. I grew up with it myself. But sweet unsalted butter is far superior in cooking in general, especially in a simple recipe like this.
Fresh parmesan cheese. Use fresh cheese and not the kind that comes in a can.
Garlic. Odd as it is to say, go easy on the garlic or it will overpower the dish. Also, use fresh garlic rather than chopped or minced garlic from a jar.
Nutmeg. Just a pinch of nutmeg adds a subtle 'yummmm' in the background.
Kosher salt. Season to taste, but remember that the salt is needed to season the sauce and also the pasta once it is added.
Fresh cracked pepper. Just a pinch, and you can substitute white pepper if desired.
Fettuccine pasta. I call for dried pasta in the recipe, but you can use any pasta you want including fresh pasta available in most US grocery stores. Do stick with more substantial noodles like fettuccine, linguine, or spaghetti as opposed to angel hair to carry this thicker sauce.
Pasta water. To ensure a creamy coating of all our pasta, we add some of the starchy pasta water to the sauce that the cooked pasta will then absorb.
Note that I am up in here and down in the recipe card and all around calling out and listing pasta water and mentioning it time and time again. Because if you are like me, you need that pointed out and obvious or you will just dump that all down the drain and then be like, "Crap".
So, before you dump the pasta in the strainer, grab a measuring cup and scoop some water.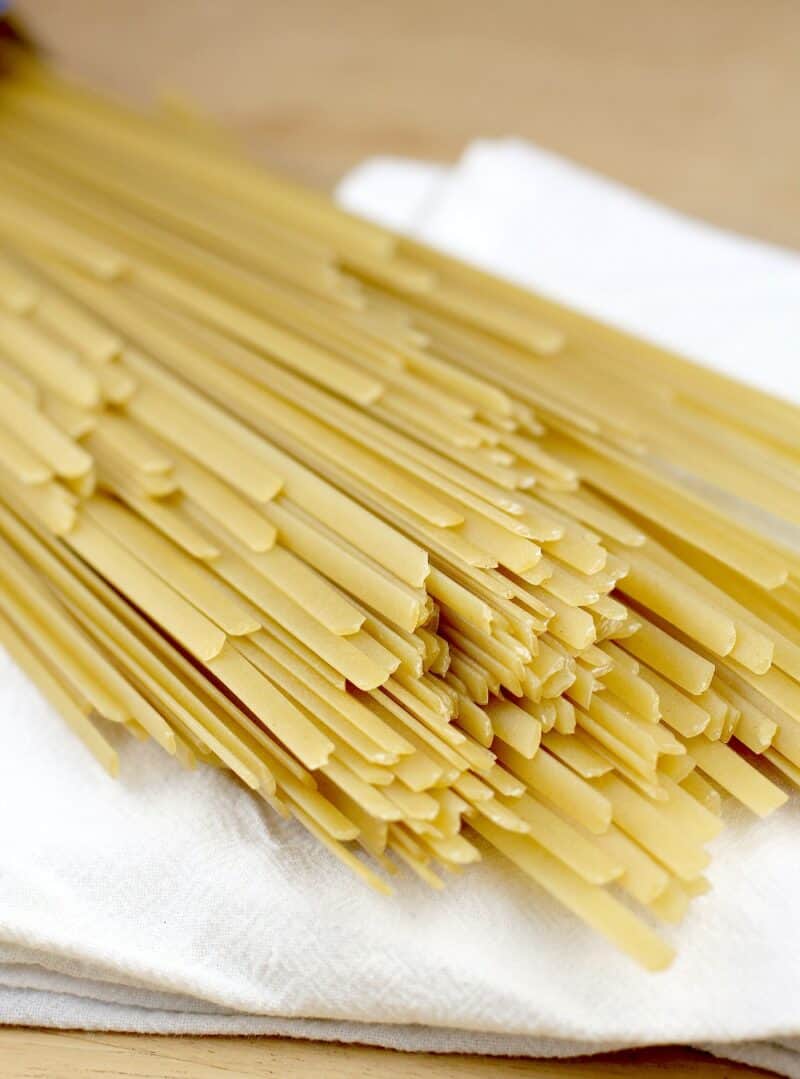 The essential: parmeggiano-reggiano cheese
A few additional notes on the cheese, because the cheese is that important.
I prefer to use just parmesan. Other versions of alfredo may also call for Romano cheese, but I am not a fan of adding Romano to alfredo. Pecorino Romano is a goat milk cheese and has a more pungent, intense flavor than good old parmesan. It has its place in life, but not in alfredo.
You can either buy a block and grate (or finely shred) the parmesan yourself using a grater or microplane. Or you can purchase FRESH grated parmesan in the refrigerated dairy section, the section with where you find fresh pastas and sauces, or in your deli section.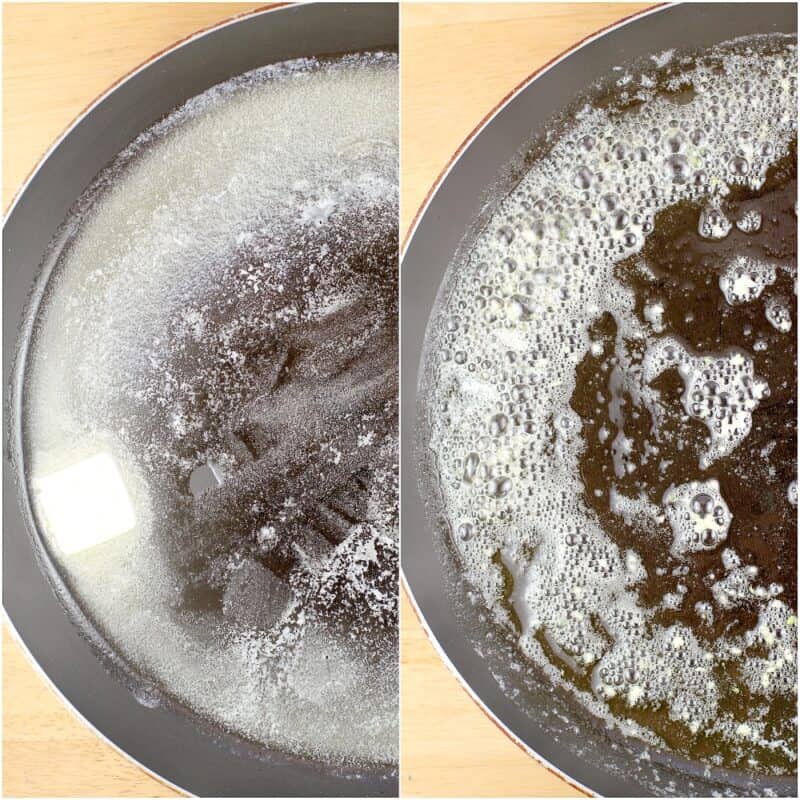 If you are picking up "parmesan" in a pantry aisle (and, therefore, not refrigerated), then it is the wrong stuff. I am talking the stuff in the green can, usually in or near the pasta aisle. That "parm" is great sprinkled on pizza, but does not actually melt. If used for alfredo, and the result will be a grainy sauce that does not taste good.
I also do not recommend buying bagged shredded parmesan that you would find with the rest of the shredded cheeses in the dairy section for the simple fact that it will not melt smoothly.
It is just a simple fact that with all the ingredients for a special, simple recipe like fettuccine alfredo, you want each individual one to be the best quality you can reasonably get. And I stress within reason, because we all have different circumstances and access to particular ingredients. We can only do what we can do.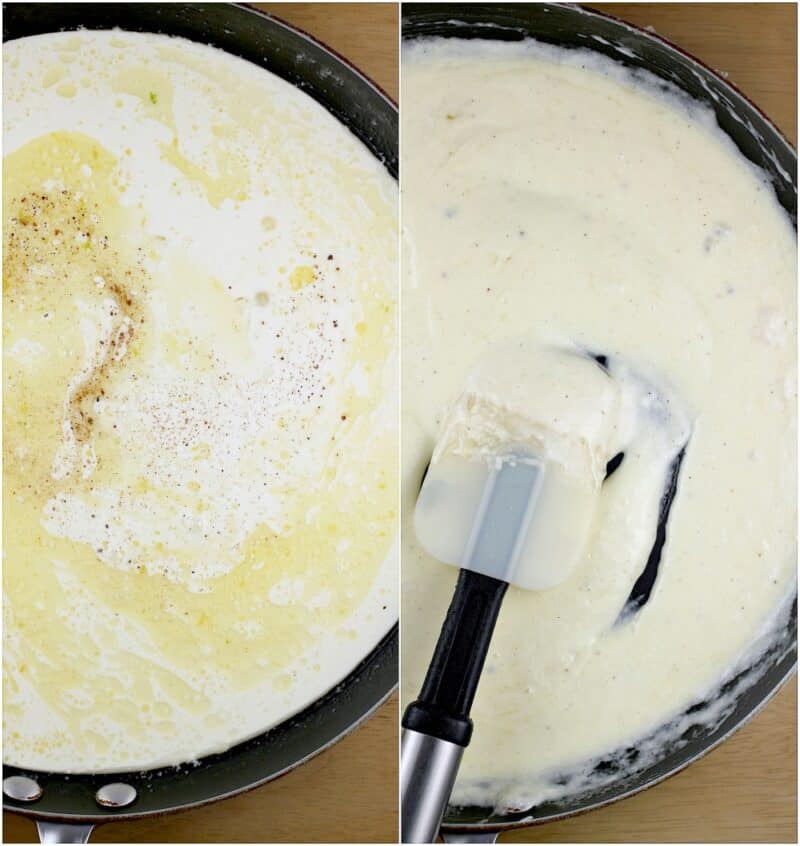 Steps for preparation
This sauce is essentially made while we wait for water to boil and cook the pasta. So for all its splendor, this is a quick recipe ready in about 20 minutes.
First, we saute the garlic in the butter until fragrant and very lightly golden. This happens quickly, so stay with it.
Next, we add the cream which quickly combines with the butter, and the two come into a simmer. Be sure to do this on low heat, and stir regularly.
Also when we add the cream, we add nutmeg. Just a pinch, and this is not negotiable. Nutmeg gives just the hint, just the idea, just the little somethin' somethin', and it is absolutely necessary.
Once the sauce thickens, we add the cheese, salt and pepper, and cooked pasta. At this time as also add some reserved pasta water. The starchy water creams up the sauce and extends it so we have enough to bath all our lovely noodles.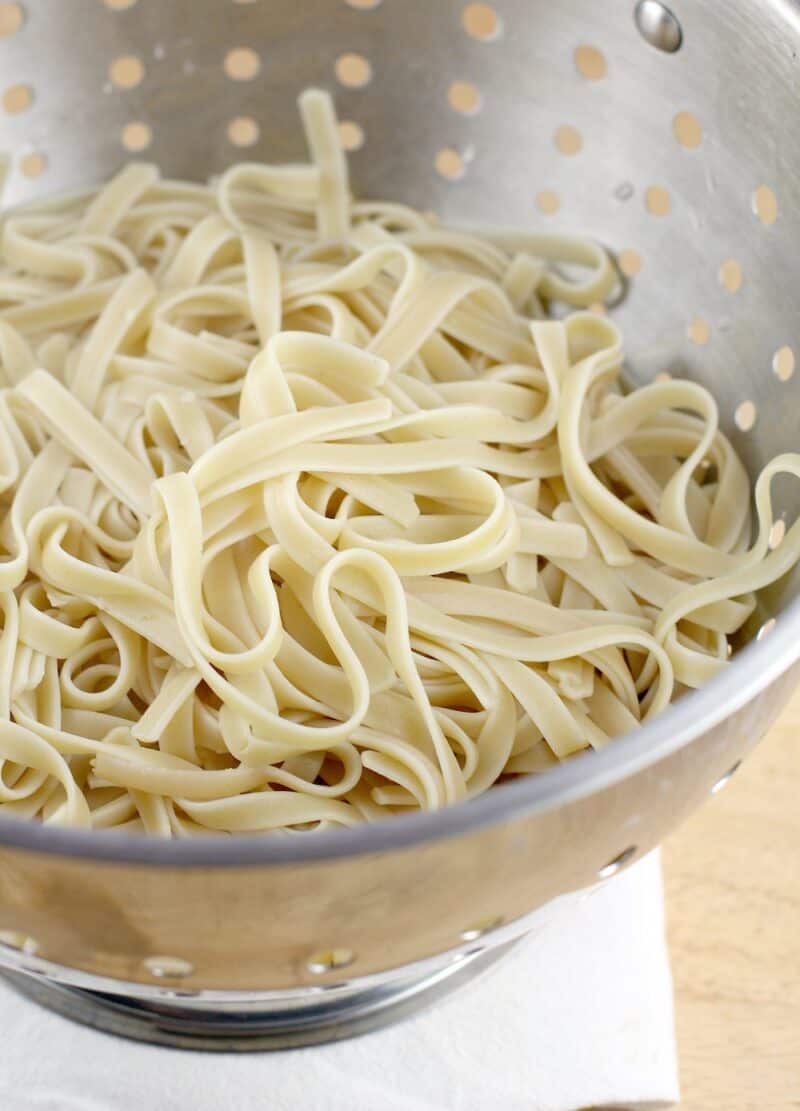 Can this pasta sauce be made in advance?
Fettuccine alfredo is blessed with a quick cook time, and therefore, preparation is fast and straighforward.
That said, there is ONE stopping point, if you want to be more ready-to-go for serving later. Such as, if entertaining.
Once you saute the garlic in the butter and add the nutmeg and cold cream – you can stop there and remove from the heat. Set aside, and cover with foil. I have done this myself, then came back later and heated everything back to proceed.
This way, then you put back on the heat to thicken while you cook the pasta and you will be good to go.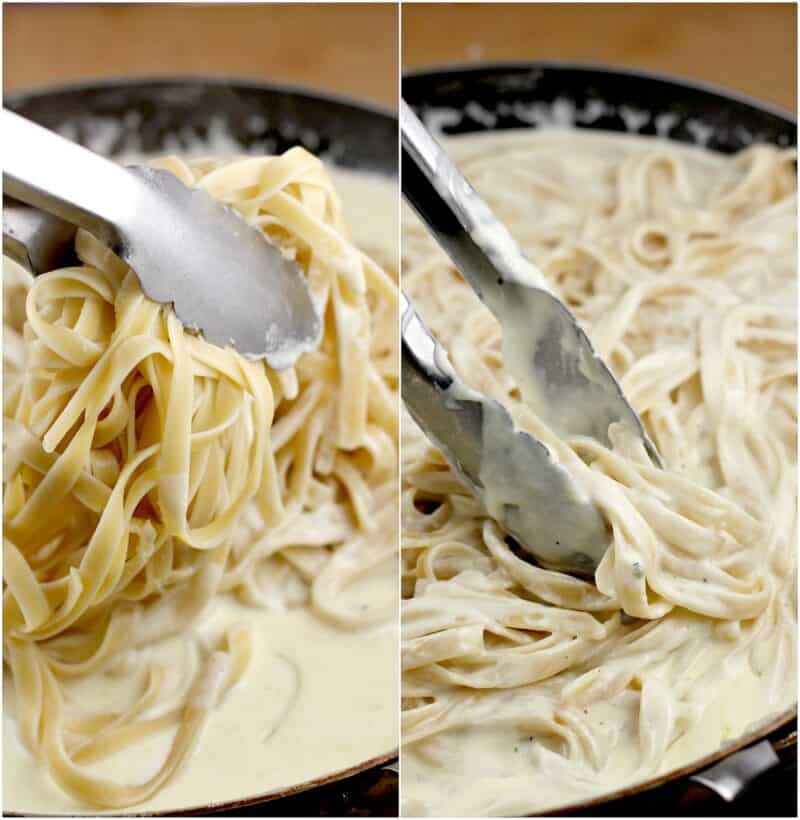 How well does this recipe keep?
The thing about making a cream- and butter-based sauce is that if allowed to cool or cook too long, the fat has a tendency to separate out. We are not adding any stabilizers (like soy lecithin) to prevent this, such as is the case in purchased jar sauces.
Which is GOOD since we are making homemade fettuccine alfredo.
But the result is that then you are stuck with pasta in a sort-of creamy sauce… swimming in literal oil after reheating. Nobody wants to eat that.
So, while I admit I eat the hell out of my alfredo leftovers Every Single Time, just understand and be mentally prepared that the oil separating from the cream and butter is a thing.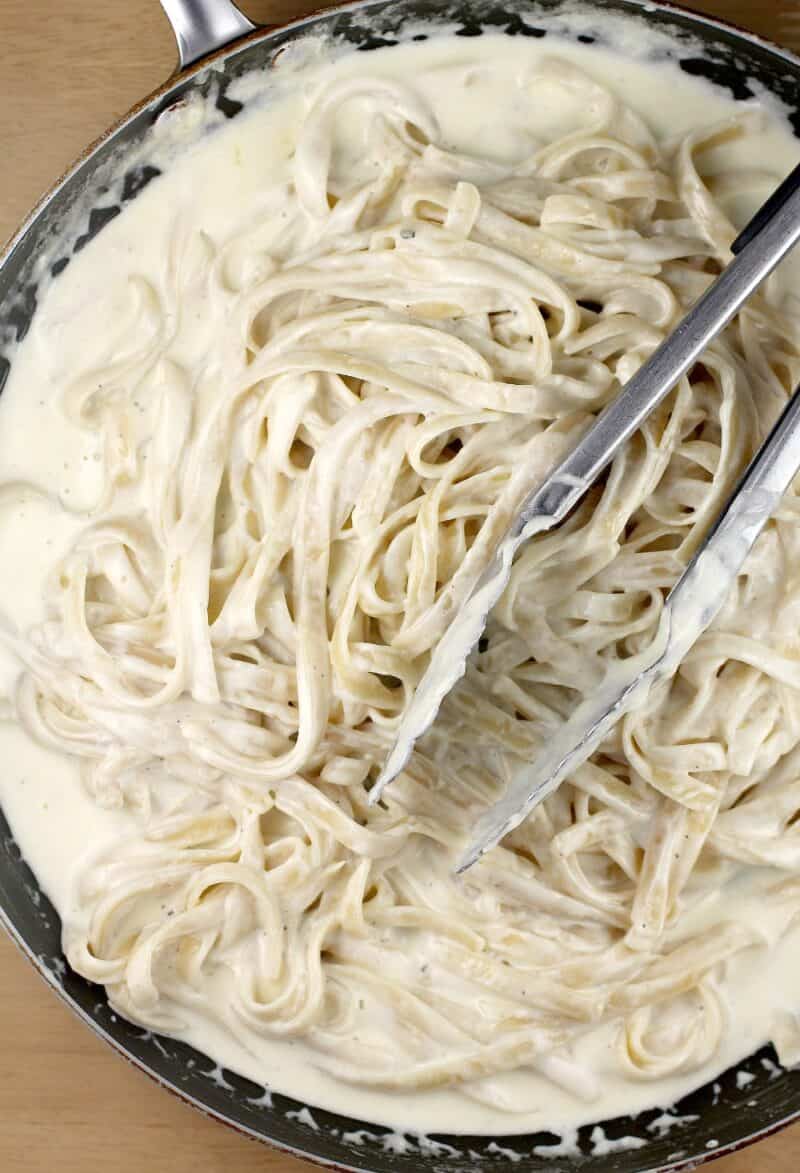 Suggestions for alfredo additions
While we are making the undisputed king of all creamy pasta dishes here, that does not mean you can't add your own touches to make your homemade fettuccine alfredo even more of a filling meal.
Some customary, and not-so-customary, suggested additions are:
Chicken. Rotisserie or leftover chicken, this mild tasting protein works well in this sauce.
Shrimp. Isn't seafood in general just magically extra yummy in creamy sauces? I am suggesting shrimp specifically because it also cooks super quickly and is easy to find.
Pulled pork. This may sound random, but I find pulled pork to be one of the most versatile proteins ever. Just check out my Pulled Pork and Bacon Macaroni and Cheese.
Spinach. Add yourself some spinach and you have got yourself a delicious Florentine.
Mushrooms. Beautifully browned mushrooms, maybe with some peas and the bite of green onion too, is amazing in alfredo.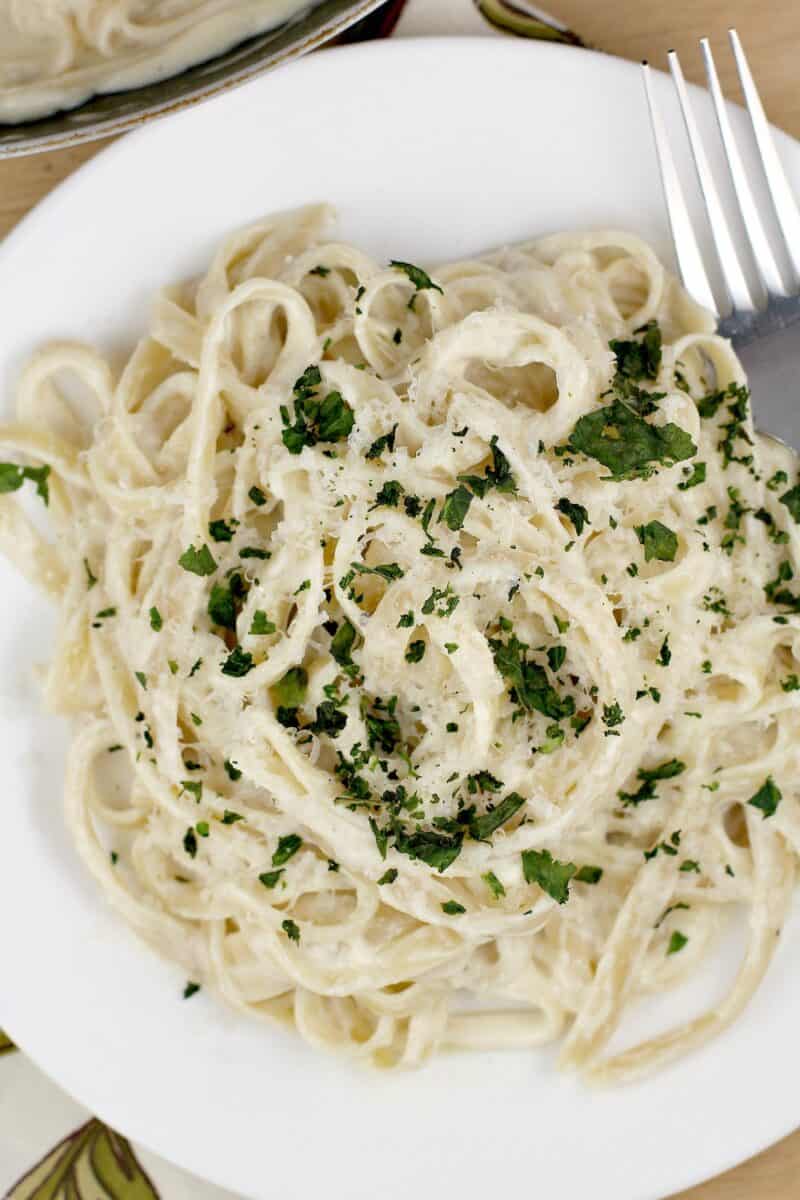 Suggested side dishes
Since we are enjoying such decadence, maybe you want to keep your sides light, such as a simple side salad. Or perhaps, you want to go full in and keep to sides that are over-the-top delicious to do your alfredo justice, and worry about calories another day.
Either way, here are some suggestions, any of which complement fettuccine alfredo.
All of the above recipes have one thing in common: slight acidity (from lemon or vinegar) is the perfect foil and best complement for heavier alfredo and pasta.
All said, remember that fettuccine alfredo is also a great idea for a wonderful side dish in and of itself. Serve with filet mignon or grilled NY strip steak. Or some perfectly roasted chicken as an extra special side dish.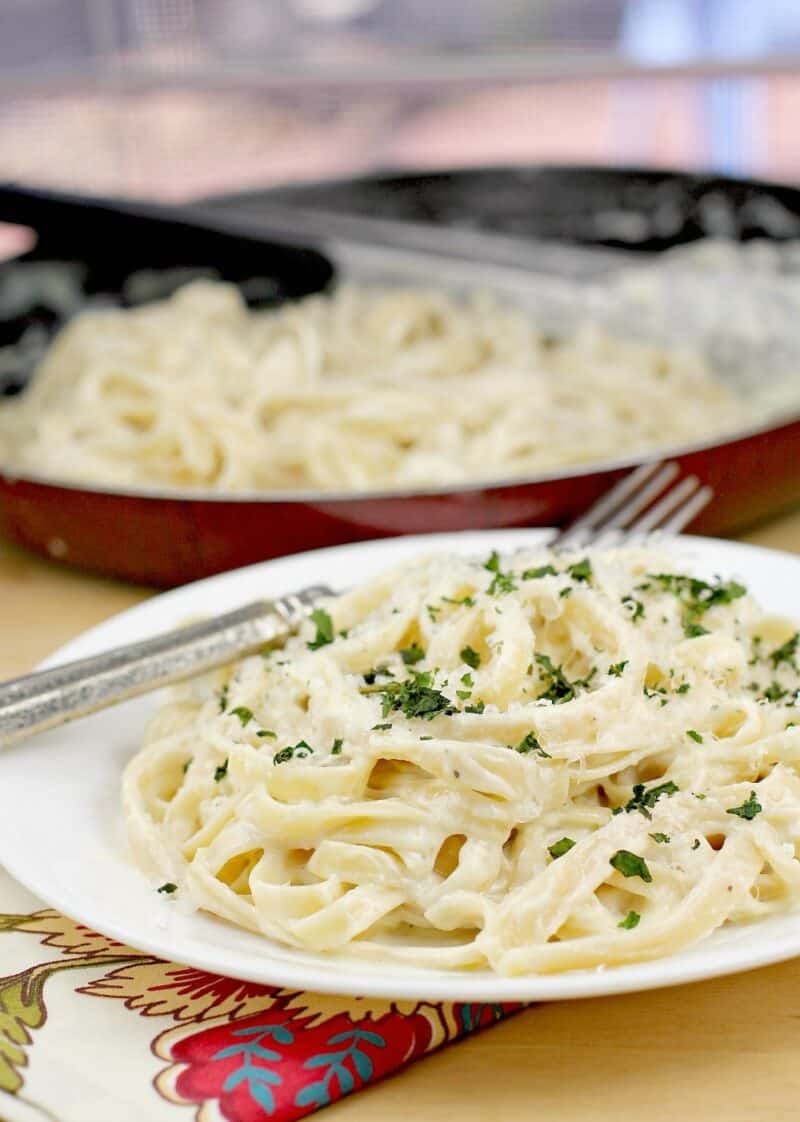 Last Tips
Be sure to let the sauce to thicken on LOW heat. If not, it will bubble, splatter, and possibly burn.
Don't be tempted to add more garlic than the recipe calls for. Too much will overpower everything else.
Make this extravagant sauce using only REAL cheese.
Remember to reserve some pasta water to add to the sauce when you go to drain off the fettuccine after cooking.
When reading the package of pasta, look specifically for the cook time for al dente. Noodles cooked al dente will continue to cook once added to the sauce (absorbing sauce and flavor) which is exactly what we want top happen.
FAQs
Is a nonstick skillet necessary?
A nonstick skillet is not necessary, but it does help with the clean up quite a bit.
Want to serve this special dinner with crusty bread and olive oil with seasonings like you would get in a restaurant? Check out my Italian Bread Dip Seasoning recipe.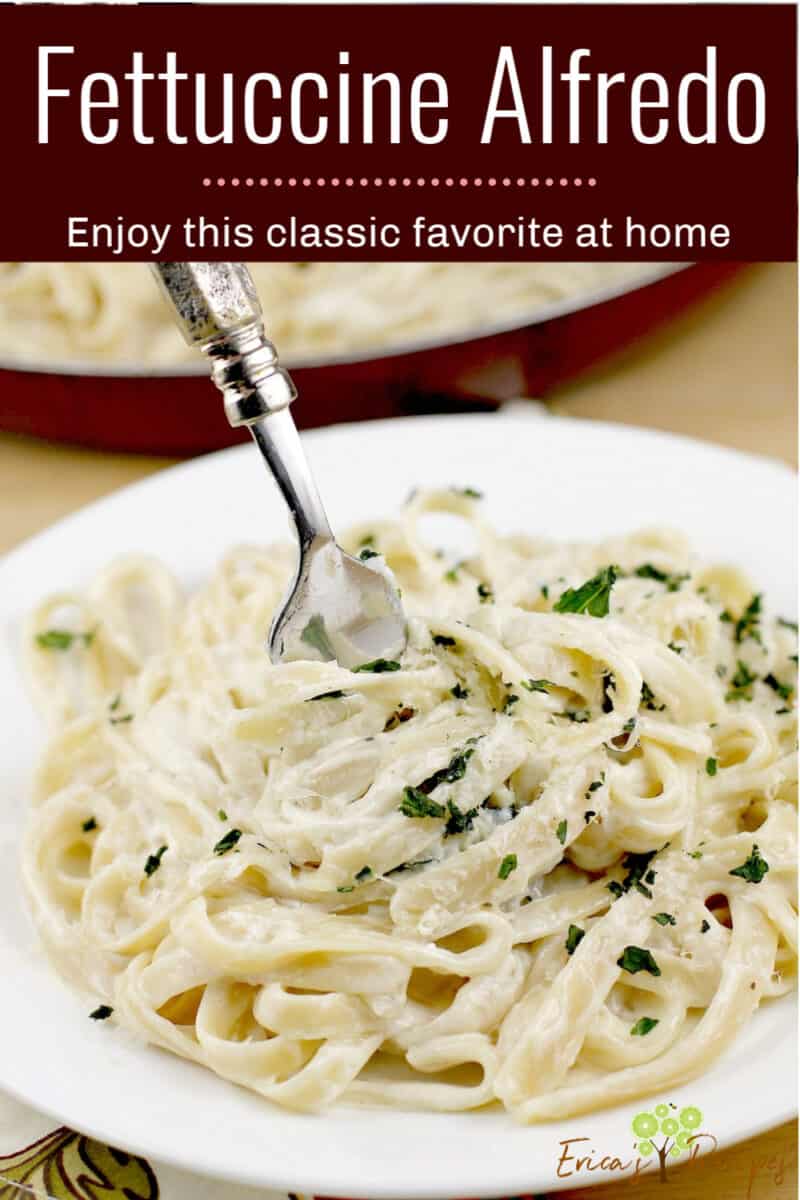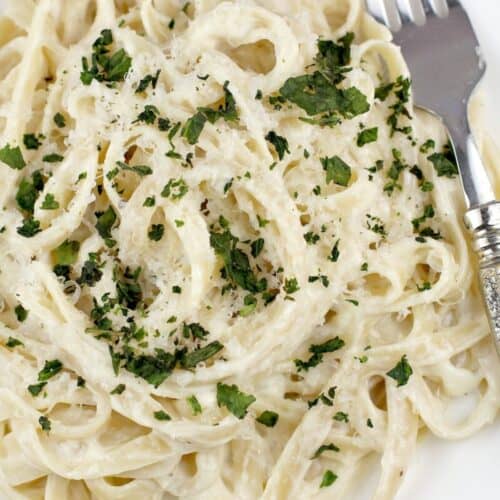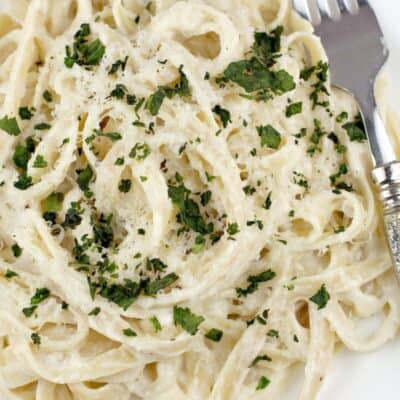 Fettuccine Alfredo
Fettuccine Alfredo is tender pasta in a luscious cream sauce with garlic and fresh parmesan cheese. A classic Italian-American favorite, alfredo pasta is easy to make at home with simple ingredients.
Ingredients
1

pt

heavy cream

4

Tbsp

unsalted butter

½

cup

freshly grated parmesan cheese

1

small clove garlic

minced

pinch

nutmeg

~½

tsp

kosher salt

to taste

1

pinch

fresh cracked pepper

1

lb

fettuccine pasta

reserved ½ cup pasta water

garnish: fresh herb (such as Italian flat-leaf parsley or basil) and additional parmesan
Instructions
Bring a large pot of water to a boil.

Melt the butter in a large skillet over medium heat. Add the garlic and saute briefly until fragrant and lightly golden.

Add the cream and nutmeg, and reduce heat to low. Simmer gently, stirring occasionally, until thickened.

Meanwhile, cook the pasta to al dente according to package directions. Drain, reserving 1/2 cup of the pasta water.

Add the cheese and pasta water to the sauce. Season to taste with salt and pepper.

Toss in the cooked pasta. Serve immediately.
Notes
Be sure to use heavy cream, fresh garlic, fresh parmesan, unsalted butter, and kosher salt for this recipe.
Additional, detailed descriptions for ingredients, variations, and preparation are provided in the body of this post.
Nutrition
Calorie count is purely an estimate calculated using an online application to serve as a guide and not to be taken as accurate nutritional information. Percent Daily Values are based on a 2,000 calorie diet.
Tried this recipe?
Leave a comment below and let me know!