Coconut Shrimp Macaroni and Cheese
Coconut shrimp and macaroni and cheese, together in this creative delicious, super sexy recipe. Learn how to make this perfect indulgence with two of our favorite foods and enjoy any day of the week. Coconut Shrimp Macaroni and Cheese is pure comfort food!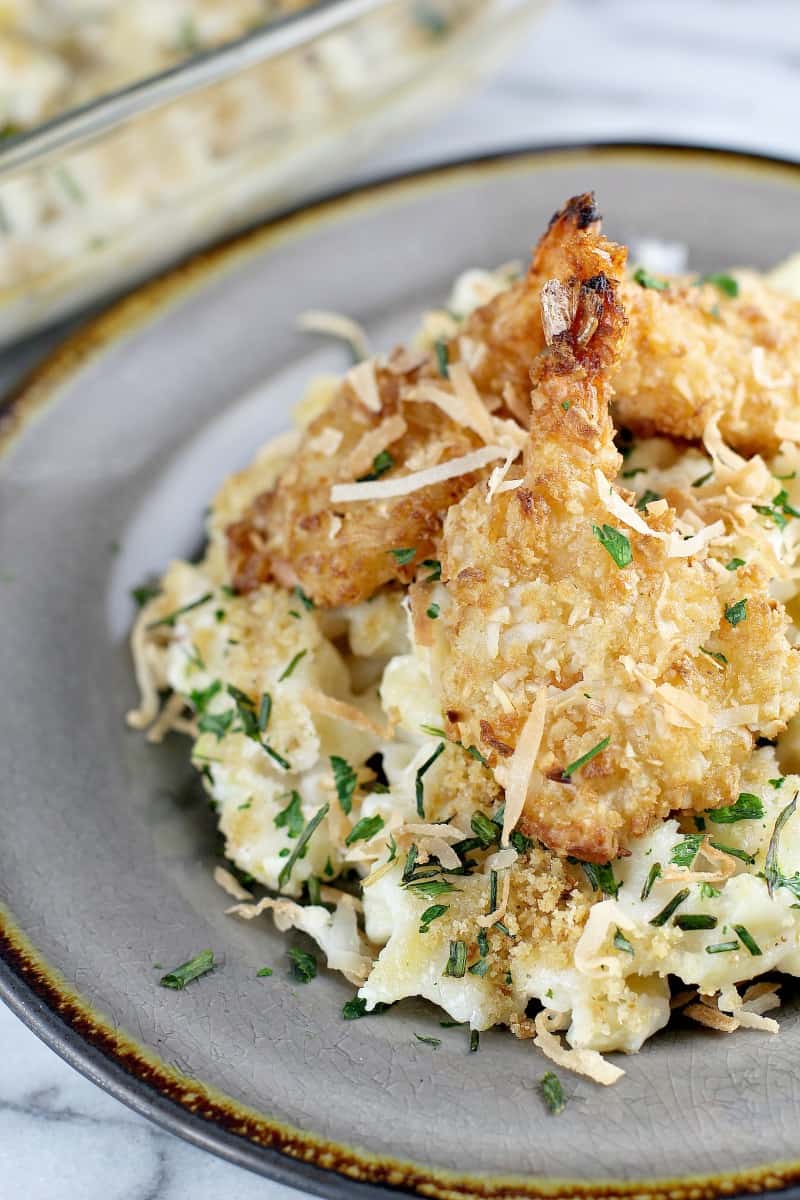 Coconut Shrimp Macaroni and Cheese
Can you just feel all the love here? Coconut shrimp plus macaroni and cheese. THIS is what cooking is all about for me. A recipe that sounds over-the-top and right out there, but in actuality is just FREAKING good. Ohhhhhh so good. Creamy cheesy pasta. Crunchy coconut shrimp. Savory comfort with just the slightest hint of coconut sweetness. This recipe is all the feelz.
There is a restaurant right around the corner from my home, and I have not been to it. It is a new restaurant, and the one that preceded it was one of my favorite lunch places. So much a favorite, that it inspired new recipes for me like my Turkey, Mushroom, and Fontina Panini with Arugula Aioli. I don't know what all went down, but given the popularity of the first restaurant, my guess is that they were handed an offer they could not refuse.
Anyway, that first restaurant is no more, and now there is this new one. They've gutted the place too and made a whole new menu, which of course I had to totally stalk them online and check out the new menu. On said menu is an entire section for macaroni and cheese. An Entire. Section.
Here's my dilemma: I want to try this restaurant, I really do. And I know I will, but I still feel a bit jilted that the old place is gone. But a WHOLE macaroni and cheese section – it is calling me. MACARONI and CHEESE is right up there in my life with pizza. And coconut shrimp macaroni and cheese is right there listed on the menu.
And so, here we are.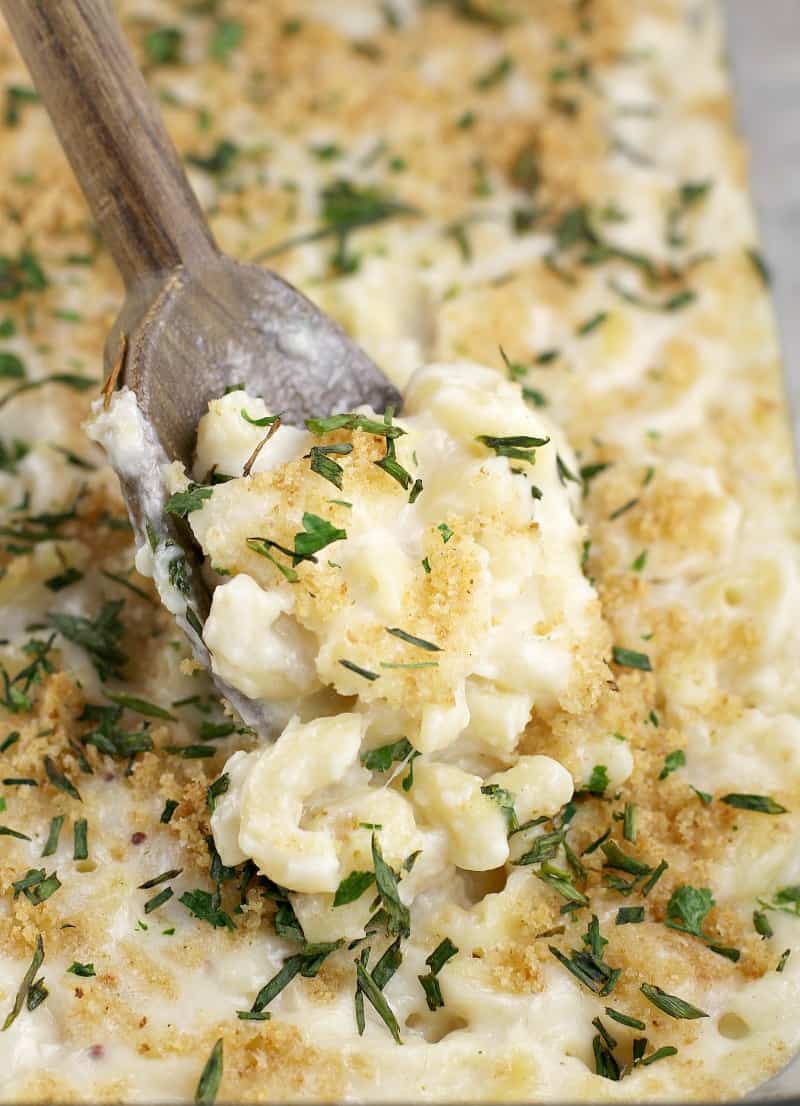 If you love macaroni and cheese like I do, here are other recipes to try:
Yes I looove macaroni and cheese.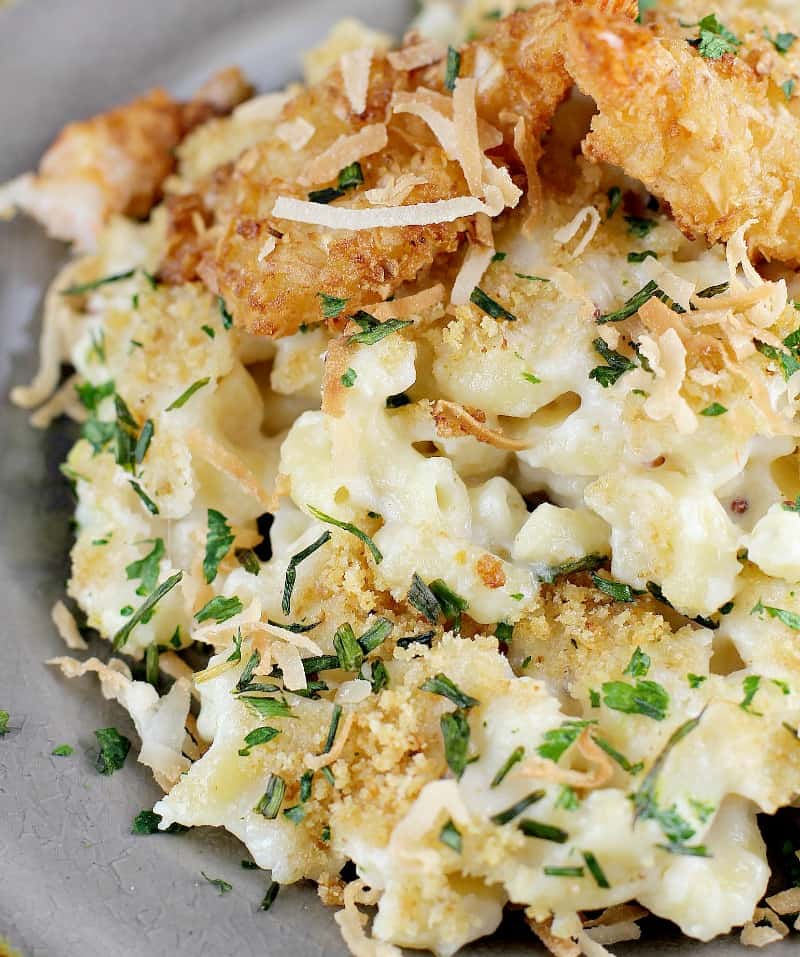 Ok, so the idea to make a seafood macaroni and cheese came from the local restaurant, but I haven't eaten there and have no idea how they prepare it. I do know that they used sauteed shrimp and not actual coconut shrimp [Huh?], so I'm kinda feeling out front on this one.
But on the other hand, and here we go… I used frozen, purchased coconut shrimp as a total shortcut because I had no desire to make them from scratch – GASP!
And I make no apologies for it! Sometimes we want creamy cheesy comforting macaroni and cheese and we want it NOW. So we do what we gotta do, and sometimes this includes cutting a corner or two.
But if you feel strongly about the matter, just google how to make coconut shrimp and get on with your bad self. Props.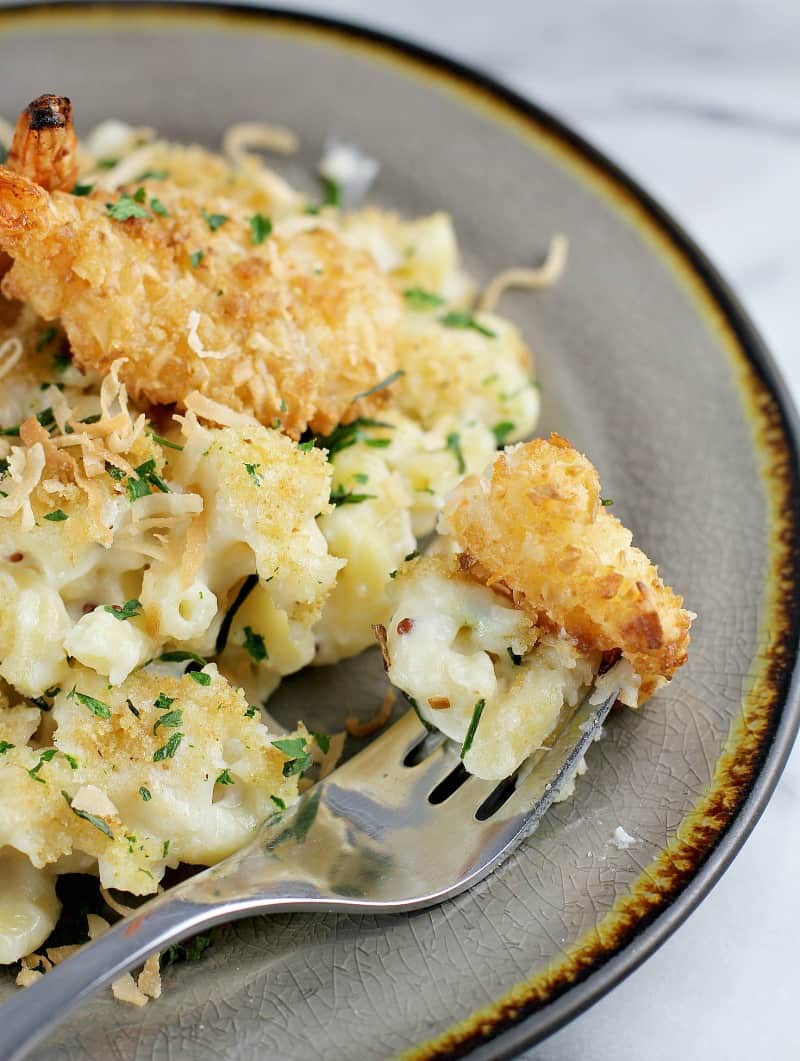 Oh man, this dish is SEXY. This isn't just comfort food – it is outright freaking erotic that's what it is, let's be real. As in, you'll moan inappropriately eating it. So, make this for Valentine's Day. Make this for your partner's birthday. Make this to treat yourself because you deserve it. Love them, love yourself, and eat some yummy macaroni and cheese.
And do it because with my instructions that break the whole process out, this recipe is pretty easy to make.
Steps to making Coconut Shrimp Macaroni and Cheese:
Put your pasta to cook.
While the macaroni is cooking, make your cheese sauce.
Add the pasta to the cheese sauce and bake.
While casserole is cooking, get the coconut in the oven too to toast the flakes.
Once the macaroni and cheese is done, we cook the shrimp because they need a higher oven temperature.
Enjoy!
See? No biggie. And the reward is sooo worth it.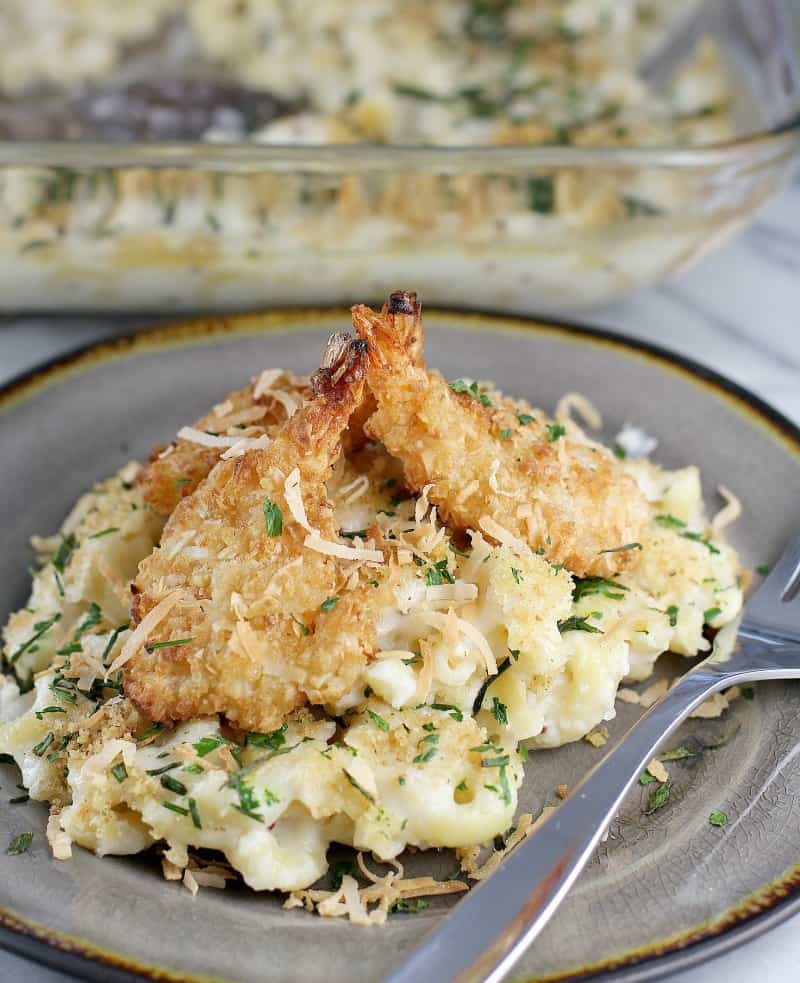 All the elements here come together into such a perfect bite, I just can't even.
What key ingredients go into Coconut Shrimp Macaroni and Cheese
macaroni
cheese sauce with coconut milk
whole grain mustard
coconut flakes
coconut shrimp
herbs
By substituting some of the milk with coconut milk, that luscious flavor comes through in the mac and cheese, but it's subtle and just right. The sweet coconut flakes, both coating the shrimp and sprinkled over the whole dish on their own, add crunch. Seafood, which oddly enough doesn't often pair with cheese, is SO great here with the mild Italian cheese blend. Even the yummy little pearls of whole grain mustard and bit of green herbs each have their part to play, and the elements come together in crazy goodness.
So that's it folks! A decadent, creamy cheesy, comforting pasta, worthy of anytime you want to make someone feel special or just to treat yourself. Indulgent, creative, creamy-crunchy, delicious. shrimp mac and cheese loaded with coconut and crunch!
If this recipe looks good, check out my Basic Creamy Macaroni and Cheese recipe as the essential guide for all things Mac and Cheese.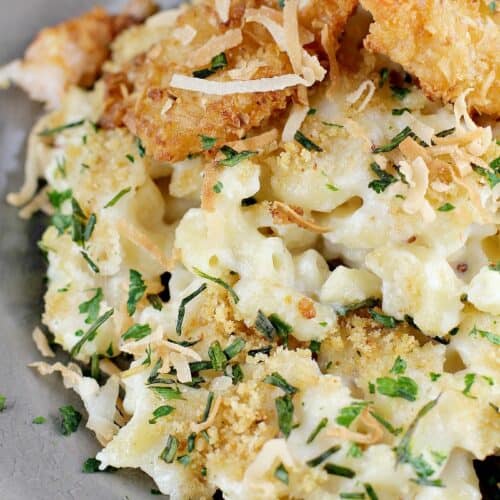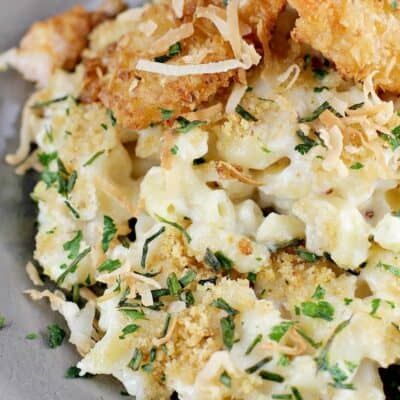 Coconut Shrimp Macaroni and Cheese
Coconut shrimp and macaroni and cheese, together in this creative delicious recipe.
Ingredients
1

(8 oz) pkg

elbows macaroni

2

Tbsp

unsalted butter

2

Tbsp

all-purpose flour

1 ½

cups

milk

½

cup

coconut milk

from the can

2

cups

Italian cheese blend shredded cheese

2

tsp

whole grain mustard

1

tsp

kosher salt

3

Tbsp

plain breadcrumbs

½

Tbsp

extra virgin olive oil or unsalted butter

melted

¼

cup

sweetened flaked coconut

1

(18 oz) box

frozen coconut shrimp

garnish: snipped chives and Italian flat-leaf parsley
Instructions
Heat oven to 350°F. Bring a large pot of water to a boil.

Put the pasta to cook to al dente according to package directions.

In medium saucepan, heat the butter and flour over medium heat whisking until smooth. Cook two minutes at a gentle simmer.

Slowly whisk in the milk and coconut milk. Heat, stirring constantly, until just hot but not simmering.

Remove from the heat. Whisk in the mustard and salt, then add the cheese.

Add the cooked pasta and pour all into a 13x9 baking dish.

Combine the 1/2 tablespoon olive oil with the breadcrumbs; sprinkle over the casserole. Bake at 350°F for 20 minutes or until nice and bubbly.

Meanwhile, layer the coconut flakes on a bake sheet. Bake in the oven at 350F until browned and toasty.

Once the macaroni and cheese is done, remove from the oven and set aside. Raise the temperature of the oven and cook the shrimp according to package directions.

Serve the macaroni and cheese topped with coconut shrimp and coconut flakes. Garnish with chives and parsley.
Notes
If you have two ovens (I don't), the coconut shrimp can be cooked while the macaroni and cheese is cooking to save some time.
You may have to stir the coconut flakes mid-way while cooking because the ones around the outer edges will brown faster.
Nutrition
Calories:
490
kcal
(25%)
|
Carbohydrates:
18
g
(6%)
|
Protein:
22
g
(44%)
|
Fat:
29
g
(45%)
|
Saturated Fat:
15
g
(94%)
|
Monounsaturated Fat:
8
g
|
Cholesterol:
199
mg
(66%)
|
Sodium:
957
mg
(42%)
|
Potassium:
302
mg
(9%)
|
Fiber:
2
g
(8%)
|
Sugar:
7
g
(8%)
Calorie count is purely an estimate calculated using an online application to serve as a guide and not to be taken as accurate nutritional information. Percent Daily Values are based on a 2,000 calorie diet.
Tried this recipe?
Leave a comment below and let me know!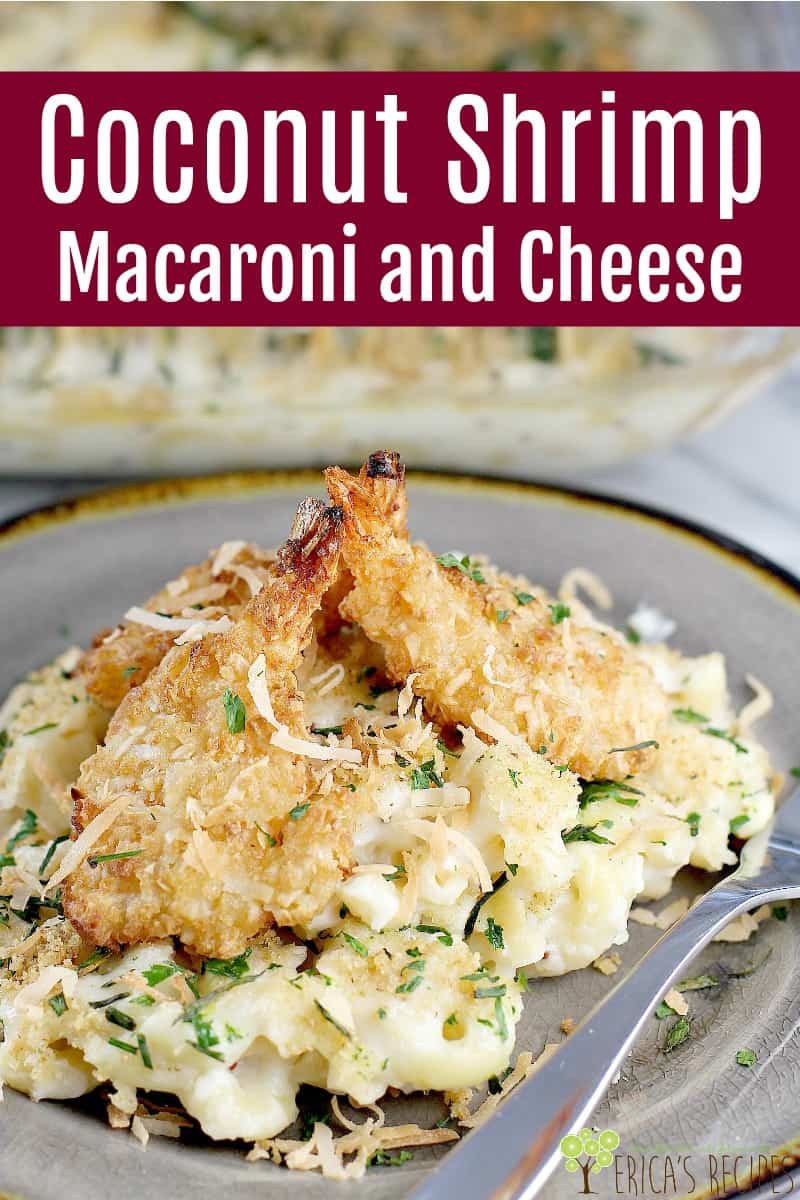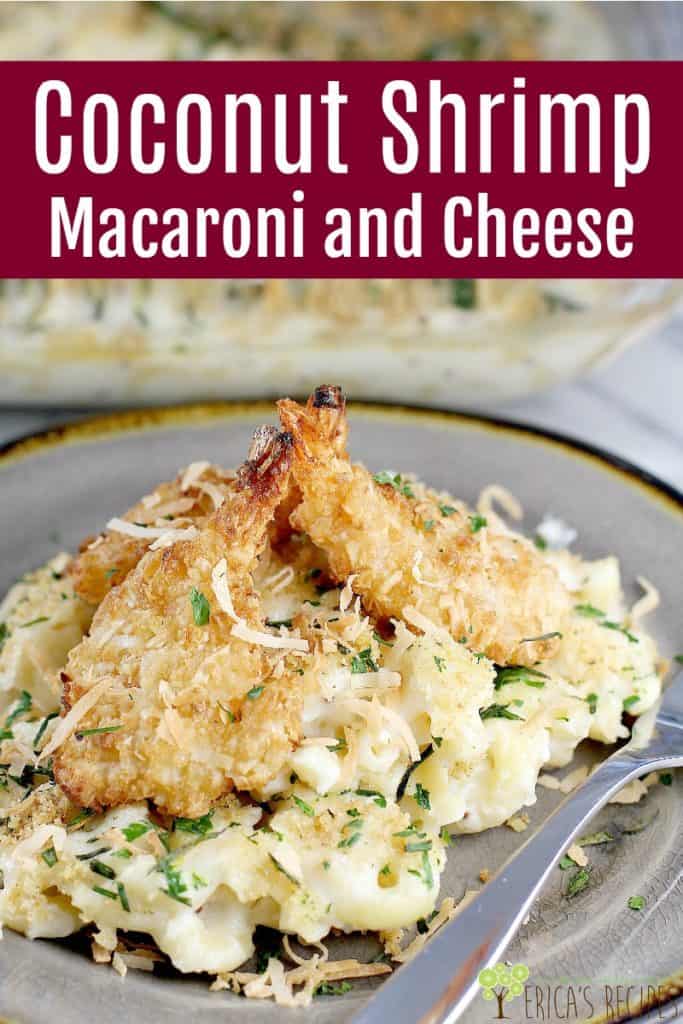 For more shrimp recipes, check these out