YAY it's the post-triathlon splurge! And spicy, saucy Jalapeno and Chorizo Macaroni and Cheese is the perfect reward!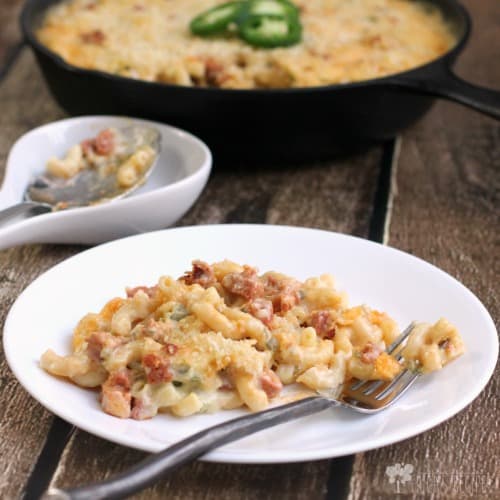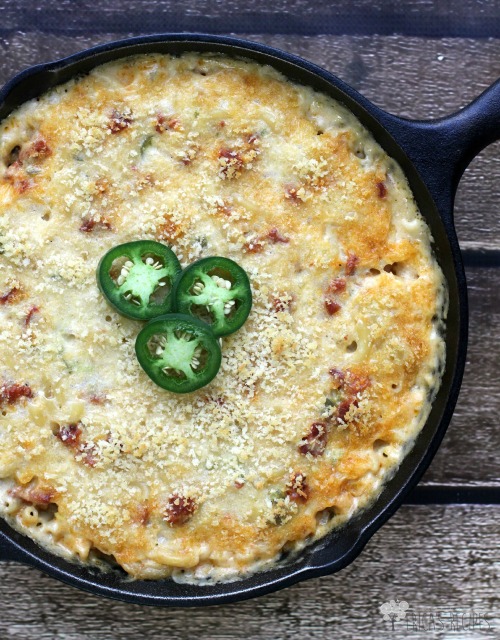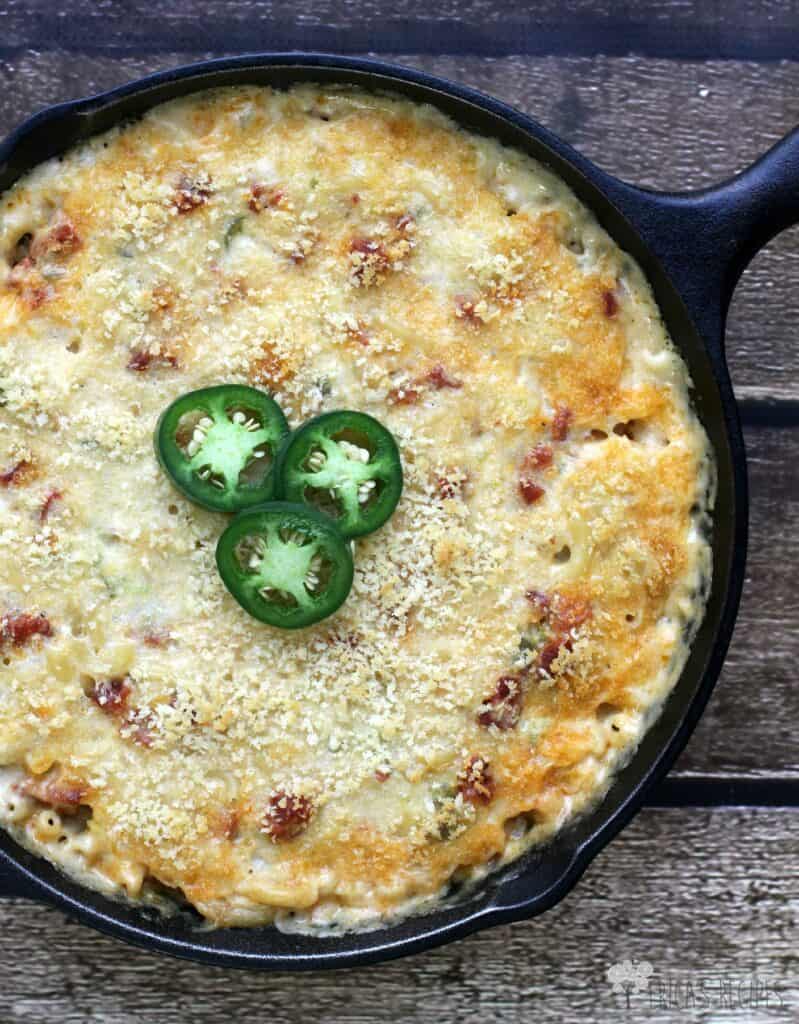 Oh my gosh what an incredible experience today was! Today was the Rocketman Florida triathlon at Kennedy Space Center. I did the International+ distance which was a 0.93 mi swim, 29 mi bike, and 6.2 mi run. We started with a swim during a gorgeous pink sky at sunrise. The bike leg took us over the NASA causeway by pristine waters, to the vehicle assembly building (the largest building in the world and where the shuttle was mounted on the external tank – felt like I was cycling towards it for EVER because it is so immense) and the shuttle launch pads. Then back. This was just too cool! Then the run took us under the wings of neat old warbird planes set out from their comfy hangers just for us. And not only was the location just totally bad-a$$, but both my swim and bike times were my fastest yet in competition. This was the first race where I wasn't just trying to get to the finish, I raced. What an amazing feeling!
But the best part by far was my daughter. My girl got up early with me at Oh-My-Lord o'clock, came with a chair, camera, and a packed lunch, and was my cheering section and support. After the bike portion, when I got back to the transition area, among all the commotion and noise, I could hear her in the distance, "GARMIN! GARMIN! GARMIN!" telling me not to forget my garmin computer on my bike (I have that habit). Then she gave me a high five as I set out on the run. …And that right there is a singular moment I will cherish forever.
So now that is done, and I get to relax and recoup. …for a couple days anyway. And a brand new mac 'n cheese sure seemed like a fantastic way to go RIGHT?! Mac 'n Cheese! Can I get an AMEN?! …Can I just tell you how well chorizo, which has a little kick on its own, goes with jalapeno? I loooove jalapeno flavor, even without the heat, and the combination with chorizo is so stinkin' crazy good. And then the creamy cheesy sauce comes in, tames the heat, and just takes this to cheesy mac perfection. Can you tell I'm excited? Cuz yes, this stuff is that good!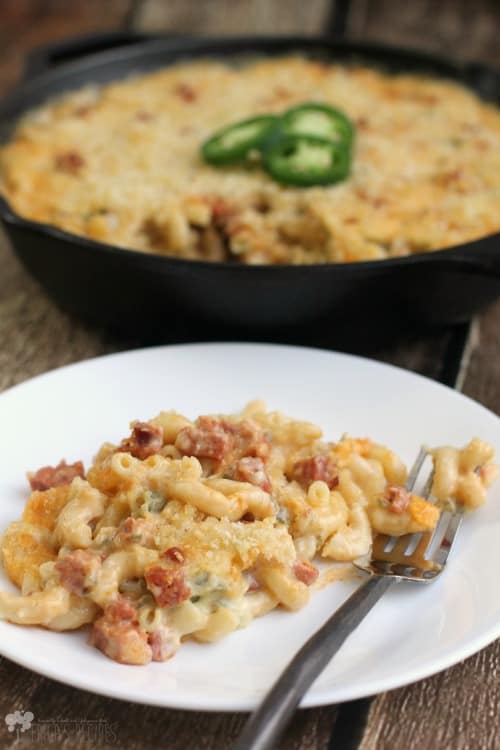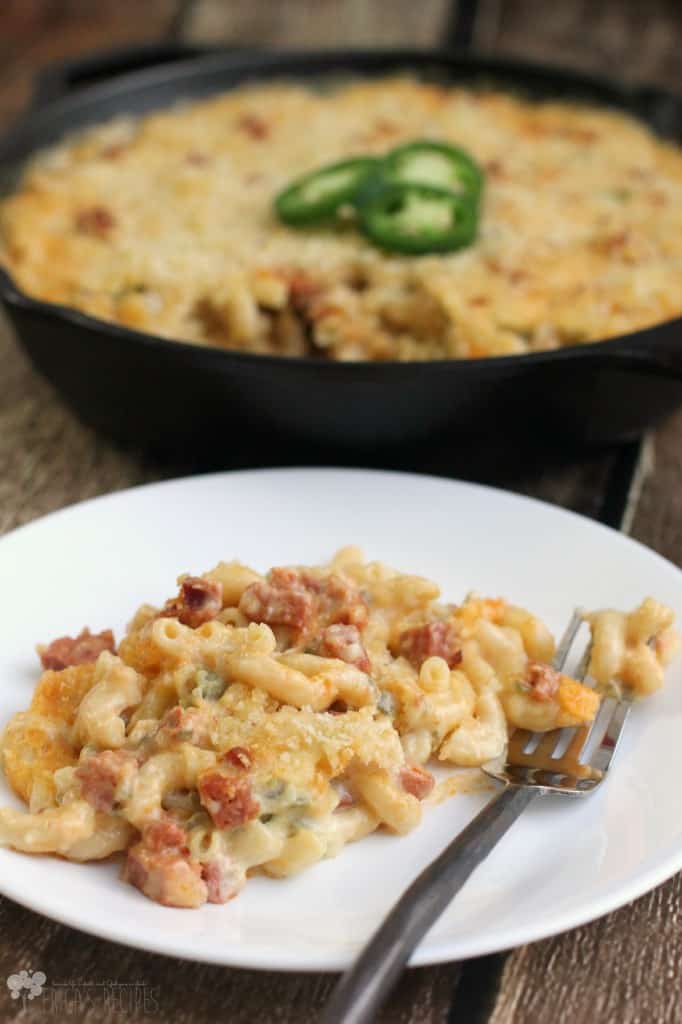 Jalapeno and Chorizo Macaroni and Cheese
2014-10-25 10:53:44
Ingredients
8 oz elbow macaroni
1/2 lb Spanish-style chorizo sausage, finely diced
2 T unsalted butter
2 T all-purpose flour
2 c milk
2 c shredded pepperjack cheese
3 oz cream cheese
1 t kosher salt
1 t Dijon mustard
pinch fresh cracked pepper
1/4 c finely diced pickled jalapeno
1/4 c panko breadcrumbs
2 t extra virgin olive oil
garnish: fresh sliced jalapeno
Instructions
Heat oven to 350F. Bring a large pot of water to a boil.
Heat a large saute pan over high heat. Add the chorizo and cook, stirring often, until sausage is browned. Drain fat and set aside.
In a medium saucepan, heat the butter with the flour over medium heat, whisking until bubbly. Cook 2 minutes to cook the flour and make a roux. Slowly whisk in the the milk. Heat, stirring constantly, a minute or two until quite warm. Reduce heat to medium low and add both cheeses, salt, Dijon, and pepper. Whisk until smooth. Stir in the jalapeno and chorizo and set aside
Cook the macaroni to al dente according to package directions in salted water. Drain and add to the cheese sauce. Transfer to a 2-qt baking dish.
In a small bowl, combine the olive oil and panko breadcrumbs. Sprinkle over the macaroni. Bake at 350F for 15-20 minutes until bubbly. Garnish with sliced jalapenos. Yield: 6-8 servings.
Erica's Recipes https://ericasrecipes.com/
~✿♥✿~