Garlic Parmesan Popovers with herb and cheese flavor are deliciously light and airy rolls worthy of your family dinner. Schmeer with butter or dip in sauce, these magical popovers are especially tasty with their soft, eggy inside, crisp outside, and garlic parmesan flavor.
This website uses affiliate links which may earn a commission at no additional cost to you. As an Amazon Associate I earn from qualifying purchases.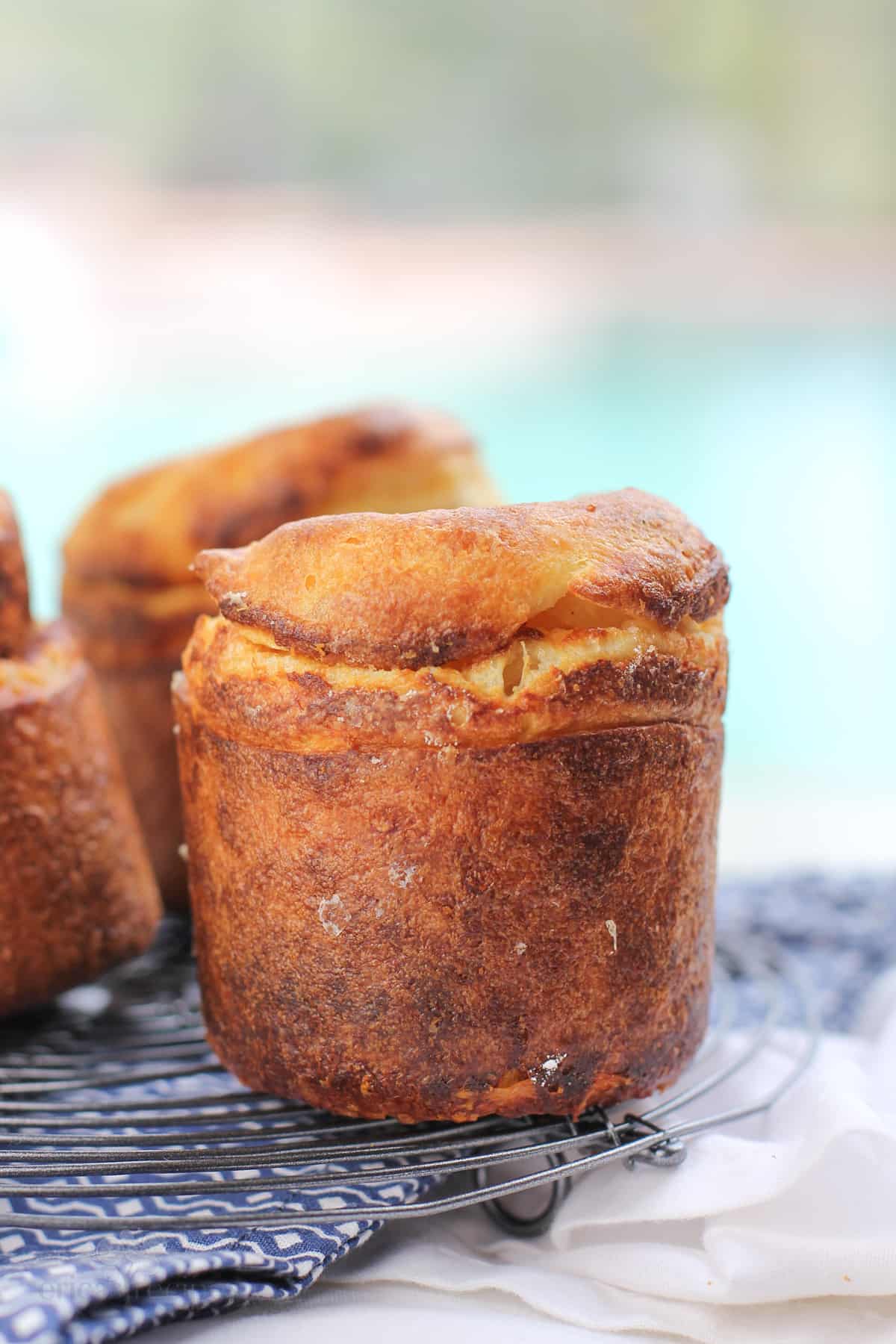 Why this recipe works
I know I tout my favorite this and favorite that when it comes to food, but there really are 4 things that are my favorites in all their many forms and varieties: pizza, crepes, biscuits, and POPOVERS. These are the great foodie loves of my life (oh, plus mac and cheese. and pasta alfredo… basically all creamy cheesy pasta).
This recipe works because it gives you light and eggy delicious popovers with garlic parmesan flavor. The bit of cheese makes the outside crisp and with a buttery soft inside, these popovers are so incredibly satisfying.
About the ingredients
All the ingredients listed in the recipe card are popover and pantry staples, with the exception of the garlic butter. Popovers are made with a thin batter (i.e. the consistency of heavy cream), so any additional ingredients, especially cheese, can weigh the batter down and keep them from rising as large as plain batter. This is just a fact of popover life. It's fine.
Using the garlic butter helps us impart more garlic flavor (in addition to the garlic powder) without weighing the batter down with actual garlic. It's also a little hack I use in tons of dishes because I love the flavor. Kerrygold Garlic and Herb butter is sold in the US as individual sticks in the dairy section, so you can grab one without having to commit to a pound of butter. However, if not available, do the following: add a small clove of finely minced garlic to a tablespoon of melted unsalted butter. Warm that to infuse and add to the batter. No worries, and you may prefer the fresher garlic flavor.
For the parmesan, use fresh grated (not shredded) cheese. Fresh cheese will melt because it won't have added anticaking agents. It will also taste better. The pantry parm in the green shaker can has its place in life but not in these garlic cheese popovers.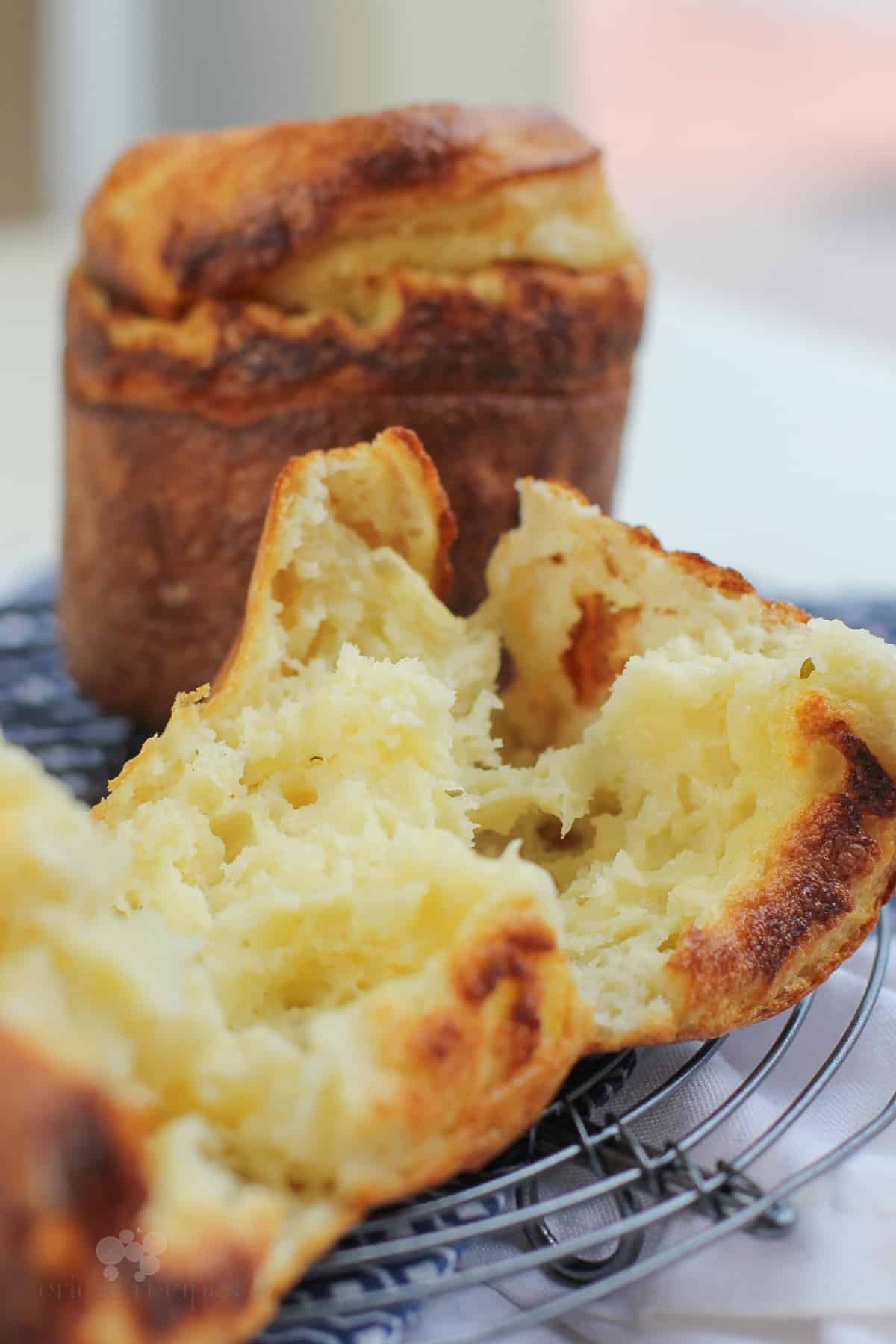 How to make garlic parmesan popovers.
There are three key things you have to do for popovers to turn out right. See my Perfect Popovers post for the full discourse and tips for troubleshooting if your popovers aren't popping.
Start with room temperature ingredients.
Let the batter rest a bit.
Don't open the oven once baking.
Popover batter is thinner than pancake or waffle batter but not as thin as crepe batter. There is no leavening agent like baking powder. Also, the consistency is important, as is the ratio of milk, eggs, and flour. Because the batter is thin, the rest time gives the flour a beat to absorb the liquid, which is precisely what creates the steam to get the popovers to rise once in the oven. I keep the rest to 10 minutes, because in my experience the batter will thicken too much if allowed to rest too long.
Heat to the oven hot to 450℉. Some recipes say start in a cold oven, some use 400℉. I've only ever had success starting in a freaking hot oven.
Make the batter. Incorporate the flour last so that it doesn't get overworked. Don't use a blender. Don't beat it into submission. The batter will always win.
Rest. Have a glass of wine.
Toward the end of the rest, stick the popover pan in the oven to warm up.
Coat the popover tins with cooking spray and throw in a bit of parmesan around the sides. Don't overthink and work quickly, just splash in a bit of cheese around randomly. Completely coating the sides of the tins is not necessary. We're just adding enough to give the batter something to cling to and help the puff.
Fill the popover tins halfway with batter.
Bake at 450℉ for 15 minutes – at which time and without opening the oven, put the oven to 350℉. Cook 15 minutes more.
Take the pan out of the oven and stick a knife in each popover to release steam. Take the popovers out of the tins then too. Serve!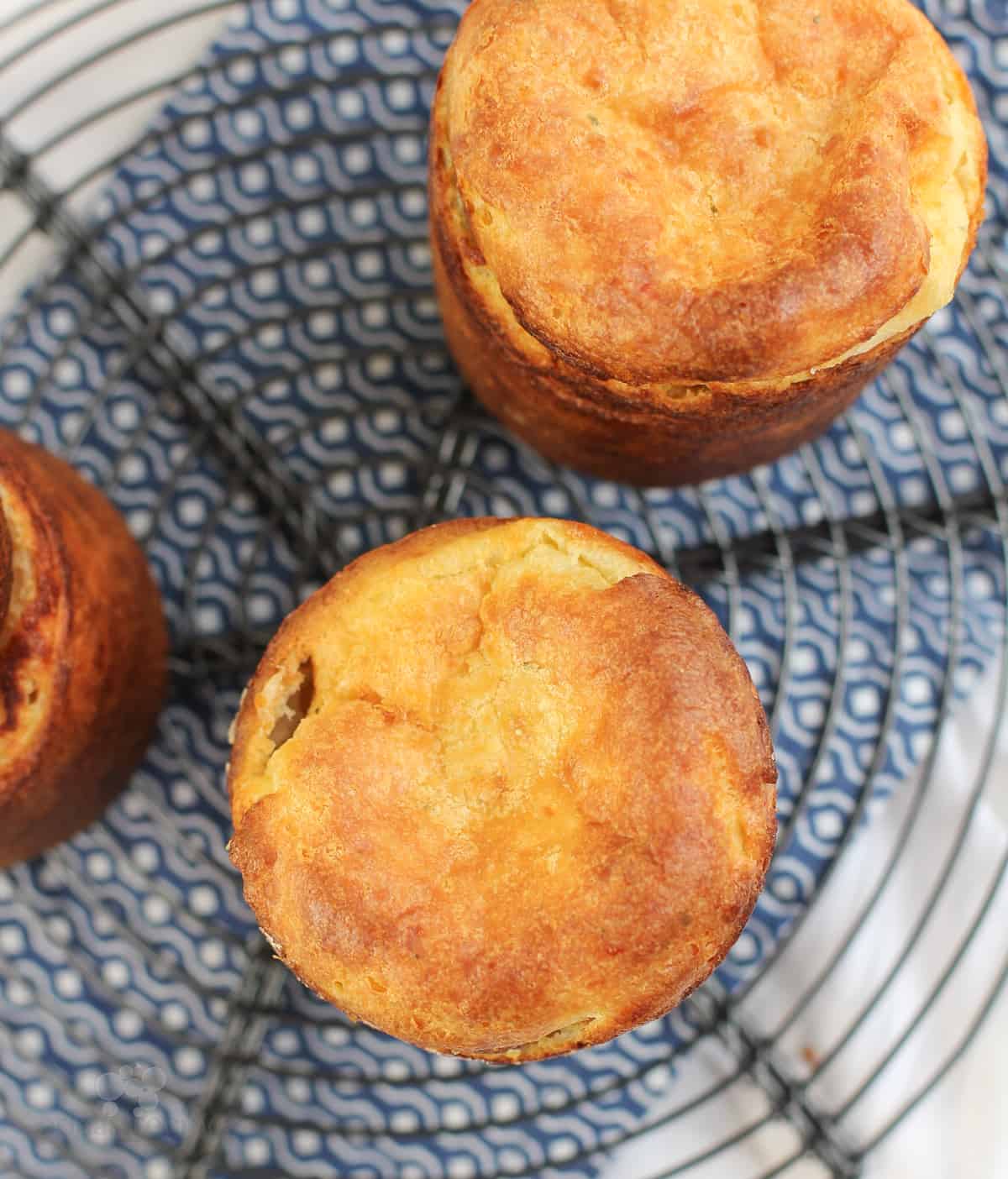 Serving suggestions
I will seriously eat popovers any chance I get and with any dish – I Do Not Care. But with these being garlic parmesan popovers, certain dishes are coming to mind that would completement these babies best. What these suggestions all have in common is that they are all either make-ahead or quick cook dishes and none of them use the oven.
Maybe you have 2 ovens and if you do, great for you. Most of us peasants don't, so we have to plan accordingly.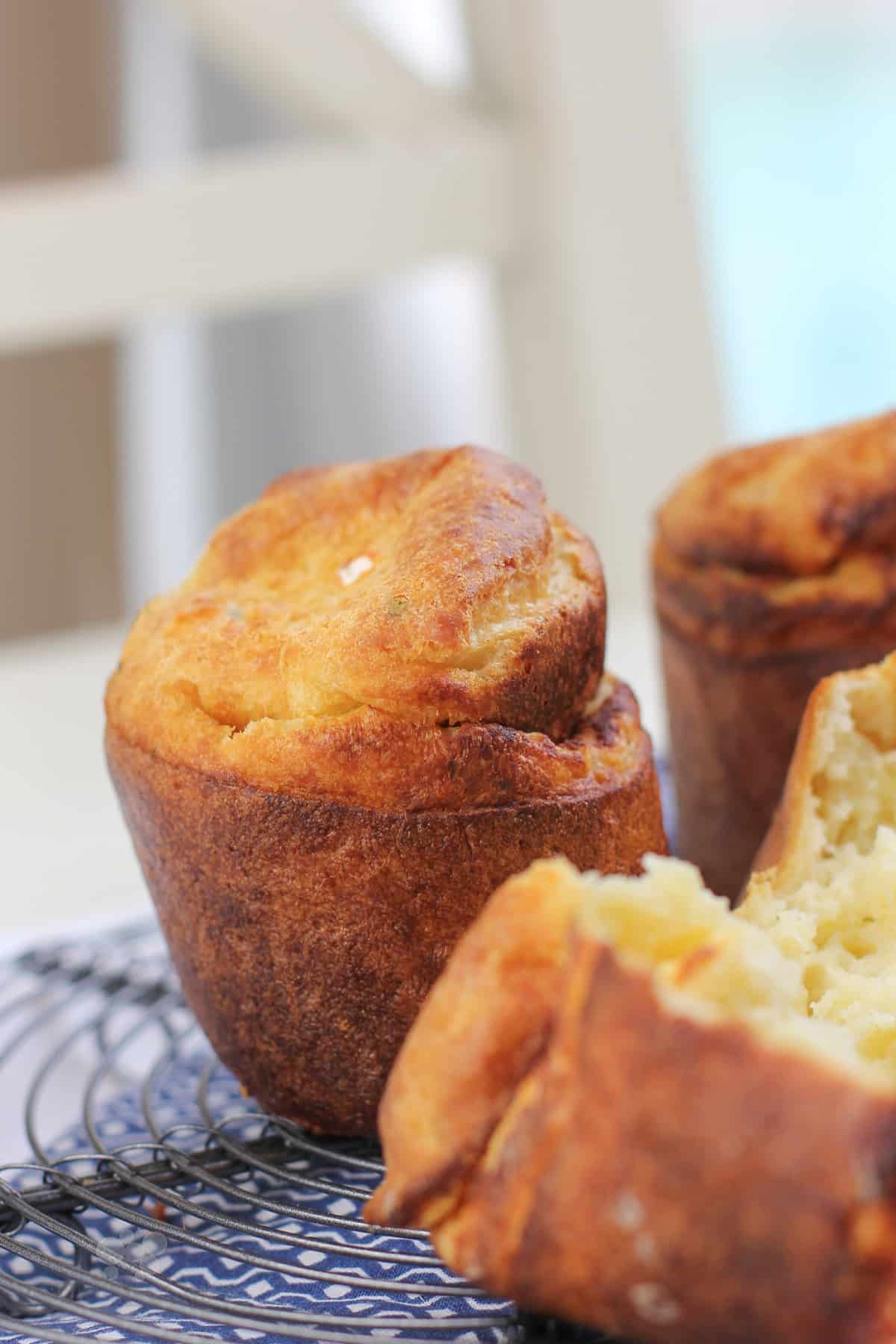 For more cheesy popover recipes, check out my Smoked Gruyère Popovers with Thyme and Cheddar Bay and Chive Popovers.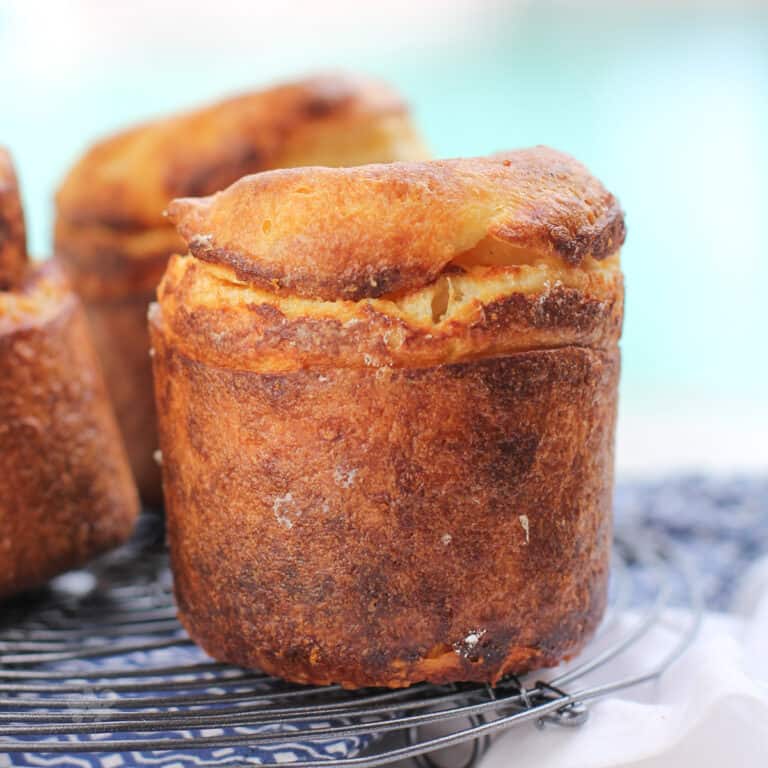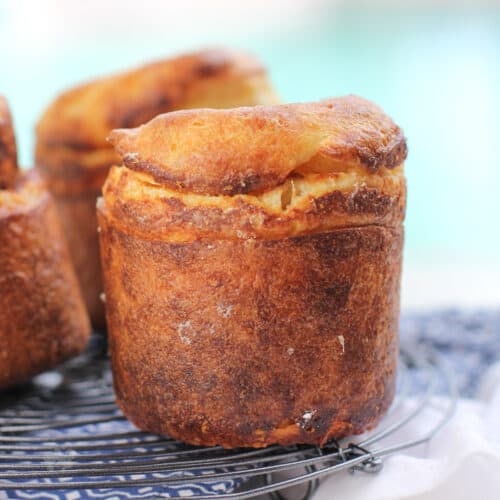 Garlic Parmesan Popovers
Garlic Parmesan Popovers with herb and cheese flavor are deliciously light and airy rolls worthy of your family dinner.
Ingredients
2

large eggs

room temperature

½

tsp

kosher salt

½

tsp

garlic powder

1

Tbsp

freshly grated parmesan cheese

plus additional for dusting the pan

1 ½

cups

milk

room temperature

1 ¼

cups

all-purpose flour

1

Tbsp

garlic and herb butter

melted (such as Kerrygold)
Instructions
Whisk the eggs with the salt, garlic powder, and cheese. Whisk in the milk until blended.

Add the flour and melted butter, and whisk until flour is incorporated. Take not to overmix – the mixture will have small lumps (this is fine).

Let the batter rest 10 minutes. During the last 2 minutes, but the popover pan into the oven to heat.

Spray the tins of the popover pan generously with cooking spray. Dust lightly with parmesan. Fill each tin half full with batter.

Bake at 450℉ for 15 minutes. Without opening the oven, lower heat to 350℉ and bake another 15 minutes.

Remove pan from the oven. Pierce popovers with a knife to allow steam to escape and remove from the tins. Serve immediately.
Calorie count is purely an estimate calculated using an online application to serve as a guide and not to be taken as accurate nutritional information. Percent Daily Values are based on a 2,000 calorie diet.
Tried this recipe?
Leave a comment below and let me know!