Pumpkin Beer BBQ Pulled Chicken Sliders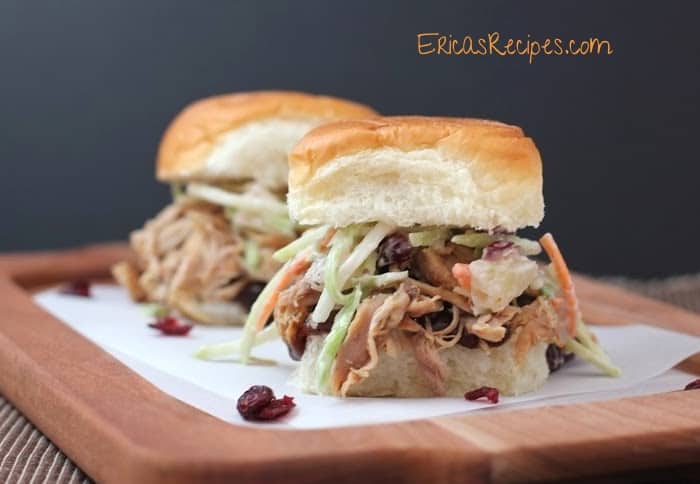 Well, fall may not be in the air here in Florida, but you wouldn't know it at Disney. Or online. We went to the Magic Kingdom this past weekend and it's already decorated for fall! And the pumpkin dishes are already flying on social media. So, I guess I was inspired. And maybe I'm a little hopeful that this oppressive heat will soon subside, that we'll finally get a little chill in the air, and I'll be able to work on my much neglected garden. Won't happen until November, but that is the hope. Anyway, here's my Labor Day creation 🙂
Pumpkin Beer BBQ Pulled Chicken Sliders
2 lb skinless, bone-in chicken thighs (~6 thighs)
3/4 c pumpkin beer (such as Shock Top Pumpkin Wheat)
1/4 c BBQ sauce (I use Jack Daniel's Original)
sweet slider buns (such as Hawaiian Sweet Rolls)
Lightly coat the chicken thighs in the grilling rub. Let sit 20 minutes at room temperature.
Put the chicken in a slow cooker. Separately, combine the beer and BBQ sauce. Pour over the chicken. Cook in the cooker on high 1 hour, then reduce heat to low and cook another 5 hours.
Remove the meat from the slow cooker and, using a couple forks, shred the meat. Discard the bones and cartilage. Put the shredded chicken in a bowl and toss in some of the sauce from the slow cooker to moisten the meat. Serve in sweet rolls with Sweet Broccoli Slaw and additional BBQ sauce.
~✿♥✿~