Homemade marinara sauce comes together quickly using canned tomatoes and has wonderful depth of flavor from garlic, red wine, and fresh herbs that you just cannot get from store-bought. Use this marinara sauce recipe as a base for your Italian-inspired dishes or even just for a simple spaghetti night dinner.
If my homemade marinara looks good to you, you should try it smoked! Check out my Smoked Meatballs Marinara recipe for a delicious smoky twist for dinner.
This post contains affiliate links. As an Amazon Associate I earn from qualifying purchases. See Privacy Policy for full disclosure.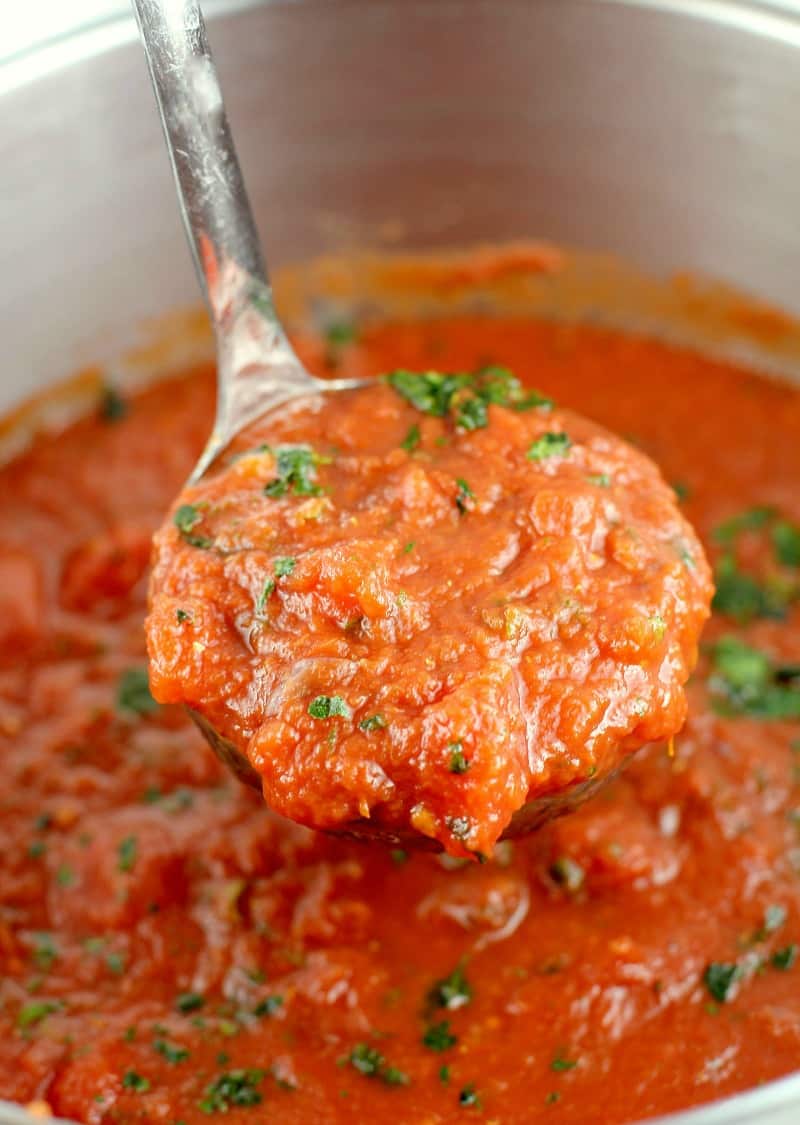 Did you know I have a Pinterest board called I Wish I Was Italian? Yes, I do, because I do. My daughter is 25% Italian. I am 0% Italian. Why couldn't I be Italian?? Italy has the best food, language, countryside, oyyyy I really do wish I were Italian. At least a smidge.
Anyway, one thing I love about Italian cooking is how simple it is. Rustic. Artisan. Peasant. Love love love Italian cooking.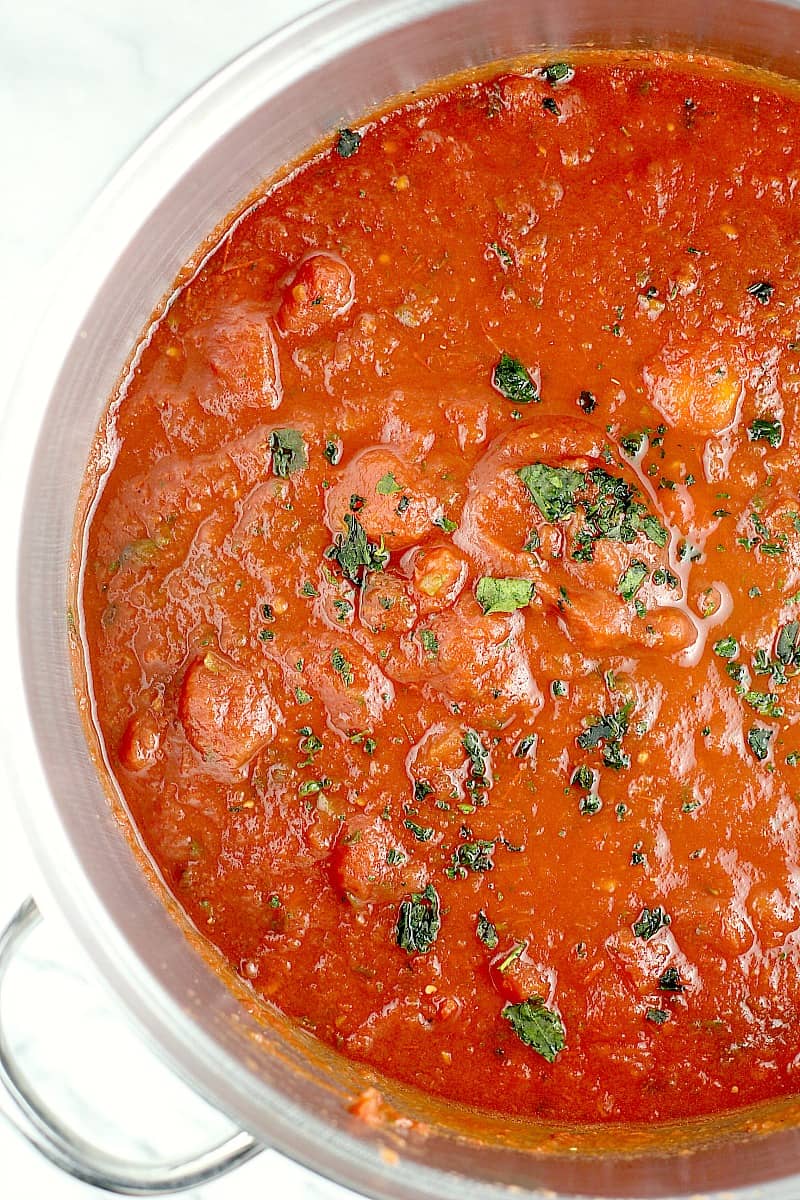 Where did Marinara Sauce Come From?
Marinara sauce originated in southern Italy, where my daughter's Italian family is from, sometime in the 16th century.
What's pretty interesting about this is think…. aren't like sooo many dishes in Italy based on tomatoes? Yeah right? Well, seems the Spaniards introduced Italy to tomatoes when they brought them from the New World.
Italy, you're welcome.
But if you ever hear of tomatoes referred to as the "New World fruit" (cuz remember also, tomatoes are in fact fruit), that is where that comes from. Marinara sauce literally means mariner's sauce.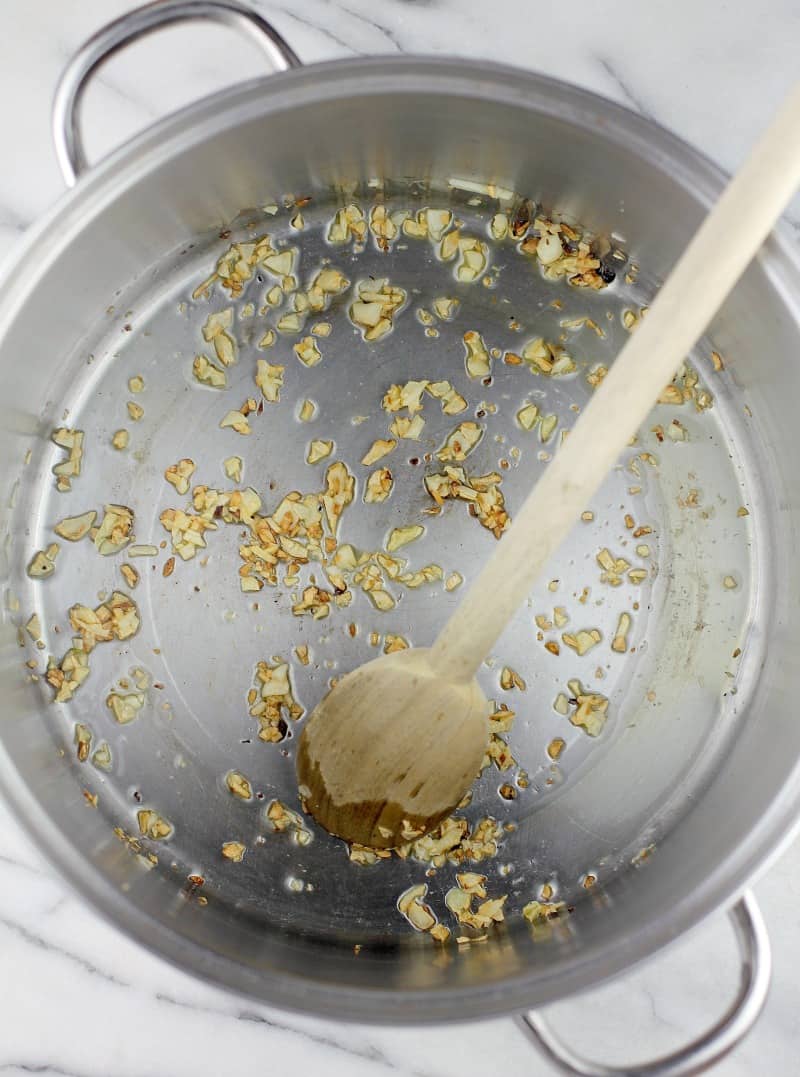 I made my own marinara once from scratch using fresh tomatoes, and it was otherworldly delicious. But it was a serious labor of love and just not an endeavor I am able or willing to replicate with frequency.
However, we can just about get there with canned tomatoes by using a couple tricks, and the result is divine.
This is one of my favorite, beloved recipes. I have made it for my family of 4 at home, and I have made it for 80 people at church dinners. Because it is so easy, when I want a meal to be special (but not overwhelming for me to make), it will often involve this sauce recipe.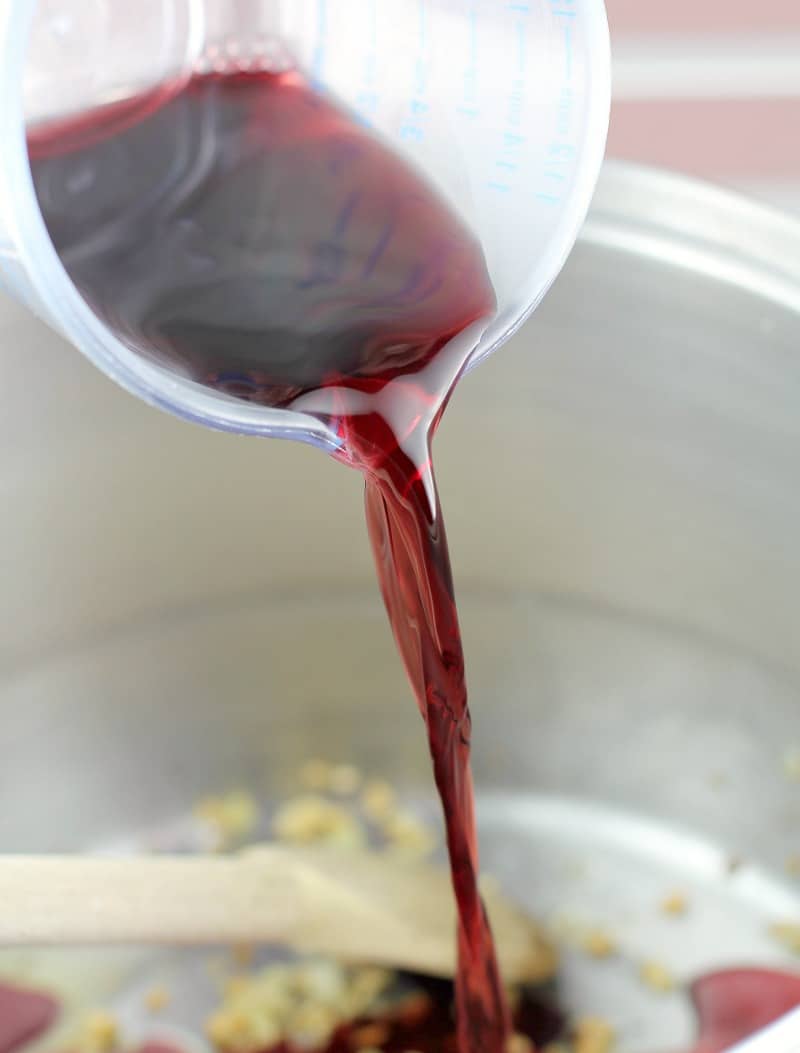 Tips for Making Homemade Marinara Sauce
First, is the tomatoes. We use a mix of crushed and diced canned tomatoes in this recipe, and because this is the basis for the entire shebang, we want those tomatoes to be the best quality we can get.
So, in the canned tomato section, I let me eyes go down to the bottom where they have the canned products from Italy, and I grab those. I also find that in using good canned tomatoes, I have to adjust less for the tartness of the tomatoes with salt or sugar.
Fresh herbs! Bright, lovely fresh herbs literally make this sauce so unbelievable tasty.
Red wine and garlic. Lots of garlic, cooked briefly in olive oil, then we add red wine. We cook off most of the liquid (and hence, the alcohol), leaving behind a luscious beautiful flavor.
Lastly, once all is said and done, taste for seasoning!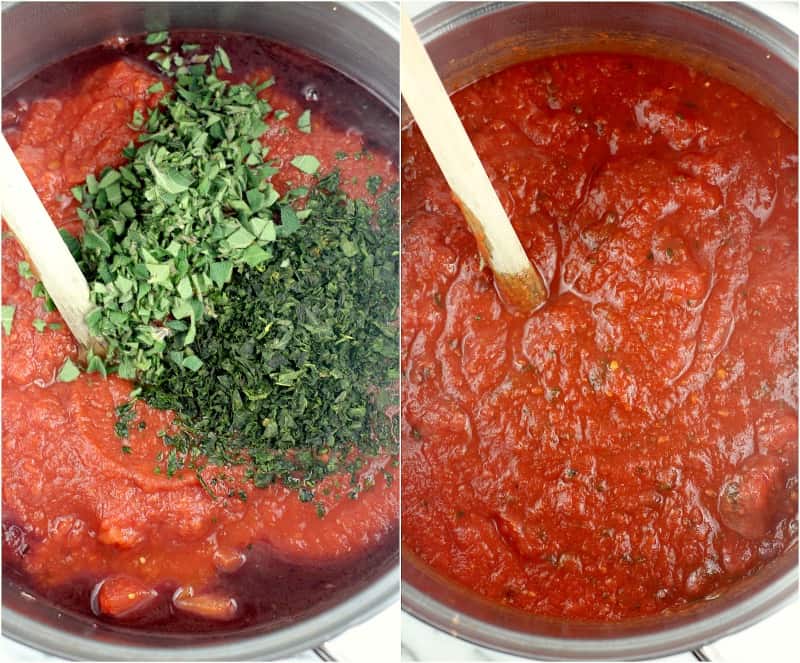 How to Make this Marinara Sauce Recipe
Saute garlic in olive oil.
Add red wine and cook off. This step is important because we don't want the alcohol flavor.
Add the remaining ingredients and simmer a bit.
Done!
FAQs
Can this sauce be used in baked Italian dishes such as baked ziti or lasagna? Y
Yes and I highly encourage everyone to do so! This sauce is perfect for baked dishes, and I use it in my lasagna every time.
Can this canned tomatoes sauce be frozen? Absolutely yes, this recipe freezes beautifully.
Absolutely yes, this recipe freezes beautifully for up to a month.
What is the best way to freeze homemade marinara sauce?
I like to put my sauce in 2-cup or 4-cup containers, and layer a piece of plastic wrap on top to protect from freezer burn before putting on the lid. Just be sure not to fill the container too full or it will bust while freezing as the sauce expands. Also, wait until the sauce is cool before adding to any kind of plastic container.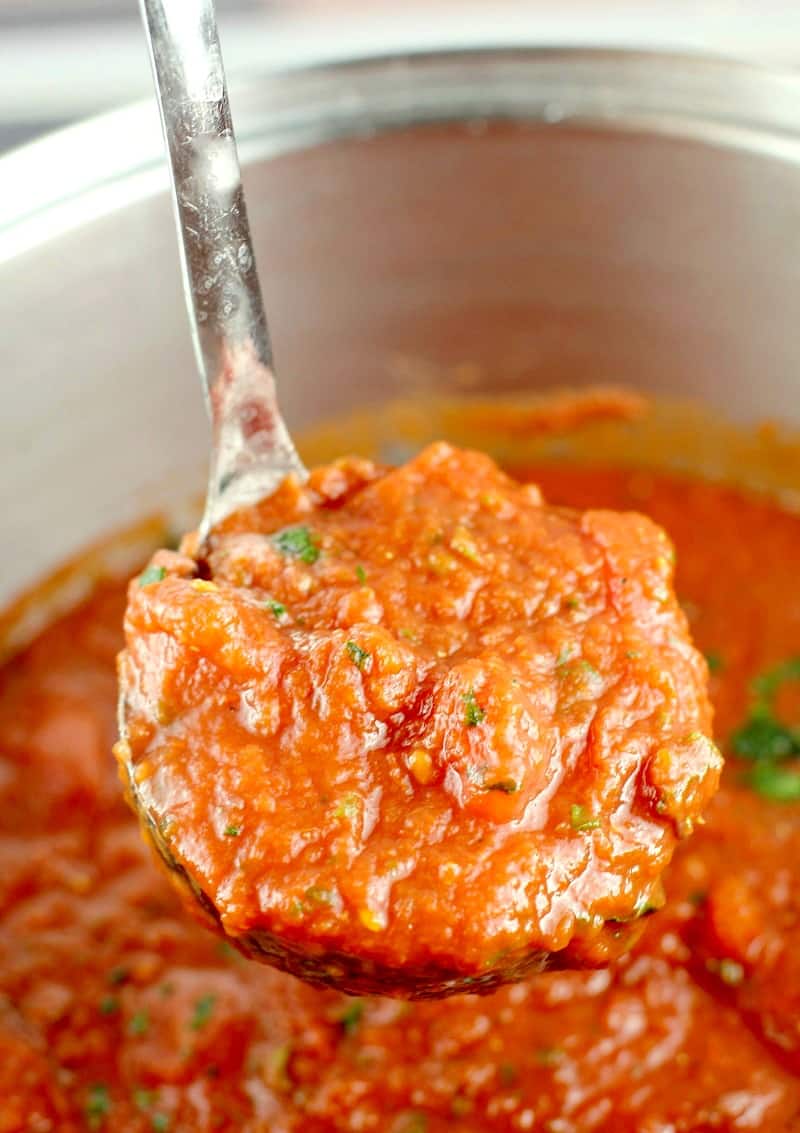 Here are More Italian-Inspired Recipes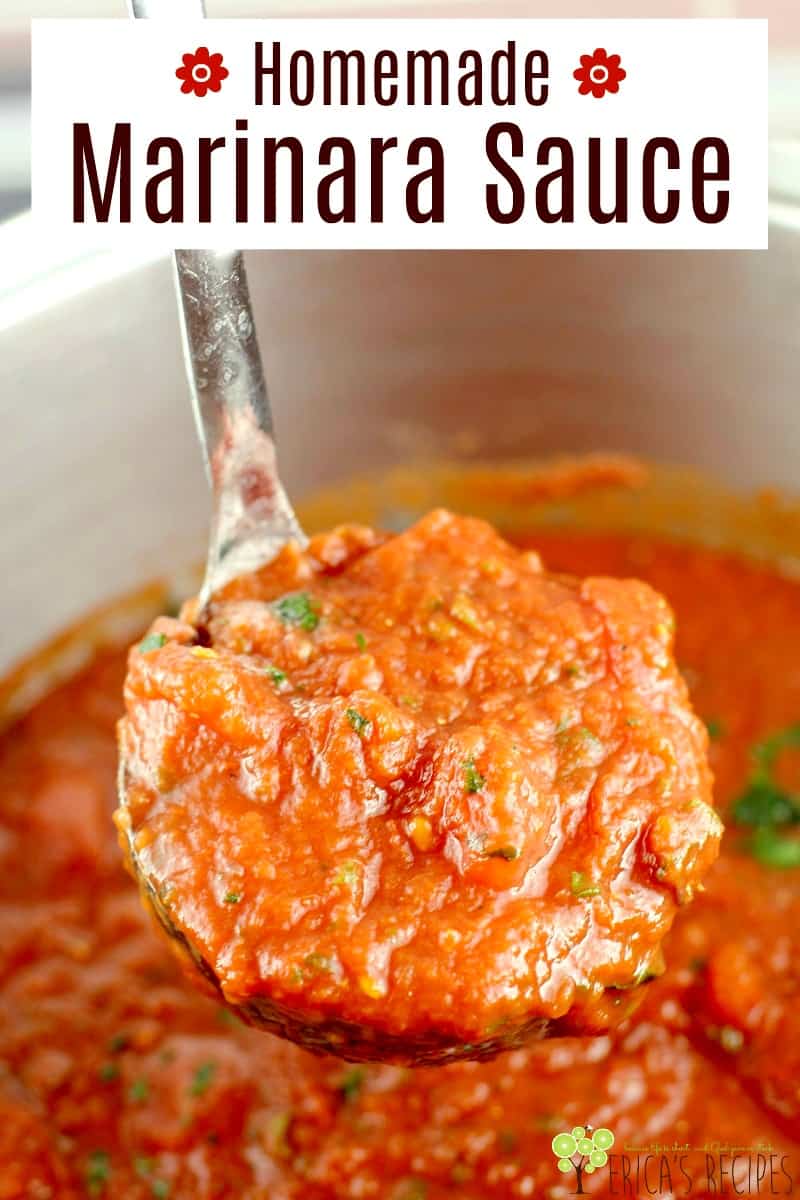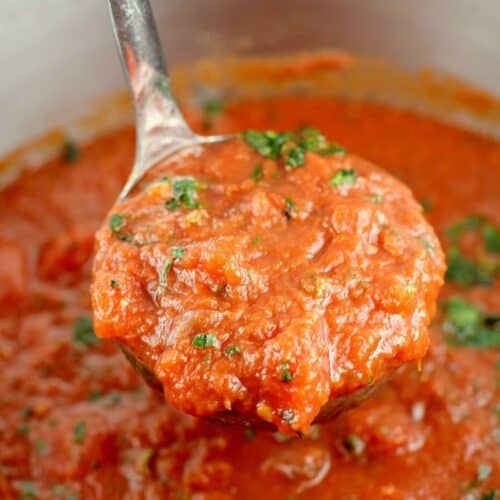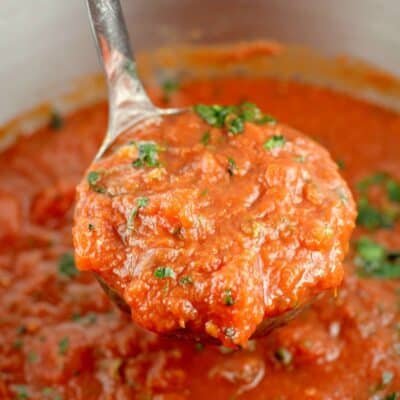 Homemade Marinara Sauce
Homemade marinara sauce comes together quickly using canned tomatoes and has wonderful depth of flavor from garlic, red wine, and fresh herbs that you just cannot get from store-bought.
Ingredients
1

Tbsp

extra virgin olive oil

2-3

large cloves garlic

chopped

½

cup

red wine

2

28 oz cans crushed tomatoes

2

14.5 oz cans diced tomatoes

1

tsp

kosher salt

1

tsp

sugar

¼

cup

fresh basil

chopped

¼

cup

fresh oregano

chopped (or 1 Tbsp dried Italian seasoning)

¼ 

tsp

fresh cracked pepper
Instructions
In a large pot, heat the oil.

Add the garlic and cook 2-3 minutes until garlic is very lightly browned.

Add the wine and cook until reduced by half.

Add the remaining ingredients and stir to combine.

Simmer sauce on low heat for an hour, stirring occasionally.

Remove from the heat and check for seasoning (may need to add a little more sugar if the tomatoes were too tart).

If freezing, cool completely in the pan before transferring to plastic containers.
Notes
Recipe yields approximately 10 cups marinara sauce. Calorie estimation is based on 20 servings, 1/2 cup sauce each.
Nutrition
Calorie count is purely an estimate calculated using an online application to serve as a guide and not to be taken as accurate nutritional information. Percent Daily Values are based on a 2,000 calorie diet.
Tried this recipe?
Leave a comment below and let me know!