This delicious and healthy breakfast Tropical Green Smoothie, with sweet tropical flavors and added protein, will fill you up and satisfy you for the morning.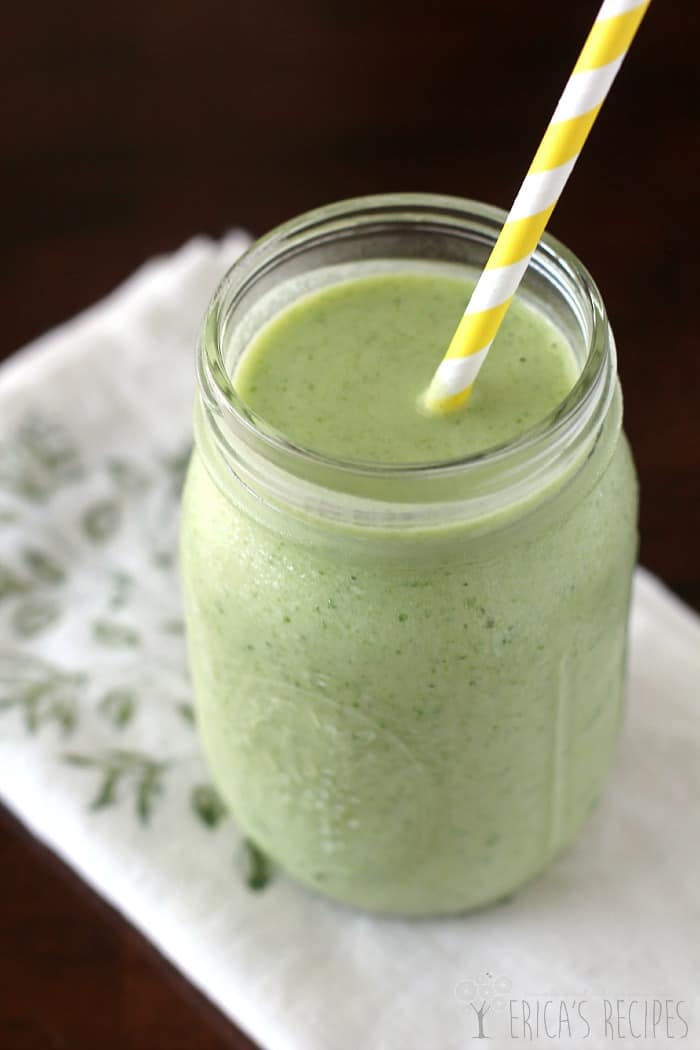 Smoothieeee!!! Healthy smoothies are so hip right now. Erryone's drinking their breakfast. All the cool kids are doing it. ..I'm a huge proponent of drinking down nutrition. Especially one with yummy sweet fruit. When I was pregnant with both my kids, I had vegetable juice every day – had to hold my nose to get it down, but I drank those veggies down religiously.
My daughter loves 2 things: Starbucks and smoothie places. And she knows I'll take her if she buys (she's always got more cash than me ….grandparents, jeesh). The last couple times we got smoothies, I got a Tropical Smoothie that included greens and I had them add protein. The fruitiness was yummy, but I could taste the protein – there was kind of a graininess going on in the background that was off-putting. No bueno.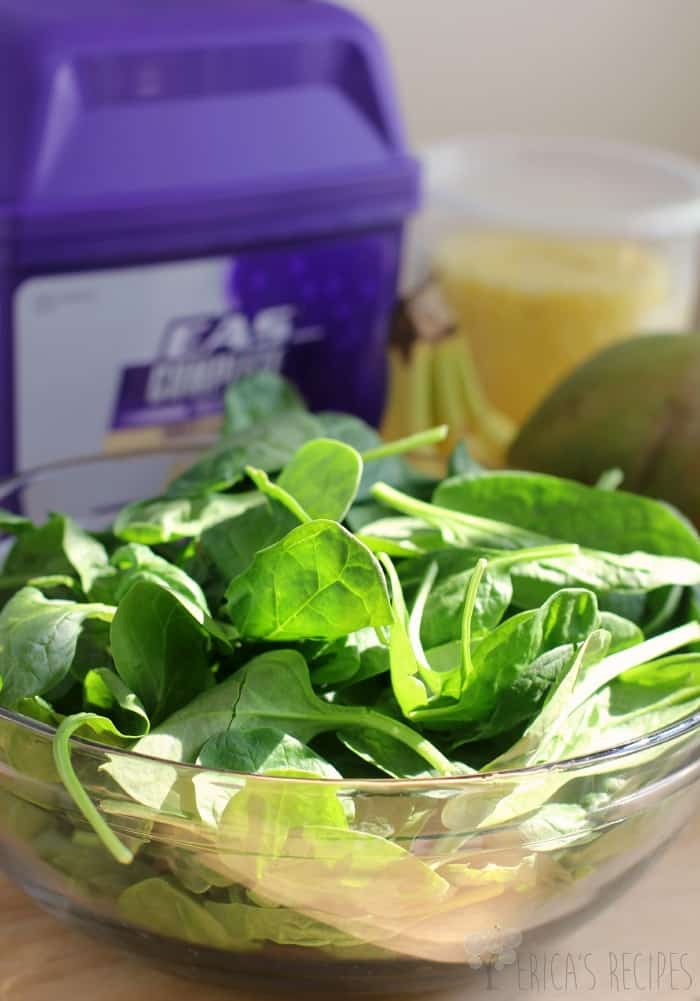 And soooo, I started making my own smoothies at home. My way [smiley]. And this deliciously green drink is the best smoothie I have made yet.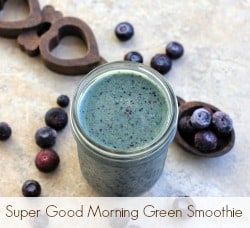 I have been using EAS protein for a few years now, and currently I've got both vanilla and chocolate in my pantry. If you don't believe me, check out my Super Good Morning Green Smoothie and as my son says, "told'ya" (that smoothie will totally cure a hangover too …just saying). I keep bags of the ingredients for this smoothie ready to go in the freezer too.
So why do I use EAS? Well, they taste great …but vanilla is vanilla and chocolate is chocolate – in a smoothie, any protein powder is going to taste fine. ….actually, I use EAS for 2 other reasons. One, it dissolves easier than other powders I have tried. I've got another brand sitting in my pantry that I never use because it's always gloppy.
And the second reason is the scoop…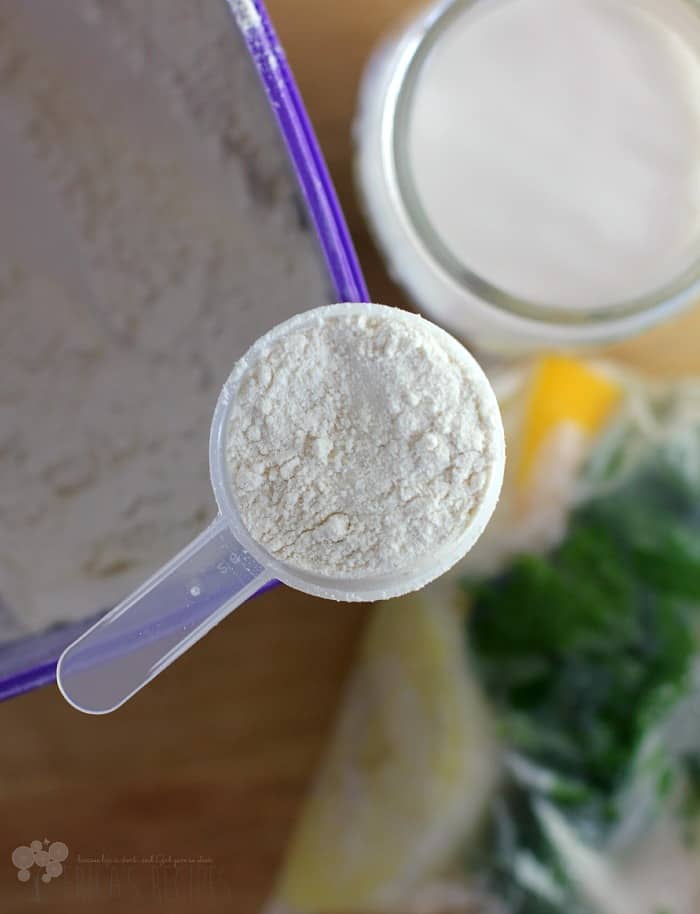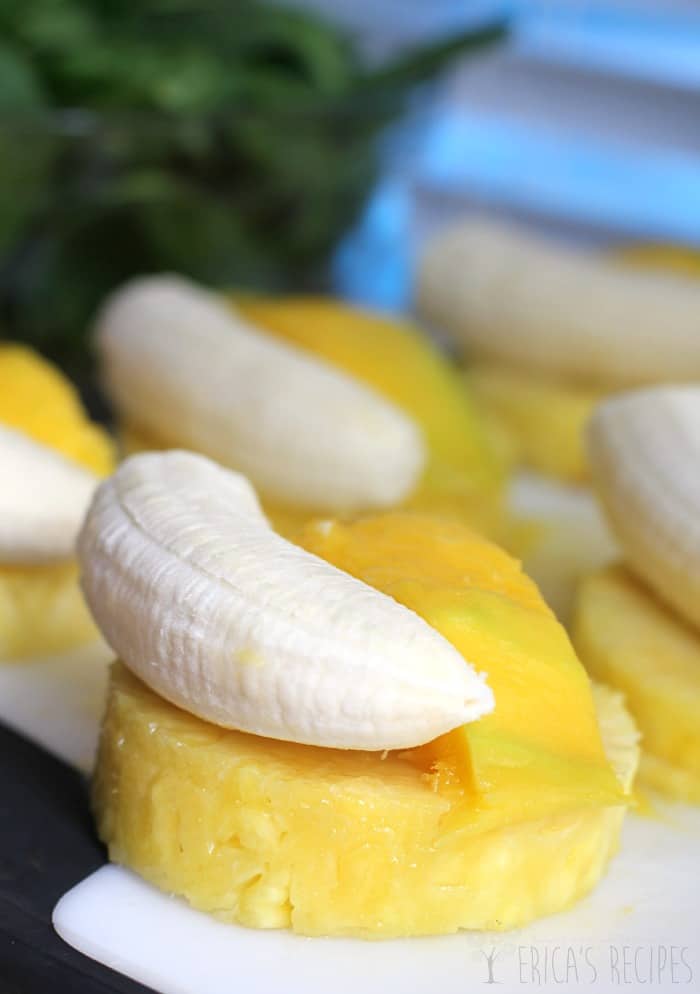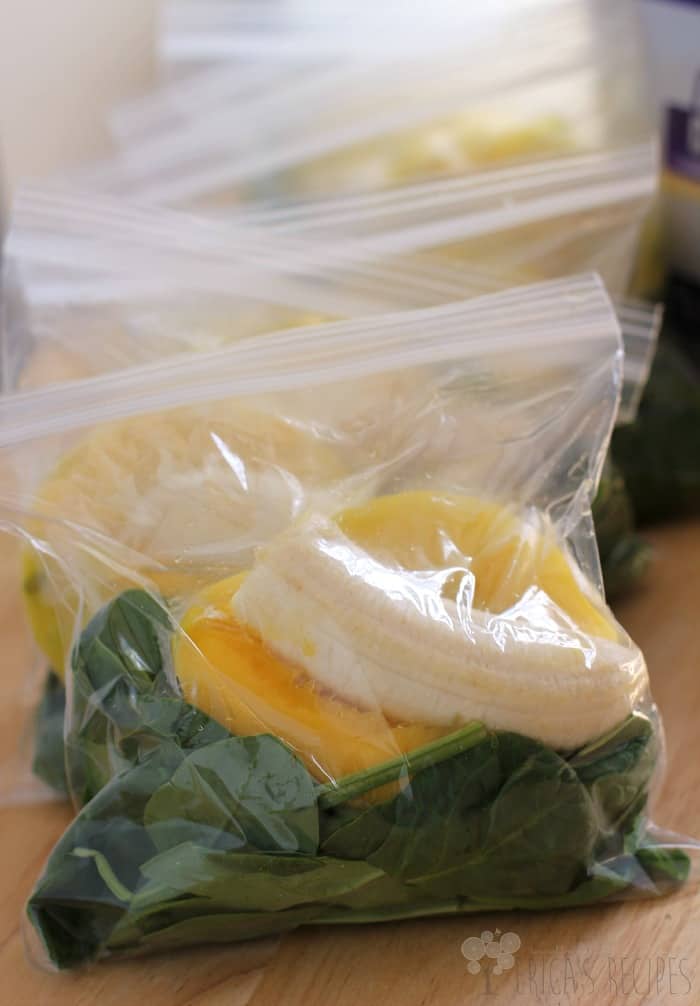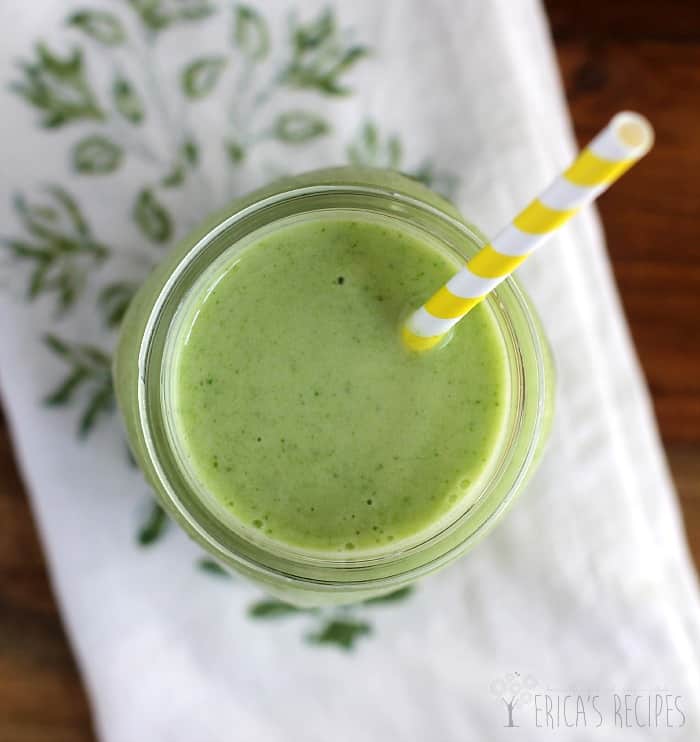 Sounds silly, but these things matter. I do not like a full serving of protein in my smoothies. That is what causes the graininess I mentioned earlier. And EAS (and I love this, don't ever change it EAS!) provides a smaller scoop with a serving listed as 2 scoops.
So I just use half a serving, and this brand makes that easy. This way I get enough protein, but my smoothies stay tasty tasty. See! Brilliant thinking, no? (pats self on back for being soooo clever). …and with EAS's new packaging, there's a little clip for the scoop in the lid so it doesn't get lost in the powder. In the middle of the morning rush to get out the door, this pleases me immensely.
This Tropical Green Smoothie is obviously packed with nutrition: 31% daily allowance protein, 15% daily allowance for fiber, loads of antioxidants and vitamins A, K, and C, from the fruit and spinach, calcium and vitamin E from the almond milk. All for 220 calories.
I haven't done this, but if you want to up the nutritional anty even more, throw in an eighth of an avocado for some uber-healthy fat. …And the greens! If you haven't started drinking your greens yet, please please please get on the bandwagon. This smoothie tastes like a tropical pineapple-mango paradise, you will not taste the spinach.
So, here's my new Tropical Green Smoothie kids. I have had one almost every morning for a month and I can report it is consistently delicious and satisfying, especially after a morning workout.
Smoothies like this are so healthy and convenient with a zillion different ways to change them up and make them perfect for you.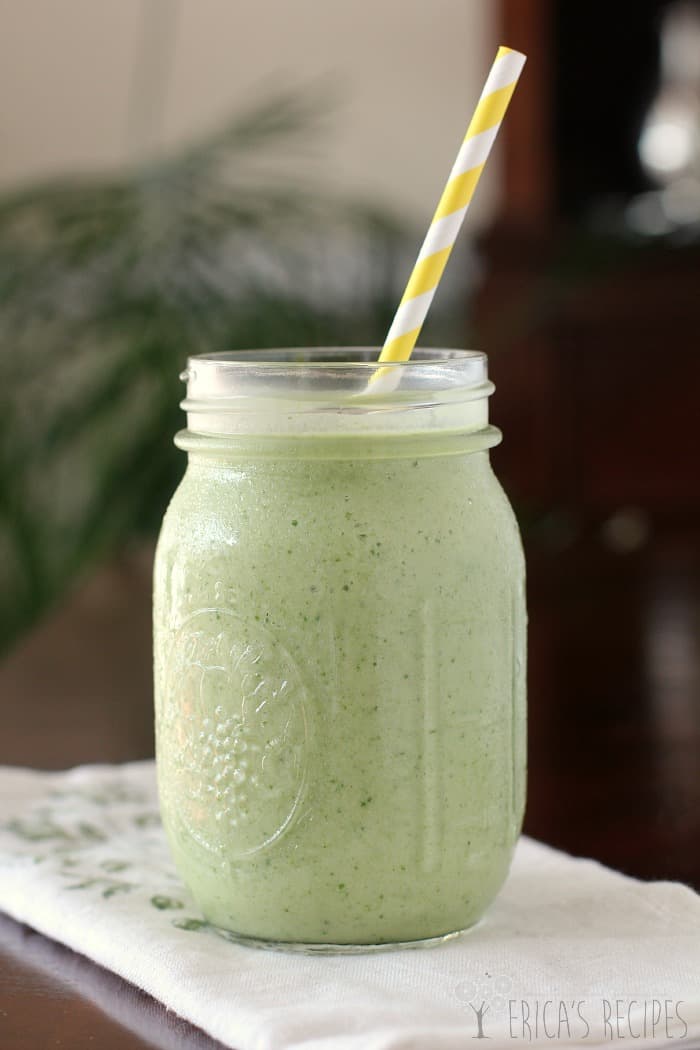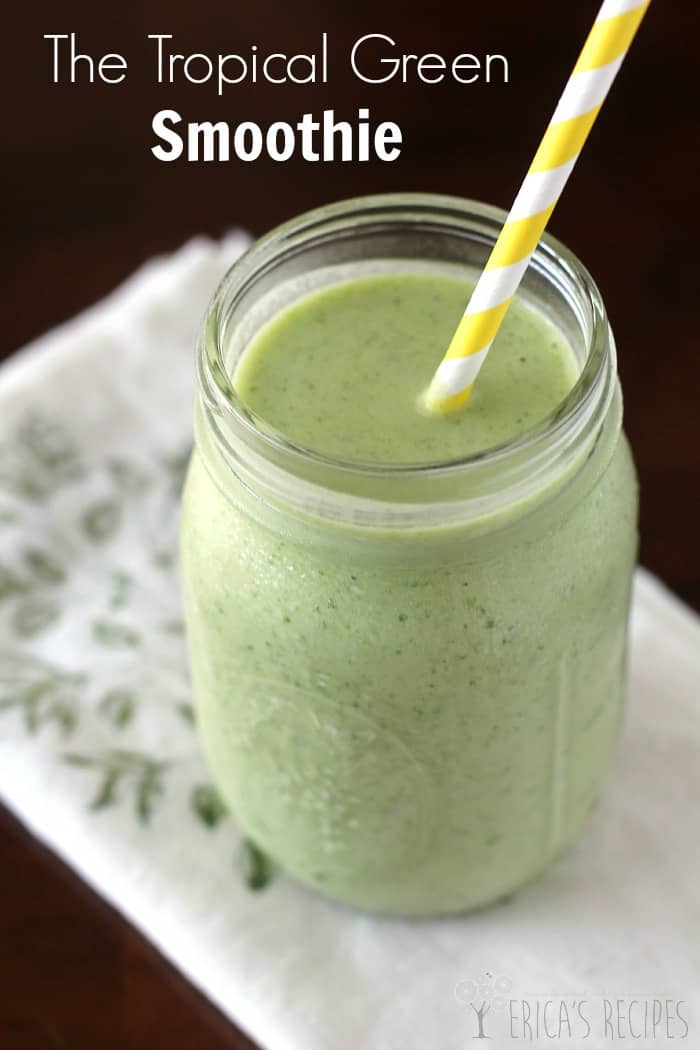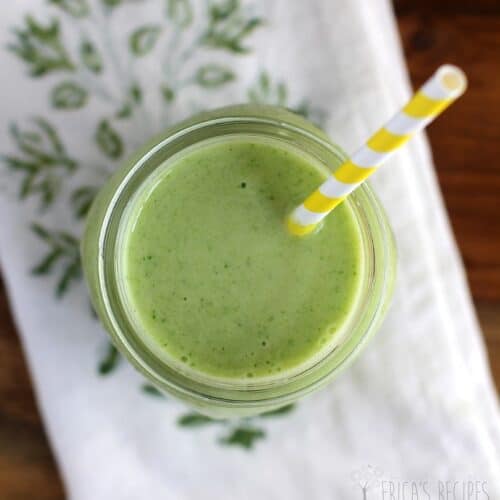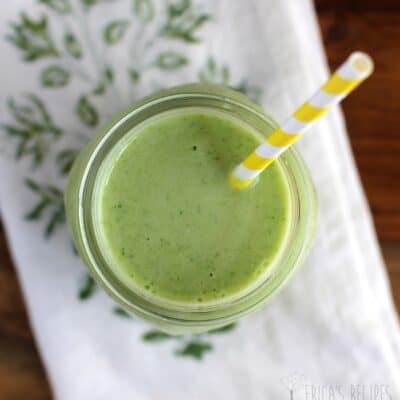 Tropical Green Smoothie
This delicious and healthy breakfast Tropical Green Smoothie, with sweet tropical flavors and added protein, will fill you up and satisfy you for the morning.
Ingredients
1

pineapple

peeled and cored

1

mango

peeled and cut from pit

3

bananas

peeled

1

5 oz bag baby spinach

6

cups

unsweetened almond milk

6

scoops vanilla whey protein powder
Instructions
Slice the pineapple and mango each into 6 portions. Cut each banana in half. Divide the bananas, mango, pineapple, and spinach in 6 sandwich bags and freeze.

Take a bag of frozen fruit and spinach from the freezer. Blend with 1 cup of almond milk and 1 scoop EAS protein powder. Enjoy immediately. Yields 6 servings.
Calorie count is purely an estimate calculated using an online application to serve as a guide and not to be taken as accurate nutritional information. Percent Daily Values are based on a 2,000 calorie diet.
Tried this recipe?
Leave a comment below and let me know!