Holy schnikes look what I made! Seriously LOOK at what I made! Pina Colada Monkey Bread! Look at it!! LOOOOOK!!!!!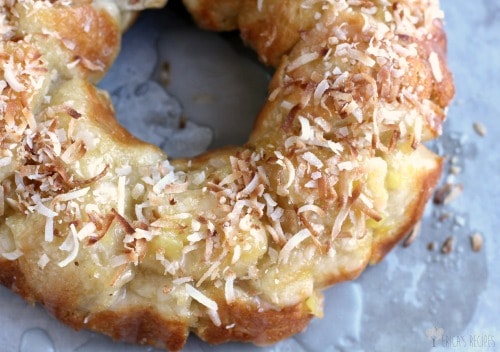 Unbelievable how good this Pina Colada Monkey Bread is. Yes food police, I used Grands! biscuits. Sometimes, a girl's gotta splurge, and this is my post-triathlon splurge anyway so I earned it! I'll eat salad tomorrow ….and the next day. Or not. But at the moment, I am sucking this glaze off my fingers.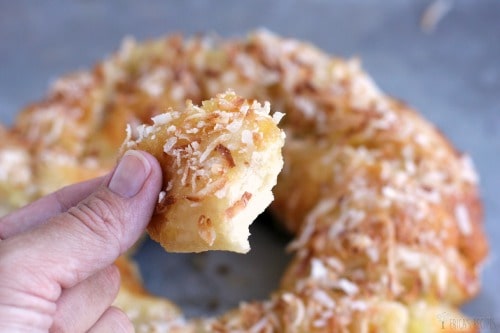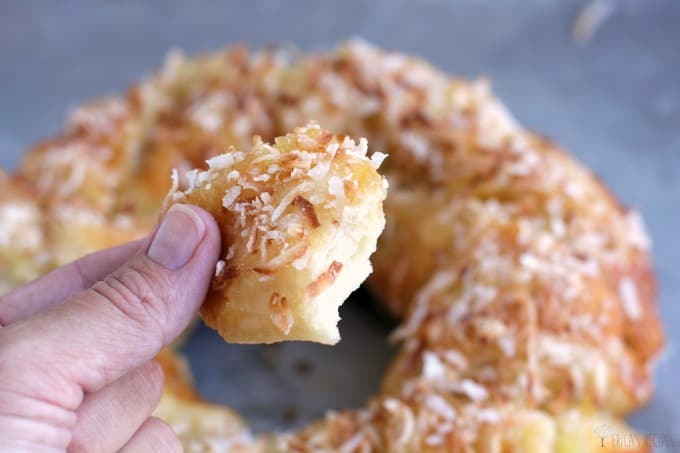 So last week I shared my Calabacitas con Elote with Brown Rice and Quinoa as my triathlon-prep food for my tri yesterday. Check out this picture my daughter got of the sunrise at the tri. …Yep, I get my own personal pho-to-graph-errr for these events. It's awesome.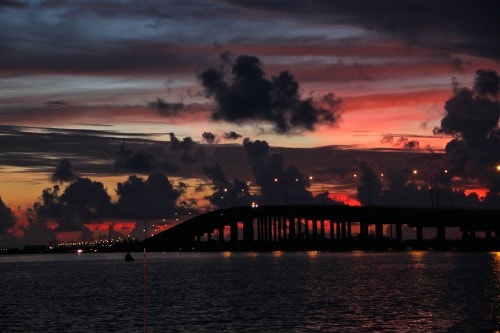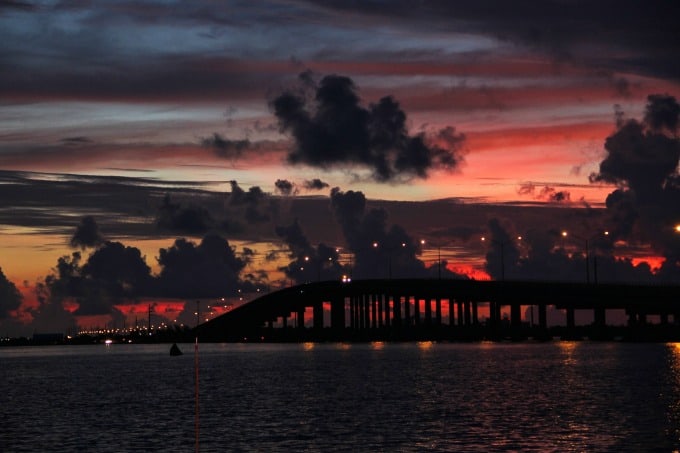 By the way, I had to bike and run over that bridge. And back.
The tri went well – to be honest, this one was a mixed bag …we swam all wavy-like over the course because there were too few buoys to guide us, so the swim was much longer than it should have been. The bike was ok – the first 5 miles were slick, so that's where I got behind. I just need tons and tons of improvement there because at any little friggin obstacle, I freak the hell out. But at least I'm very very happy with my new bike.
…And the run was what the run always is …painful. Overall this race was, I think, the toughest yet for me mentally. My body was fine – everything was working including both knees, but my brain kept trying to talk me into quitting. Most of the bike portion, I honestly thought I was dead last. …But I wasn't.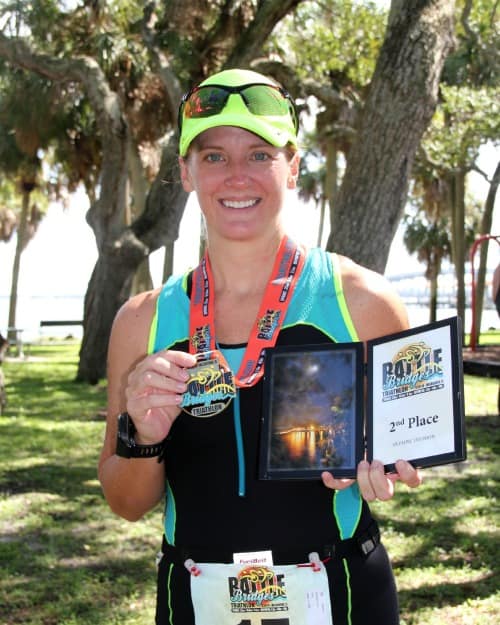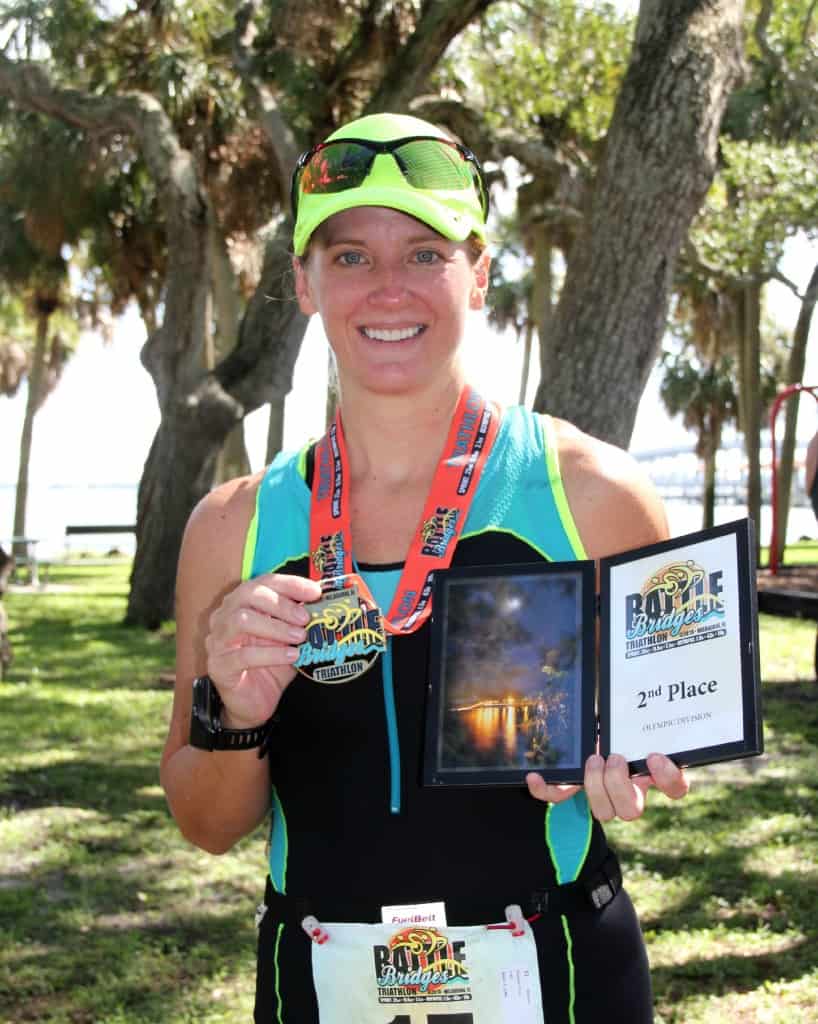 And this is precisely why I do triathlon. Because it is hard. It is beyond hard. And I'm not fast, but I finish. And doing something this hard and making it to the end leaves a satisfaction that is simply indescribable.
So, my next tri is in 2 weeks. My first Half Ironman is in 3 months. I have a ton of work to do. But I am taking the day to savor how far I've come. …before my knee surgeries 2 years ago, I couldn't run around the block. Ever. And what better way to celebrate than with a kicked-up sweet treat 🙂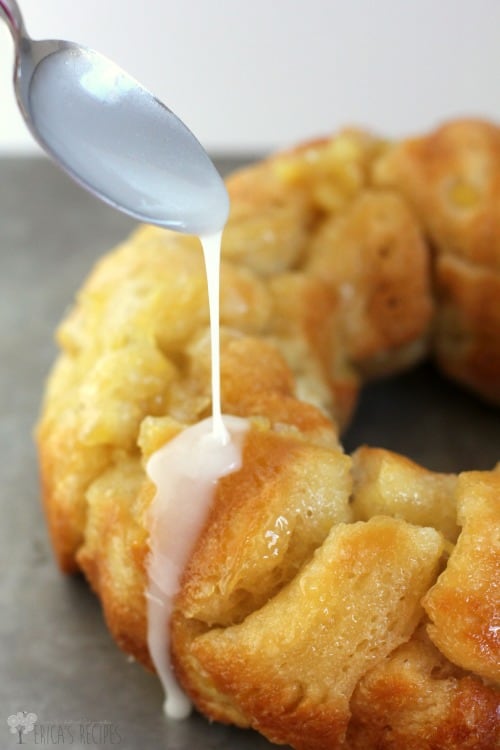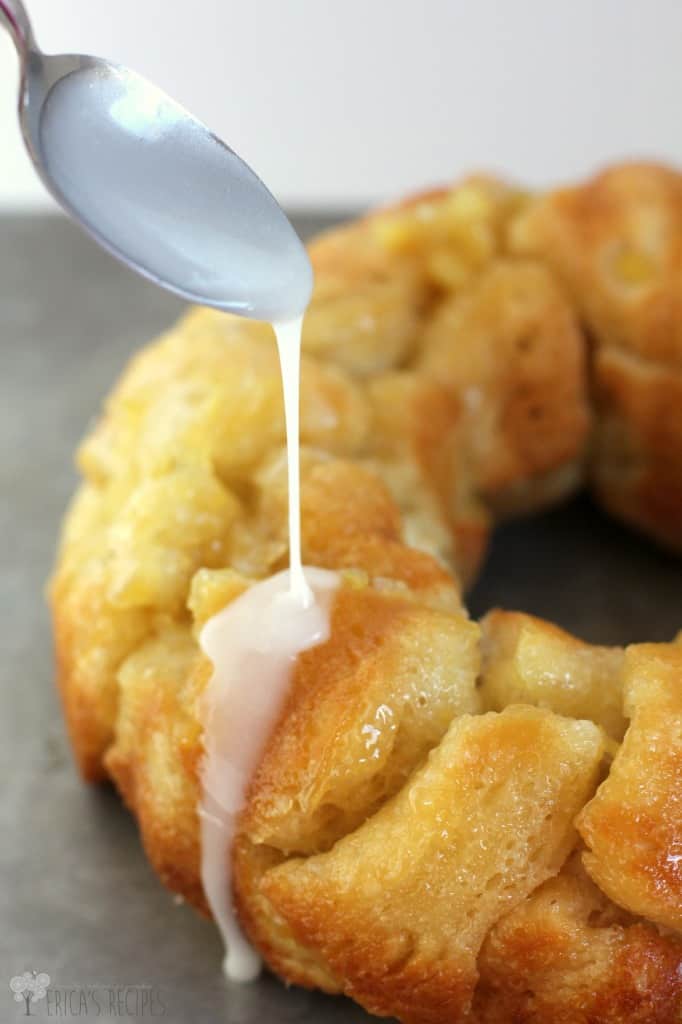 OK, so this yummy, sticky, Pina Colada Monkey Bread! This bread is my idea of perfect. I don't have much of a sweet tooth, but this sweet pull-apart bread is friggin awesome.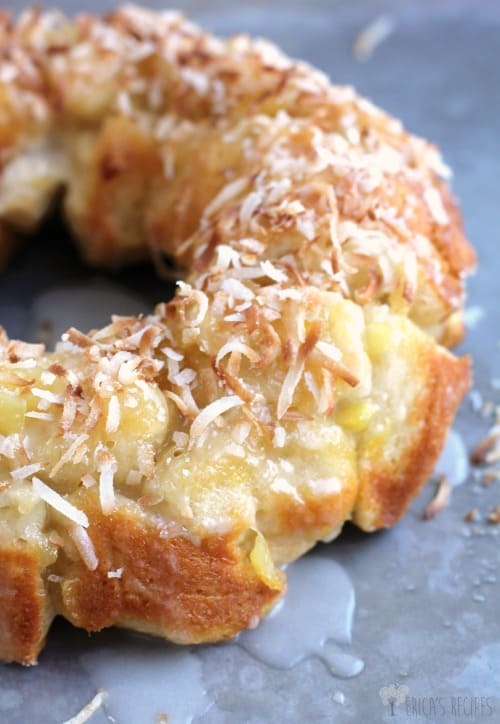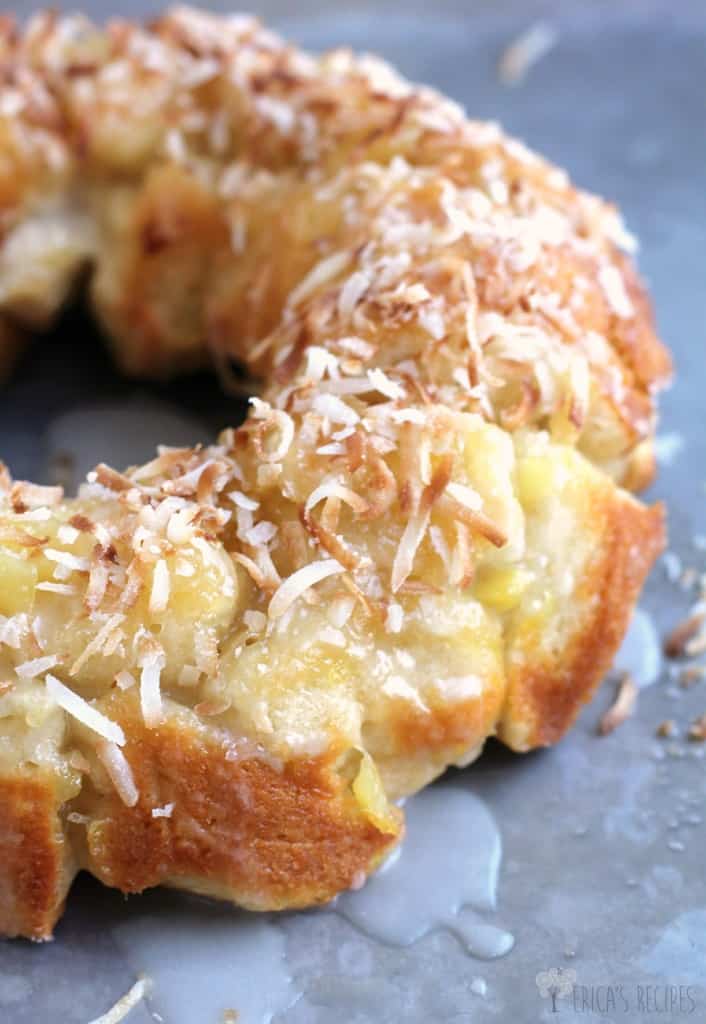 Maybe it's the pineapple. Maybe it's the coconuttiness. Maybe it's the rum. It's probably the rum, but it's also definitely the sticky glaze that brings it all together. You neeeeeed to make this! Cuz it will make you happy.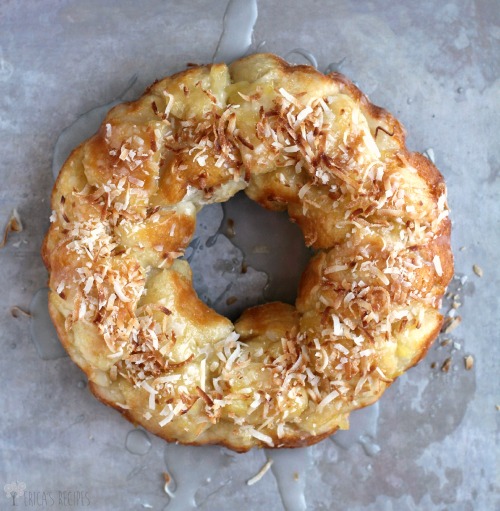 Pina Colada Monkey Bread
Ingredients
4 

T 

unsalted butter

melted (plus additional butter to prepare bake dish)

3 

T 

coconut milk

divided

1/2

t

pure vanilla extract

1 

can

16.3 oz Pillsbury Grands! refrigerated biscuits, Southern style

4

T 

granulated sugar

divided

3 

T

coconut-flavored rum

such as Malibu, divided

1/4

c 

crushed pineapple

well drained

1/4

c

dried

flaked coconut

1/2

cup

powdered sugar
Instructions
Heat oven to 400F. Butter your bake dish very well (I use a bundt pan).

Remove the biscuits from the package. Cut each biscuit into quarters.

In a mixing bowl, combine the butter, 2 tablespoons coconut milk, vanilla, 2 tablespoons rum, and pineapple. Add the balls and toss gently to coat the dough.

Sprinkle 1 tablespoon sugar into the buttered bake dish, round cake pan, or whatever cooking vessel you are using. Transfer 1/2 of the biscuit-pineapple mixture to the pan. Sprinkle over another 2 tablespoons sugar. Layer the rest of the dough balls. Finish with a final sprinkle of 1 tablespoon sugar. Bake at 400F for 25 minutes until puffed, very golden, and cooked through.

While the monkey bread is cooking, distribute the flaked coconut in a layer on a rimmed bake sheet and put in the oven to toast 5 minutes until golden. Watch the coconut or it will burn. Remove the coconut from the oven and set aside while the bread finishes cooking.

In a small bowl, whisk together the powdered sugar, remaining 1 tablespoon coconut milk, and 1T rum.

Once the bread is done, invert immediately onto serving plate to get it out of the pan. Serve with the glaze drizzled and the toasted coconut sprinkled over. Serve immediately.
Recipe Notes
As written, this recipe makes enough for my family of four to munch on during a lazy Sunday afternoon during a football game. If I ever make this for a party or occurrence with more people, I will definitely double the recipe.
~✿♥✿~