Cajun Instant Pot Pot Roast
Cajun Instant Pot pot roast in a rich beer gravy, ready in a fraction of the time. This gorgeous tender pressure cooker pot roast is the king of Instant Pot beef recipes and ridiculously cozy delicious good.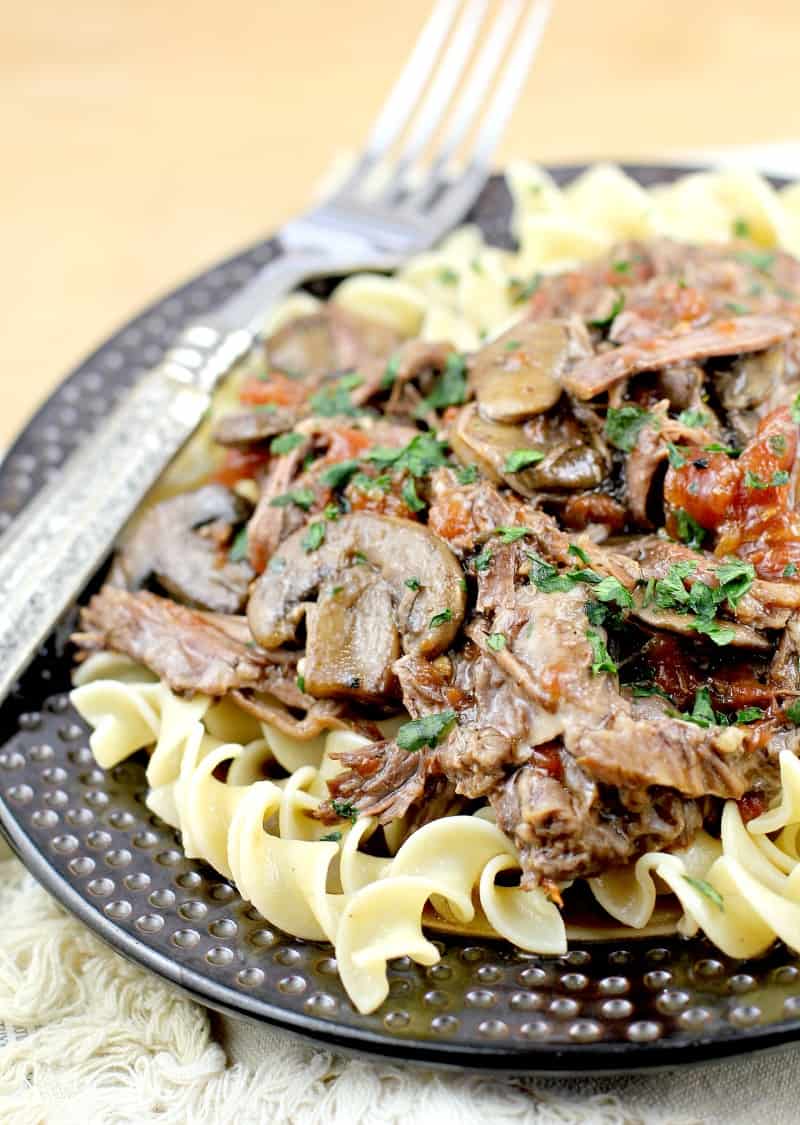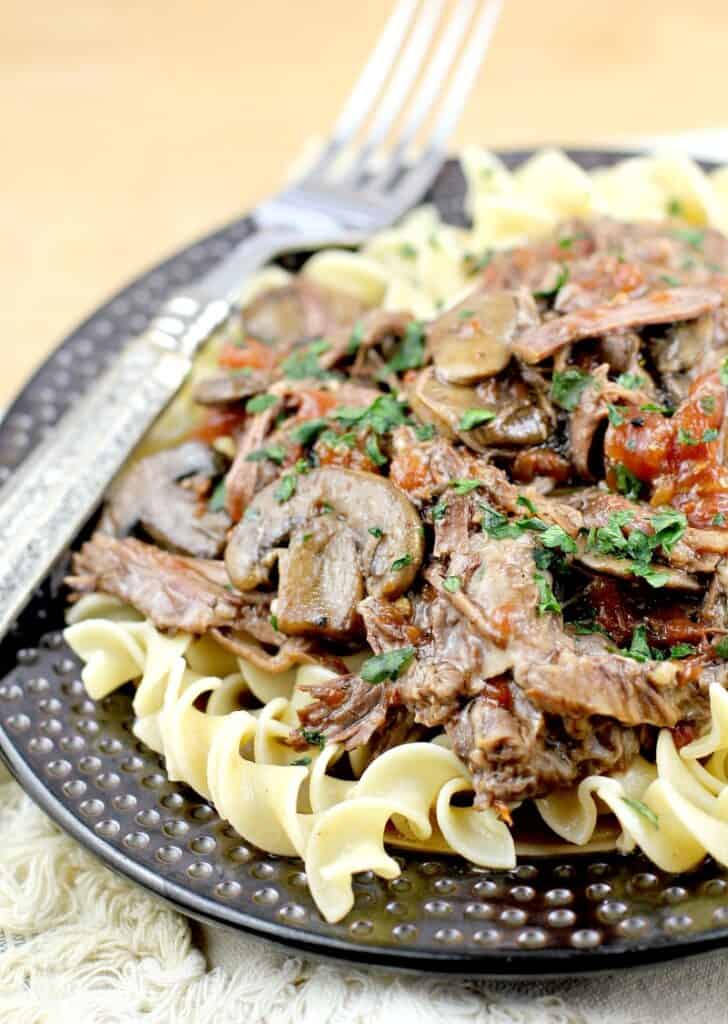 Oven and stove-top alternative directions are included below.
Have you ever planned to slow cook something awesome all day, but then 2 o'clock rolls around and you're like, "Crap".
You forgot. Yeah me too. And hence from with, this amazing and flavorful pot roast with beer recipe was born.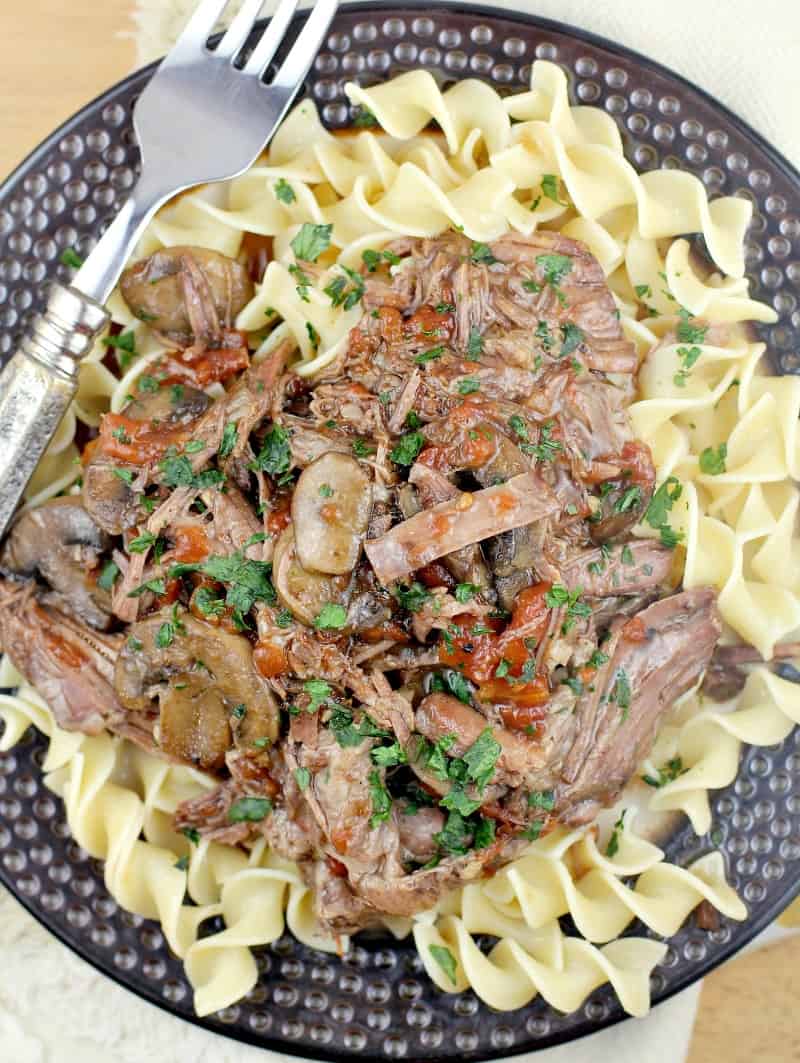 Have you figured out your Instant Pot yet? Because I haven't.
Our slow cookers, we get. My air fryer, I totally get and check out my banging air fryer wings by the way.
But lots of us have the Instant Pot now. Be it from a friend or impulse buy or Christmas present. I got mine on Amazon Prime Day because the price was so good.
This thing that now occupies space in our kitchens and we literally don't know what to do with it.
But the Instant Pot is kinda intimidating. Kinda scary. There's pressure and valves and stuff. Things could blow up.
So, after letting my pot sit untouched for TWO years since I made chicken tacos, this recipe has salvaged our relationship.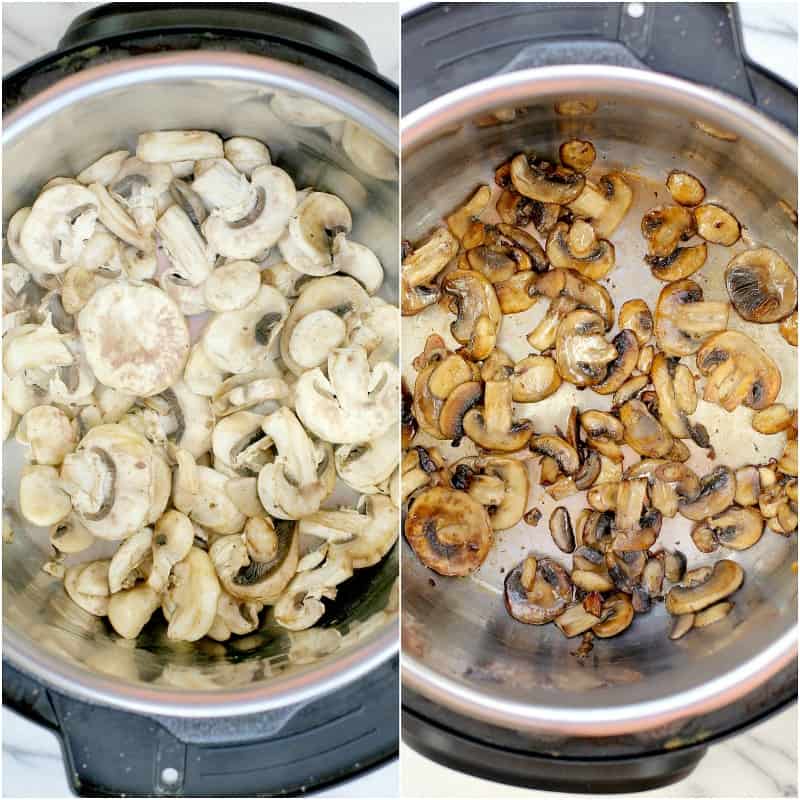 Why is this Cajun pot roast recipe awesome?
I am here to give you a recipe perfect for the Instant Pot because:
A) This dish is so full of delicious deep, rich flavor beef, mushrooms, tomatoes, and a nice stout beer.
B) Instant pot pot roast is the undisputed king of Instant Pot beef recipes.
I included each ingredient in this recipe intentionally. They each bring a different dimension of flavor, they work with each other, and they are easily available and affordable keeping this a cheap-ish meal.
Affordability, simplicity, ease of preparation, tomatoes, beer, and seasoning. This is what makes this pot roast Cajun, one of America's styles for elegantly simple, delicious food.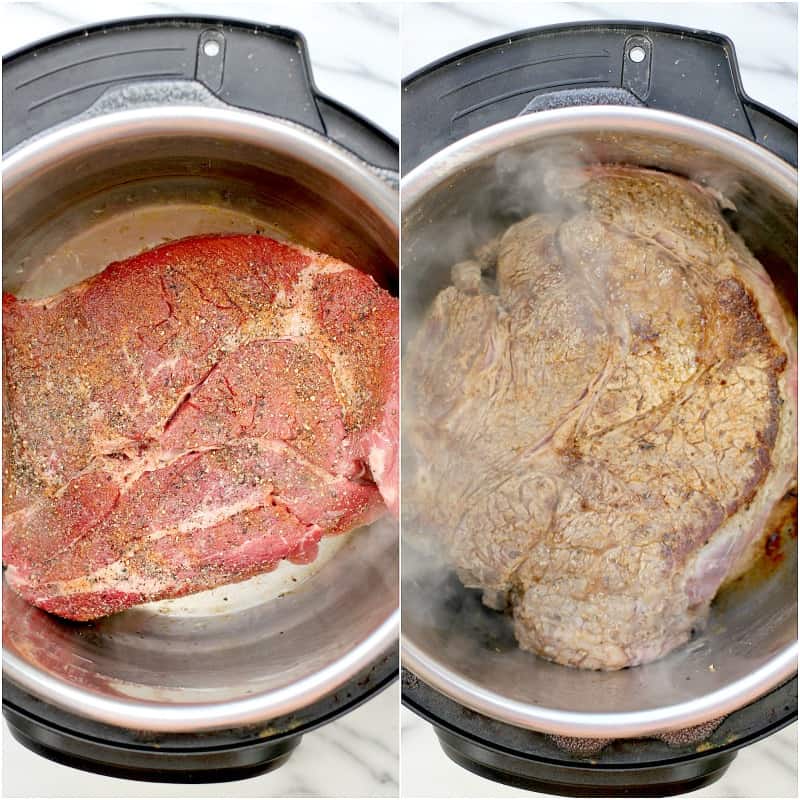 What are the ingredients for Cajun Instant Pot Pot Roast with beer?
Chuck roast. You can try different cuts of beef, but choose one with a lot of connective tissue because that breaking down while cooking is how the meat becomes fall-apart tender.
Seasoning. Salt, pepper, and Cajun seasoning. Essential, but basic stuff.
Stout beer. For a ton of flavor that is perfect with beef.
Browned mushrooms. The combination of the flavor of mushrooms with beer, beef, and tomatoes is total umami.
More flavor. From garlic, onion, and Worcestershire sauce.
Canned tomatoes. To add substance and flavor, but also crucial acidity to help the meat breakdown.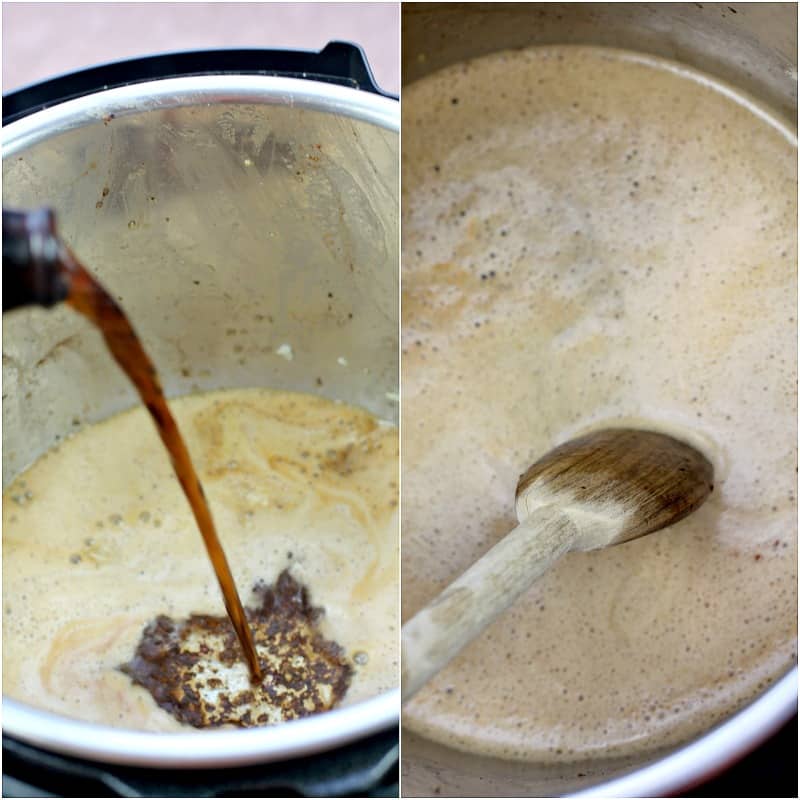 What are the steps for making this pressure cooker pot roast?
The steps for making my Cajun Pot Roast are thusly:
Season the beef chuck roast.
Brown the mushrooms in the Instant Pot.
Sear the beef roast in the Instant Pot.
Deglaze the pot using hearty stout beer (we add garlic here too).
Add back the meat and mushrooms to the pot, along with the tomatoes Worcestershire sauce, and dried minced onion.
Cook under pressure.
Vent and add the cornstarch slurry to thicken the juices and make a gravy.
Break up the meat to serve.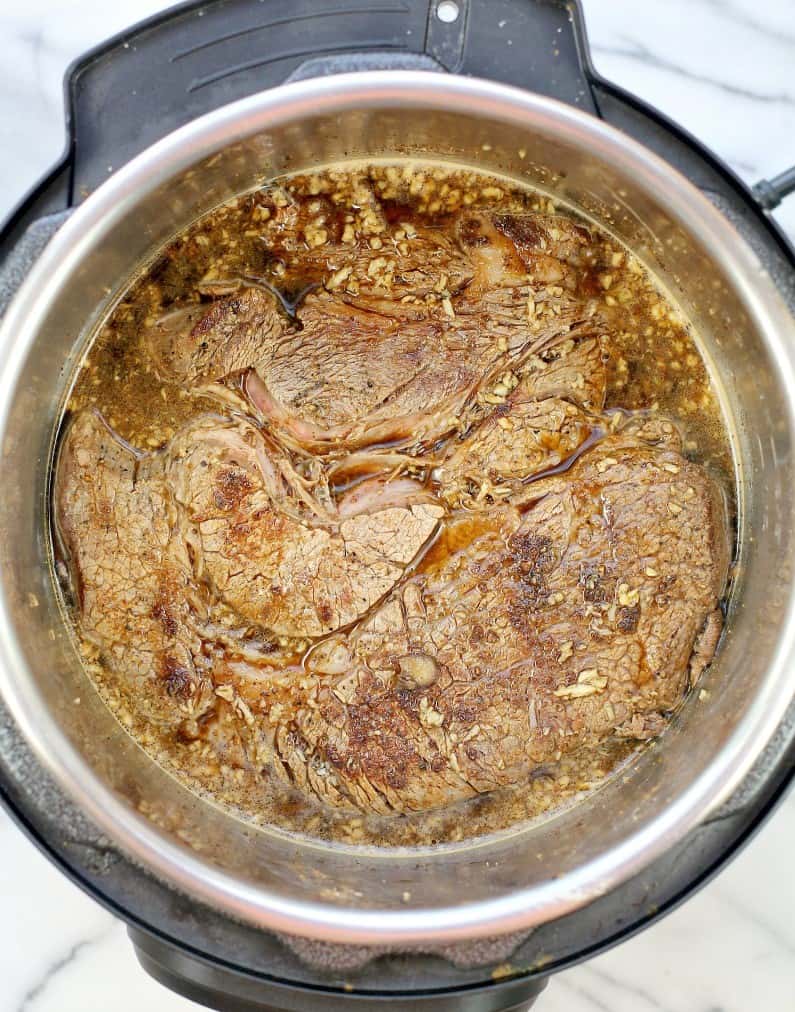 How to make Cajun Pot Roast without an Instant Pot:
This very same recipe can totally be made at home if you do not have an Instant Pot.
For the oven:
Using a skillet over high heat, brown the mushrooms, then sear the roast. Transfer all the ingredients (minus the cornstarch/water slurry) to a medium-sized Dutch oven or an oven-proof bake dish and bake, covered, 2-3 hours at 350F or until fall-apart tender. Add the cornstarch slurry, let that work, then enjoy.
For the slow cooker or crock pot:
Using a skillet over high heat, brown the mushrooms, then sear the roast. Transfer all of the ingredients (minus the cornstarch/water slurry) to a slow cooker and cook 4-6 hours on high heat or 6-8 hours on low heat (until fall-apart tender). Add the cornstarch slurry, let that work, then enjoy.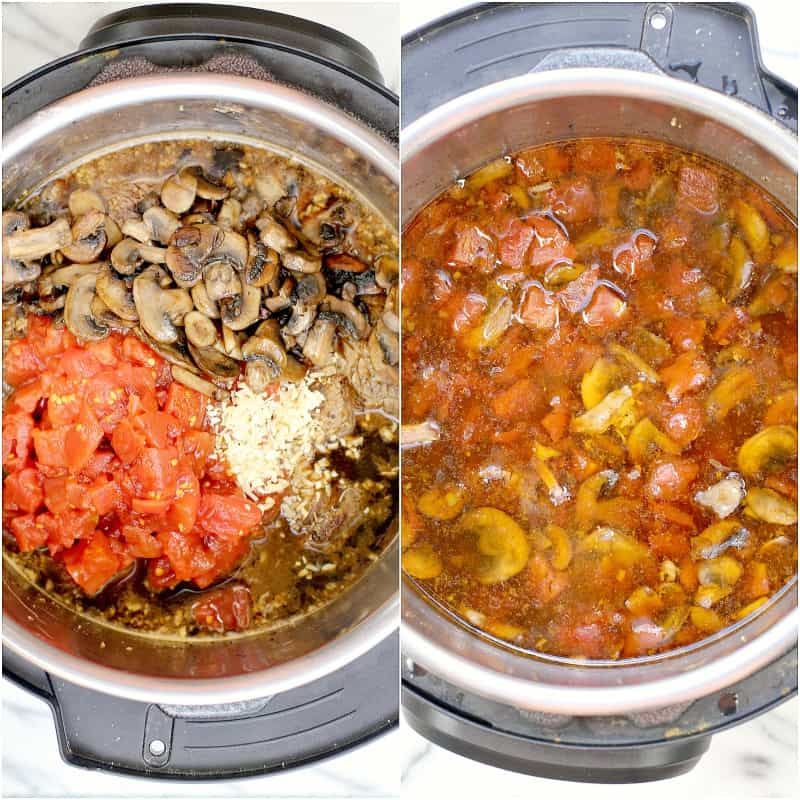 Tips for cooking instant pot beef recipes:
Be sure to check the lid seal and the top of the inner pot and make sure all is clean. Otherwise, you won't get a good seal and the Instant Pot will give you error messages.
This pressure cooker pot roast method of cooking is best with meats that have some fat and a good amount of connective tissue (think chuck roast, stew meat). Whether in an Instant Pot or slow cooker, it is that process of connective tissue breaking down during cooking that gives you tender meat. If you use eye of round because you want to save on fat and calories, you will end up with a very lean, lower calorie, brick of inedible beef.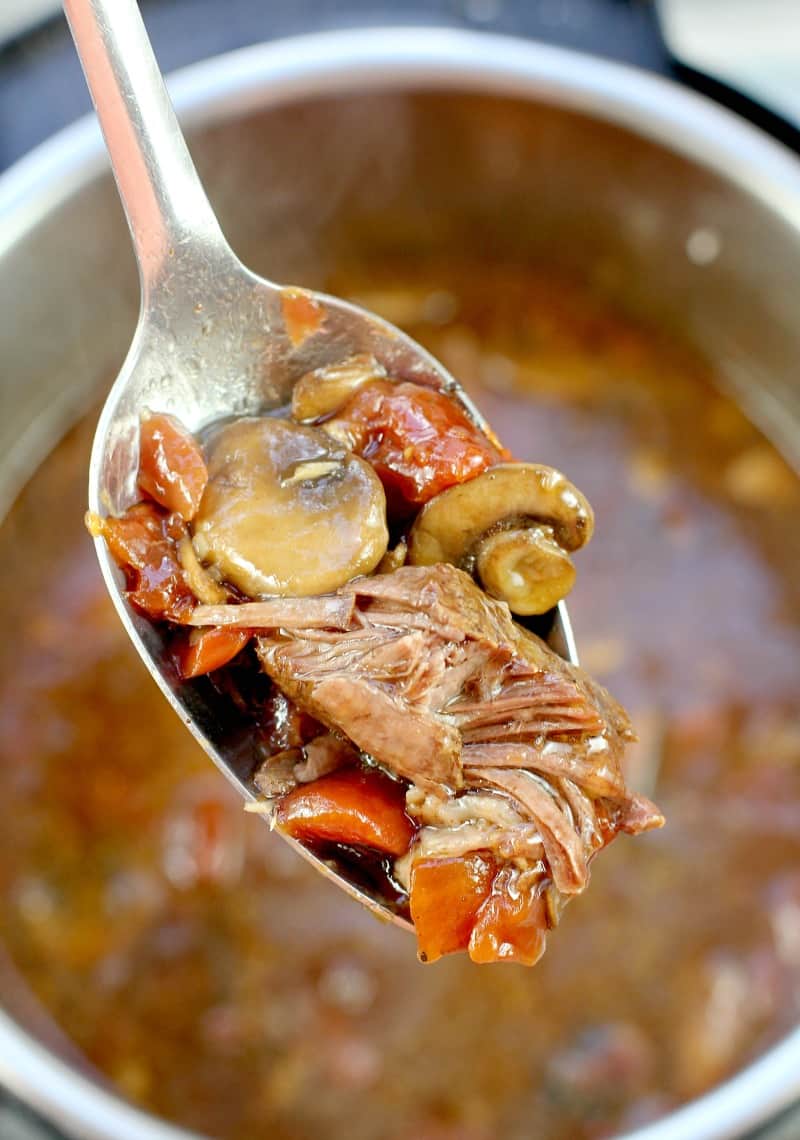 Searing the meat is an essential step. Not only does it seal in the juices, but searing gives us the browned yum yums that we capitalize on to make a yummy sauce with the juices.
If you do everything right and go to check your meat and it isn't quite tender? No sweat, just let it go longer. Beef cuts often go through a tough stage before they give up the ghost and get tender. Just replace the Instant Pot lid, and set for another 10 minutes and go.
The Instant Pot is great at getting meat tender quickly, but not so much for getting the thick sauce we want to go with. No worries, just add a slurry of cornstarch and water at the end, let it go a bit, and we will have a yummy sauce.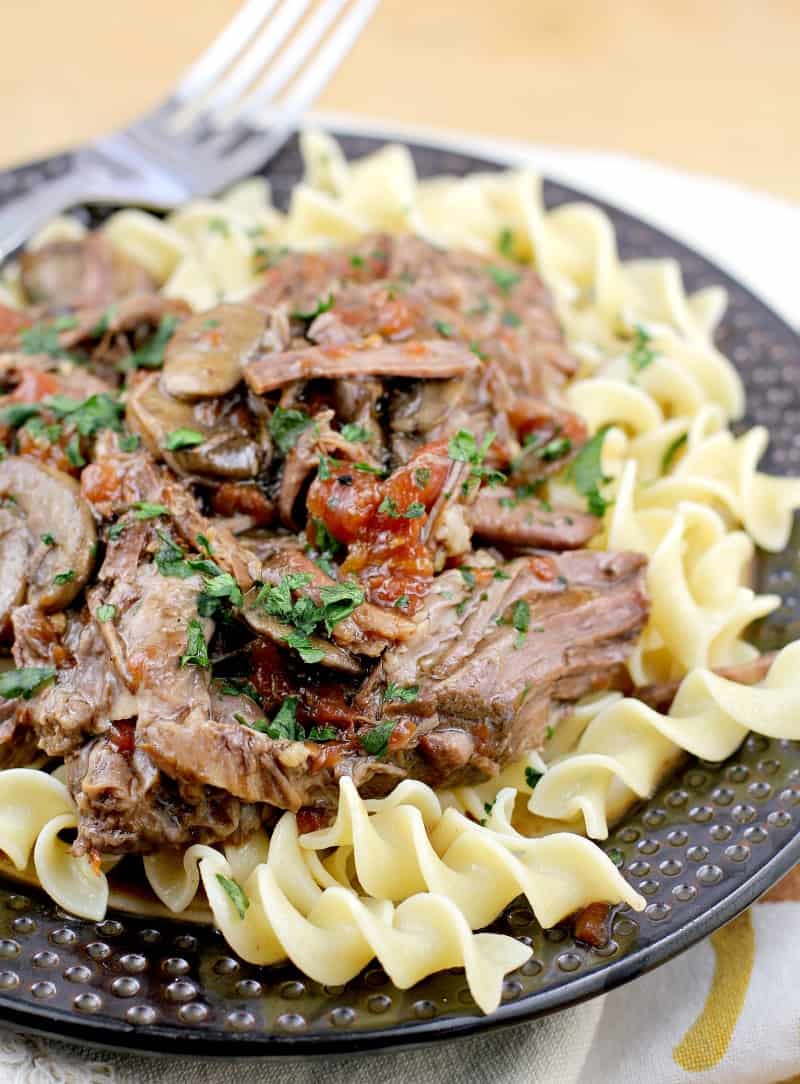 Last tips for Cajun pot roast:
Once the meat is cooked and cornstarch slurry added, the juices will take a couple minutes to thicken. At this time, it's all too hot to eat still anyway (I learned the hard way). Give it 20 minutes, and you'll be good.
Yes this can be made and frozen to eat later. Leftovers are also good in the refrigerator for up to 4 days.
The canned tomatoes you use is flexible: you can use regular diced (what I used), petite diced, fire roasted, or whatever is on sale.
I would normally use butter or olive oil for browning mushrooms on the stove-top. However, the instant pot takes longer and does not get as hot as stovetop, so I used canola oil to coax the mushrooms to brown better. You can saute with olive oil in the IP, but your mushrooms may not brown well, and this is not a big deal. I don't recommend butter because I have not tried it myself and I worry it may burn.
Check out these easy beef dinner recipes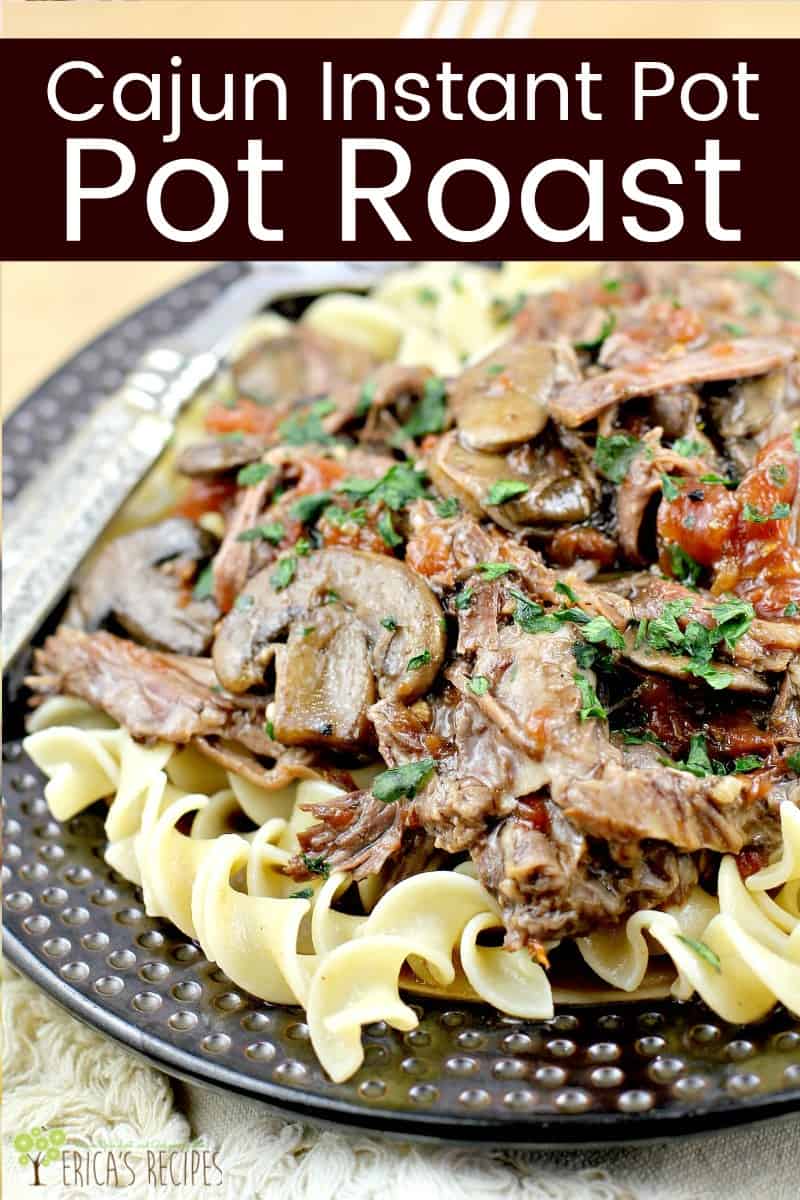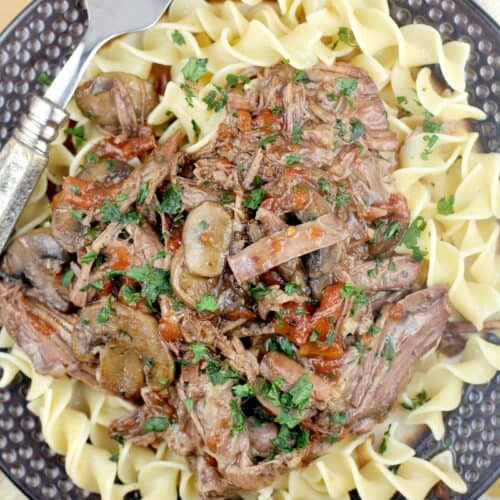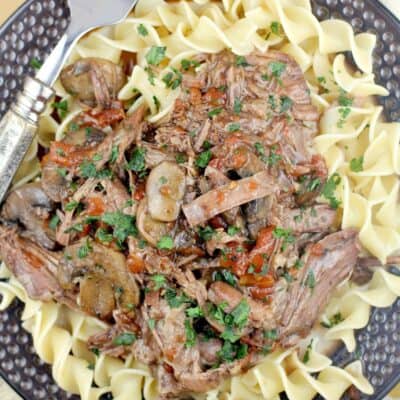 Cajun Instant Pot Pot Roast
Cajun Instant Pot pot roast in a rich beer gravy, ready in a fraction of the time.
Ingredients
1

2-1/2 to 3 lb

chuck roast

1-1/2

tsp

kosher salt

see Notes

2

tsp

Cajun seasoning of choice

1

tsp

fresh cracked pepper

2

Tbsp

canola or vegetable oil

see Notes

8

oz

sliced white button mushrooms

1

12 oz

stout beer

2

cloves

garlic

minced

1

Tbsp

dried minced onion

1

tsp

Worcestershire sauce

1

14.5 oz can

diced tomatoes

undrained

2

Tbsp

cornstarch

2

Tbsp

cold water
Instructions
Season the roast
Season the chuck roast all over with the salt, pepper, and Cajun seasoning.
Brown the mushrooms
Set the Instant Pot to SAUTE on high. Wait 5 minutes for it to heat up.

Add the oil (see Notes), and wait for the oil to heat. You can tell when it is ready because you'll see little ripples in the surface.

Add the mushrooms and saute until browned (~10 minutes), stirring every minute or so.

Transfer the mushrooms to a plate and set aside.
Sear the roast
With the Instant Pot still set on high for SAUTE, add the roast. (see Notes). Push the roast down gently with a utensil to ensure good surface contact with the pot.

Sear 5 minutes per side. Transfer to a plate or cutting board.
Make Instant Pot pot roast
To the Instant Pot still set on high for SAUTE, add the garlic and beer. Using a wooden spatula or spoon, scrape all the little seared bits and yum yums from the bottom of the pot.

Add back the roast. Add the mushrooms, minced onion, Worcestershire sauce, and tomatoes.

Put on the Instant Pot lid and secure with the pressure release valve set to SEALING.

Set Instant Pot to cook MEAT/STEW, pressure level HIGH, for 60 minutes.

Once cycle is complete, allow to IP vent naturally (meaning, don't touch it) for 10 minutes.

Release the remaining pressure (use a dish towel to protect your hand because some steam will still come out) by switching the pressure release valve to VENTING. Open pot.
Finish the sauce
Set the Instant Pot to SAUTE on high again.

In a small bowl, combine the cornstarch and 2 tablespoons cold water. Add to the pot.

Let the sauce simmer a minute, then turn it off.

At this point, the meat is too hot to heat (I learned the hard way), so let it set ~15 minutes to cool a bit and allow the cornstarch to do its thing and thicken the sauce.

Break the meat up into bite-sized pieces. Serve over noodles, rice, potatoes, grits, or just enjoy as is.
Notes
If your Cajun seasoning does not include salt, increase kosher salt amount to 2 teaspoons.
If your roast is too large to fit in the pan (I used a 2-1/2 pounder for these photos), you can cut it in two and sear them sequentially.
To make this in the oven or slow cooker, see above in the reading for directions.
Nutrition
Calorie count is purely an estimate calculated using an online application to serve as a guide and not to be taken as accurate nutritional information. Percent Daily Values are based on a 2,000 calorie diet.
Tried this recipe?
Leave a comment below and let me know!