Coffee-Crusted Bone-in Ribeye with Avocado Relish
Coffee-Crusted Bone-in Ribeye with Avocado Relish, with the most amazing Habanero-Beer marinade is fast, easy, and so delicious. This is the absolute tastiest steak I have made yet. Summer perfect, great for Father's Day, Valentine's Day, or just because you want to get out and grill.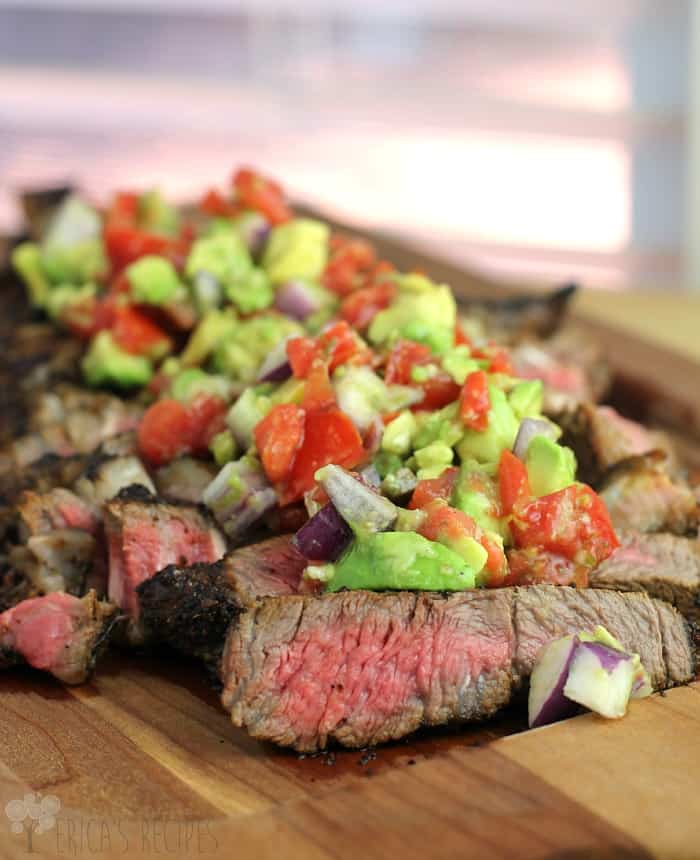 So, I have got to give a huge virtual hug to El Yucateco! A little while back I accepted a gig to do a post using El Yucateco hot sauce. I had not heard of El Yucateco. I had never tried El Yucateco. But I figured what-the-hay, hot sauce is hot sauce and I love cooking with hot sauces.
But then I bought a couple El Yucateco sauces. And I tried them all. With a little spoon.
LOVE! These sauces, especially the red and green habanero sauces, are my new addiction. They are different with incredible flavor. Even without the heat (and these are spicy!), these are just tasty tasty awesome sauces. I'm not doing a review, but I was just that surprised these are as good as they are that I had to share. The green is spicier than the red. Then the XXX Habanero Hot Sauce (Kutbilik) is just crazy. They are less vinegar-y than other hot sauces, so I think that is the big difference that gives them fuller, deeper flavor. The Red Habanero sauce now resides on my desk at work.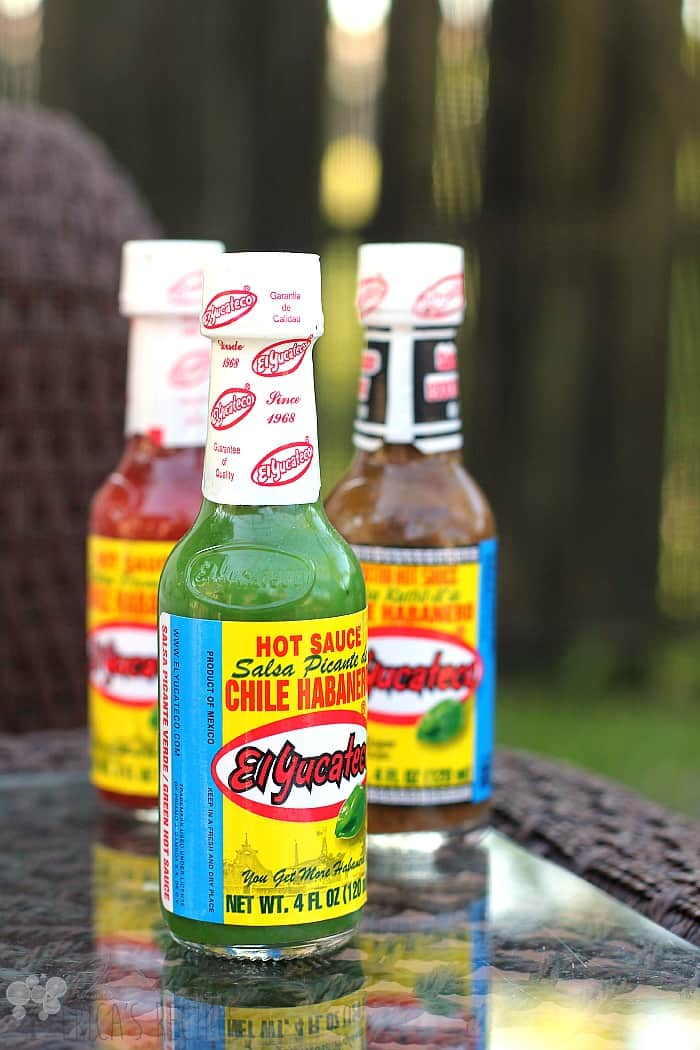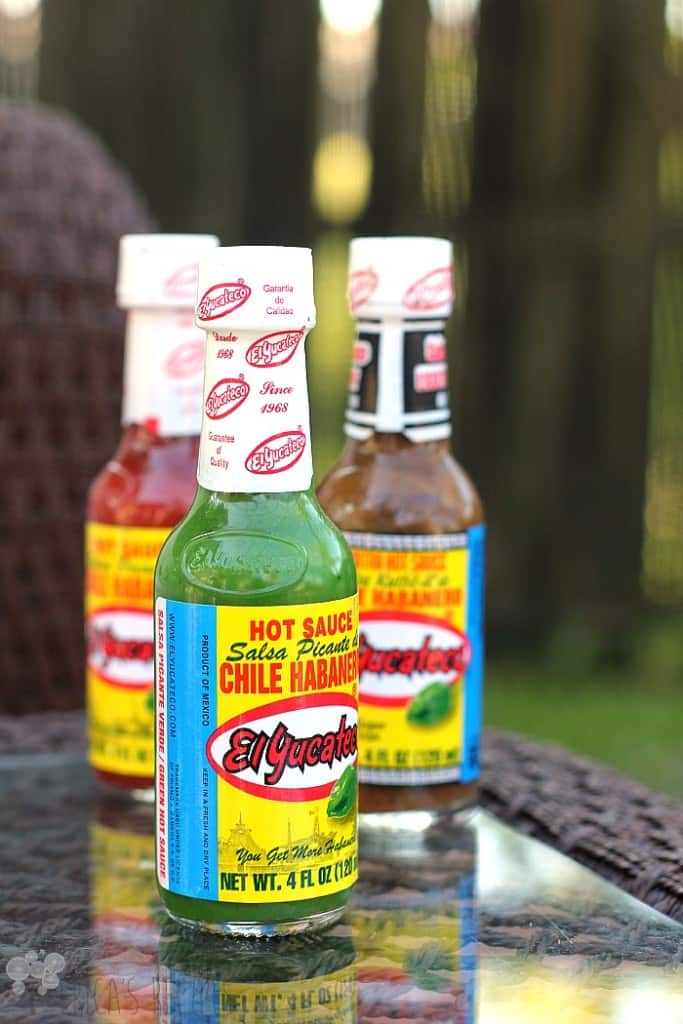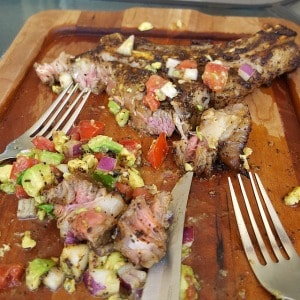 So, what did I do for this recipe …first, I marinated a big, beautiful ribeye in a beer and habanero bath of awesomeness. Then, I coated the steak in a coffee rub to get it good and ready for the grill. A couple minutes getting juicy-happy over some crazy hot flames and done! Then I just whipped up an avocado relish to go with while the steak rested, took my photos, then we devoured…
I made this yesterday for Father's day for my family for lunch. After weeks of being busy busy, we finally got a break and were able to spend a day relaxing in our pool. It was an absolutely gorgeous day, we were all happy happy loving on my husband for the amazing man he is …and the last thing that needed to happen was for me to get stuck in the kitchen. This recipe was the answer. It came together so quickly, I doubt anyone noticed I had left the pool.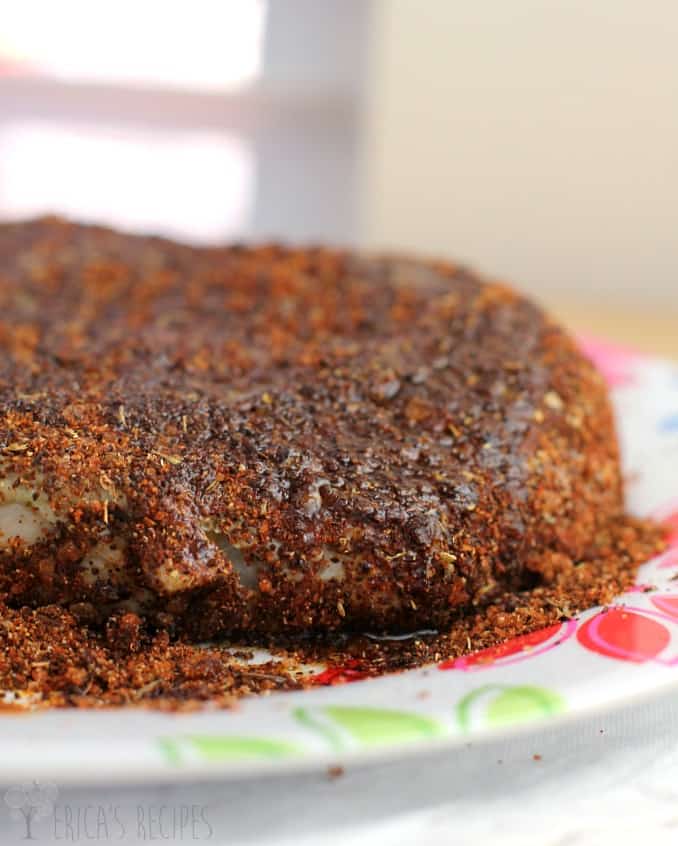 I am not kidding that I think this is just the bestest best steak ever. And, if I do say, it's the prettiest too. Given how hot the green habanero hot sauce is, I was concerned this marinade might be too spicy – nope! It was perfect!!! Just the right heat – and I even added more hot sauce to the avocado relish. I think the bitter from the coffee and creamy avocado made it all come together, balanced out in each delicious bite. I used a ribeye because it was calling my name (and on sale) at the store, but this recipe would work with any steak and using a leaner steak would make this meal uber healthy too. And the relish – YUMMM. It would work on anything off the grill. So delicious and a great way to change things up.
So here it is kids. This glorious steak comes together in a snap making it perfect for entertaining. And with all the colors from the relish, it is so impressive!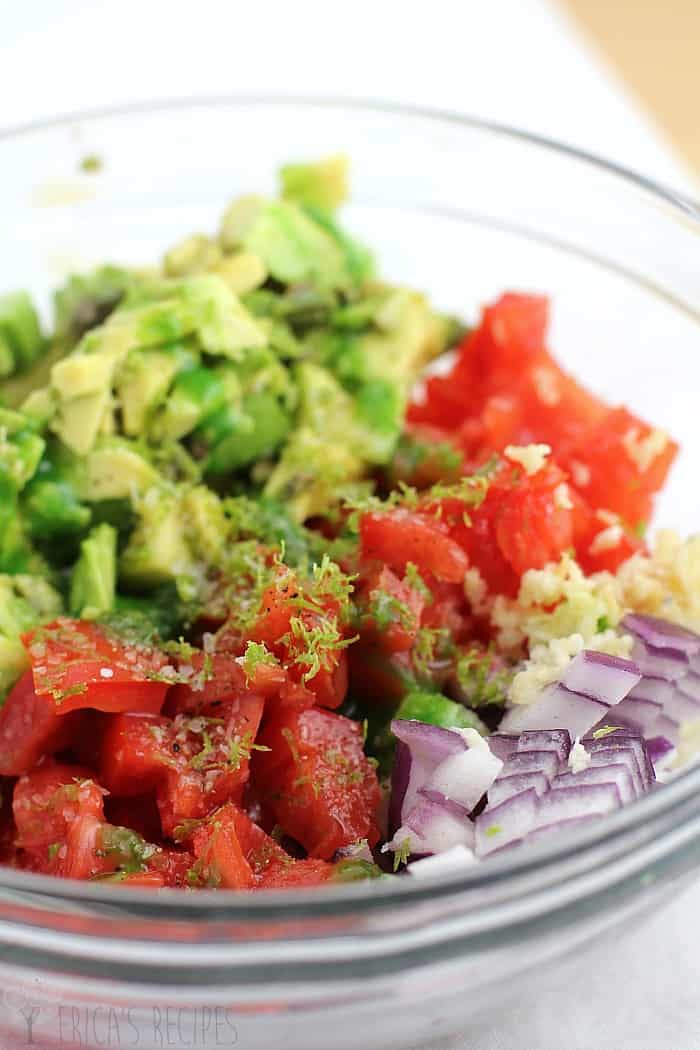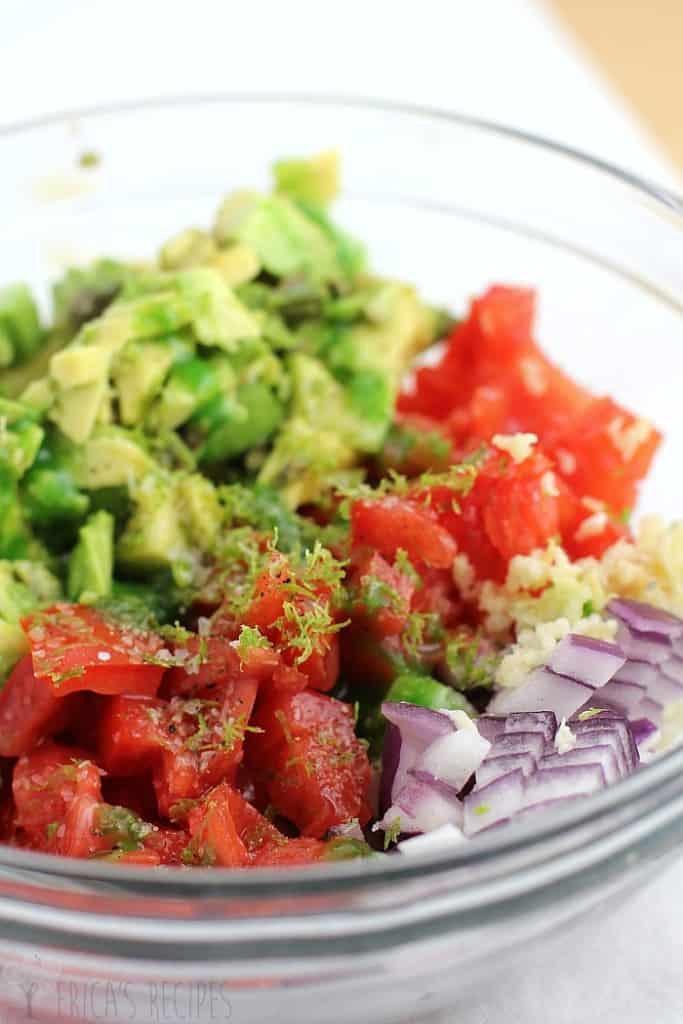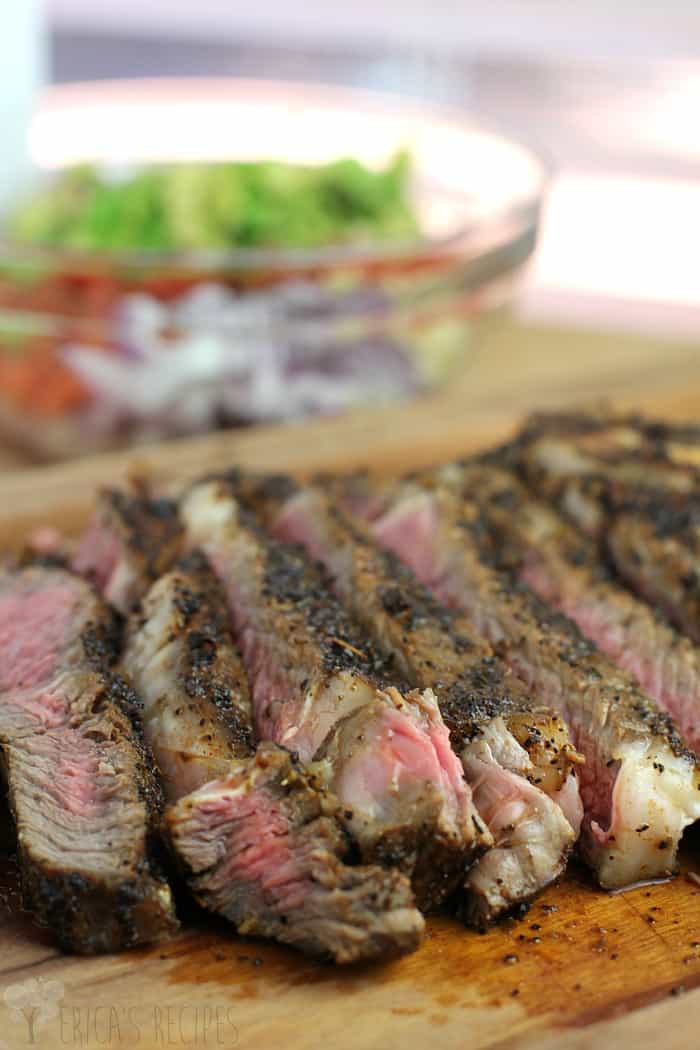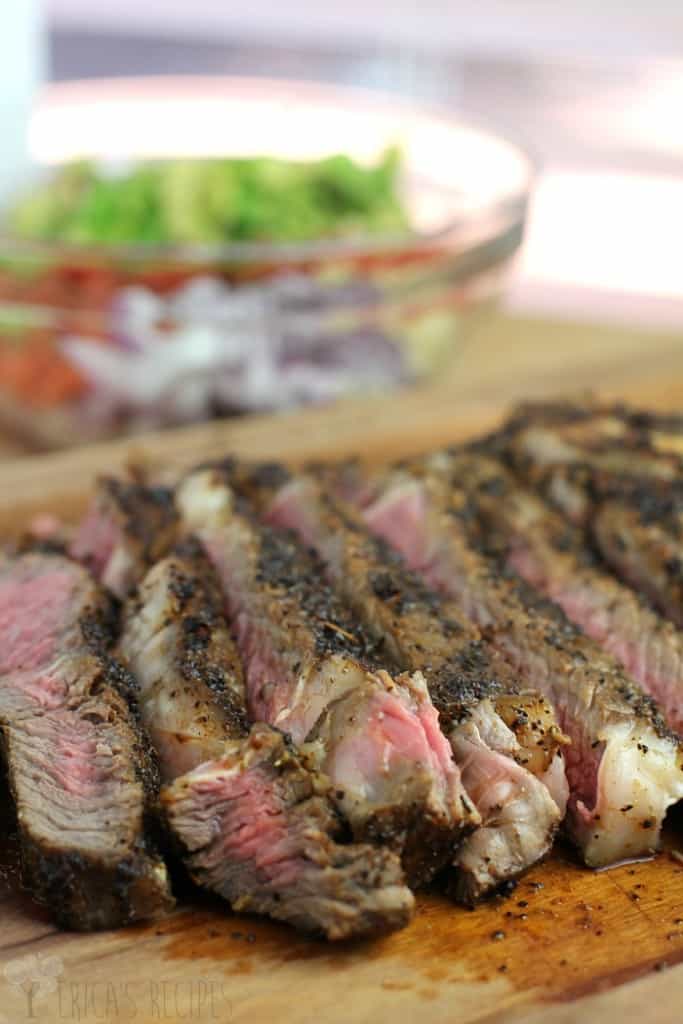 For more tips to grill your best steak, check out Grilled Steak with Horseradish Dijon Sauce.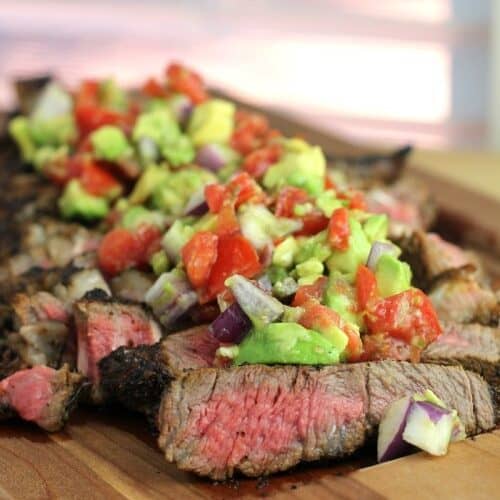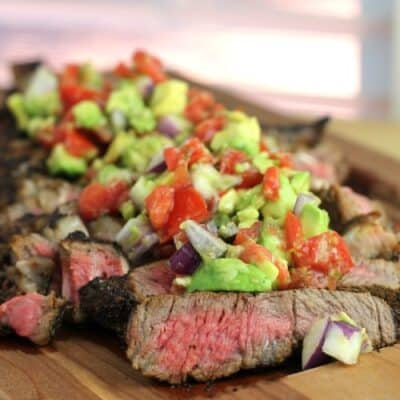 Coffee-Crusted Bone-in Ribeye with Avocado Relish
Following a stay in a Habanero-Beer marinade, this bone-in ribeye gets a coffee rub dusting for the grill and is served with a cooling Avocado Relish.
Ingredients
2

large

bone-in ribeye steaks

extra virgin olive oil
For the Habanero-Beer Marinade
½

cup

Mexican beer

juice of 1 lime

½

Tbs

extra virgin olive oil

2

cloves

garlic

2

tsp

Worcestershire sauce

2

Tbs

El Yucateco Green Habanero Sauce

couple pinches kosher salt

pinch

fresh cracked pepper
For the Steak (this amount is per steak; increase for more steaks)
For the Avocado Relish
1

ripe avocado

diced

1

large tomato

seeded and diced

¼

cup

diced red onion

1

tsp

El Yucateco Green Habanero Sauce

1

clove

garlic

minced

zest of half a lime

1

tsp

apple cider vinegar

1

Tbs

Italian flat-leaf parsley

chopped

pinch

kosher salt

pinch

fresh cracked pepper
Instructions
Combine the ingredients for the Habanero-Beer Marinade in a ziploc bag. Add the steaks and marinade overnight in the fridge.

Remove the steaks from the marinade and pat dry with paper towels. Rub steaks lightly with olive oil. Combine the Chicken Rub, coffee, and brown sugar on a dish. Coat the steaks well with the coffee rub mixture. Heat grill to high heat and grill steaks to desired doneness (I make mine medium-rare, 4 minutes per side on my cheap grill).

Once steaks are done, remove from the grill and let rest 5 minutes. While the steaks are resting, make the Avocado Relish. Serve ribeyes topped with the avocado relish. Yields: 2 to 4 servings.
Nutrition
Calorie count is purely an estimate calculated using an online application to serve as a guide and not to be taken as accurate nutritional information. Percent Daily Values are based on a 2,000 calorie diet.
Tried this recipe?
Leave a comment below and let me know!