Greek-Style Air Fryer Chicken Wings
Crispy, juicy air fryer chicken wings cooked quickly with no mess. Marinated with lemon and herbs, these Greek-style chicken drumettes are so flavorful. If you have been wanting an easy recipe to learn to use your air fryer, this is it.
This is super easy party food. Just put these guys to marinade a few hours or a day ahead, then throw them in the air fryer when you're ready.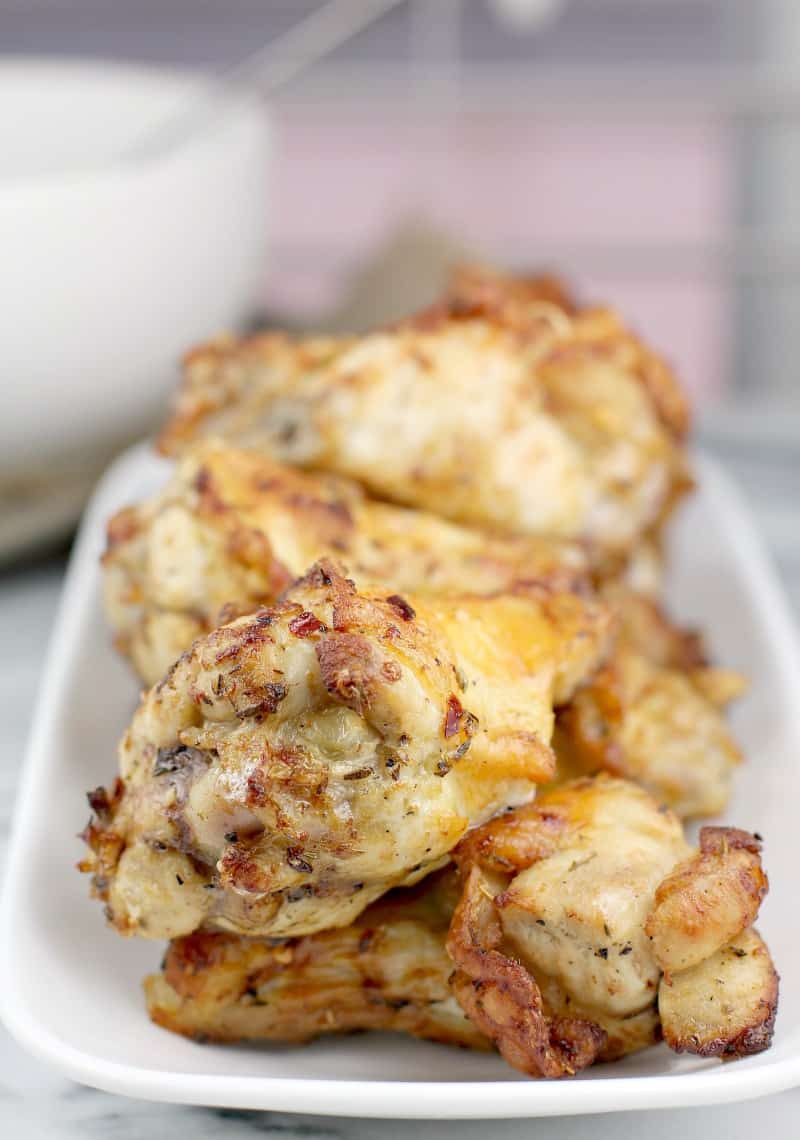 This recipe was first posted April 2013, then updated January 2020.
Have you picked up an air fryer yet? If you haven't, I highly recommend them! When I got my Instant Pot, I had delusions of using it nightly cranking out quick dinners that tasted like they cooked all day.
Well, not so much.
But my air fryer… I LOVE my air fryer. My family loves my air fryer. I use it almost as much now as my slow cooker.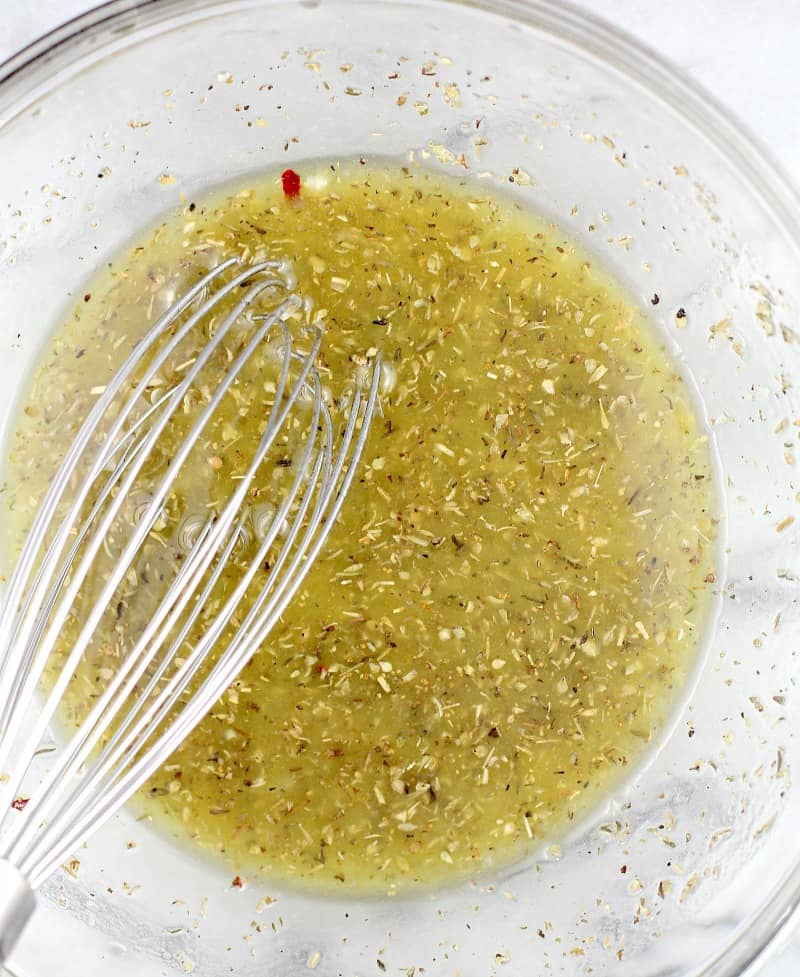 What even is an air fryer?
Think of a tabletop convection oven, and that is what the air fryer is. Food gets just a little coating of oil (provided for in this recipe by the marinade and also naturally from the chicken skin), and air swirls as the food cooks to make that beautiful crispiness happen.
There is a very short list of kitchen tools and gadgets that I love, and my air fryer is on it. This thing is freaking magical.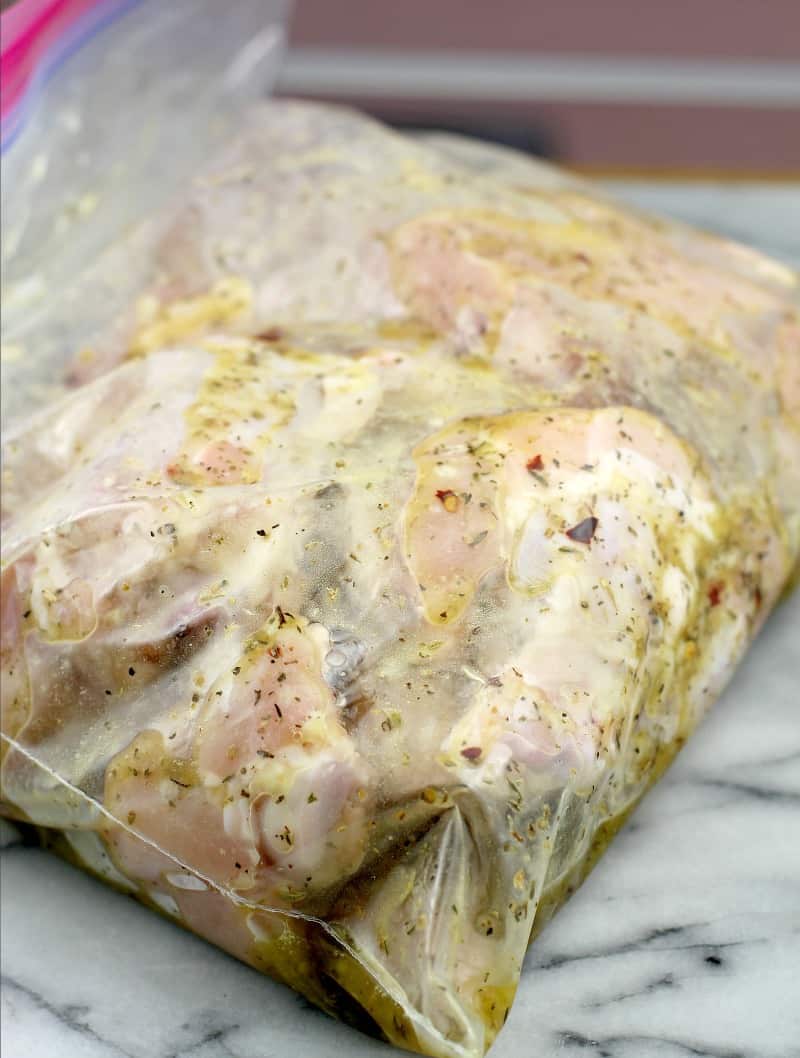 How to make Greek-style chicken wings
The method to making these air fryer chicken wings are super easy!
Marinate chicken.
Air fry.
The only trick, and I do mean the ONLY trick, to air frying chicken wings is to give them a toss a time or two while they are cooking so they get crispy all around.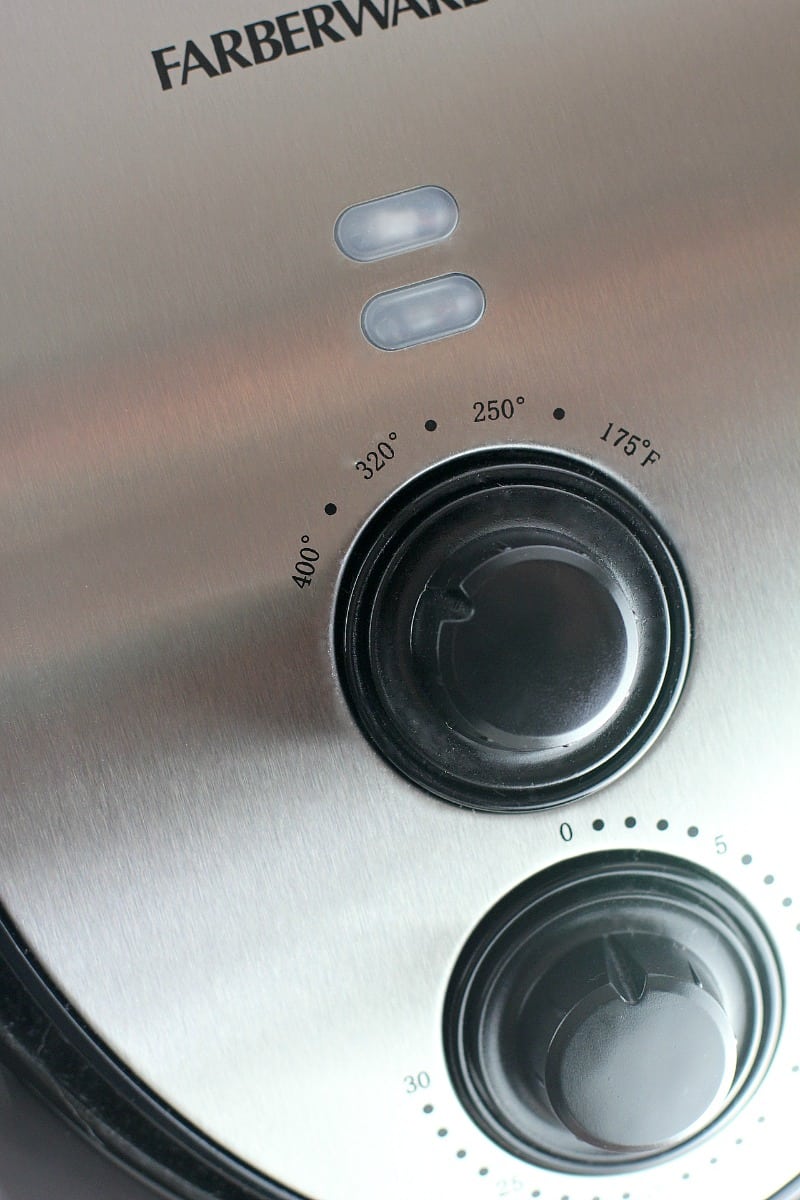 How does one know when the chicken drumettes are done?
Just like any chicken recipe, we want the chicken to be cooked correctly, but over cooked and be rubber.
The good news here is the following:
Chicken wings are a bit more forgiving to cook than, say, chicken breast.
Air frying seals in the juices to make it even more forgiving.
So we have a double whammi of help – chicken wing meat is harder to screw up, and using the air fryer helps us even more.
But at the end of it, you want the meat to no longer be pink, for the juices to run clear, and for the internal temperature (not touching bone) to be 165°F.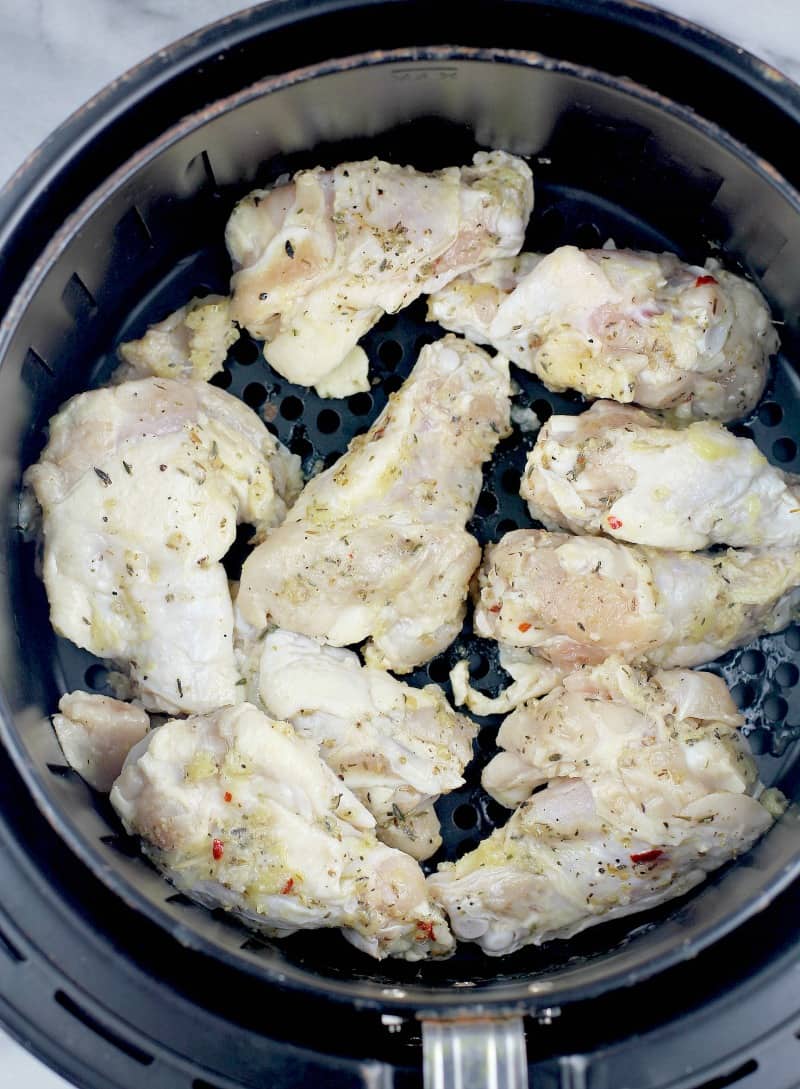 How much does an air fryer cost?
These are so easy to make that at our Super Bowl party this year, I will be cooking air fryer chicken wings as we go, until everyone has had they're fill. It's that mindless. Just gotta watch the timer.
I have seen air fryers anywhere from $40 to over $100 or even more. You don't need to get anything fancy – it just needs to get hot and move air. ~$70-$80 will get you a decent one.
So, figure in the ballpark of an Instant Pot.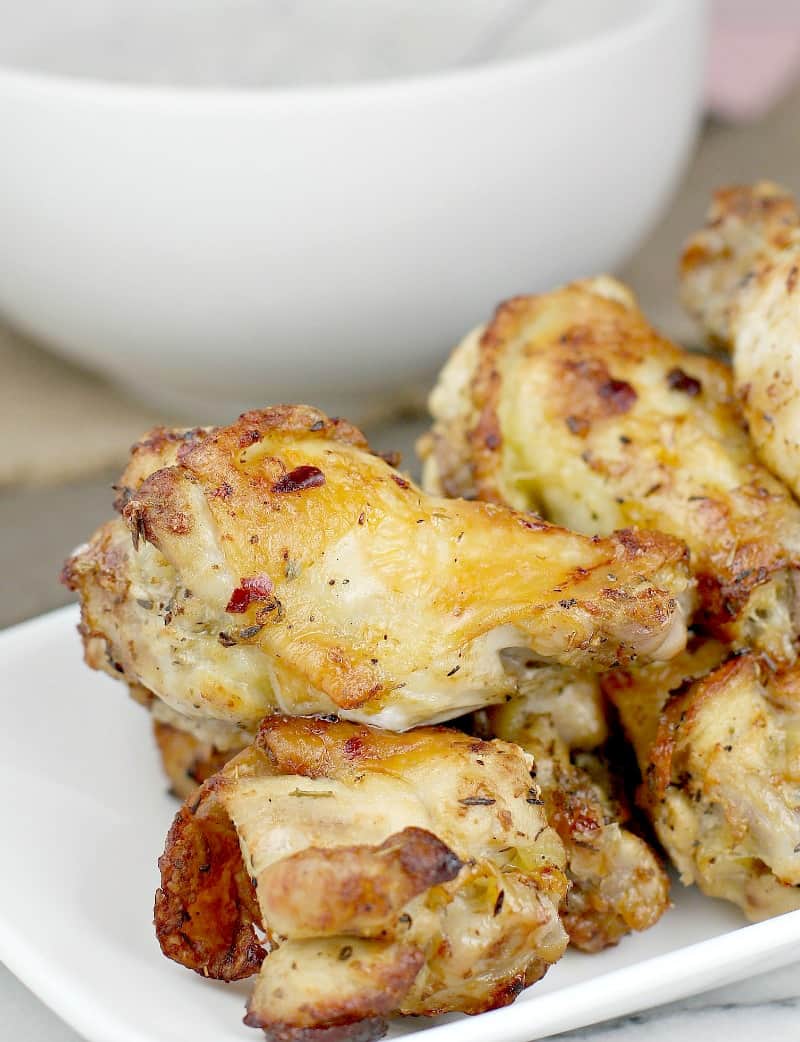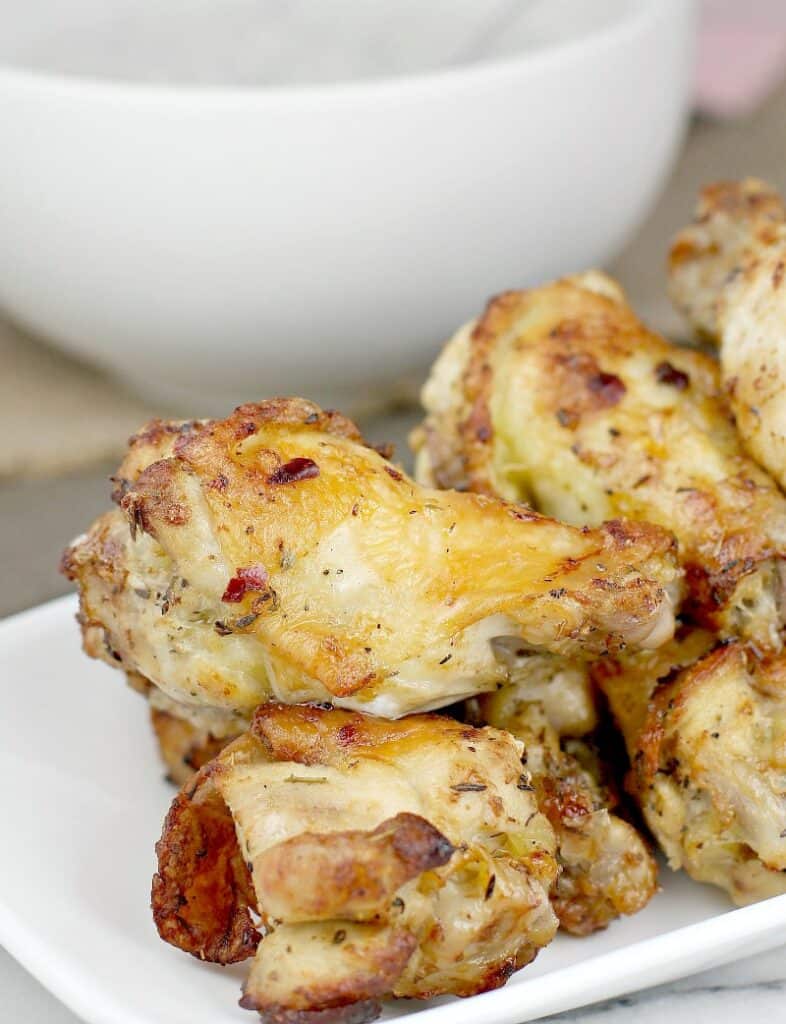 Besides chicken drumettes, what can I cook in an air fryer?
This is where it gets fun, because since it is basically a little oven, you can try all kinds of things. These are the foods I have cooked so far that have turned out really well:
Greek-style chicken (this recipe)
Buffalo wings. Just toss in the wing sauce after cooking.
Chimichangas. Make a simple filling with corn, black beans, cheese, and salsa; roll in a flour tortilla and spray with cooking spray; cook.
Tater tots. YUM!! I'll never bake tater tots in my oven again.
Pizza rolls. They happen.
Boneless pork loin chops. Use this same Greek style marinade.
Hot dogs are so good from the air fryer. Check out Air Fryer Hot Dogs with Sweet Pepper Relish for a recipe.
That's it so far, but I'm wanting to branch out. I have a friend that cooks bacon in hers even, so we'll see.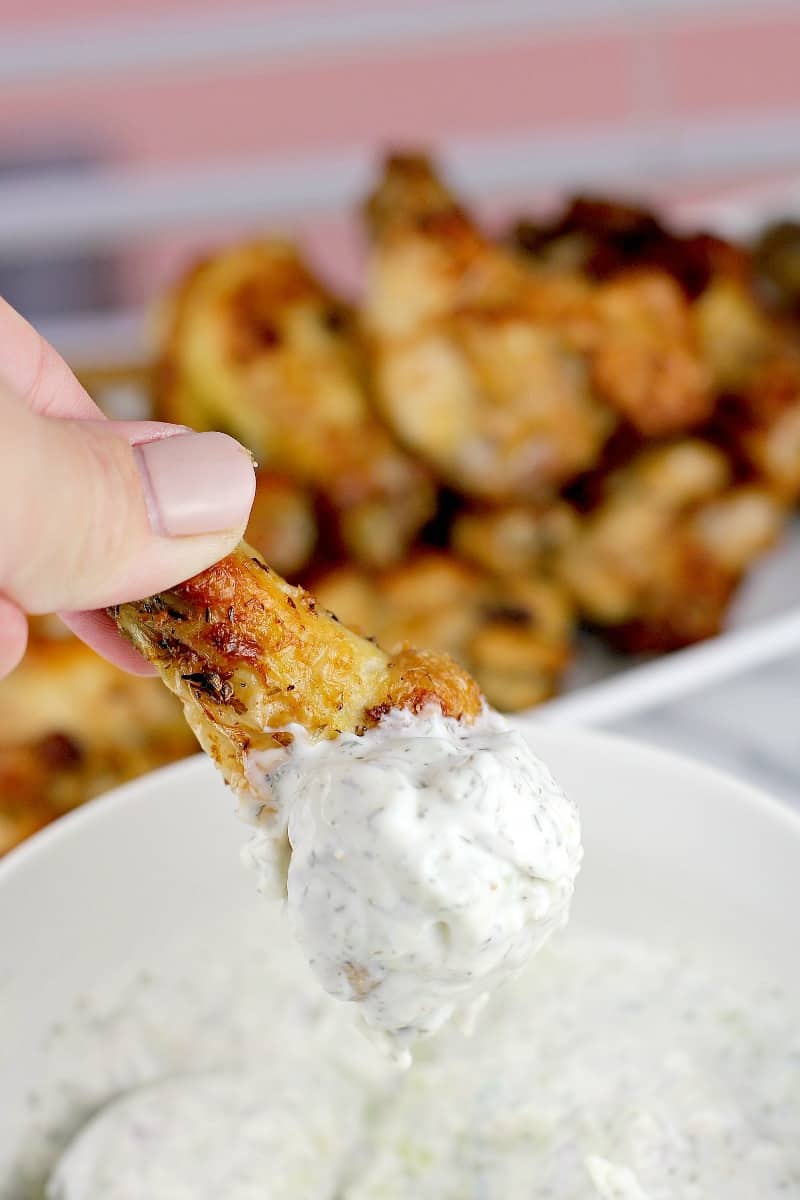 How and when to serve air fryer chicken wings
Anytime you want wings, you make yourself some wings.
I have made these drumettes for dinner, for lunch, for party food, for football food.
in fact, as of this writing, these ingredients are on my grocery list to make DURING our Super Bowl party tomorrow.
During? YES! Because I just throw a batch in, 20 minutes later they're done, and I just keep that going for a bit until everyone has had their fill. They we'll have a couple sauces handy if folks want.
Generally, I most prefer to serve these greek-style chicken wings with my Tzatziki Sauce. The cool, creamy cucumber dip with dill and lemon complements the chicken marinade so well, that there really just isn't any other way that makes it for me.
But at a party or gathering, I do like to give people options to eat chicken drumettes how they like.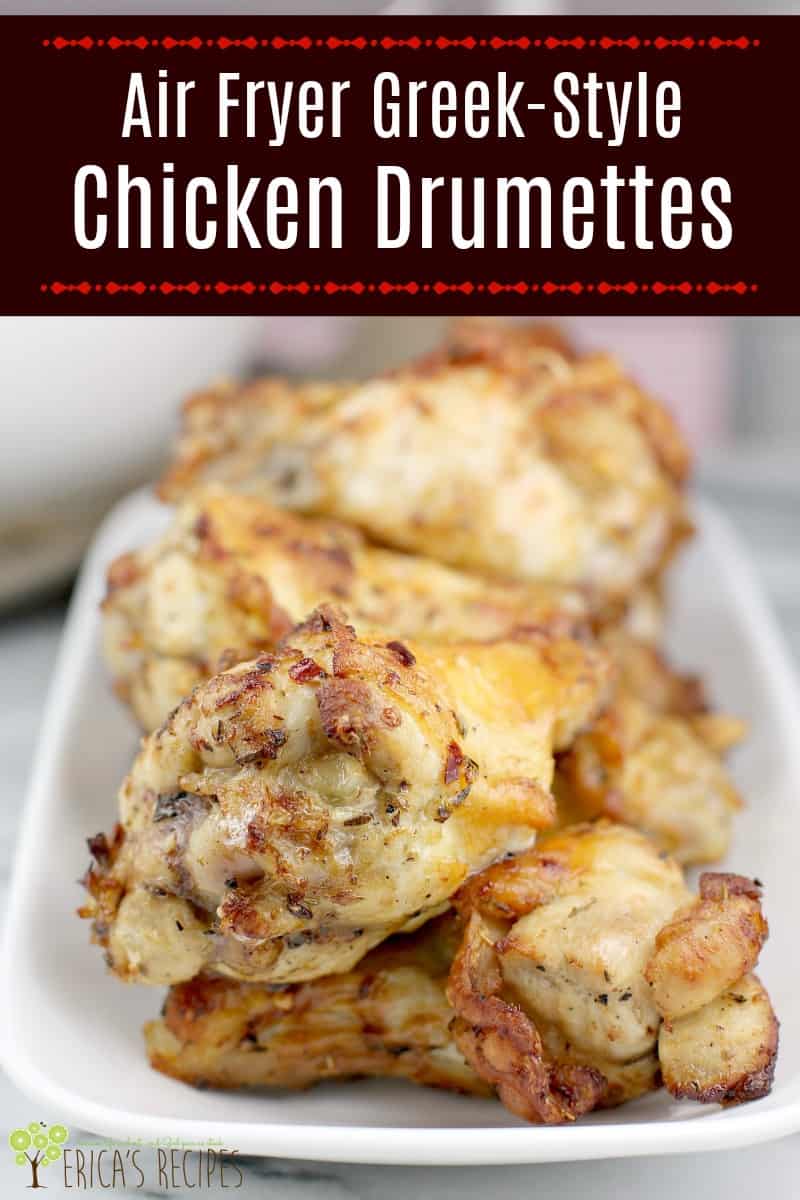 For more chicken recipes, check these out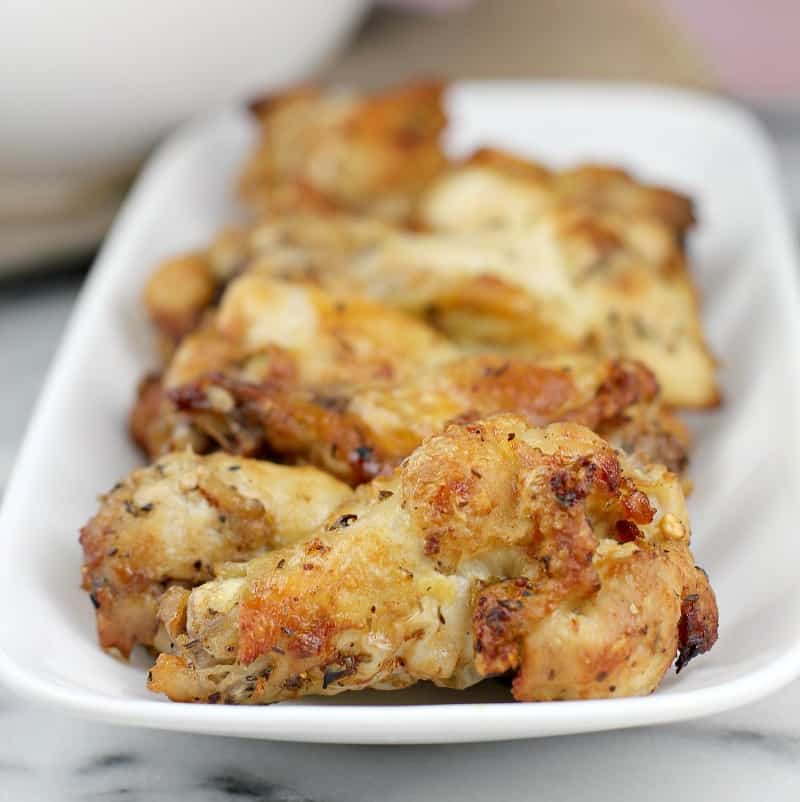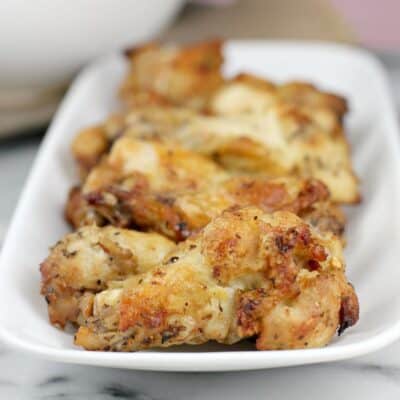 Greek-Style Air Fryer Chicken Wings
Crispy, juicy air fryer chicken wings cooked quickly with no mess. Marinated with lemon and herbs, these Greek-style chicken drumettes are so flavorful.
Instructions
Whisk together all the ingredients except the chicken and Tzaziki sauce. Put the marinade in a large resealable bag and add the chicken.

Refrigerate 4 hours to overnight, turning occasionally.

Add half the chicken and cook 20 minutes, turning chicken over mid-way.

After 20 minutes, give the air fryer basket a shake to toss the chicken a bit. Cook 2 minutes more or until juices run clear and meat is no longer pink.

Repeat with the remaining chicken. Serve with Tzatziki sauce.
Notes
In addition to checking the doneness of the meat, you can check with a meat thermometer. The wings are done when they are 165°F internal temperature.
Calorie calculation is approximate and does not include Tzatziki Sauce.
Nutrition
Calorie count is purely an estimate calculated using an online application to serve as a guide and not to be taken as accurate nutritional information. Percent Daily Values are based on a 2,000 calorie diet.
Tried this recipe?
Leave a comment below and let me know!
~✿♥✿~