Salsa Verde Chicken Stacked Enchiladas
Stacked enchiladas is an easy salsa verde chicken casserole with chicken, green salsa, and cheese layered with corn tortillas for a lighter dinner idea for the whole family. Naturally gluten-free, this chicken verde casserole uses 2-Ingredient Salsa Verde Chicken or rotisserie chicken for speedy preparation. The result is a light chicken enchilada recipe you can feel good about.
Tasty layers of chicken, salsa verde, tortillas, and cheese. This Mexican casserole recipe is very easy to make and the leftovers are insanely delicious too.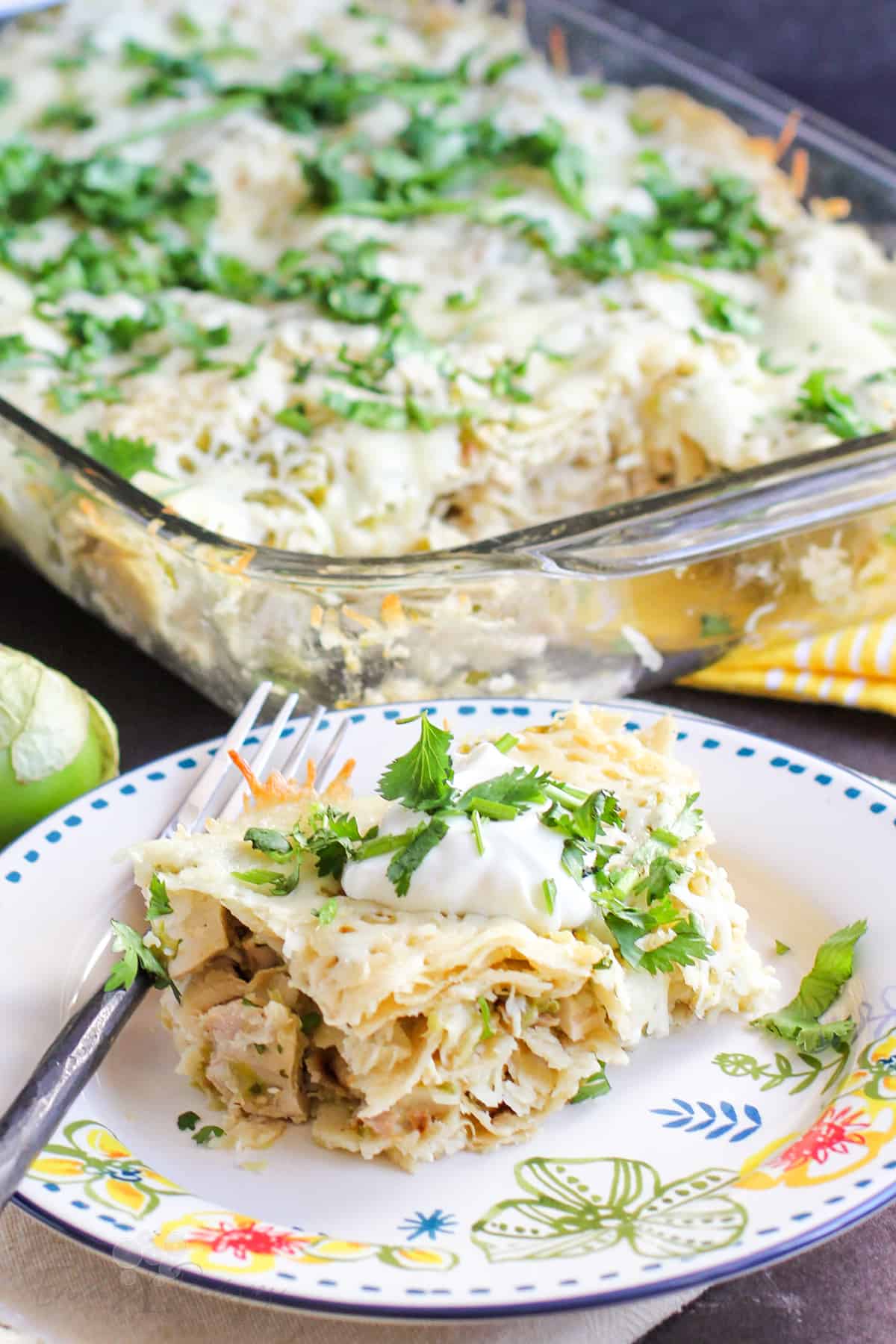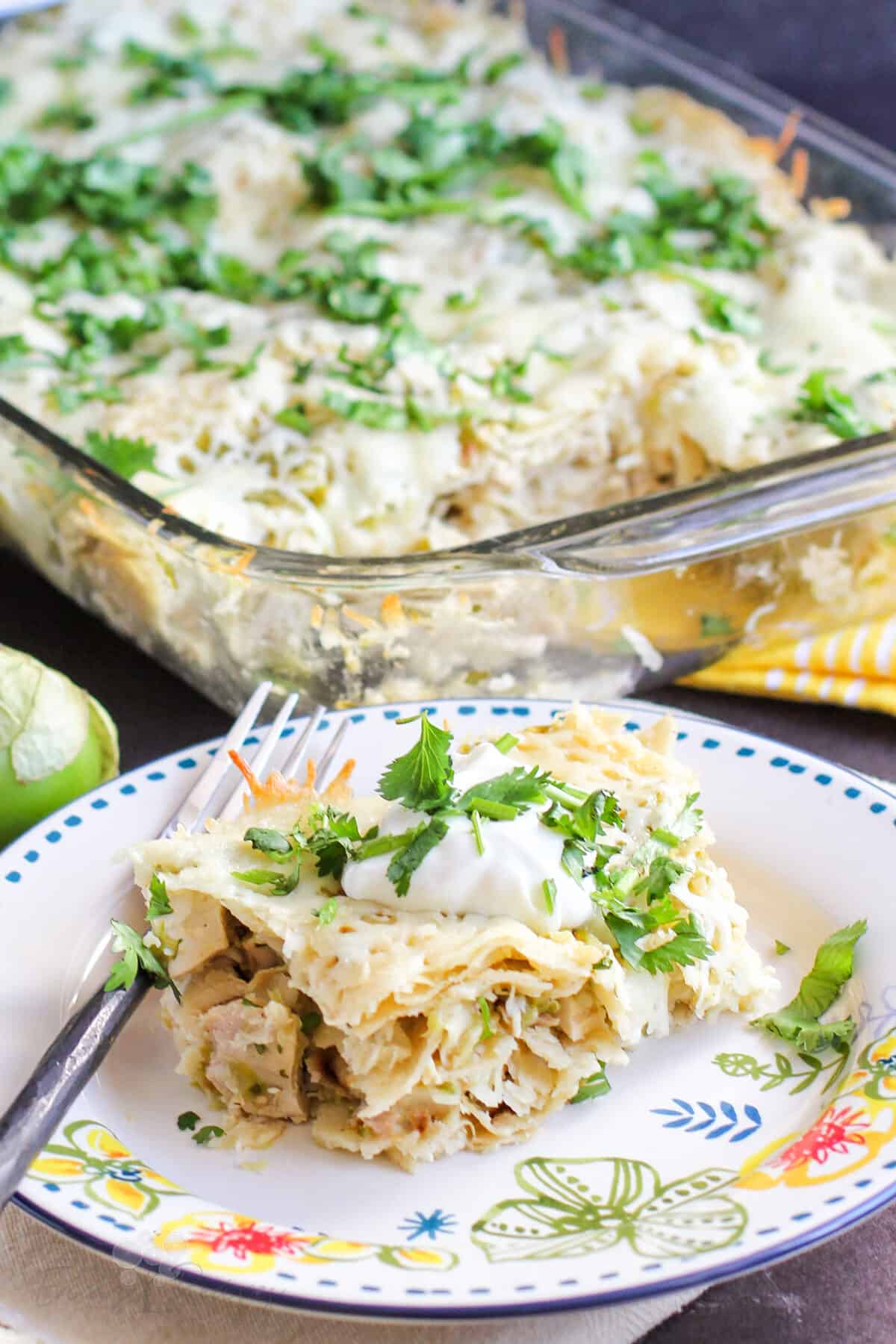 Why this recipe works
Often, I crave Mexicans foods, and by that, I mean good Mexican dishes with bright, fresh ingredients like lime, cilantro, peppers, chiles, and such. I do not like heavy Mexican dishes dripping with cheese or grease anyway.
I am talking about the good stuff. Like my Zucchini, Black Bean, and Corn Tacos or Mexican Quinoa Stuffed Portobello Mushrooms or these delicious stacked enchiladas.
With a newly rekindled love for salsa verde, I set out to use it in a super easy, comforting dinner but lightened up at the same time. This recipe works because 1) it is so easy to make. Simply use my 2-Ingredient Salsa Verde Chicken, rotisserie chicken, or any chicken you like, then layer with corn tortillas, cheese, and salsa verde. And 2) because salsa verde has its own innate creaminess, we can cut down on the cheeses (and I omit sour cream or cream cheese from the stacked enchiladas altogether).
Is this Mexican casserole healthy?
Yes! Sorta…
For this EASY enchilada stack recipe, I lightened-up on the cheese and instead relied on super flavorful Roasted Tomatillo Salsa to hold things together.
My Roasted Tomatillo Salsa, which is ready in 25 minutes and can be made well in advance, is naturally silky creamy and ridiculously healthy, so by using it, we can use 1/4 less cheese than I would normally in a casserole like this.
Instead, the bright and naturally creamy tomatillo salsa is enough to soften the tortillas and make this whole dish come together and just be awesome.
In addition to the salsa, I used simple chicken and corn tortillas. Corn tortillas are fewer calories than flour tortillas. They are also gluten-free, if that is your thing, but always double check the packaging to be certain.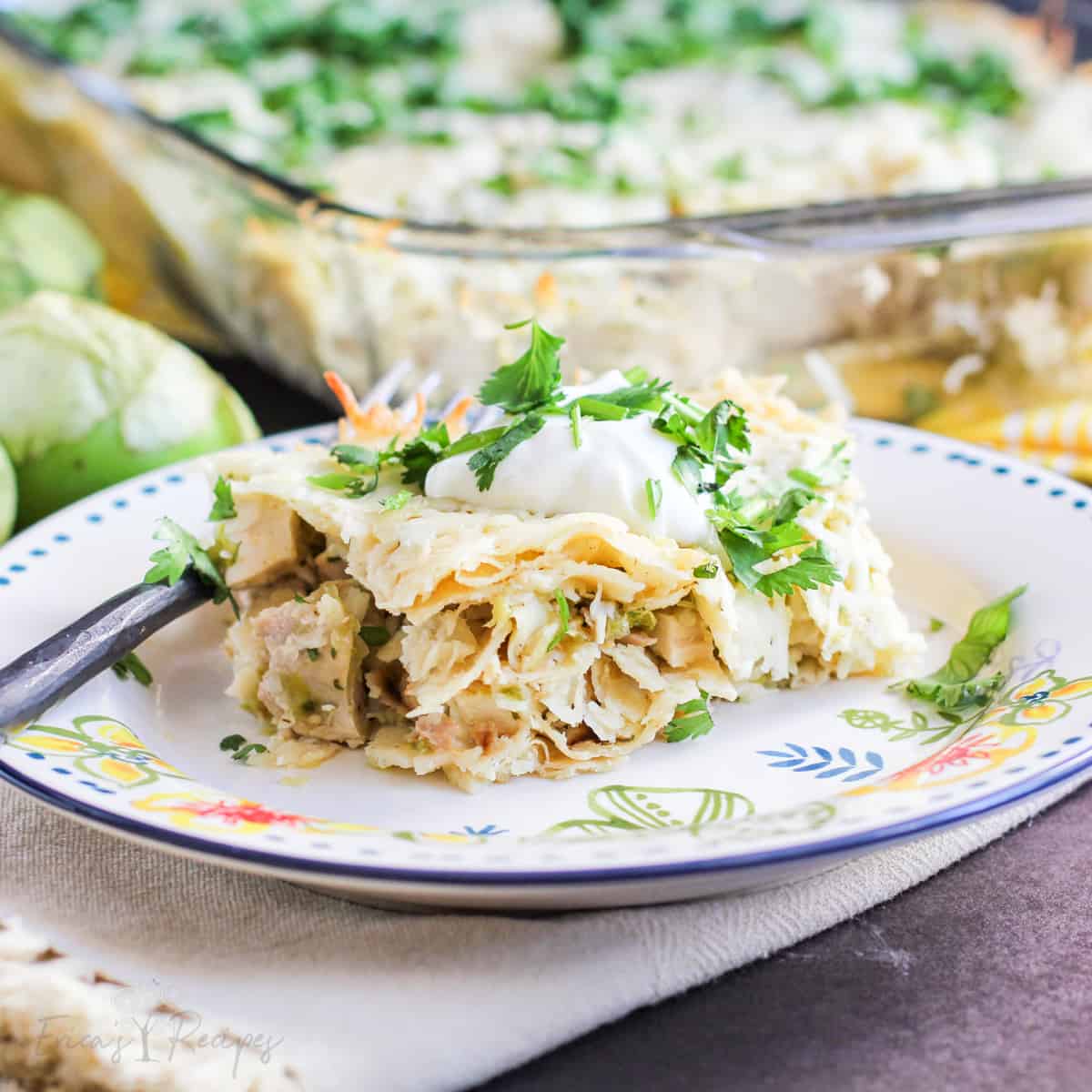 About the ingredients
Just four ingredients are all you need for this easy salsa verde chicken casserole.
Corn tortillas. I used white tortillas, but yellow corn tortillas work just as well.
Salsa verde. My own Roasted Tomatillo Salsa is worth that 25 minutes of effort, but you can substitute purchased salsa verde and I often do.
Chicken. I have used my 2-Ingredient Salsa Verde Chicken, but rotisserie works as well and you can use any chicken or turkey.
Cheese. I use mild Monterey jack cheese, and we do not use much so that it is not greasy. Mexican or seasoned taco cheese blends can be substitutes, as can cheddar-Jack blend. I prefer not to use solely cheddar, because it makes a very homogenously orange casserole.
Then just a little light sour cream or plain Greek yogurt on top, little sprinkle of cilantro (or parsley) and we're good.
How to make stacked enchiladas
So this is where I can say picture a lasagna made using the ingredients for salsa verde enchiladas. Because this is exactly that.
Toast tortillas in a skillet with a little cooking spray.
Layer tortillas, salsa verde, chicken, and cheese.
Repeat #2.
Repeat #2 again, but this time without chicken.
This recipe is every bit cozy comforting enchilada casserole, with healthy bright Mexican flavors, and easy prep for weeknight dinner perfection.
FAQs
What can be substituted for the homemade salsa verde?
As delicious and dare I say perfect as my tomatillo salsa is, you can purchase salsa verde as a totally justifiable substitute in this recipe, because life. Just check out my Fried Salsa Verde Macaroni and Cheese Balls and 2-ingredient Salsa Verde Chicken to see where I did that very thing myself with completely different brands.
Can other proteins be used in this chicken enchilada casserole recipe?
Of course! I have used my slow cooker chicken or rotisserie chicken, but this enchilada stack recipe is appropriate for using any leftover chicken (light or dark meat) and even turkey. This is a perfect recipe for using leftover holiday turkey in fact.
Can stacked enchiladas be made vegetarian?
Yes. Substitute the chicken with black beans or creamy cannelini white beans. Or both or whatever combination of beans you like.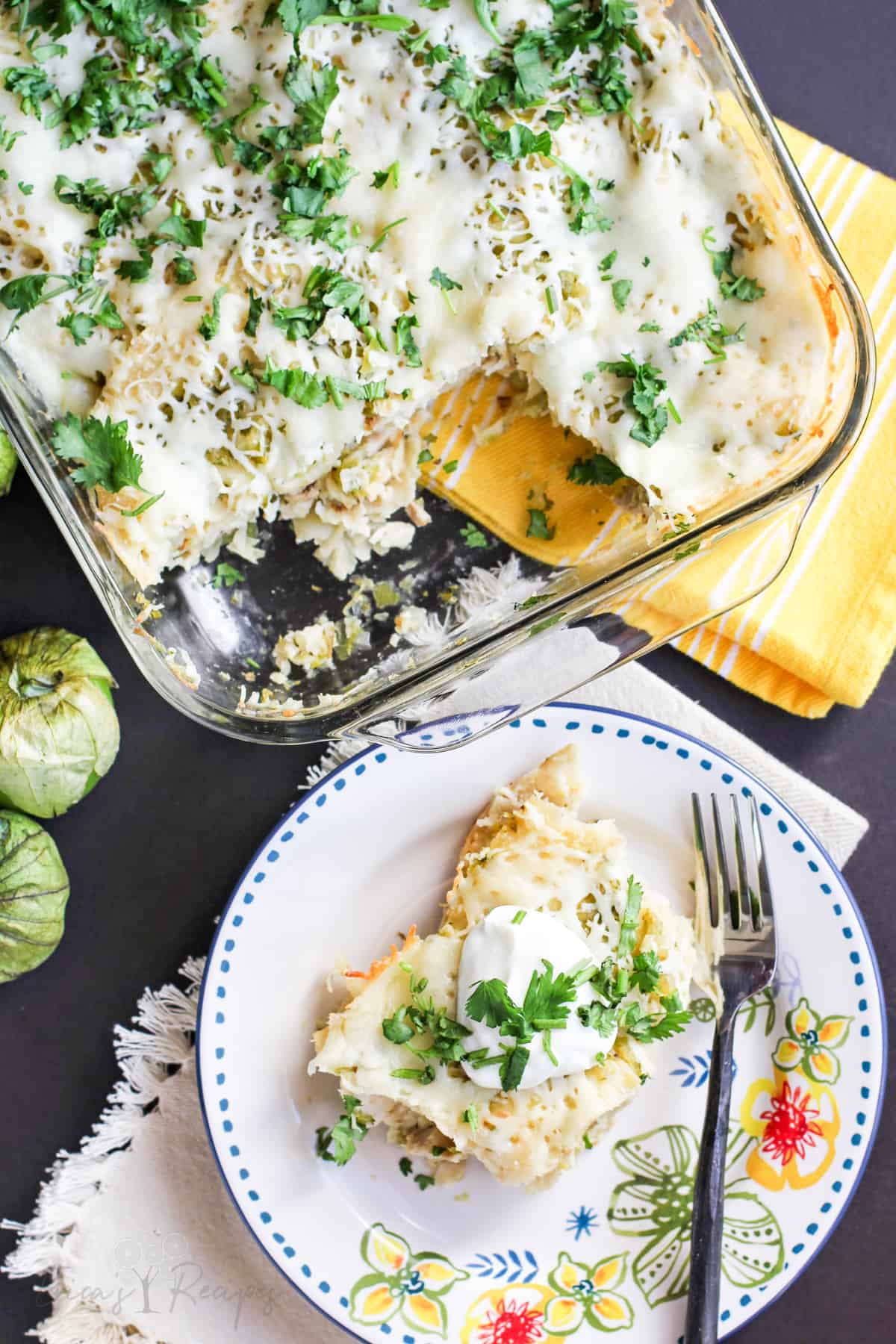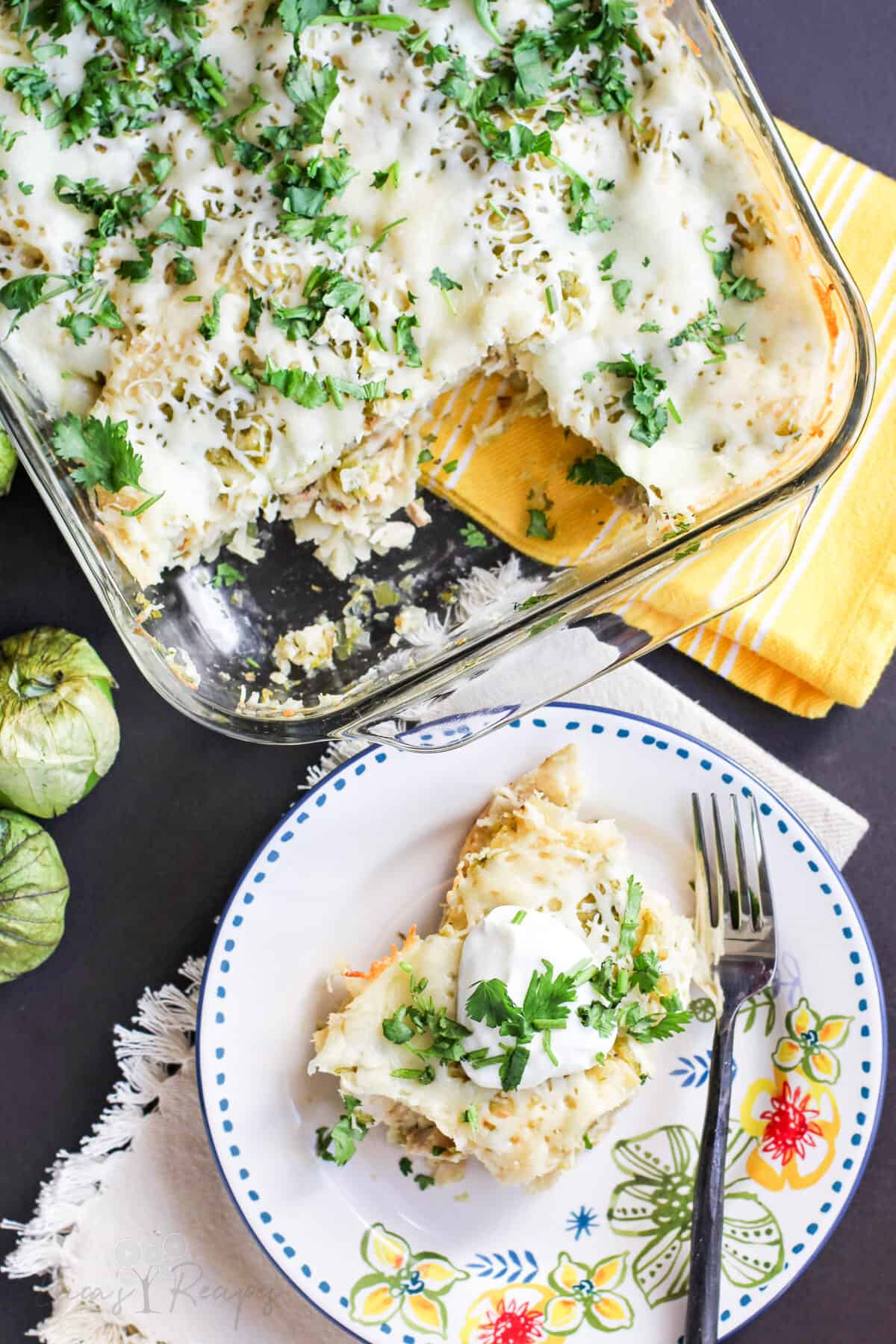 For more casserole ideas, check these out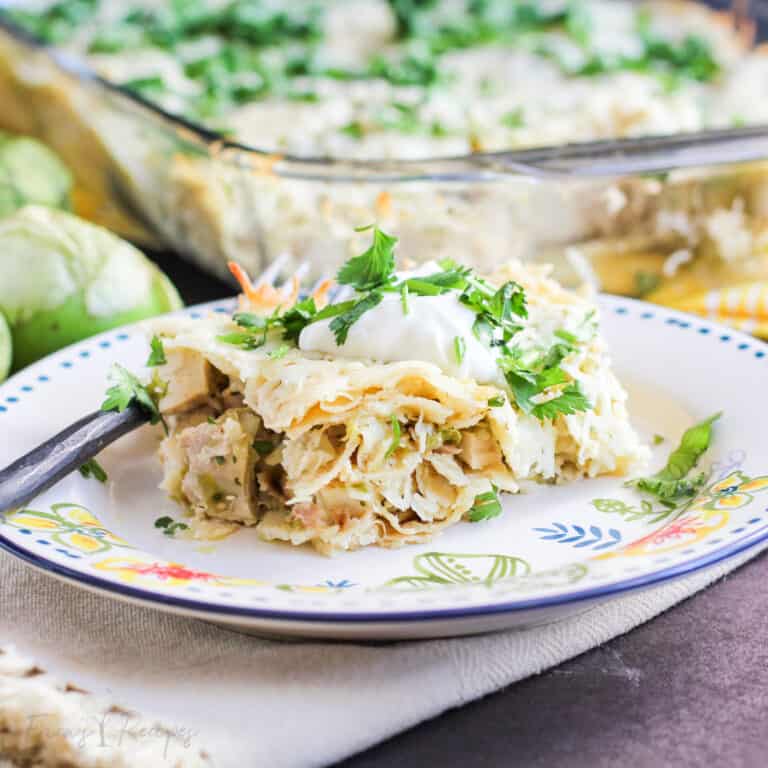 Salsa Verde Chicken Stacked Enchiladas
This chicken enchilada casserole with homemade salsa verde and corn tortillas makes a perfect family dinner. A Mexican casserole that is so easy to make.
Instructions
To prepare the tortillas: Heat a nonstick skillet on medium-high heat. Lightly spray with cooking spray and add a tortilla or two, depending on the size of the pan. Spray the top side of the tortilla lightly with cooking spray. Lightly toast the tortillas, flipping once. Set aside.

In a 13×9-in baking dish, spread ½ cup salsa verde. Layer 6 tortillas to cover the bottom of the dish, overlapping a bit and going up the sides.

Layer half the chicken, 1 cup salsa, and 1 cup cheese. Repeat layering 6 tortillas, the remaining chicken, 1 cup salsa, and 1 cup cheese. Top with the remaining tortillas, salsa, and cheese.

Cover baking dish with foil. Bake at 350°F for 20-25 minutes until heated through and all the cheese is melty. Serve topped with a dollop of sour cream and fresh cilantro.
Nutrition
Calories:
386
kcal
(19%)
|
Carbohydrates:
42
g
(14%)
|
Protein:
21
g
(42%)
|
Fat:
9
g
(14%)
|
Saturated Fat:
16
g
(100%)
|
Polyunsaturated Fat:
1
g
|
Monounsaturated Fat:
1
g
|
Cholesterol:
33
mg
(11%)
|
Sodium:
3158
mg
(137%)
|
Fiber:
7
g
(29%)
|
Sugar:
16
g
(18%)
Calorie count is purely an estimate calculated using an online application to serve as a guide and not to be taken as accurate nutritional information. Percent Daily Values are based on a 2,000 calorie diet.
Tried this recipe?
Leave a comment below and let me know!
~✿♥✿~