Cornbread Pork Chop Casserole
Cornbread Pork Chop Casserole is a baked boneless pork chops dinner perfect for a weeknight dinner or easy meal prep. With a simple creamy sauce and juicy chops, this pork loin recipe gives you a delicious dinner in 30 minutes.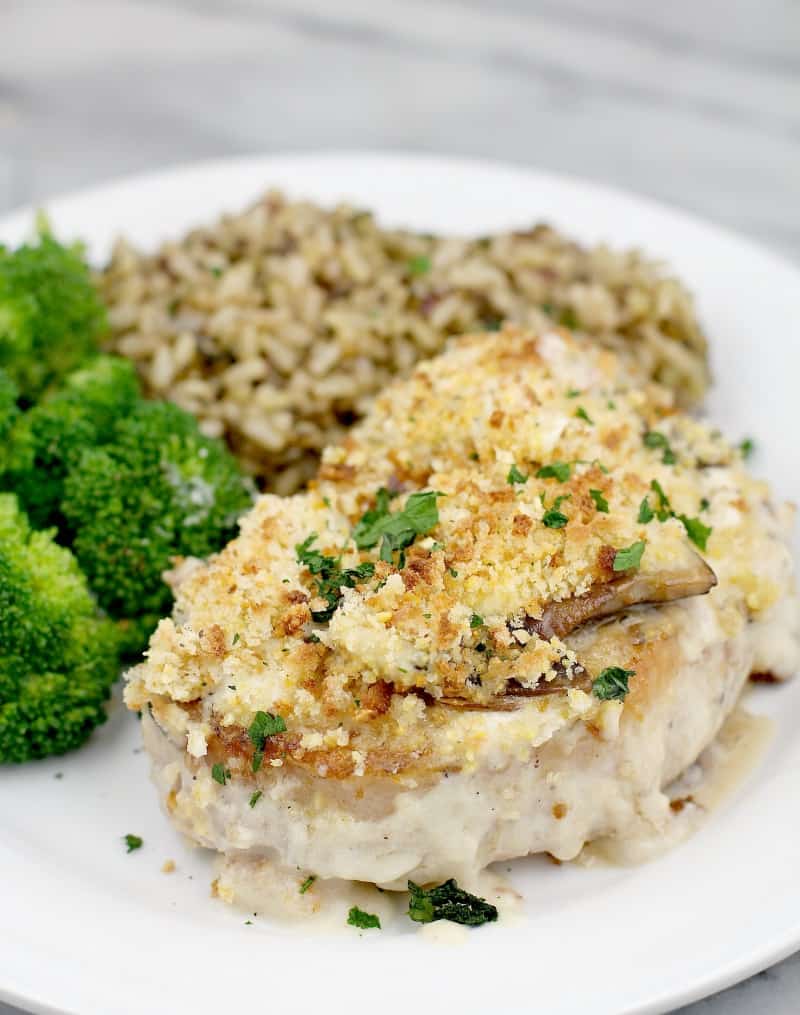 This recipe was first posted in 2013 and has been updated.
Another casserole dear goodness no! But yes. We need this recipe because it is EASY. SO easy.
We also need this baked boneless pork chops recipe because it is pretty light. I mean "pretty light" as in it is not heavy, not overly cheesy, not greasy, and so on.
Because while those casseroles are needed in our lives, they are not needed all the time. Or even regularly.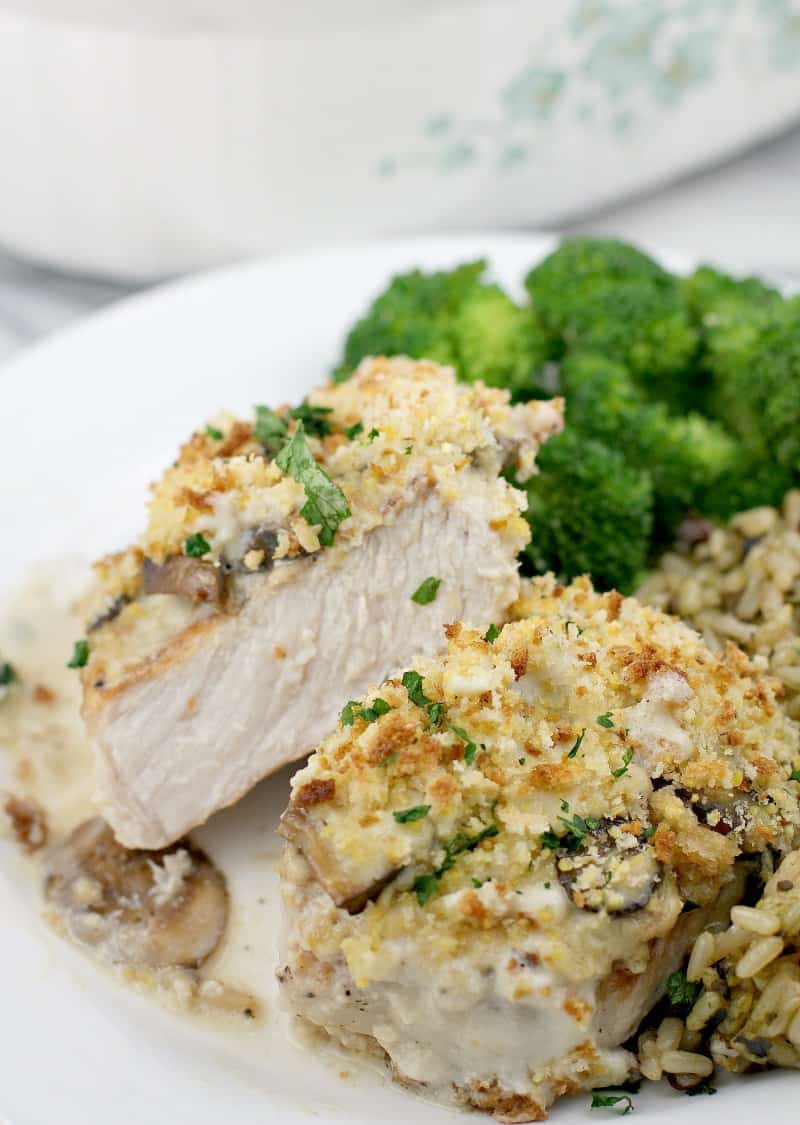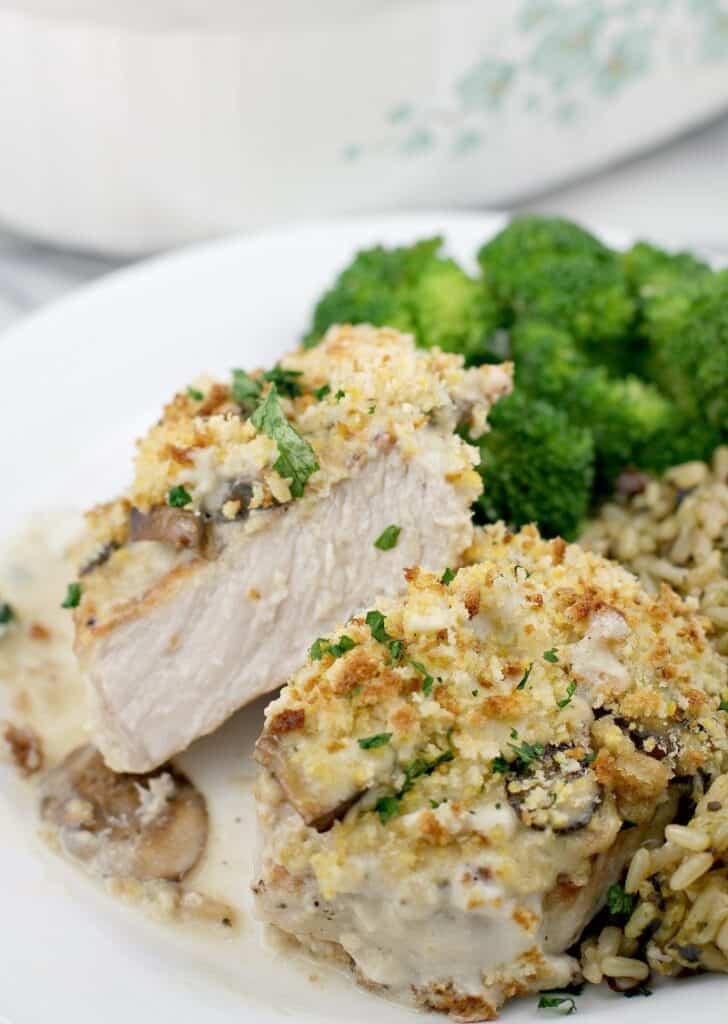 Moderation people. Moderation.
SO. Here we are. I have had this pork chop casserole recipe in my little pocket for so many years I cannot even remember where or how I came by it in the first place.
And still to this day, despite all my cooking and all my trials and tribulations, THIS single recipe remains as the one for a baked boneless pork chops dinner that I have the most confidence in.
It has never failed me.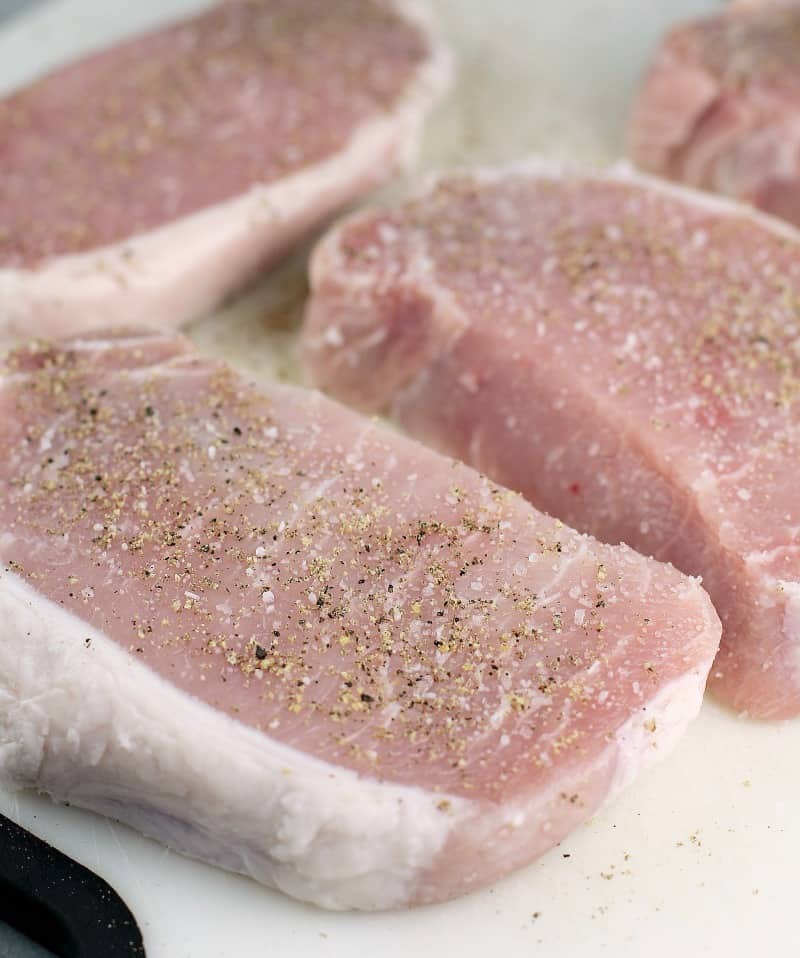 Why a Baked Pork Loin Recipe is the Way To Go for Easy Meal Prep
Without the bone, boneless chops cook more evenly and predictably — which is saying a lot for really lean meat.
If you cook to temperature, as I always recommend, it doesn't matter the thickness of the meat. So you can use this recipe for cooking thick pork chops too, just adjust the cook-time and always use a thermometer regardless to get the meat to a perfect 155F degrees. Simple pimple.
The sauce for this baked pork chop recipe is ridiculously easy: mix flour and wine (or stock); add sour cream. Like seriously? How easy is that.
Let's be real… if you're grilling, bone-in chops are better. The bone helps keep the meat from drying out and becoming a puck on the grill. But for a weeknight, boneless pork chops, baked in the oven, are better by far. Just because.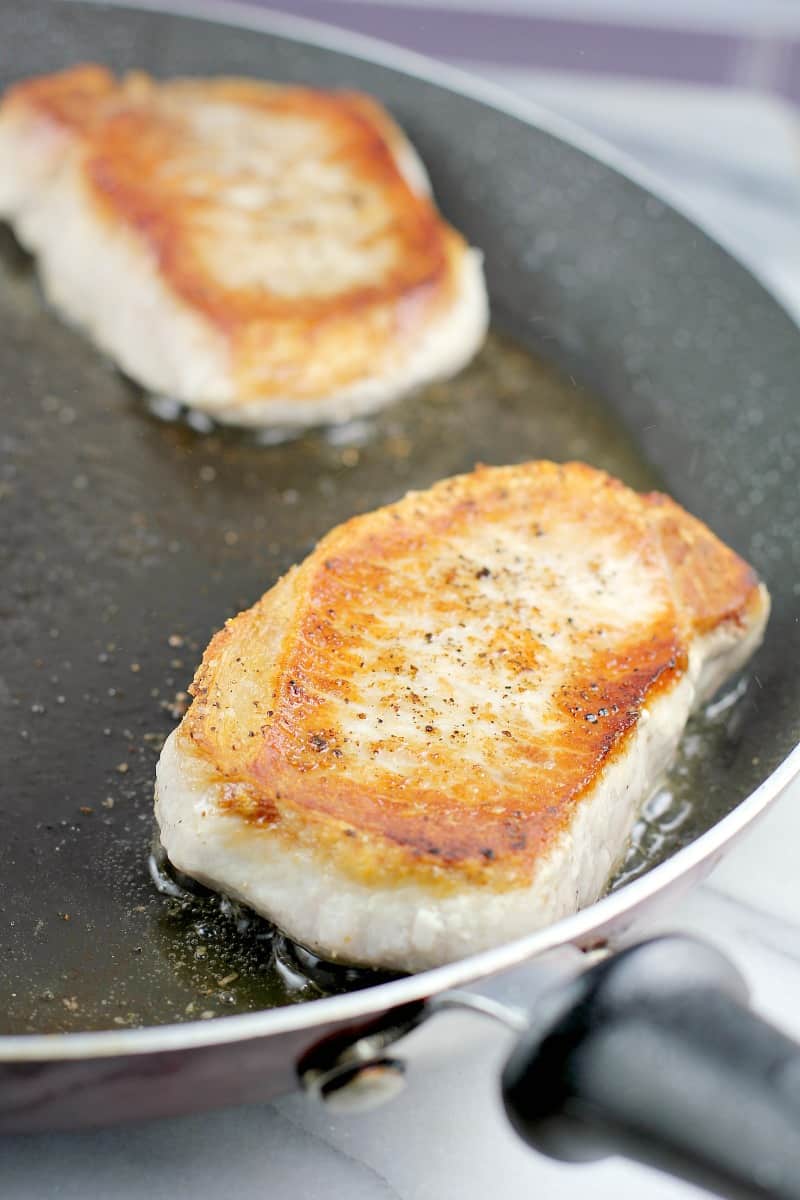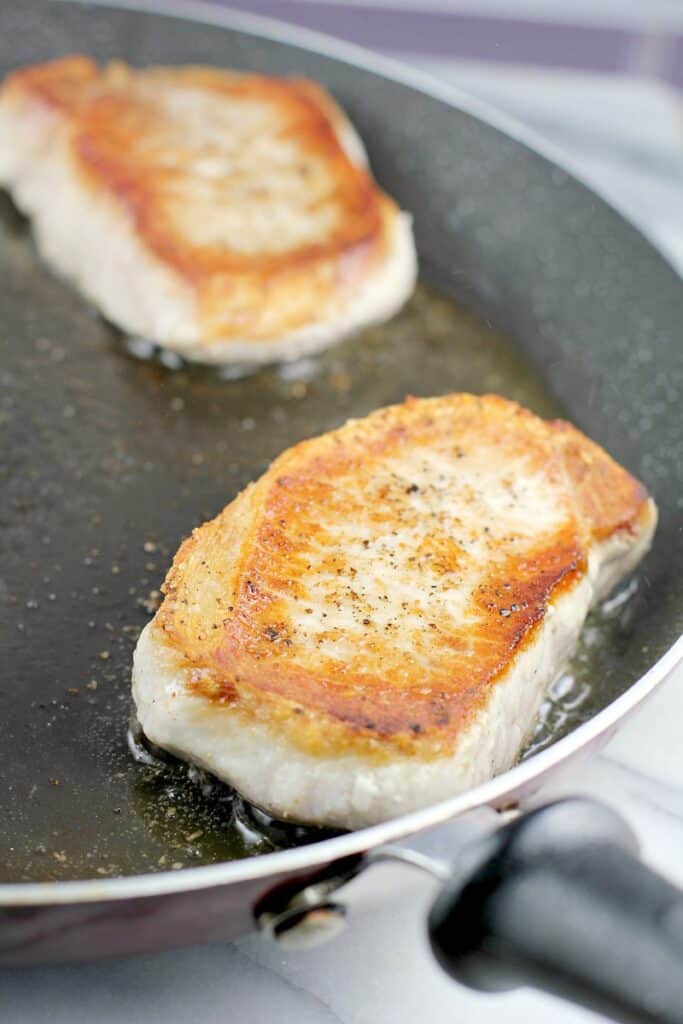 Why are Pork Loin Chops Great for Weeknight Cooking?
We can cook inside.
For grilling pork chops outside (especially if boneless), I HIGHLY recommend brining them for 30 minutes first. This dramatically helps them stay juicy. But in this baked recipe, this is not necessary.
Pork loin chops are a lean protein option and great alternative if you're sick of chicken breast. We tend to eat healthier during the week, so I to go lean proteins more often then.
This casserole is great for easy meal prep if you want to make it in advance to have later or have leftovers for lunch the next day.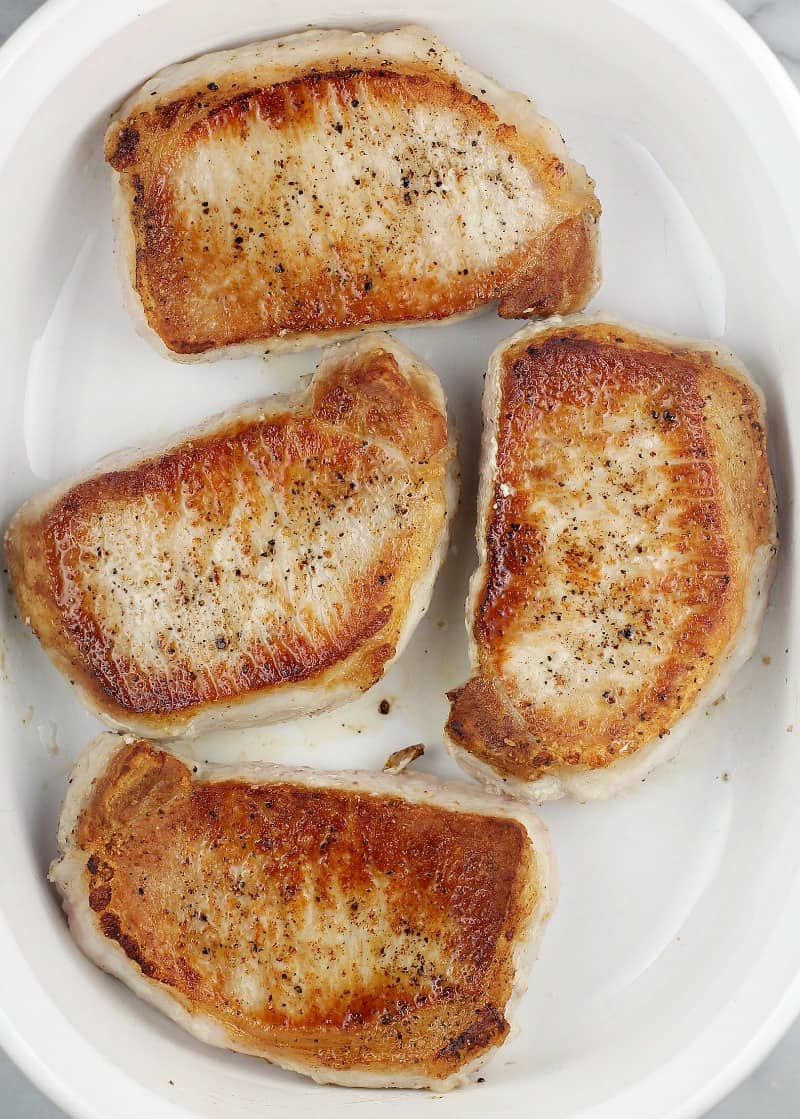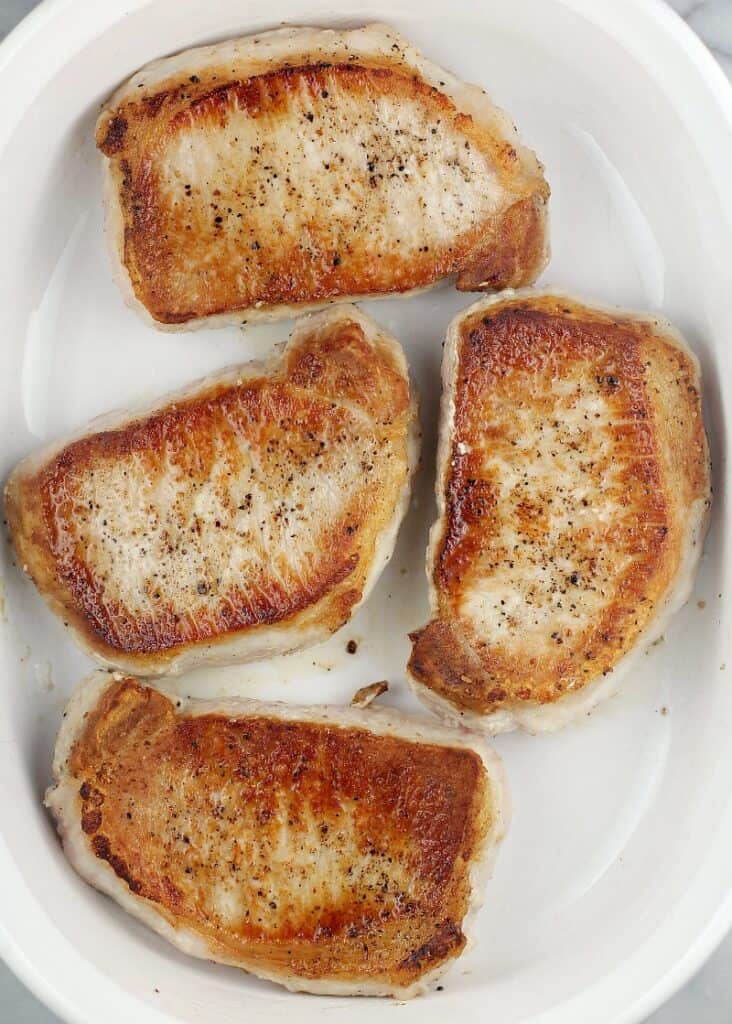 Not that this recipe is altogether healthy. It isn't healthy because of the flour and cornbread stuffing.
And that's ok, if your diet allows those ingredients.
Because other than those ingredients, this recipe isn't too shabby in the health department…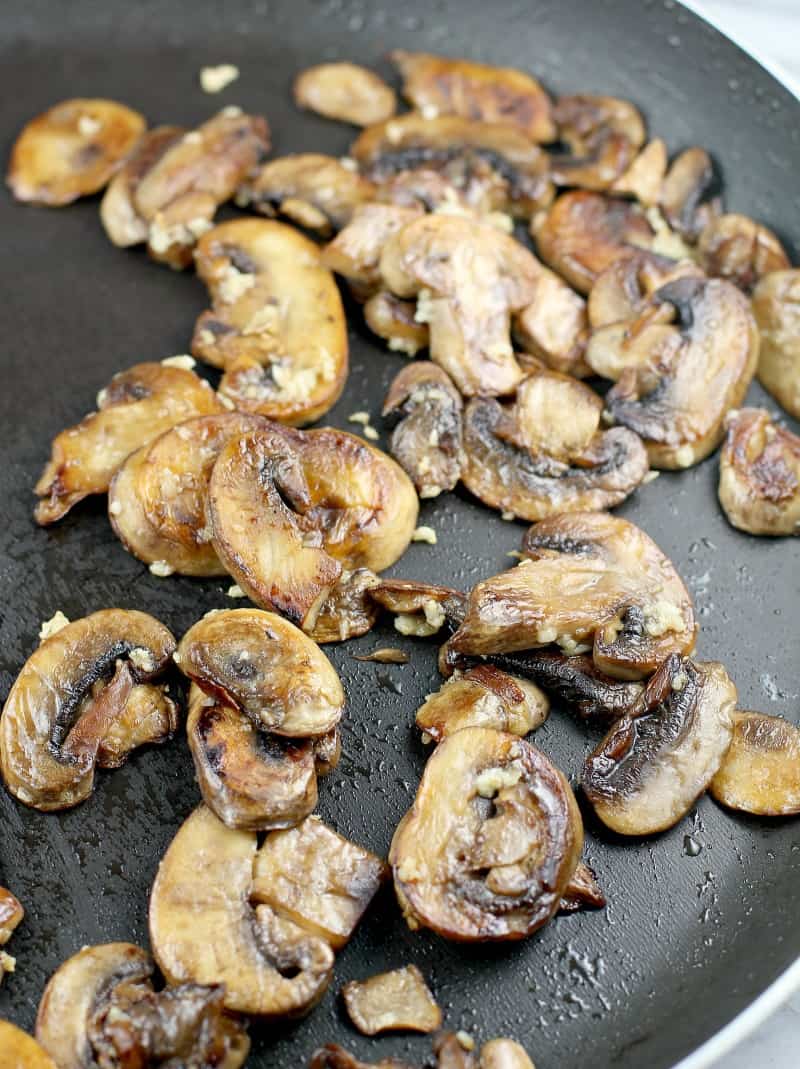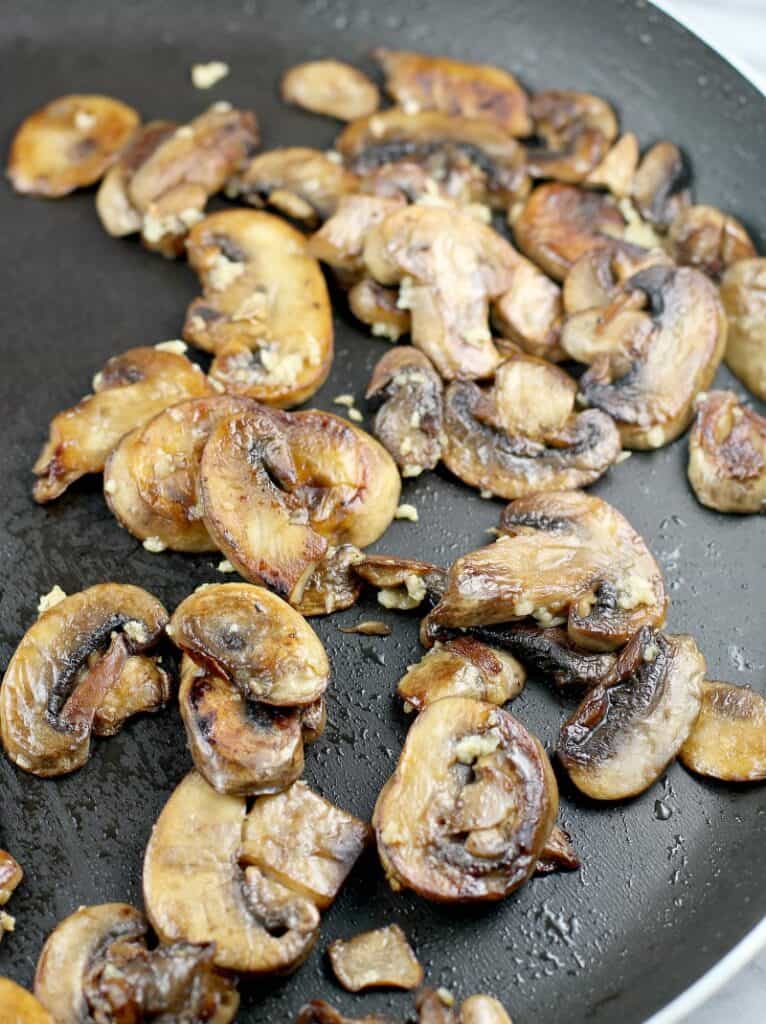 What are the Ingredients for Cornbread Pork Chop Casserole
lean, boneless pork loin chops
garlic
wine (or substitute chicken or vegetable stock)
olive oil
mushrooms
a little parmesan – only 1 tablespoon!
reduced fat sour cream
See? None of those ingredients are anything to worry about for this easy pork loin recipe.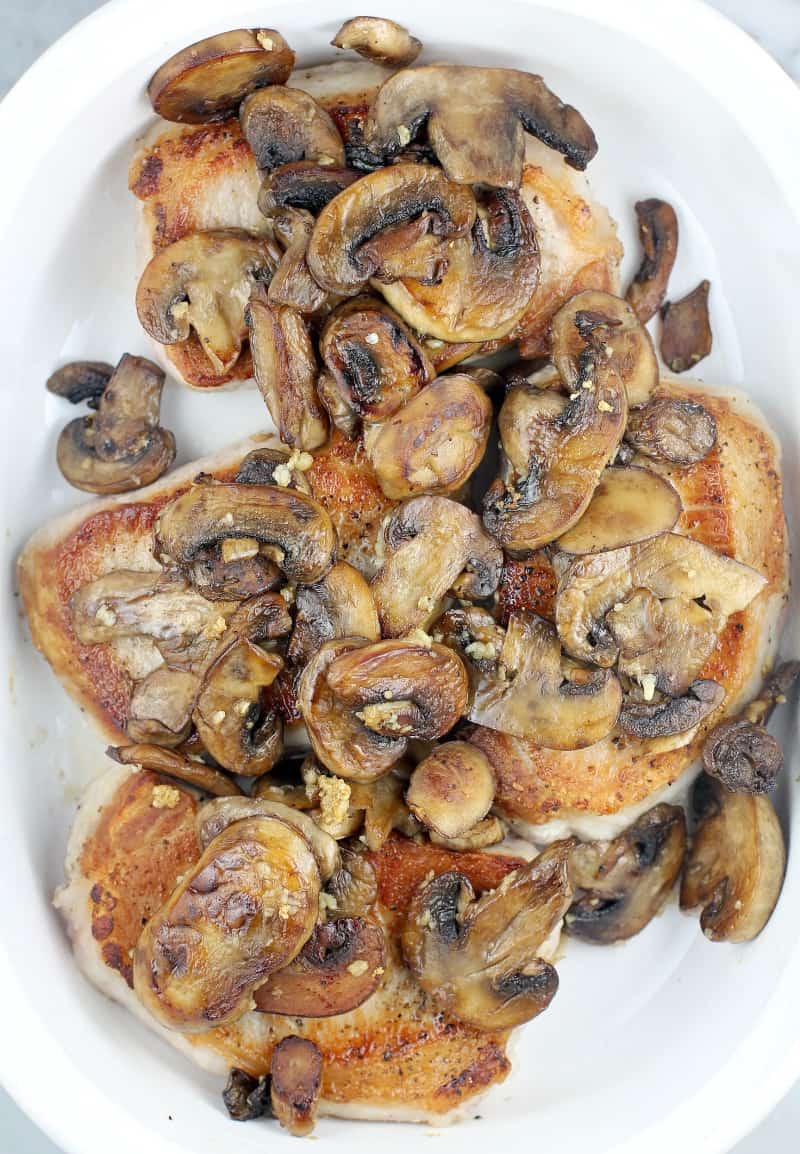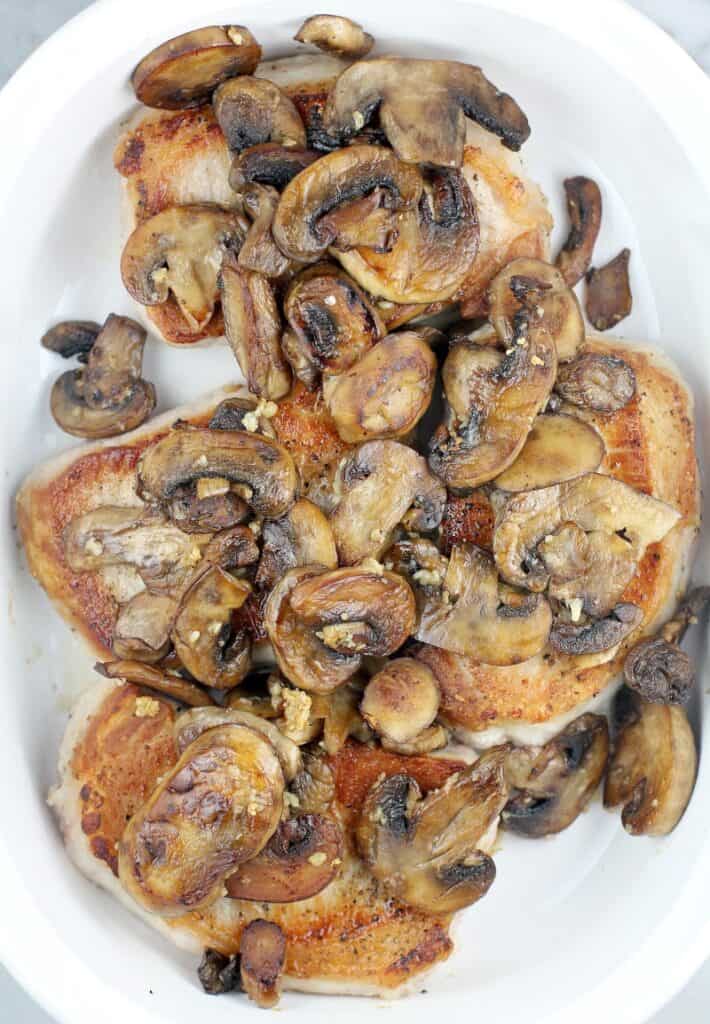 How to Make Cornbread Pork Chop Casserole
Sear the pork chops in a skillet.
Brown mushrooms in the same skillet.
Mix together flour and wine (or stock), then add sour cream and cheese.
Layer the mushrooms on the pork chops; the pour the sauce over and bake until pork is cooked to 155F.
Top with the cornbread stuffing, then broil a minute or so until golden.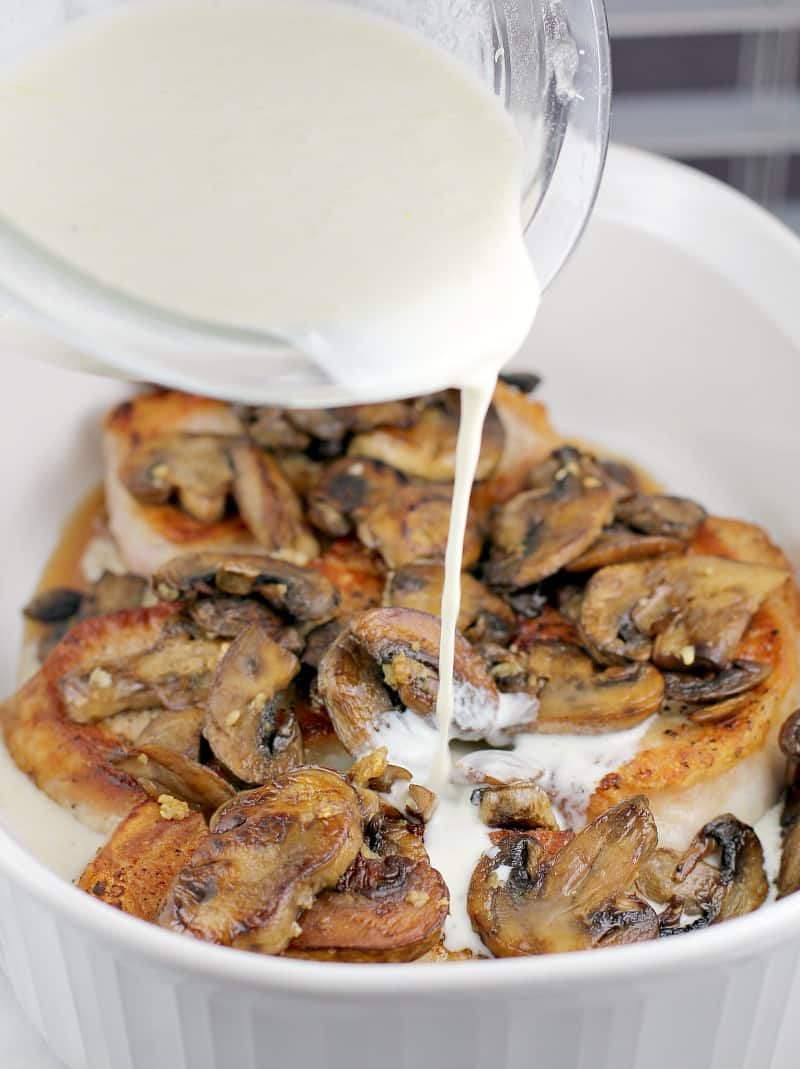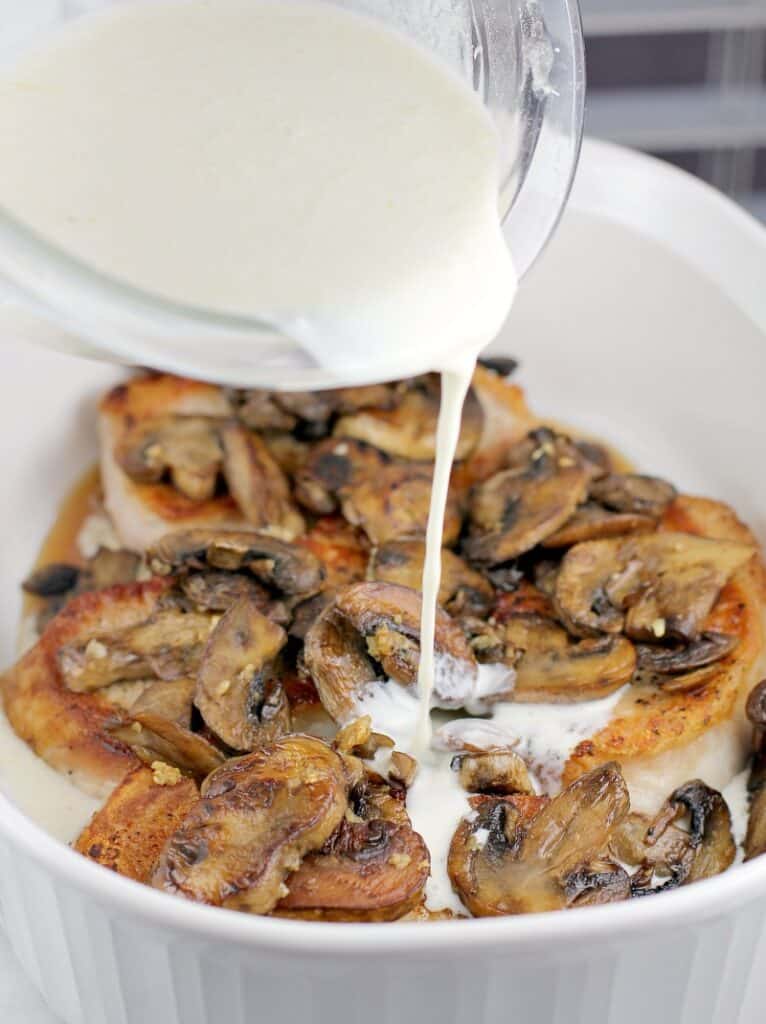 Extra Tips for Making Cornbread Pork Chop Casserole
Always always always cook pork to temperature. This is first and foremost, especially with lean chicken or pork, so important. For pork, go for 155F and you're good.
Always let meat rest 5 minutes before serving. Juices do fancy things while meat cooks, so we always need to let it rest a couple minutes before cutting into it so they (the juices) redistribute and stay in the meat once cut. Sounds stupid, but it matters.
When browning the mushrooms, put them in on high heat, and COOK them. Leave them, toss them occasionally, but cook them for a nice golden brown.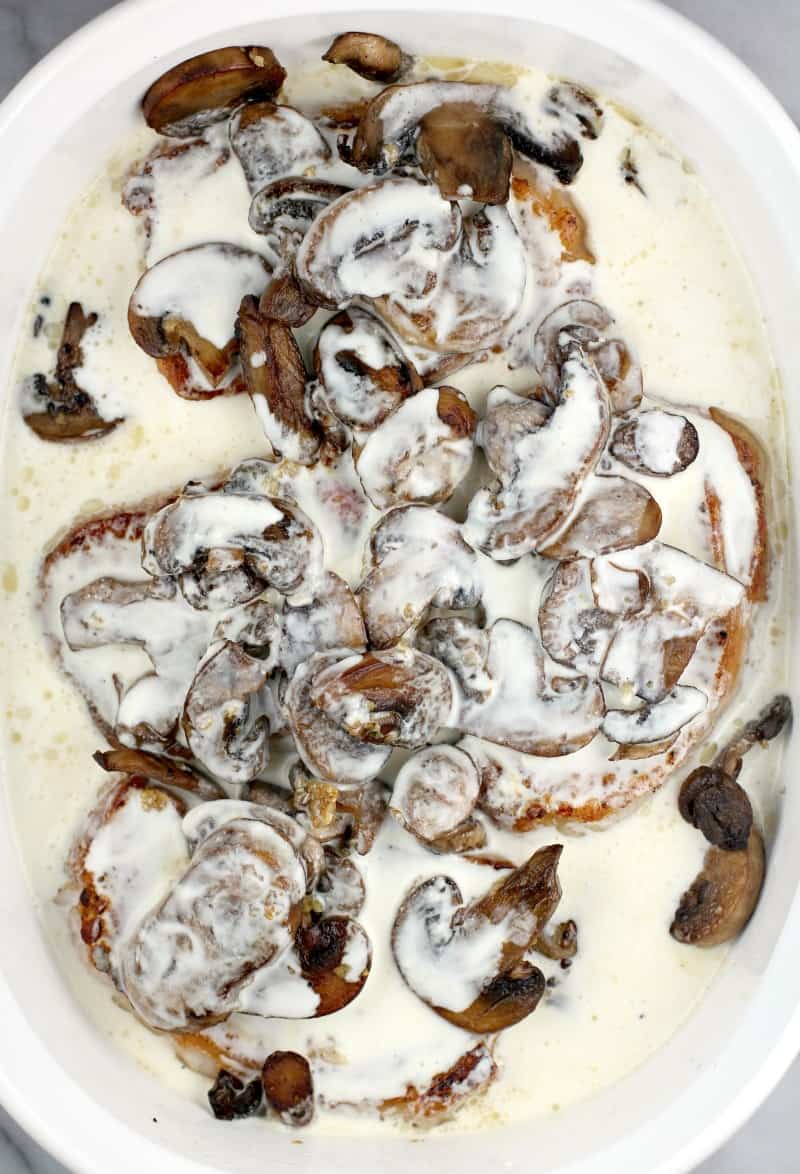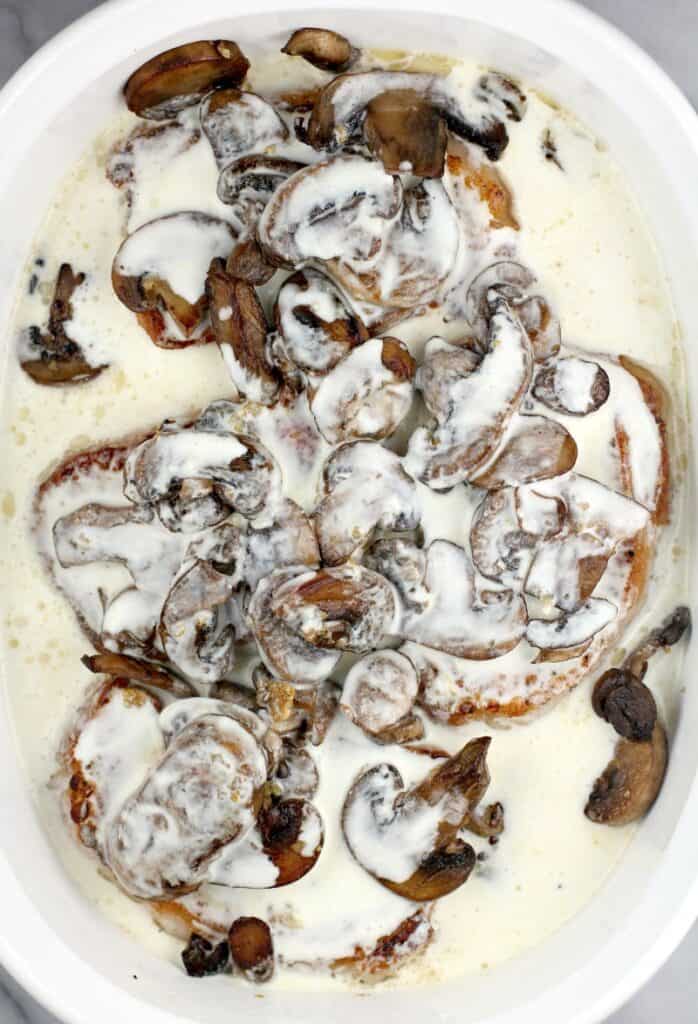 This dinner reheats very well in the microwave also. Simply put a portion on a plate, and zap for 30 seconds. Check to see if the meat is warmed through, and if not, zap another 30 seconds.
We want to microwave like this, in portions and for not that long, because we don't want to make the meat tough. Over zapping will do that.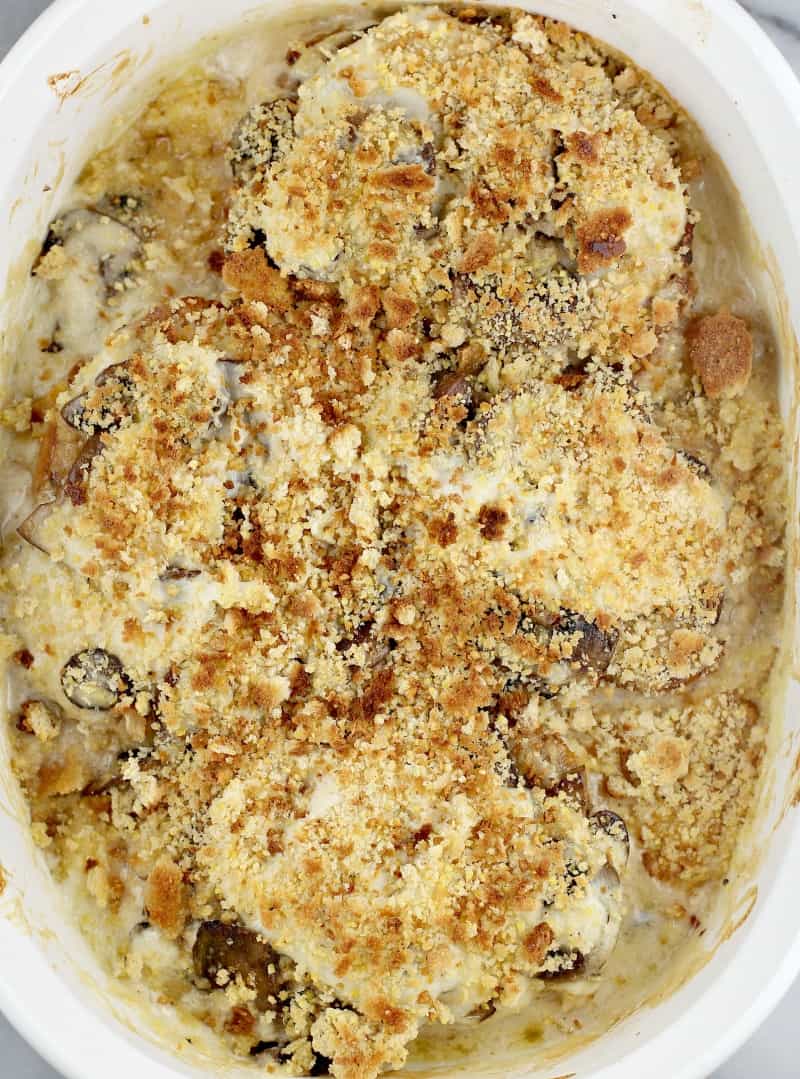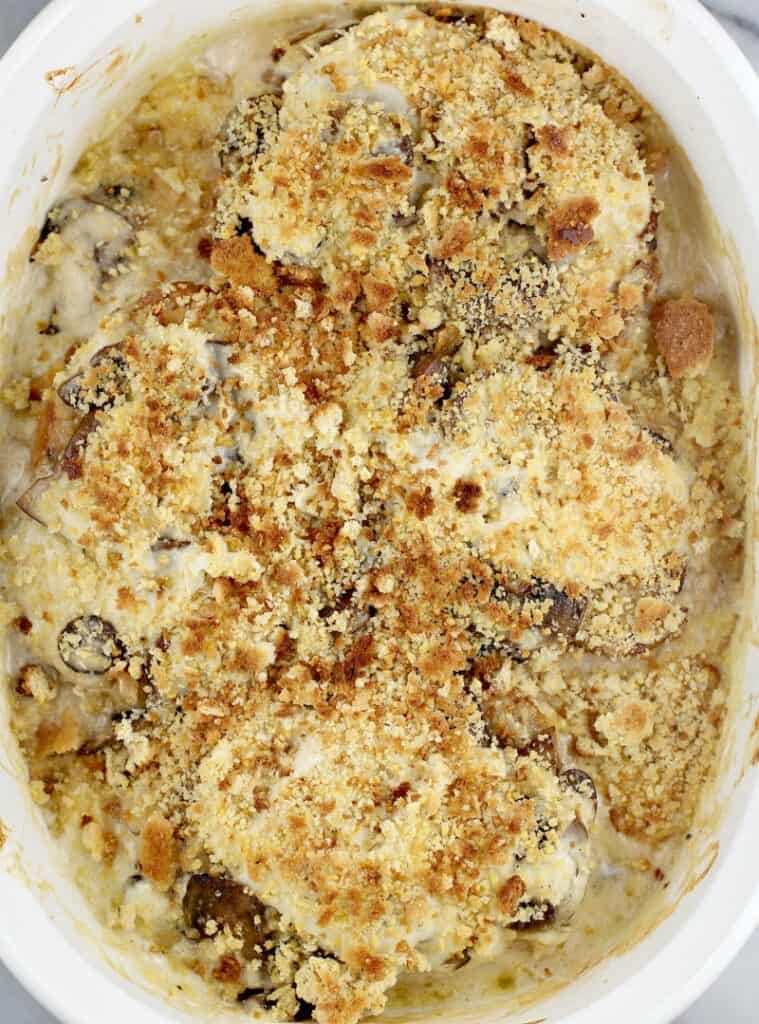 If you love pork recipes, check these out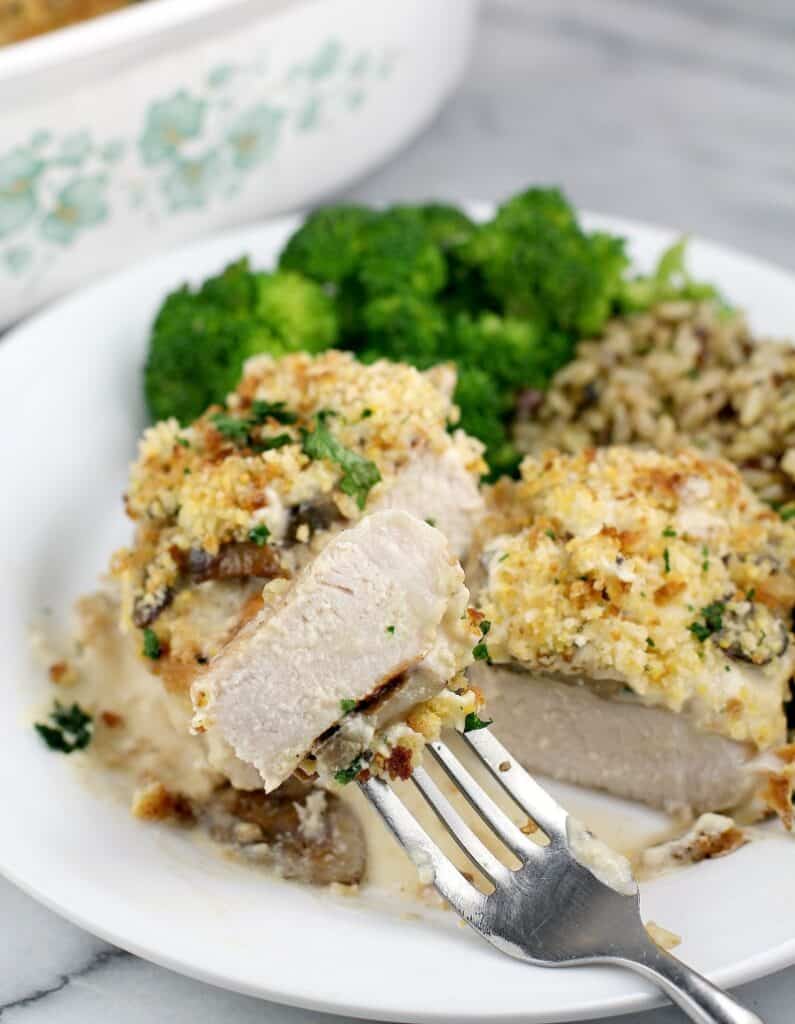 So that's it folks. Delicious, juicy baked boneless pork chops for easy meal prep. This is a family-friendly, kid-friendly, mom-friendly recipe!
No cream soup, no actual cream, and no overuse of cheese. Just a couple ingredients to make a quick dinner but one that is still made with a little love for those you love.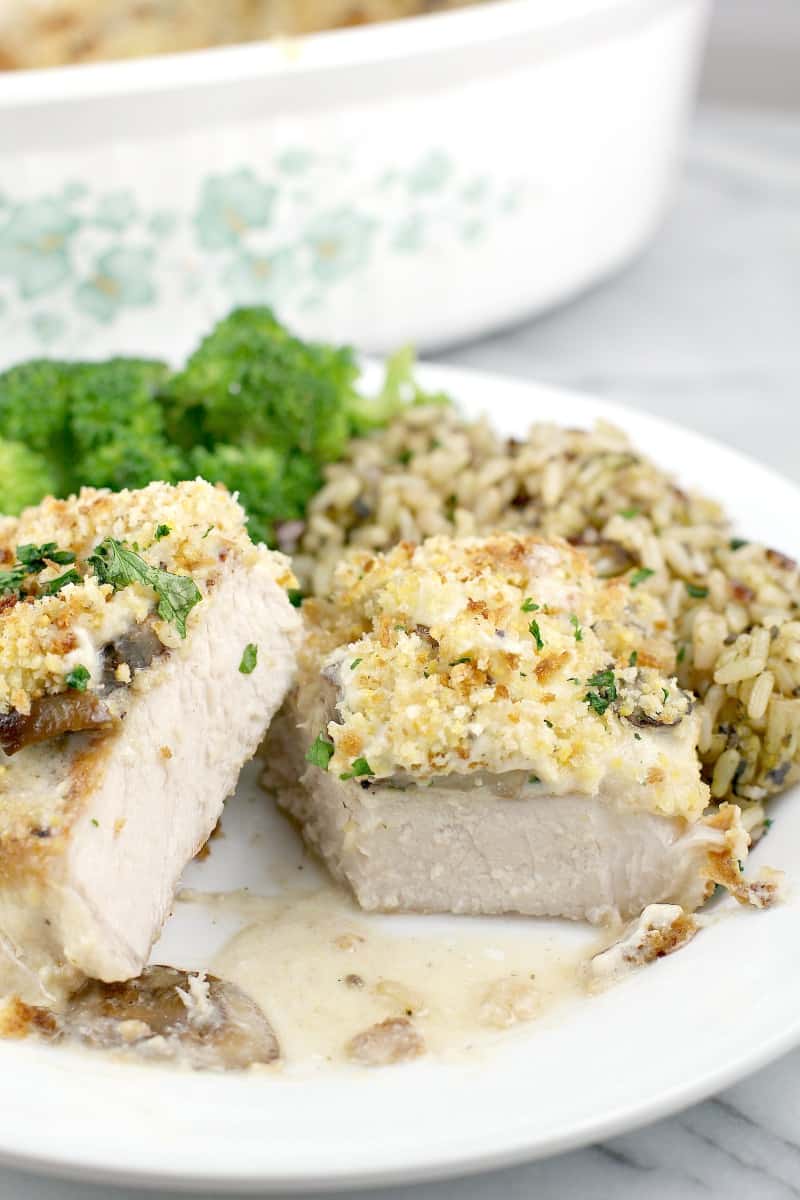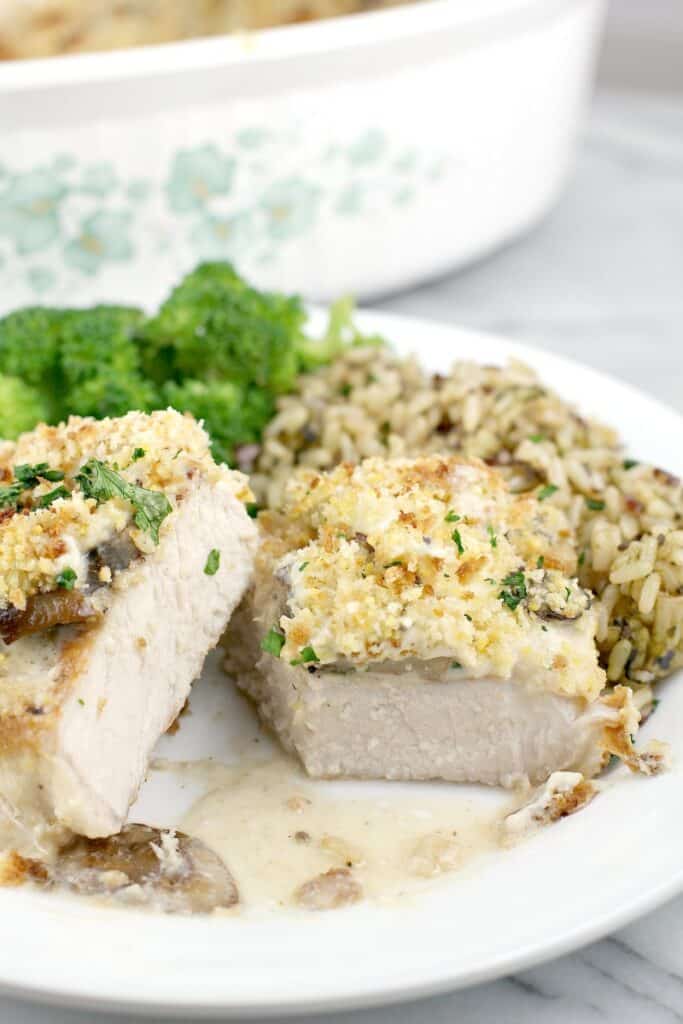 …but yeah, if you are like me and just want to get it done during a busy week and move on to homework, showers, bedtimes, then a little peace, here's a great go-to.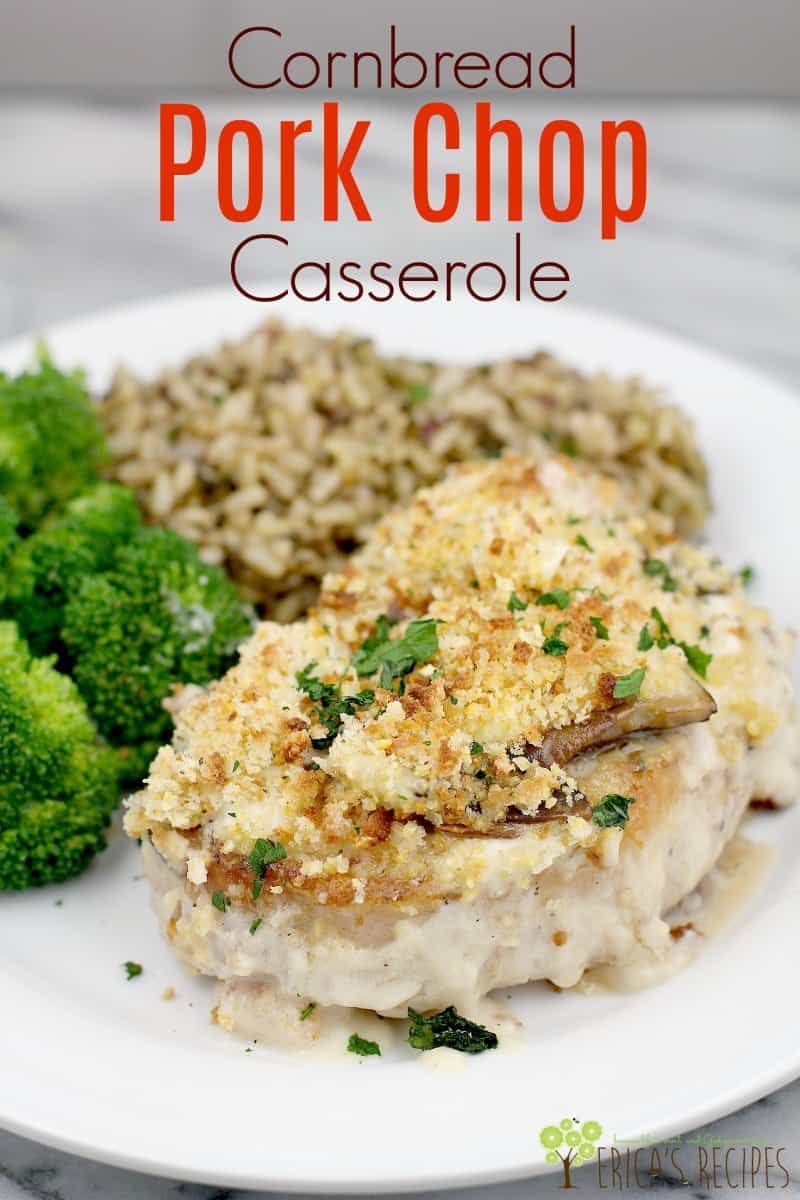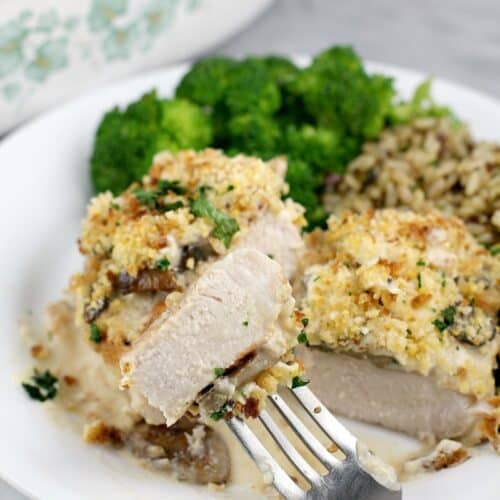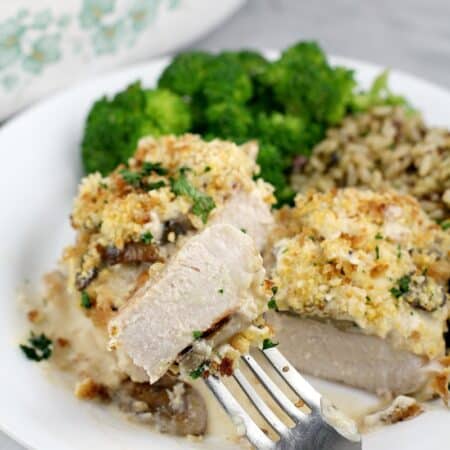 Cornbread Pork Chop Casserole
Cornbread Pork Chop Casserole is an easy, baked boneless pork chops dinner perfect for a weeknight dinner or easy meal prep.
Ingredients
4

boneless pork loin chops

kosher salt

fresh cracked pepper

2

Tbsp

extra virgin olive oil

½

lb

fresh mushrooms

sliced

1

large clove garlic

minced

2

Tbsp

all-purpose flour

½

cup

dry white wine

see Notes

½

cup

reduced fat sour cream

1

Tbsp

fresh grated Parmigiano-Reggiano

½

cup

dry cornbread stuffing
Instructions
Season the pork chops with salt and pepper.

In a large skillet, heat the olive oil. Brown the pork chops until nicely browned on either side (turning once). Transfer to a baking dish.

In the same skillet with the remaining oil, saute the mushrooms until browned, tossing occasionally. Add the garlic and saute briefly. Transfer the mushrooms-garlic mixture to the baking dish on top of the pork chops.

In a bowl, whisk together the flour and wine until smooth. Whisk in the sour cream, parmesan, and a pinch each salt and pepper. Pour this mixture over the mushrooms and pork chops.

Bake, covered, at 350°F for 20 min or until temperature hits 155F.

Set oven to broiler setting. Top the casserole with the cornbread stuffing. Spritz with cooking spray and bake 2-3 minutes until golden. Serves 4.
Notes
Chicken or vegetable stock may be substituted for the wine, if desired.
Nutrition
Calories:
394
kcal
(20%)
|
Carbohydrates:
96
g
(32%)
|
Protein:
29
g
(58%)
|
Fat:
20
g
(31%)
|
Saturated Fat:
7
g
(44%)
|
Polyunsaturated Fat:
2
g
|
Monounsaturated Fat:
7
g
|
Cholesterol:
96
mg
(32%)
|
Sodium:
562
mg
(24%)
|
Potassium:
451
mg
(13%)
|
Fiber:
1
g
(4%)
|
Sugar:
3
g
(3%)
Calorie count is purely an estimate calculated using an online application to serve as a guide and not to be taken as accurate nutritional information. Percent Daily Values are based on a 2,000 calorie diet.
Tried this recipe?
Leave a comment below and let me know!
~✿♥✿~