Weeknight Roast Pork Tenderloin
Roast Pork Tenderloin has pork tenderloins marinated overnight, then wrapped in bacon and roasted in the oven for an easy weeknight dinner. This flavorful marinade and bacon deliver the goods for delicious, juicy pork tenderloin every time. Easy to prepare and simple to cook, put this roast pork tenderloin recipe in weeknight dinner rotation.
This post was originally published in August 2013 and updated April 2022 for content and photos.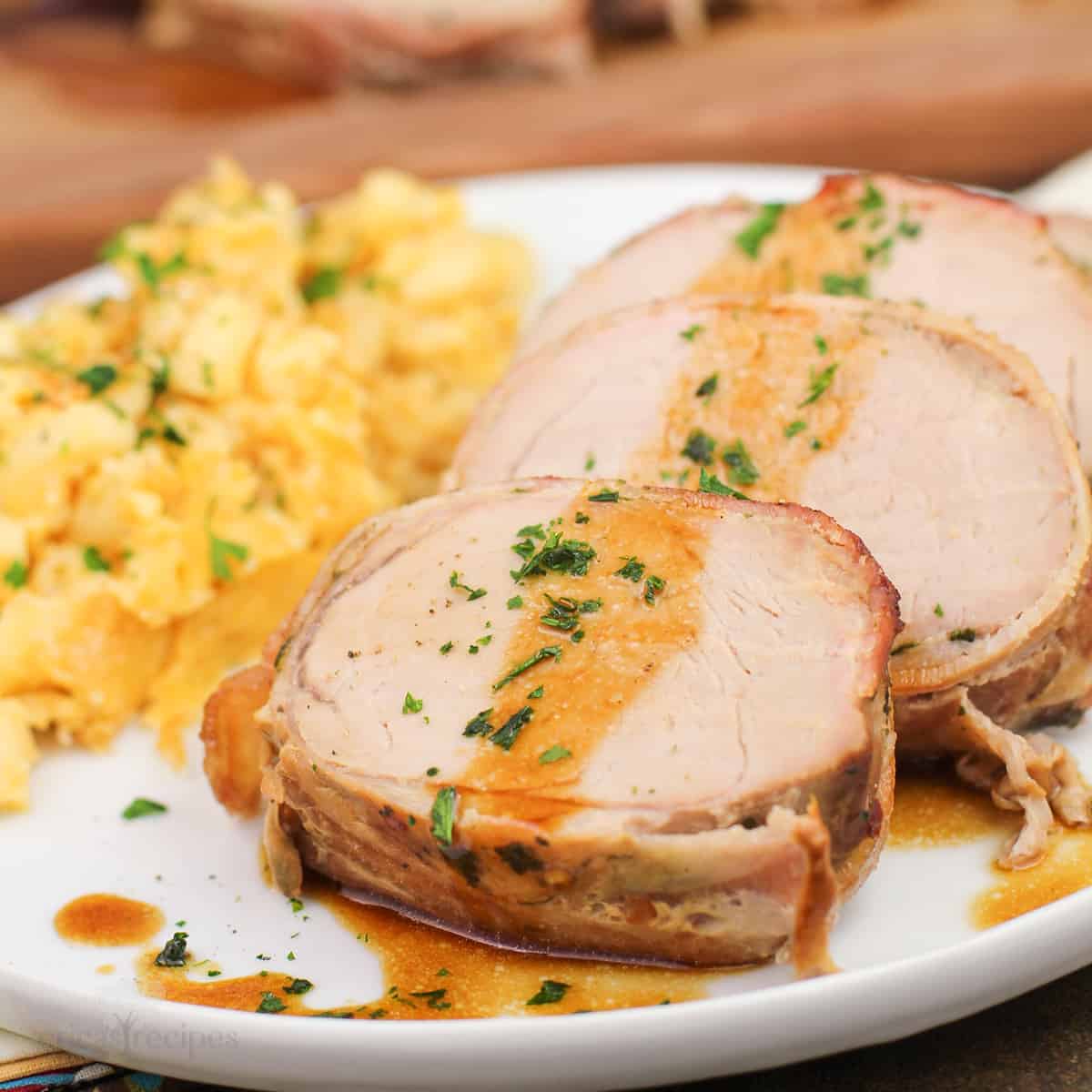 Why this recipe works
I have been making this roast pork tenderloin for probably 20 years or so, and I always love it. And I always make it on a weeknight because it is so easy. Salty, savory, healthy (other than a little bacon) and super easy!
The leftovers (if there are any) taste really good too since tenderloin meat is so forgiving and does not get tough like other cuts do. I love it every time I make it and it makes my house smell amazing.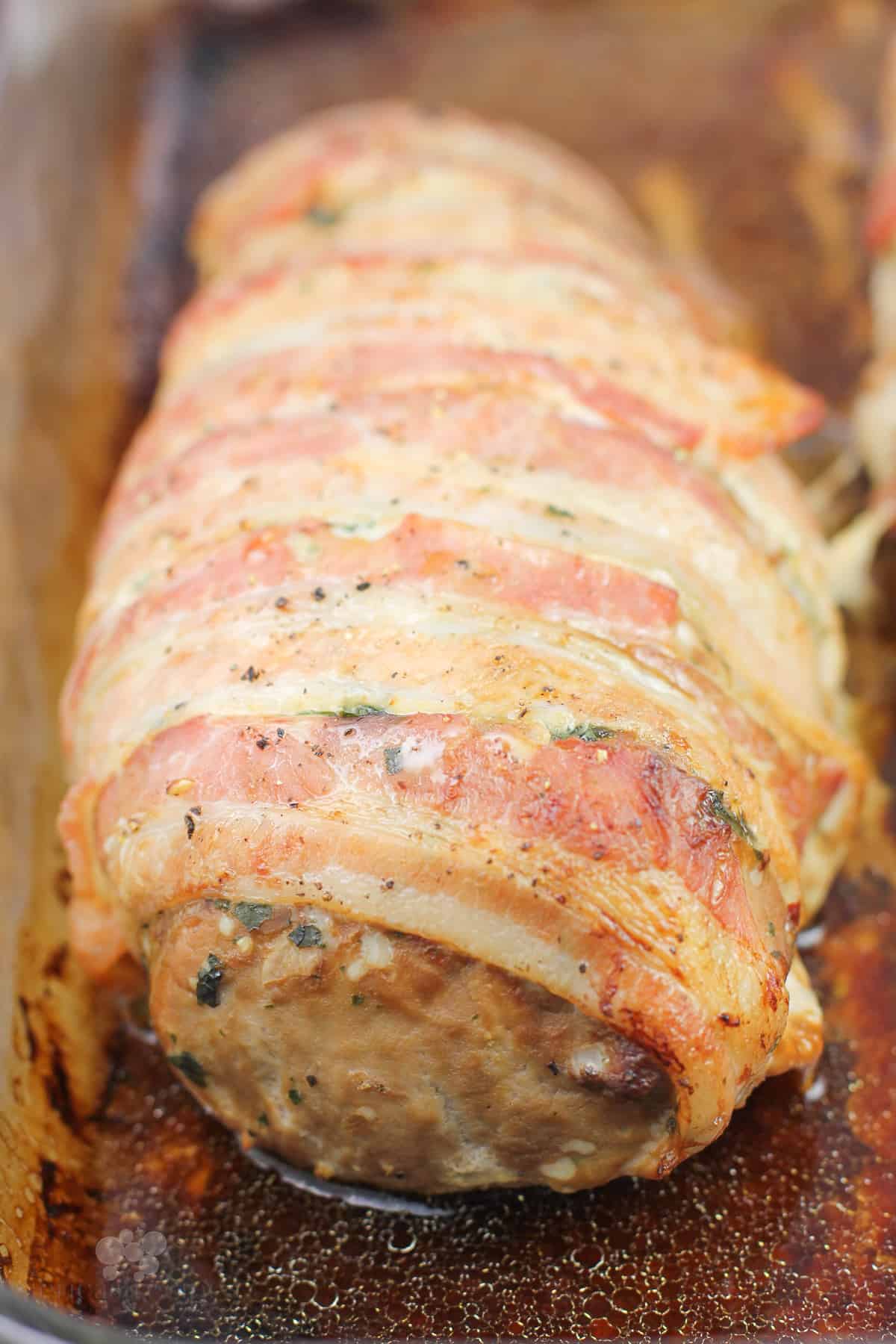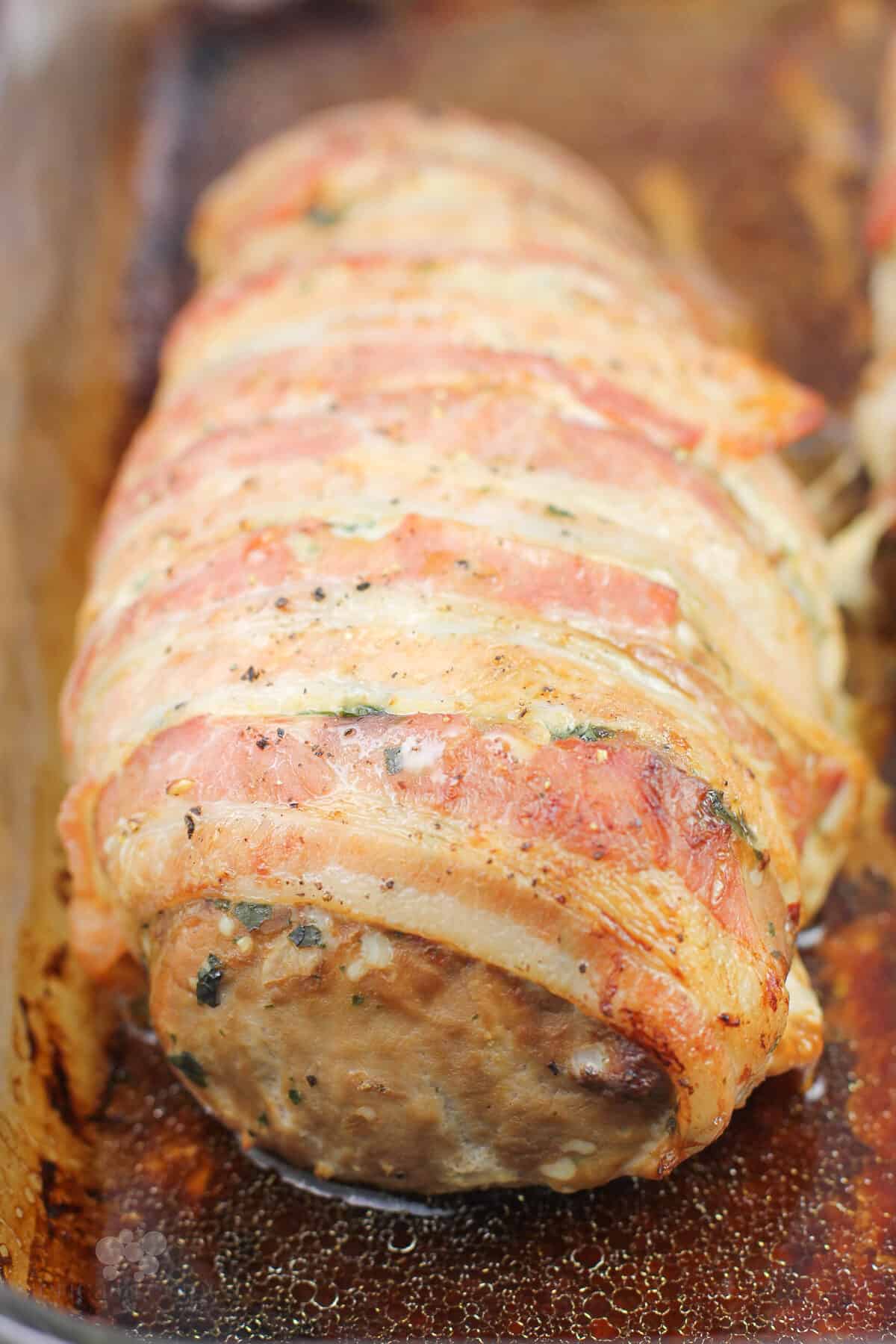 About the ingredients
The marinade ingredients are listed in the recipe card below, but they are mostly simply pantry staples: light soy sauce, white wine, onion, garlic, crushed red pepper flakes, parsley, and honey. Here are a couple substitutions to give more flexibility:
In place of white wine, mirin or chicken stock can be substituted.
Dried minced onion can be used in place of fresh white or yellow onion – just be sure to use less (1 Tbsp).
In place of honey, light brown sugar may be substituted.
For the pork, I get 2 pounds because this pork always gets scarfed right up and I find that 1 lb pork doesn't get me enough. Pork tenderloin is sold marinated and not marinated. We definitely want not marinated since we are making our own marinade that tastes so much better.
Bacon. Self explanatory.
A bit of corn starch is last, and this ingredient is completely optional. when I first started making this roast pork tenderloin, I didn't even make a sauce – so that is optional too. Then I started whisking the yum-yums and drippings in the bake dish for a quickie sauce. Now, I tend to strain those drippings and heat with a little cornstarch to make a proper sauce.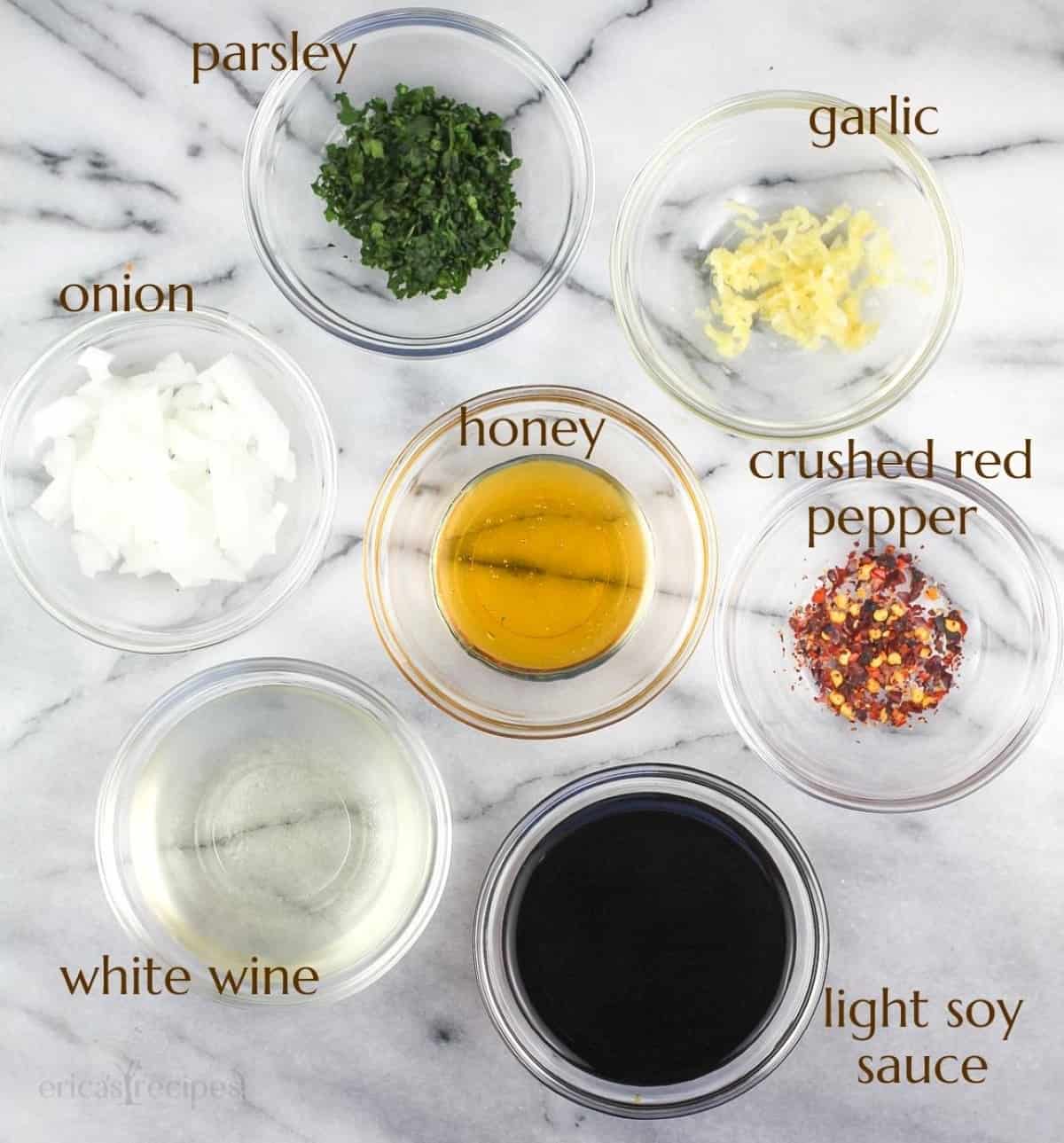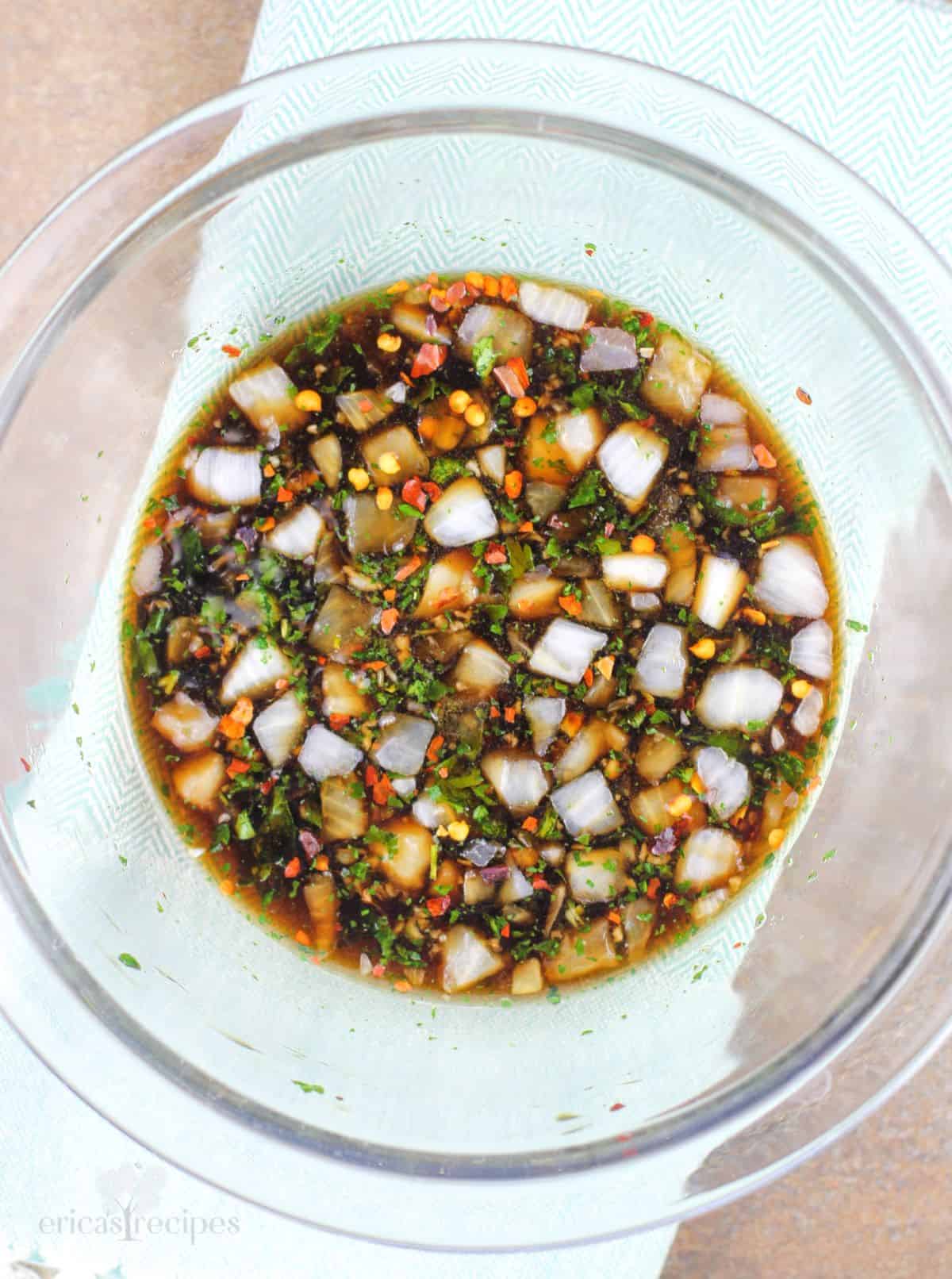 How to make easy pork tenderloin
This is where I get to brag about how brilliantly easy this roast pork tenderloin is to make.
First, we marinate. Just whisk together those ingredients, mainly to get the honey dissolved, and pour into a resealable bag (a freezer bag is preferable since they are thicker and less likely to leak). Add the pork, and let it go overnight or up to 3 days.
Second, we heat up the oven and get the pork ready to cook. Use some tongs to get the pork out of the marinade and lay in a bake dish. A standard 13×9 bake dish works well and is usually what I use.
Then we grab our bacon and start wrapping. Basically, I lay a slice of bacon over the pork and tuck the ends under. Do not worry about making the bacon look good and even on the bottom. No one's going to see that.
Put the pork into the oven to cook for 30-35 minutes at 350 degrees Fahrenheit (177 degrees Celsius). Pork is safely cooked at 145°F, but is best at 150-155°F. That said, I often take this roast pork to 160°F to get the bacon more done. Tenderloin (similar to dark meat chicken) is forgiving so we have this wiggle room on the temperature.
Lastly, make the sauce if you would like one. This can be done either by just whisking up the browned bits and juices into an au jus. Or you can strain the browned bits and juices into a saucepan, add the cornstarch (dissolved in a bit of water first), and then give a quick cook to make a gravy like sauce.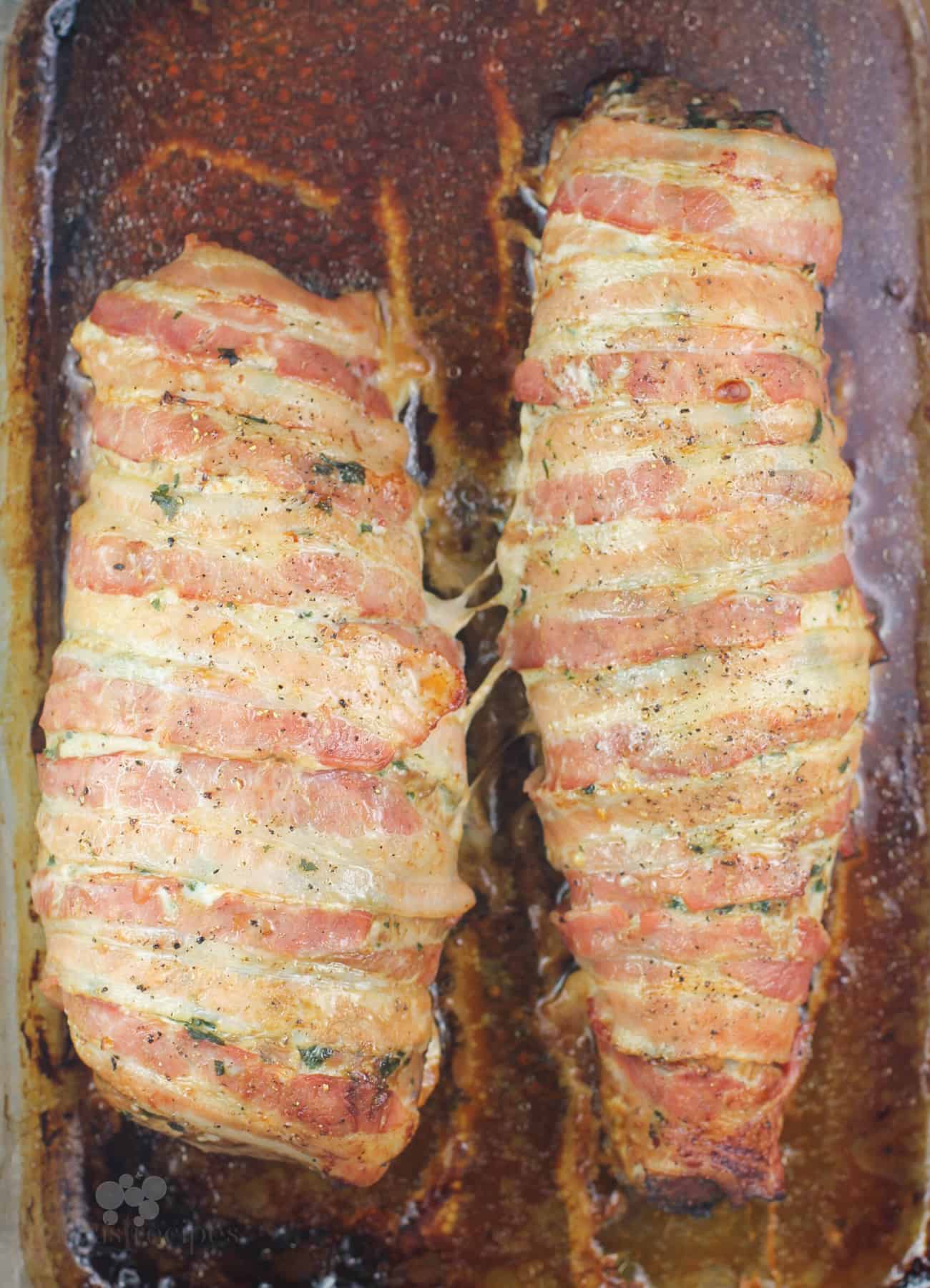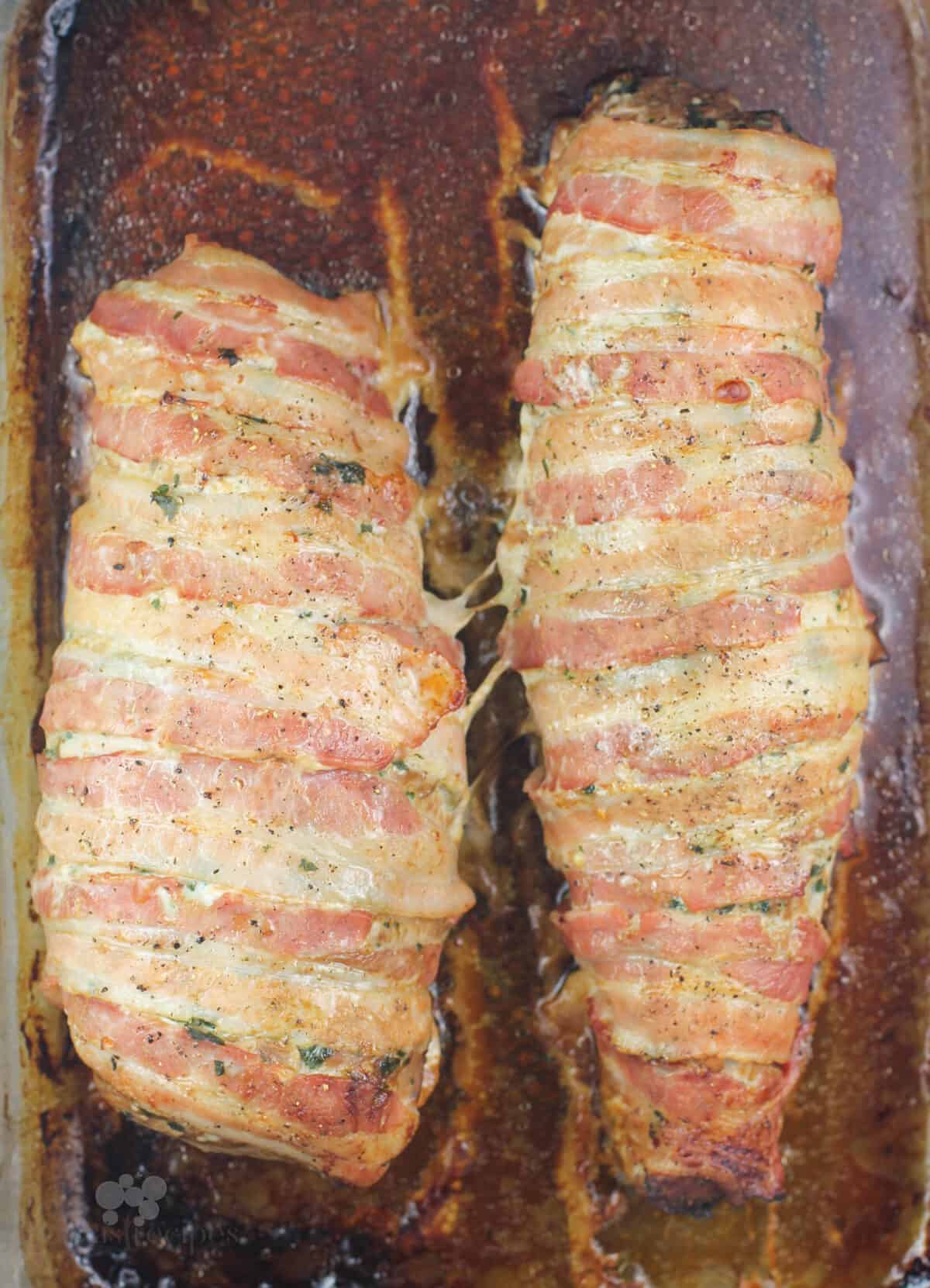 What to serve with roast pork tenderloin
This recipe for pork goes so well with any side dish you want to throw at it honestly.
Keep it lighter with a salad. Blackberry Balsamic Vinaigrette Salad has sweet and rich flavors that perfectly complement the salty pork. Or make a creamier (but also light) Arugula and Cucumber Salad with peppery arugula and a hint of dill.
Get your meat and potatoes on pairing this pork with my Boursin Mashed Potatoes. Or for the ultimate family pleaser, my Macaroni and Cheese (in this post's photos with the pork) always wins.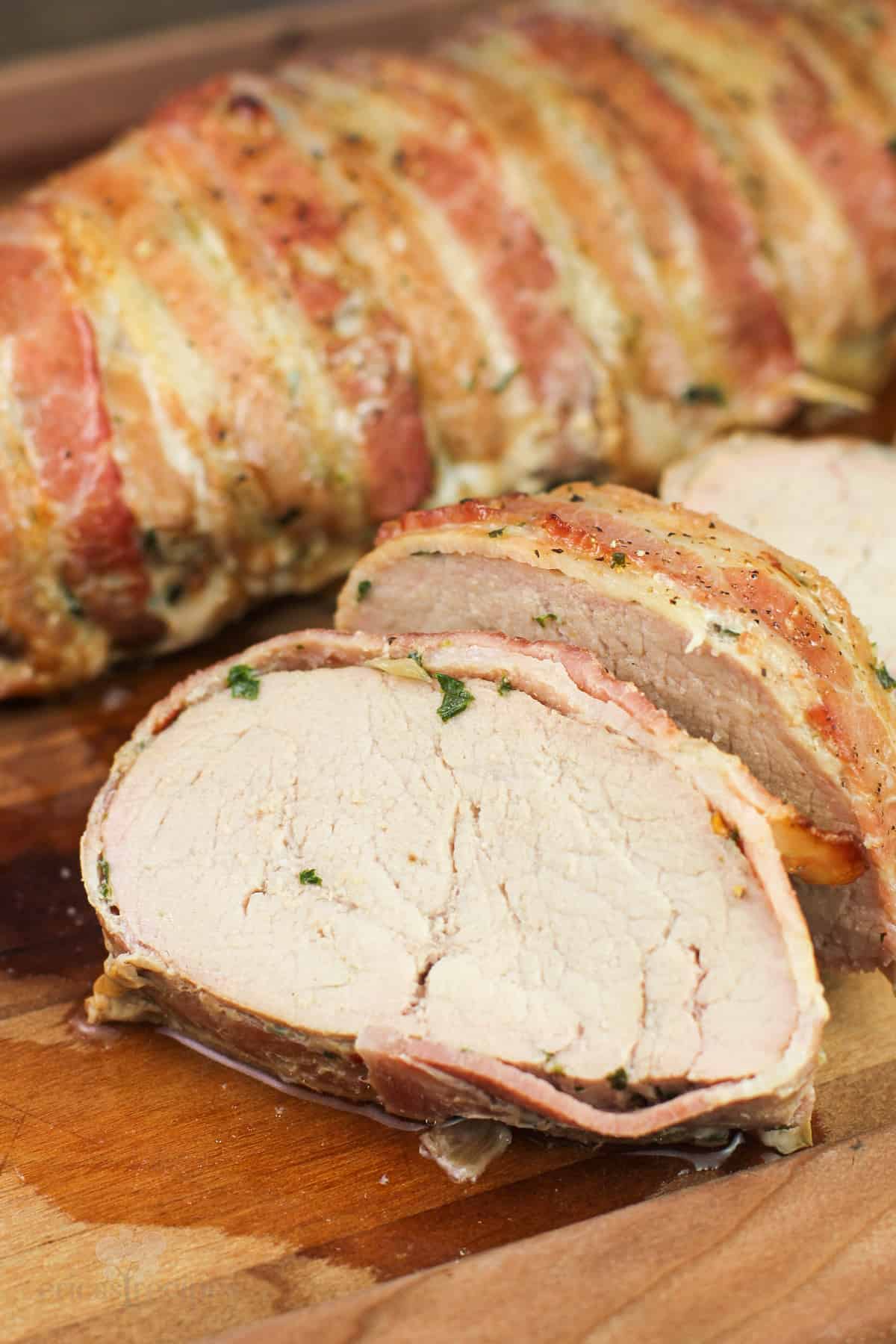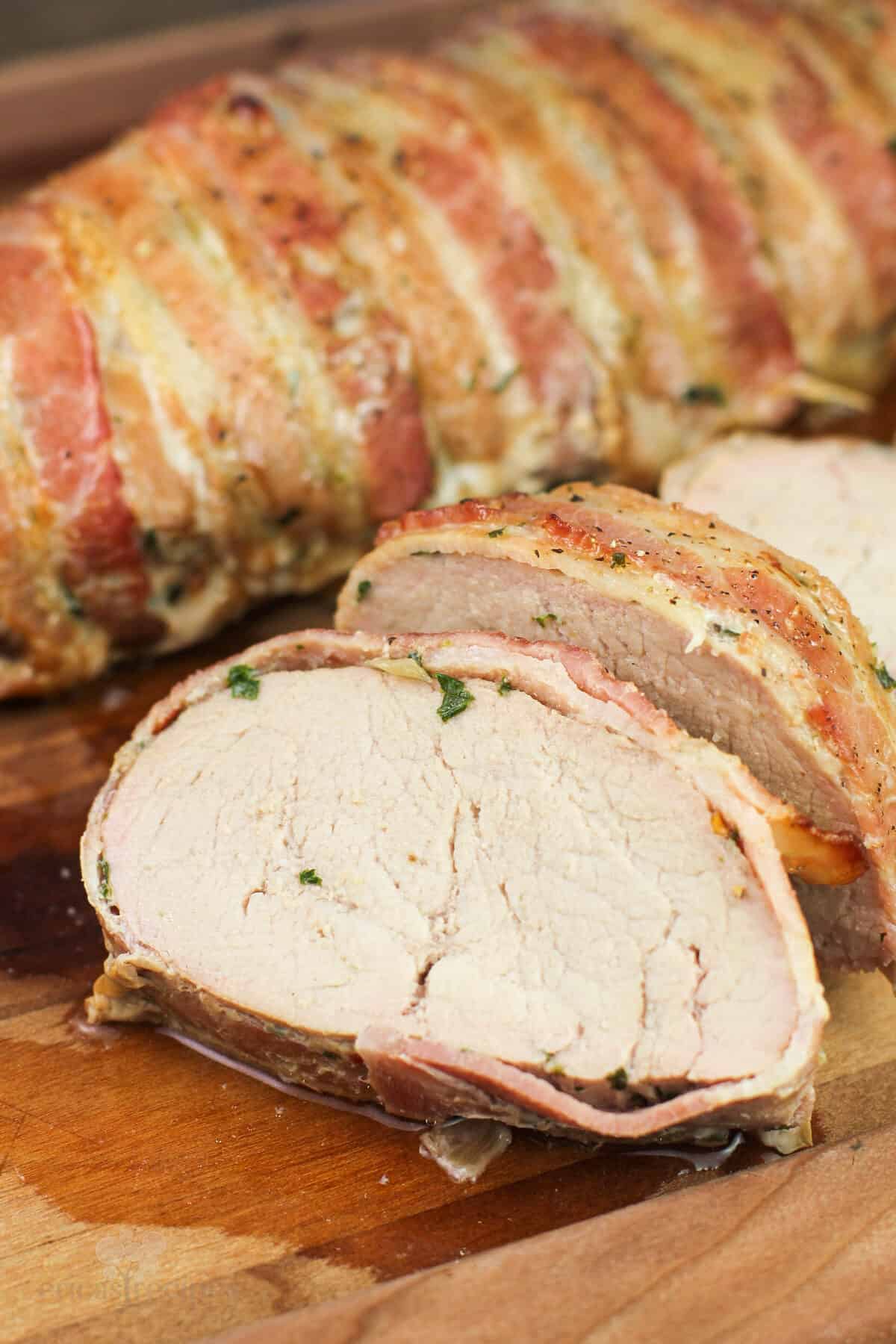 FAQs
What is the best way to heat leftover pork tenderloin?
We want to reheat pork gently so as not to make it tough, so just a little zap in the microwave is sufficient.
How many days can the pork stay in the marinade?
This pork recipe can marinate for up to 3 days.
What should be done with the leftover marinade?
Once the pork is removed, discard the remaining marinade.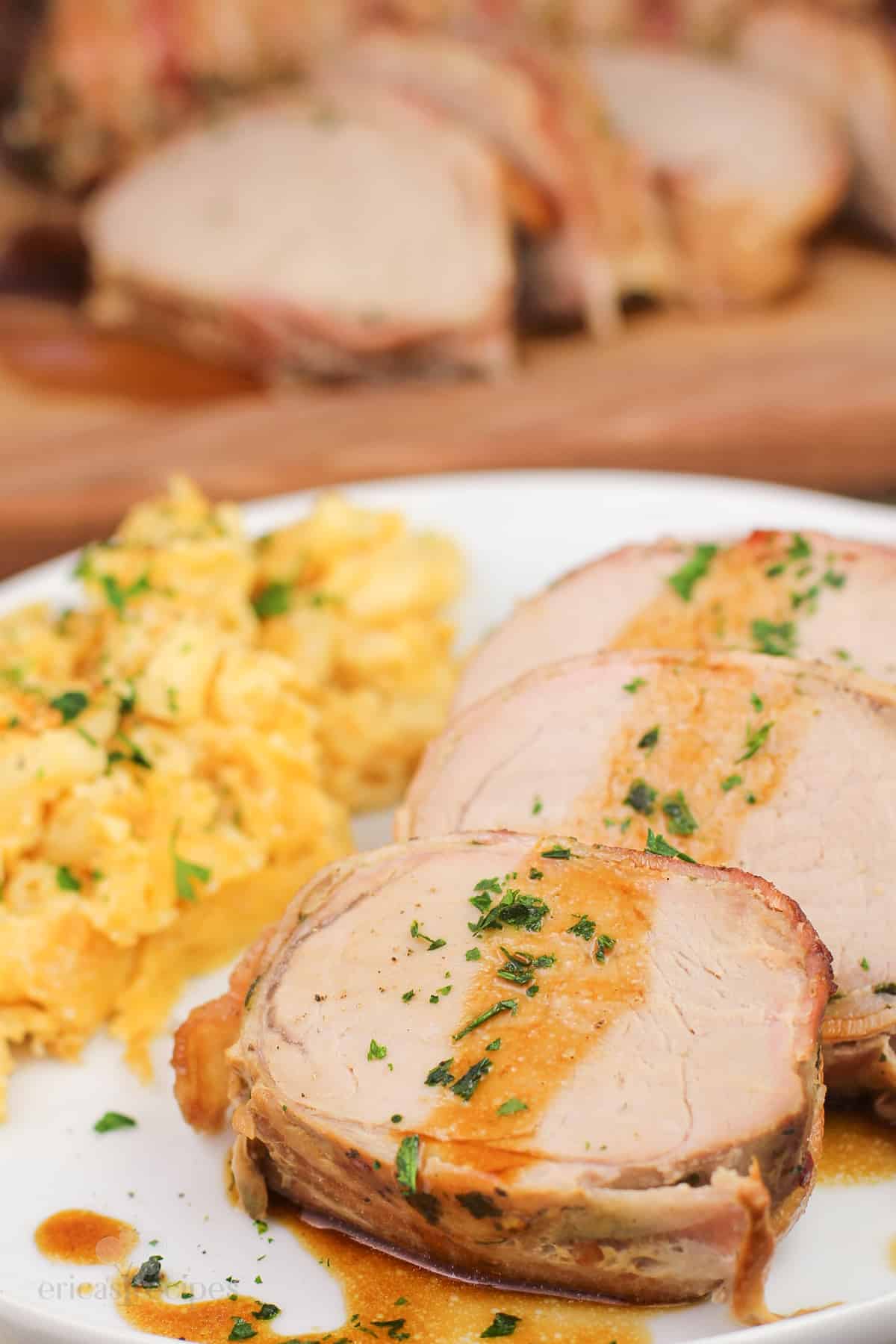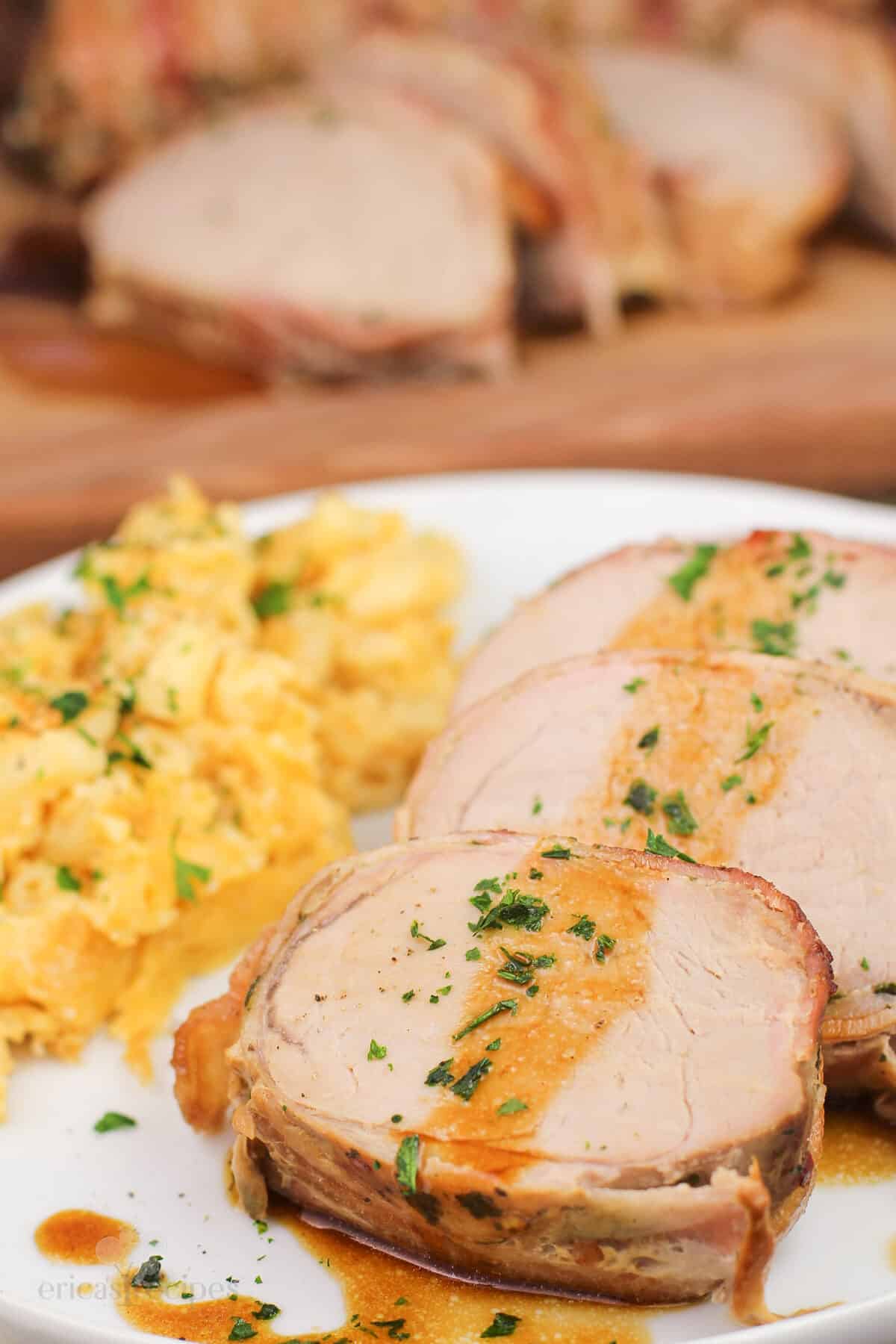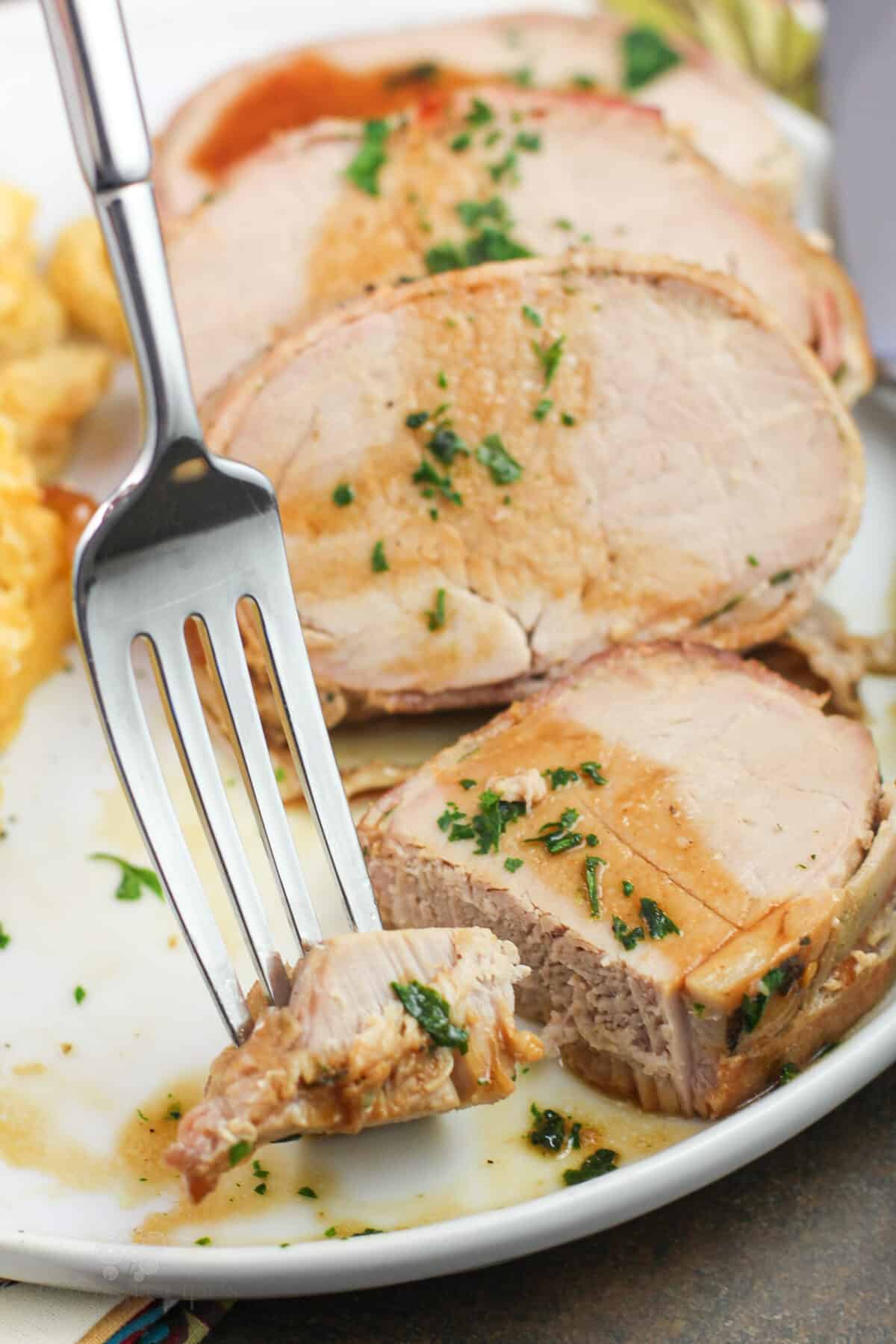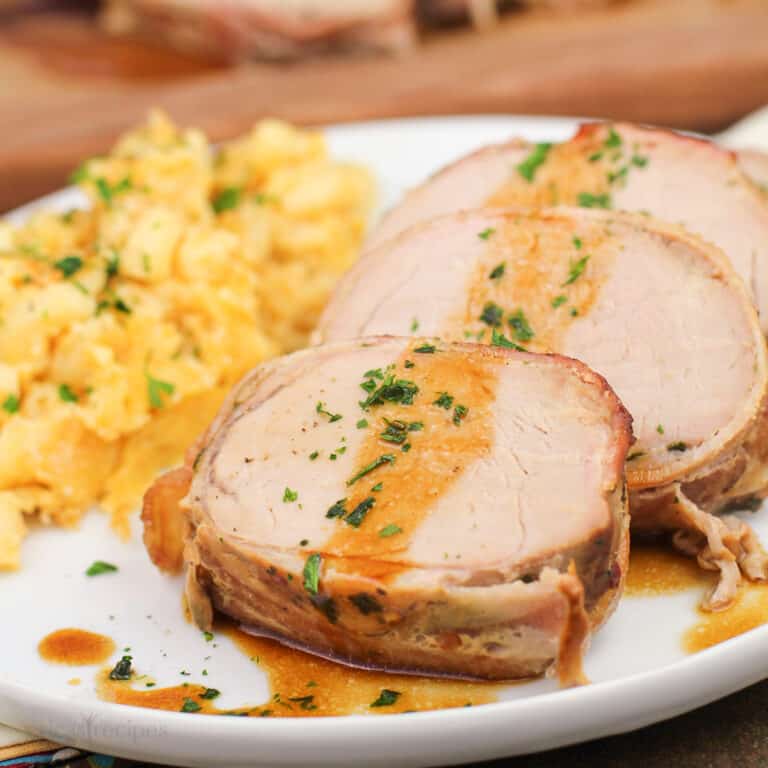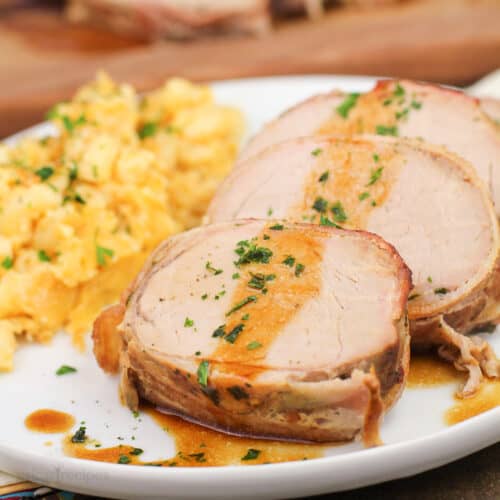 Weeknight Roast Pork Tenderloin
Roast Pork Tenderloin has pork tenderloins marinated overnight, then wrapped in bacon and roasted in the oven for an easy weeknight dinner.
Ingredients
2

lb

pork tenderloins

½

lb

bacon

¼

cup

light soy sauce

¼

cup

white wine

1

Tbsp

finely chopped onion

1

clove

garlic

minced

¼

tsp

crushed red pepper flakes

1

Tbsp

fresh parsley

minced

1

Tbsp

honey

1

tsp

cornstarch

(optional)
Instructions
Mix the soy sauce, wine, onion, garlic, red pepper, parsley, and honey in a releasable bag. Add the pork and marinate overnight in the refrigerator.

Remove the pork from the marinade and place in a shallow baking dish. Wrap in bacon.

Bake at 350°F for 30-35 minutes until inserted thermometer reads 150°F internal temperature. Transfer the pork to a cutting board and rest 5 minutes before slicing.

While pork is resting, take a whisk and scrape up the browned bits in the bake dish and mix the juices to make a little sauce.

If desired, strain the sauce into a small saucepan. Dissolve the cornstarch in ~1 teaspoon water and add to the saucepan. Heat over medium heat, whisking often to ensure sauce does not burn on the bottom, until slightly thickened.

Slice the pork into 1-inch slices. Serve sauce over the sliced pork.
Nutrition
Calories:
466
kcal
(23%)
|
Carbohydrates:
12
g
(4%)
|
Protein:
34
g
(68%)
|
Fat:
21
g
(32%)
|
Saturated Fat:
7
g
(44%)
|
Polyunsaturated Fat:
2
g
|
Monounsaturated Fat:
6
g
|
Cholesterol:
92
mg
(31%)
|
Sodium:
1378
mg
(60%)
|
Potassium:
911
mg
(26%)
|
Sugar:
4
g
(4%)
Calorie count is purely an estimate calculated using an online application to serve as a guide and not to be taken as accurate nutritional information. Percent Daily Values are based on a 2,000 calorie diet.
Tried this recipe?
Leave a comment below and let me know!