With notes of brandy and lemon, Blackberry Butter is a luscious, sweet spread all your toasty needs. This recipe uses canned blackberry pie filling so half the work is already done! Whip together and serve as a soft spread for toast, English muffins, waffles and more, or shape, chill, and slice into rounds to top roast pork or grilled steak as a finishing butter. Blackberry butter also makes a lovely addition to a charcuterie board. There are endless possibilities for this beautiful, sweet blackberry butter.
This website uses affiliate links which may earn a commission at no additional cost to you. As an Amazon Associate I earn from qualifying purchases.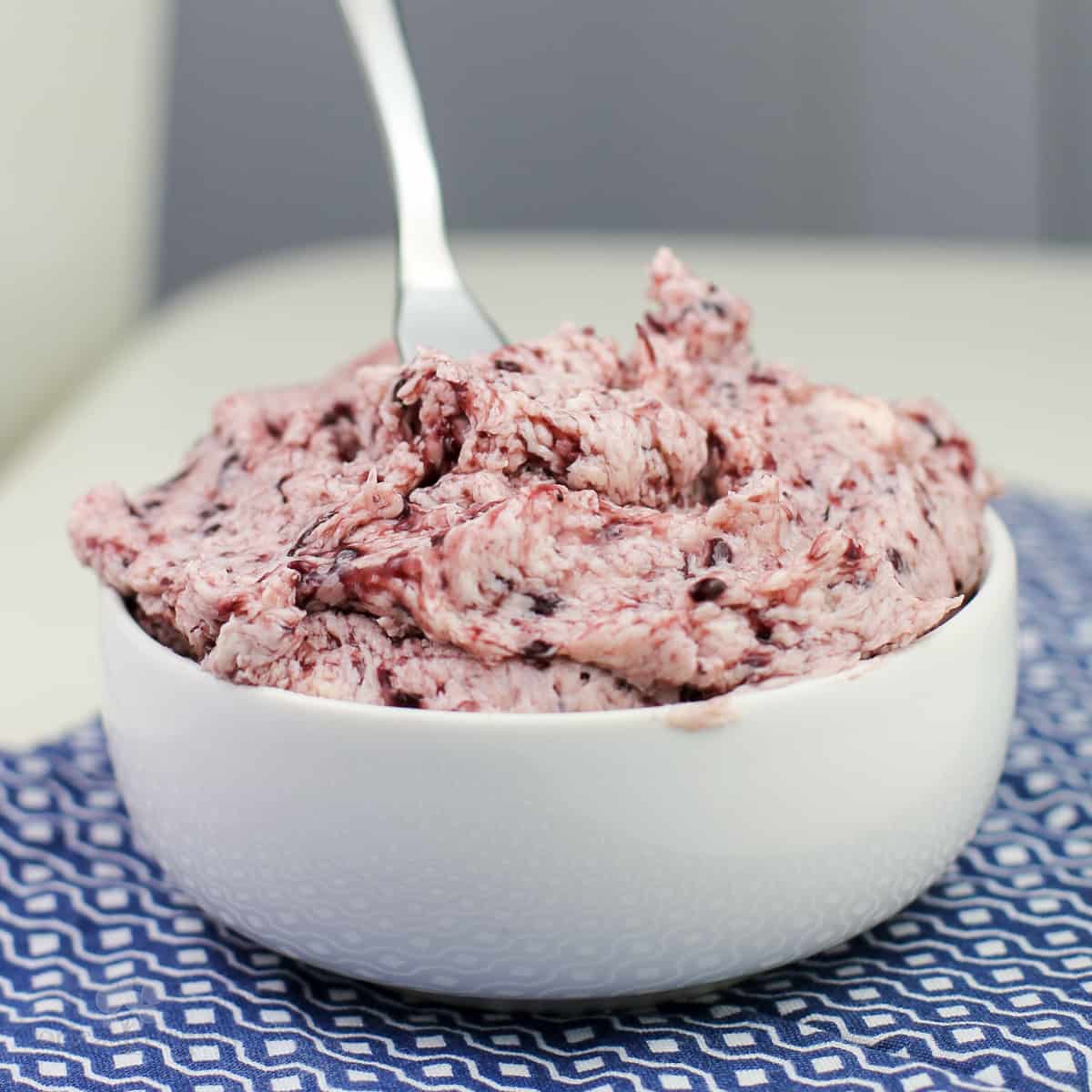 Why this recipe works
If I had to choose, I would pick blackberries as my favorite. They are sweet like strawberries, tart like blueberries and raspberries, but they have a deep flavor that is all their own. Blackberries are super versatile too and pair well in surprising – even savory – combinations. My Blackberry Basil Galette and Blackberry Balsamic Vinaigrette are perfect examples.
This is why this easy recipe using canned blackberry pie filling, is such a success to me. Because creamy sweet butter and beautiful blackberry flavor make for a versatile spread for literally anything toasted. And in addition to all that, this is a perfect compound butter for topping savory roasts, steaks, and such.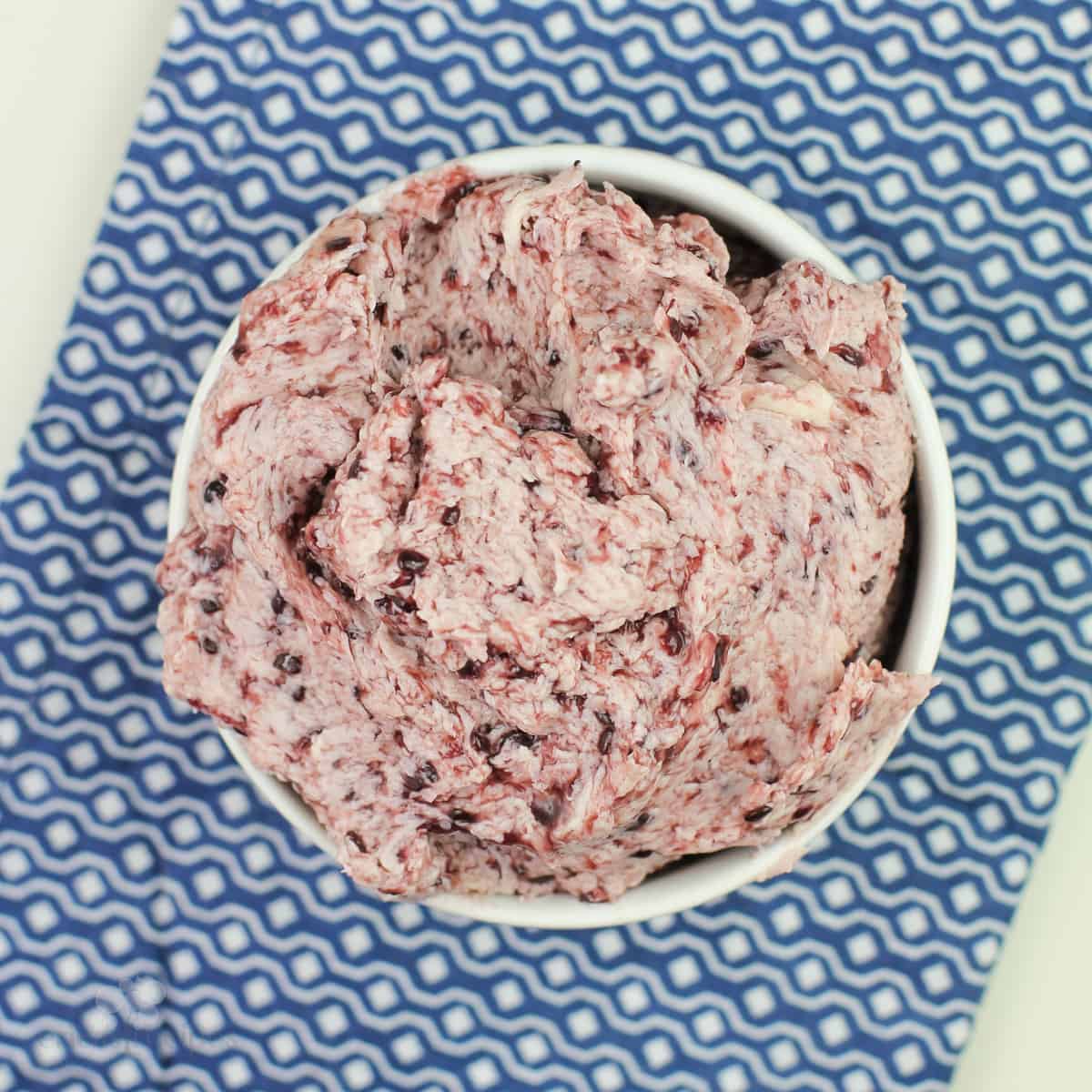 About the ingredients
Butter. Unsalted butter is preferred for this recipe. Be sure to let it get nice and soft, room temperature pretty much, so that it will cooperate and blend with the other ingredients.
Confectioner's sugar. Also called powdered sugar, confectioner's is used to fluff the butter before adding the rest of the ingredients. We don't want granulated sugar because it will stay grainy rather than dissolve in the butter.
Blackberry pie filling. When measuring, try to get as many berries (rather than sauce) as possible.
Brandy or vanilla extract. If using brandy, the flavor is very subtle, and vanilla flavor is stronger. Both are delicious.
Lemon zest. Just a bit of zest to cut sweetness and because blackberry loves lemon.
Kosher salt. Just a pinch to bring flavors together.
How to make blackberry butter
We got the easiest prep in the world going on right here with this recipe:
Whip the butter and sugar.
Whip in the rest of the ingredients.
Done.
Now here is where we have a decision: do we want to serve our butter soft and spreadable? Or do we want to be able to slice and top a steak (for example)? If wanting to serve soft, store the butter in a little bowl topped with plastic wrap or in a resealable container. Serve straight away or refrigerate – however, once chilled the butter will firm back up. So then just let it sit out if you want it to soften again.
If wanting to serve as a compound or finishing butter, spoon the butter onto a piece of plastic wrap, roll up like a tootsie roll, and refrigerate until firm. Then slice and place a round on your cooked meat (e.g. steak, pork, salmon). For photos showing how to roll a compound butter, you can see my post for Sun-Dried Tomato Basil Finishing Butter.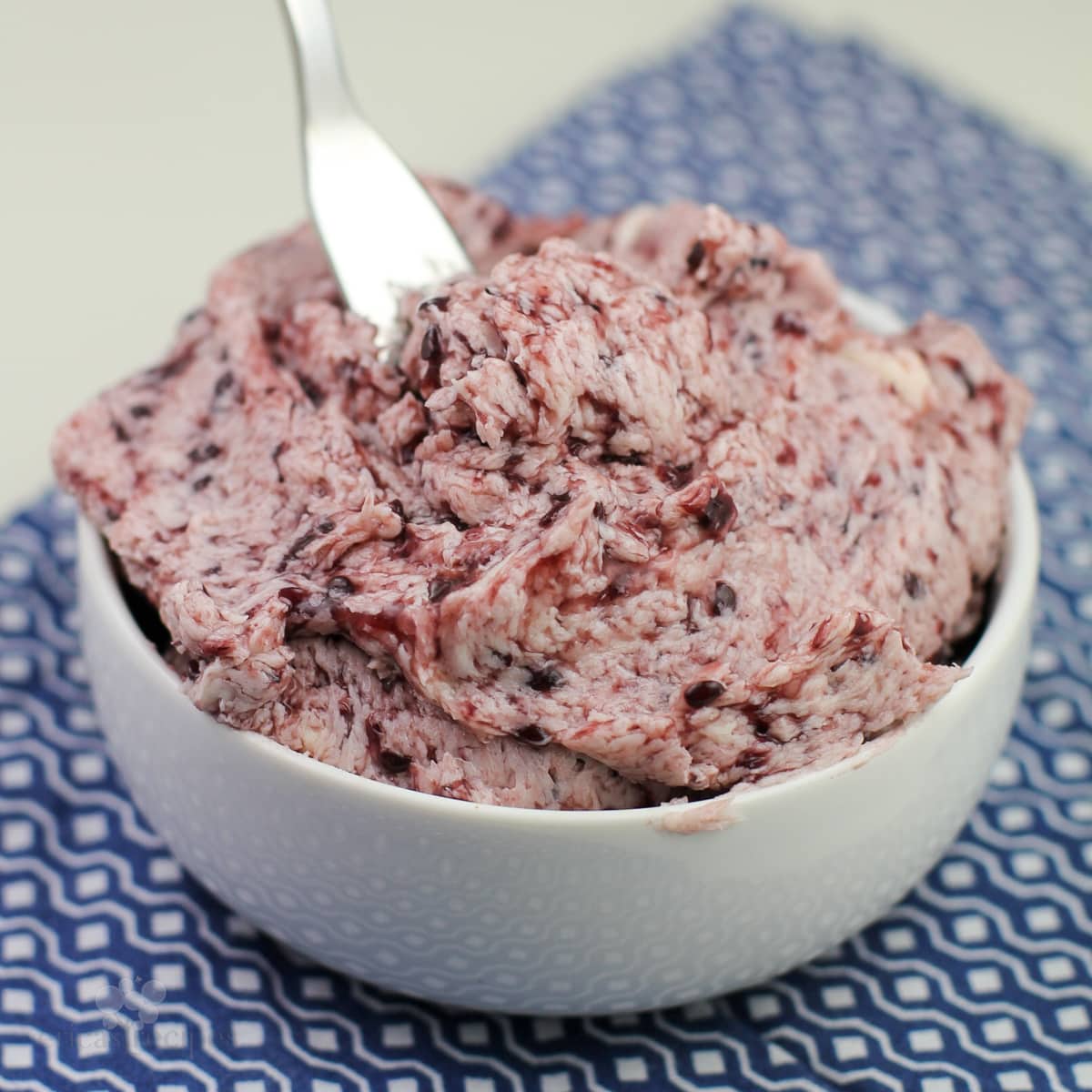 Suggested ways to serve blackberry butter
As a spread on anything toasty: Spread blackberry butter on crusty fresh baked bread, biscuits, English muffins, waffles, pancakes, crepes, popovers, toast.
In a sandwich: Serve with turkey or ham, arugula, onion, and Swiss cheese in a sandwich with crusty sourdough or Italian bread. Even better, lightly toast the sandwich in a pan with cooking spray.
As a finishing butter: Place a round sliced from a log of blackberry butter onto grilled steak, pork chops, sliced pork loin, salmon, or grilled chicken thighs.
On a charcuterie board: Serve in a little bowl with cute little spreader. Pairs well with crackers or squares of bread, bits of brie or parmesan, as well as a drizzle of honey.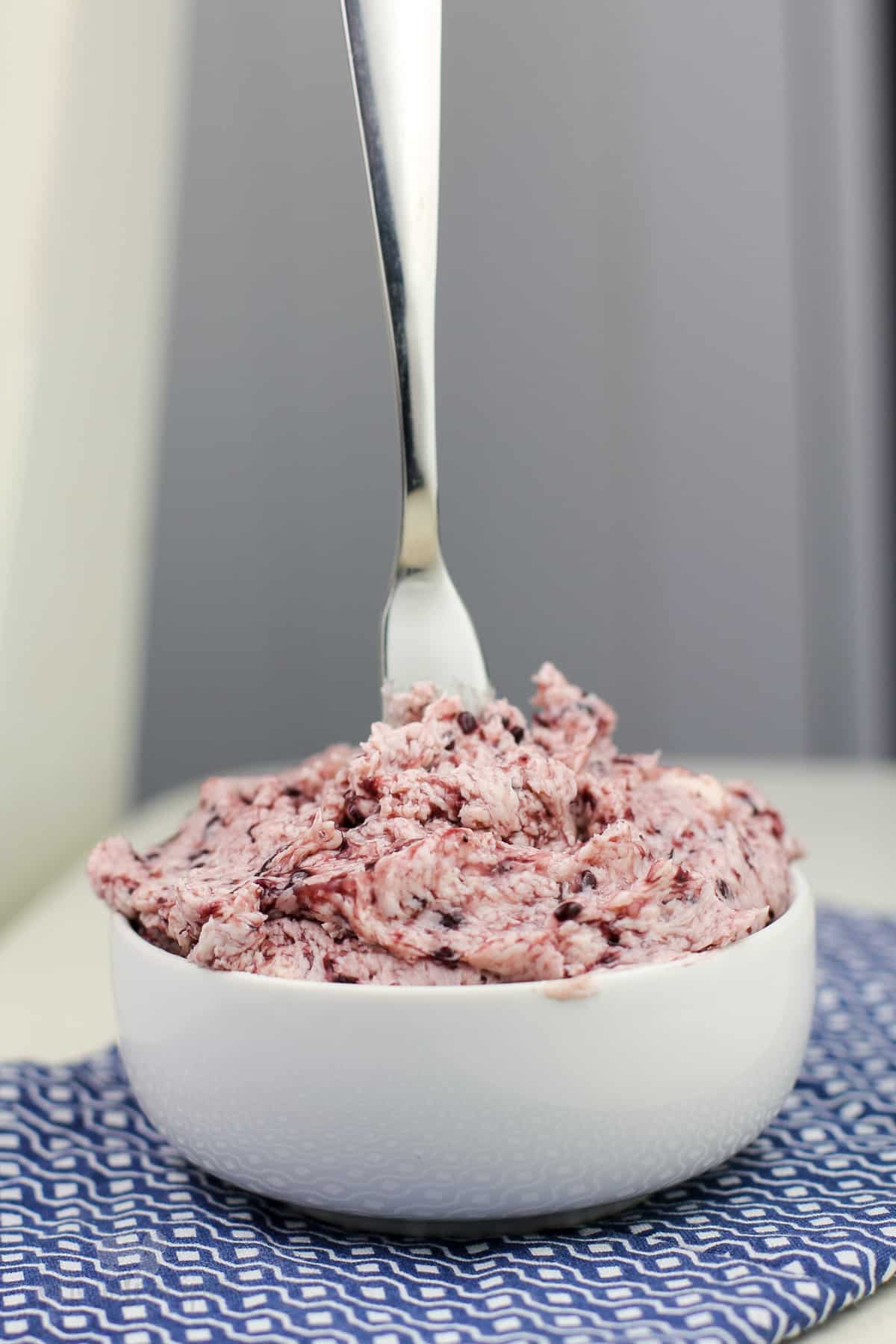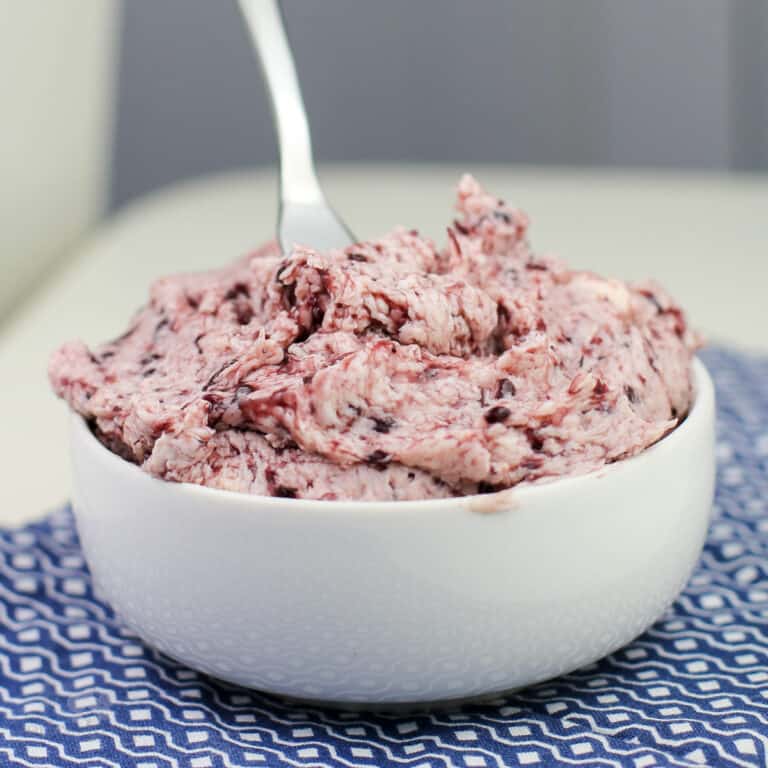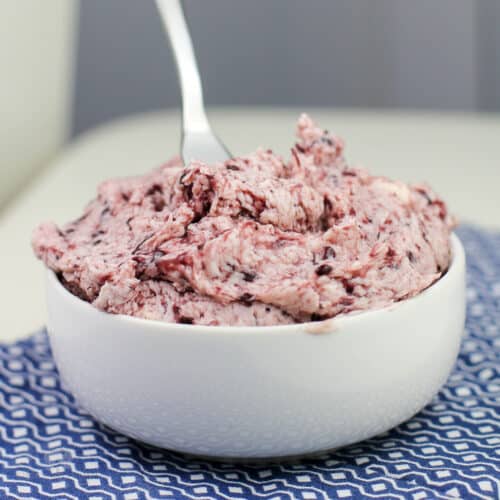 Creamy Blackberry Butter
Creamy Blackberry Butter uses canned blackberry pie filling for easy preparation. Use as a versatile soft spread or shaped compound butter.
Instructions
Using a hand mixer, whip together the butter and sugar until fluffy.

Add the blackberries, brandy (or vanilla), and lemon zest. Whip just until combined.

Serve immediately or transfer to a refrigerator. Store covered in plastic wrap or in a resealable container for up to 2 days.
Notes
When measuring the pie filling, use a spoon to get as many berries as possible rather than just sauce.
To form a butter log to slice and use as a finishing butter, roll butter up in plastic wrap like a tootsie roll. My Sun-Dried Tomato Basil Finishing Butter post has photos showing how to do this.
Nutrition
Calories:
114
kcal
(6%)
|
Carbohydrates:
3
g
(1%)
|
Fat:
11
g
(17%)
|
Saturated Fat:
7
g
(44%)
|
Cholesterol:
30
mg
(10%)
|
Sodium:
20
mg
(1%)
|
Sugar:
2
g
(2%)
Calorie count is purely an estimate calculated using an online application to serve as a guide and not to be taken as accurate nutritional information. Percent Daily Values are based on a 2,000 calorie diet.
Tried this recipe?
Leave a comment below and let me know!