Honey Teriyaki Chicken and Rice for Meal Prep
Honey Teriyaki Chicken is cooked in the slow cooker, then paired with rice and veggies for a satisfying protein-rich meal prep meal for your busy week. Add this macro-friendly, versatile chicken recipe to your rotation for easy, mindful meal prep.
This website uses affiliate links which may earn a commission at no additional cost to you. As an Amazon Associate I earn from qualifying purchases.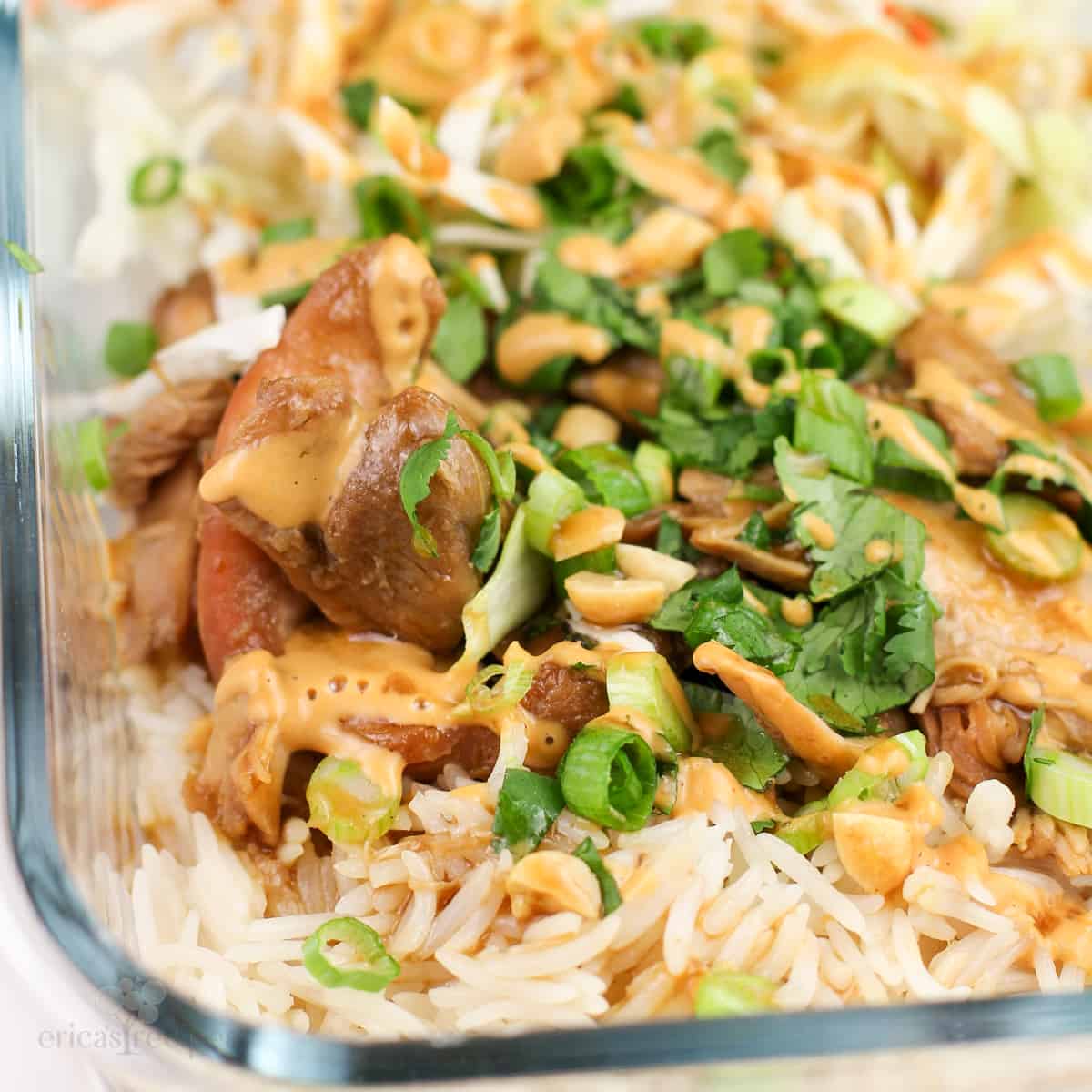 Why this recipe works
I am all about meal prepping my lunches for the week. I have a lot of meal prep recipes, and recently, I posted my Firecracker Salmon Bowl for Meal Prep and well as my Cottage Cheese Mac and Cheese. So here I am rolling with some slow cooker chicken.
The issues I find with meal prepping chicken in the slow cooker are 2-fold: First, is moisture. By cooking the crap out of the chicken in the crockpot, we have to get clever with a sauce (or 2) to keep everything all moist (yeah, I said moist).
Second, with all the juices emitted from the meat as it cooks, flavors can get diluted in the pool that results. So, this recipe for honey teriyaki chicken WORKS because it fixes both these problems. We get not one, but TWO sauces to keep everything yummy, and we concentrate flavor. The result is tender, juicy chicken to die for.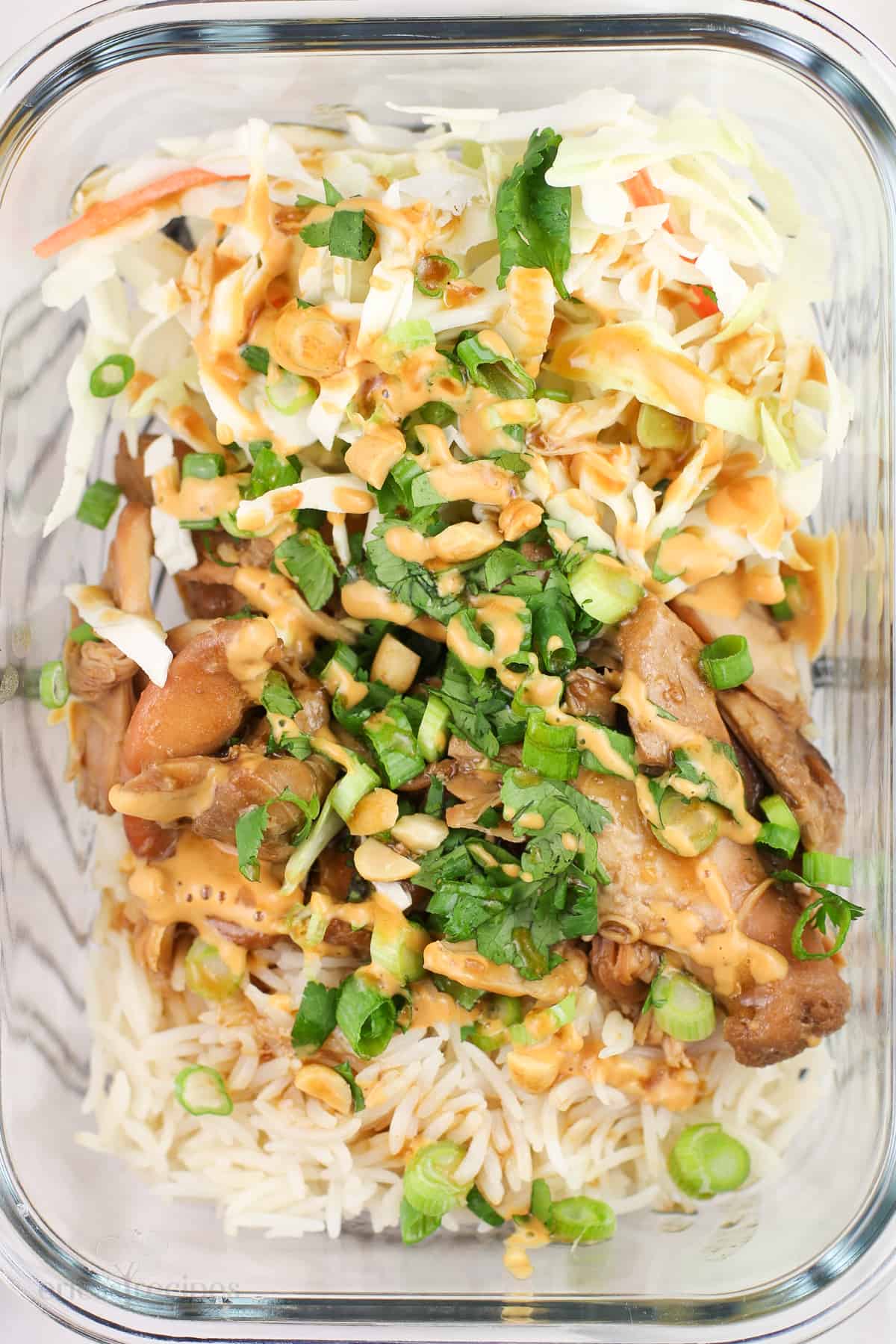 About the ingredients
Ok so yeah, there are a few. But they are mostly pantry staples and they are all easy to find. If not, I have alternatives. Also, let's be honest – some recipes always have a bunch of ingredients. Ever make any Indian dishes? And besides, making the sauce yourself is always better.
For the Honey Teriyaki Chicken
Boneless skinless chicken thighs. Or chicken breasts if you prefer.
Soy sauce. I forever and only always use reduced sodium soy sauce. If you need to avoid gluten, get GF soy sauce or tamari.
Ginger and garlic.
Mirin is a sweet cooking wine. If not available, use white wine or omit altogether.
Sweeteners: honey and Swerve brown sugar substitute. Find Swerve in the baking aisle at the grocery store.
Sesame oil is for flavor; if not available, don't worry about finding a substitute and don't bother using a different oil.
Cornstarch. I have this listed as optional in the recipe card but it is needed to get the sauce to thicken.
For the Peanut Sauce
This peanut sauce is SO easy and adds a delicious yummm to this whole meal.
PB Fit powdered peanut butter. A substitute for the 2 tablespoons PB powder is 1 tablespoon regular peanut butter, but then omit the water.
Sugar-free Yum Yum sauce. If you would like to make your own Yum Yum, you can see my recipe.
Water. To dissolve the PB powder. Omit if using regular peanut butter.
For the Bowls
White rice. Basmati, jasmine, regular old white rice, or brown rice. Any rice you like really.
Shredded cabbage mix. I am all about keeping this easy for meal prep, so shredded cabbage it is for me. The crunch of the cabbage helps the soft chicken, and the flavor is tasty with the teriyaki sauce.
Accouterments: green onions, cilantro, and peanuts. Each are optional, and each can be replaced with other options (i.e. red onion for the green onion; parsley for the cilantro).
I'm normally an almond girl, and I keep a 5 lb bag of lightly salted almonds in my office at work. But peanuts are having a moment so, I've been enjoying them more too. Both have their selling points, so I figure I'm covering my bases better by including both regularly rather than relying predominantly on just one nut.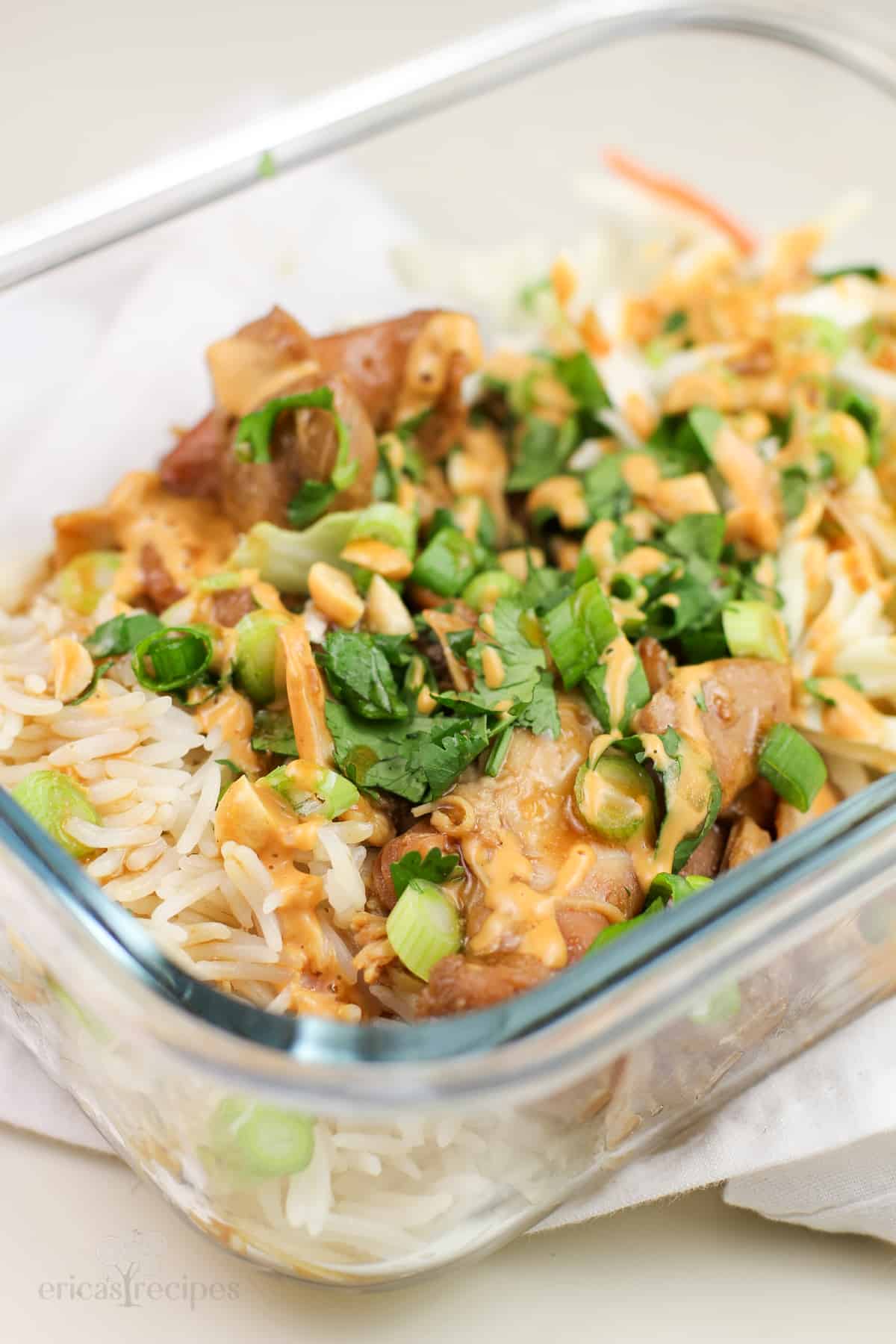 How to make honey teriyaki chicken
All the details are in the recipe card below, but here is the skinny:
Trim fat from chicken.
Mix marinade.
Add chicken to marinade in slow cooker.
Let the slow cooker do its thing.
Make teriyaki sauce from the strained juices and marinade in the slow cooker.
Make peanut sauce.
Assemble chicken and rice bowls.
Done.
Serving size adjustments
I have the recipe written generically for an average, middle aged woman eating in a moderate calorie deficit but wanting to ensure they get enough protein each day. In other words, me.
So as written, the amount of rice added is only 1/4 cup per serving. That said (and full disclosure), the carb values and total calorie count in the nutritional information are a wonky overestimation anyway because not all of the sauce ends up consumed – there's just too much with all the juice given off by the chicken. There's just no way for me to calculate that accurately sorry.
My point is to adjust the serving sizes to fit you, your nutritional demands, and your activity level. If you are a guy, this is more likely 4-6 servings for you. If you are very active (male or female), add more rice. Regardless of your activity level, add more veggies to your heart's content (God knows this recipe makes enough sauce). I tend to make 3-4 regular portions for myself, then split the rest into 2 portions for my husband. Get creative and be flexible to figure out how meal prep can work for you.
If you are making this as a family dinner or such, and not for meal prepped lunch, then I would say it is 4 to 6 servings. At least with this being a meal prep recipe, you know leftovers will keep!
Alternate serving suggestions
Don't want rice? Serve over noodles such as Trader Joe's squiggly noodles or Momofuku noodles for an equally yummy meal. For even more protein, use chickpea pasta.
Skip the carbs altogether and serve with veggies. I used stupid easy shredded cabbage, but Bok choy and stir fry veggies all would work here. I love to get the bags of steam-in-bag stir fry veggies for the easiest prep ever.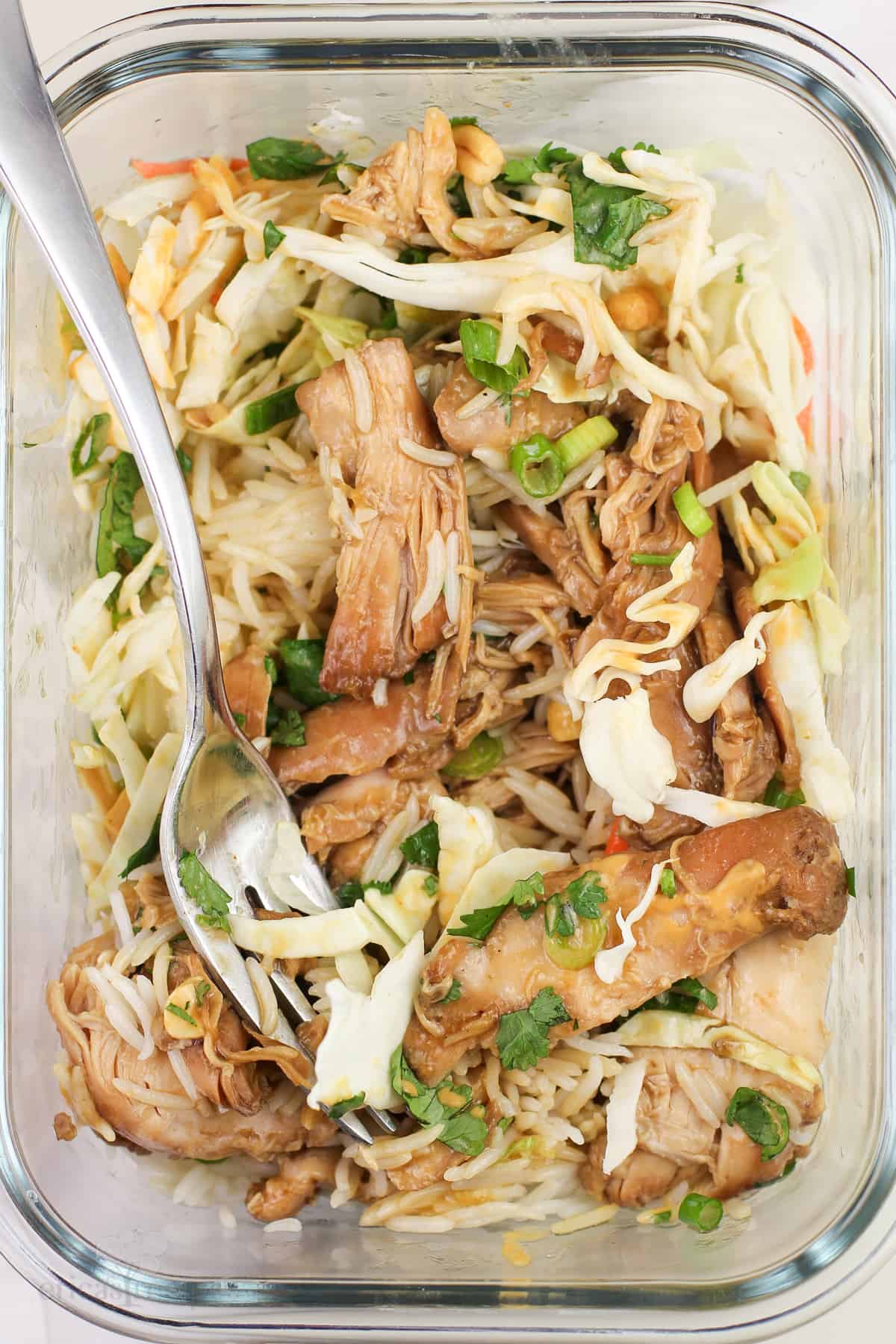 For all the meal prep chicken versatility you could ever hope for, also check out my Instant Pot Carnitas Chicken and my Two Ingredient Salsa Verde Chicken.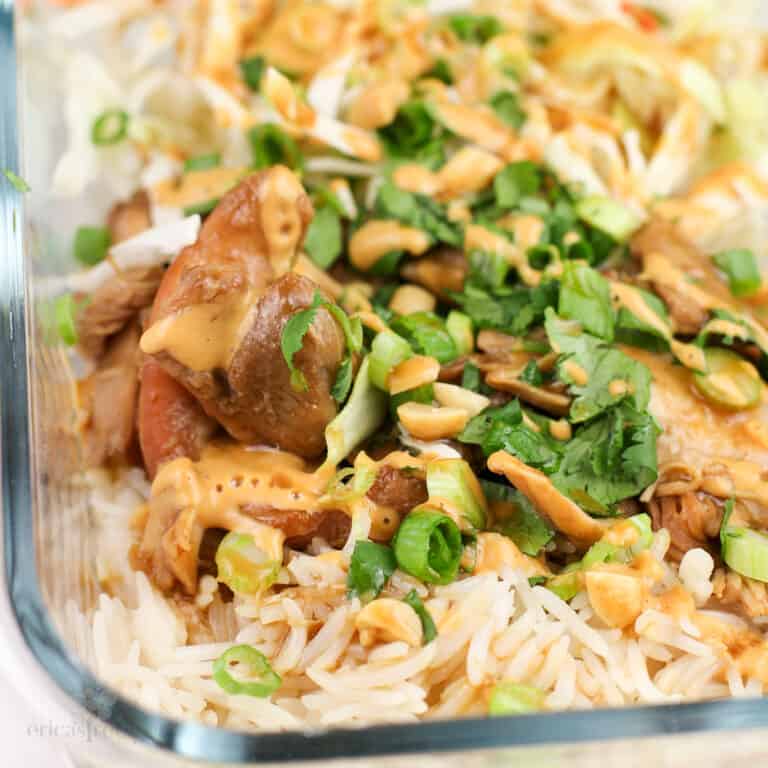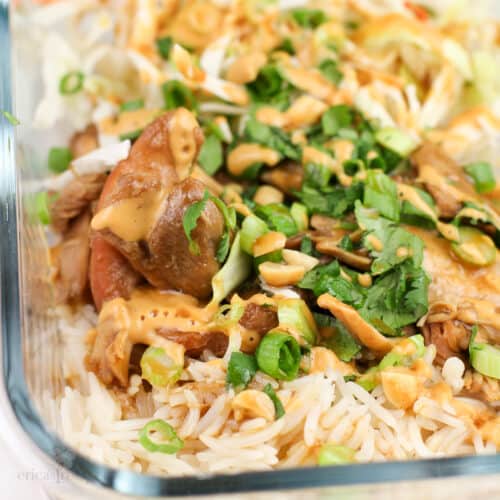 Honey Teriyaki Chicken and Rice for Meal Prep
Slow cooked Honey Teriyaki Chicken is paired with rice and veggies for a delicious meal prep bowl and satisfying protein-rich meal to enjoy during your busy week.
Ingredients
For the Honey Teriyaki Chicken
For the Bowls
2

cups

cooked white rice

8

oz

shredded cabbage mix

1

bunch green onions

chopped

¼

cup

chopped cilantro

½

cup

lightly salted peanuts

chopped (optional)
Instructions
Prepare the Honey Teriyaki Chicken
Using a sharp knife or kitchen shears, remove and discard as much fat off the chicken are you are reasonably able. This will leave approximately 3-½ lbs meat.

Set aside the cornstarch. It will not be needed until after the chicken cooks.

With the exception of the cornstarch, add the rest of the Honey Teriyaki Chicken ingredients to the slow cooker and stir to combine.

Add the chicken to the slow cooker and toss to coat in the marinade. Cook on high 4 hours or low 8 hours.

Using tongs or a slotted spoon, gently remove the meat from the slow cooker to a bowl.

Strain the juices into a medium saucepan. Simmer 10 minutes or until reduced by half.

In a small bowl, dissolve the cornstarch in 2 tablespoons cold water and add to the saucepan.

Simmer gently until thickened. Remove from the heat and sauce add to the chicken.
Make the Peanut Sauce
Combine the PB Fit powder, water, and Yum Yum sauce in a small bowl. Set aside.
Assemble the Bowls
To each plate or meal prep container, distribute rice, chicken (again, use tongs or a slotted spoon), and veggies. Top with cilantro, green onion, and peanuts. Drizzle the peanut sauce, as well as more teriyaki sauce.
Nutrition
Calories:
394
kcal
(20%)
|
Carbohydrates:
32
g
(11%)
|
Protein:
35
g
(70%)
|
Fat:
18
g
(28%)
|
Saturated Fat:
4
g
(25%)
|
Polyunsaturated Fat:
4
g
|
Monounsaturated Fat:
7
g
|
Cholesterol:
159
mg
(53%)
|
Sodium:
992
mg
(43%)
|
Potassium:
75
mg
(2%)
|
Fiber:
1
g
(4%)
|
Sugar:
9
g
(10%)
Calorie count is purely an estimate calculated using an online application to serve as a guide and not to be taken as accurate nutritional information. Percent Daily Values are based on a 2,000 calorie diet.
Tried this recipe?
Leave a comment below and let me know!