Surf and Turf Teriyaki Kabobs are just so yummy! Tender steak, succulent salmon, and sweet red bell pepper and pineapple. Basted in teriyaki and grilled to easy perfection. Topped off with my take on Yum-Yum sauce, and we have a weeknight winner.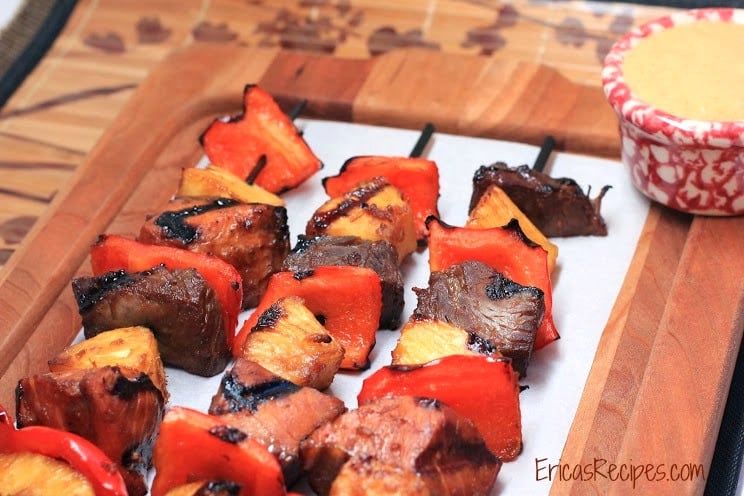 Oh my good Lord is this dinner good. I was in the mood for something different from my usual, and I rarely cook anything with Asian flavors so I decided to go there. I need to cook Asian more. This was absolutely delicious. I wanted the Yum-Yum Dipping Sauce to be one of those magical sauces you get at a restaurant, like on sushi, and it is! This would be great over simple jasmine rice as well.
Surf and Turf Teriyaki Kabobs
1/2 c light soy sauce
1/4 c brown sugar
1/4 c pineapple juice
1 T freshly grated ginger (~3-in knob)
3 large cloves garlic, minced
1 T sesame oil
1/4 t fresh cracked pepper
1 lb Top sirloin steak, cubed
1/2 lb salmon, skin removed and cubed
2 red bell peppers, chopped into large chunks
1/2 pineapple, cored and cut into chunks
a little oil for the grill
Yum-Yum Dipping Sauce (recipe follows)
Combine the 7 ingredients in a large ziploc bag. Add the cubed steak, salmon, bell pepper, and pineapple, and put in the fridge to marinate ~8 hours.
Heat grill to high heat.
Skewer the steak and salmon, alternating with the chopped red bell pepper and pineapple.
Oil the grill grate before grilling so the food doesn't stick (I use thongs to hold a ball of paper towels dipped in vegetable oil). Grill ~7-8 minutes, flipping once. Serve with the Yum-Yum Dipping Sauce. Serves 4-6.
Yum-Yum Dipping Sauce
1/2 c light mayonnaise
1 T unsalted butter, melted
1 1/2 T sugar
2 T rice vinegar
1/2 t paprika
1/2 t garlic powder
1 t Sriracha chili sauce
In a small bowl, combine all the sauce ingredients and chill until ready to serve.
(I adapted this sauce from a Japanese White Sauce recipe at JCocina.com. Original recipe is here.)
~✿♥✿~