Cheesy Stuffed Garlic Bread
Cheesy Stuffed Garlic Bread or Crack Bread will become your family's favorite fun food. Buttery garlic and herb pull apart bread is insanely tasty and easy to make with my step by step photos. Garlic cheese bread never lasts more than a couple minutes, it is THAT GOOD.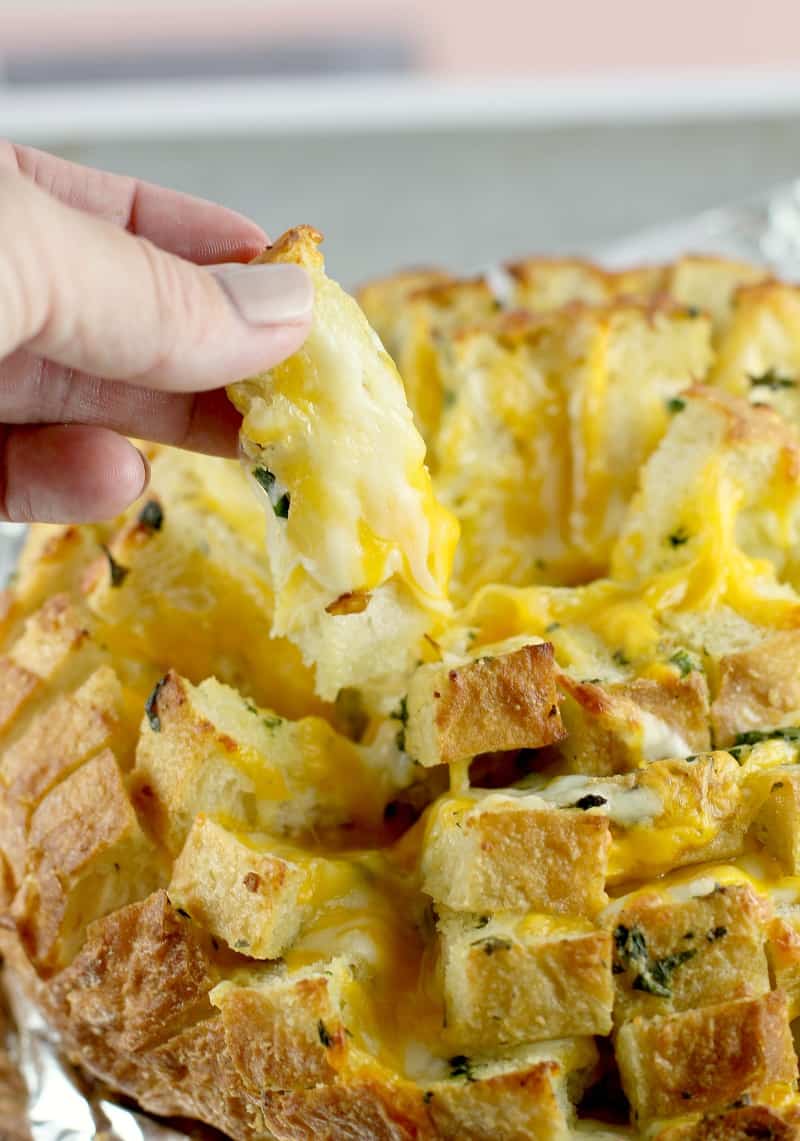 This recipe was first posted September 2013 then updated December 2019 for photos and content.
This stuffed garlic bread recipe has become affectionately known as "Crack Bread" in my home. My husband requests it every time his football team plays, and my daughter happily obliges to help me make it because she wants it herself.
We usually burn our mouths eating it since we aren't willing to let it cool when it comes out all gooey, crispy around the outside and buttery soft on the inside with each cheesy pullapart piece.
What is Crack Bread?
Crack bread is simply a play on words to mean that this bread is addicting. Not exactly politically correct to use the term anymore, but ehh it is what it is.
Once you start eating cheesy stuffed garlic bread, it is so amazingly good, that you can't stop. At its most basic, crack bread is a bread loaf that has been sliced and yummy things have been stuffed in the cracks prior to baking.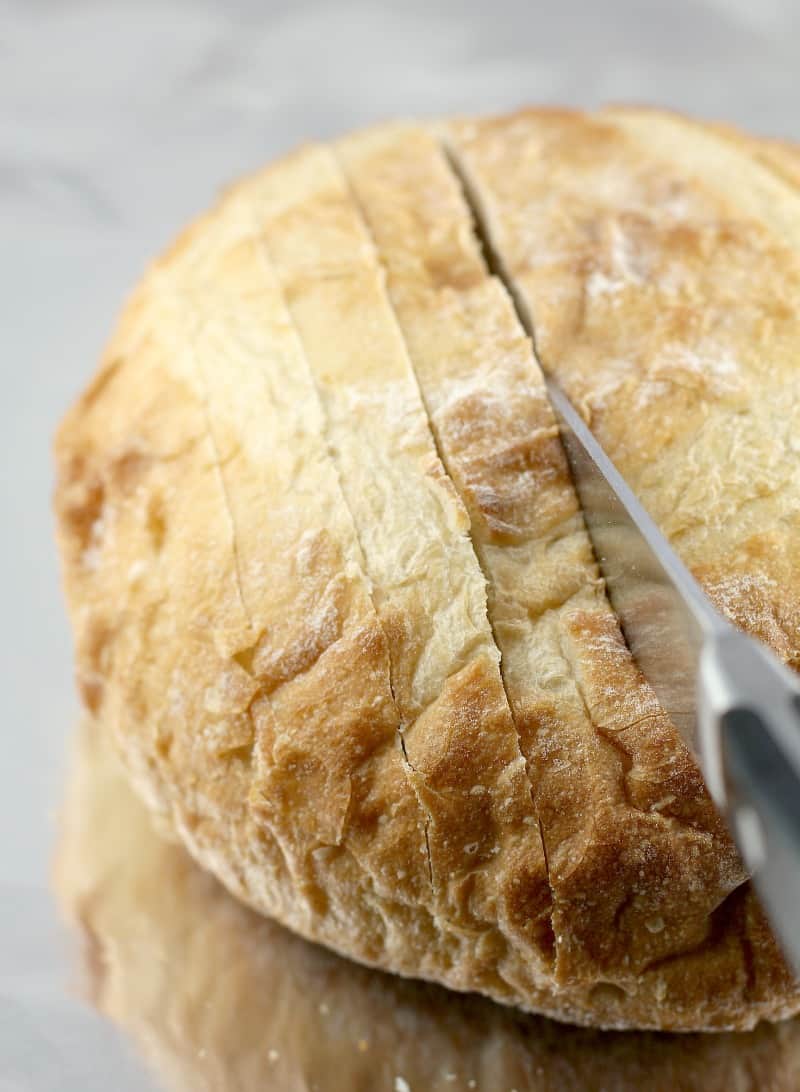 My crack bread recipe is a garlic herb and cheese pull apart bread. We make a vinaigrette of sorts with butter, Dijon, herb, and garlic, and spoon in the cracks of the bread. Then we stuff with cheese. Hence, cheesy stuffed garlic bread.
The bread "cracks" are stuffed with cheese, baked, and then the pull-apart yummy fun begins. This never lasts more than a couple minutes when I make it, it is, again, THAT GOOD.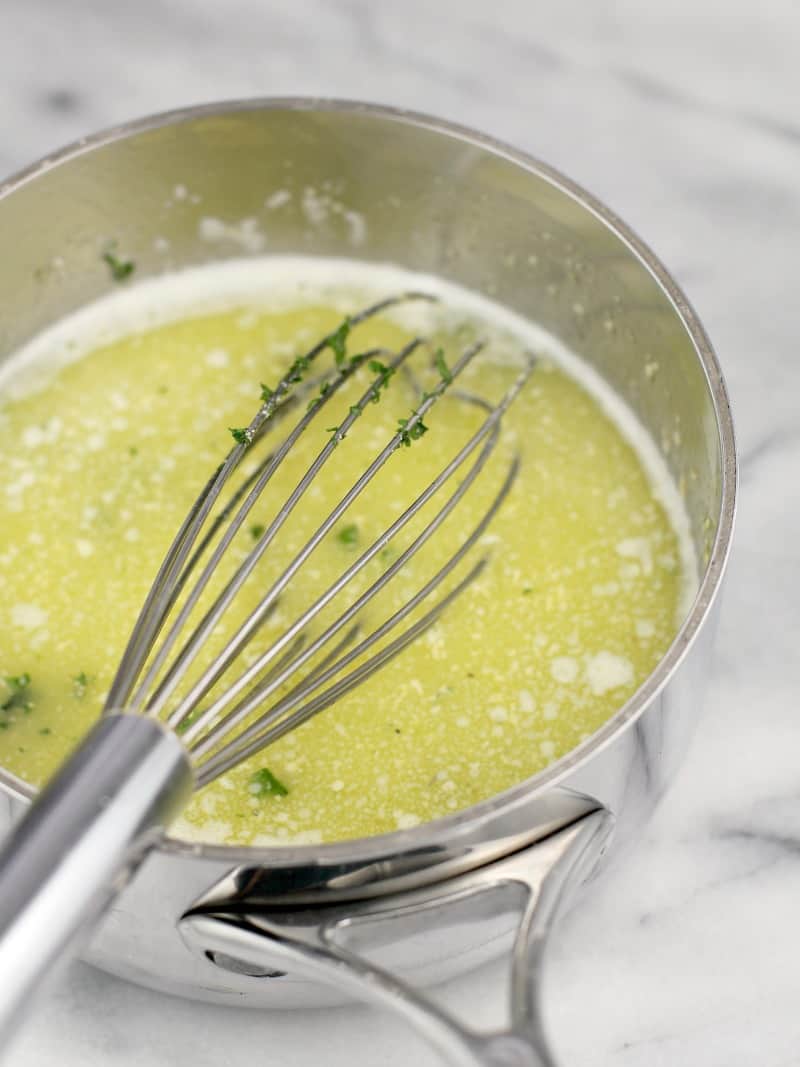 What are the steps to make stuffed garlic bread?
The steps to make this stuffed cheesy bread are thusly:
Slice the bread to make the cracks.
Whisk together the vinaigrette and spoon in the cracks.
Stuff the cracks with cheese.
Bake.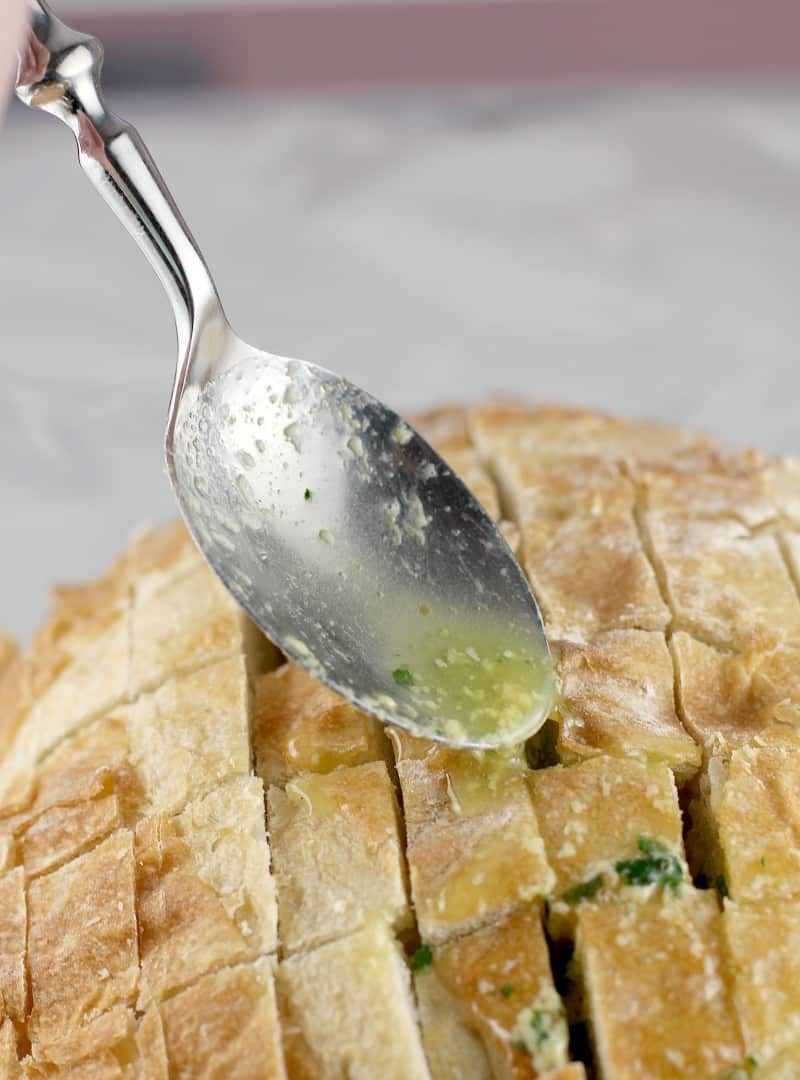 Helpful Tips
Using a good serrated bread knife helps tremendously.
When cutting the bread work slowly, start with the knife on one side then slide across in one direction applying gentle pressure. Repeat going further down with the next swipe. Point is that we don't want to saw back and forth and tear up the bread.
When the Dijon mustard is added to the butter and oil, it will not mix to be smooth (remember water and oil don't mix!). Use the whisk to break up the Dijon and mix as best you can, just don't expect it to dissolve in and become perfectly combined.
You can vary the cheese, but I do recommend using a meltier cheese (think Monterey jack, mozzarella) for at least half. I've used straight cheddar and it's good, I just prefer a more melty cheese to be in the mix.
Take care not to undercook the loaf. We do want nice crispy edges to go with the buttery soft inside of the bread.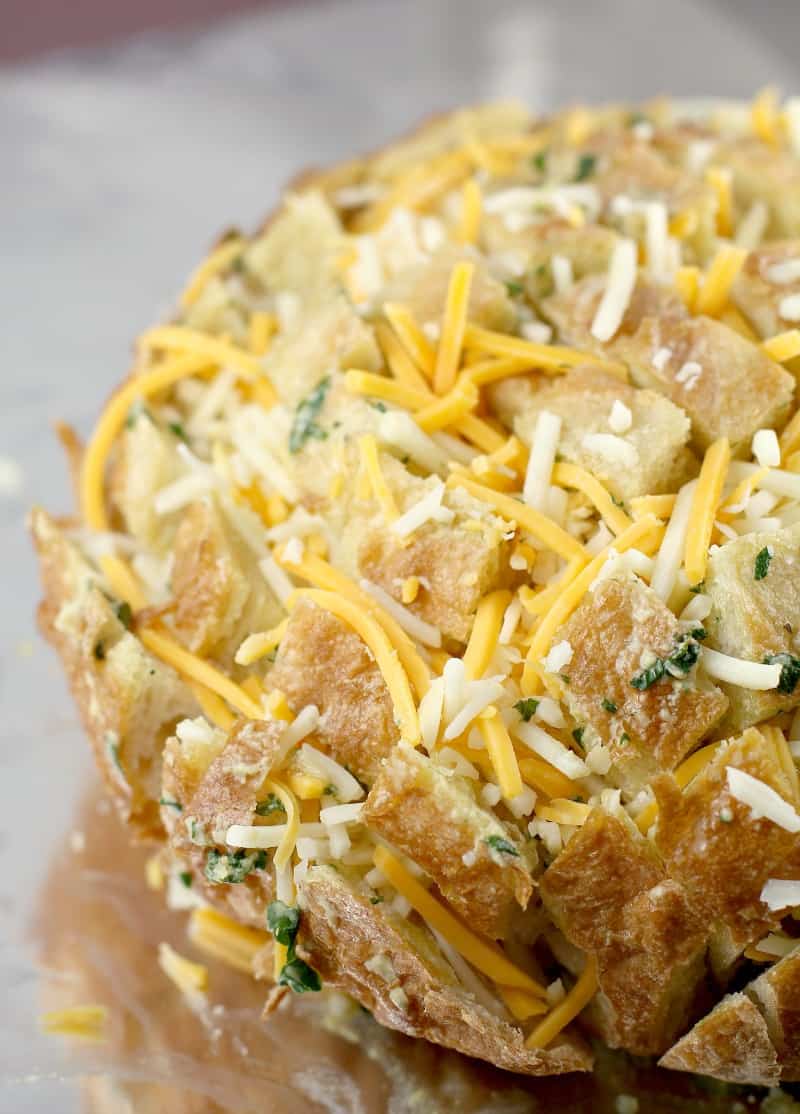 Stuffed Bread Variation Ideas!
You can totally change this recipe up however you want. Think mozzarella and pepperoni. Different cheeses, different herbs. Roasted peppers. You can and should absolutely have fun with this recipe.
For another pull apart spin check out my Cheesy Bacon Jalapeno Popper Pull-Apart Bread because adding bacon and jalapeno just makes this even better.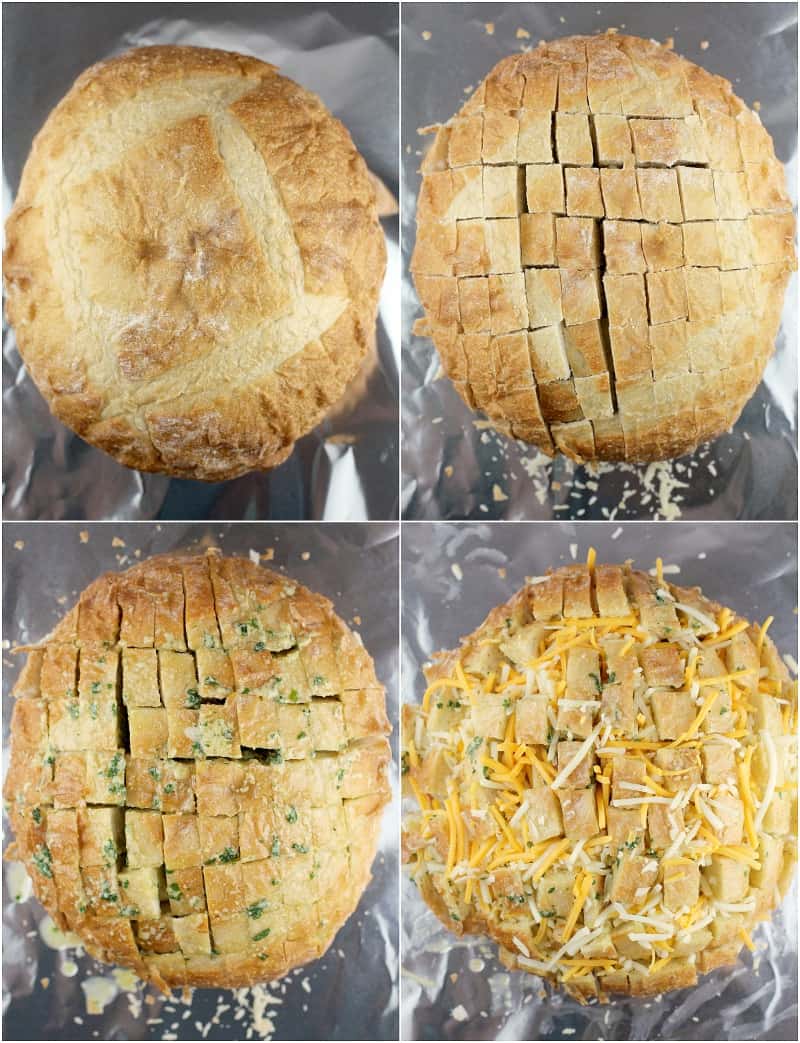 FAQs for Garlic Herb and Cheese Pull Apart Bread
Can cheesy stuffed garlic bread be made in advance? YES. You can assemble this loaf in advance, wrap in foil, and stop there hours in advance. Then when you are ready, throw it in the oven to cook. Often times, if we don't eat it all right away, we'll break off a chunk and give it a give zap in the microwave, but I don't recommend doing that in the first place.
Can Bread Dip Seasoning be purchased rather than having to make it? YES. I totally bought it when I made it recently, I find a good one in the bakery section at my grocery store.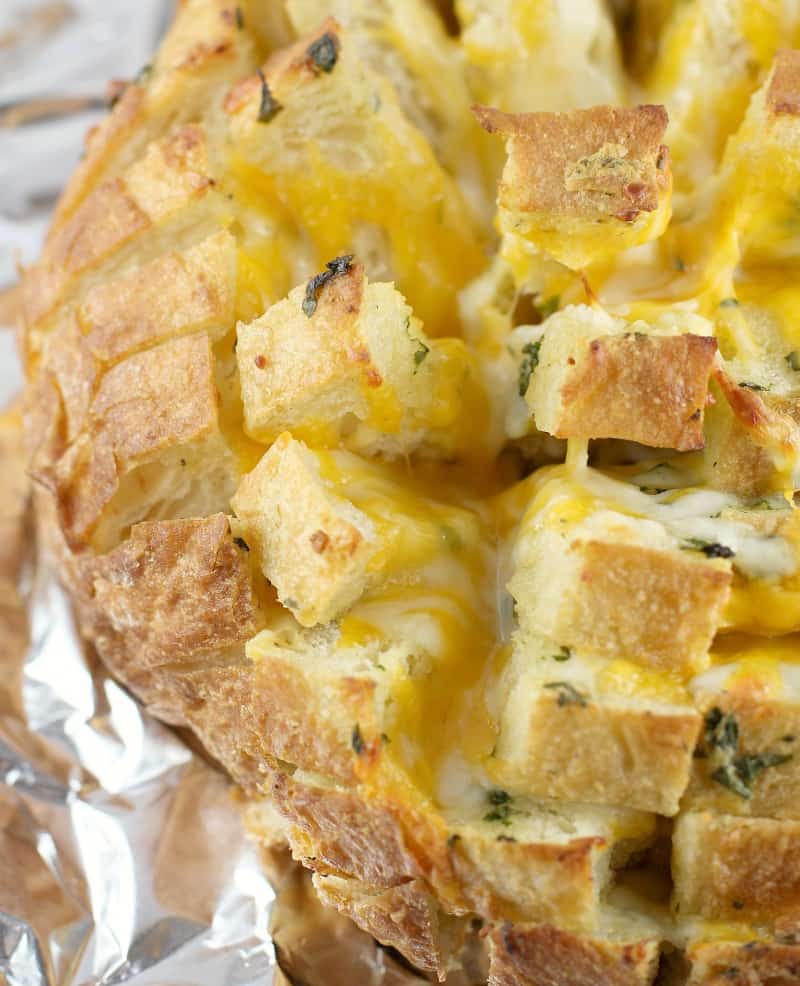 Can the bread be purchased in advance? YES. You can buy the bread ahead of time, but I recommend wrapping well with foil and then freezing to keep it fresh. Then thaw and proceed with the recipe once you are ready.
What is the easiest way to wrap stuffed bread in foil? The easiest way to wrap the bread is to cut, stuff, and assemble our cheesy garlic bread on long 2 sheets of foil, spread in the form of an X on a bake sheet. Then, we just wrap up one sheet, then the other, and we're good to go.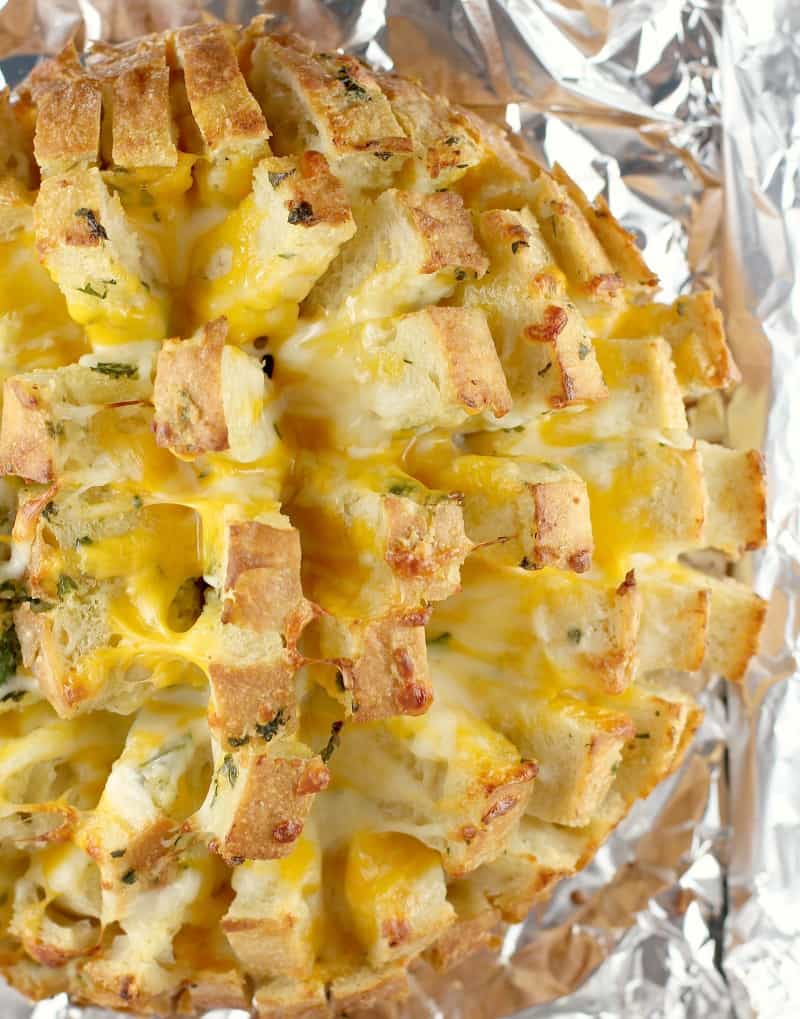 For more fun recipes, check these out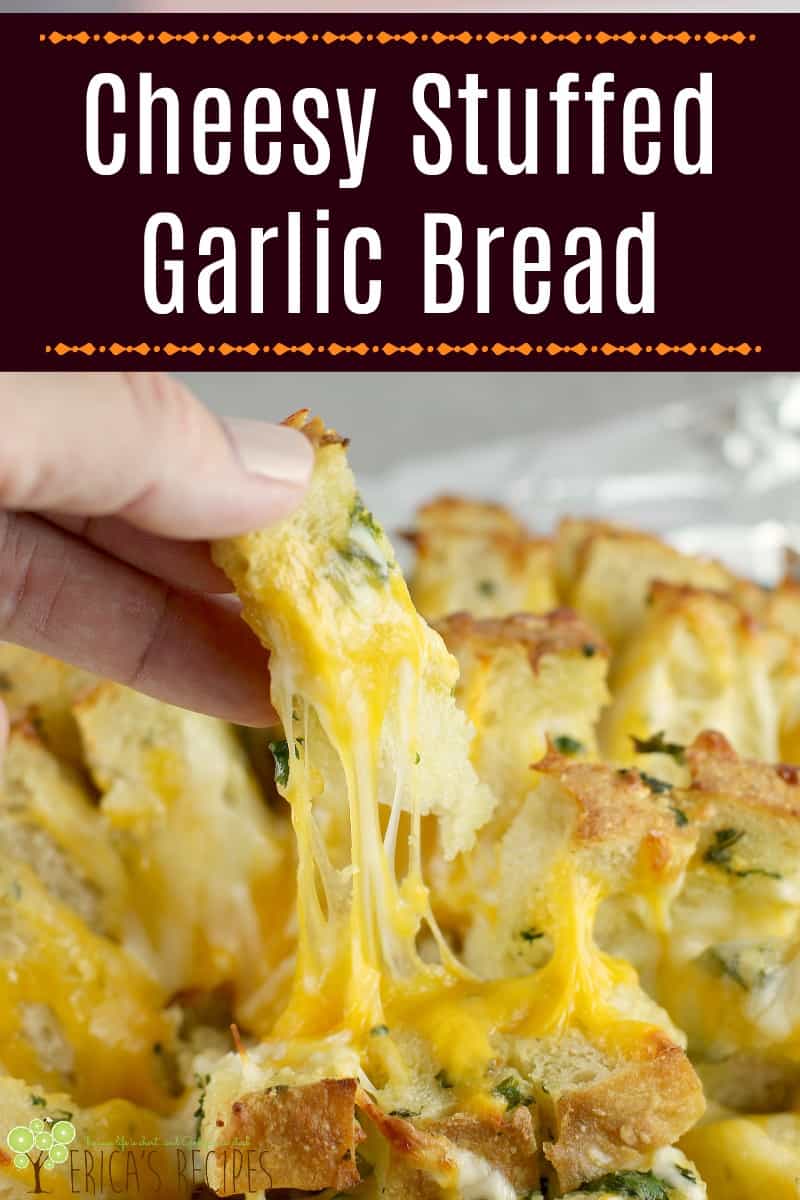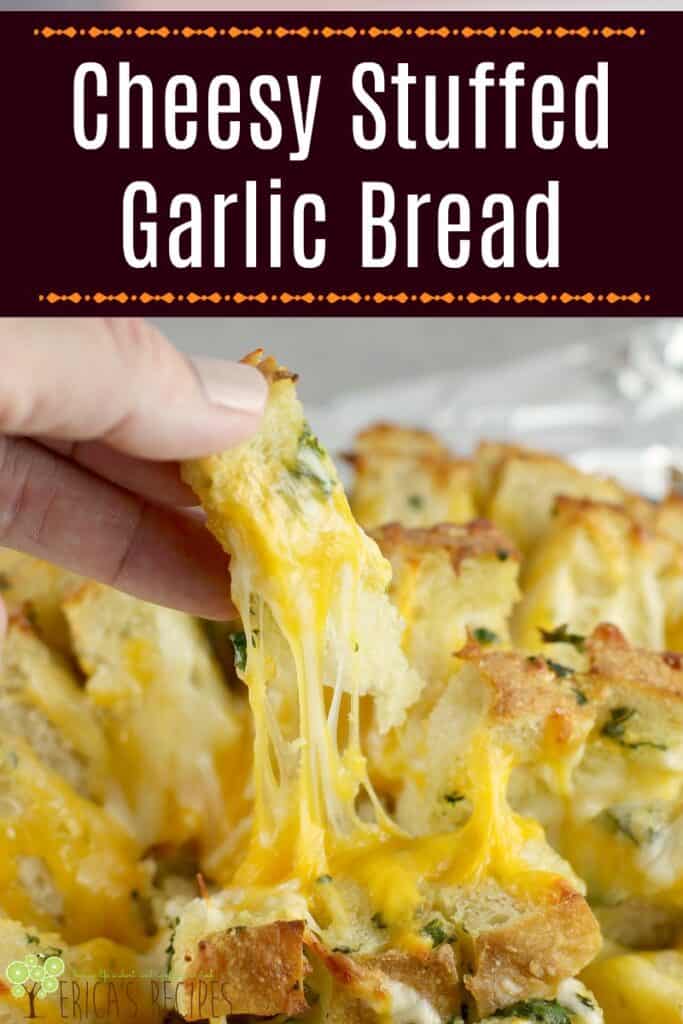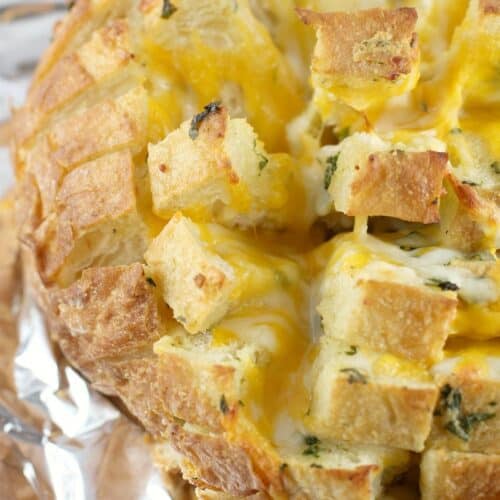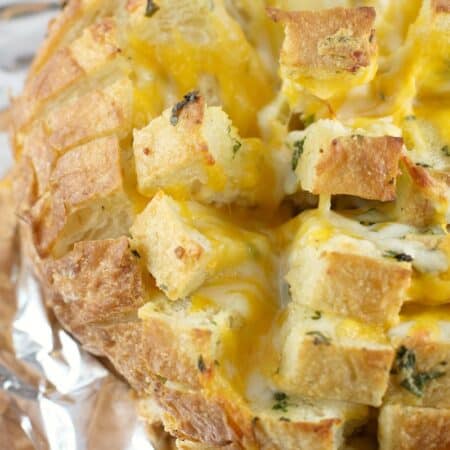 Cheesy Stuffed Garlic Bread
This pullapart cheesy garlic bread is insanely tasty.
Ingredients
1

round loaf crusty bread

such as a Tuscan boule

½

cup

1 stick unsalted butter, melted

2

Tbsp

extra virgin olive oil

1

Tbsp

country-style dijon

1

Tbsp

fresh Italian parsley

chopped

1

Tbsp

very finely diced onion or 1/4 t onion powder

1

large clove garlic

minced

½

tsp

Bread Dip Seasoning

8

oz

shredded cheese

see Notes
Instructions
Preheat oven to 400F.

Lay 2 pieces of foil (~2-ft in length each) on a bake sheet perpendicular to each other (forming an X). Place the bread life in the center intersection of the foil.

Slice the bread into 1-inch slices but don't cut all the way through the bottom. Turn the bread 90 degrees and repeat so you end up with cubed pieces to pull and eat once the bread is done.

Whisk together the butter, olive oil, dijon, parsley, onion, garlic, and bread dip seasoning. Carefully spoon the butter mixture into the cracks of the bread.

Gently stuff the cheese into the cracks.

Wrap up the stuffed loaf with the foil. Bake at 400F for 20 minutes. Open the foil and bake an additional 10 minutes or until the outside of the bread is toasty.
Notes
Recipe pictured used mozzarella and sharp cheddar cheese. 4-state cheddar or cheddar-jack mixes are also recommended.
Nutrition
Calorie count is purely an estimate calculated using an online application to serve as a guide and not to be taken as accurate nutritional information. Percent Daily Values are based on a 2,000 calorie diet.
Tried this recipe?
Leave a comment below and let me know!
~✿♥✿~