Blood Orange and Dark Chocolate Brownies
Fudgy, perfect brownies with the subtle hit of orange. These Blood Orange and Dark Chocolate Brownies will take you back to candy combinations of our youth, in a delicious brownie!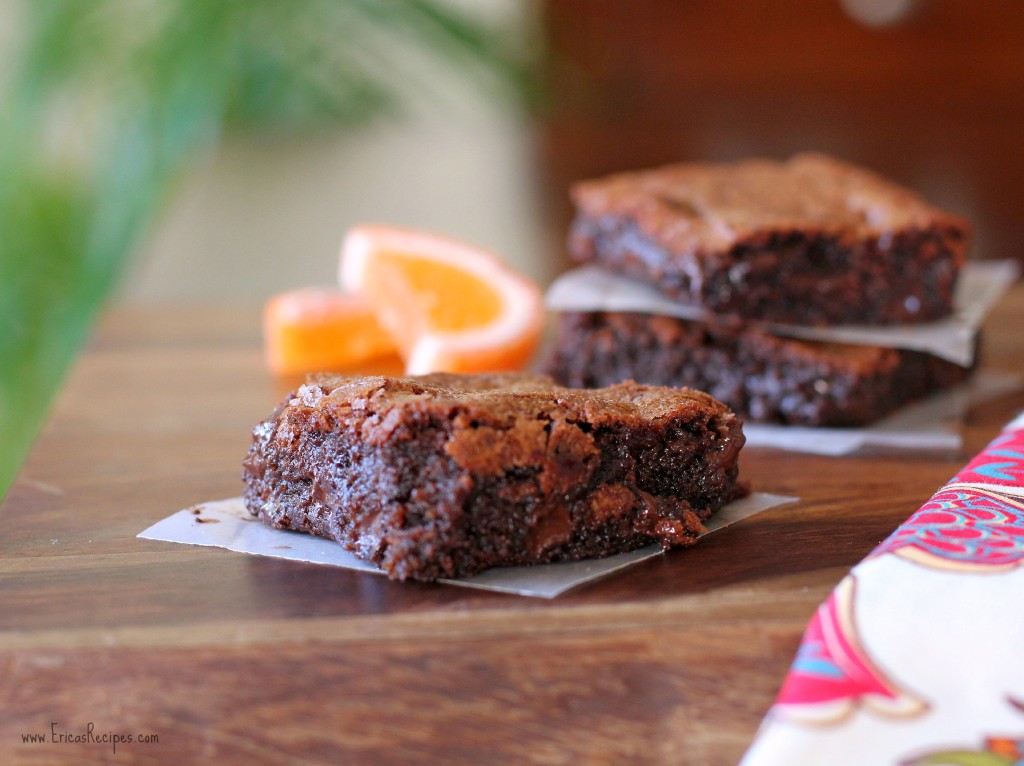 I have wanted to make up a great brownie recipe for a long long …long time. A fudgy, chocolate-all-in-my-teeth, huge-smile-on-my-face kinda brownie. My Raid-Your-Kids'-Halloween-Candy Brownies are good and fun, but they are not the pinnacle of brownie success I was hoping to one day achieve. I wanted to make a GREAT brownie. It had to have the right texture (moist, not cakey), crusty edges, and I wanted my brownies to be …mine. My own creation with all the bragging rights that go with. These are those brownies.
So why blood oranges? Because blood oranges are amazing. They are slightly less sweet than navel oranges and less acidic. They have a deeper flavor with overtones of berries in a nectar of the gods sort of way that I thought would go with the dark chocolate really well. That, and the name "blood orange" just sounds cool. But if blood orange juice is not available, regular OJ is fine – the point is that I wanted these brownies to be reminiscent of those orange-chocolate chews we got trick 'er treating as kids or the huge bar of "Intensely Orange" dark chocolate I spotted (then purchased and ate) recently at the store.
The first time I made these brownies, they were almost perfect. The batter alone was heaven on my little tasting spoon. But once cooked, the orange flavor was too subtle. So, back to the drawing board it was. I didn't want to add more juice, because I didn't want to throw off the chemistry …I had achieved my perfect fudgy brownie. The answer was zest. Thankfully, the addition of the orange zest in the next batch allowed the orange to shine through the chocolate making this recipe the keeper and these brownies everything I have ever dreamed of.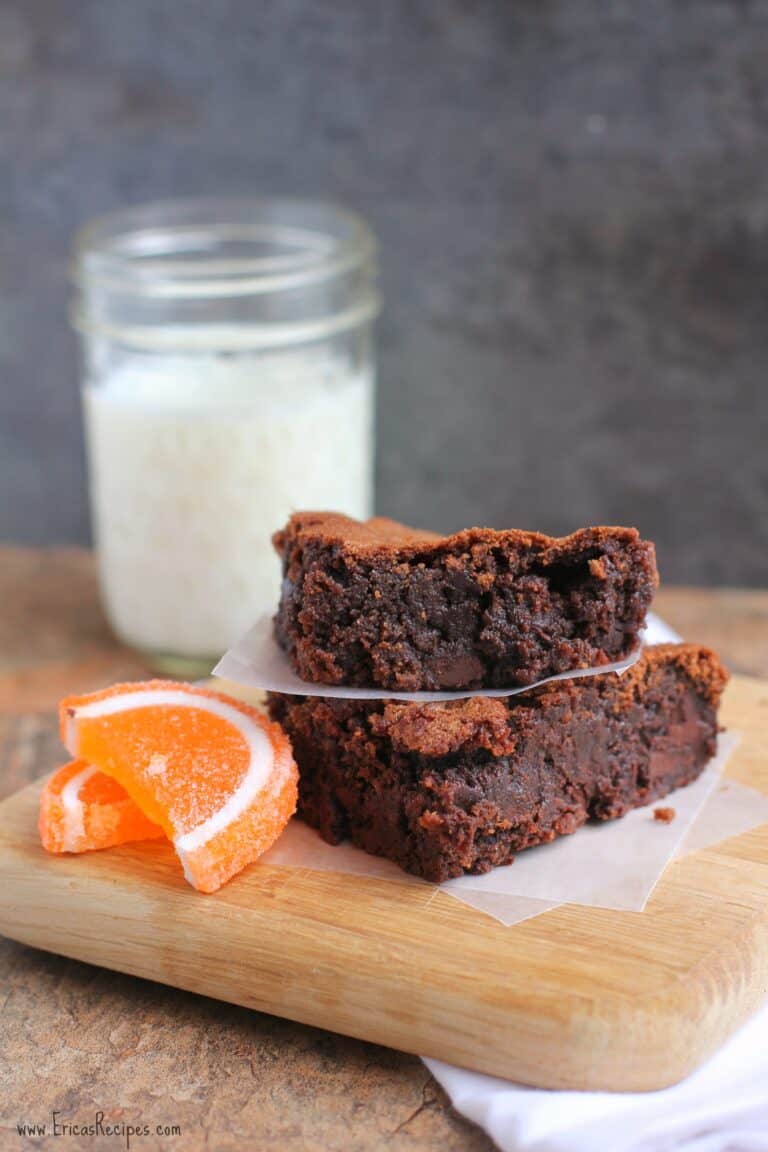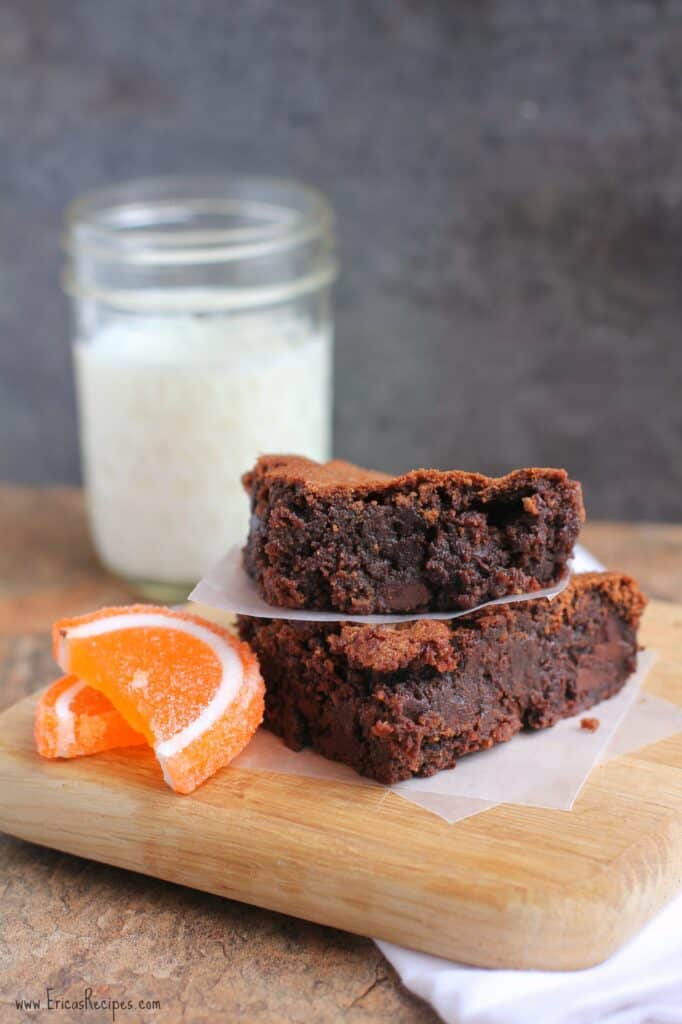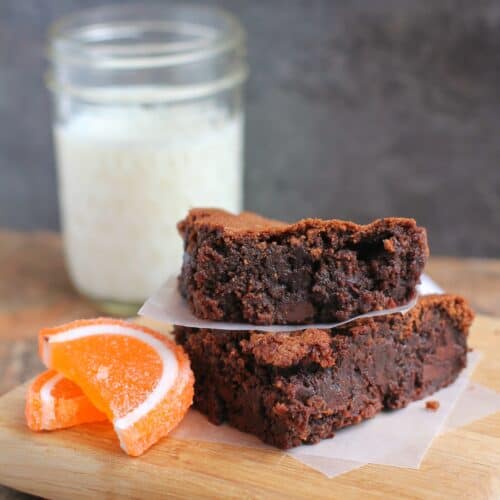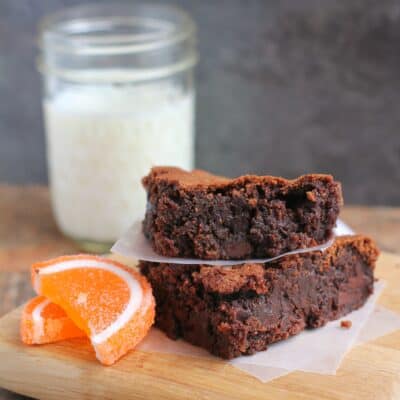 Blood Orange and Dark Chocolate Brownies
Ingredients
¾

c

unsalted butter

softened

1

c

blood orange juice

fresh squeezed or purchased in the juice section at the grocery store

2

c

granulated sugar

2

eggs

1

t

vanilla extract

1

t

instant espresso powder

¾

c

cocoa powder

½

t

kosher salt

1-1/4

c

all-purpose flour

½

t

baking soda

zest of an orange

navel orange is fine

1-1/2

c

dark chocolate morsels

such as Hershey's
Instructions
In a small saucepan, boil the orange juice until reduced to 1/2 c (keep an eye on it or it may boil over). Add the reduced juice to the butter in a large mixing bowl and combine. Mix in the remaining ingredients in the order given. Pour batter into a 8x11-inch pan sprayed with cooking spray. Bake 350°F for 30-40 minutes or until desired doneness. Yield: 24 brownies.
Calorie count is purely an estimate calculated using an online application to serve as a guide and not to be taken as accurate nutritional information. Percent Daily Values are based on a 2,000 calorie diet.
Tried this recipe?
Leave a comment below and let me know!