Parmesan and Herb Crusted Haddock
Parmesan Crusted Haddock with Panko and Herbs is a simple and healthy baked haddock recipe for a perfect weeknight dinner. This creative haddock recipe is served with quick roast asparagus for a complete meal in under 30 minutes.
If you love this recipe and want more haddock, check out my Baked Haddock in Lobster Sauce.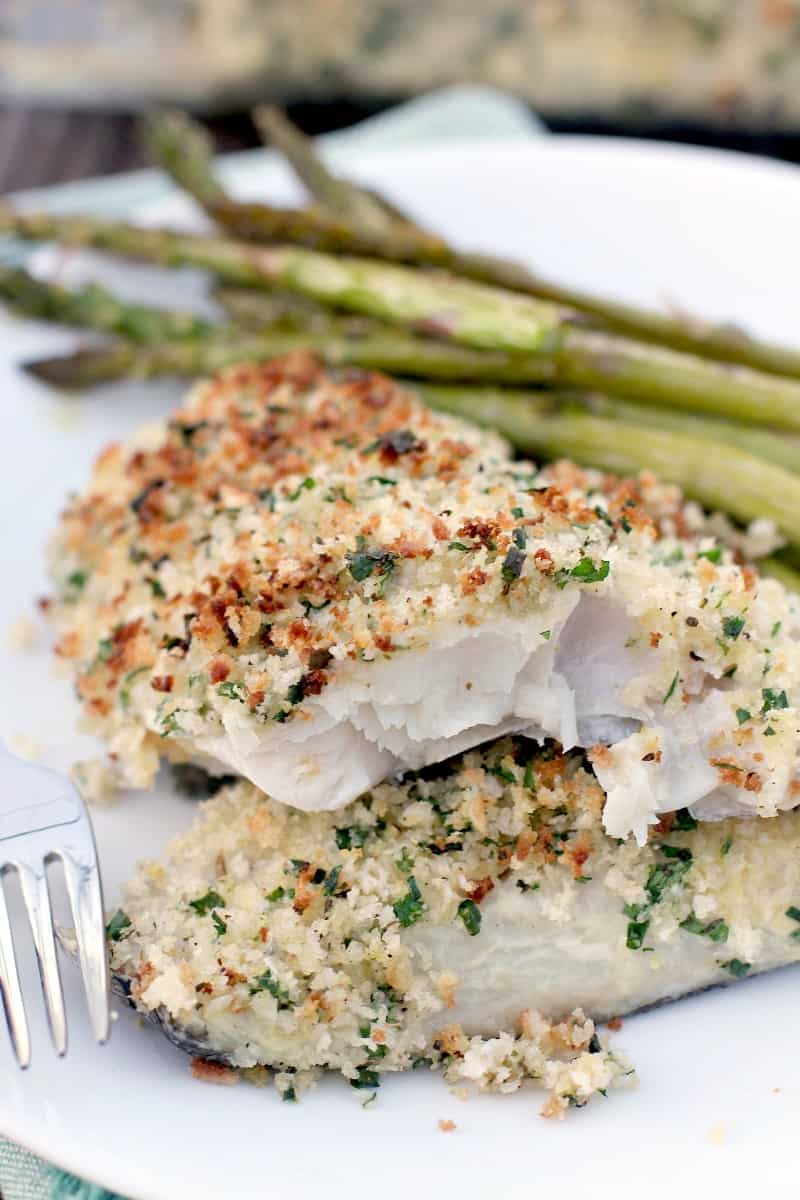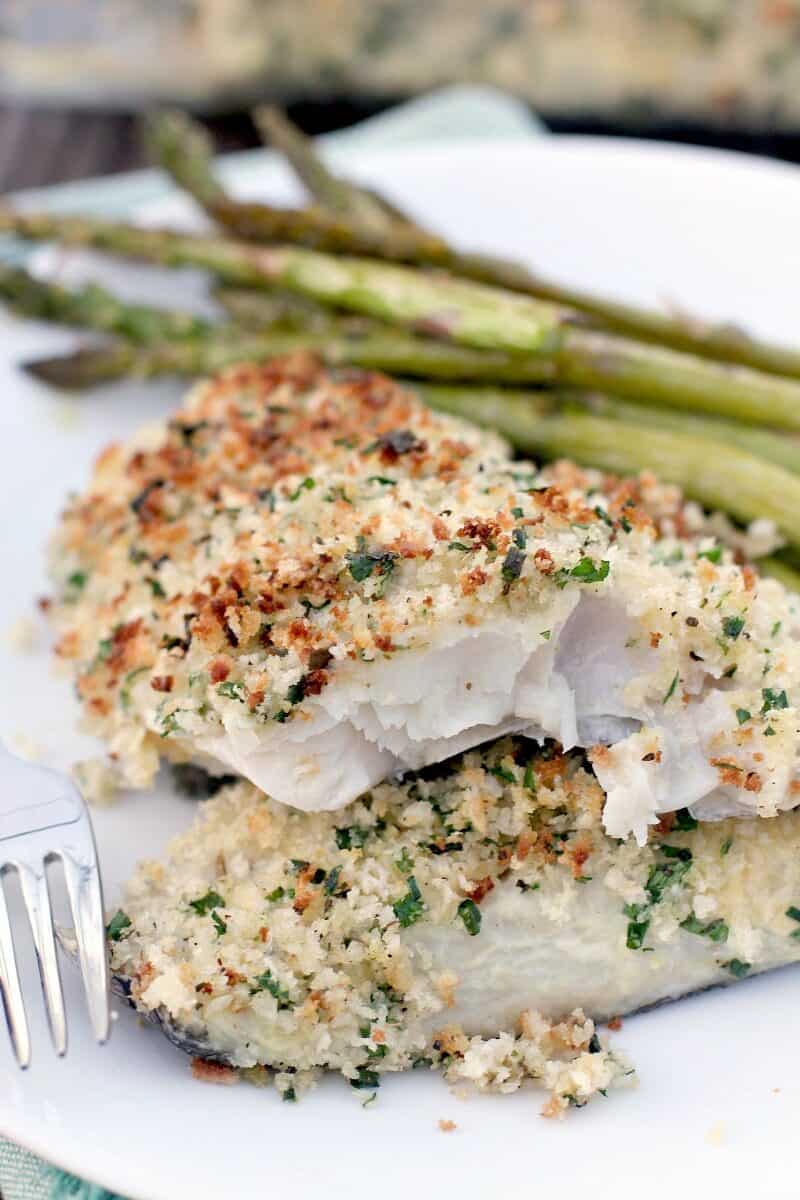 I have written about how in my college days, those first years fending for survival in the kitchen because I did not know squat all about cooking yet, that there were certain go-to foods I ate regularly. Pasta roni and frozen battered fish fillets – they were gawd-awful unhealthy, but they sure hit the spot.
Well, that was ages ago and now I can do so much better. My Copycat Sour Cream and Chive Pasta Roni is my take on the boxed stuff, ready in the same amount of time and clearly with better ingredients.
Fish is harder though because while traditional baked fish is suh yummayyy, often it is with so much butter or crumb toppings and such that it is not much healthier than the stuff from the freezer section. Enter, this parmesan crusted haddock with panko.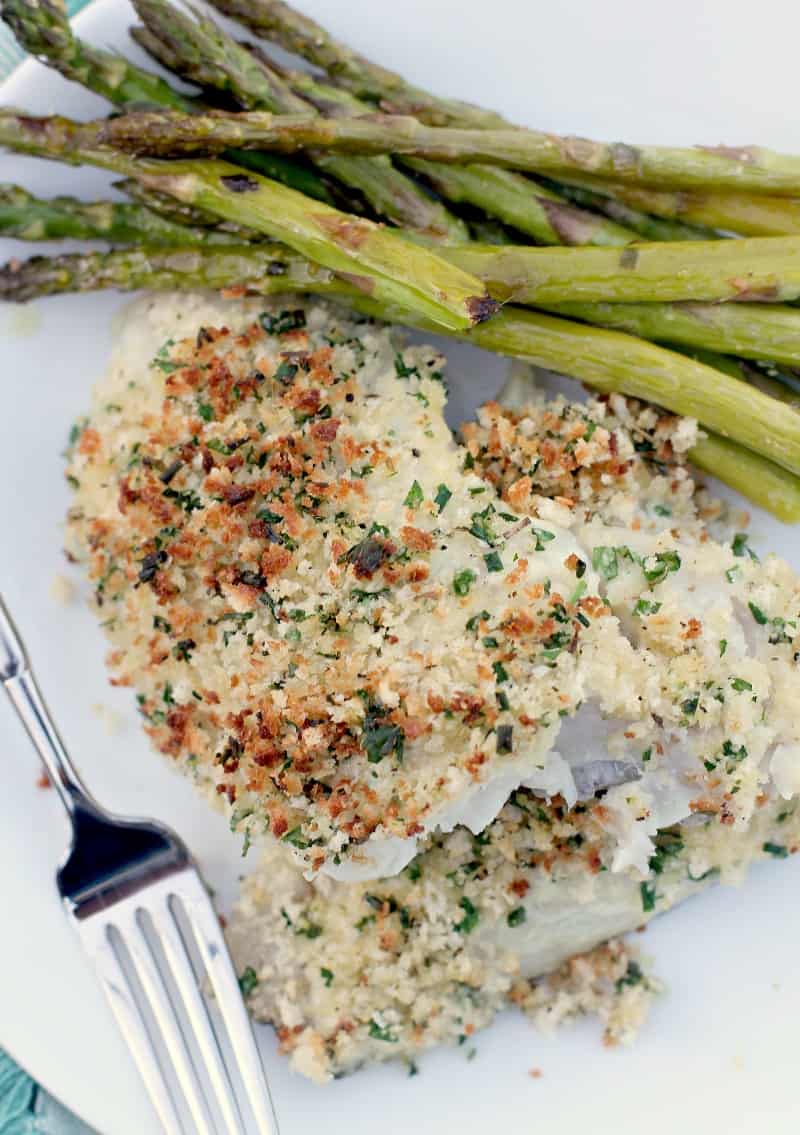 Why this recipe works
So, to tackle this second half of my little challenge to have that throw-back to my college days on a plate, I went with parmesan crusted haddock. I didn't want to fry it – I baked the haddock with panko for a delicious crunchy topping.
Because everything is better with a crunchy topping right? And thus, I got my luscious crispy fish, but kept it light.
This easy recipe for parmesan crusted haddock with panko breadcrumbs topping and fresh herbs is ready so quickly that this makes for a perfect option for a weeknight dinner. And I included direction for super simple roast asparagus to keep this a complete meal.
First, we prep our asparagus and get it roasting in the oven. While that is happening, we prepare the haddock. Asparagus comes out of the oven, haddock goes in, and within minutes our meal is ready.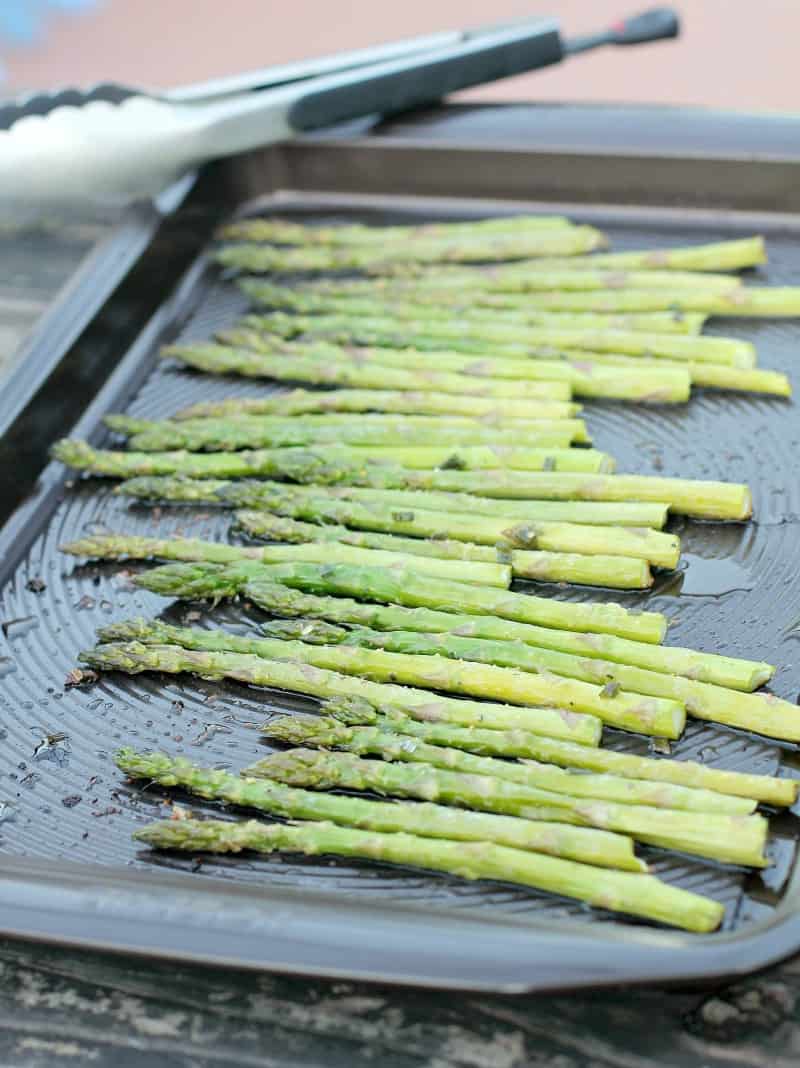 What does haddock taste like?
If you have never had haddock, it is very similar to flounder in flavor, maybe a touch more assertive. Basically, if cod and flounder had a baby, it would be haddock.
Haddock is eaten with the skin on and is a beautiful, mild, white fish. It cooks very quickly and, hence, haddock is very easy to overcook – at which point it will become mushy.
So the best ways to prepare haddock recipes are just to keep them simple – a quick bake or broil. Maybe sauce it up with a little au gratin or lobster sauce if you are so inclined. Haddock is a very tasty, very light, healthy fish.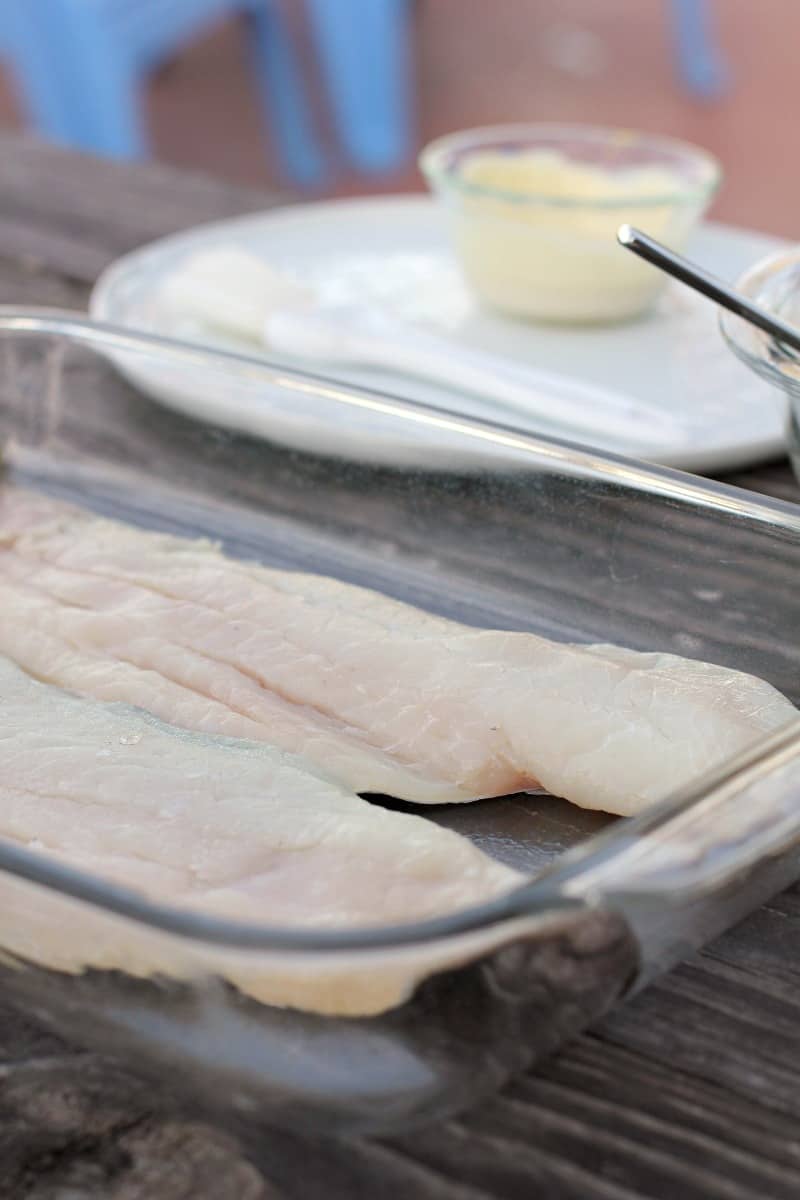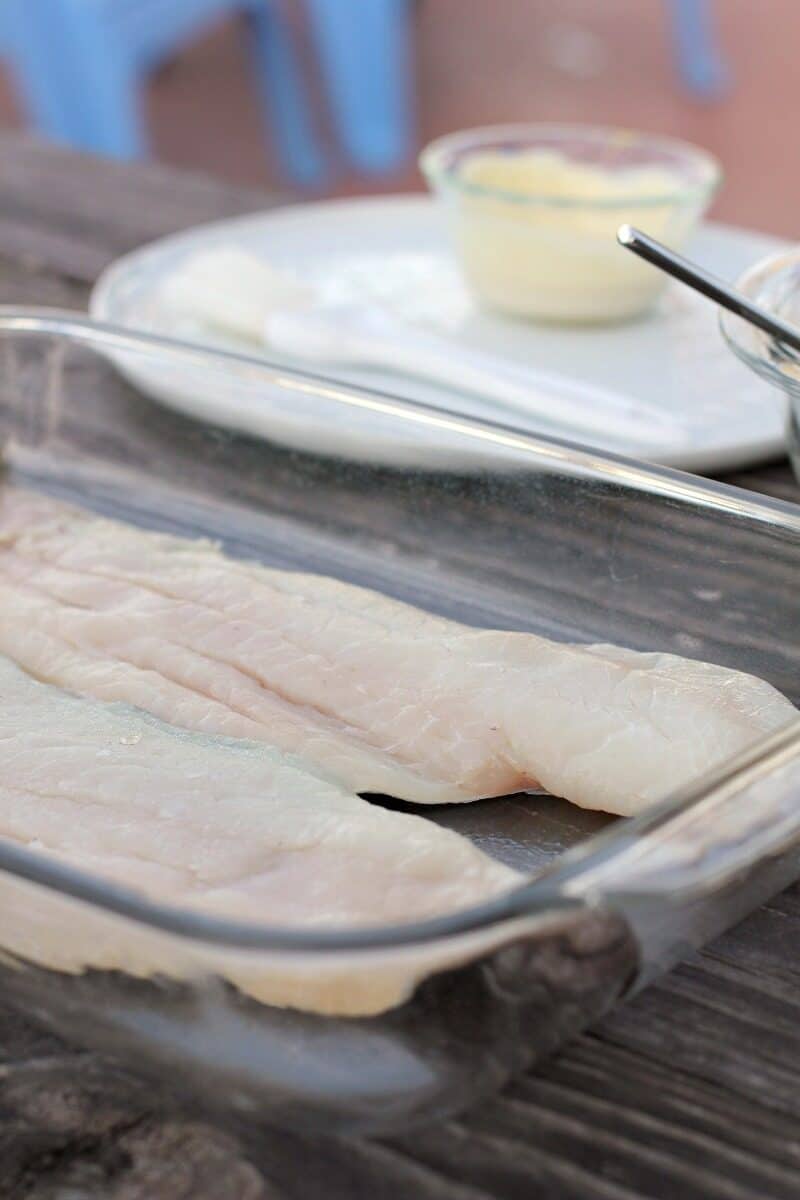 The ingredients
Ingredients for simple roast asparagus
Asparagus spears. Snap or cut off the woody ends. I prefer asparagus spears a little on the thicker side when roasting.
Extra virgin olive oil. Olive oil is what helps make the asparagus get awesome deliciously roasted.
Seasonings: kosher salt, fresh cracked pepper, and salt-free garlic and herb seasoning. Substitutions would include simple garlic powder, garlic and herb seasoning with salt (in which case you may want to cut back or omit the kosher salt), or any vegetable seasoning blend of choice.
As far as amounts of seasonings to use, I do not provide any. Just a couple pinches of each (probably in the 1/4 teaspoon range) will suffice. I am a heavy salter, so I like my asparagus salty and go a little heavier with the salt.
More easy dinner recipes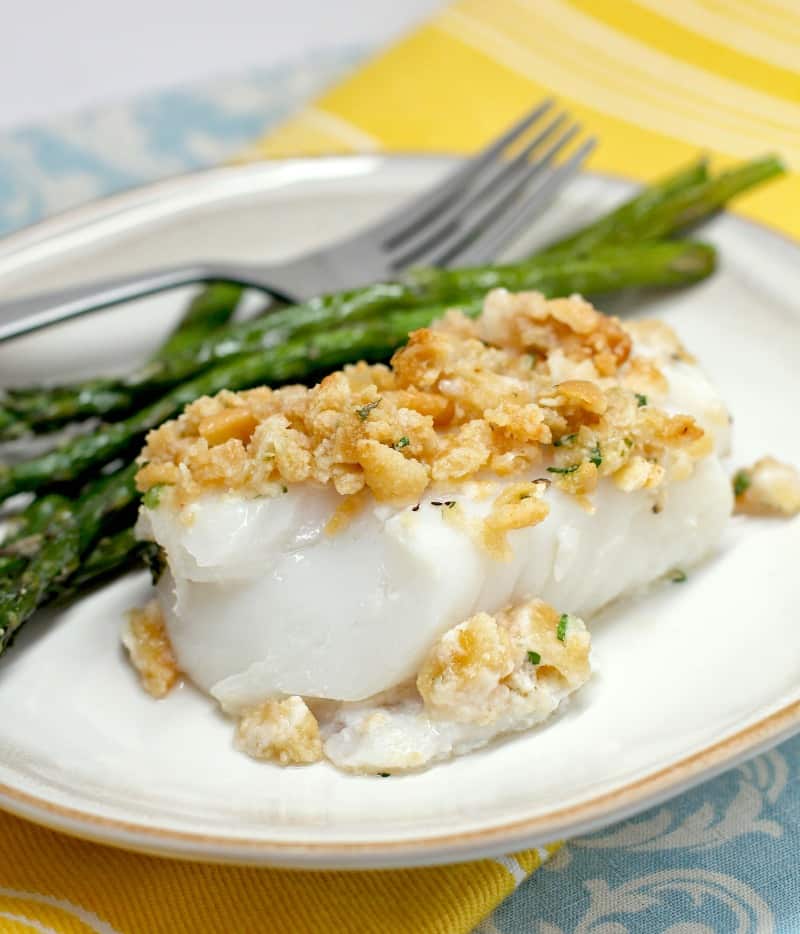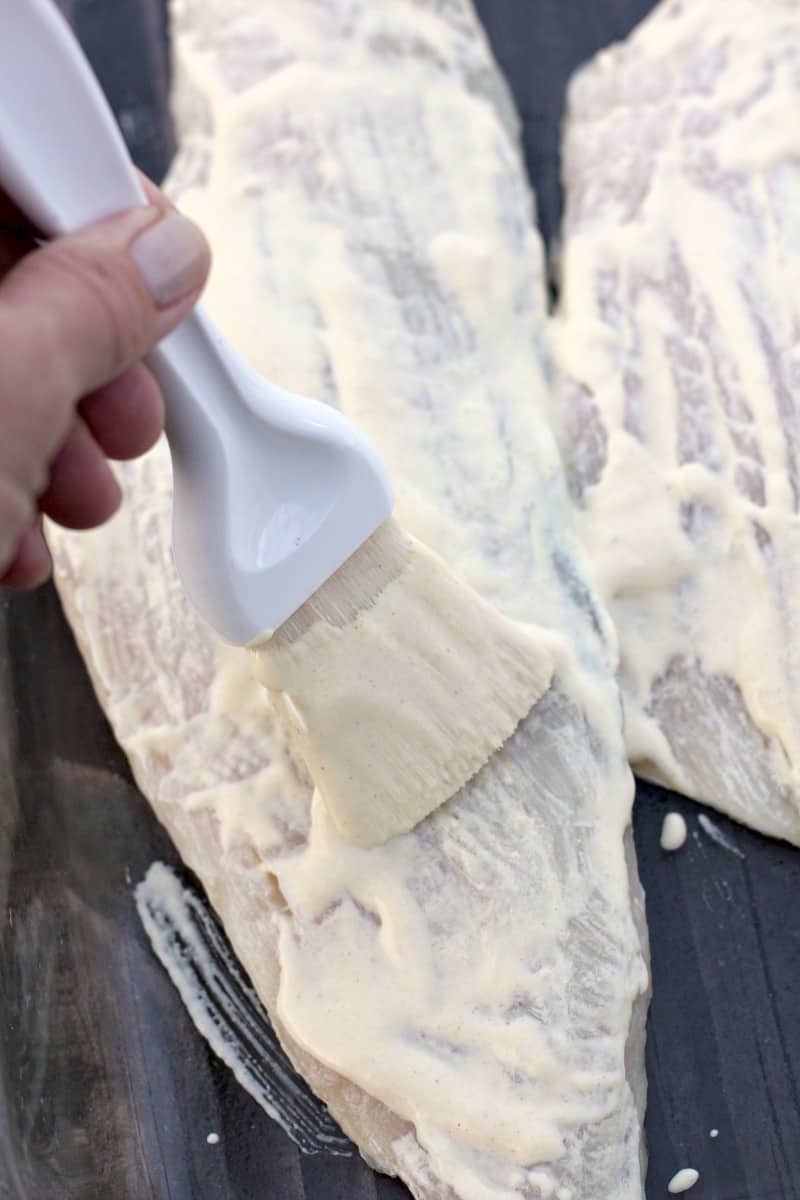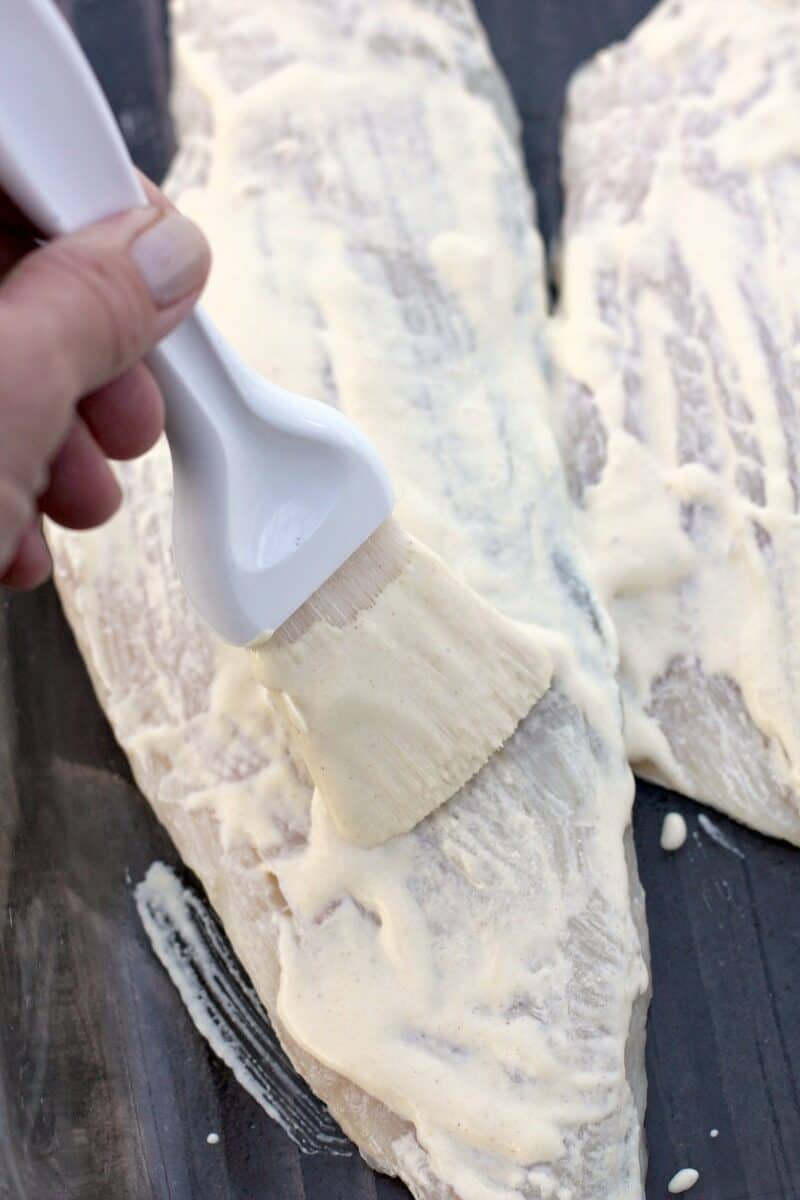 Ingredients for parmesan crusted haddock
Haddock fish filets. Haddock is available seasonally. If not available, this recipe may be adapted for plenty of other white fish including cod, flounder, orange roughy, and grouper.
Dijon mustard. Dijon brings flavor and helps be the "glue" to hold the panko herb topping on the fish.
Heavy cream. And I call this recipe healthy? Well yeah, because we are only using a bit of cream, but if that bit is a concern, simply substitute 1 Tablespoon milk or 2 Tablespoons full fat coconut milk from a can.
Plain panko breadcrumbs. With their larger flakes, panko are lighter in calories than regular breadcrumbs.
Fresh chives.
Fresh Italian flat-leaf parsley.
Herbs de Provence blend. You can get more explanation about

Herbs de Provence here

. Find it in the seasoning section of the grocery store.
Freshly grated Parmigiano-Reggiano cheese. Only 1 tablespoon is needed because parmesan is so rich in flavor.
Kosher salt.
Fresh cracked pepper.
Extra virgin olive oil.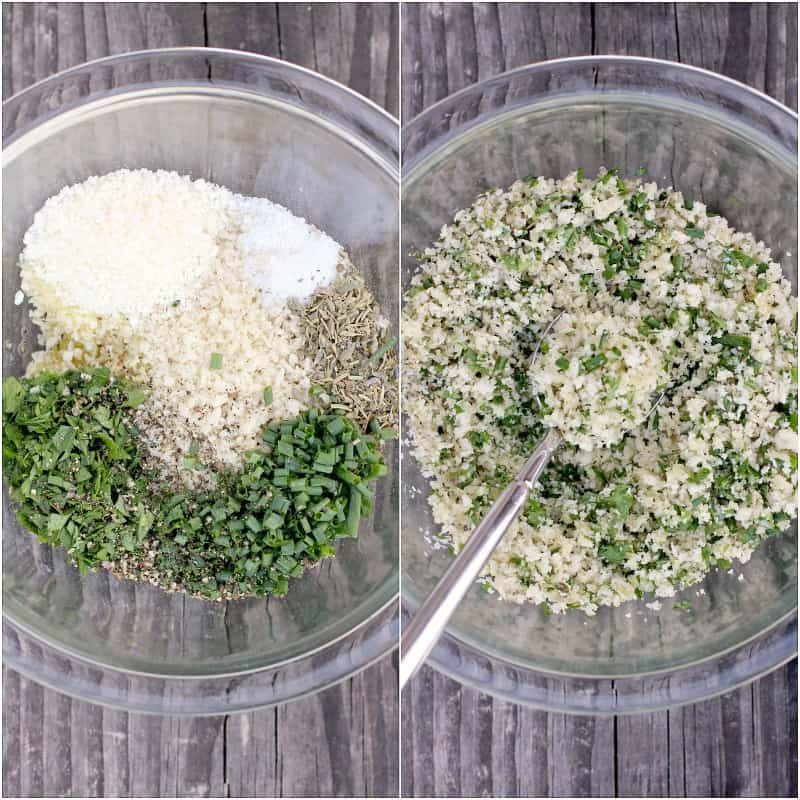 The method
Cook the asparagus
Simple roast asparagus is just that: asparagus spears prepared simply in olive oil and seasoning, then roasted in the oven.
We prepare our haddock and get it ready to cook while the asparagus is cooking to save time.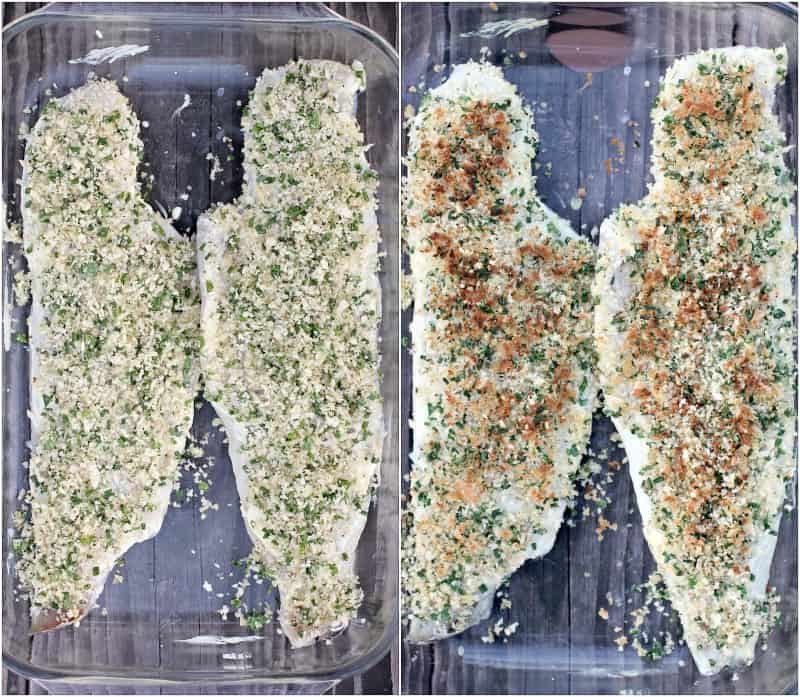 Cook the baked haddock with panko
While the asparagus is cooking, we combine our Dijon mustard and cream and brush that onto the fish. Then, we mix the remaining ingredients to make the panko topping with parmesan and herbs and top the fish.
Put in the fish to bake a couple minutes until it is about done, then we finish under the broiler to golden up the panko topping. Done!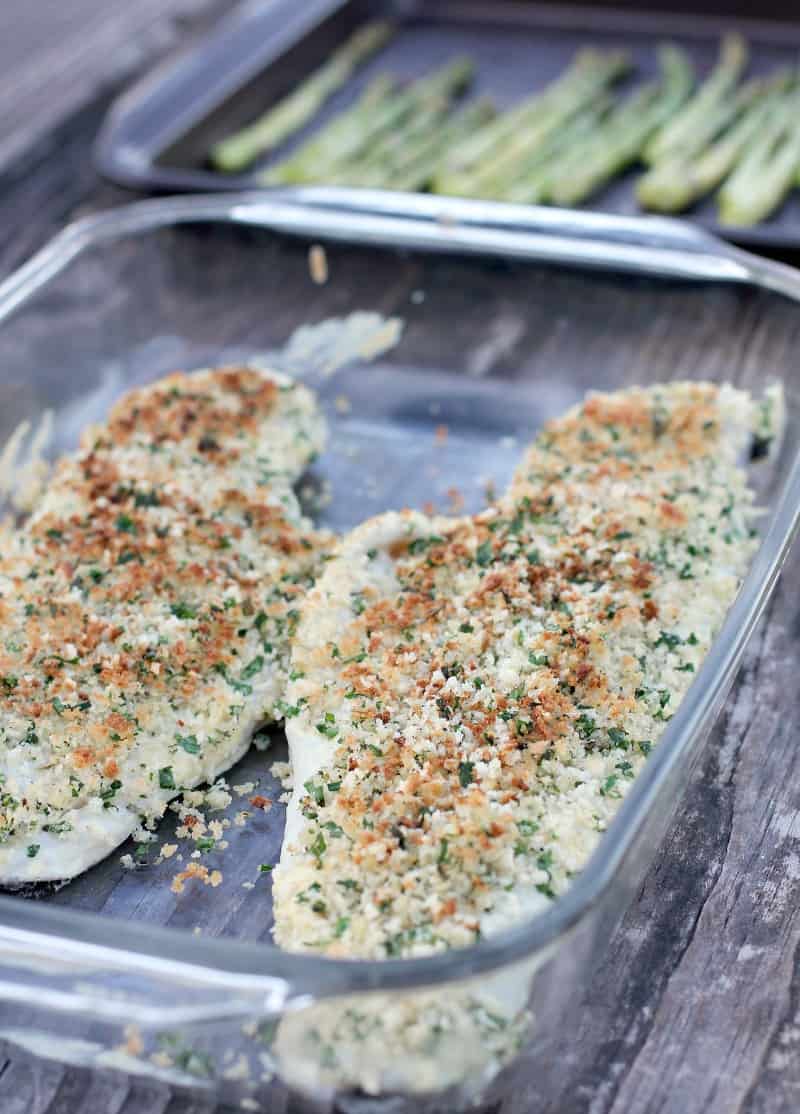 Tips
Fish is done cooking when it flakes easily with a fork. This means that a fork will insert, twist, and lift up a "flake" of meat easily.
Overcooked white fish gets a mealy, mushy texture. Since haddock cooks quickly, it is important to watch it to ovoid overcooking.
Other white fish (cod, flounder, grouper, etc) may be substituted if haddock is not available; however cook time may have to be adjusted depending on the thickness of the fish.
Once under the broiler, the panko topping will brown quickly. Don't go anywhere!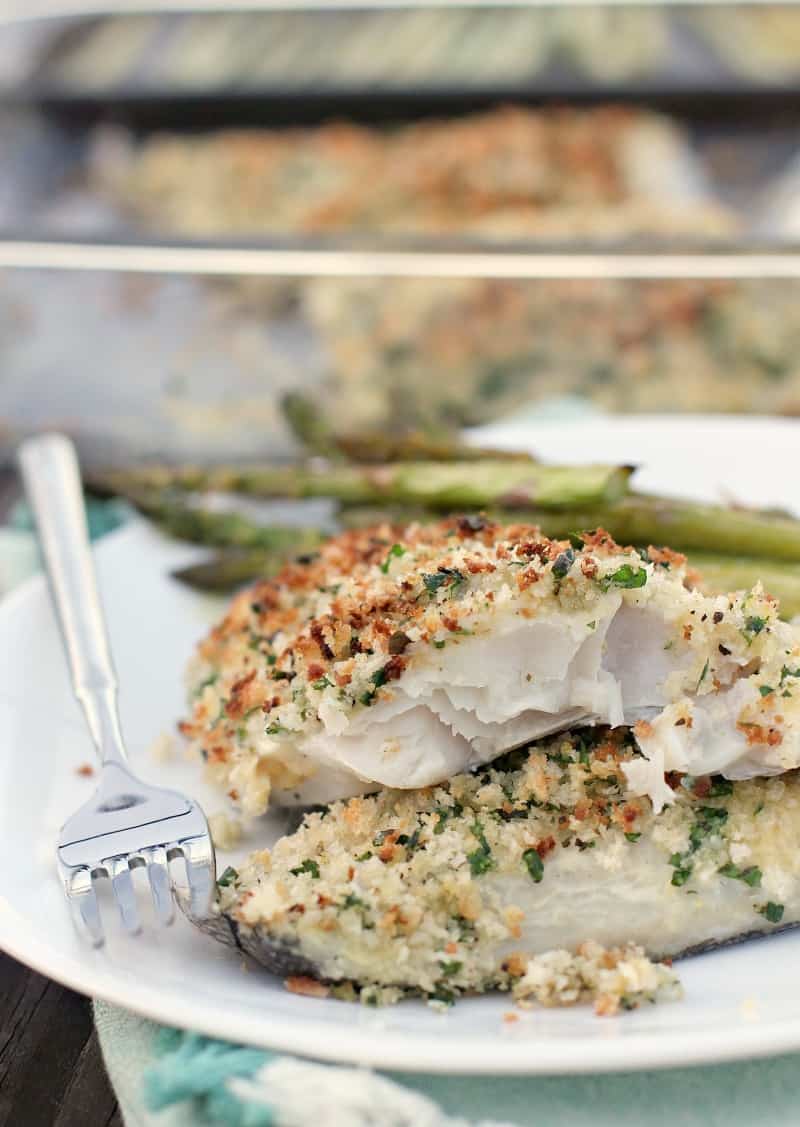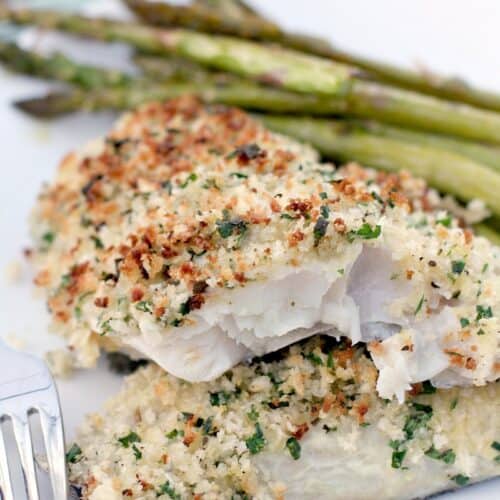 Parmesan Crusted Haddock with Panko and Herbs
Parmesan Crusted Haddock with Panko and Herbs is a simple and healthy haddock recipe for a perfect weeknight dinner. This creative haddock recipe is served with quick roast asparagus for a complete meal in under 30 minutes.
Ingredients
For the Roast Asparagus
1

lb

asparagus spears

woody ends trimmed or snapped off

1

Tbsp

extra virgin olive oil

salt-free garlic and herb seasoning

substitute suggestion: garlic powder
For the Parmesan Crusted Haddock with Panko and Herbs
Instructions
For the asparagus
On a rimmed bake sheet, lay the asparagus. Drizzle with olive oil, and season well with salt, pepper, and seasoning.

Bake until spears are tender but not soft and tips are slightly charred, approximately 15 minutes at 400°F.
For the haddock
While the asparagus spears are cooking, prepare the fish. Lay the haddock out on a bake sheet, skin-side down.

In a small bowl, combine the Dijon and cream. Brush the top of the fish with the Dijon-cream mixture.

Separately in a bowl, combine the panko breadcrumbs, chives, parsley, Herbs de Provence, parmesan, salt, and pepper. Stir in the olive oil. Transfer to a plate.

Take each fish filet, invert, and press the side brushed with the Dijon-cream mixture into the panko-herb mixture. Place back on the bake sheet, skin-side down and panko-coated top up. If desired, you can sprinkle any leftover panko over the fish as well.

Bake at 400°F for 6-7 minutes until fish just flakes with a fork (see Notes). Remove fish from the oven, switch to broil, and broil the fish briefly, 1 inch from the heat, until the crumb topping is lightly browned.
Notes
If your fillets of haddock are thin, cook 6 minutes before switching to broil. If fish is thicker, then cook 7 minutes. Fish is cooked when it flakes easily with a fork – we want the fish to cook just to that point, then finish under the broiler.
Because of the olive oil, the panko crumbs will toast quickly under the broiler so keep watch on it. One inch under the broiler, they will brown in under a minute.
Estimated calorie count is for the haddock. The roast asparagus is 37 calories per serving.
Nutrition
Calories:
215
kcal
(11%)
|
Carbohydrates:
10
g
(3%)
|
Protein:
23
g
(46%)
|
Fat:
8
g
(12%)
|
Saturated Fat:
3
g
(19%)
|
Monounsaturated Fat:
2
g
|
Cholesterol:
93
mg
(31%)
|
Sodium:
359
mg
(16%)
|
Potassium:
15
mg
|
Vitamin C:
2
mg
(2%)
|
Calcium:
30
mg
(3%)
Calorie count is purely an estimate calculated using an online application to serve as a guide and not to be taken as accurate nutritional information. Percent Daily Values are based on a 2,000 calorie diet.
Tried this recipe?
Leave a comment below and let me know!