Healthy Frittata with Smoked Salmon, Baby Kale, and Sweet Potato
Smoked salmon and cheese paired with sweet baby kale and potato make this healthy, delicious Healthy Frittata with Smoked Salmon, Baby Kale, and Sweet Potato truly special.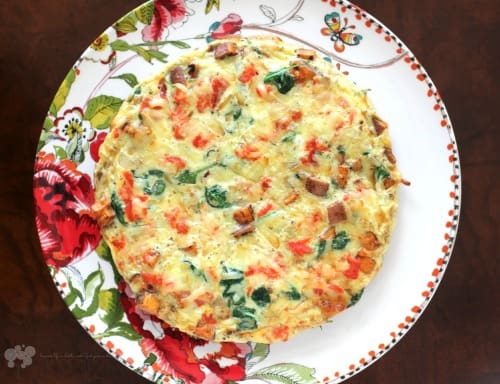 What, right before Christmas I'm posting something super healthy? Yep, I am going to get you thinking ahead to after the par-tay …but also because this is what I am eating right now.
And I am going to keep on eating it again and again. Because this frittata is amazing.
Whyyyy am I eating so healthy during the holidays? …cuz it's triathlon time again! What the hell was I thinking!. …My first Half Ironman. 70.3 miles of fun lie just a couple weeks ahead. …And I am not ready. ..sigh… I got thrown off by Thanksgiving and family and work and weather and stuff. Excuses, excuses.  …and now the realization is setting in. I can do the distances individually (1.2 mile swim, 56 mile bike, and half marathon run), but we will see if I can do them together or if I bonk.
At the very least, it won't be pretty. But such is triathlon.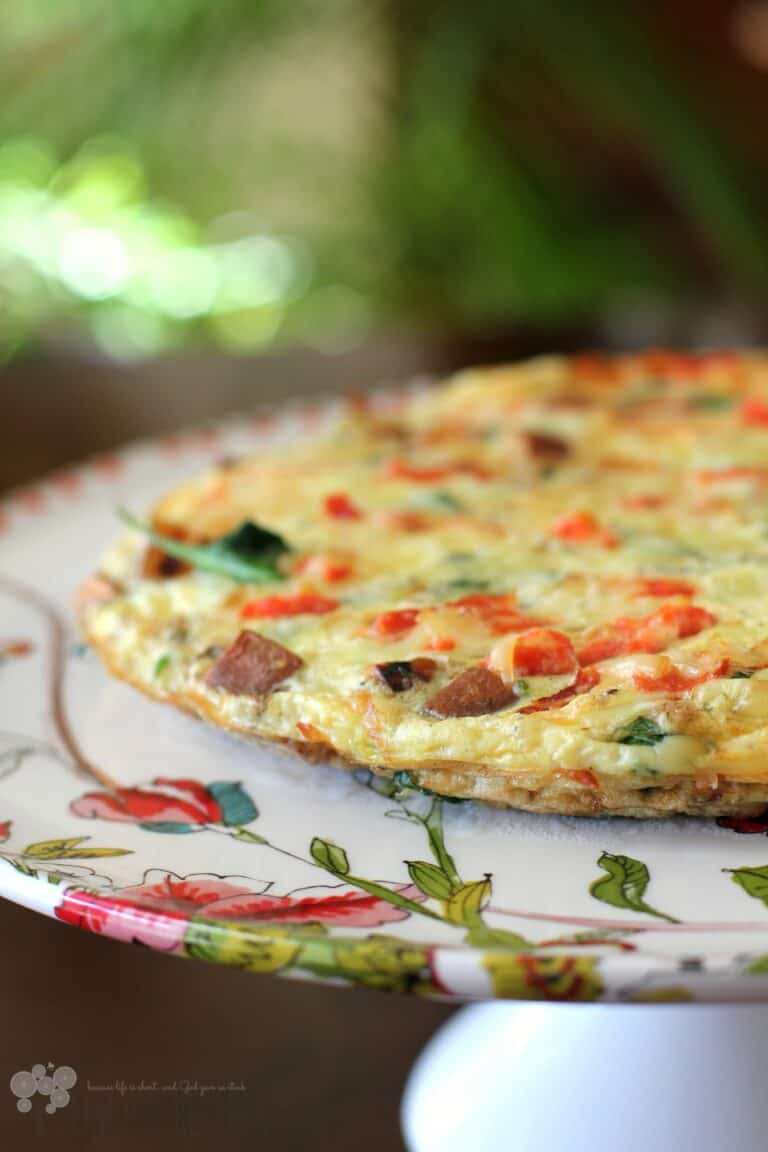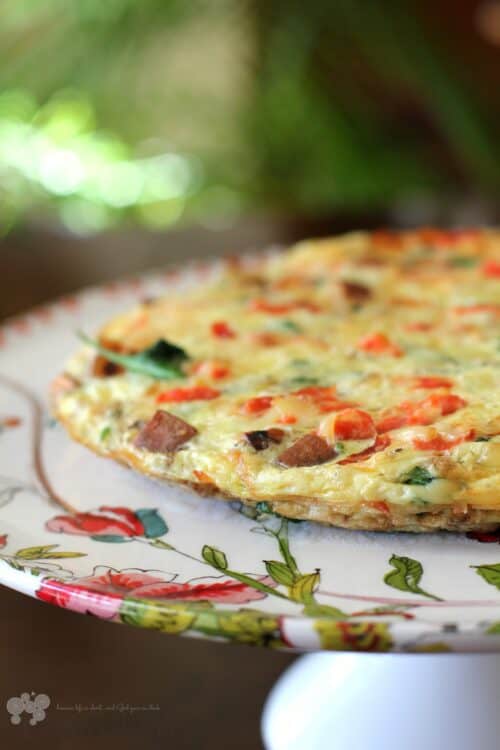 Any-hoots, what did I do here! This frittata is just about one of the healthiest and tastiest things I've made.
Healthy carbs from the sweet potatoes, alkalizing baby kale, and healthy fat from the olive oil and salmon. And protein – lots of it (as in 23% recommended daily allowance).
Also, 10% potassium, 45% vitamin C, 8% iron, 7% calcium, and 161% vitamin A …boom. All for only 156 calories a serving. Nutritional awesomeness.
And then there's the flavor. This Healthy Frittata with Smoked Salmon, Baby Kale, and Sweet Potato is just so delicious.
Really truly. If you've never tried baby kale, you have got to! It is the not-bitter-version compared to bitter, grown-up kale. And it is not hard to find – got mine at Walmart of all places.
But it's the sweet potato sweetness combined with the smoky smoke from both the salmon and the cheese that is sooo surprisingly YUM! So, breakfast or lunch. Brunch or brinner. Make this and be healthy happy.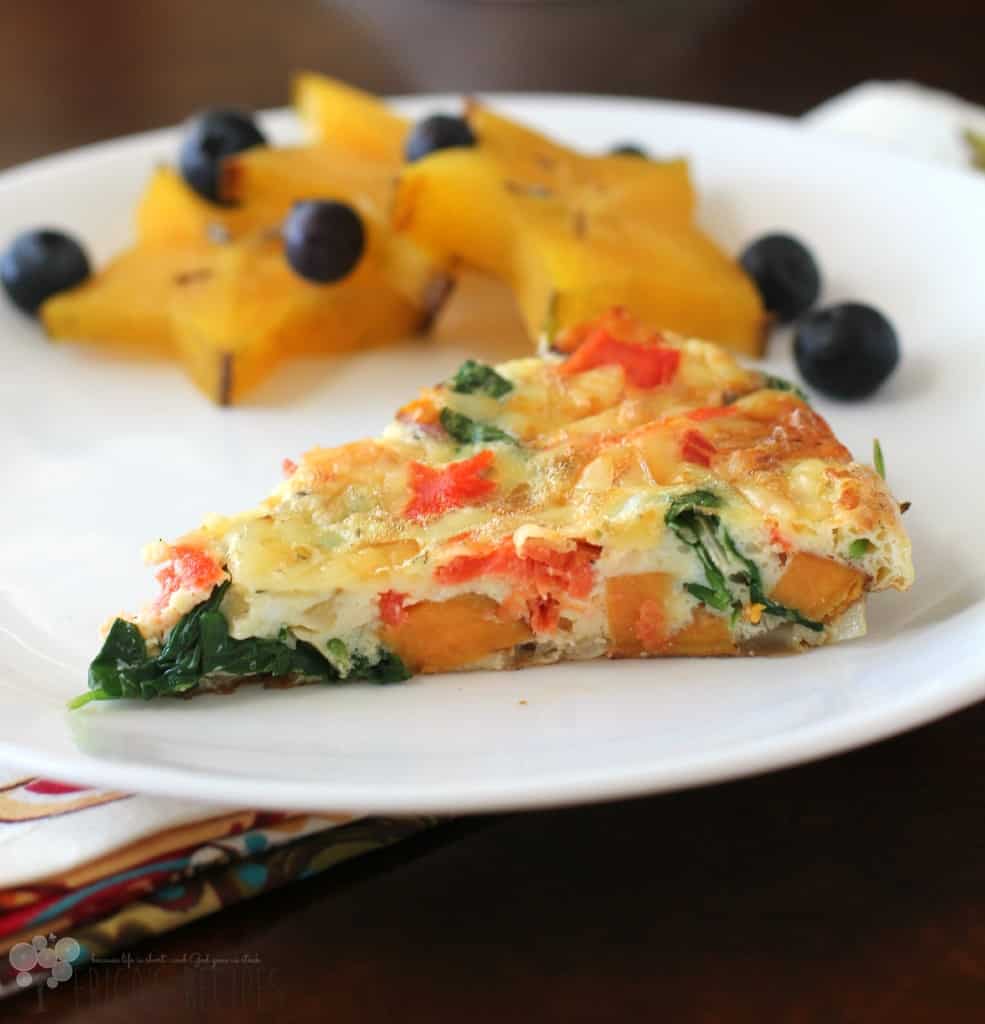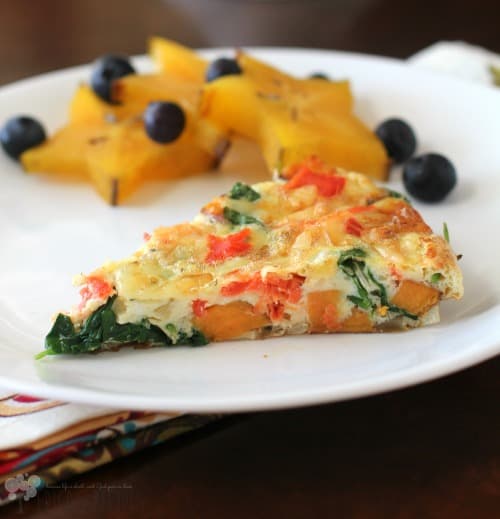 If you love smoked salmon and frittatas, also check out my Vegetable Frittata with Smoked Salmon.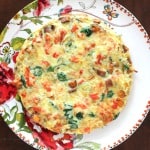 Healthy Frittata with Smoked Salmon, Baby Kale, and Sweet Potato
Ingredients
2

t

extra virgin olive oil

plus olive oil cooking spray as needed

1

medium sweet potato with the skin

1/2" dice (~2 c)

½

c

scant diced onion

1

clove

garlic

2 

c

packed fresh baby kale leaves, roughly chopped

2 

oz

smoked salmon

flaked with a fork

3

whole eggs

3

egg whites

pinch

kosher salt

pinch

fresh cracked pepper

pinch

dried dill

½

c

shredded smoked Gruyere cheese
Instructions
Put the oven broiler on.

Heat a medium, nonstick skillet over medium heat. Add the olive oil and sweet potatoes. Saute, tossing occasionally until potatoes are browned and fork tender (watch them carefully and reduce the heat if necessary - because of the sugar in sweet potatoes, they can burn easily).

Add the onion, garlic, and a little pinch of salt. Spray additional cooking spray for the onions. Saute until onions are translucent. Add the baby kale with another spritz of cooking spray, and cook, tossing often, until leaves are very wilty. Sprinkle the flaked salmon over the vegetables.

In a bowl, whisk together the eggs, egg whites, salt, pepper, dill, and cracked red pepper. Gently pour the eggs over the veggies and salmon in the skillet. Layer the cheese on top. Let sit on the stove-top on medium heat for a minute, then pop the skillet into the oven a couple inches under the broiler. Cook 4-5 minutes until eggs are set and top is lightly golden. Remove from the oven and let sit 1 minute. Use a rubber spatula to loosen the frittata and slide onto a cutting board or serving plate. Yields 4 servings.
Calorie count is purely an estimate calculated using an online application to serve as a guide and not to be taken as accurate nutritional information. Percent Daily Values are based on a 2,000 calorie diet.
Tried this recipe?
Leave a comment below and let me know!