Mini apple crisp pie takes an heirloom family apple crisp recipe and adapts it into adorable, mini apple crisp tarts in easy graham cracker tart shells. These individual apple pies can be prepared in advance and reheated.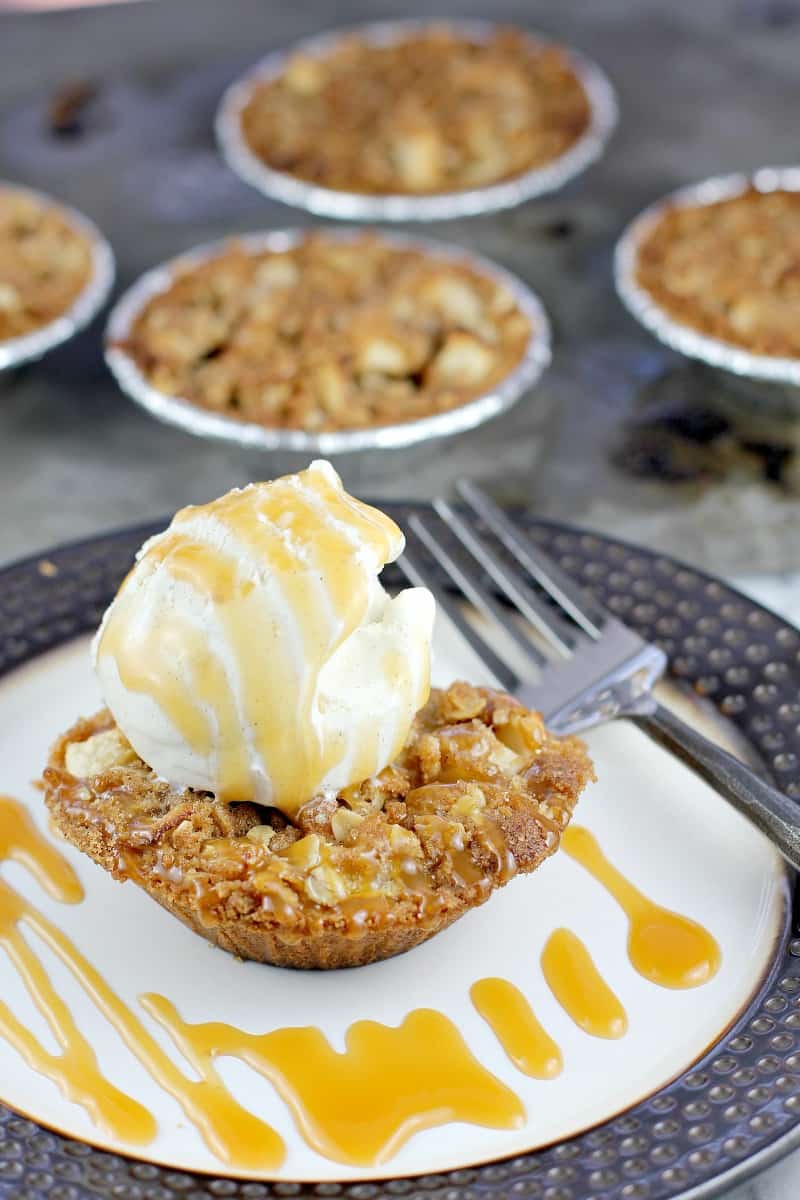 Traditional apple crisp
My Grammy Peggy had delicious recipes for both apple cobbler and apple crisp. The cobbler is perfect as it was (I have not blogged this recipe, so it is not yet available), but I always found that the crisp, though delicious, needed a little help. And so here we are.
Traditional apple crisp is a layer of apples topped with a streusel-like, crumbly, buttery topping with sugar, flour, and oats. It is delicious. But it is also physically quite flat, at least mine was every time I made my grandmother's recipe. Hence, sticking it in individual little shells.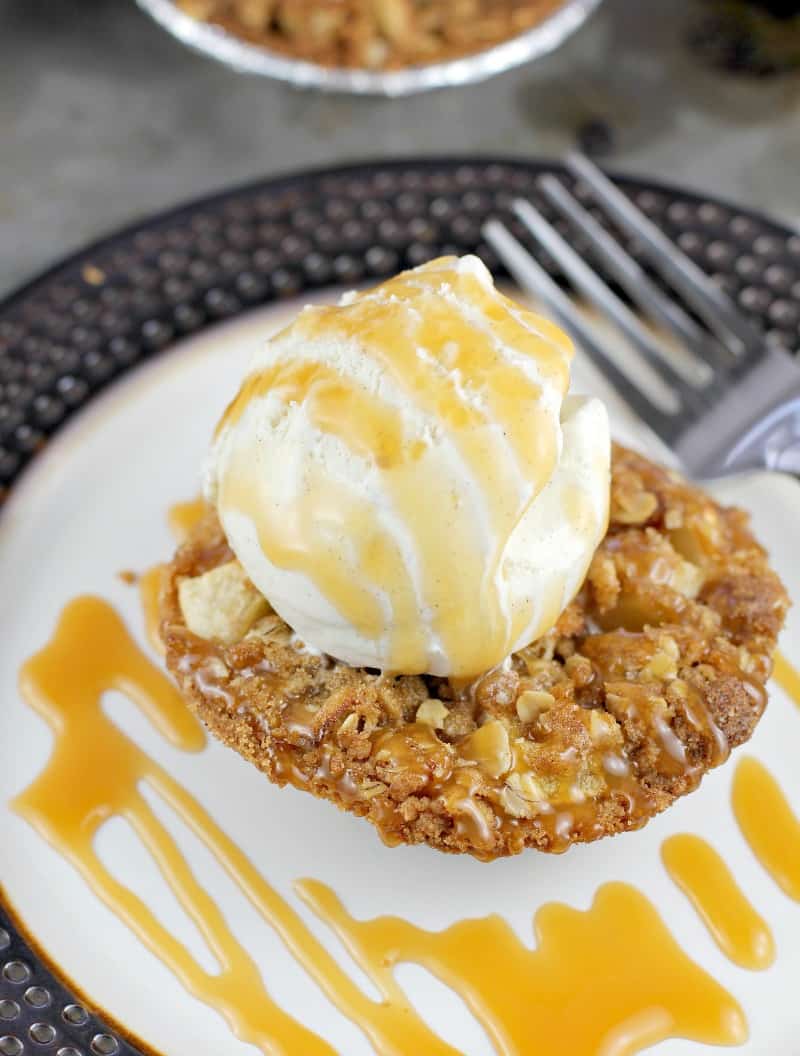 Mini apple crisp pie
I love to put things in individual tarts and servings. I do it all the time especially with savory recipes and party foods.
Fun, individual servings just by the fact that they are a little version make them cool. This line of thinking is exactly what drove me to ultimately stick my grandmother's apple crisp in mini graham tart shells.
The first time I made mini apple crisp pie, I used actual pie crust and metal tart molds. These were also really really good – and if you want to do that, the only difference is that this recipe will make 6-8 and you bake 5 minutes longer. That's it.
However, I came back to revamp this recipe and decided 1) that not everyone has little tart molds lying around and 2) that the graham cracker flavor with the apple crisp is perfection.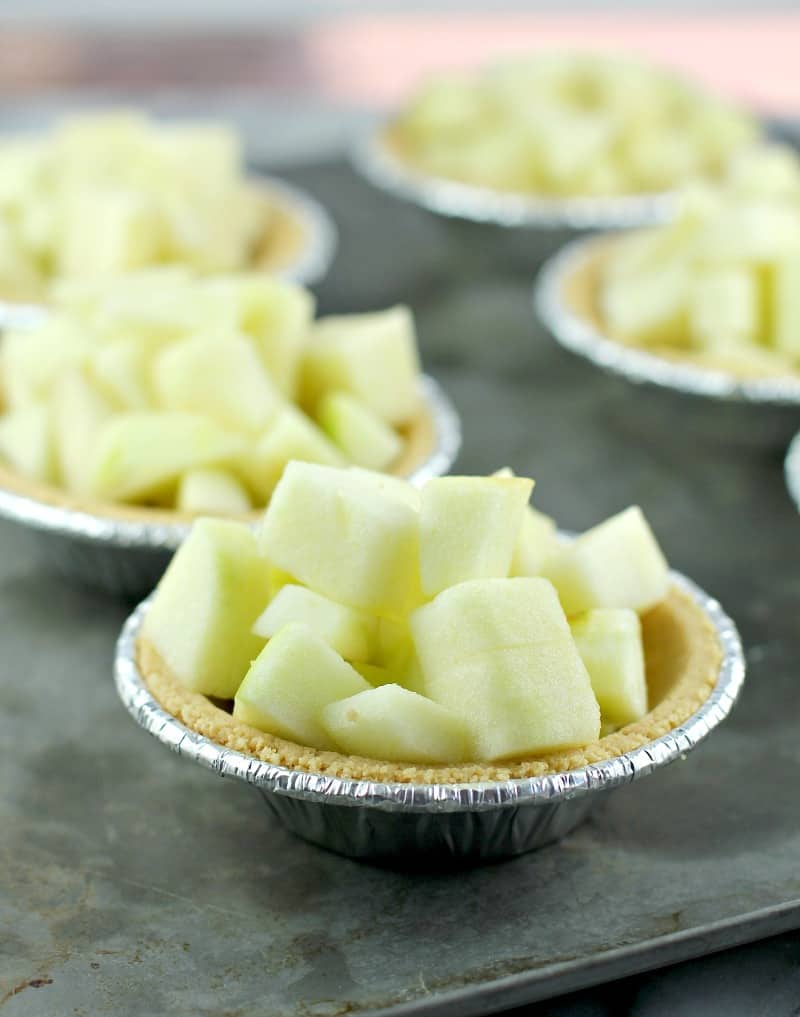 Ingredients
Mini graham cracker tart shells. These are available in the baking aisle. We use two packages, 6 shells each, for this recipe.
Old Fashioned rolled oats.
Flour and unsalted butter. Using unsalted butter is a cooking 101 rule in any recipe, but especially in baking. The flour and butter work together to make the streusel magic happen.
Light brown sugar. Brown sugar and graham cracker crusts make such a fantastic combination of flavor.
Seasonings: ground cinnamon, nutmeg, and kosher salt. I especially love that this recipe uses just the right amount of "spice".
Apples. My New England grandmother always used Macintosh apples, but I find those often unavailable in Florida. So, I normally end up using Granny Smith apples. Be sure to use a fine dice (~1/2-inch) on the apples to get as much as possible to fit in each little apple crisp pie.
Toppings: ice cream and caramel syrup. I love a good vanilla bean ice cream on my apple crisp. And of course caramel and apples are divine.
On the caramel sauce, I am talking about the caramel topping available in the grocery store in the section with ice cream toppings, but if not available, it is super easy to make your own using my caramel sauce recipe.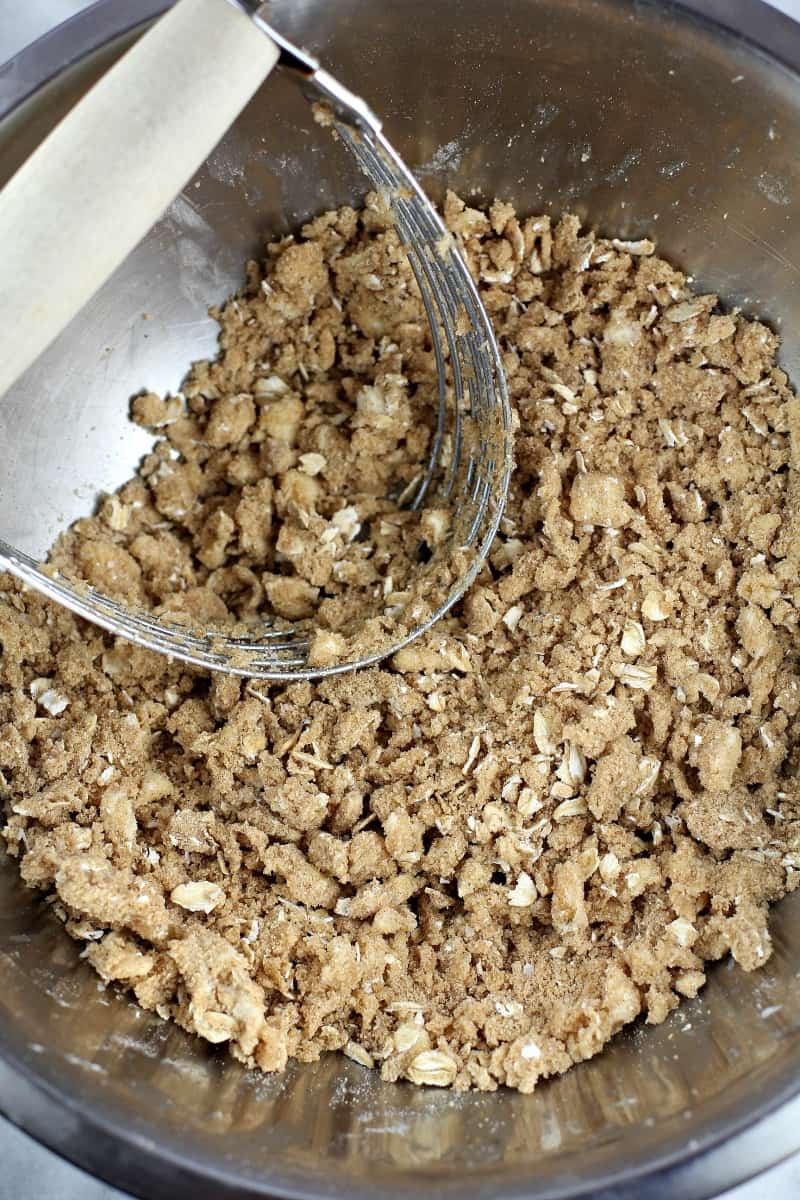 These mini apple crisp pies would be a fantastic addition for brunch with my Christmas Croissant Breakfast Casserole, Southern Buttermilk Biscuits, and mimosas.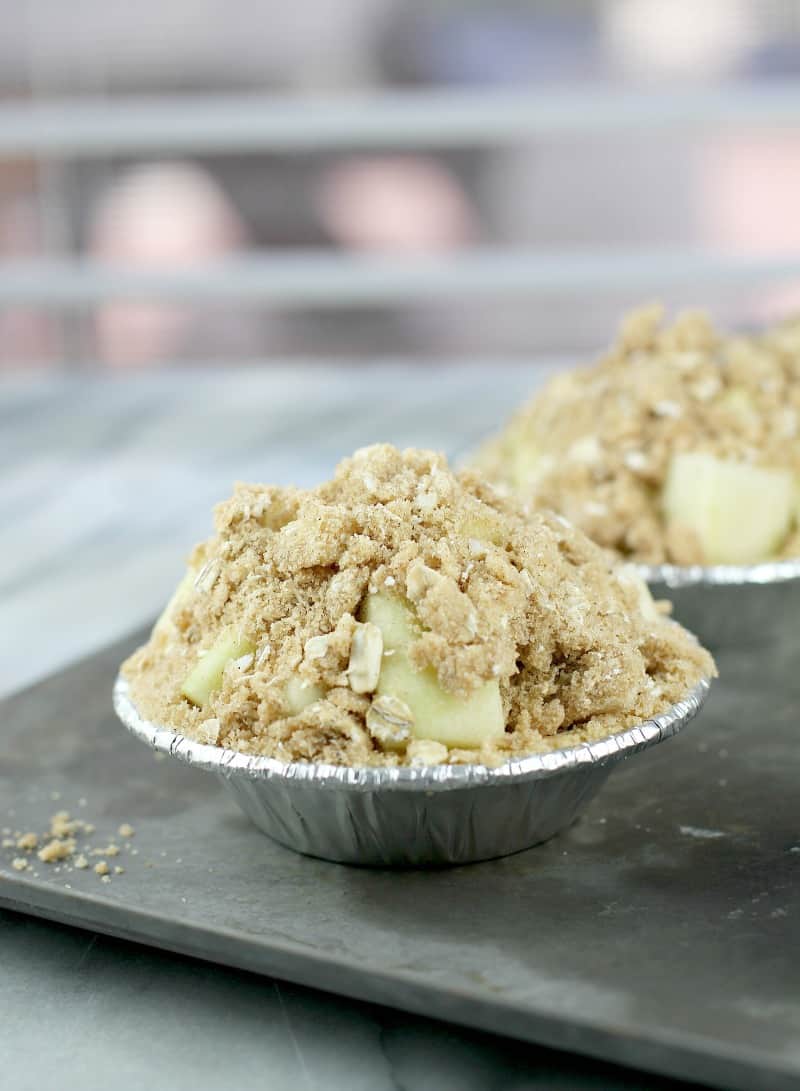 Instructions
Heat up the oven. We want the oven ready to go because we want to start baking while the butter is still cold.
Next we combine the ingredients for the streusel topping. A pasty cutter is the go-to tool for this job to break up the butter and work it into the rest of the ingredients until it is in ~ pea-sized pieces. If a pastry cutter is not available, use a fork.
Fill the mini graham cracker tart shells with diced apple. We want to mound up that apple best we can because as the apple cooks, then especially once out of the oven, the filling will collapse down and be flat with the tart shell.
Top the apple with the streusel mixture. It helps to gently push a bit to get it on there and stuck. I do this by holding each tart directly over the bowl with the streusel and topping. This way, any streusel bits that drop off land back in the bowl and are not wasted.
Bake. Easy enough.
Once done and slightly cooled so we can handle them, then you can take the tarts out of the foil tins if you like. Not required, but it does make presentation better if you care about that sort of thing. See my note in the recipe card for my easy trick to do this using a paper towel.
Mini apple crisp pie can be served warm or at room temperature, with or without ice cream and caramel sauce.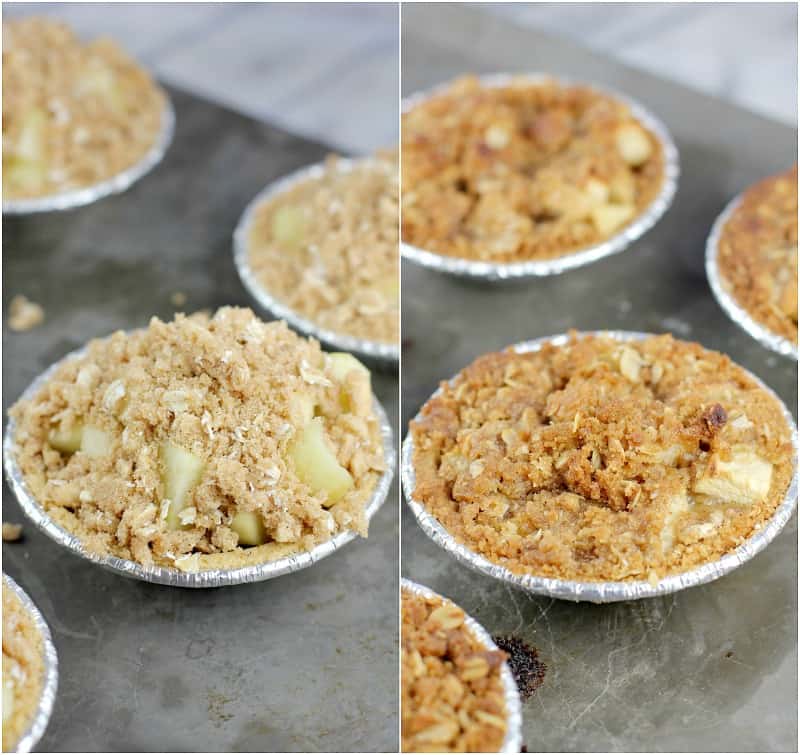 Tips
Be sure to dice the apple into pieces on the small side so we can get at much in each graham shell as we can.
Use cold butter to make the streusel. Once the streusel is made, you can stick the bowl in the fridge until you are ready to proceed if you need to.
These tarts are just as good at room temperature as they are warm, but if too cool then a little zap in the microwave will bring them back to awesome.
Getting the pies out of the foil tins is optional, but if you do just know that these shells are delicate once out of that supporting foil tin. See my Notes in the recipe card for my trick to deal with this.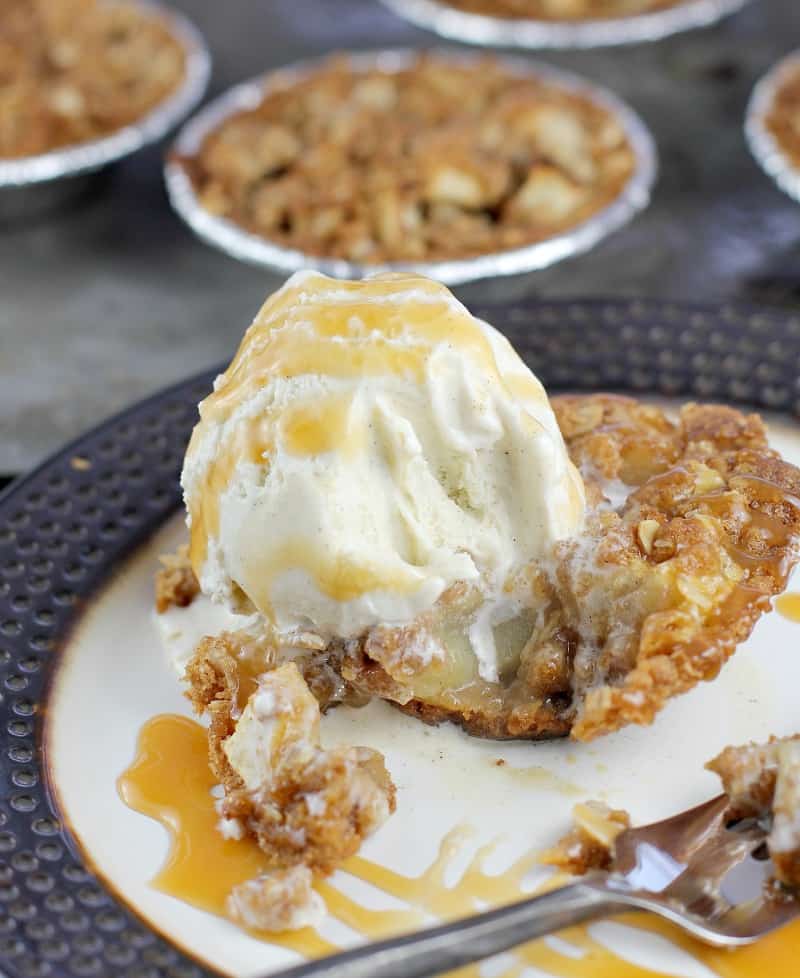 Using a pastry cutter is optimal for the streusel; however, if one is not available, then a fork can be used. Also, clean hands can be used as well, though I do recommend putting it back in the fridge to chill again before proceeding as hands will certainly warm the butter.
I have used both Macintosh and Granny Smith apples in this recipe and I love them both. Macintosh apples are softer and definitely get softer when baked, but my grandmother was a lifelong New Englander and Macs are all she ever used.
On the other hand, Granny Smiths are generally considered a superior apple for baking, the pieces will hold their shape better and not turn to mush. Choose according to your taste.
If the mini graham cracker tart shells are not available, then you have two options. First, you can make a traditional apple crisp where you lay the apples in a bake dish, top with the streusel and bake.
Or you can use mini tart shell molds (available easily online), pie crust dough, and make tarts that way. I've done this – they turn out very similar, just take another 5 minutes to cook. Also, the yield is less because these are a bit larger (~6-8 instead of 12).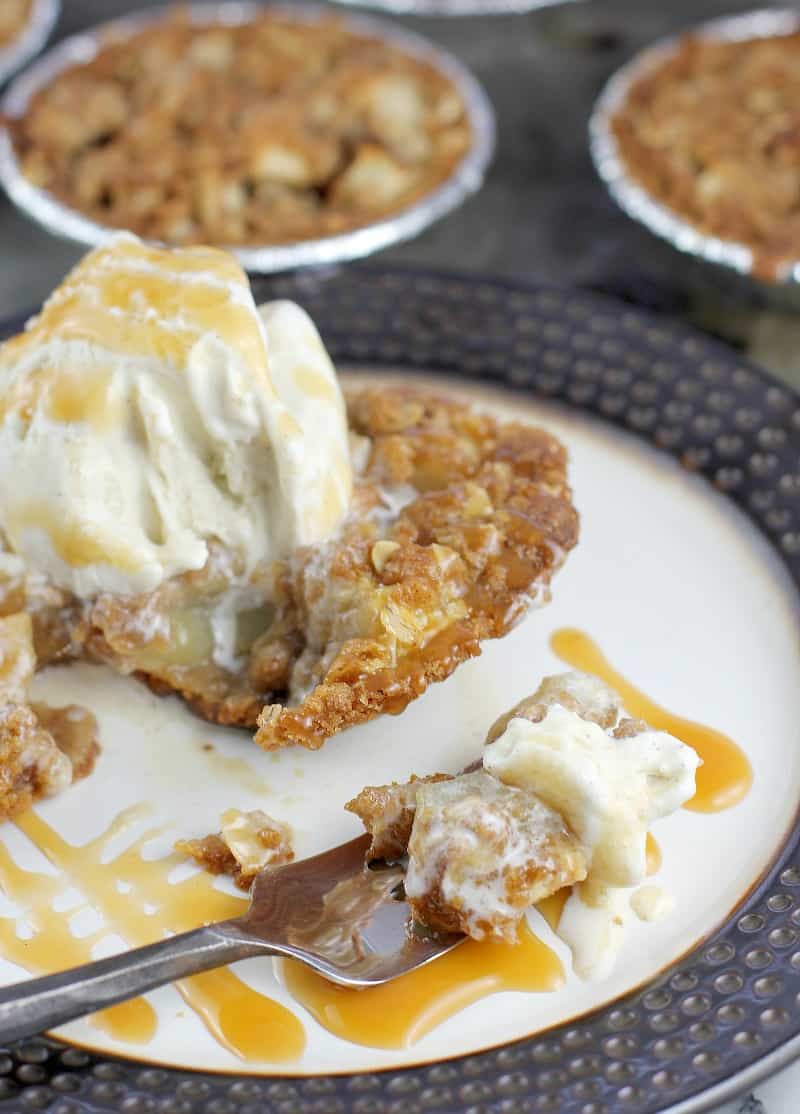 More dessert ideas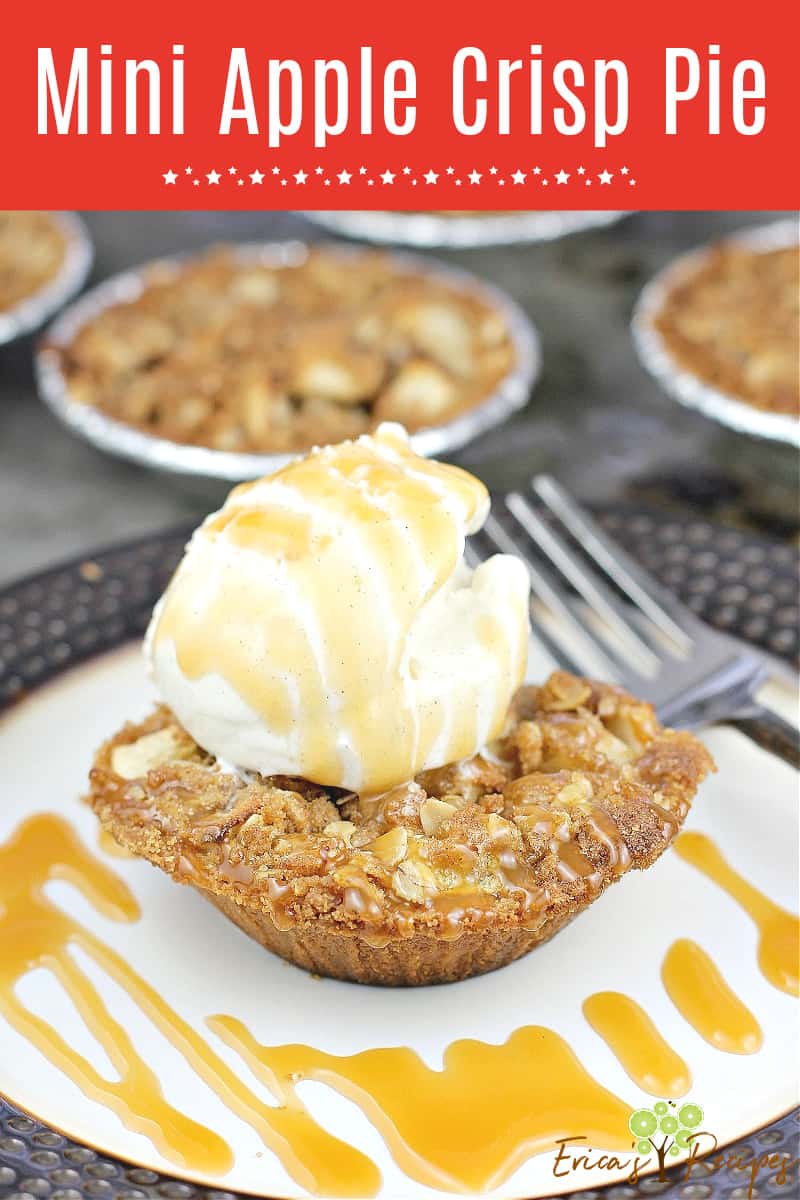 Click the P for Pinterest button to save this recipe. If you make it, come back and tell me! Use the star rating or leave a comment to let me know how it worked for you.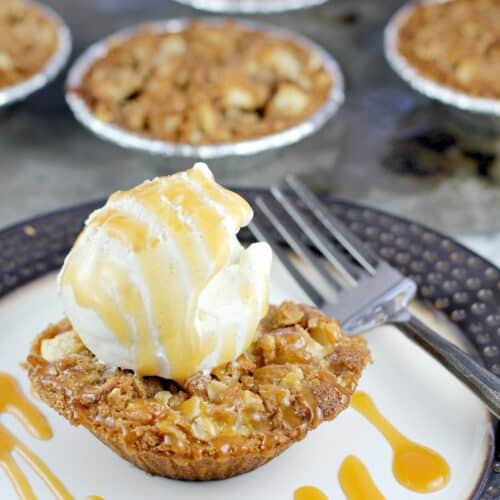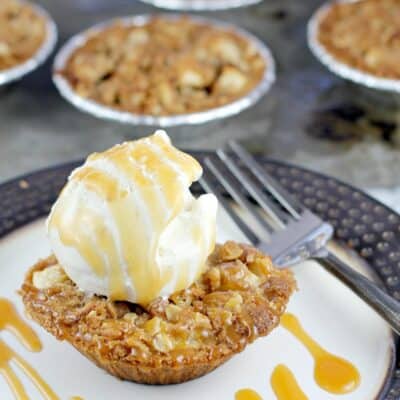 Mini Apple Crisp Pie
Mini apple crisp pie takes an heirloom family recipe for apple crisp and adapts it into adorable, mini apple crisp tarts in easy graham cracker tart shells. These individual apple pies can be prepared in advance and reheated.
Ingredients
12

mini graham cracker shells

2 packages, 6 shells each

¼

cup

Old Fashioned rolled oats

¼

cup

all-purpose flour

4

Tbsp

cold unsalted butter

½

cup

light brown sugar

½

tsp

ground cinnamon

½

tsp

ground nutmeg

pinch

kosher salt

3

large Macintosh or Granny Smith apples

peeled, cored, and diced

toppings: ice cream and caramel syrup
Instructions
In a medium bowl, combine the oats, flour, butter, brown sugar, cinnamon, nutmeg, and salt with a pastry cutter until well-mixed and the butter is broken into little pea-sized pieces.

Remove the graham cracker shells from the packaging (leaving each in its aluminum tin), and place on a bake sheet.

Fill each shell with apple and top each with the flour-sugar mixture.

Bake at 400°F for 25 minutes or until toasted on top and bubbly in the center.

Remove the pies from the foil liners (see Notes below for my trick to do this using a paper towel).

Serve warm or at room temperature topped with ice cream and caramel sauce.
Notes
Calorie calculation is an estimation using an online app and does not include ice cream or caramel sauce.
For an easy trick to get the pies out of the tin liners: take one and place on a paper towel, offset from the center; loosely fold the towel over the top of the pie and invert; unfold the towel and gently coax off the foil tin. Refold the towel over now the bottom of the pie and invert again giving you an upright pie. Carefully transfer to a plate as these shells are a delicate once out of the foil. Repeat with the remaining pies.
Nutrition
Calorie count is purely an estimate calculated using an online application to serve as a guide and not to be taken as accurate nutritional information. Percent Daily Values are based on a 2,000 calorie diet.
Tried this recipe?
Leave a comment below and let me know!