Southern Buttermilk Biscuits
Classic Southern Buttermilk Biscuits are fluffy, flaky, and buttery perfect. Wake your family up to the wonderful aroma of freshly baked homemade biscuits.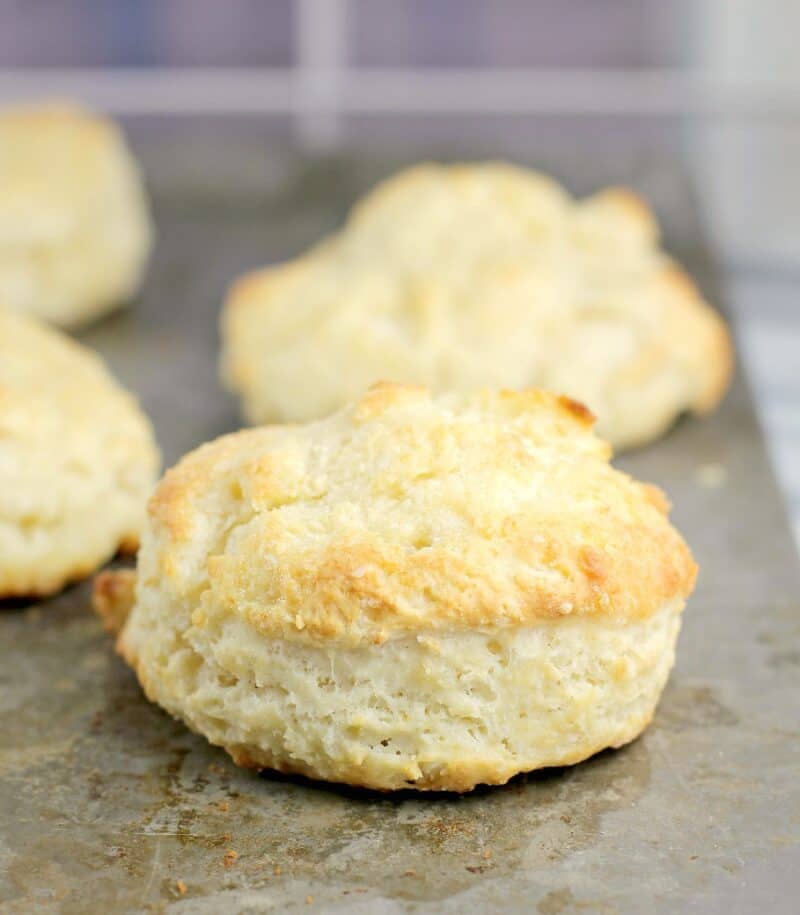 I can never say no to a biscuit. No matter the occasion or if I am trying to lose weight or whatever the circumstance, I simply cannot restrain myself from a biscuit.
And homemade biscuits are quite simply the best. When I lived in Texas, a family I was close with would just whip up a batch of biscuits for breakfast pretty much every weekend.
How awesome is that! Just like my grandmother did in North Carolina when I was young. And when they didn't make them, they bought them. But there were always biscuits with breakfast in Texas.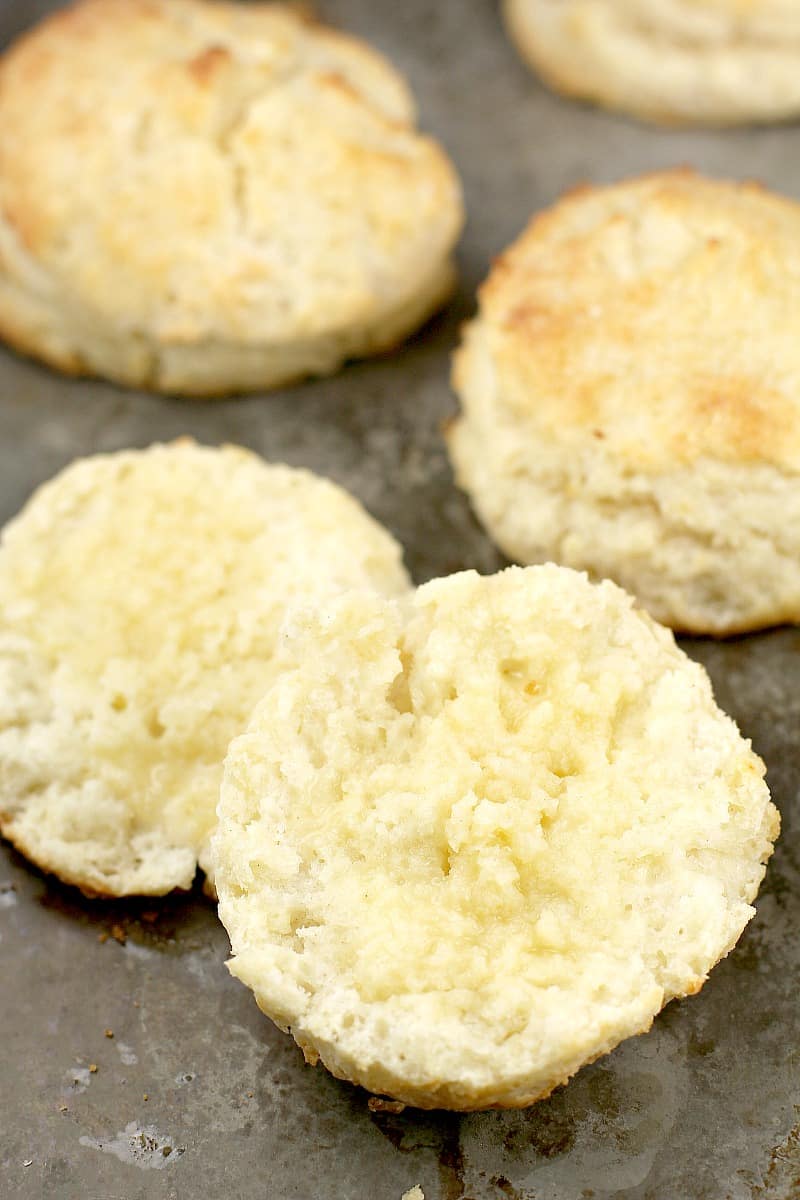 What are biscuits
In America, biscuits are a little breakfast baking powder roll. They are not the same as biscuits in other countries. Biscuits are outside of the US are akin to cookies, and generally sweet.
Here in America, biscuits are savory, flour-based buns of love usually eaten at breakfast.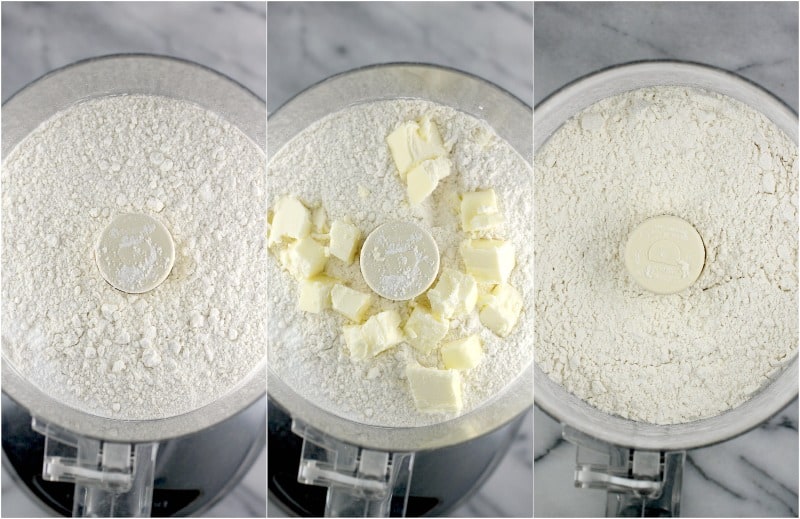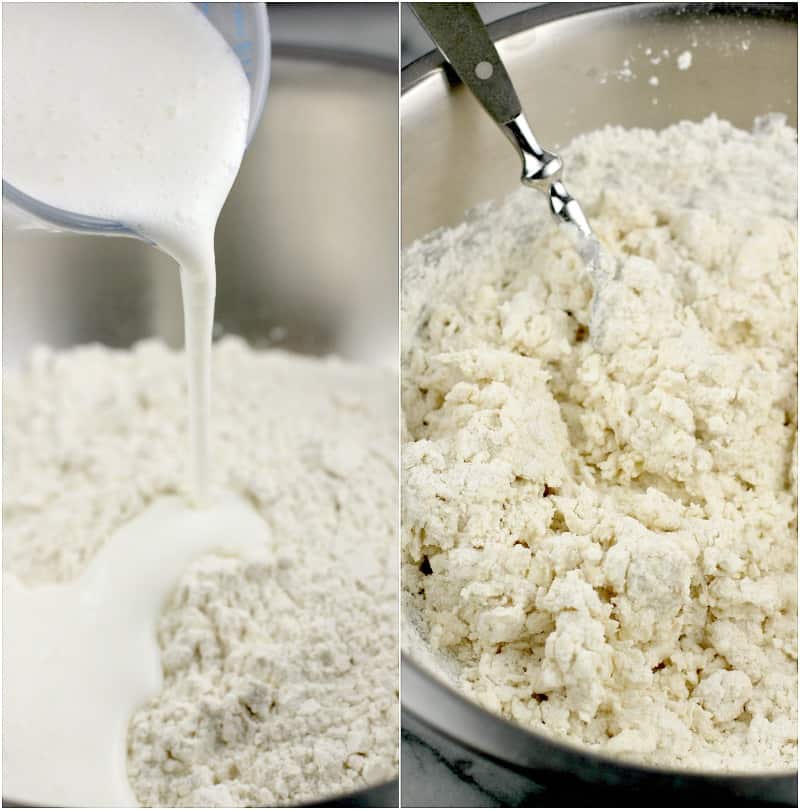 Ingredients
The ingredients for biscuits are basic and simple.
All-purpose flour.
Buttermilk.
Baking powder.
Butter.
Salt.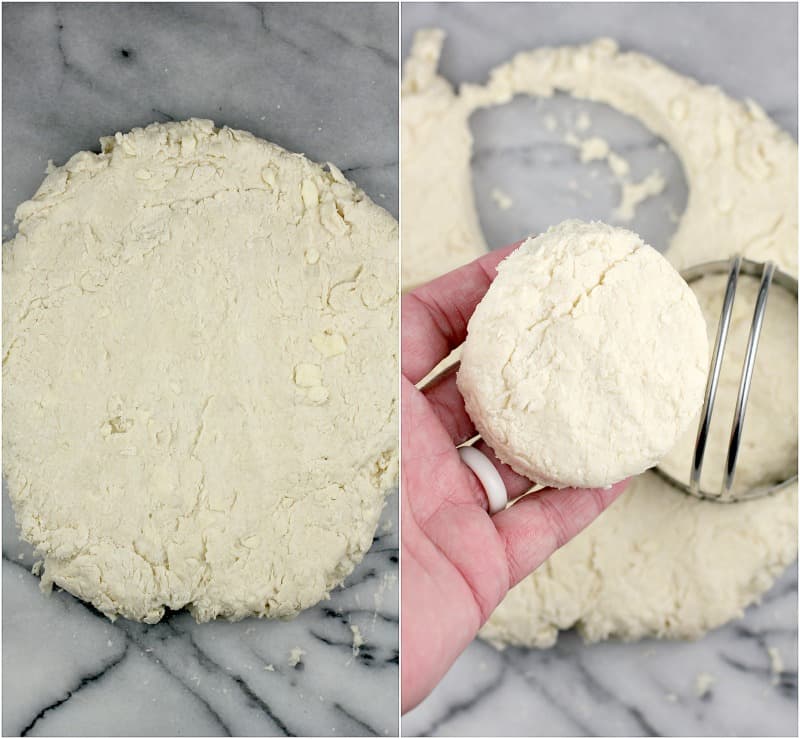 Secrets to perfect biscuits
What we are most concerned about for our biscuits are flakiness and fluffiness. The chemistry needed to make flaky and fluffy biscuits are the flour and butter and the buttermilk and baking powder.
First is the flour and butter. We use regular flour from the pantry and sweet cream unsalted butter. The secret for flaky biscuits is to keep the butter COLD. Using a food processor to speed up the dough-making process helps, but this isn't required and a pastry cutter could be used instead.
Cold butter baking in a hot oven with flour leads to flakiness. Same rule applies for flaky pie crust by the way.
The second secret is the buttermilk with the baking powder. Baking powder is a leavening agent. It reacts with the acid of the buttermilk to produce gas and air pockets in the oven.
This is what makes the dough rise and give us fluffy perfect biscuits.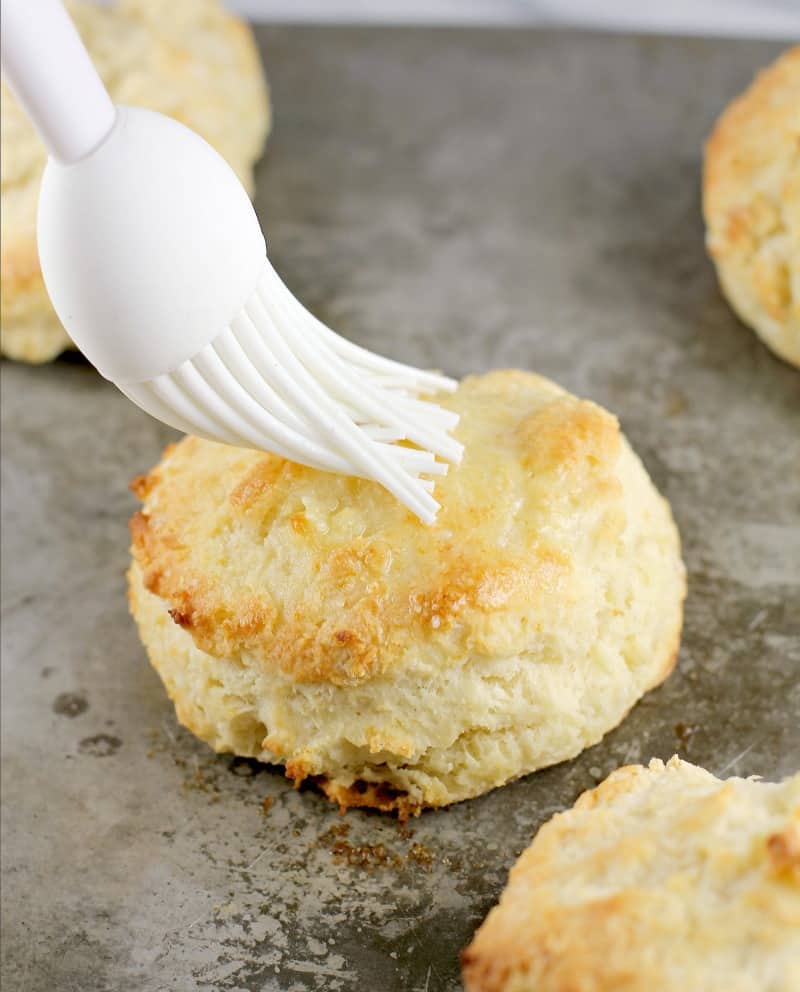 Steps to making biscuits
The steps to making these biscuits are very straightforward and only take a couple minutes. We want to make this happen quickly to keep the butter cold.
Pulse the dry ingredients and butter in a food processor.
Stir in the buttermilk.
Form the biscuits and bake.
Around 10 minutes is all it takes to have buttery delicious buttermilk biscuits.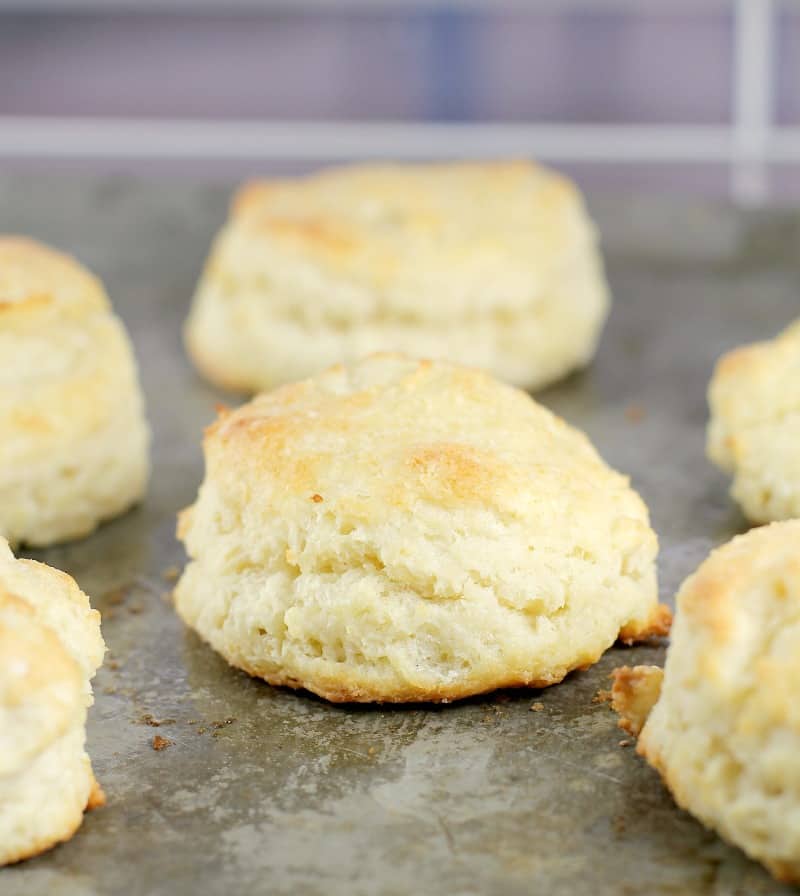 Tips
Using a food processor is the easiest way to quickly combine the butter and flour, but alternatively a pastry cutter can be used.
You can use this recipe to make little biscuits, big biscuits, whatever it is totally up to you. Once they are nice and golden on top and around the edges, they are cooked. So adjust cook time accordingly if you make smaller or larger biscuits.
Because the fluffy nature of these biscuits comes from the reaction of the buttermilk with the baking powder and the flakiness comes from the cold butter, once the dough is formed, cut your biscuits and get them in the oven straight away.
Since there are no preservatives, biscuits will keep for a day or so. Store in a resealable bag at room temperature.
Using a proper biscuit cutter is preferable to a glass to cut the biscuit dough round. Using the cutter, we just push right down without twisting. If we twist, then can seal the edges and prevent rising while baking. The rounded edges of a glass do the same.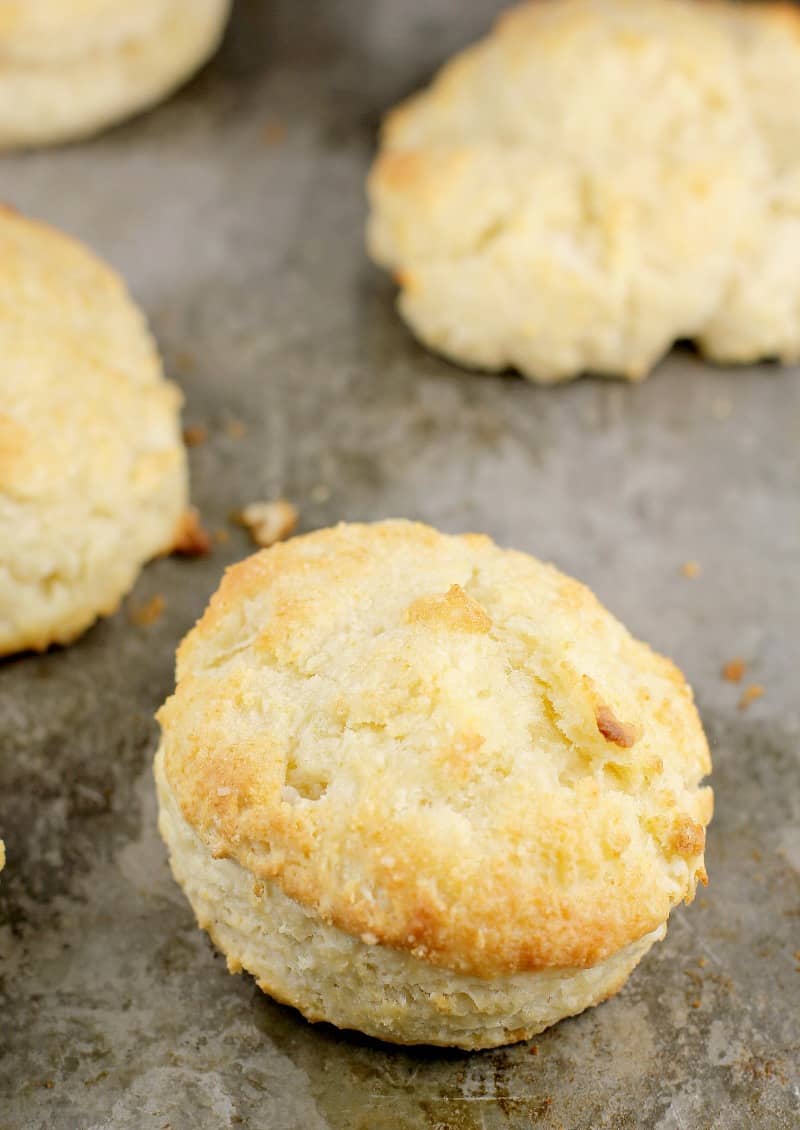 More breakfast ideas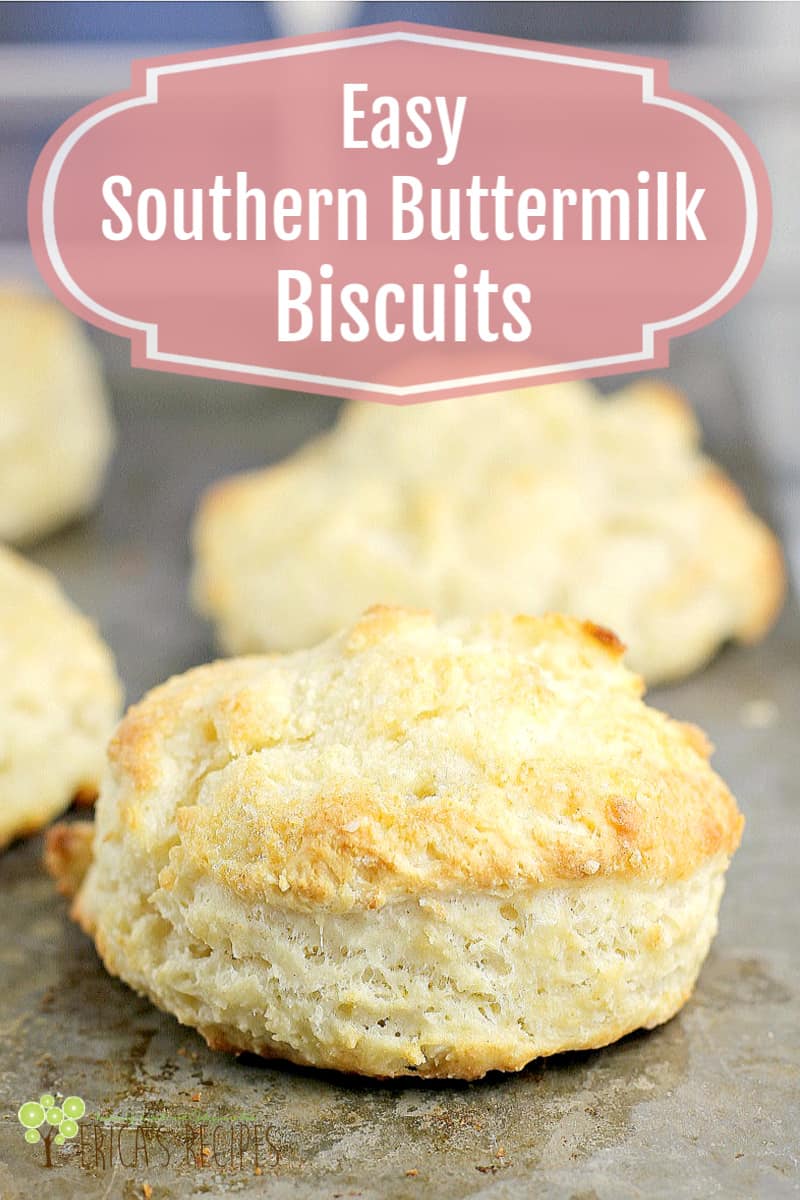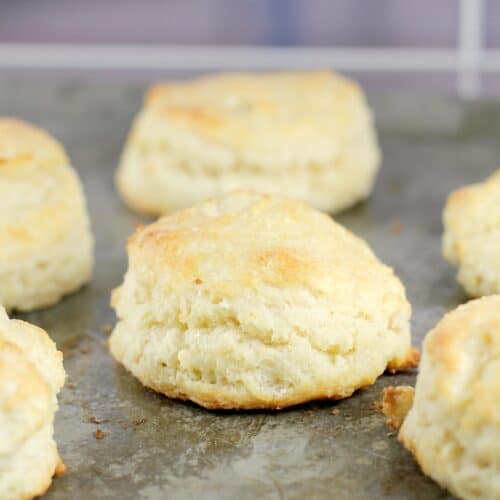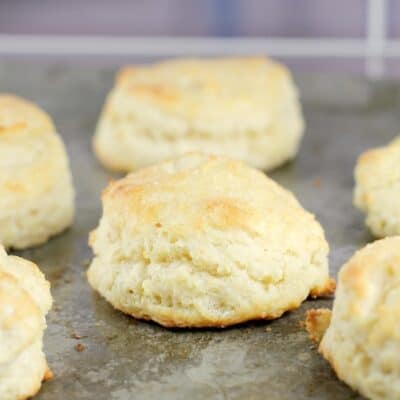 Southern Buttermilk Biscuits
Fluffy, flaky and buttery, these classic Southern Buttermilk Biscuits are superb.
Instructions
Preheat oven to 450F.

Add the flour, baking powder, salt, and butter into a food processor and pulse until mixture is crumbly (alternatively, this can be done in a bowl with a pastry cutter).

Add 1-1/4 cup buttermilk and stir with a fork just until flour is moistened. Add an additional ~1/4 cup buttermilk if mixture is too dry and crumbly.

Turn dough out onto a lightly floured surface. Roll or pat dough out to ¾-inch thickness. Cut with a 2- or 3-inch biscuit cutter (push the biscuit cutter, don't twist!). Place biscuits on a baking sheet.

Bake at 450°F for 10-14 minutes or until golden. Remove from the oven and brush with melted butter. Makes 8-10 biscuits depending on the size biscuit cutter you use.
Notes
Calorie estimation is per biscuit.
Nutrition
Calorie count is purely an estimate calculated using an online application to serve as a guide and not to be taken as accurate nutritional information. Percent Daily Values are based on a 2,000 calorie diet.
Tried this recipe?
Leave a comment below and let me know!
~✿♥✿~