Cajun Maque Choux Macaroni Salad
This Cajun salad recipe with crispy bacon and corn, is a must-try, new go-to, summer-loving must-do. Inspired by the classic, Maque Choux, this Cajun macaroni salad recipe is easy, approachable, make-ahead, kid friendly, and pot-luck perfect.
This recipe is founded on two premises. 1) Maque Choux is delicious (<– this link is to a sad, old post of mine that has gotten no love, not even photos, but it is a great recipe for Maque Choux), and 2) Fresh herbs make everything the bestest best it could ever hope to be.
So, macaroni salad, like potato salad, can be easily reinvented into new, creative, fun, DELICIOUS newbies. And now my Cajun Maque Choux Macaroni Salad, like my Spring Potato Salad with Arugula, Peas, and Dill, another recipe I am so proud of, will now be admitted into my heart as an all-time favorite and summer go-to.
Have you or have you not ever heard of Maque Choux? I'm willing to bet not. Or maybe, if you are from Louisiana. Here:
Maque Choux according to Epicurious: "Pronounced 'mock shoe,' this Louisiana staple (which is like a succotash) is a Cajun take on a Native American dish."
There we have it. Maque Choux is a Cajun classic with bacon, corn, bell pepper, and onion, sauteed up, seasoned well, and then maybe there's a little milk or cream added, but it is a basic side dish is all.
And, with the bacon and cooked corn, ridiculously delicious.
So, like I kinda just said, here are the essential ingredients for a classic Maque Choux:
Corn.
Bacon.
Green bell pepper.
Onion.
Cajun seasoning.
Milk (maybe).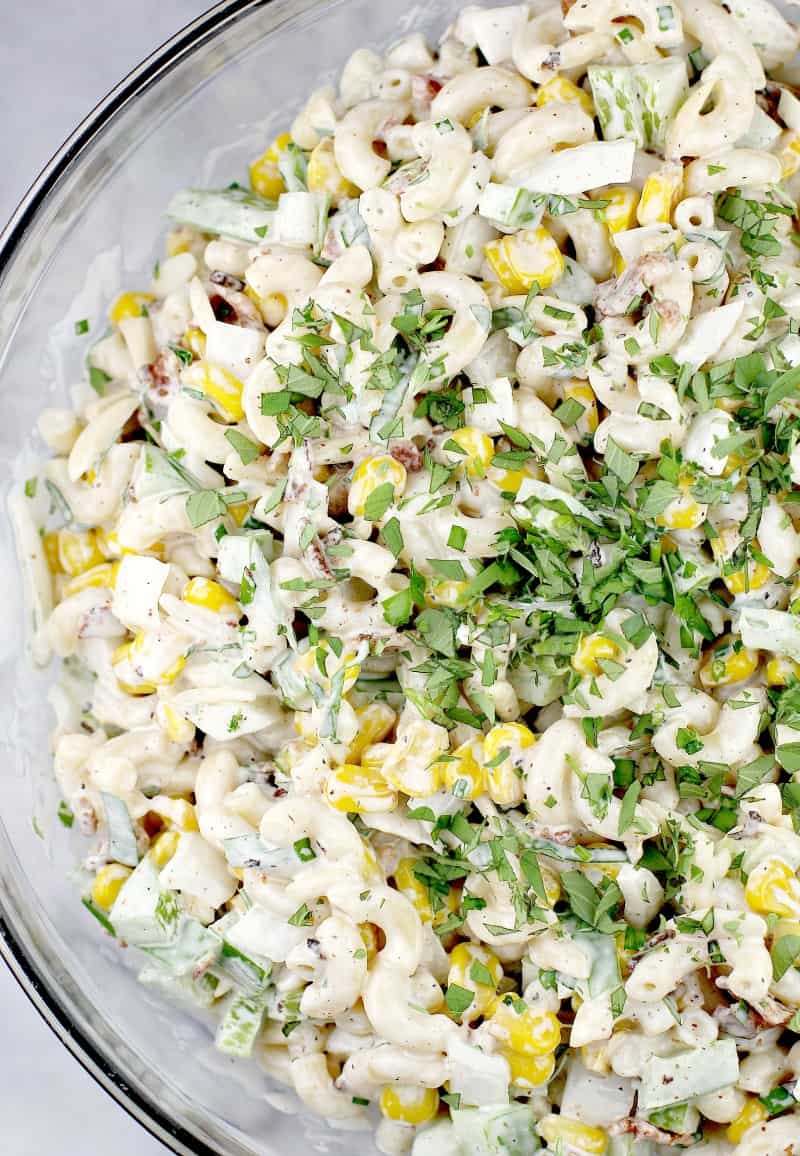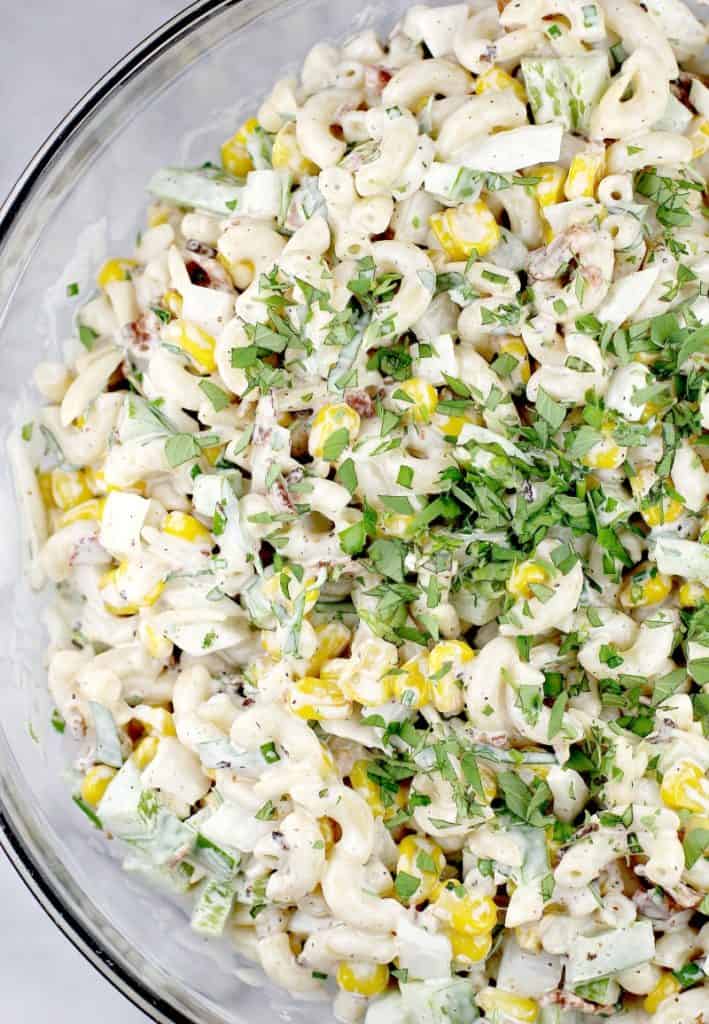 Now here are the things I added that are totally not normal but totally work for this recipe:
Pasta …Clearly.
Slivered almonds for crunch.
Mayonnaise, because pasta salad.
Heaps of fresh herbs.
And so here we are. With a summer-perfect, Cajun salad inspired by Maque Choux with crispy bacon and corn but transformed into a yummy macaroni salad. We. Cannot. Lose.
Making this Cajun salad is as easy as making any macaroni salad. And as easy as making actual Maque Choux too. We put our elbow macaroni to cook, cook and crumble the bacon, saute the corn, then throw it all together.
Easy peasy stevie, let it chill in the fridge a bit to get awesomer, then we have the Cajun salad of our dreams. Another bonus is that this dish can be made a day in advance too, making all our lives easier.
So that's it folks. An American killer classic recipe, transformed into a killer Cajun salad. Cajun Maque Choux Macaroni Salad: make it, serve it, love it ..for all the wins.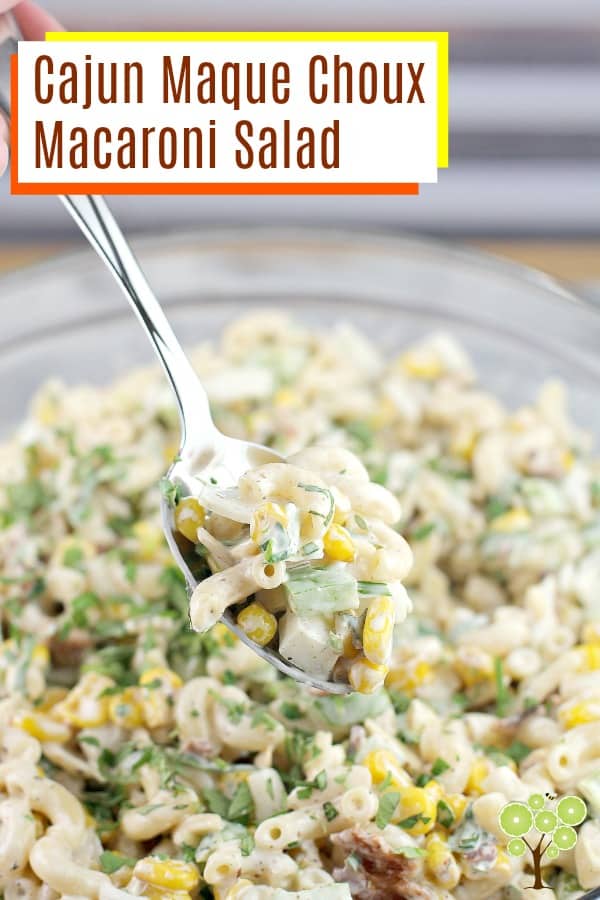 Click the P for Pinterest at the top or bottom of this post to save this recipe. If you make it, post on Instagram and tag @ericasrecipes.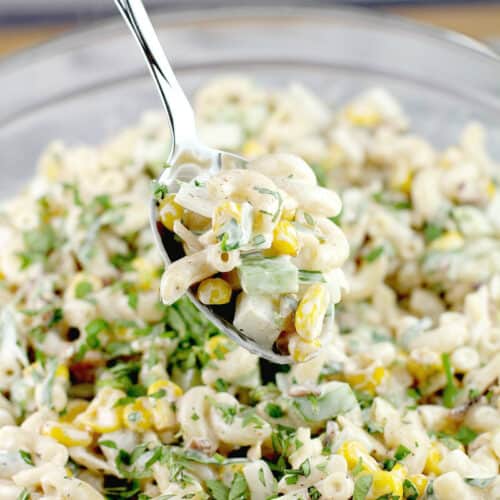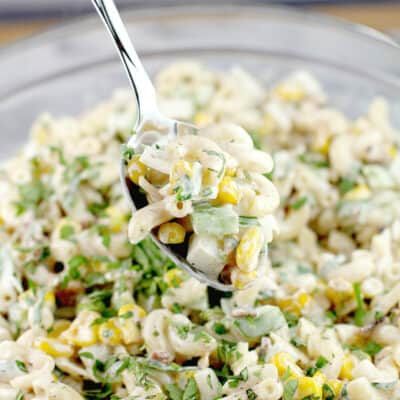 Cajun Maque Choux Macaroni Salad
This Cajun salad recipe with crispy bacon and corn, is a must-try, new go-to, summer-loving must-do.
Ingredients
1-1/2

cups

uncooked elbow macaroni

6

strips bacon

2

cups

corn

1

cup

mayonnaise

1

Tbs

white vinegar

2

tsp

Dijon mustard

½

tsp

kosher salt

or more to taste

1-1/2 to 2

tsp

Cajun seasoning

to taste

couple pinches fresh cracked pepper

1

green bell pepper

diced

½

large white onion

diced

¼

cup

slivered almonds

¼

cup

chopped fresh herbs

see Notes
Instructions
Cook the pasta according to package directions. Drain and immediately rinse with cold water. Set aside.

While pasta is cooking, cook the bacon in a large, nonstick skillet. Transfer the bacon to a plate lined with paper towels to drain. Once cool enough to handle, chop the bacon into little yummy bits.

From the skillet, drain off all but ~1 tablespoon bacon fat. Put the skillet back on the burner and add the corn. Saute, tossing regularly, until corn is lightly browned. Remove from the heat.

In a mixing bowl, whisk together the mayonnaise, vinegar, Dijon, salt, Cajun seasoning, and pepper. Add the macaroni, bacon, corn, bell pepper, onion, almonds, and herbs. Taste for seasoning. Refrigerate until service. Yields: 6 servings.
Notes
For the herbs, I went out into my garden and grabbed a handful of thyme, oregano, parsley, basil, and chives. If buying, I would go with chives definitely, then also oregano and/or parsley. Fresh oregano is my favorite, so I am partial there. Best frigging herb on the planet.
Calorie count is purely an estimate calculated using an online application to serve as a guide and not to be taken as accurate nutritional information. Percent Daily Values are based on a 2,000 calorie diet.
Tried this recipe?
Leave a comment below and let me know!
~✿♥✿~
If this cozy Cajun salad recipe looks good, here are other recipes to try