Smoked Buffalo Chicken Dip
Smoked Buffalo Chicken Dip has tender smoked chicken, creamy cheeses, and a perfect tangy zip from Buffalo wing sauce and jalapeno. This delicious smoked chicken dip is easy to make on the Big Green Egg, traeger, or in an electric smoker. Perfect for a party or summer gathering, the incredible smoky flavor in this dip will savored by all.
We are smoking ourselves some dip! Smoked Buffalo Chicken Dip.. does that not just sound amazing? Well this recipe is amazing. It is easy, and fun, and a definitive crowd-pleaser. So fire up the smoker and gather together just these simple ingredients, and get ready to kick back and enjoy this cheesy, smoky, incredible smoked dip.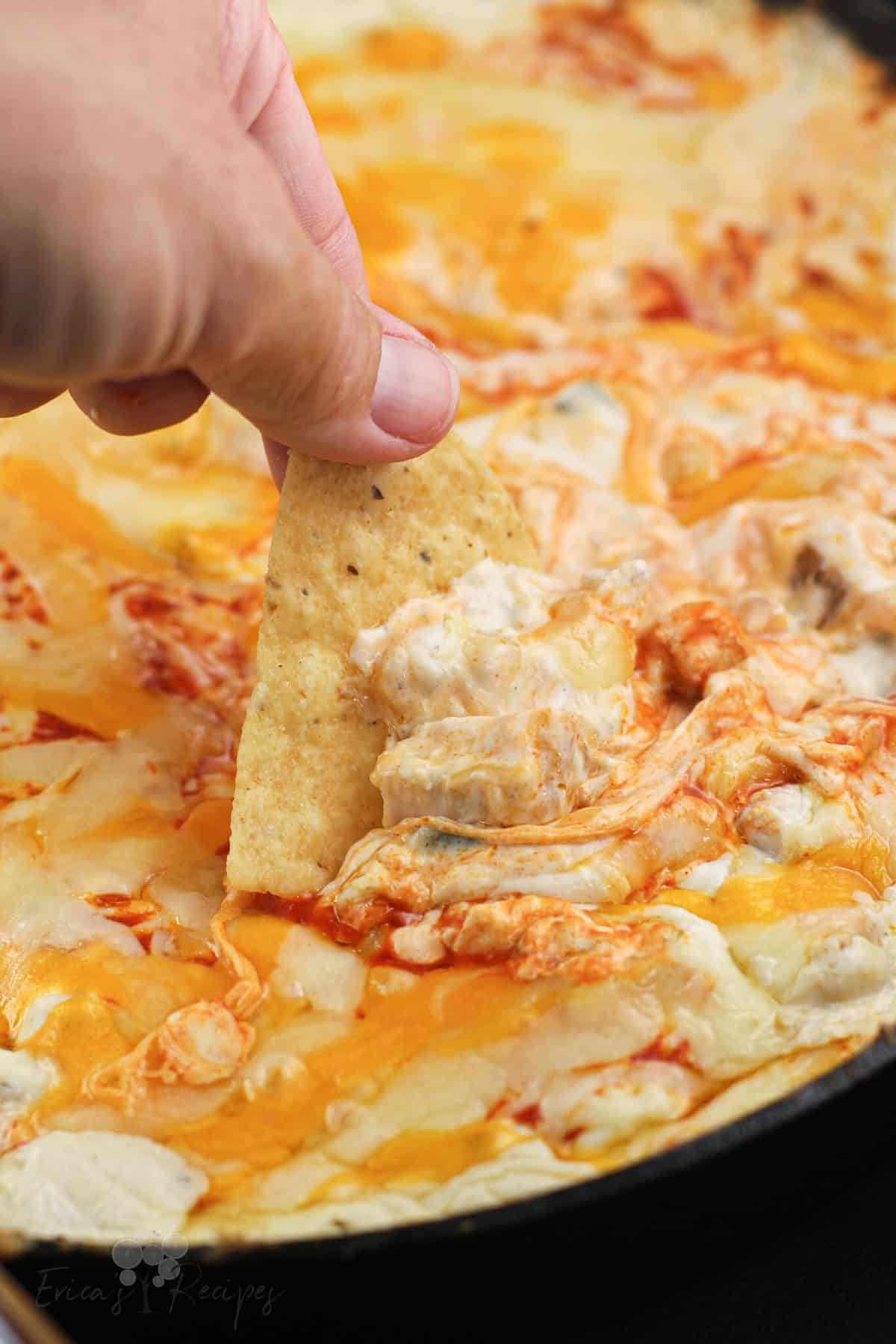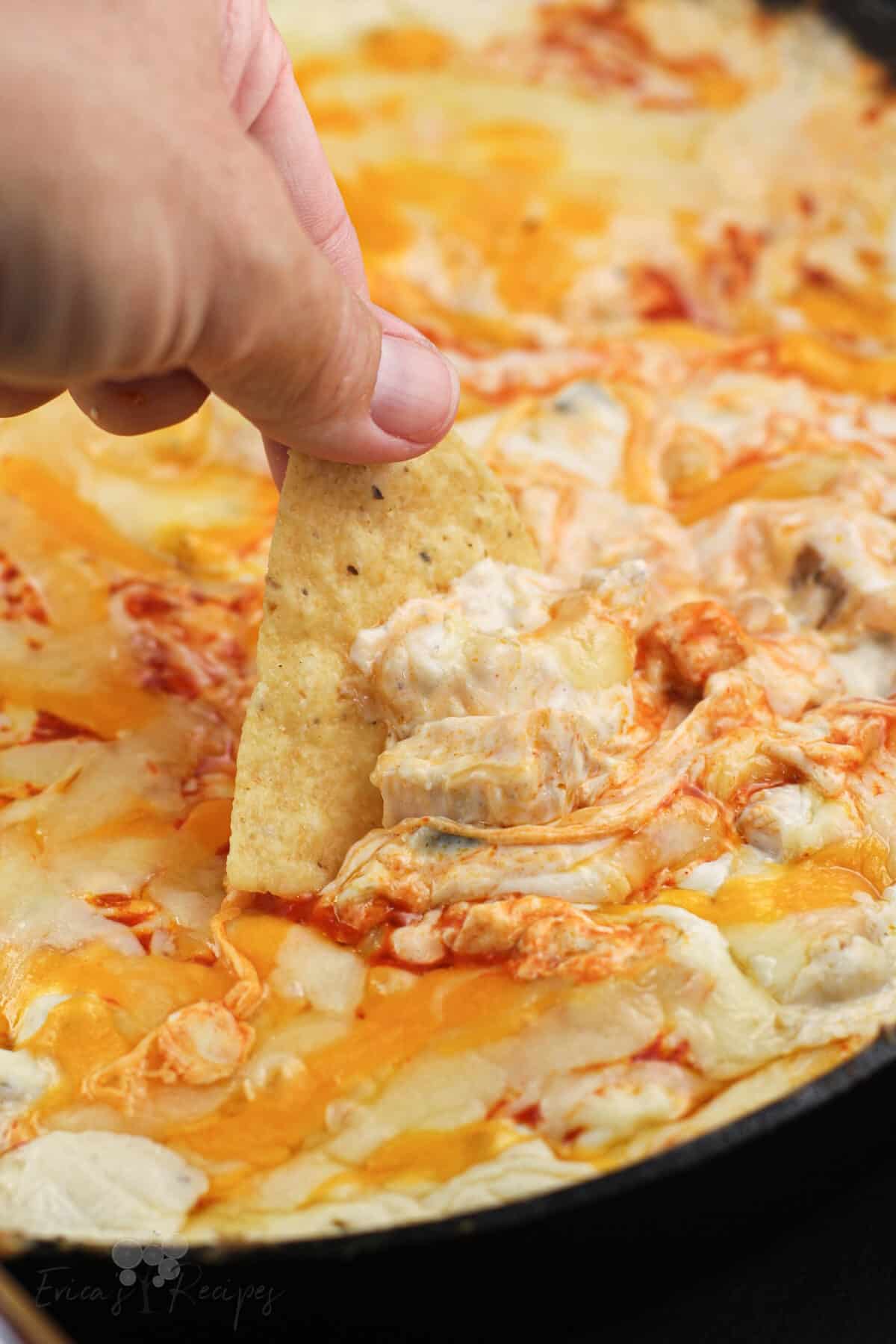 Why you will love this recipe
Buffalo chicken dip is always a hit at any gathering. When have you ever made it and had leftovers? Never!
So, take the essentials of a really good, traditional Buffalo Chicken Dip…. chicken, cream cheese, shredded cheese, ranch dressing, and wing sauce, and Kick It Up in this smoked version.
This smoked chicken dip is EASY to make and the combination of flavors is insanely good. So grab a beer, crank up your smoker, and make yourself the best smoked dip of your life.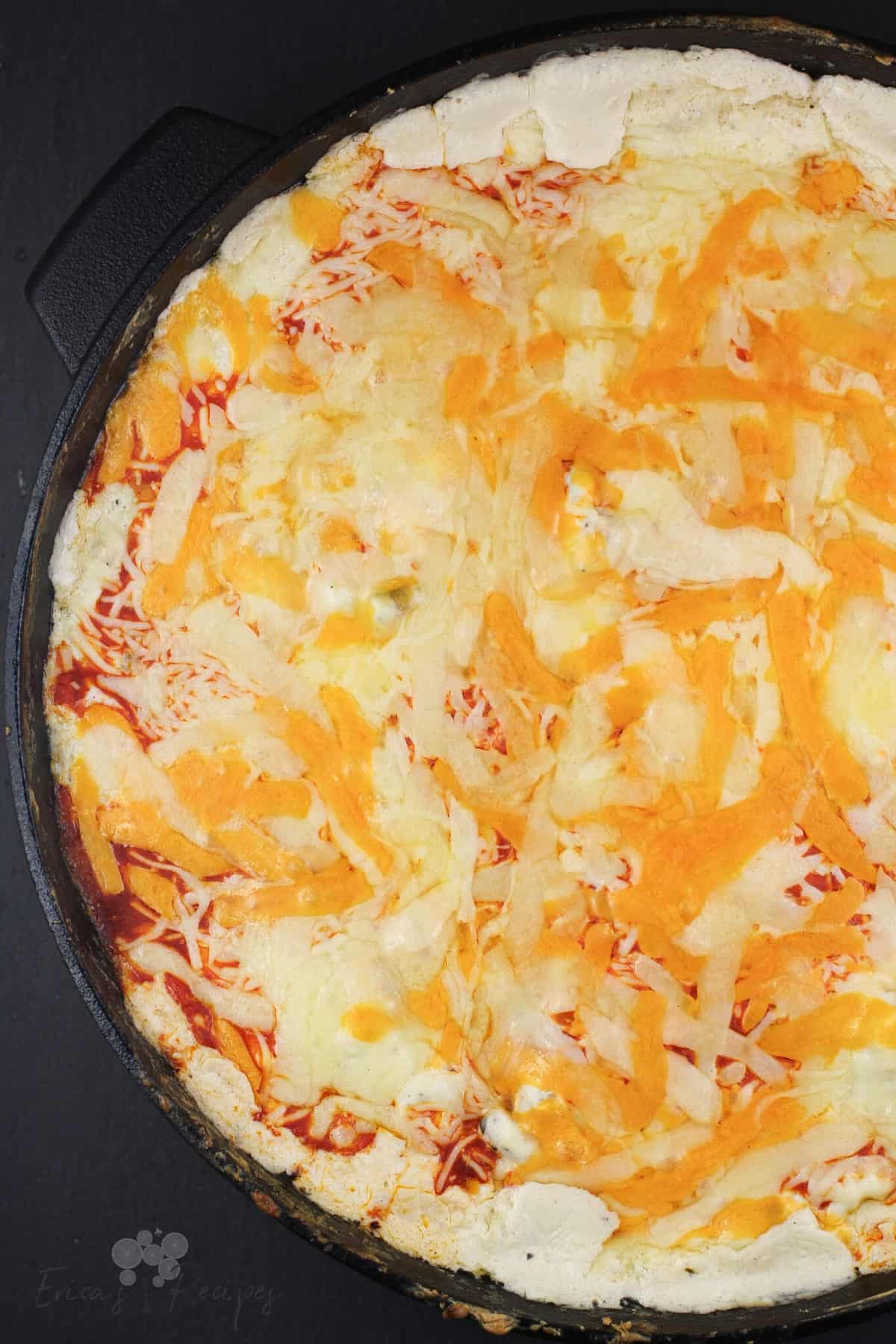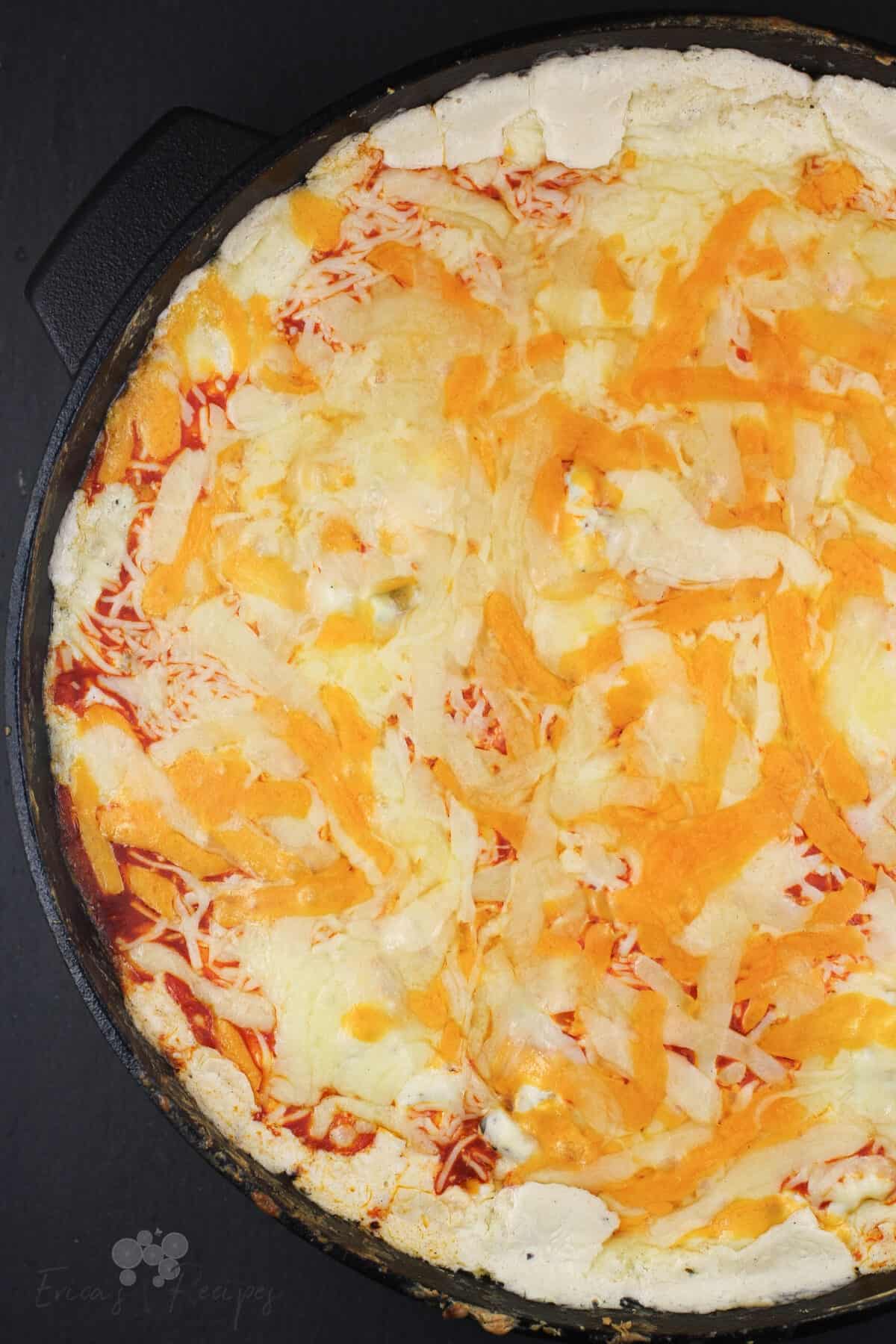 Ingredients you need
There are no special ingredients for this recipe – just the usual ingredients you would use if making classic Buffalo chicken dip with the exception that I use multiple cheeses and I add jalapeno.
Chicken breast. I prefer lean chicken breast in this recipe. Chicken breast cooks faster and always more than happy to readily take up grill flavor. Boneless skinless thigh may be substituted.
Seasonings: kosher salt and pepper for the chicken.
A couple fresh jalapenos. We smoke these right along with the chicken because smoked jalapeno flavor is delicious.
Cream cheese, two bricks. These may be used straight from the fridge or softened ahead of time. If starting cold, just adjust the cook time as they will take longer to melt.
Ranch salad dressing. The good stuff… you know the one.
Buffalo wing sauce. Note I am specifying wing sauce, not hot sauce.
Cheeses: Monterey Jack and sharp cheddar cheeses. I prefer the combination of both mild Jack and more assertive sharp cheddar to pony up to the smoky flavor. I also prefer to use a combination of sharp orange and white cheddar cheeses because too much orange cheese melted on top of anything is a bit off-putting.
Green onion. Chopped green onion is added at the end because we always want to end with a little bit of green onion or herb. Note that I myself forgot before I took photos, so do as I say and not as I do!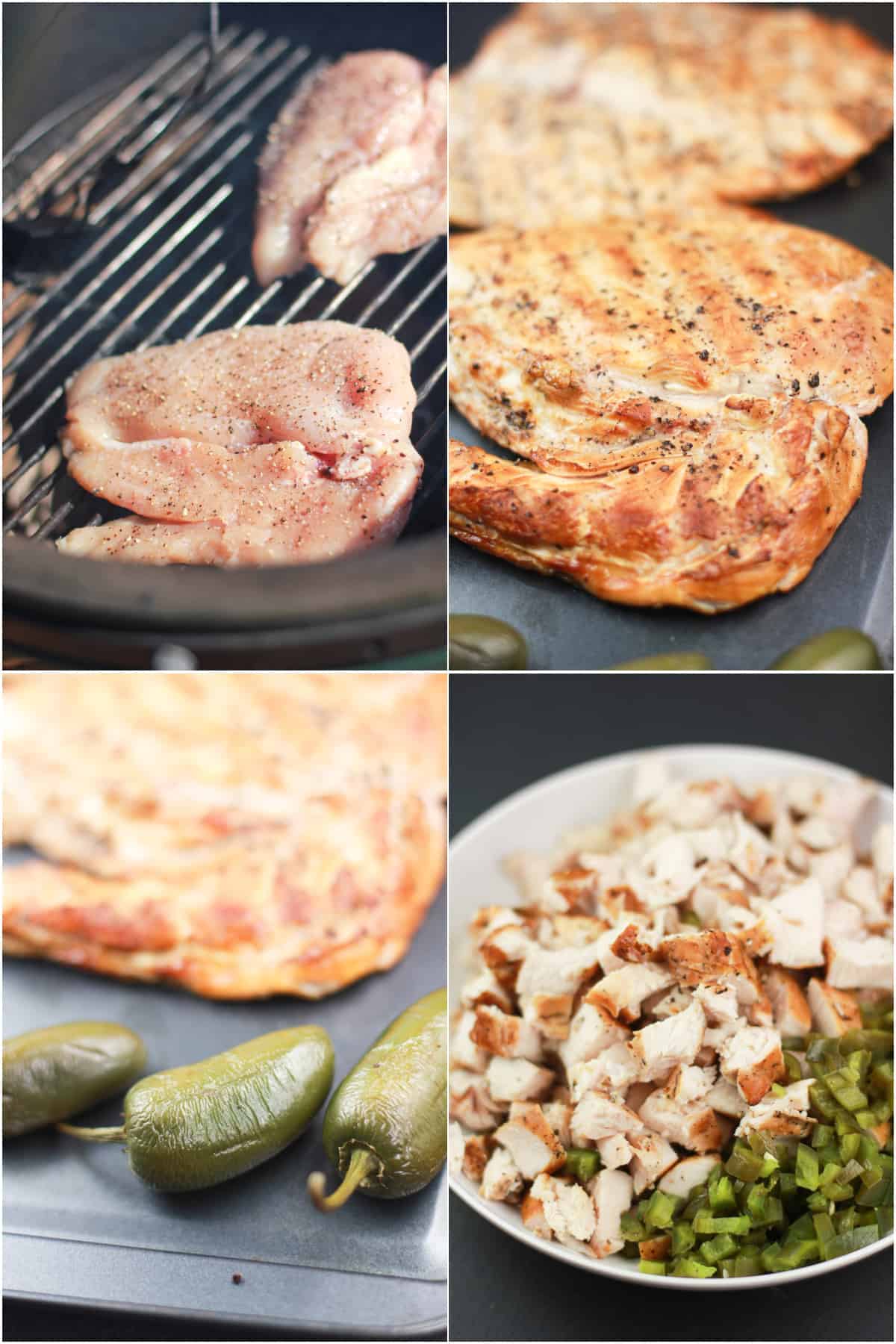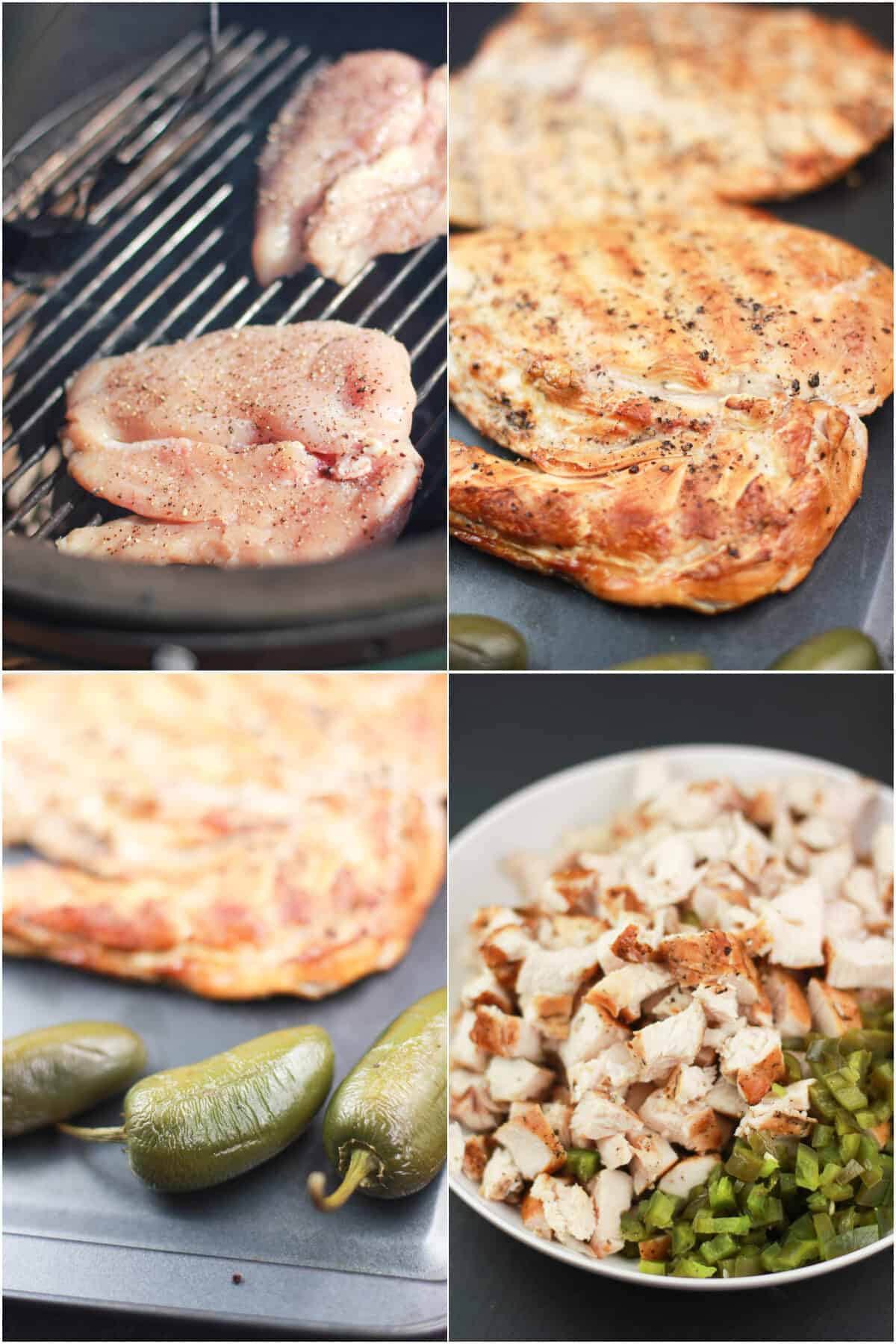 How to prepare
Butterfly the chicken breast
For a video tutorial on how to butterfly chicken breast, visit here; however, note that we do not need to pound the breasts for this recipe. Just cut open to lay flat like a book.
By butterflying the chicken into thinner pieces, we are decreasing the cook time but we are also, more importantly, increasing the surface area. So, while the chicken is cooking, there is more surface area available to take up that delicious smoke flavor.
Once the chicken is butterflied, season both sides generously with salt and pepper.
Smoke the chicken and jalapenos
In a traeger cooker or Big Green Egg, I cook directly over the coals with smoke. If using an electric smoker, cooking will all be indirect, so cooking the chicken at this stage may take a bit longer.
Simply put the chicken and whole jalapenos on the grill grate to cook/smoke. Turn every 5 minutes or so until internal temperature reads 165°F with a meat thermometer. Then we take off both the chicken and jalapenos and proceed to the next step.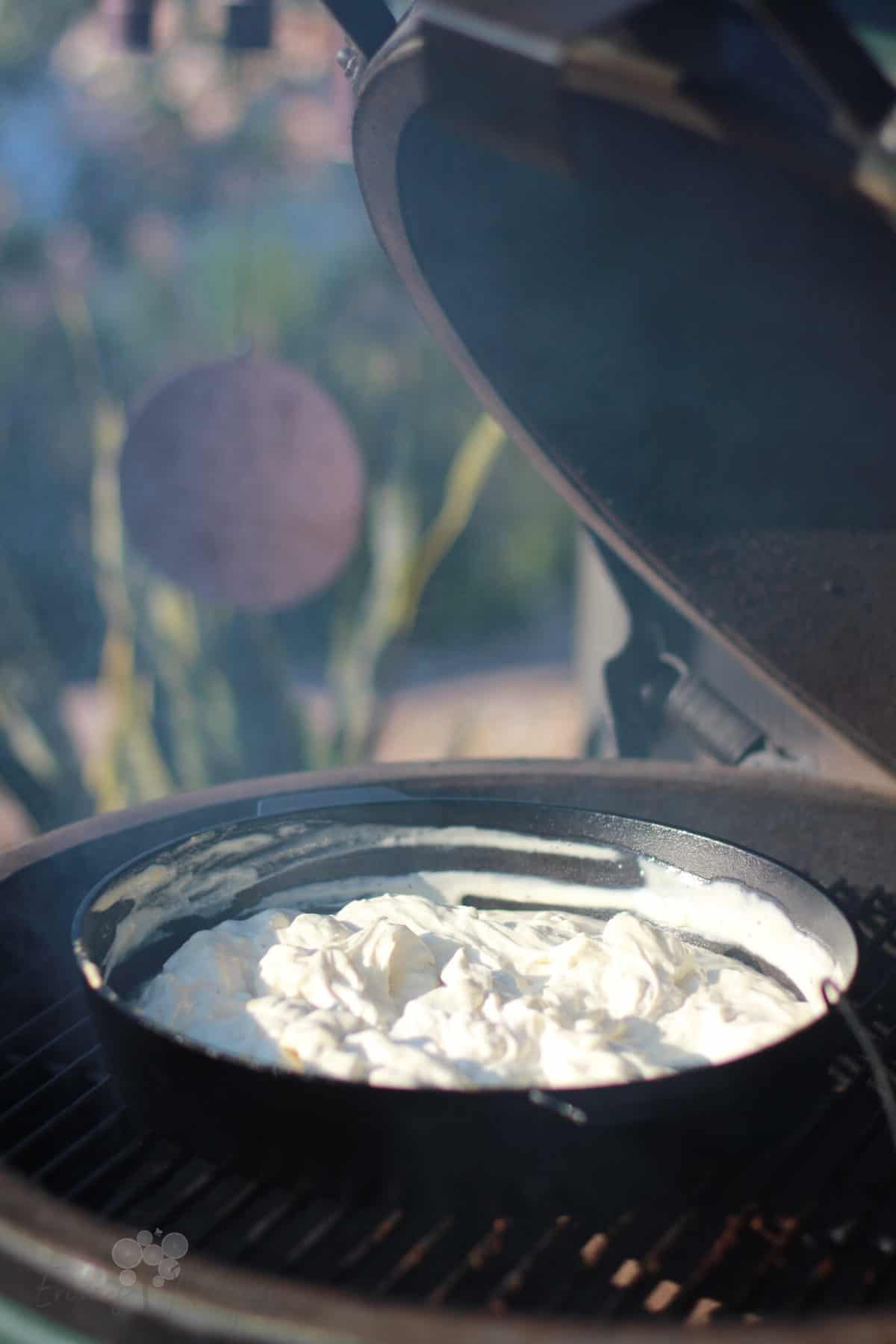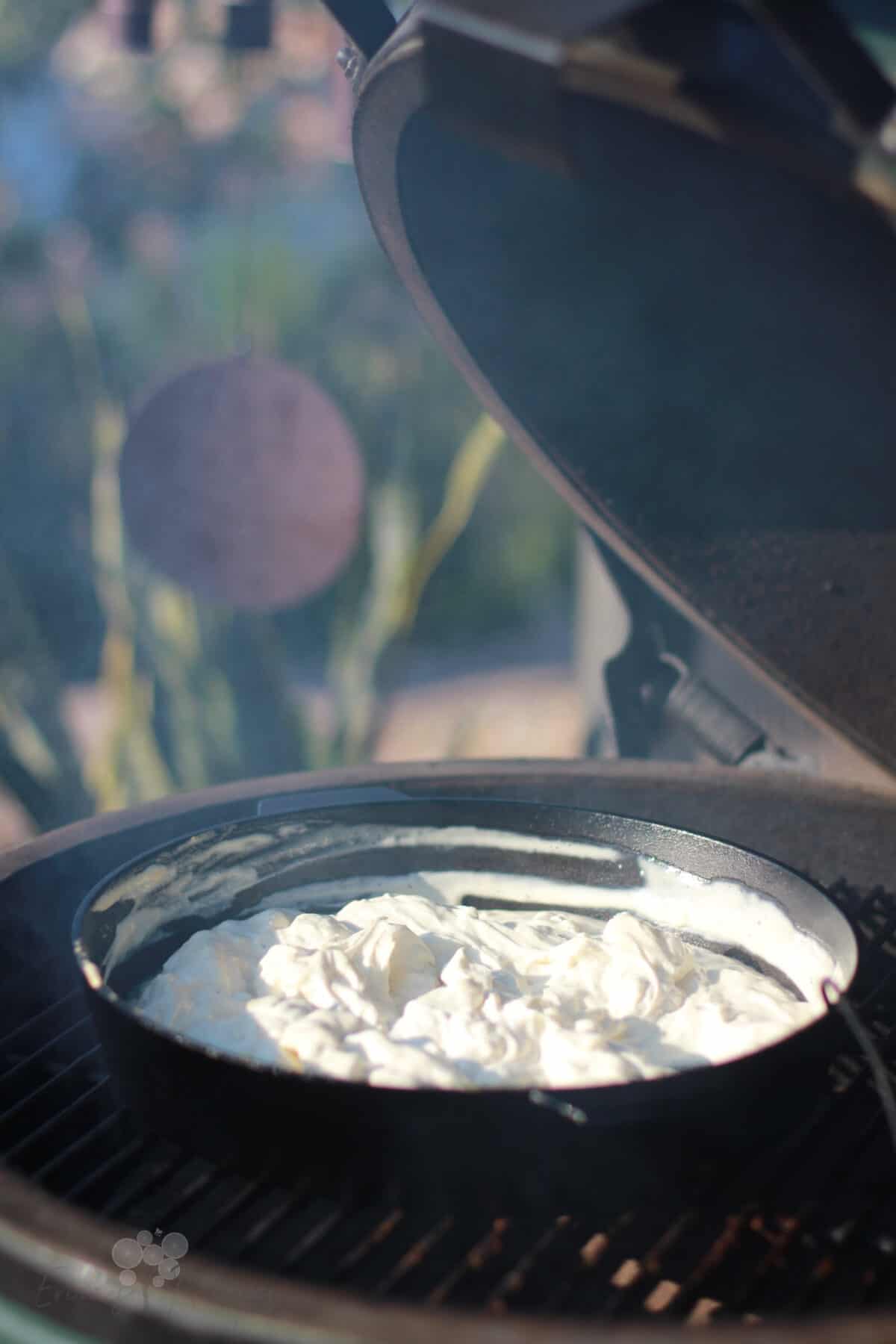 Smoke the Buffalo Chicken Dip
Making this chicken dip is super similar to making many hot dips in that we are melting cream cheese and adding a couple other ingredients to complete a yummy dip.
So, you can start with the cream cheese softened or straight from the fridge. Just know that the cream cheese will take longer to melt if starting cold. No biggie, just adjust cook time.
We add two bricks of cream cheese and a cup of ranch salad dressing to our pan. I prefer cast iron, but any grill-proof pan, such as a disposable aluminum pan, will work.
If using a Big Green Egg or traeger, at this point you will want to put the plate-setter under the grill grate so you can smoke with indirect heat. This is the default situation in an electric smoker, no additional action needed.
Smoke and heat the cream cheese until it blends smoothly with the ranch dressing, stirring regularly; then we add the chicken and jalapeno, which we have chopped by this point.
Simply heat these ingredients in your smoker of choice until very warm. Next, we drizzle Buffalo wing sauce over and top with the shredded cheeses. Continue cooking until the cheeses are melted, and the dip is a little bubbly around the edges.
Finish with a sprinkling of green onion and serve with tortilla chips.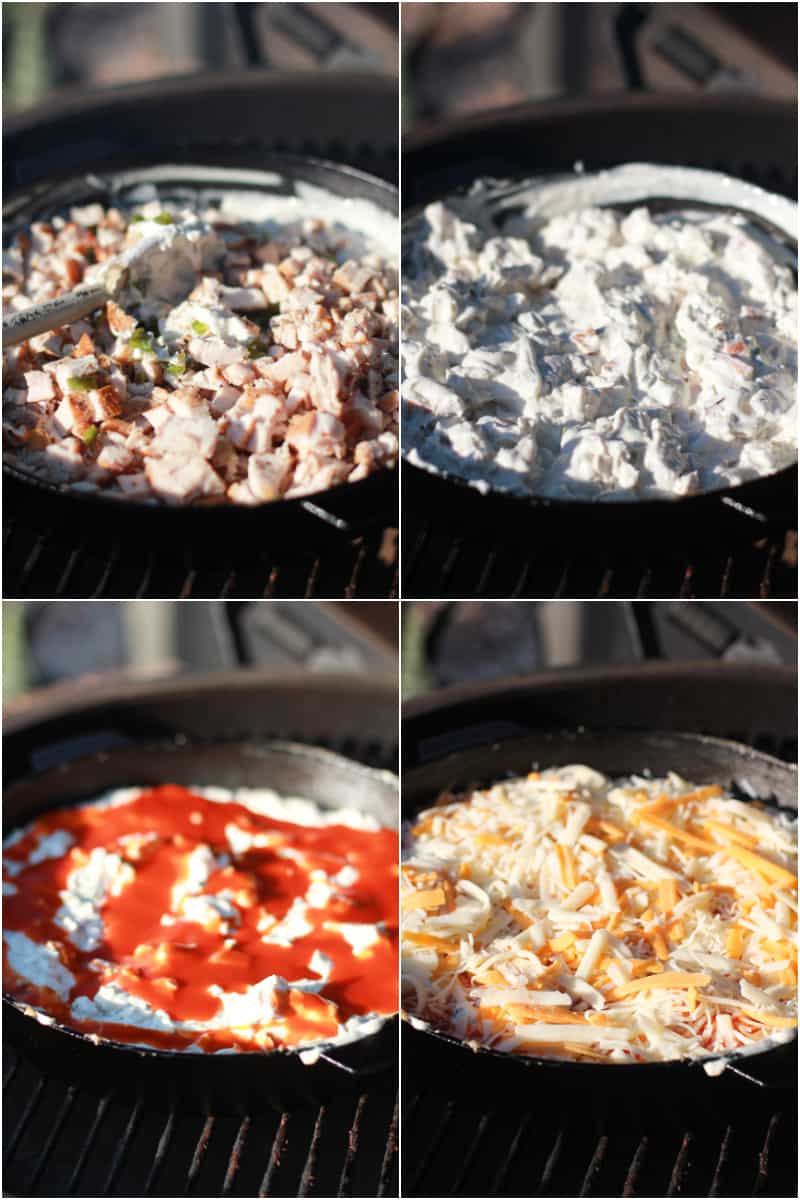 More dip recipes
FAQs
What is the best wood to use for the smoke?
I recommend a light wood for smoked Buffalo chicken dip because all these ingredients are VERY amenable to absorbing smoke flavor and we don't want the smoke to overwhelm their flavor too.
Does the wood need to be soaked in water first?
Nope, the wood can be used straight up dry. The only prep needed is to shave or cut off the bark if using wood chunks.
Should wood chunks or wood chips be used?
This depends on your smoker. In a Big Green Egg, I use chunks. In an electric smoker, I use chips. As mentioned above, if using chunks be sure to knock off and discard the bark if present.
What part of this recipe can be done ahead of time?
Looking for time savers? I always am too. So, for this recipe the chicken and jalapeno can be smoked/cooked in advance, and the cream cheese can be brought to room temperature. These two suggestions alone will shave off a bunch of time.
How long will this dip keep?
Leftover dip reheats well with a quick zap in the microwave or warmed gently in an oven. The smoke and jalapeno flavors will intensify a bit, as is usual with recipes like this. The dip will keep well for up to 3 days.
Can chicken thighs be used in place of breast meat?
Yes, but the dip will have different flavor. Breast loves smoke and takes it right up. Chicken thighs have more assertive flavor on their own, which will compete – the dip will still be absolutely delicious, just different.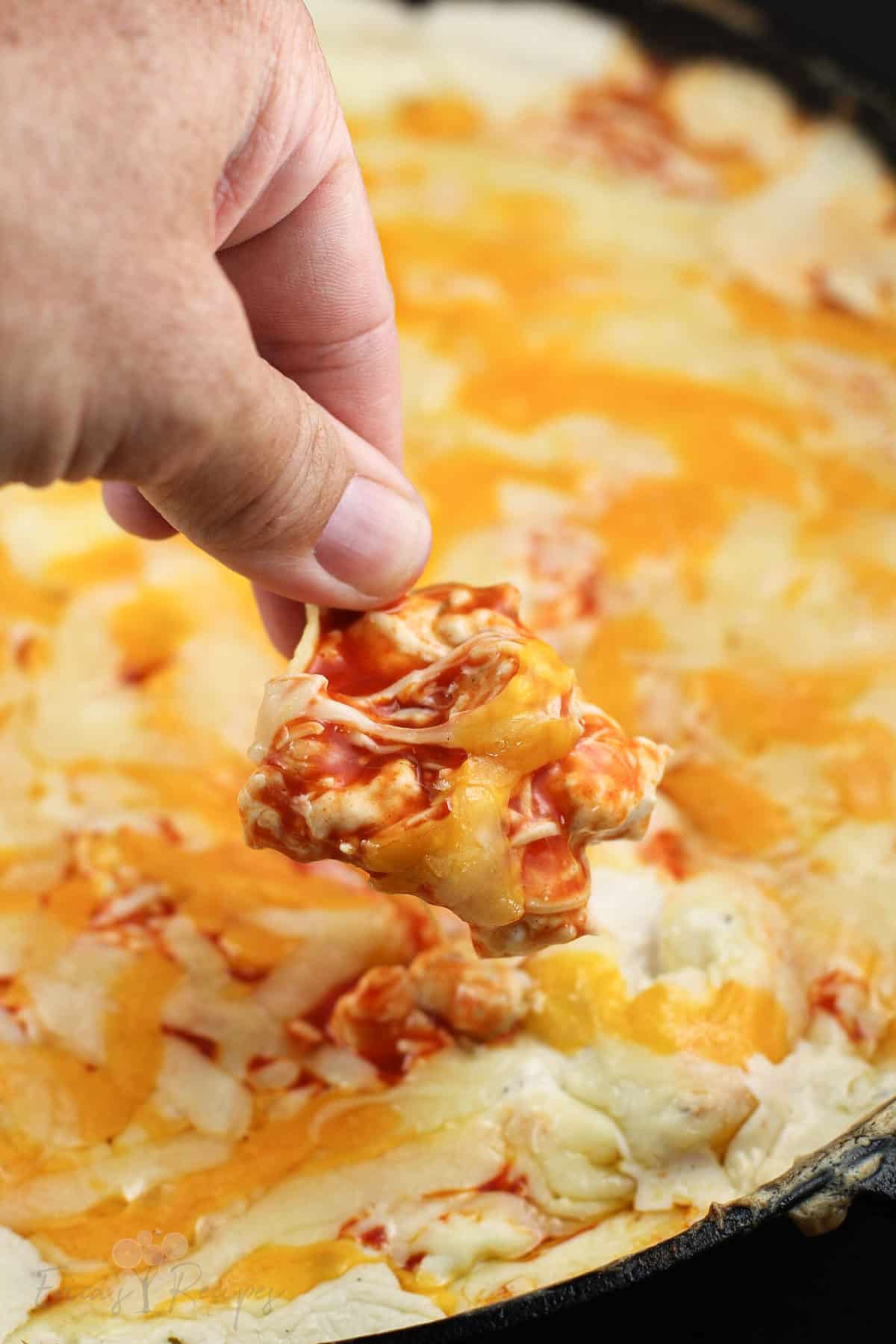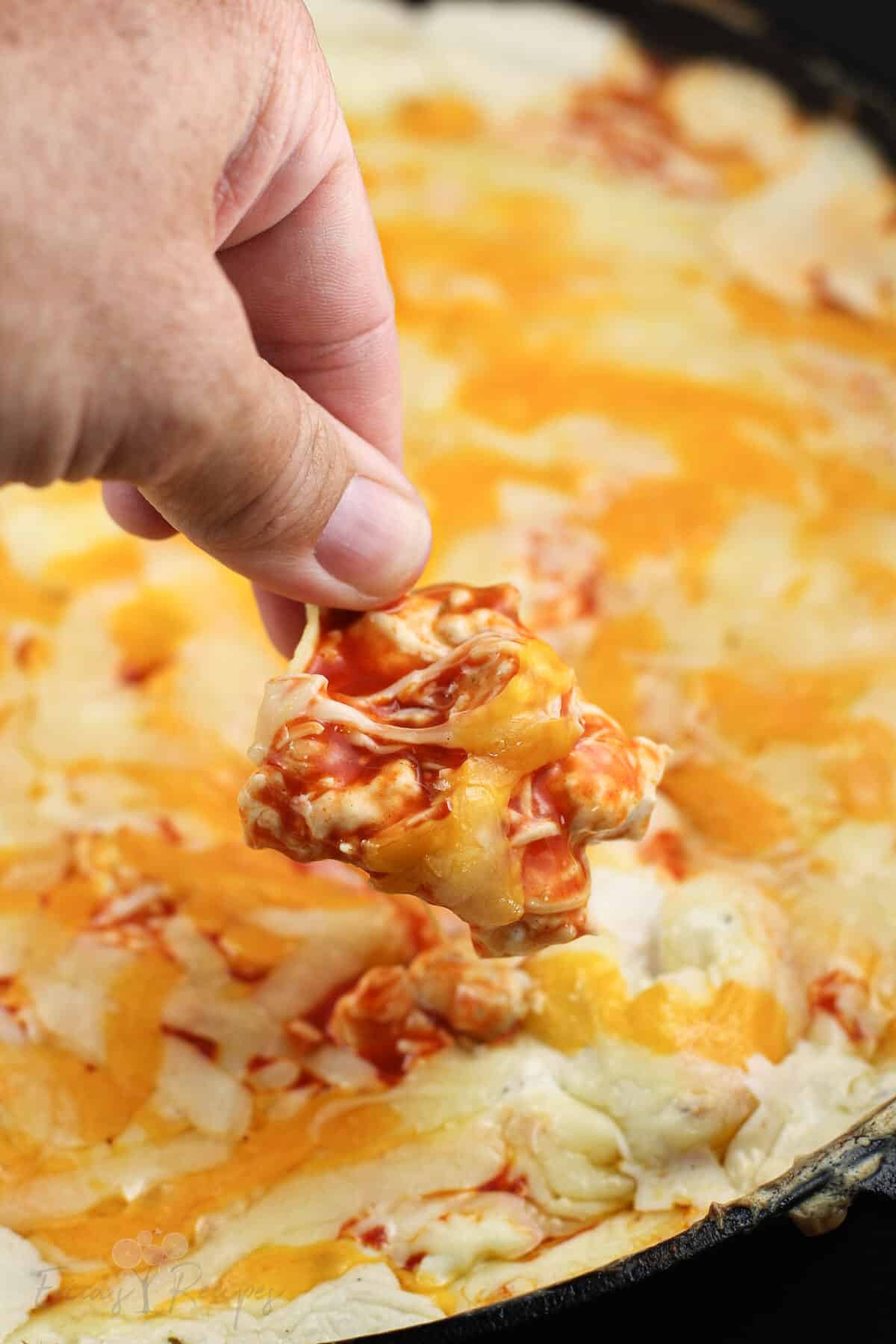 For the ultimate in Big Green Egg or smoker cooking, see my Smoked Over-The-Top Chili recipe.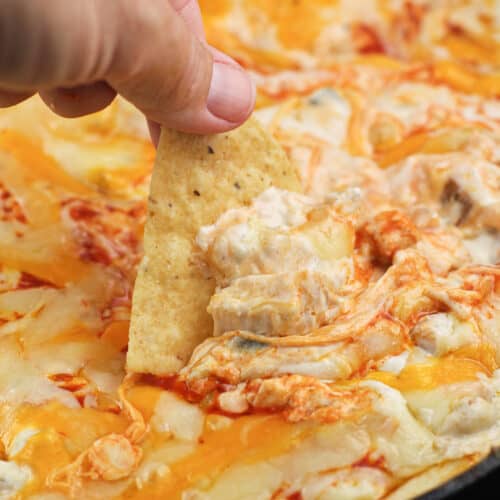 Smoked Buffalo Chicken Dip
Smoked Buffalo Chicken Dip has tender smoked chicken, creamy cheeses, and a perfect tangy zip from Buffalo wing sauce and jalapeno.
Ingredients
1 ½

lb

chicken breasts

trimmed of large pieces of fat and butterflied

2

large fresh jalapenos

4

pinches

kosher salt

4

pinches

fresh cracked pepper

2

(8 oz)

pkgs cream cheese

1

cup

ranch salad dressing

½

cup

Buffalo wing sauce

4

oz

shredded Monterey Jack cheese

4

oz

shredded sharp cheddar cheese

see Notes

¼

cup

chopped green onion
Instructions
Heat Big Green Egg, traeger, or electric smoker to 325°F-350°F. If using a BGE, set up to cook over direct heat.

Add wood to create smoke according to manufacturer instructions. A milder wood such as pecan or apple is preferable.

Put the chicken and jalapenos on the grill grate and cook/smoke (turning once) 15-20 minutes or until cooked through (internal temperature 165°F for the chicken). Remove chicken and jalapenos from the grill and set aside.

In a grill-proof cast iron or aluminum pan, add the cream cheese and ranch dressing. Place on the grill grate (set up for indirect heat with a plate-setter if using a BGE or traeger), and cook/smoke at 325°F-350°F, stirring every 5 minutes, until smooth (~30 minutes).

While cream cheese is melting, chop the chicken. Also, remove the seeds from the jalapeno, and chop finely.

Stir the chicken and jalapeno into the cream cheese-ranch mixture. Continue to cook until very warm.

Drizzle Buffalo wing sauce over the cream cheese-chicken mixture. Top with both cheeses. Close grill lid and cook 5-10 minutes or until cheeses are melted and dip is bubbly around the edges.

Top with green onion. Serve with tortilla chips.
Notes
For the cheddar cheese, I recommend a mix of sharp cheddar and sharp white cheddar for aesthetics, but this is optional.
Nutrition
Calories:
550
kcal
(28%)
|
Carbohydrates:
6
g
(2%)
|
Protein:
33
g
(66%)
|
Fat:
45
g
(69%)
|
Saturated Fat:
20
g
(125%)
|
Cholesterol:
165
mg
(55%)
|
Sodium:
843
mg
(37%)
|
Potassium:
28
mg
(1%)
|
Sugar:
3
g
(3%)
Calorie count is purely an estimate calculated using an online application to serve as a guide and not to be taken as accurate nutritional information. Percent Daily Values are based on a 2,000 calorie diet.
Tried this recipe?
Leave a comment below and let me know!